Are you interested in romancing or falling in love with Brazilian singles? Look no further than BrazilCupid, which opens you up to international dating opportunities and helps you find Brazilian singles in your local or regional area. Anyone is free to join the BrazilCupid dating app as long as you're 18 or older. All that is required is to complete the ten-to-fifteen-minute registration process!
Our BrazilCupid review will show you which benefits and perks are included in a premium and free membership. We'll discuss the various membership plans and costs. Our review also features an entire section that walks you through the registration process so you can become a BrazilCupid member as soon as possible!
---
---
Check out our 2023 BrazilCupid review to learn more about one of the best dating apps for finding meaningful relationships or dates with exciting Brazilian singles worldwide!

Our team has independently researched all products and services that we have listed on this page. If you sign up or purchase through our links, we may receive a commission. See how it works.
Introduction to BrazilCupid
Before we dive into this BrazilCupid review, we want to lay out the essential information that anyone using the app should know before they become a free or paying member.
A Brief Overview of BrazilCupid's History and Success
BrazilCupid began in 2005, about five years following the start of the Cupid Media launch. This is one of the older international dating sites that the company offers, and it continues to be influential in the realm of Brazilian dating and matchmaking. It's composed of 50,000 active members. The site has recorded a daily login number of 30,000, indicating that this is a service that gets plenty of use from its committed user base.
BrazilCupid's Unique Approach to Online Dating
BrazilCupid falls right in line with the Cupid Media approach to online dating and relationships by using a matching algorithm that incorporates advanced search filters with well-rounded, robust profiles. The same factors and criteria that you can use to perform searches are the same points that serve as the basis for any member's profile bio.
There are also no messaging restrictions for premium members at BrazilCupid. You're free to message any singles you meet on the platform. You don't need to wait for a mutual match to occur if you want to connect with someone of interest.
Is Signing Up for BrazilCupid Worth It?
BrazilCupid is worth it to anyone interested in finding love, romance, or dates with Brazilian singles from different countries all over the world. You don't need to be Brazilian to use the site; it's a service for finding Brazilian singles down for relationships or dating.
Our Ratings
In our review of BrazilCupid, we examined five significant points of criteria: features, usability, the matchmaking process, the number of active users, and the membership price points. After averaging each of the five review categories, we assigned an overall score of 3.7 out of 5 stars to BrazilCupid!
Overall:
| Category | Score |
| --- | --- |
| Features | 4.1 |
| Ease of Use | 3.4 |
| Match Quality | 3.2 |
| Cost | 4.3 |
| Active User Base | 3.7 |
| Overall | 3.7 |
If you want to hear firsthand experiences from people who have used BrazilCupid for themselves, check out some customer feedback we found on SiteJabber and Trustpilot. We aimed to collect a good balance of positive and negative experiences so you can see how customers and users generally feel about the platform based on a wide range of different outcomes.
BrazilCupid ranks right down the middle based on public sentiment. There are plenty of success stories, but some bad experiences are also recorded on these sites. Reading consumer accounts of their experiences with BrazilCupid can help you form a more accurate and well-rounded picture of the dating app.
Trustpilot: 3.5/5 stars (based on 63 reviews)
SiteJabber: 2.5/5 stars (based on 12 reviews)
Note: Over the years, we've found that sites like Trustpilot and SiteJabber feature many more negative reviews than positive ones. That's because people are far more likely to post comments online about a negative experience or something wrong. So with this tendency in mind, we gravitate toward letting online words dictate how we feel about a dating app once we've tested it out for ourselves!
What We Like
If you're wondering if BrazilCupid is the dating app for you, it's essential to know what they're good at doing for their members. It's going to vary from individual to individual. Check out the top reasons to join BrazilCupid and the top reasons not to join.
Meet Brazilian Singles – It's the entire point of the dating app and its mission. You'll be able to find Brazilian singles at home or overseas. This isn't a good app if you're not interested in dating internationally or meeting someone outside of your race (unless you happen to be Brazilian).
Sign-Up in 10-15 Minutes – It's easy to become a Standard Member (free membership user) or a Premium Member of the BrazilCupid dating app; it only takes five to ten minutes to get signed up and have your account in order. It's one of the better aspects of dating apps.
Find All Kinds of Relationships – You can find true love or a marriage partner on Brazilian Cupid. There are also opportunities to go on a fun date or experience casual romance. It's a dating app where you can find all sorts of relationships. It's not solely committed to only meaningful relationships or only casual dating.
Good Search Filters – We like the search filter options available at all the Cupid Media dating sites. Gender, age, and location are significant, but you can search by other factors like education, occupation, ethnicity, appearance, lifestyle choices, etc. It's nice when there are so many choices for breaking down your search for the correct matches.
Useful Features – All Cupid Media dating sites have some solid features, and BrazilCupid is no exception. When it comes to international dating opportunities, they have you covered with instant message translators. You may be looking to stand out amongst the crowd. In that case, profile highlights, priority messaging, and top ranking in the search results get the job done!
What We Don't Like
Limited Dating Pool – One of the most significant drawbacks to BrazilCupid is its lean dating pool, with only 30,000 regular members. It's a decent dating app in a city or a built-up urban area, but it could be better if you live in the country. Match suggestions could be far from your location, mainly due to the app's limited number of active singles.
Limited Customer Service – It's not easy to date someone who's in the military. There are deployments and tours of duty. People who date military singles are in it for the long haul. If casual dates are your thing, try a different dating app. While it does occur on the app occasionally, most people using MilitaryCupid are looking for meaningful relationships and commitments.
Who Is BrazilCupid Best For?
In short, BrazilCupid is made for finding love or romance with Brazilian singles, but you don't have to be Brazilian to become a member. Let's dig into who this dating site serves to get a better idea of who's using the platform.
Demographics and User Base
While BrazilCupid has an excellent matching system, it's undercut by its dating pool being more limited than many other dating apps. There are only 30,000 active members weekly out of 50,000 registered accounts worldwide. It results in quality singles typically located in major urban centers but not so much out in rural areas.
| Fast Facts | Details |
| --- | --- |
| Best  For | Find love, dates, or meaningful relationships with Brazilian singles all over the world |
| Total Members | 50,000 (In the US) |
| Active Members | 30,000 (Daily Logins) |
| Gender Distribution | 55% men to 45% women |
| Average Age | 33-40 years |
Relationship Types Best Served by BrazilCupid
You can discover many kinds of relationships here: casual dating opportunities, long-term commitments or relationships, falling in love, or even finding a marriage partner. It depends on what you're looking for; some people at BrazilCupid are down for all kinds of relationships.
The BrazilCupid Compatibility Matching System
BrazilCupid is worth a look if you want to meet Brazilian singles. It's not the biggest dating app regarding dating pool possibilities, but it's easy to use and features a matching process that creates results in a quick search process.
How the Compatibility Matching System Works
The matching process is done using some of the best-advanced search filters. They take a ton of factors into account, making for a thorough matching process. The only thing that could improve the matching process at BrazilCupid would be if there were more regular members on the app.
Searches can be performed based on the following:
Appearance
Location
Interests
Lifestyle choices
Ethnic background
Age
Languages spoken
Children
Smoking/drinking habits
Etc.
The Role of Good Profiles in Matchmaking
Not only do you need good search filters to find the ideal Brazilian singles, but you also want detailed profile pages that let you learn more about any of the singles that catch your eye. And Cupid Media profiles deliver on the details!
If someone took the time to craft a robust, well-rounded profile page, you'd find the following:
Basic bio information (age, location, lifestyle choices, ethnicity, etc.)
A profile headline
Self-authored "About Me" section
A description of your ideal match
A list of hobbies and interests
Personality questions
BrazilCupid's Communication Features
BrazilCupid is outfitted with the standard communication features you find at any Cupid Media dating site. There are several excellent tools for finding love with Brazilian singles near you or overseas.
Unlimited Communication
This is one of the best reasons to become a premium member of BrazilCupid. Free members cannot communicate with other singles, but paying members can connect with anyone they meet on the site through unlimited messaging. You don't even have to wait for a mutual match. You can message anyone you meet at BrazilCupid!
Instant Message Translation
This tool comes in handy for members looking for love and romance with singles in other countries. Although it's only available to Diamond Tier members, instant message translators are excellent for tearing down language barriers that could cause a relationship to lose its steam.
Priority Messages
Another feature that's only available to premium members, priority messaging, lets members stick out from singles who are members of the lower tiers. Your message will appear at the top of the recipient's inbox over messages sent by Gold or Platinum members.
BrazilCupid's Membership Options
BrazilCupid has many membership plans, which allow customers to find the ideal subscription that fits their needs. All Cupid Media dating sites are well-known for their reasonable membership costs, falling somewhere in the middle of the road between being too expensive and cheap.
Free vs. Paid Memberships
When you become a member of BrazilCupid, you begin as a free member (known as the Standard Membership). You can upgrade immediately if you want. There are several features that the app offers its non-paying users for free, but it's relatively limited. Free users must upgrade to take advantage of BrazilCupid's more important features.
Free Features
New members can partake in several complimentary features without upgrading to a BrazilCupid premium membership:
Register an Account: Set up a BrazilCupid account in less than a minute or two by entering some basic info (name, gender, age, etc.)
Create a Profile: Upload a profile photo, include bio information, add personality questions, state hobbies or interests, and more.
Set Search Filters: Set up the parameters of your search using factors like age, appearance, location, occupation, education, lifestyle choices, living arrangements, etc.
View Members' Profiles: Check out other singles' profiles and the profile photos they uploaded. Learn how they fit the dating parameters you set.
Send "Likes": No messaging is allowed as a free member, but you can send a "like" to show interest in another member.
Add Profiles to Favorites List: You can add any profiles you like to a separate list where all your favorite singles are kept in one place.
The free membership is perfect for getting your feet wet. You won't be able to communicate, by and large, but the free membership experience is decent for seeing if BrazilCupid is worth it for you! You can test out the platform to see how it handles and which profiles come up when you enter your search filter preferences and parameters.
Create a free membership so you can test out BrazilCupid. Sure, it's limited, but you can register an account, create a profile, and search other singles' profiles free of charge!
Premium Membership Benefits and Pricing
BrazilCupid is a feature-rich dating app with valuable perks and benefits for international dating experiences like message translators, profile highlights, unlimited communications, and top-rated customer support. One big downside with features is that you must pay more for the more valuable features (membership tiers).
Each tier contains four plans of varying lengths. The membership features will differ from one tier to another. As you progress from Gold to Platinum and then Platinum to Diamond, you'll continually add features and benefits to your membership plan! Here's how all the BrazilCupid membership plans break down when it comes to cost. If you want to see how they compare to others check out our full list of dating apps cost.
Gold Plans
| Membership Plan | Cost Per Month | Total Cost |
| --- | --- | --- |
| 1 Week Membership | $20.98 (one week) | $20.98 |
| 1 Month Membership | $41.49 | $41.49 |
| 3 Month Membership | $27.49 | $82.48 |
| 12 Month Membership | $13.75 | $164.99 |
Platinum Plans
| Membership Plan | Cost Per Month | Total Cost |
| --- | --- | --- |
| 1 Week Membership | $24.98 (one week) | $24.98 |
| 1 Month Membership | $49.99 | $49.99 |
| 3 Month Membership | $33.33 | $99.98 |
| 12 Month Membership | $17.50 | $209.99 |
Diamond Plans
| Membership Plan | Cost Per Month | Total Cost |
| --- | --- | --- |
| 1 Week Membership | $49.99 (one week) | $49.99 |
| 1 Month Membership | $99.98 | $99.98 |
| 3 Month Membership | $66.66 | $199.99 |
| 12 Month Membership | $35.00 | $419.99 |
Features by Membership Tier
As we alluded to above, the higher you go into the membership tiers, the more features you can enjoy. Each tier doesn't have its own unique set of features. Instead, the lower tiers contain the basic features and functions, and the list keeps building up as you climb higher in membership status.
| Features | Gold | Platinum | Diamond |
| --- | --- | --- | --- |
| Basic Matching | X | X | X |
| Like | X | X | X |
| Communicate with Paying Members | X | X | X |
| Unlock Messages | X | X | X |
| No Ads | X | X | X |
| Hide Profile and Photos | X | X | X |
| Double Your Profile Space | | X | X |
| Exclusive Search Filters | | X | X |
| Better Daily Matches | | X | X |
| Instant Message Translators | | X | X |
| Rank Above Gold Members | | X | X |
| Priority Messaging  | | | X |
| Rank Above Gold and Platinum | | | X |
| Profile Highlights | | | X |
| Premium Customer Service | | | X |
Discounts and Promotions
As far as we can see, BrazilCupid isn't offering its customers any discounts or promotions that ease the cost of their premium memberships. All subscription plans must be paid for at once and in one lump sum before you can even begin enjoying the perks, benefits, or features. BrazilCupid doesn't extend to its customer's payment plans or monthly installments of any kind.
However, we looked super closely at the BrazilCupid membership list, and we found some hidden savings that customers should have the right to know about. The longer membership plans come with lower monthly cost rates, which make them more affordable over time than renewing a shorter plan repeatedly to cover the same amount of time.
Look at the Diamond Tier membership that covers a 12-month timespan. It costs $419.99. Then look at the Diamond Tier membership that covers one month, which runs $99.98/month. Multiply that number by 12, and you're looking at a total of $1,199.76. You experience savings of $779.77 if you choose the 12-month plan right away instead of renewing one month twelve times over.
Auto-Renewal
Each BrazilCupid membership plan has an auto-renewal feature that ensures uninterrupted features and service for its members. When the membership comes to the end of the billing cycle, it'll automatically re-up. This means that the member gets charged the cost of a new plan automatically while the features and benefits continue without missing a beat.
Shut Off Auto-Renewal
There's an option to turn off this feature to avoid your account automatically being charged for a new membership plan at the end of each billing cycle. Go into your account settings under billing preferences and turn the auto-renewal feature to "off."
Payment Options
There are five ways to pay for your membership. So many dating apps limit the number of options for paying, so we're glad to see that Cupid Media allows customers decent flexibility in this area.
Credit or Debit Cards
Google Pay
Paysafecard
Bank Transfer
Skrill (e-wallet)
Creating Your BrazilCupid Profile
BrazilCupid has an easy, stress-free sign-up process that takes five to ten minutes. It all depends on how much time you can dedicate to developing your profile and setting up the correct search filter settings. To learn more about the sign-up process and all it entails, check out our step-by-step guide below for becoming a free membership user or a premium member of BrazilCupid:
Step #1: Go to the BrazilCupid Website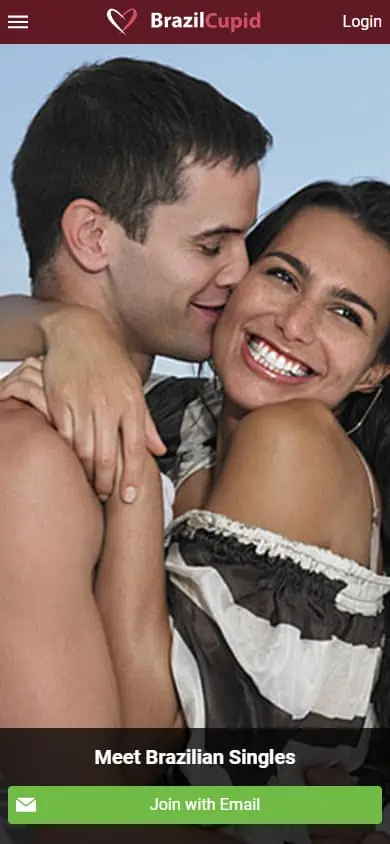 Begin the sign-up process by heading over to www.BrazilCupid.com. You can click the picture to save some time! Click on "View Singles Now."
Step #2: Enter the Basics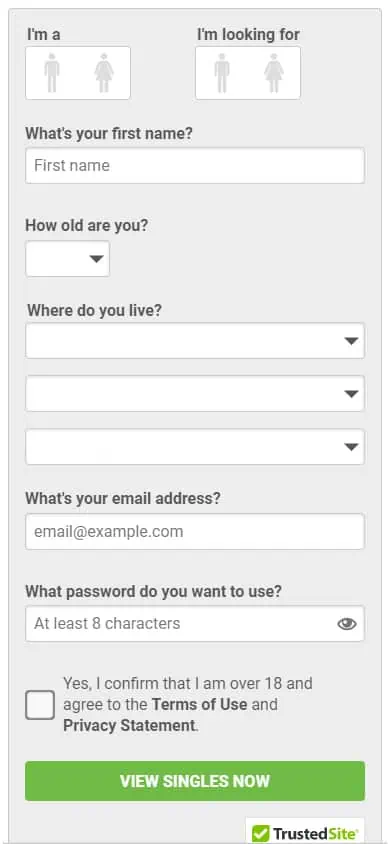 There's only a little information you need to provide before you gain access to the site for free. Enter your first name, age, and gender (and don't forget to include the gender of the singles you want to meet on BrazilCupid).
You'll need an email address and a unique password to access your new account. Check the box saying you've read and agree to the Terms of Use and the Privacy Statement. Click on "View Singles Now" to begin meeting Brazilian singles!
Step #3: Upload a Clear Profile Photo
Increase your chances of success by adding a profile picture that captures the attention of other singles. A profile will a photo is more trustworthy than one with a stock image or no image! Not only will it drive more traffic your way, but it will also bring a reputation to your profile.
Photos – You can skip adding a profile photo but add one later by clicking "Photo" in the main menu. Free members of BrazilCupid can add up to five pictures to their profile without paying for a membership.
Step #4: Create an Awesome Profile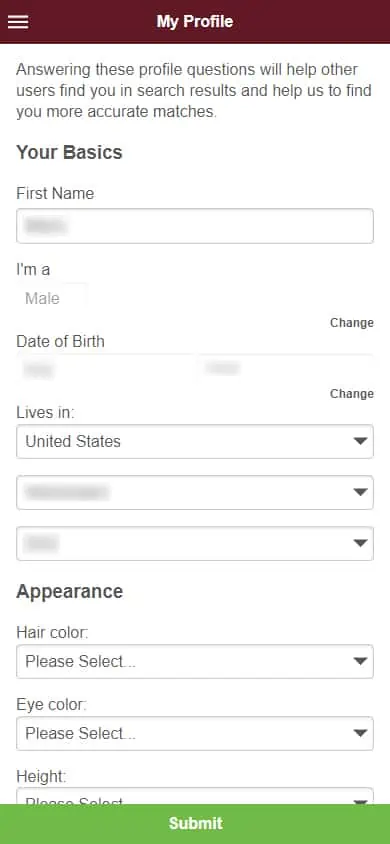 Edit Profile – A well-rounded, full-bodied profile will attract other singles and interest them in connecting with you, be it a message or sending "likes." Click "Edit Profile" to develop your profile or adjust it afterward.
You can make all sorts of edits to your BrazilCupid profile, including information like appearance (eye color, ethnicity, height, weight, and hair color) and lifestyle choices (exercising, drinking, and smoking). You can also tell other singles about your educational background, occupation, income, living arrangements, etc.
View Profile – If you want to see your BrazilCupid profile as it appears to other app members, click "View Profile." It's also helpful for seeing how changes or edits you made display to the eye.
Step #5: Make Your Profile Pop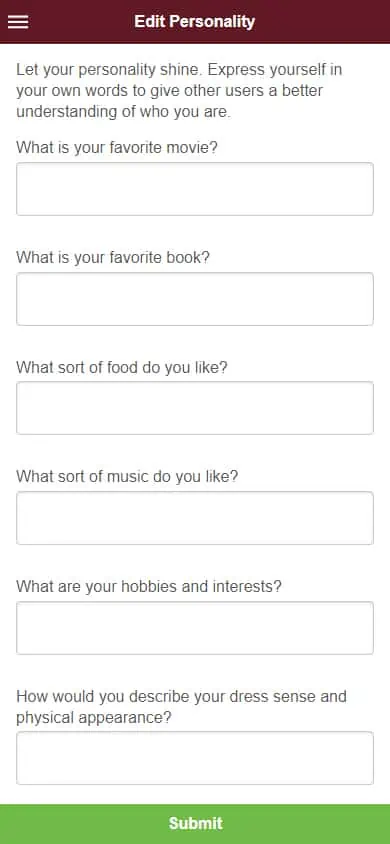 There are plenty of strategies for creating a complete profile that gets the right kind of attention from prospective matches. Many options for enhancing your profile are under "Edit Profile" and "View Profile."
Hobbies and Interests – BrazilCupid has a list of hobbies and interests that you can add to your profile to show other singles where your interests lie. You can add as many of these to your BrazilCupid as possible!
Edit Personality Profile – Twelve pre-prepared profile questions are found under "Edit Personality Profile" that users can add to their profile and personalized answers. It's another way to teach singles on the BrazilCupid app more about their personality and how they carry themselves.
Step #6: Verify Your Profile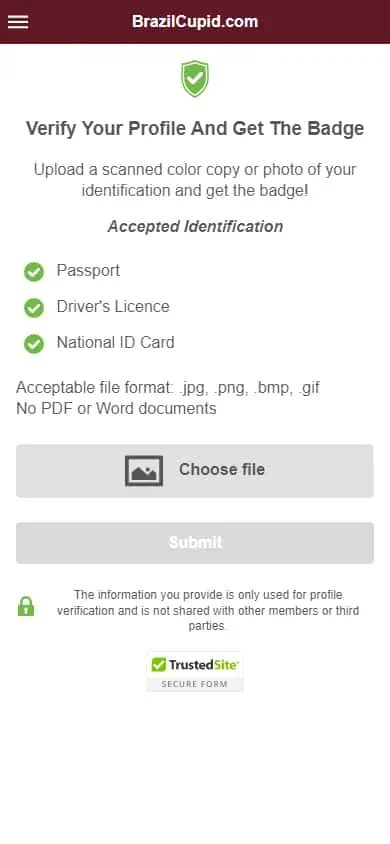 Along with adding several profile photos and filling out as much of your profile information as possible, you can bring authenticity and legitimacy to your BrazilCupid profile by officially verifying your profile on the site.
Advanced Search – There are several other ways to discover the right singles. You can search by first name, Cupid Tags, member number, or popular searches. There's also an option for you to save any searches you perform to save for another time.
Cupid Tags – These are adjectives that BrazilCupid provides. It's a long list under "Cupid Tags" that essentially serve as buzzwords that capture the attention of other singles on the app. Members and free users can add these to their profiles to get the attention of others, describing themselves in short, easy-to-understand terms.
Step #7: Become a Premium Member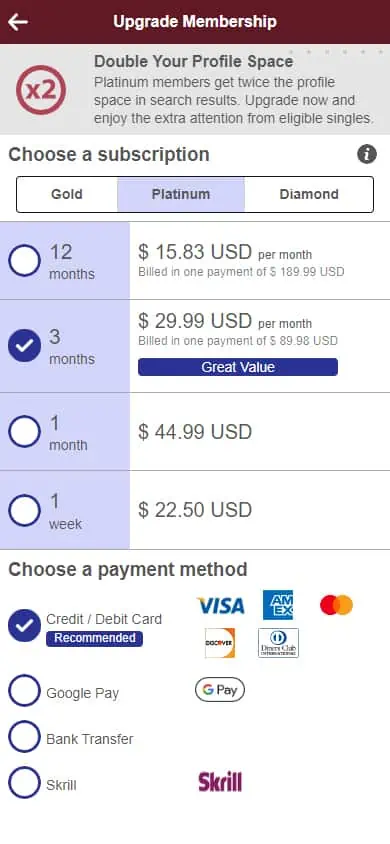 Suppose you've liked what you see in this BrazilCupid review and our walk-through of the registration process. In that case, consider upgrading from a free membership (which is hugely limiting regarding features and what you can do) to a premium membership plan where you can enjoy unlimited communications, among other great benefits!
Choose from one of the three membership tier options at the top of the menu. Below those options are the four membership plan choices. The payment methods are outlined near the bottom. Once you choose a membership plan that works for you, click "Upgrade Now."
Step #8: View Your Matches
As a free member, you can do several things on the BrazilCupid dating app. We'll show you want lies in store on the app and give you a small, guided tour of the platform, how to navigate the various menus and take advantage of the limited free features.
Matches – Click on the "Matches" tab to see all the profiles that align with what you're looking for in a match. As you adjust your search filter settings, these are subject to change.
Search – We already covered this menu in the last section, but it's worth noting that you can click on "Search" at any time to make changes to your filters and dating preferences. A new set of singles will be generated with every change. You can view them under "Matches."
Step #9: Messages Your Matches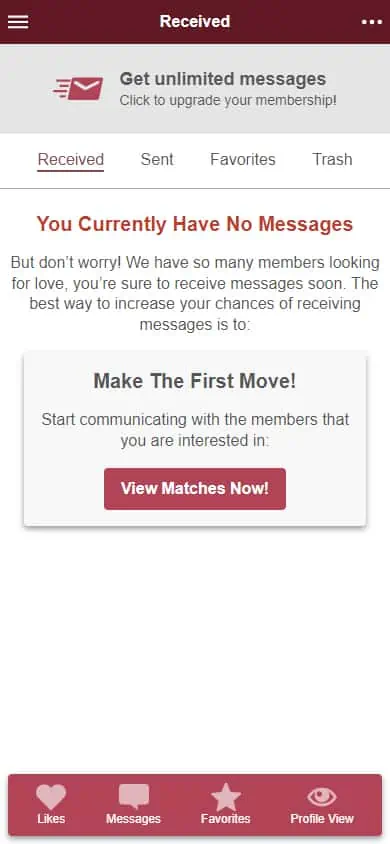 You need to be a paying member to send messages at BrazilCupid. You can access any of your messages (sent or received) under "Messages." There's a special section under this tab where any messages sent by anyone on your Favorite List are sorted in a different inbox from the other.
Messages and Activity – Under "Activity," you can access a few options. See any singles that sent you "likes" or added you to their Favorite List. There's even a way to access your block list if you reinstate members you previously blocked.
How to Delete a BrazilCupid Account
Deleting your BrazilCupid account can be done in a few easy steps. Whether the site did its job and you've found love with your ideal match, or you're dissatisfied with the service and want to leave the site permanently, the process is the same, and it takes little time to delete your BrazilCupid account and profile completely.
Click on "Profile Settings" – Click on the gear icon and select "Profile Settings" to begin.
Switch Off Profile – On the next screen, click "click here" under the bottom section "Switch Off Profile."
Delete Your Account – You'll be given a choice between deactivating or disabling your BrazilCupid account. There's a big difference between the two.
Deactivation – Click on the gear. By deactivating the account, you're putting it on hold temporarily. You can reactivate it at any time, but you won't be visible to other site members when it's down. This means that you won't receive new messages or matches. You won't experience any missed connections while you're temporarily deactivated. The whole idea is to pick up where you left off without having to create a new account entirely.
Permanent Deletion – When you do a permanent account deletion, there's a 30-day grace period where you can reverse the action. Past 30 days, however, you won't be able to access your old account, including any messages or matches you made over that time. Once the account is permanently deleted, it's gone forever, and you'll need to create a new one from the ground up.
BrazilCupid Customer Service
Customer service at Cupid Media dating sites is a lot like the other help centers we've seen with other services. It's comprised mainly of an extensive FAQ page and a generic contact form. There aren't options for customers to call or video chat with service members. It's offered at some dating sites, but it's a rarity for the most part.
Help Tab
If you need assistance from the customer support center, click on "Help" to access a troubleshooting section with various FAQ pages of common problems and questions that customers have had in the past.
Contact Us
Click on "Contact Us" to contact customer support directly. A stock contact form will populate on the screen along with your email address and username, all filled out and ready to go.
Include your message and any file attachments that you feel customer support needs. You can typically expect a response within 24 hours, although some members have had to wait longer.
BrazilCupid's Mobile App
Like most Cupid Media dating sites, BrazilCupid comes with a mobile app that's structured and designed with the ultimate ease of use in mind. You can customize your searches quickly and find plenty of suitable matches in just a few minutes. And if you join BrazilCupid by downloading the app first, you can still sign-up for a new account like you would on the website.
App Features and Functionality
There's not much to say about the features of the mobile app that wasn't already mentioned earlier in our BrazilCupid review. The features remain constant going from the website to the app, with no changes whatsoever.
But the overall design is different on the mobile app. Everything is set up to cater to the smaller screen of the mobile device. This means the menus are simplified with fewer steps than you'd find on the website. The profiles will also appear differently on the mobile app, where the profile picture will take up the entire screen, and you'll have to click on it to read that user's profile bio information.
Compatibility
Google Play is the only place that features a downloadable app for BrazilCupid. There's no mobile app available for iOS users, unfortunately. Those with Apple products can still use BrazilCupid on mobile, but they'll have to visit the website using their web browser. We'd love to see a BrazilCupid mobile app available at the App Store in the future, but for the time, there's a way that iOS customers can use the site on their devices.
Google Play
Rated 4.2/5 stars
Based on 4.88 reviews
Over 500k downloads
Free to download
Offers in-app purchases
One of the things that we liked about the Google Play app was the ability to upgrade from a free to paid membership on the app without having to revisit the website. Those who signed up for a free membership can upgrade to the next level without having to leave the app!
Frequently Asked Questions
For more information and insights into the BrazilCupid dating app, check out our FAQ section, where you can discover the most common questions from readers and customers interested in finding love with Brazilian singles.
What Is BrazilCupid?
This is an offering by Cupid Media for people interested in meeting Brazilian singles, both at home and abroad. The site has been operating since 2005 and serves around 30,000 active members weekly.
Is BrazilCupid Free?
Like all Cupid Media dating products, BrazilCupid comes with a free membership where users can create a profile, set up search filters, and view profiles of singles who fit their dating preferences and parameters. Advanced features like unlimited communications, priority messaging, or profile highlights can only be used with a paid membership.
How's the Matchmaking Process Work?
BrazilCupid uses a simplified, thorough matching algorithm that involves advanced search filters that take location, age, and gender into account. Beyond these three main factors, singles can be sought using criteria like educational background, interests, occupation, lifestyle choices, etc.
Is BrazilCupid Safe?
You must be proactive while screening singles you're interested in connecting with on BrazilCupid. This is because some fake profiles and scammers occasionally make their way onto these platforms. You should take extra steps to verify someone is legit. You can do this by requesting a live chat or checking their social media to verify their identity.
Does BrazilCupid Come with a Mobile App?
No matter what kind of smartphone or tablet you own, you can enjoy meeting Brazilian singles on the go! BrazilCupid can be downloaded as a mobile app from Google Play only. But iOS users can still access the site on their mobile devices by using their web browser.
Why Are There Three Membership Tiers?
Unfortunately, you must pay more to experience more features at BrazilCupid. The lowest paid tier only contains a small portion of the highest tier's features and functions, so customers need to upgrade to the higher levels to access more features.
Do I Need to be Brazilian to Use BrazilCupid?
BrazilCupid is a platform to find singles who have Brazilian blood or are from Brazil; being Brazilian isn't a qualifier. You don't need to be from Brazil or have a Brazilian heritage to use the BrazilCupid dating app. You only need to be 18 years old to use the site legally.
Should I Upload a Profile Photo?
You'll get many more views from other singles, and you'll be seen as a more legitimate profile if you upload a good, clear photo of yourself. We highly recommend uploading as many as possible to show other singles the different sides of yourself.
Is There Free Messaging at BrazilCupid?
You need to upgrade to a premium membership to enjoy unlimited messaging. There aren't any messaging features available for free members aside from receiving, reading, and responding to messages sent by paying members. The only other things you can do for free that come close to communicating with other members are sending "likes" or adding profiles to your Favorites List.
How Long Does It Take to Register a New Account?
The entire process can take anywhere from ten to fifteen minutes. There's some basic information you need to enter in the beginning (which takes less than a minute), and you gain access to the site immediately! Begin setting your search parameters and looking at profiles even before working on your profile. That's where the bulk of the registration time will take place.
What Are Mutual and Reverse Matches?
Mutual matches are singles whose search criteria are set roughly to your parameters and preferences. It's an excellent way to meet like-minded singles with the same relational goals. Reverse matches are the exact opposite. These are good for singles who believe that opposites attract.