Are you looking for love with other black singles or forging romantic relationships with people of color? Check out BlackCupid, a dating site and mobile app dedicated primarily to black singles dating. It can be used by anyone regardless of ethnicity or skin color! Join as a free or paid member and see how BlackCupid can help you connect with the ebony singles of your dreams!
---
---

Our team has independently researched all products and services that we have listed on this page. If you sign up or purchase through our links, we may receive a commission. See how it works.
Introduction to BlackCupid
BlackCupid is a niche dating website that caters to only 3,000 members, so right up front, you must know this platform won't give you the best results in search volume. You won't need to adjust your search filters to weed out a large chunk of non-black members like you would at a mainstream dating site. However, it's a platform where you will find black singles due to the clientele it serves.
A Brief Overview of BlackCupid's History and Success
BlackCupid is a part of the Cupid Media Group, which owns an extensive array of international dating websites and mobile apps that help singles around the world find true love and romance that transcends borders. They've been a pillar in the online dating market since 2000, with many years of experience under their belt.
Because BlackCupid is so tiny in terms of its dedicated members, the site doesn't produce the massive, successful results you'd see with the more popular platforms. But based on what they must work with, BlackCupid does decent. In the present day, they experience 250 daily logins based on 3,000 members, and there are 50,000 visits per month.
BlackCupid's Unique Approach to Online Dating
Like all other Cupid Media sites, BlackCupid creates successful matches between its members through a combination of great search filters and dating profiles that allow members to learn a lot about one another.
Search filters allow free or premium members the ability to search for their matches by:
Distance
Location
Age
Lifestyle Choices
Cultural Values
Appearance
Background
Profile bio information includes the same factors that you can use for searches, but there are supplemental aspects to member profiles as well, which include:
Profile headings
The "About Me" section
The self-authored section describing your ideal match
Including interests or hobbies
Personality questions complete with personal answers
Is Signing Up for BlackCupid Worth It?
BlackCupid is worth the time, money, and energy for certain people:
If you're looking for love or romantic relationships with black singles, BlackCupid is a good option. And it doesn't matter what your ethnicity may be! Anyone can use the platform.
BlackCupid is great for relationships between black singles.
Relationships here tend to be more serious, but there are opportunities too for casual dating or romance.
BlackCupid offers international dating opportunities in Egypt, Ghana, Tanzania, and Japan.
Our Ratings
We always look at five rating categories anytime we write a new review for a recommended dating site. So, in the case of our BlackCupid study, we appraised the site based on our five central points and pulled an average from each of the separate scores to determine our overall score.
BlackCupid comes in at a rating of 3.6/5. This means that we officially recommend using BlackCupid to find love with black singles or to enjoy black dating.
Overall:
| Category | Score |
| --- | --- |
| Features | 4.2 |
| Ease of Use | 4.5 |
| Match Quality | 2.8 |
| Cost | 3.9 |
| Active User Base | 2.5 |
| Overall | 3.6 |
What We Like
BlackCupid has detailed profiles that let you learn a lot about its members.
Twelve membership plans offer customers a flexible range of prices. It's a reasonably priced site that falls between being cheaper and the lower end of the middle.
BlackCupid is a great dating app for finding meaningful relationships with black singles.
Free or paying members don't need to be black to use the site.
The website and the mobile app are straightforward to use and operate.
Free members can enjoy limited messaging with premium members, but only if they receive a message first.
The free membership plan allows new users to register, create a profile, enter search parameters, and look at profiles.
BlackCupid is available in several countries, including the Us, Ghana, Japan, Tanzania, and Egypt.
What We Don't Like
The dating pool consists of only 3,000 members. And there are only 250 logins daily.
BlackCupid has a gender breakdown of 81% men to 19% women. It's not super favorable to men looking for single black women.
You need to pay additional fees for the better features (but that's the case for all Cupid Media sites).
There's no dedicated mobile app for iOS devices.
Who Is BlackCupid Best For?
BlackCupid is a great dating website for black singles or those interested in love or romance with black singles. You don't need to be black to use the platform; just 18 years of age or older.
Demographics and User Base
Through our review of BlackCupid, we discovered what kind of singles are using the website and mobile app to find love or dates with black singles. Here's what we found out!
| Fast Facts | Details |
| --- | --- |
| User Base | All singles (18 or older) |
| What Kind of Relationships? | Meaningful dating or relationships with black singles, at home or abroad |
| Gender Distribution | 81% men to 19% women |
| Total Members | 3,000 |
| Daily Logins | 250 |
| Site Visits Per Month | 50,000 |
| Where Are BlackCupid Members Located? | United States, Japan, Egypt, Ghana, and Tanzania |
Key Takeaways
BlackCupid has a small dating pool, which means few possibilities compared to large dating apps with more black singles.
The site is male-dominated, so it's great for women looking for black male singles.
There are international dating opportunities in several foreign countries.
Not only is the dating pool small, but the daily login number is minimal. BlackCupid is good for finding black singles, but it's ultimately a low-engagement dating site.
Relationship Types Best Served by BlackCupid
BlackCupid does cater to several kinds of relationships, but these are the ones we found to be most prominent on the website and mobile app:
Serious dating and romance
Long-term relationships or commitments
Finding a marriage partner
Now, BlackCupid is comprised chiefly of relationships between two black members, but there are plenty of non-black singles who enjoy the services of the site too. It's a black dating app with a variety of relationship types and a diverse set of premium members.
The BlackCupid Compatibility Matching System
While new members to BlackCupid don't need to complete a personality test or compatibility questionnaire to join as free or paying members, BlackCupid members can find compatible matches based on the site's advanced search filtering and robust member profiles. In particular, the detailed profiles you see at BlackCupid provide all the details that black singles need to find love or romance with the best candidates.
How the Compatibility Matching System Works
Compatibility is gauged here by the advanced search filter system. Members plug in their dating preferences and find suitable matches with genuine promise. Search filter settings at BlackCupid include location, age, and gender, as well as:
Appearance
Height
Weight
Body mass index
Body type
Hair/eye color
Body art
Lifestyle
Smoking/drinking habits
Willing to relocate?
Marital status
Children
Do they want more children?
Occupation
Employment
Income
Living situation
Background/Cultural Values
Nationality
Education
Languages spoken
Religion
Star sign
The Role of Quality Profiles in Matchmaking
All the search criteria, including the basics, appearance, lifestyle, and background/cultural values, are the same used as the basis for your BlackCupid profile. In addition to these valuable facts, a few sections of the profile allow other black singles to know you better. These include:
Profile Heading: A short, straightforward introduction that captures the viewer's attention and makes them want to read more of your profile.
More About You: Describe yourself in more detail that fills in some of the gaps left by your profile bio.
What You're Looking for in a Partner: State your dating or relational goals as a BlackCupid member as well as your expectations for an ideal match.
BlackCupid's Communication Features
Looking to get the conversation started at BlackCupid? Like any other Cupid Media site, BlackCupid comes loaded with a ton of great communication features that make connecting with black singles more effortless than ever!
Unlimited Communication
Once you become a premium member at BlackCupid, you'll be able to unlock any of the messages you received while you were a free member. On top of this, you can communicate with any members of the app. There aren't any limits on who you can message and when. You can send messages to free members as well, allowing them the ability to read and respond!
Instant Message Translators
One of the challenges of international dating is a possible language barrier. Because BlackCupid is available in multiple countries around the world, they offer an instant message translation service to aid those who develop relationships with foreign singles.
Hobbies/Interests and Pre-Written Questions
A more subtle form of communicating on the BlackCupid dating app is through your profile bio information. In addition to filling out the primary information fields, take the time to add hobbies or interests to your profile from the expansive list provided. There are also twelve pre-written questions to choose from; post these along with your answer on your profile too!
Priority Messaging
Are you interested in your message getting noticed above the others? With priority messaging, your message will appear at the top of the recipient's inbox above communications from lower-tier members. This communication feature is only available for Diamond Tier members (this is the highest membership tier available at BlackCupid).
BlackCupid's Membership Options
Let's go over the free and paid membership plans that BlackCupid offers its customers so you can decide which is your best course of action. All new members of BlackCupid begin with the free membership but can upgrade at any time to a premium membership plan by clicking on the green "Upgrade Membership" button. This appears in the upper right-hand corner of the home screen.
Free vs. Paid Memberships
The free membership plan is the default setting for all new BlackCupid members. You become a free member when you register a new account and create a complimentary profile on the site. Free members can enter their dating preferences and taste into the site's search filters and discover profiles that align with their criteria.
Free Features
Send "likes" to other members.
Enter your preferences using the search filters and find suitable matches.
View profile bio information and photos.
Receive, read, and respond to messages sent by BlackCupid's premium members.
The free membership plan is an excellent way to try out BlackCupid to see what it can offer you as an online dating service. But free members will be restricted from using the better features the site offers. That's why you should upgrade to a premium membership the minute you get the chance.
Paid Features
Unlock all messages
No ad interruptions
Double your profile space
Hide your profile or photos
Advanced search settings
Advanced daily matching
Instant message translation
Experience priority messaging
The rank above all members in lower tiers
Enjoy profile highlights
Experience top-rated customer service
As you can see, the premium membership plans offer customer benefits and features that foster an environment for relationship growth, including messaging capabilities and better matching systems. While the free membership has its perks, it won't let you use BlackCupid in any meaningful way aside from viewing some profiles and seeing who's available to connect on the platform.
We highly recommend that all free members become premium members if they're serious about finding true love or romance at BlackCupid.
Premium Membership Benefits and Pricing
There are twelve membership plans available at BlackCupid, which are spread out into three separate membership tiers. Within each level are four membership plans that vary in length but contain the same features. As you move from one tier to the next, the number of features will increase as well as the price, but the offerings of 1-week-, 1-month-, 3-month-, and 12-month plans remain the same.
Here's how all the BlackCupid premium membership plans break down:
Gold Plans
| Plan Length | Cost Per Month | Total Cost |
| --- | --- | --- |
| 1 Week | $5.49 (cost for 1 week) | $5.49 (cost for 1 week) |
| 1 Month | $10.99 | $10.99 |
| 3 Months | $7.66 | $22.98 |
| 12 Months | $3.83 | $45.99 |
Platinum Plans​
| Plan Length | Cost Per Month | Total Cost |
| --- | --- | --- |
| 1 Week | $7.49 (cost for 1 week) | $7.49 (cost for 1 week) |
| 1 Month | $14.99 | $14.99 |
| 3 Months | $9.99 | $29.98 |
| 12 Months | $5.00 | $59.99 |
Diamond Plans​
| Plan Length | Cost Per Month | Total Cost |
| --- | --- | --- |
| 1 Week | $15.00 (cost for 1 week) | $15.00 (cost for 1 week) |
| 1 Month | $29.98 | $29.98 |
| 3 Months | $19.99 | $59.97 |
| 12 Months | $10.00 | $119.98 |
Membership Features
If you're wondering which features and benefits belong to which tier, we've created this handy chart that lays it all out. Each level doesn't have its own set of features; instead, the features build up as you climb the ladder. Diamond Tier members experience the same basic features and functions that come with the Gold Tier or Free Membership setups.
| Features | Gold | Platinum | Diamond |
| --- | --- | --- | --- |
| Basic Matching | X | X | X |
| Like | X | X | X |
| Communicate With Paying Members | X | X | X |
| Unlock Messages | X | X | X |
| No Ads | X | X | X |
| Hide Profile and Photos | X | X | X |
| Double Your Profile Space | | X | X |
| Exclusive Search Filters | | X | X |
| Better Daily Matches | | X | X |
| Instant Message Translators | | X | X |
| Rank Above Gold Members | | X | X |
| Priority Messaging | | | X |
| Rank Above Gold and Platinum | | | X |
| Profile Highlights | | | X |
| Premium Customer Service | | | X |
Discounts and Promotions
There are no overt discounts or promotions to be found at BlackCupid, but there are some ways to save money on your membership that could be more obvious when glancing over the plans. As you examine the cost breakdowns, you'll see that the longer memberships have a cheaper monthly rate than the shorter memberships.
Here's an example of how this breaks down:

A 1-Month Gold Tier membership runs $29.98. If you stretched that out over 12 months, you'd be paying $359.76 for a year's worth of benefits from BlackCupid. But then look at the 12-Month Gold Tier membership and its monthly cost of $10. For a year's worth of benefits, you can outright purchase a 12-Month membership for only $119.98! That's a savings of $239.78!
Creating Your BlackCupid Profile
It only takes a couple of minutes to become a free member of BlackCupid. As a free member, you can develop your profile, enter dating criteria into the search filters, and view profiles of other members. Upgrading to a premium membership might extend the entire process to 5 minutes.
But if you want to make a big splash at BlackCupid, you need to develop a robust profile that stands out. Completing all the necessary sign-up steps and creating your profile unique and chockful of practical details can make the onboarding process last 10 to 15 minutes, ultimately depending on how thorough you want to be with your profile.
Follow these steps to get started with registering your new account and creating your new BlackCupid profile:
Step #1: Visit BlackCupid Website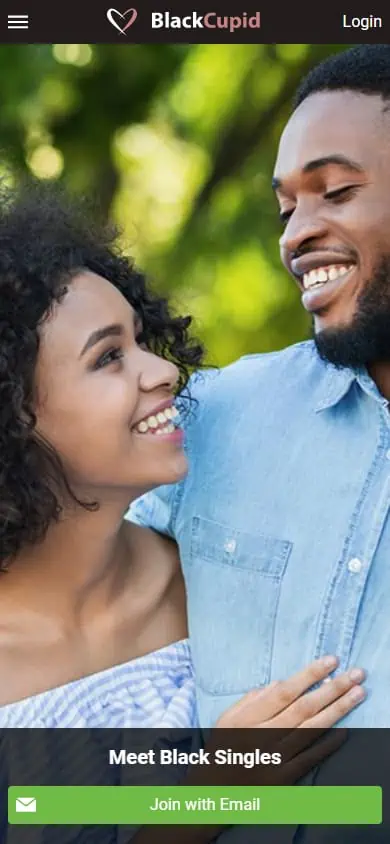 Begin by visiting www.blackcupid.com. Click on "View Singles Now."
Note: If you choose to join through BlackCupid's dedicated mobile app, you must first download the app to your mobile device. It's offered at Google Play or the App Store. Once you have the app on your smartphone or tablet, the sign-up process will look the same as it would if you were signing up through the website.
Step #2: Enter Basic Information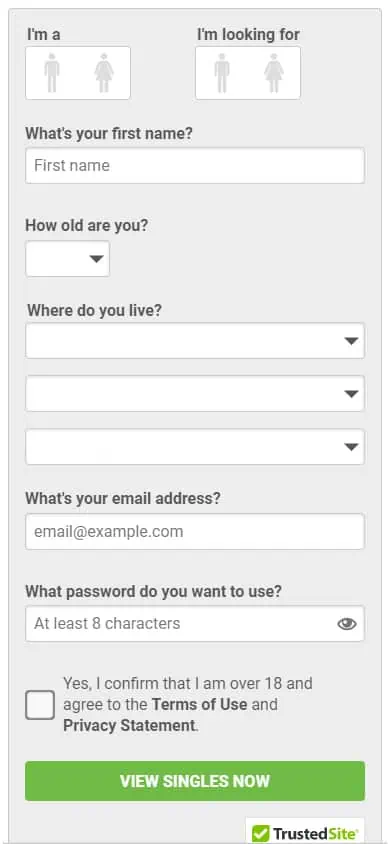 Next, enter your new username, age, and gender. You must also create a unique password to access your new account and provide your email address. Once you've agreed to BlackCupid's Privacy Statement and the Terms of Use, click on "View Singles Now" to continue to the next step.
Step #3: Submit a Profile Photo
Upload a profile picture to your new account. You can skip this step, but you might be restricted in your free membership from viewing other members' photos unless you include one of yourself.
If you skip adding a profile photo, click "Photos" under the human silhouette icon. Free members of BlackCupid can upload up to five pictures to their profile.
Step #4: Develop Your Profile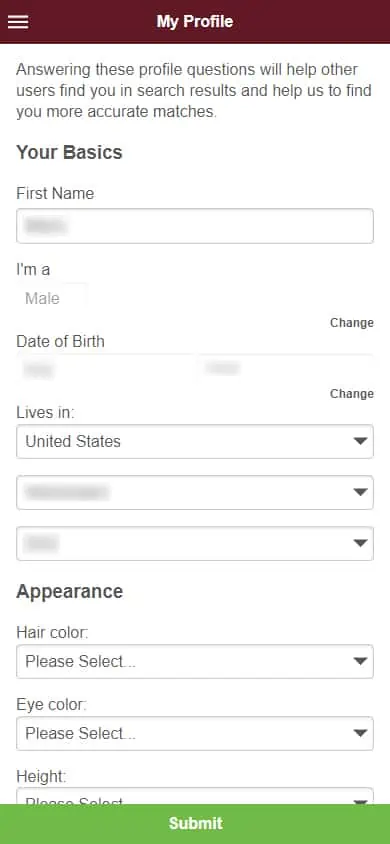 At this point, you can begin using the search filters and finding out what kind of singles are using BlackCupid. But if you aim to become a premium member eventually, you should develop your profile so you can hit the ground running once you've upgraded.
Edit Profile – Click on "Edit Profile," a menu option that appears under the human silhouette icon. Include information about your appearance, lifestyle choices, cultural values, and personal background.
View Profile – Once you've included everything you need, you can see what your profile will look like to other app members when you click on "View Profile."
Hobbies and Interests – Another way to make your BlackCupid profile stand out to other members is to include your hobbies and interests. Click on "Hobbies and Interests" and begin choosing some from the lists provided. Other members can learn more about what you're into and how you spend your free time.
Personality Questions – Click on "Personality Questions" to include generic personality questions (along with your answer) in your profile. Yet again, this is another method that reveals more about who you are to other BlackCupid members.
Step #5: Verify Your Profile
Online dating apps could be better at vetting new members. Often, fake profiles and spam accounts will make their way onto dating sites, and BlackCupid is no exception! Getting your profile verified by BlackCupid is a step you can take toward being honest and transparent with other members.
Provide BlackCupid with an official form of ID (passport, national ID card, or driver's license), and they'll match this against your profile bio and photo. Once they've confirmed your identity is legit, BlackCupid will give you an official verification badge for all other members to see!
Note: Verifying your account is an optional step. You don't have to complete this portion to become a premium member. We recommend doing it to build trust with others.
Step #6: Enter Your Preferences into the Search Parameters
Now it's time to discover black singles who fit your dating preferences. Click on "Search" to plug in your search parameters.
Once you're done, click "Submit." You'll be directed to the "Matches" tab, where you can view profiles that fit the descriptions you set.
You can view profile bios and photos and even send likes to the matches you discover on BlackCupid as a free member. However, those wanting to send messages need to upgrade to a premium membership plan. And this brings us to…
Step #7: Upgrade to a Premium Membership
To upgrade to a paid membership plan, click on the green "Upgrade Membership" button in the top right-hand corner of the main screen.
At the top of the page, discover the three membership tiers: Gold, Platinum, and Diamond. Click on the tier that works best for you, and then you'll see all four membership options: 1-week-, 1-month-, 3-month-, and 12-month-plans.
Enter your payment information and hit the "Upgrade Now" button to become an official premium BlackCupid member.
How to Delete a BlackCupid Account
It's super easy to delete your BlackCupid account; you can do it in just a complete of minutes! Just be sure that deleting your account is what you absolutely want to do because it's irreversible once done. You'll need to create a new account and profile from the ground up if you're going to use BlackCupid again.
Click on "Profile Settings" – Begin by clicking on "Profile Settings." This option will appear in the drop-down menu when you click on the gear icon.
Click on "Switch Off Profile" – At the bottom of the page, click on the "click here" link that appears under "Switch Off Profile."
Deactivate or Delete Your Profile – Choose to deactivate your profile (temporarily disabling your account) or permanently delete your BlackCupid account. If you delete your account entirely, there's no way to access your profile, matches, or messages once you've finalized things.
BlackCupid Customer Service
Customer service at Black Cupid is about as much as we expected it to be, considering we're dealing with an online dating app. Be it a matchmaking service or a dating site, these platforms are notorious for having limited customer service options. It's not that they're bad per se, but they could be better and offer more robust support.
To access customer service or support at BlackCupid, click on the gear icon in the top right-hand corner of the screen and select "Help."
Help Tab
The help ticket will appear in the bottom right-hand corner of the screen, directly below the drop-down menu.
You'll see a search bar at the top of the ticket. Any questions you have can be submitted here, and once you hit enter, you'll get some helpful answers or suggestions on how to fix or address any problems or concerns you might have.
Contact Us Tab
At the bottom of the support ticket, you'll find a "Contact Us" button. If you want to contact a customer support associate directly via messaging, click here to compose one using your email address.
Your username and email will automatically be entered into the appropriate fields. You can expect a response within 24 hours, and the message will appear in your emails.
Include the nature of your issues, write your message, and include file attachments that might be helpful.
BlackCupid's Mobile App
BlackCupid isn't just a dating site for black singles. It also comes in the form of a top-rated mobile app that lets its members find love or romance on the go. For the most part, the app works just like the website, but there are a few differences you should know about.
App Features and Functionality
The difference between the website and the mobile app isn't so much in the features offered but in the setup, formatting, and overall functionality:
Each member's profile comes in a condensed version on the mobile app.
The "Matches" tab only features the member's picture.
Access your matches' profiles by clicking on their name.
Compatibility
Unfortunately, the dedicated mobile app is available to Android customers only! iOS members can still access the BlackCupid website on their mobile devices, but they need to use their web browser.
Google Play App
Rated 4.3/5 stars
Based on 1.49k reviews
100k+ downloads
Free to download
Offers in-app purchases
Frequently Asked Questions
Are you interested in seeing what real-life customers and readers are asking us about BlackCupid? Check out the most common questions we've run across, the things that most people are curious about!
Do I Have to Be Black or Ebony to Use BlackCupid?
Anyone can use BlackCupid, provided they are 18 years old. That's the sole requirement. It doesn't matter what the color of your skin or your ethnic background might be. While black singles comprise the majority of BlackCupid members, there are plenty of non-black singles interested in black dating. And they're more than welcome to use the site!
How Old Are BlackCupid Members?
Most singles using the BlackCupid site are looking for profound or meaningful relationships. Members of BlackCupid are generally between 34 and 42 years of age. As a result, the site is a good option for singles who are more mature in their dating and relationship patterns.
What Countries Does BlackCupid Serve?
The top country served is the United States, but there are several other nations, including Ghana, Japan, Egypt, Tanzania, and a few more. Not only can you find true love with black singles or enjoy black dating close to home, but you can also expand your horizons and search for love overseas!
How Can I Cancel My Membership?
To cancel your membership with BlackCupid, you must shut off the auto-renewal feature on your subscription plan. Once your membership reaches the end of the billing cycle, it won't automatically re-up, and your membership benefits will cease. If there's still time left on your plan when you "cancel," you're more than welcome to keep enjoying the perks and benefits until the end of the billing cycle.
How Long Does It Take to Sign Up?
Take the time to develop a quality profile that black singles are interested in reading. The entire registration and sign-up process for a premium membership will take anywhere from 10 to 15 minutes. Accessing the site as a free member only takes a couple of minutes, but your profile won't be developed or verified for the best results.
Can I Find True Love Using BlackCupid?
You can find all sorts of relationships on BlackCupid, but true love and meaningful, long-term relationships are the most frequent. People using this site are older (34-42 years), more mature, and seeking serious commitments. Many of the international relationships formed at BlackCupid are between singles looking for a marriage partner or their soulmate.
Is BlackCupid Legit?
BlackCupid is under the umbrella of Cupid Media, a group of international dating sites catering to singles worldwide since the early 2000s. BlackCupid itself is excellent at keeping its members' information completely private. There are no instances of them at any point selling customer data to third parties. Some fake accounts make their way onto the platform, but BlackCupid is good at shutting them down quickly.
Why Are There Membership Tiers?
The idea behind membership tiers is that the more essential features offered at BlackCupid contain a lot of value for premium customers and therefore come at a higher cost. The top tier grants members access to priority messaging, the best overall ranking in the searches, and enhanced support. As one moves from the Gold Tier up through to the Diamond Tier, they'll be able to enjoy more benefits and perks along the way.
Does BlackCupid Offer Any Discounts?
The only deals we found were the reduced monthly cost rates on the more extended membership plans. It's cheaper to start with a more extended membership than to renew several shorter memberships for the same length of time.
Is BlackCupid Worth It?
BlackCupid is worth it for those who want to find love or romance with black singles. It's also great for serious or casual dating. There are opportunities for finding connections with black singles in your local area, or you can search overseas for love in countries like Egypt, Ghana, Japan, or Tanzania.
How Can I Search for Black Singles on the App?
BlackCupid comes with search filters that allow black singles and other app members to conduct searches along the lines of gender, age, and location. As customers work their way upward through membership tiers, they can access search filters with more advanced criteria. Whatever dating preferences you enter in the searches, suitable matches will populate the "Matches" page.
Is BlackCupid Free?
There is a free membership plan at BlackCupid that allows you to enter search criteria, browse profiles, send "likes" to other members, and develop (or make edits to) your BlackCupid profile. If you want to do anything beyond these simple functions, you must upgrade to any of the premium membership plans: Gold, Platinum, or Diamond Tier.