BlackCupid Review Updated for 2023
Are you looking for true love or romance with black singles? You need to check out BlackCupid, a niche dating app that features black singles who desire serious relationships and long-term commitments.
In our BlackCupid review, we'll go over our ratings for this platform, membership plans, features and pricing, and opportunities to use BlackCupid in a limited capacity for free! This is our honest and unbiased take on BlackCupid and how you can meet black singles in 2023.
Want to know a little more about BlackCupid before diving into our BlackCupid review? Check out some of our fast facts to learn more about this dating app, who it caters to, and how it operates in matchmaking.
BlackCupid Key Information
Fact
Details
Site Name
BlackCupid.com
Key Info
• Year Founded: 2000
• Best For: Finding black singles who want to find love, romance, and serious relationships
• Number of Active Members: 3,500 (from the US)
• Daily Logins: 250 daily logins
• Gender Ratio: 81% men to 19% women
• Matchmaking Process: Advanced search filters and members' dating preferences

Cost of Membership
BlackCupid prices start at $3.83
Sign Up Time
5 minutes
How did we feel about BlackCupid as a whole? We ended up rating them 3.7 out of 5 stars, and this was due to evaluating five key criteria points and drawing an average from there.
We definitely like BlackCupid and would recommend it to any readers interested in black singles dating. Still, it's not a perfect dating app, and we aren't afraid to say that.
| Category | Score |
| --- | --- |
| Features | 4.5 |
| Ease of Use | 4.6 |
| Match Quality | 3.1 |
| Cost | 3.8 |
| Active User Base | 2.5 |
Suppose you are hesitant to purchase a premium membership plan from BlackCupid. In that case, we highly recommend using the app's free trial to see if BlackCupid is a dating app worth the money. The "free trial," as we call it, allows you to experience a few of the features of being a paying member without putting any money down. It's almost like test-driving a new car.
We want to say that you can use BlackCupid for free without any sort of restrictions, but there are only a few features that can be enjoyed. You have to pay up if you want to enjoy the rest of the features, perks, and benefits the app has to offer you.
Here's what you can do for free with the BlackCupid "free trial" membership (the Standard Tier Plan):
A lot of this is basic stuff, so all you can do as a free user is get daily matches from BlackCupid, send likes to other members, and engage with messages sent to you by paying members.
While the free trial lets you do a few cool things, it's no real substitute for the benefits of premium membership. But you also wouldn't know if membership at BlackCupid is suitable for you if it weren't for the free trial. All that said, it never hurts to stay in free trial mode until you're dead set on paying for a plan.
BlackCupid Membership Plans
CupidMedia dating apps typically break their membership plans into three tiers: Gold, Platinum, and Diamond. And then, within each tier, there are four separate membership plans that vary in length going from 1 week to 12 months. The features will change as you move upwards in the tiers. The Gold Tier comes with the fewest features, and the Diamond Tier will allow you to experience every tool BlackCupid offers.
Here's how each of the membership plans at BlackCupid breaks down:
| Plan Length | Cost Per Month | Total Cost |
| --- | --- | --- |
| 1 Week | $5.49 (cost for 1 week) | $5.49 (cost for 1 week) |
| 1 Month | $10.99 | $10.99 |
| 3 Month | $7.66 | $22.98 |
| 12 Month | $3.83 | $45.99 |
| Plan Length | Cost Per Month | Total Cost |
| --- | --- | --- |
| 1 Week | $7.49 (cost for 1 week) | $7.49 (cost for 1 week) |
| 1 Month | $14.99 | $14.99 |
| 3 Month | $9.99 | $29.98 |
| 12 Month | $5.00 | $59.99 |
| Plan Length | Cost Per Month | Total Cost |
| --- | --- | --- |
| 1 Week | $15.00 (cost for 1 week) | $15.00 (cost for 1 week) |
| 1 Month | $29.98 | $29.98 |
| 3 Month | $19.99 | $59.97 |
| 12 Month | $10.00 | $119.98 |
Something to remember about the membership plans at BlackCupid is that all subscriptions need to be paid for in full before you can begin enjoying the perks and benefits of being a member. There are also no payment plans for the memberships found at BlackCupid. You cannot break up payments into monthly installment plans. Everything has to be paid for all at once!
Another cool facet of the membership plans at BlackCupid (or any CupidMedia dating app, for that matter) is that the price per month rate drops as you increase the length of the subscription. It's much cheaper to purchase a more extended membership than it would be to renew a shorter plan over and over again. There are some savings for those who want to commit to BlackCupid for a longer period.
This is the case with most dating app membership plans, but all BlackCupid packages are already set to auto-renew once the plan has come to its end. Members will be charged for the same membership plan once the first one is finished. This allows BlackCupid members to have continuous, uninterrupted perks and benefits without returning to the site and purchasing a new membership plan.
There are a few ways that you can disable the auto-renewal feature if you want to avoid being charged automatically for the same membership plan. There is a notice period for opting out. Be sure to cancel the auto-renewal feature 10 days before your subscription ends.
Contact customer support, and they can disable auto-renewal, or you can change your billing preferences in the account settings.
Every new member to BlackCupid begins as a free trial user in Standard Membership Plan mode. The only special features that come for free are sending likes, basic matching, and communication with paying members. That's it.
You begin by paying for a Gold Tier membership and open up with four new features on top of the three you already had. In every tier you graduate, you'll maintain the features you already had and gain more.
| Features | Gold | Platinum | Diamond |
| --- | --- | --- | --- |
| Send Likes | X | X | X |
| Basic Matching | X | X | X |
| Communicate With Paying Members | X | X | X |
| Unlimited Communications | X | X | X |
| Unlock Messages | X | X | X |
| Conceal Your Profile or Photos | X | X | X |
| No Ads | X | X | X |
| Mutual Matches and Reverse Matches | | X | X |
| Rank Above Gold and Standard Members | | X | X |
| Enhanced Search Features | | X | X |
| Double Your Profile Space | | X | X |
| Message Translator | | X | X |
| Rank Above All Other Members | | | X |
| Priority Messages | | | X |
| Highlight Your Profile | | | X |
| Enhanced 24/7 Customer Support | | | X |
Ideally, you want to become a Diamond Tier member to experience all the features, perks, and benefits that BlackCupid offers. Even becoming a Gold Tier member is much better than using the app for free because you can actually begin communicating with other members aside from just sending likes or hoping to get a message from a paying member to respond to.
Membership Features by Tier
As we mentioned, you get more features at BlackCupid the higher you go in the membership tiers. We will work our way from top to bottom, showing you which features you get as you work your way from the Standard Plan up to the Diamond Plan.
If you're looking for a full description of these special features, we will run through them in detail and show how they can benefit your online dating game at BlackCupid.
Let's begin by telling you how you access the customer service and support center at BlackCupid. If you look over on the right-hand side of any page you're on, you'll see the green Upgrade Membership button along with a small menu. On the far right, there's a little cog icon. Click here and select "help" from the drop-down menu.
The help ticket will appear once you've hit "help." It will appear in the screen's lower right-hand corner, right under the previous drop-down menu. All that will appear in the box is a search bar and a "contact us" button at the bottom. You can use the search bar and type in the question you have or use keywords to generate question suggestions.
For example, we typed in the term "billing," and these are the results we ended up getting using that search term. We got suggestions for canceling auto-billing and a few others. BlackCupid uses this help ticket feature instead of the FAQ pages commonly featured in other dating apps.
The other major way to get service and support at BlackCupid is to use the generic contact form. This is accessed by clicking on "contact us" in the app's help ticket.
Your name and email address will be auto-filled by BlackCupid. Below that part is a drop-down menu of options for what the issue is that you're facing.
Next, there's a text box to provide additional details (if needed) of the problem or issues you're facing, another drop-down menu where you can specify the device you're using, and a place where you can include any relevant attachments (files or documents).
Sign Up at BlackCupid Today!
BlackCupid (and all CupidMedia dating apps) makes it easy for new members to sign up and get their profile established without going through a lengthy process. Something we can really appreciate about the CupidMedia line of dating apps is the fact that newcomers can access their free account in a few steps. They can work on honing their search settings and establishing their personal profile. It's that flexibility that makes the sign-up process nearly painless!
That said, the actual process might take less than 1 or 2 minutes, but that does not include putting together a profile or establishing your dating preferences. We'll walk you through each step and how easy it is to access other members' profiles and photos, get your search settings in order, and add information to flesh out your profile.
Now that you have access to BlackCupid and set up your profile and search filters, you can begin checking out the members currently enjoying the app! 
Matches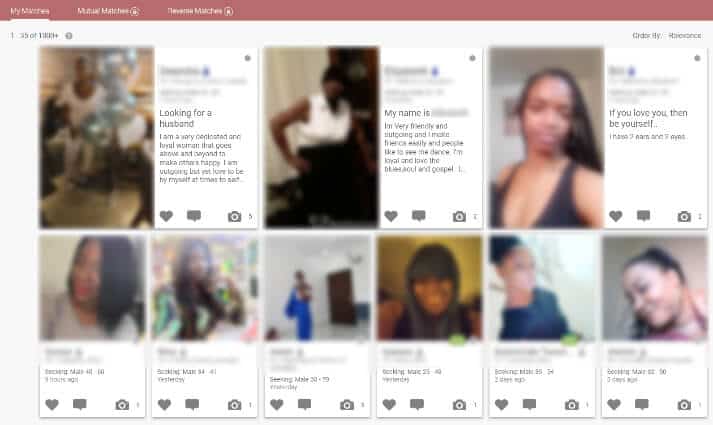 "Matches" is one of the primary tabs featured across the main menu. You want to click here to see multiple profiles at one time. 
These are condensed profiles that do not provide all the member's information, just an abridged version with their age, location, and the age range of the singles they're looking for, as well as a small summary of who they are. 
Profiles
Click on any of the profiles you find under "matches," and you'll see the entire profile page. You can see all of the member's essential information about their appearance, lifestyle (income level, pets, smoking/drinking habits, etc.), and cultural background (religion, education, nationality, etc.) 
If you've read our BlackCupid review and feel like there are better fits as far as a dating app goes, we understand and are happy to guide you to some great alternatives. These dating apps have much larger and more active membership bases and typically come at a better cost!
Dating App
Fast Facts
Review
eHarmony

Active Users: 16+ million
Gender Ratio: 48% men to 52% women
Number of Countries Serviced: 200 countries
Membership Cost: $35.90/month (beginning rate)

eHarmony Review
Elite Singles

Active Users: 2+ million
Gender Ratio: 44% men to 56% women
Number of Countries Serviced: 20+ countries
Membership Cost: $27.95/month (beginning rate)

Elite Singles Review
Match.com

Active Users: 8+ million
Gender Ratio: 51% men to 49% women
Number of Countries Serviced: 50+ countries
Membership Cost: $18.99/month (beginning rate)

Match.com Review
Christian Mingle

Active Users: 16 million
Gender Ratio: 44% men to 56% women
Number of Countries Serviced: 7+ countries
Membership Cost: $24.99/month (beginning rate)

Christian Mingle Review
Zoosk

Active Users: 500,000+
Gender Ratio: 48% men to 52% women
Number of Countries Serviced: 80+ countries
Membership Cost: $12.50/month (beginning rate)

Zoosk Review
We might not have covered everything you need about BlackCupid in our review. We hope our FAQ section will plug any gaps we have missed. There are some of the most common questions about BlackCupid that we have seen from readers online.