If you want to know anything about the cost of a BlackCupid membership, the premium features those plans offer, and the free trials available on the BlackCupid dating app, you've come to the right place!
Learn if a free trial is a good option for you while you wait to purchase a premium plan, what kind of membership is going to be a good fit for your needs, and what kind of features will work best for you in your missions to meet and connect with other black singles.
---
---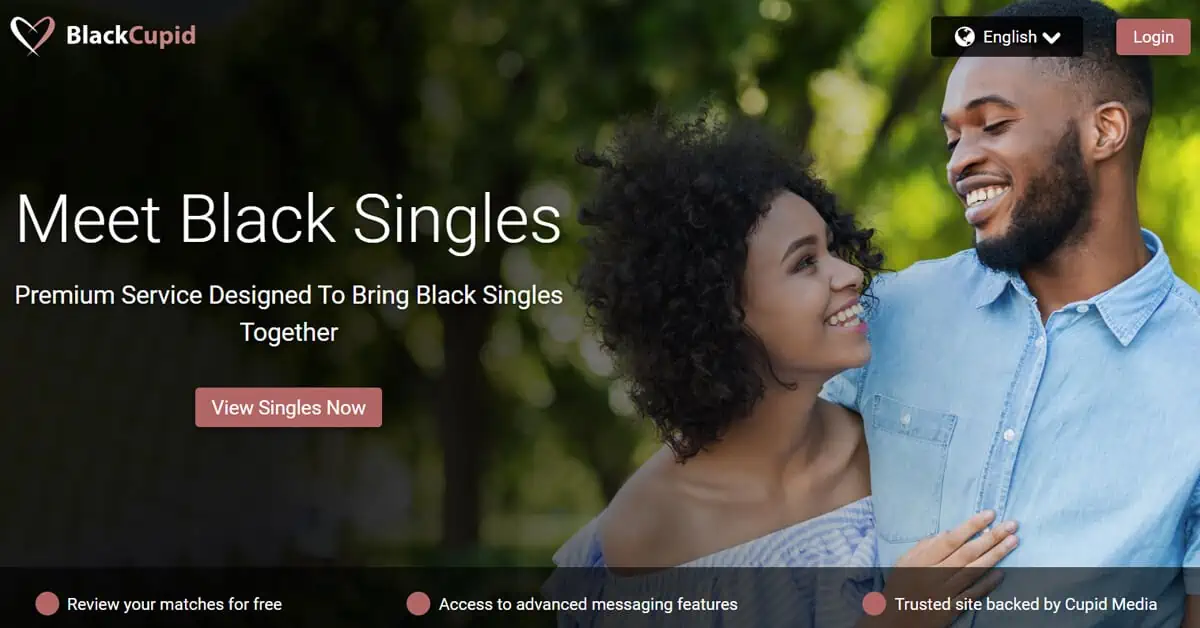 BlackCupid Cost Breakdown​
Like most CupidMedia dating apps, BlackCupid is divided into three membership tiers, each containing four different membership plans. Within each level, the features will be the same; the only difference between the four plans is the length.
When you begin exploring other tiers, especially if you're moving from Gold up to Platinum or Diamond, you'll see the baseline features stay the same, but you'll keep adding on more features the higher in the tiers you climb.
We'll begin at the bottom with the Gold Membership and work our way up the ladder.
Gold Tier Membership​
| Plan Length | Cost Per Month | Total Cost |
| --- | --- | --- |
| 1 Week | $5.49 (cost for 1 week) | $5.49 (cost for 1 week) |
| 1 Month | $10.99 | $10.99 |
| 3 Month | $7.66 | $22.98 |
| 12 Month | $3.83 | $45.99 |
---
Platinum Tier Membership
| Plan Length | Cost Per Month | Total Cost |
| --- | --- | --- |
| 1 Week | $7.49 (cost for 1 week) | $7.49 (cost for 1 week) |
| 1 Month | $14.99 | $14.99 |
| 3 Month | $9.99 | $29.98 |
| 12 Month | $5.00 | $59.99 |
---
Diamond Tier Membership
| Plan Length | Cost Per Month | Total Cost |
| --- | --- | --- |
| 1 Week | $15.00 (cost for 1 week) | $15.00 (cost for 1 week) |
| 1 Month | $29.98 | $29.98 |
| 3 Month | $19.99 | $59.97 |
| 12 Month | $10.00 | $119.98 |
As you can see, the membership plans get increasingly more expensive as your work your way up through the tiers. If you look closely, however, you'll see that the price of membership per month within each tier begins to drop the longer the plan you purchase. You can capture these savings by purchasing a more extended subscription instead of continually renewing a shorter-term plan for more money.
All membership plans at BlackCupid need to be purchased at one time and paid in full before you can begin using them. There are no options for setting up payment plans or paying month to month.
Membership Plan Features​
Now comes the moment you've been waiting for: what exactly do I get as far as features go with all these membership plans? We'll cover each element in great detail, showing you which tier you need to become a member of to enjoy these perks and what they mean for you as a BlackCupid user.
| Features | Gold | Platinum | Diamond |
| --- | --- | --- | --- |
| Basic Matching | X | X | X |
| Communicate With Paying Members | X | X | X |
| Unlock Messages | X | X | X |
| Send Likes | X | X | X |
| Unlimited Communications | X | X | X |
| No Ads | X | X | X |
| Hide Your Profile and Pictures | X | X | X |
| Double Your Profile Space | | X | X |
| Unlock Exclusive Search Features | | X | X |
| Get Better Matches | | X | X |
| Instant Translate Messages | | X | X |
| Rank above Other Members | | X | X |
| Priority Messaging | | | X |
| Profile Highlights | | | X |
| Rank above All Members | | | X |
| Premium Customer Service | | | X |
Features Description​
Gold Tier Features
Basic Matching (Free Trial) – This is one of the most basic features of a free trial membership. BlackCupid will use the criteria you provided in your personal preferences and search settings to deliver some general daily matches.
Communication with Paying Members (Free Trial) – As a free trial member, you cannot message any of the members or free trial users who are currently using BlackCupid. But there's one exception to this rule: free users can respond to any messages they might get from paying members. This is the only line of communication on the app if you're not a paying member of BlackCupid.
Send Likes (Free Trial) – You can show interest in other members at BlackCupid by sending them likes. You can like their profile information or their photos.
Unlock Your Messages – Now we begin the Gold Tier features, and the most significant advantage to being a member is being able to unlock any messages that might have been sent your way that you couldn't access as a free trial user.
Send Unlimited Communications – Now that you have a premium membership plan, you can use the instant messenger chat feature at BlackCupid and enjoy unlimited communication with any other singles using the platform. This might be the single more important feature of any membership plan at BlackCupid!
No Ads – As a paying member, you'll no longer be subject to third-party ads taking up space on your screen while trying to meet other singles on the app.
Hide Your Profile and Pictures – You can hide your profile and any pictures from other BlackCupid members with whom you feel uncomfortable accessing your personal information.
Platinum Tier Features
Double Your Profile Space – Now that you've graduated to the Platinum Tier, you get your profile space doubled to increase your visibility on the app in the hopes of meeting many more eligible singles.
Unlock Exclusive Search Features – Your search filters also get upgraded when you become a Platinum member, so you can use more detailed search criteria to filter through large catalogs on singles to find the correct matches.
Get Better Matches – Platinum Tier customers can now perform mutual matches to see if other singles have the same search criteria preferences as you. There are also reverse matches that allow customers to find singles who are nothing like them if they're looking for something different.
Instant Translate Messages – This feature allows customers corresponding with singles who might not speak their language to translate messages without skipping a beat in the relationship.
Rank Above Other Members – As a Platinum Tier member, you'll enjoy a much better ranking than Gold Tier members and free trial users.
Diamond Tier Features
Priority Messages – Now, we've broken into the Diamond Tier. One of the best overall features at BlackCupid is priority messaging. Your messages will appear at the top of anyone's inbox (at least, along with any other Diamond Tier members).
Profile Highlights – The profile highlight for the Diamond Tier members comes in the form of a diamond icon that is prominently displayed for all to see. This can help capture other users' attention and hopefully generate some interest.
Rank Above All Members – As a member of the Diamond Tier, you'll rank above all other app users, except for other Diamond Tier members. You'll appear in the top search results and get the best visibility possible on the app.
Premium Customer Service – As a part of the Diamond Tier setup, customers will get the best customer service available to anyone on the BlackCupid app. It's available on a 24/7 basis and will handle any problems, issues, or concerns that might arise.
How Can I Pay For My Membership?
There are several payment methods that you can use to pay for a BlackCupid premium membership. In fact, there are more payment methods available here than found on most other dating apps like this.
How can I pay for my membership plan? There are five primary ways:
Credit Cards – This is the preferred payment method of BlackCupid. Five major credit cards are accepted here: Visa, Discover, American Express, Discover, and Diners Club. 
Google Pay – Obviously, this one had to be included. I mean, come on.
Paysafecard – This is a way for customers to make an online prepaid payment using a system of vouchers. It's great for that added layer of protection.
Bank Transfers – This is a good option for those who prefer to wire the money straight from their bank account.
Skrill – Another fantastic option for payment, Skrill, is an e-wallet that keeps the payment process away from the home account.
Auto-Renewal​
Any membership plan purchased at BlackCupid is set to auto-renew itself when it comes to the end of its term. Members will be automatically charged again for the same subscription unless they contact customer service and cancel the auto-renewal or disable it in their account settings under billing preferences.

BlackCupid Free Trial​
BlackCupid offers a free trial option for new customers. In fact, it's the default setting for anyone who creates an account on the app. All users are in free trial mode before they upgrade to a premium membership plan.
The free trial is great for users to scope out the app and see what kind of singles are currently using the service, but the free trial will also be limited as far as features go. If you want to use BlackCupid for everything it's worth, go with a premium membership to unlock all the features the app has to offer.
Free Trial Features
Start a BlackCupid account
Develop and edit your personal profile
Add up to five photos
Find matches by adjusting your personal preferences and search settings
View other members' profiles and photos
Get daily matches
Send likes
Block and report members
Limited messaging (responding to messages sent by premium members)
While the free trial comes with no charge, it's no way to use BlackCupid and actually meet other singles. Sure, you can view profiles and photos, but you can only communicate with people if a premium member sends you a message. The free trial is great for checking out the app, but we recommend purchasing a premium plan.
BlackCupid Cost FAQ
If you still have questions about the cost of BlackCupid or their payment options we've got you covered. Check out this list of frequently asked questions below and our answers to help you. If you're still looking for more general information about the app itself then be sure to read through our BlackCupid review.
What Is the BlackCupid Free Trial Like?
The free trial that BlackCupid offers only lets the free user enjoy a limited number of premium membership features, including liking profiles, getting some basic daily matches, and responding to messages sent by paying members. The free trial is an excellent way to test out the app and see if it's worth it to purchase a premium membership.
How Much Does a BlackCupid Membership Cost?
It will depend on the tier level you become a part of. The Gold Tier has plans that begin as low as $3.83 per month, the Platinum Tier has plans as low as $5 per month, and the Diamond Tier offers a low $10 monthly starting cost. Check out our complete list of pricing in the tables above.
What Is Auto-Renewal, and How Does It Work?
Every membership plan at BlackCupid comes with an auto-renewal function. When the subscription ends, it will renew itself automatically, and the user will be charged for the same plan again. It's a function that can be disabled by contacting customer service or setting it to "off" in your account settings.
Can I Pay For My Premium Membership Month to Month?
Sadly, there are no payment plans available for memberships at BlackCupid. They need to be paid for entirely before you can enjoy their features.
Should I Get a Diamond Tier Membership?
It's really up to you and what you need. Diamond Tier members have access to four outstanding features that no other users in the lower tiers can enjoy: profile highlights, top placement in the search results, priority messaging, and premium customer service available 24/7. If you want the full VIP treatment, Diamond Tier Memberships are definitely worth checking out.