Big, beautiful women deserve to find true love or romance with someone who loves everything about them, from their personality to their looks. Many online dating apps exist, but not all are ideal for BBW and plus-size singles to meet others in a safe online space, free of unnecessary ridicule or body shaming.
Our BBWCupid review will cover the membership cost, the unique features paying users can enjoy, and a detailed rundown of the registration process so you can get started immediately!
---
---
Our team has independently researched all products and services that we have listed on this page. If you sign up or purchase through our links, we may receive a commission. See how it works.
Introduction to BBWCupid
BBWCupid is a dating app specializing in helping BBW find meaningful and long-lasting relationships. We see this as an excellent option for big, beautiful women and plus-size singles alike to enjoy a safe and non-judgment dating experience!
A Brief Overview of BBWCupid's History and Success
BBWCupid opened its doors to customers in 2005 as a part of the Cupid Media Group of dating sites. This is their offering for BBW and plus-size singles looking for romance or true love online. Unlike many dating sites featured on Cupid Media, BBWCupid is primarily an American dating site and doesn't cater to overseas markets.
As of this year, 100,000 members reside in the United States, 50,000 of which are dedicated to using the site each week! This makes BBWCupid a niche dating platform, so you're not going to set the world on fire with search volume, but the service produces some relevant results for what it has to work with.
BBWCupid's Unique Approach to Online Dating
BBWCupid provides a safe place for BBW (big, beautiful women) or BHM (big handsome men) to find love, a long-term relationship, or a marriage partner. And the way they create suitable matches among their members is through advanced search filtering and top-of-the-line profiles that include a ton of details on all BBWCupid singles.
BBWCupid provides a more hands-on approach for its members, putting most of the responsibility in their hands to forge their connections and relationships. Talk about empowerment! It's about more than just taking a personality quiz and getting reports or scores on your matches.
Is Signing Up for BBWCupid Worth It?
While it's true that anyone can join BBWCupid if they are 18 years or older, it might not be the ideal dating site for anyone. Some relationships aren't conducive to the platform and what it aims to do for its members.
BBWCupid will be worth the time and money if:
You're a BBW or plus size single looking for love or commitment with other plus size singles.
You're not plus size yourself but are attracted to plus size singles, and you want to form a meaningful, long-term relationship.
You're looking for quality matches where a compatible connection is essential.
BBWCupid isn't worth it for those who:
Are you looking for casual romance or hookups?
Aren't you interested in plus-size dating or relationships?
Our Ratings
How did we rate BBWCupid as a dating app for finding big, beautiful women? We examined five major categories during this BBWCupid review and assigned a score to each one. We created an average to arrive at our overall rating for BBWCupid: 3.9/5.
Overall:

| Category | Score |
| --- | --- |
| Features | 4.1 |
| Ease of Use | 4.3 |
| Match Quality | 3.5 |
| Cost | 3.9 |
| Active User Base | 3.8 |
| Overall | 3.9 |
We highly recommend using BBWCupid if you're looking for meaningful relationships or long-term commitments with someone plus-size or BBW singles.
What We Like
If you're wondering whether BBWCupid is the right dating app, we've found a way to make your decision easier. Check out our top reasons to become a BBWCupid member:
Date Big, Beautiful Women – By a long shot, this is the top reason to use BBWCupid. You're in the market to meet big, beautiful women, and that's precisely what you'll find here at BBWCupid. It's what the dating app is designed for, finding meaningful relationships with BBW (or BHM) singles.
Short Sign-Up Process – BBWCupid has a super straightforward registration process, like all Cupid Media products. Gaining access to the platform only takes a few minutes, while putting together your profile and setting up your search parameters might bring your total registration time to around ten or fifteen minutes.
Simple, Streamlined Matching System – BBWCupid doesn't use a sophisticated matching system or have its customers take personality or compatibility tests. Instead, members set up search parameters and find singles using age range and location criteria. It's a simple process that makes using BBWCupid so easy and doesn't overcomplicate the search for big, beautiful women or big handsome men.
Multiple Payment Options – If you're looking for a dating app that offers a large assortment of payment options, BBWCupid is one that you might be interested in joining. They give their members the best flexibility when paying for their membership plans. Customers can use all the major credit cards as well as Google Pay, Skrill, Paysafecard, or bank transfers.
What We Don't Like
These are things that we weren't too crazy about that we found as we did our review of BBWCupid:
You're Looking for a Large Dating Pool – If you're expecting a deep dating pool that provides a vast array of options, there might be better dating apps than BBWCupid. This is a niche dating app, and it only caters to a small community of singles, namely those interested in dating big, beautiful women. There are 100,000 members total, but only 50,000 of those are active on the site each week.
You Want Casual, Short-Term Relationships – Some people find casual love and romance at BBWCupid, but it's chiefly a dating app for developing meaningful relationships where commitment is a driving force. There are exceptions to the rule, but BBWCupid is generally not an app for finding a casual weekend date or spending one night with a big, beautiful woman.
Who Is BBWCupid Best For?
BBWCupid is for BBW or BHM singles looking for profound relationships with each other or non-plus size singles. Let's look at who's registered with BBWCupid and currently enjoys its services. You can get a better idea of who you can find on the site.
Demographics and User Base
Check out these critical details and fast facts on the BBWCupid dating site:
| Fast Facts | Details |
| --- | --- |
| User Base | All singles (18 or older) |
| What Kind of Relationships? | Meaningful relationships with big, beautiful women and plus-size singles |
| Gender Distribution | 35% men to 65% women |
| Total Members | 100,000 |
| Active Members | 50,000 (active weekly) |
| Average Age | 28-36 years |
Relationship Types Best Served by BBWCupid
Based on what we discovered about BBWCupid and its user base, some relationships are better served than others:
There are many more women on BBWCupid than men (big surprise). These are optimum conditions for all sorts of men to find love or romance with a big, beautiful woman.
BBWCupid fosters serious, long-term relationships between younger singles, with the average member age ranging from 28 to 36 years.
Those using BBWCupid are typically looking for something other than hookups or casual romance. They're looking for a long-term relationship, their soulmate, or a marriage partner.
The BBWCupid Compatibility Matching System
There are no compatibility questionnaires or personality tests to complete to become a free or paying member of the BBWCupid website. Instead, members must create detailed profiles and enter dating preferences and criteria into the site's search filters to find the right BBW and plus-size singles.
Let's look at this matching system in more detail to show you exactly how it works.
How the Search Filters Work
Once you've become a free member, you can access the search filter settings by clicking on "Search" at the top of the site's main menu. It's here that you can begin plugging in your dating tastes and preferences, the things most important for finding your ideal match.
BBWCupid members can perform searches by criteria like:
Location/Distance
Gender
Age
Ethnicity
Occupation
Educational Background
Drinking/Smoking Habits
Body Type
Religious Beliefs
Body Art
Height/Weight
There are several other ways to get more specific with your search for the right BBW singles. As you look across the secondary menu below the main, you'll see that you can search for members by first name, by their member number, or by "popular searches," which are the site profiles that get the most attention.
You can even save searches that you performed and access them later under the "Saved Searches" tab.
The Role of a Good Profile in Matchmaking
Then you have the robust profiles that all Cupid Media sites are well-known for. Any of the criteria that members can plug into the search filters can be used as a basis for their profile bio, but there are several other things they can include:
Including a Profile Headline
Self-Authoring an "About Me" Section
Describe Your Ideal Match in More Detail
Including Hobbies or Interests
Adding Personality Questions
Edit and develop your profile by clicking on "Edit Profile." Easy enough, right? To see how your profile will look to other viewers, click "View Profile." It's a handy way to check the progress of your work!
BBWCupid's Communication Features
BBWCupid has several great communication features in its quiver, but many of the better ones come with higher-tiered membership plans. This means you'll have to upgrade and pay more to enjoy some of these.
Unlimited Communication
Free members can only receive, read, and respond to messages sent by paying members. However, paying members have no limits on who they communicate with on BBWCupid. There's no need for a mutual match to occur. You can message anyone at any time.
Profile Information
Yes, we know it's not direct communication with other members, but there's an element to your profile bio that communicates who you are and what you're looking for to BBW and plus-size singles using the app.
Fill out your "About Me" section so other members can learn more about what makes you tick. Complete the section where you describe your ideal match. Add personality questions where you provide your answers.
Priority Messaging
This communication feature is for Diamond Tier members only. It allows your messages to appear in the recipient's inbox above messages sent by members from the Gold or Platinum Tiers. Be one of the first messages to be seen by those you're interested in, aside from other Gold Tier members.
BBWCupid's Membership Options
BBW and other plus-size singles can become members of BBWCupid for free or a fee. Discover the difference between these two paths and the features you can experience along the way.
Free vs. Paid Memberships
All new users begin as free membership members when they register a new account at BBWCupid. One of the perks of a new sign-up is that newcomers can enjoy a portion of the basic BBWCupid features without paying any money.
Free Features
These are the most basic features at BBWCupid, and they all come at no cost to new users.
Register an account
Create a profile.
Like and view profiles/photos
Communicate with paying members
Set up search parameters
Basic daily matches
Add profiles to the Favorites List
Search for members
The free membership is perfect for someone who wants to learn more about BBWCupid. They can navigate around the app and see how it all works. They can set up search filter settings and find out what kind of singles they could meet. Perhaps most importantly, new users can develop a profile for free and get their name, face, and information on to the app. It's a way to put yourself out there at no charge!
If free membership sounds like something you'd want to try out before you fully commit to a paid membership, you can sign up for one today in less than two minutes.
Premium Membership Benefits and Pricing
How much does a BBWCupid membership cost the average person using the app? Well, that all depends on which subscription plan you choose to pursue. BBWCupid has twelve plans which are divided into three separate membership tiers. New customers can choose to become a Gold, Platinum, or Diamond member for one, three, or six months (or one week).
Gold Plans
| Plan Length | Cost Per Month | Total Cost |
| --- | --- | --- |
| 1 Week | $14.85 (cost for 1 week) | $14.85 |
| 1 Month | $29.73 | $29.73 |
| 3 Months | $19.16 | $57.49 |
| 12 Months | $9.58 | $114.98 |
Platinum Plans​
| Plan Length | Cost Per Month | Total Cost |
| --- | --- | --- |
| 1 Week | $17.48 (one week) | $17.48 |
| 1 Month | $35.99 | $35.99 |
| 3 Months | $23.33 | $69.98 |
| 12 Months | $11.67 | $139.99 |
Diamond Plans​
| Plan Length | Cost Per Month | Total Cost |
| --- | --- | --- |
| 1 Week | $36.00 (one week) | $36.00 |
| 1 Month | $71.98 | $71.98 |
| 3 Months | $46.66 | $139.97 |
| 12 Months | $23.33 | $279.98 |
Membership Features
Gold Tier members experience the fewest features, while Diamond Tier members can use BBWCupid for all its worth. As you advance through the tier system, the benefits will begin stacking up!
Here's a breakdown of which perks and benefits you'll experience within each tier:
| Features | Gold | Platinum | Diamond |
| --- | --- | --- | --- |
| Basic Matching | X | X | X |
| Like | X | X | X |
| Communicate With Paying Members | X | X | X |
| Unlock Messages | X | X | X |
| No Ads | X | X | X |
| Hide Profile and Photos | X | X | X |
| Double Your Profile Space | | X | X |
| Exclusive Search Filters | | X | X |
| Better Daily Matches | | X | X |
| Instant Message Translators | | X | X |
| Rank Above Gold Members | | X | X |
| Priority Messaging | | | X |
| Rank Above Gold and Platinum | | | X |
| Profile Highlights | | | X |
| Premium Customer Service | | | X |
Discounts and Promotions
The site doesn't offer any payment plans to ease the cost of paying for a membership plan, and there aren't any promotions currently offered at BBWCupid. While there aren't any apparent or advertised discounts available, you can find some hidden savings when you look closely at the monthly cost breakdown for the premium membership plans.
Take the 1-Month Diamond Tier membership, which costs $71.98. Renew that membership twelve times to cover a year, and you're paying $863.76. Then look at the 12-Month Diamond Tier membership itself, a cost of $279.98. Save yourself $583.78 by committing to the more extended plan right off the bat!
Payment Options
There are quite a few ways to pay for a premium membership at BBWCupid, something we appreciate because many dating apps offer only the mainline credit card options as payment methods.
Credit or Debit Cards
Google Pay
Paysafecard
Bank Transfer
Skrill (e-wallet)
Auto-Renewal
Each membership at BBWCupid is designed to renew once it has ended its term automatically. When the original plan ends, customers will be automatically charged for that same membership again, never experiencing a lapse in coverage. This design aims to ensure that customers never have to be without membership service and features they've come to love. It's handy for those using BBWCupid long-term and provides uninterrupted communications with other singles on the app.
Not Interested? There's a way to shut off the auto-renewal feature so your membership doesn't automatically re-up. Go into "Billing" under your account settings and switch the auto-renewal feature to "off." You may only want to use BBWCupid for the original timeframe you set and nothing more.
Creating Your BBWCupid Profile
If you take the time to develop your profile and set up your search filter settings, you might spend 5 minutes getting signed up at BBWCupid. However, accessing the platform takes one minute or less of your time, one of the quickest "sign-ups" we've seen anywhere. And it's all free! You can register a new account, set up a free profile, and look for singles that fit your criteria in 5 minutes or less.
If you need help beginning the process, follow our guide below. We'll walk you through every registration step so you can know what to expect.
Step #1: Visit BBWCupid.com
Begin the BBWCupid registration process by visiting their website: www.BBWCupid.com. Click on "View Singles Now" to get to the next step of the sign-up process.
Note: Android devices can go to Google Play and download the BBWCupid mobile app. iOS and Android users can access BBWCupid using their web browser. Regardless of the kind of mobile device you own, you can use BBWCupid on the go!
Step #2: Create Username and Password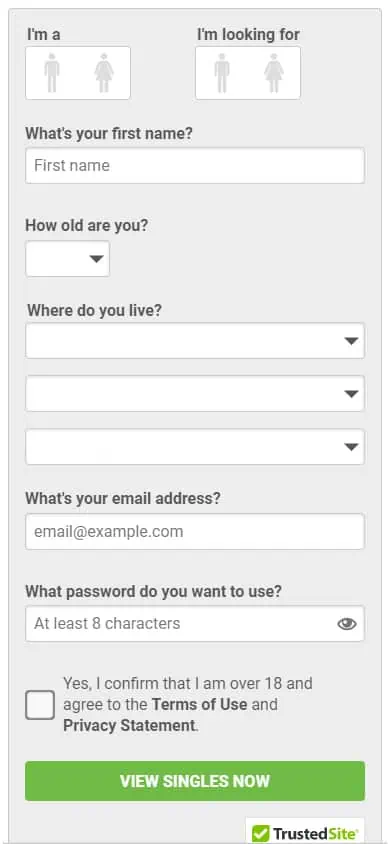 Enter a username that will be used for your new BBWCupid profile. Select your gender and age. Provide your email address and create a unique password for accessing your BBWCupid account.
Then hit the blue "View Singles Now" button and go straight to the BBWCupid site! There are links to the site's Terms of Use and Privacy Statement. To continue, you don't have to read them and click on the little check box.
Step #3: Add a Profile Photo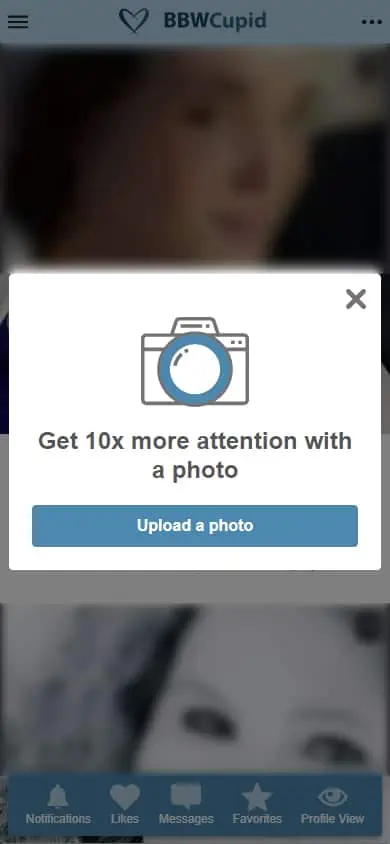 The following step is optional. You'll be asked to upload a profile photo which will help you get 10x the attention of singles on the app.
If you upload a photo immediately, you'll be taken to the next page (featured in the image below). You can upload as many as five pictures from the files on your mobile device or your desktop PC. BBWCupid includes photo guidelines for those uncertain of which photos are appropriate to post.
If you choose to skip the photo upload step altogether, you can gain immediate access to the BBWCupid app. This is all you need to do to access the platform. But there are a few more steps to complete before you're entirely signed up and registered on the app. We'll describe these in the next couple of steps.
Step #4: Develop your Profile Page
The next step is to work on your profile page. Ideally, your profile should be well-developed and presentable to viewers on the app. To edit your profile, click on the icon that contains your profile picture. It's located on the right-hand side of the screen next to the "gear" icon. On the drop-down menu, click "Edit Profile."
Basic Info and Appearance – The first portion covers basic information like gender, age, and location. These are some of the most vital elements that allow other singles on the app to find your profile, so it's imperative to include these.
Then you can add facts about your appearance, such as height, weight, and body type. As you can see, BBWCupid includes "slim" and "petite" as body type choices, showing that you don't have to be plus-sized to use this app.
Lifestyle – The next portion is more extensive, focusing on lifestyle choices (smoking, drinking, etc.), family, employment, and income.
Some of these questions get detailed and personal. You're not obligated to answer every question that's presented. You can choose what you want other singles to know about you based on your profile.
Background and Cultural Values – Let other singles at BBWCupid know about your educational background, religious beliefs or practices, and ethnic background. You can also list them if you're fluent in different languages.
Describe Yourself in Your Own Words – Complete a profile heading that will grab other singles' attention. There are sections where you can discuss your personality and what you want in an online relationship.
Step #5: Set Your Search Parameters
Now that your profile is completed, it's time to get your search filters set to your dating preferences and criteria. You can access your filters by clicking "Search" on the main search bar at the top of the screen.
Advanced Search – This is the heart and soul of the matchmaking process at BBWCupid. The advanced search is the most effective way of finding the singles best suited to your search criteria. Searches can be broken down by age, location, and the type of relationship you desire. There are options to find singles based on other factors like ethnicity, lifestyle choices, and appearance.
As you can see, there are many ways to that you perform searches:
Advanced Search
Saved Search
By Keyword
Cupid Tags
By First Name
By Member Number
By Popular Searches
Most of these are self-explanatory. But we can go over a few of the ones that don't seem as evident at a casual glance.
Cupid Tags – Cupid Tags are adjectives, labels, and other descriptors that singles at BBWCupid can add to their profiles to describe what they are like. Members can search using these Cupid Tags if they want something specific.
Member Number – Every BBWCupid member and the free user is assigned a member number when registering an account. You can also search using the member number to track a specific profile.
Step #6: Upgrade to a Membership Plan
Now that you're set up entirely and tested out the app, you might be interested in committing to a premium membership plan. Click on the green "Upgrade to Membership" button on the main screen, and you'll be taken to the upgrade page (featured in the image below).
You'll find a complete list of the membership plans available and the payment methods you can use for your purchase. Choose a plan that's best for you, enter your payment information, and follow the steps to check out.
Step #7: Search for Matches
Access "My Matches" by clicking on the "Matches" tab on the main menu. These are the profiles that best match up with the information you have in your search filters and dating preferences.
My Matches – There are two options next to My Matches: Mutual Matches and Reverse Matches. These are paid features that free users are barred from using. Mutual Matches allow you to find singles with search filters on the same settings as you. Reverse Matches are singles with preferences and search criteria that are as different as possible from yours.
Profiles – Click on a profile that captures your interest. This is what it will look like! You'll see their name, age, location, user ID number, and dating endgame. Some members choose to answer only a few questions, but this member fleshed out their profile well.
As you can see, certain areas of the profile are highlighted in green (match) or pink (no match), which reveals the key areas where you were most compatible (or incompatible) with the member.
Features – There are several ways to communicate or interact with BBWCupid members for free. Five symbols near the top of the profile page allow you to perform certain functions without paying for a membership plan.
Heart Symbol: Click here if you like the profile. This action is called sending a "flirt" at many other dating apps.
Message Symbol: Click here to send a message via instant messenger.
Star Symbol: Click here to add this profile to your Favorites List.
Exclamation Symbol: Click here to report this member.
No Symbol: Click here to block this member.
How to Delete a BBWCupid Account
There might come a time when you've met your true love, and you're done using BBWCupid for good. Or you're dissatisfied with the service, and you want to move onto a dating site that's a better fit for your needs. Whatever the situation, deleting your BBWCupid account and profile isn't difficult and only takes a few minutes to complete.
Here's how you do it:
Click on "Profile Settings" – Click on the gear icon and select "Profile Settings" from the drop-down menu.
Click on "Switch Off Profile" – At the bottom of the page, select the "click here" link under the "Switch Off Profile" heading.
Delete or Deactivate – You have the choice to delete or deactivate your account. There's a big difference between the two, so choose wisely.
Deactivate Your Account
This is the equivalent of temporarily disabling your profile and account. You won't appear as a member on the BBWCupid for the time your account is deactivated, which means you won't miss out on any messages or connections with other members. When you give the word, your account will be up and running again, and you can continue to use BBWCupid right where you left off.
Delete Your Account Permanently
This is a permanent deletion of your BBWCupid account. Any connections made or messages sent will be gone entirely. Your profile and account will also be wiped out. The only way you could use BBWCupid again is to create an all-new account and profile from scratch.
BBWCupid Customer Service
Click on your profile picture icon to access the customer support center at BBWCupid. You can type your question into the search bar, or if it appears in the suggestions, you can click here to find the answer you need. Click on "Help," and the help ticket will populate directly below.
Help Tab
At the bottom of the help ticket is a black "Contact Us" button. If you want to contact BBWCupid directly via email messaging, click here, and the help ticket will transfer over into a contact form, complete with your username and email address, ready to go!
In the description box, you can ask your question or state your request, whatever requires BBWCupid's assistance. You can also attach any files that might be pertinent to the matter.
BBWCupid's Mobile App
BBWCupid offers a dedicated mobile app to allow its members an on-the-go dating experience. The only catch is that it's available for Android customers only! However, you can visit the website on any mobile device so long as you have a reliable web browser and internet connection!
App Features and Functionality
The website and the mobile app are similar. The app's design is more streamlined, with the menus and navigation being simplified to make it more conducive to the smaller screens of tablets and smartphones. The features remain constant between the site and the app.
Compatibility
BBWCupid only offers a dedicated mobile app on Google Play to Android users. Those who prefer Apple products can still enjoy on-the-go dating with BBWCupid, but they'll need to visit the website using the web browser on their smartphones or tablets to do so.
Google Play App
Rated 4.3/5 stars
Based on 2.3k reviews
100k+ downloads
Free to download
Offers in-app purchases
Frequently Asked Questions
We have many common questions that get asked by our readers and customers about BBWCupid. These are frequently asked questions from real people! For any other questions about BBWCupid or plus-size dating, find the answers in the FAQ section below.
Can I Use BBWCupid for Free?
There are only a handful of features that free users can enjoy at BBWCupid. These include creating a free profile, setting up search filters, viewing or liking profiles, and responding to messages sent by paying members. There are a few more, but these are the top features that are free of charge. All new members begin with the standard free membership.
How Long Does It Take to Sign-Up for an Account?
Getting into the app takes only one minute, but once you account for the time to develop your profile and choose your search filter settings, it will take around 10-15 minutes (or less) to get everything set up at BBWCupid.
Do I Need to Be Plus Size to Use BBWCupid?
To use this dating app, you don't have to be a plus-size single. It's a dating platform where you can find online relationships or romance with plus-size singles, specifically big, beautiful women. The only requirement to join the app is to be 18 years of age or older.
How Many People Use BBWCupid?
Because it's a niche dating app, BBWCupid only has 100,000 total members registered. Of those, there are only 50,000 that are active each week. The app has a gender breakdown of 35% men to 65%, and the average user is between 28 and 36 years of age.
Is There Any Way to Disable the Auto-Renewal Function?
To disable the auto-renewal feature, click on the "cog" icon and select "Billing." This is where you can turn that feature off, but it will only be available as an option once you purchase a membership plan.
How Do I Add Singles to My Favorites List?
There's an option on all profiles to "Add Favorites." Adding singles to your Favorites List puts them all in one easy-to-access space. You can find the top profiles you've your eyes set on and pull them up quickly if you want to send a quick message.
Are There Ways to Report or Block Members on the App?
On any BBWCupid profile, there'll be options for reporting and blocking members. These icons will appear near the top of the profile below the "like" and "message" buttons. To report abuse, click on the "exclamation point" icon. To block that member, click on the "no symbol" icon.
Is BBWCupid Safe?
There are some fraudulent or inactive profiles on the platform, but BBWCupid does a decent job of finding and cleaning them up. BBWCupid offers options for customers to report abuse or block profiles that they feel are not legitimate. The app has always used an SSL to safeguard all users' and members' private information.
What Kind of Relationships Can I Find on This App?
BBWCupid is a good dating app for developing meaningful, long-lasting relationships with BBW. There are opportunities to experience casual dating and romance here too. BBWCupid is a platform that offers a little bit other than everything, but it's more geared toward serious relationships and commitments.
Does BBWCupid Offer a Mobile App?
No matter your device, there are ways to enjoy BBWCupid as a mobile dating app. BBWCupid offers a downloadable app to its Android customer on Google Play which provides BBW dating. Currently, there's no app available on the App Store. However, those with iOS devices can access BBWCupid using their web browser.
Is BBWCupid Worth It?
If you want to find meaningful relationships with big, beautiful women, BBWCupid is worth the time and money! It's also a decent platform for finding big, handsome men, although that's not always a guarantee.plus