The standards of beauty that society and the media place on us today can often make it difficult for big handsome men or full-figured women to find love, develop serious relationships, or even get dates. Here at DatingApps.com, we look to undo some of the damage and pave a way to make the online dating road a little easier for plus size singles!
Get ready for 5 of the best plus size dating apps 2023 that the market currently has to offer! Plussized women or men can find like-sized singles that are down for serious relationships, casual dates, or friendships and do so using an app that makes the journey fun and exciting! These sites are also perfect for singles who are into plus sized men and women, those looking to share their lives with someone big and beautiful.
Dating App
Fast Facts
Free Trial
eHarmony

Number of Users: 10 million+
Gender Ratio: 48% men and 52% women
Best For: Finding love and quality, compatible connections
Pricing: Begins at $35.90 per month

Start Free Trial Today!
Zoosk

Number of Users: 40 million+
Gender Ratio: 48% men to 52% women
Best For: Finding plus size singles who are looking casual or serious relationships
Pricing: Begins at $10.00 per month

Start Free Trial Today!
LargeFriends

Number of Users: 600,000+
Gender Ratio: 56% men and 44% women
Best For: Finding plus size singles looking for serious relationships
Pricing: Begins at $15.99 per month

Start Free Trial Today!
WooPlus

Number of Users: 1.2 million
Gender Ratio: 60% men and 40% women
Best For: Finding plus-size singles who desire serious relationships and deep connections
Pricing: Begins at $5.00 per month

Start Free Trial Today!
Our team has independently researched all products and services that we have listed on this page. If you sign up or purchase through our links, we may receive a commission. See how it works.
---
---
A Closer Look at the Best Dating Apps for Plus Size​
#1: eHarmony – Best for Finding Compatibility​
Fast Facts​
Year Started: 2000
Ideal Use for Plus-Size Dating: Finding singles who might want casual relationships or dates OR serious commitments or relationships
Gender Ratio: 48% men to 52% women
Total Members: 10 million+
Paid Subscribers: Over 750,000
Memberships: Starts at $35.90 a month
Matchmaking Process: Personality and compatibility testing paired with the user's personal dating preferences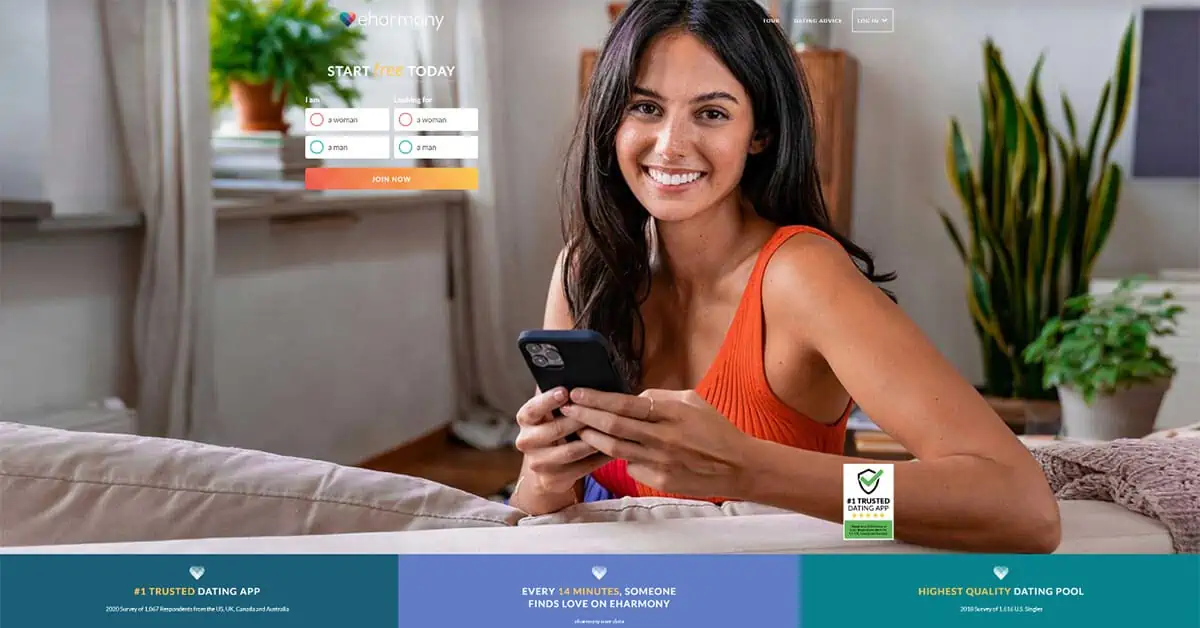 About eHarmony​
eHarmony is the best dating app out there period when it comes to finding a compatible partner. eHarmony takes considerable pride in matching singles based on characteristics that lead to solid relationships and deep connections. Some might call this finding your soulmate. So it comes as no surprise that many of the users here are more focused on personality and meshing well with their match than they are on someone's looks.
eHarmony has a huge dating pool (16 million active users) compared to niche dating apps which means that there are a ton of great possibilities out there! And since it is a fact that not all plus-size women and men are looking for singles who are like-sized, eHarmony is the perfect place for plus size singles to find their perfectly compatible match, their soulmate!
---
#2: Zoosk – Best for Expanding Your Dating Pool​
Fast Facts​
Year Started: 2007
Ideal Use for Plus-Size Dating: Finding singles who are looking for casual dating scenarios
Gender Ratio: 48% men to 52% women
Total Members: 40 million+
Memberships: Start at $10.00 a month
Matchmaking Process: "SmartPick" analyzes the user's type, and the advanced search filter breakdown matches by attributes like appearance, age, location, lifestyle, etc.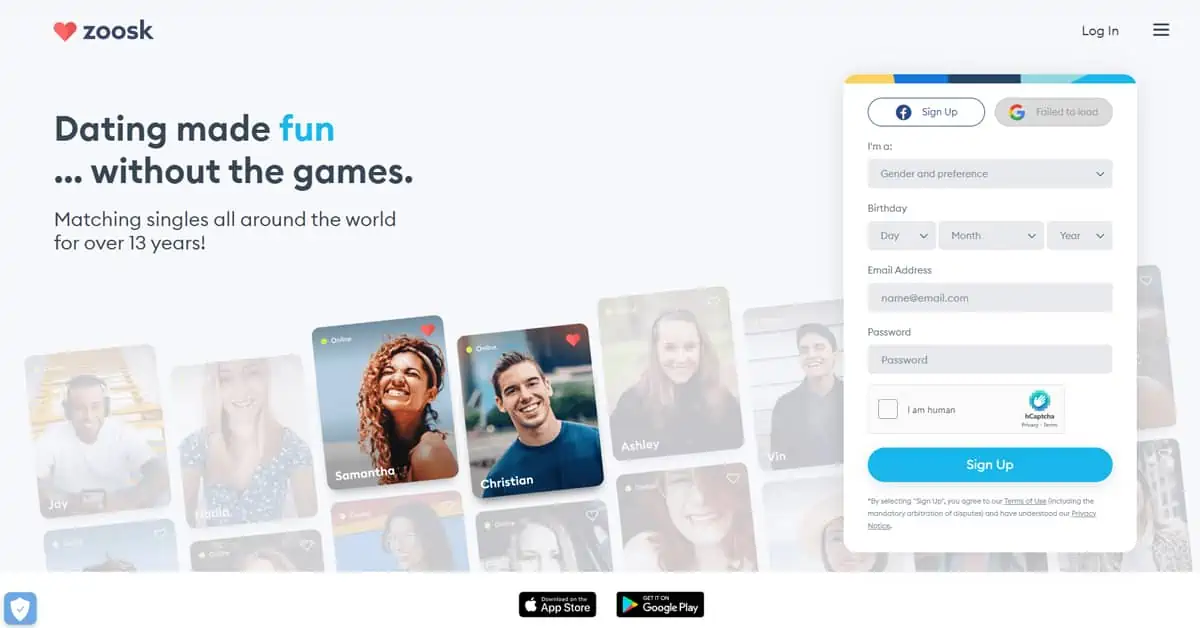 About Zoosk​
It might seem backward to look for plus size singles using a generic dating app like Zoosk instead of a niche dating app like WooPlus or LargeFriends. But bear with us here. Niche dating apps are going to have a lot fewer users than a large app like Zoosk which has 40 million active members. Zoosk is the best plus size dating app to be used in 2023 if you want to significantly widen the scope of your search!
Zoosk has one of the most diverse user bases of any online dating app out there so the possibilities of who you could potentially find are endless. Plus size singles will love the "Smart Pick" feature that analyzes user information to determine their ideal "type," as well as the quick and nimble "swipe-style" carousel that allows the user to find singles in a fashion a la Tinder!
---
#3: LargeFriends – Best for Finding Plus Size Women and Men​
Fast Facts​
Year Started: 2002
Ideal Use for Plus Size Dating: Finding singles who are big beautiful women (BBW) or Big Handsome Men (BHM) and are looking for serious relationships
Gender Ratio: 56% men and 44% women
Total Members: 600,000+
Memberships: Start at $15.99 a month
Who Do They Create Matches? Search filters that sort singles based on age, location, behavior, interests, lifestyle, and more!
About LargeFriends​
LargeFriends is a niche plus size dating app that is designed for full-figured women and big handsome men to find dates, serious relationships, and love! This is also a great place for people who might not be plus size to come and find a plus size single they have always dreamed of! Sites like eHarmony, and Zoosk, are going to have larger user bases that allow you to meet a wider assortment of singles so a site like LargeFriends and its user base of 600,000 is going to pale in comparison.
What really sets LargeFriends apart is the fact that plus size singles will find an awesome network and support system of like-minded and like-sized people! Members will love the journalling blog that is available on their homepages and can use that to gauge compatibility with other singles. Members can also reverse match if they are feeling wild! All around, LargeFriends is replete with singles who support body positivity, making it one of the best plus size dating apps out there!
---
#4: WooPlus – Best for Totally Being Yourself​
Fast Facts​
Year Started: 2015
Ideal Use for Plus-Size Dating: Finding single plus-size women or men who desire serious relationships and deep connections
Gender Ratio: 60% men and 40% women
Total Members: 1.2 million
Memberships: Start at $5.00 a month
Who Do They Create Matches? Advanced search filters create matches based on factors like lifestyle, location, appearance, etc.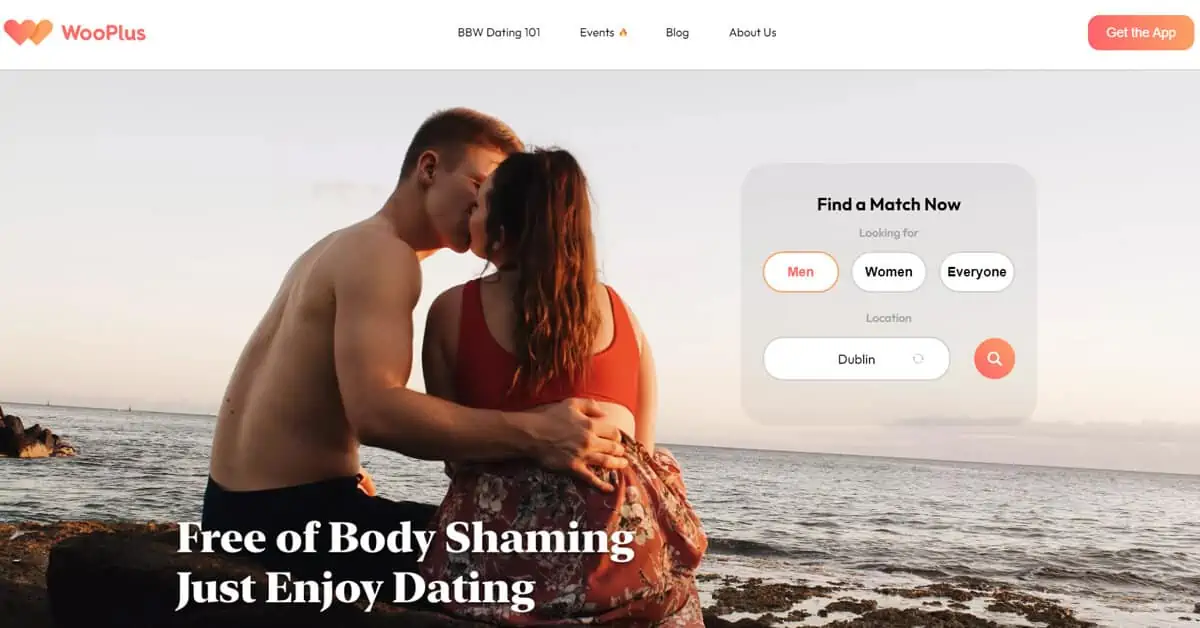 About WooPlus​
WooPlus is the newest of the two niche plus size dating apps we recommend this year, but it is arguably the best one to be using! It has nearly double the users of LargeFriends, and its weekly traffic volume is a lot higher. What might set WooPlus apart in a more important way is its overall user experience. Plus size singles who use this site claim it has the most laid-back plus size dating community and is a great place that is largely free of judgment!
Another excellent reason to join WooPlus is the fact that they cater 100% to singles who are searching for big, beautiful women and big handsome men. And talk about affordable! For a cost as low as $5.00 a month, users can thoroughly enjoy WooPlus and all it has to offer, including unlimited messaging, flash chatting with singles, and advanced search filters to help you widen the scope of your search!
---
Reasons Why These Are the Best Plus Size Dating Apps​
Finding plus size singles who are ready for commitment, ready to go out on dates, or just ready for a casual dating, can be a fun and enjoyable experience but you need to be sure you are using the right kind of plus size dating app!
You are in luck because we feel these are the best apps to be used for these purposes! But what qualifies? What allows them to be the best at helping singles find true love or hook up with big, beautiful women or big handsome men?
Search Filters Make Finding a Match Easy​
The plus size dating apps we feature use compatibility testing and customer questionnaires to gauge interest between singles. There is also something to be said for the exciting search filters that are offered. These allow singles more influence over their search and allow them to finetune their search based on other users' interests, behaviors, beliefs, age, location, and many other factors!
Extensive Dating Pools for Finding Large Women and Men​
One of the massive advantages of these dating apps is that they have an enormous user base! You can find a large assortment of eligible singles by using dating apps that really allow you to expand your pool of potential candidates. The more exposure you have out in the dating market, the more likely you will find the right plus sized single you are looking for!
eHarmony: 66 million users
Zoosk: 40 million users
LargeFriends: 600,000+ users
WooPlus: 1.5 million users
A Wide Range of Users​
Plus size singles and their admirers will not always be looking for the same thing in their online dating experience. That is why we have included some of the most varied dating sites for plus size when it comes to the online dating experience end game. We have included niche plus size dating apps that ensure you meet plus size singles, be you plus-size or looking for a plus-size partner.
We have also included general dating apps like Zoosk and eHarmony to ensure different results for different singles. Plus size customers can now look for serious relationships or casual dates. This combination of sites has nearly every angle covered!
Affordably Priced to Save You Money​
Once you take a look at the pricing for these dating apps, you will soon realize that many are super affordable and that others, while priced a bit higher, have so many unique and helpful features that you really are getting the absolute best bang for your buck! Niche plus size dating app WooPlus is a low $5/month starting off, and Zoosk, with its 40 million user base, only begins at $10.00!
In the case of eHarmony which is $35.90/month starting out, let's face it, you are using the most reputable and famous dating site in the market, and you are almost 100% guaranteed to find your soulmate. You will more than earn your money back!
Great Special Features ​
And who could forget the famous special features that allow users to have an enhanced online dating experience and streamline their search process? We are talking about things like Zoosk swipe-style features that allow them to swipe left for the losers and swipe right for their ideal fit! We are talking about the reverse match feature you find at LargeFriends that helps you find a single that is not too much like you. Or there is the exciting no-cap limit on fun, flirty messaging at WooPlus!
Plus Size Dating Apps: Best Practice and Tips for a Great Experience​
You could be a plus size woman or man who is looking for your ideal single online or you could be the BBW or BHM admirer who is looking to get with a plus size single. No matter where you find yourself in the spectrum of users, you need to make creating the best possible experience for yourself and for other users a top priority! Plus size dating can be a touchy subject for some so keep some of these tips and best practices in mind as you go forward.
Confidence is Key – No matter what side of the plus size dating equation you are on, know that confidence can take you a long way in a relationship. When you have confidence in yourself, in who you are, it will attract all sorts of people that you never thought were possible. Know who you are, be proud, and have fun meeting new people!
Kill People with Kindness – Along with confidence, kindness and tenderness toward others' feelings and past hurts will carry you a long way. Fat-shaming is a terrible thing that does exist in our world and our society at large. It is important for you to acknowledge that it is a reality and something that has caused damage across our society, be you a plus size single or someone in search of plus size singles.
Know a Fetish When You See One – There are people out there looking for plus size singles to fulfill weird fetish desires. If you are plus size, the last thing you want to become is an object of lust in the relationship. People who prefer dating plus size and plus size fetishists are two different breeds. You need to know the difference and spot it out if it pops up.
Don't Date Someone You Are Not Attracted To – Do not waste your time dating people with whom you are not feeling any sort of attraction. This could be a physical attraction as well as an emotional attraction. Ideally, you will want a good blend of both. Do not be hesitant to go after the one that fulfills your heart's desires! Anything less might end in a relationship that is less than ideal.

If you feel bad for someone but are not attracted to them, do not date them out of pity or guilt. You are wasting your time and emotions and things will not end well when you inevitably have to break things off.
Be Honest About Who You Are – Be true to yourself. Be honest and upfront about who you are and what you are looking for in your online dating experience. Don't sell yourself short. If you omit facts about who you are and gloss over details about your life, you will be allowing others to miss out on what makes you unique.

And beginning the relationship off on a foot of concealing things or stretching the truth will cause you trouble down the road if the other person finds out. Post pictures of yourself online that capture the true spirit of who you are. Don't be afraid to do a total body shot! Be honest about how you spend your free time, what you like to eat, or things that others can do for you that make you feel special. And you can be completely honest with your struggles and insecurities as the relationship progresses.
Questions and Answers About Plus Size Dating Apps
Still have some questions you are looking to have answered about plus size dating apps? Below you'll find some of the most frequently asked questions we receive and our answers to each one.
Do Plus Size Dating Apps Protect from Online Bullying?
If you happen to be bullied or harassed at any online dating app, you need to stand up for yourself! Feel free to report any such activity to the site administrators or customer service, or even contact your local police if you feel especially attacked. For the most part, you are responsible for your own safety at these sites. When you let the right people know about what happened, they can go to battle for you.
Is It Safe to Use Plus Size Dating Apps?
Yes, plus size dating sites are generally safe to use, but you need to keep your guard up for any suspicious activity. There is the chance that you can run into illegitimate profiles or spam accounts in your travels online. This is pretty common on just about any dating website. Always keep your personal and financial information to yourself. Report any sort of harassment or abusive behavior you might encounter with other users. And never share your personal number or email with someone that you have a funny feeling about.
Do I Need to Be "Plus Size" to Use These Apps?
When it comes to the plus size dating apps we recommend for this year, there are none that require their users to be plus size women or men. There are a lot of people out there who do not have a plus-size physique but still want to go on dates or begin a relationship with a plus-size woman or man. We do recommend two niche plus size dating apps that guarantee you will find plus size singles that are right for you, but even these sites have their fair share of users who are not plus size.
Are There Dating Apps for Plus Sized People to Hook Up or Casually Date?
Yes, we highly recommend you take a look at Zoosk and begin a trial account! This one has the youngest user base, has the most active members, and is mostly geared toward singles looking to hook up, go on casual dates, and experience the wild side of online dating. Zoosk uses some cool search filters that narrow down the user's ideal type, and a plus-size physique is certainly one of them! Using Zoosk will allow you to find casual dates but will also significantly expand the number of potential candidates you seek!
Which Dating App Should I Use if I'm Plus Size and Cannot Decide between Something Serious and Something Casual?
Zoosk strikes a great balance between catering to the crowd that is into commitment and the group that looks to get a lot of dates. This might be your best course of action. Zoosk also has a large, diverse base of customers, so you can always meet plus size singles in addition to singles who have a different body type from you.
What Dating App Is Going to Give Me the Most Bang for My Buck?
We have to give it up for WooPlus and how affordable they make it for their customers to enjoy their services. Paying members can begin as little as $5.00 a month and enjoy some top-rated features like unlimited messaging and advanced search filtering. Even eHarmony, with its heftier price of $35.90 a month, is still a great deal considering all the bells and whistles that come in tow. Plus, you are practically guaranteed a husband or wife out of the deal!
Can I Find Plus Size Singles for Free Online?
Yes, you can use any of the sites we have recommended for free when you begin a trial membership. This means that no money comes out of your pocket, and you can still see plus-size singles that you have matched with and message them in a limited capacity. Head up to the table at the top of the page and begin a free trial today!
What Are Some of the Perks of Dating Big, Beautiful Women or Big Handsome Men?
There are a whole lot of plus size singles out there who not only have big bodies but also have big personalities! BBW and BHM can be some of the friendliest, most outgoing, and bigger-than-life people you will ever meet in your life. If you are too superficial about the way people look based on their online profile picture, you could be missing out on meeting an amazing person!