Navigating the virtual landscape of online dating can be a complex task, with a myriad of platforms, each offering varied experiences to singles seeking connections. Zoosk vs eharmony, two heavyweights in this digital domain, facilitate distinct pathways toward potential partnerships, albeit through divergent methodologies and user experiences. While both are entrenched in the mission of forging meaningful connections, how they achieve this—and the audiences they cater to—exhibits big contrasts that potential users should be aware of!
Zoosk, boasting a user base that spans over 80 countries, prides itself on its behavioral matchmaking technology, which adapts to user activity to refine matching criteria dynamically. This platform appeals predominantly to a younger, tech-savvy audience, with its interface embracing a light, interactive, and social media-esque vibe. The ease of signup and the minimalistic profile setup cater to those who prefer a straightforward, less time-intensive entry into the dating scene. Zoosk allows users to discover matches in a more spontaneous, less prescriptive manner, providing a gamut of interactions without mandating a hefty time investment upfront.

In contrast, eHarmony appeals to those seeking long-term, serious relationships, often with marriage as an eventual goal. The platform adheres to a more meticulous methodology involving a comprehensive personality test to derive compatibility metrics. This robust, research-based approach aims to provide highly tailored match recommendations based on deep-rooted compatibility in multiple dimensions of personality and values. eHarmony tends to bring in a more mature demographic–those who are way more inclined towards stability and commitment and are willing to invest time into a super thorough profile creation process, hoping to find a truly compatible partner.
---
---
General Info Breakdown
Zoosk and eharmony cater to different online dating demos with distinct approaches. Zoosk offers a casual, dynamic experience, while eharmony pushes detailed profiles and compatibility for long-term relationships–you know, real end-game dating goals like walking down the aisle. So which one is best for you? Our detailed comparison that follows will help guide your choice between the two platforms–consider us your dating app Yoda!
Key Information
Zoosk
eHarmony

Year Founded

2007

2000

Best For

Both Casual and committed relationships

Meaningful relationships
based around compatibility

Site URL

Zoosk.com

eHarmony.com

Active Members

40 million
(Active weekly)

16+ million
(Active weekly)

Gender Ratio

48% men to 52% women

48% men to 52% women

Averag Age

22-35 years

35-45 years

Free Trial

Yes

Yes

Read Review
Our team has independently researched all products and services that we have listed on this page. If you sign up or purchase through our links, we may receive a commission. See how it works.
Main Differences
While both dating apps facilitate online dating (duh), the main differences between Zoosk and eHarmony lie in their user demos, approach to matchmaking, and the detail of profile details.
Customer Base
Zoosk tends to draw a younger, more tech-savvy audience interested in both casual and serious dating, while eHarmony typically attracts a more mature (older) demographic—those searching for long-term relationships, with the endgame being marriage.
Membership Price
Zoosk offers a budget-friendly pricing model with memberships available at various lengths, while eHarmony's pricing is much more pricey—this is due to its comprehensive, research-driven matching approach; you get what you pay for, and eHarmony ain't cheap!
Membership Price
Zoosk offers a budget-friendly pricing model with memberships available at various lengths, while eHarmony's pricing is much more pricey—this is due to its comprehensive, research-driven matching approach; you get what you pay for, and eHarmony ain't cheap!
Swipe-Style Profiles
Zoosk lets you quickly swipe left or right to like or skip people, while eHarmony doesn't use swiping and instead shows you profiles based on how well they match with your answers to their questions.
Sign-Up Time
Signing up on Zoosk is typically quick and easy, often taking only a few minutes since it allows users to provide minimal initial information and get started quickly. In contrast, eHarmony's sign-up process is considerably more time-consuming due to its thorough personality questionnaire, which is vital for its matchmaking process, and can take about 20 to 30 minutes, or sometimes more, to complete.
Influence and Reach
Zoosk and eHarmony both have a lot of influence and reach in the online dating world, but they cater to slightly different markets. Zoosk, available in over 80 countries and translated into 25 languages, has a broad international presence and appeals widely to younger, digital-native demographics.
eHarmony, while also internationally available, tends to be more popular in countries like the United States, Canada, and the United Kingdom and generally attracts those specifically seeking long-term, committed relationships, often appealing to a slightly older demographic. Both platforms have influenced online dating but target and engage their audiences differently.
How Are Zoosk and eHarmony Similar?
Despite their differences, Zoosk and eHarmony share some similarities that have led to them becoming so popular! Both want to help people find romantic partners and provide a place where users can create profiles, state their preferences, and interact with others from wherever they are–be it at work, home, or even sitting in your car during a lunch break. Also, both dating apps utilize matching algorithms and user data to help match singles with similar interests and tastes.
If that's not enough for you, they each offer free basic memberships and paid premium plans, allowing users to access additional features, and they both have user-friendly dedicated mobile apps available on iOS and Android to facilitate on-the-go dating. Zoosk and eHarmony are big on prioritizing user safety and providing features and guidelines to ensure a safe and secure dating experience.
Top Features Comparison
While both can brag about having a bevy of beneficial features, Zoosk and eHarmony vary greatly in their functions, with Zoosk providing a more dynamic, interactive experience, while eHarmony focuses on true compatibility and a more structured communication system to cater to those in search of long-term, committed relationships.
Zoosk's Best Features
Behavioral Matchmaking – Adapts to your actions and preferences over time to suggest matches.
Carousel – A quick and fun feature where you view profiles and quickly decide whether you're interested or not, typically through a swipe mechanism.
SmartPick – Introduces you to people based on your behavior on the platform and your stated preferences.
Dating Insights – Provides data and reports about your dating style and the types of people you are attracting.
Zoosk Coins – A virtual currency that allows you to access premium features, like sending virtual gifts and boosting your profile's visibility.
Safety Features – Including photo verification and the ability to report and block users.
eHarmony's Best Features
Compatibility Quiz – A detailed questionnaire that determines your personality traits and helps curate compatible matches.
Compatibility Matching System – Uses the questionnaire results to match you with users based on serious compatibility.
Video Date – Allows you to have video calls with your matches directly through the platform, enhancing safe virtual meetups.
Send a Smile – A feature enabling you to send a smile to someone you're interested in as an icebreaker.
Send Questions – You can send pre-written questions to your matches to initiate conversation.
What If – A feature that allows you to explore matches outside of your compatibility results in more variety.
Profile Verification – Ensures that profiles are genuine, enhancing the safety and authenticity of the platform.
Guided Communication – A structured communication process to help break the ice and facilitate meaningful conversations with your matches.
Zoosk vs eHarmony Cost Comparison
It's important to think about whether or not you'll want to pay for a premium membership before committing to a dating app–the costs and durations of the various premium membership plans for both Zoosk and eHarmony are detailed below!
Zoosk: Best for Budget
If you're looking for a cheap-ish premium plan that doesn't skimp on features, then Zoosk in the clear winner when it comes to being the best for your budget!
| Membership Plan | Cost Per Month | Total Cost |
| --- | --- | --- |
| 3-Month Membership | $19.98 | $59.95 |
| 6-Month Membership | $13.35 | $79.99 |
| 12-Month Membership | $10.00 | $119.99 |
eHarmony: Best for Value
Are you gasping at the prices listed in the table below? Catch your breath–there's a reason why eHarmony's premium membership subscriptions are so expensive! The platform's secret matching algorithm and detailed personality questionnaire users are required to complete leads to genuine matches. If you're in it for the long-haul, then it's worth the sticker price for sure.
| Membership Plan | Cost Per Month | Total Cost |
| --- | --- | --- |
| 6-Month Membership | $65.90 | $395.40 |
| 12-Month Membership | $45.90 | $550.80 |
| 24-Month Membership | $35.90 | $861.60 |
Which App Is Better for Serious Relationships?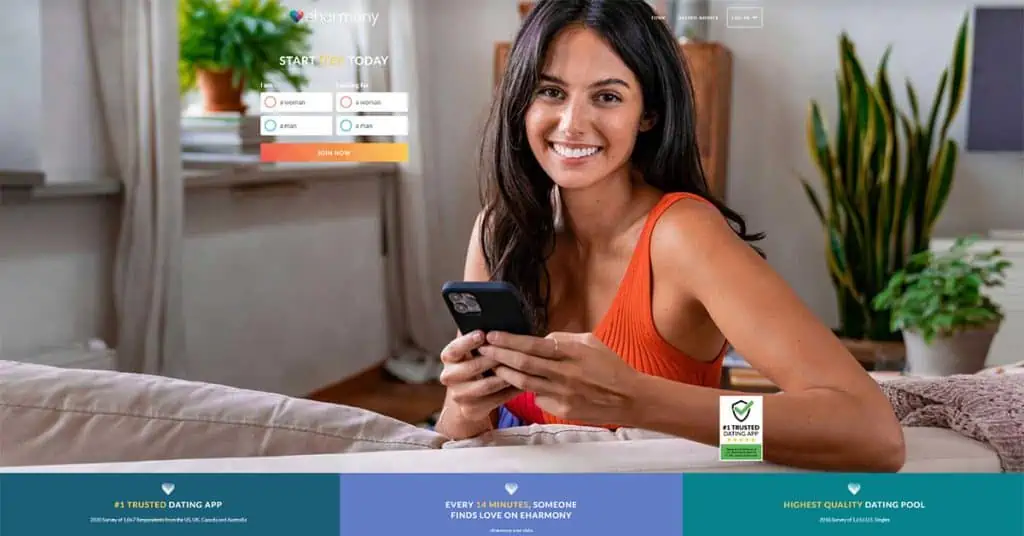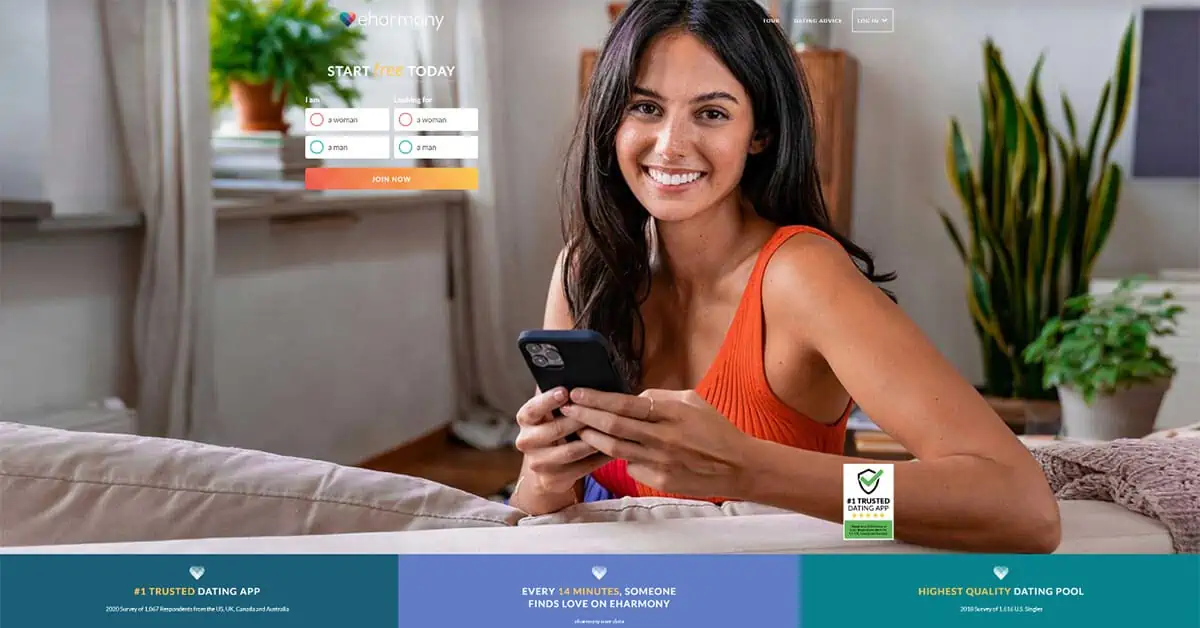 eHarmony
This is a no-brainer, in our opinions—eHarmony is hands down the winner if you are searching for something serious in terms of love and romance. This doesn't mean that it can't happen on Zoosk—it can, and it does—it's just that overall, eHarmony is the go-to for those looking for a soulmate.
Which Dating App Is Our Favorite?
We hate this part! We love both dating apps, so we will turn to our trusty rating system to choose for us, and you can see which one comes out on top in terms of an overall score.
Rating Process
| | Zoosk | eHarmony |
| --- | --- | --- |
| Overall Rating | 3.5/5 | 4.5/5 |
| Usability Rating | 4.0/5 | 4.6/5 |
| Active Members Rating | 2.7/5 | 4.6/5 |
| Daily Matches Rating | 2.5/5 | 4.8/5 |
| Features Rating | 4.7/5 | 4.9/5 |
| Cost Rating | 4.3/5 | 4.0/5 |
| Free Trial | | |
Zoosk and eHarmony are both on the list of the best dating apps, but work a bit differently. Zoosk is easy and fun, learning what you like as you use it, and might be preferred by younger folks. eHarmony is much more detailed, helps find serious relationships using a big (seriously, it's long) questionnaire, and attracts an older crowd. Just pick the one that fits what you're looking for, and have fun out there in dating app land!