Do you want to give online dating a shot, but you're unsure which app to download? Hinge and Tinder are two of the most well-known dating apps, but there are plenty of others to choose from. And picking the right app could present a challenge for those who have yet to attempt digital dating.
Tinder strives to include the broadest possible range of users. All types of daters, from those seeking serious partners to those content with casual flings, fall under this category. Tinder is renowned for its frantic speed, and the matching method and the signup process have been streamlined for users. Tinder has a reputation for focusing more on casual relationships, even though it is possible to discover a long-term relationship using the app. Some Tinder members complain that it's much harder to locate a meaningful, committed relationship on the app than on other dating platforms.
Hinge is less about hookups and more about meaningful connections with real people. In its marketing, it claims to be "the dating app that's meant to be deleted." In other words, Hinge's ultimate goal is for you to settle down in a committed relationship and stop using the app altogether. The signup and verification steps are significantly more involved than Tinder–users are able to like specific details within a dating profile instead of the whole profile due to the more detailed profiles.
To help you choose between the two, we do take a close look at Hinge vs Tinder. We'll compare and contrast their essential features, advantages, similarities, and differences so that you can make an intelligent choice for you and your dating needs!
---
---
General Info Breakdown
Let's compare and contrast the two popular dating apps, Hinge vs Tinder, and discover which one is more suited to helping you find what you're looking for in a dating scenario. There are a number of differences between these dating apps, despite their shared goal of establishing romantic connections. In the next section, we'll compare Hinge vs Tinder by first examining their basic specifications.
Key Information
| | Hinge | Tinder |
| --- | --- | --- |
| Year Founded | 2012 | 2012 |
| Best For | Serious relationships where singles find love or romance | Casual dating and romance |
| Site URL | Hinge.com | Tinder.com |
| Active Members | 900,000 (Active weekly) | 8+ million (Active weekly) |
| Gender Ratio | 55% men to 45% women | 61% men to 39% women |
| Average Age | 25-45 years | 18-30 years |
| Free Trial | Yes | Yes |
| Read Review | | |
Our team has independently researched all products and services that we have listed on this page. If you sign up or purchase through our links, we may receive a commission. See how it works.
Main Differences
The primary differences between Hinge and Tinder lie in how they encourage romantic interactions. Both dating apps have free and premium versions, both allow you to establish a profile and connect with potential matches using the widely used swipe-style function, and both are available on multiple platforms.
Here are the main differences between Hinge and Tinder:
Tinder is well-known for being a hookup-only app, whereas Hinge's members actively seek both casual and long-term connections.
Users of the dating app Hinge, instead of just "liking," can leave comments on the images, questions, and other parts of a potential match's profile.
Tinder has a much larger dating pool; it boasts over 8 million active weekly users compared to Hinge's 900,000
Comparison of the Top Features that We Like for Each
There is no lack of cool and useful features on either Hinge or Tinder, but we've narrowed it down to the ones we think really make a difference in the quality of your online dating experience.
Hinge's Best Features
Discover – Hinge's "Discover" (swipe-style dating) function is one of its most defining characteristics. Members can "like" or "pass" on accounts shown catalog-style using the Discover feature and swiftly cycle through many profiles.
Live Video Chat – Singles on Hinge can get to know one another via live video dates utilizing the app's in-app video chat function.
Tinder's Best Features
Superlikes – For those who have upgraded to a paid account, the "Superlike" button is a second means to express your admiration for other users beyond just a simple "like." Superlikes are a great way to get noticed by those you're interested in, and premium members get five every week to use–they also have the potential to raise your profile's visibility!
Ad-Free – If you're a paying member, you won't have to see those pesky ads when swiping. Tinder's premium subscription removes all advertisements so you can focus on finding a match.
Tinder Passport – Tinder Passport is a great feature that lets you switch your location and find a match with someone in a different city or country. It's a perfect way to meet local singles while traveling or to broaden your horizons by connecting with singles from other areas.
Swipe Rewind – Swipe Rewind is a feature of Tinder that lets users rewind their most recent swipe, whether to pass over a profile or remove a "like" they already gave. Members who have paid for a Tinder subscription can use this feature anytime they choose.
One Free Boost – This is a perk available to Tinder subscribers every month at no extra cost, and it can be used to boost your profile's ranking and get you more matches!
Unlimited Messaging – In the same vein as other dating apps, those who shell out the cash can chat with as many people as they like. Conversely, Tinder takes things further by allowing users to communicate with those they haven't matched with.
Hinge vs Tinder Cost Comparison
Hinge and Tinder use similar business strategies, combining freemium and subscription components with separate purchases. Some functionality inside each app is available without paying anything, but daily access to a larger pool of prospective matches is limited. Both apps offer upgraded add-ons and regular memberships that let you access additional matches, features, and competitive perks.
Hinge
| Membership Plan | Cost Per Month | Total Cost |
| --- | --- | --- |
| 1-Month Premium Membership | $34.99 | $34.99 |
| 3-Month Premium Membership | $21.66 | $64.98 |
| 6-Month Premium Membership | $16.66 | $99.96 |
Tinder
| Membership Plan | Cost Per Month | Total Cost |
| --- | --- | --- |
| 1-Month Platinum Membership | $26.66 | $26.66 |
| 1-Month Gold Membership | $22.49 | $22.49 |
| 1-Month Plus Membership | $13.49 | $13.49 |
| 6-Month Platinum Membership | $13.50 | $81.00 |
| 6-Month Gold Membership | $11.25 | $67.50 |
| 6-Month Plus Membership | $6.75 | $40.50 |
| 12-Month Platinum Membership | $9.00 | $108.00 |
| 12-Month Gold Membership | $7.50 | $90.00 |
| 12-Month Plus Membership | $4.50 | $54.00 |
Tinder has slightly less expensive premium options, but you can save money on Tinder and Hinge memberships by subscribing to them for longer periods of time.
Which App Is Better for Serious Relationships?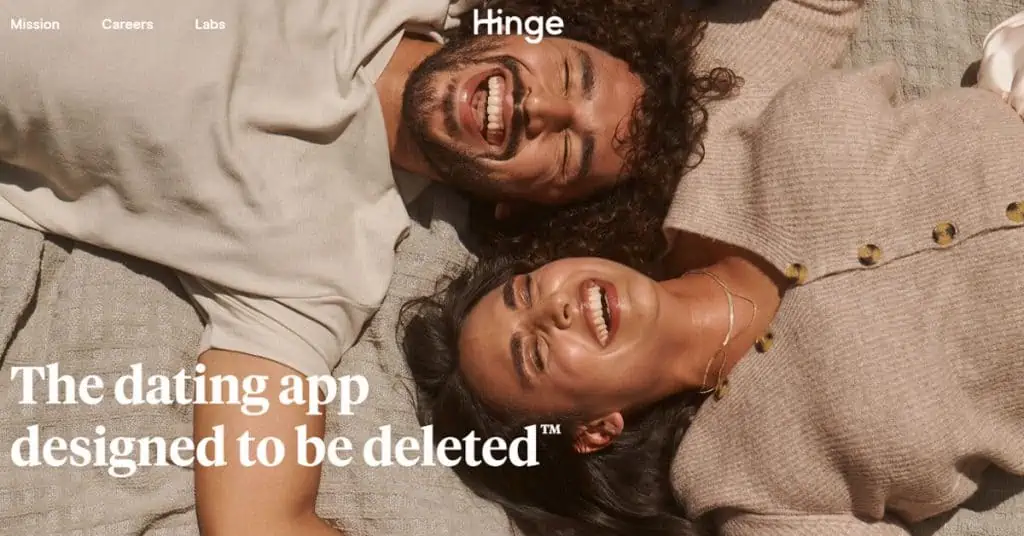 Hinge
Hinge is the clear winner for those looking for more serious connections and deeper interactions. Hinge prioritizes long-term relationships over casual hookups–the dating app promotes itself as the sole dating platform designed to be deleted. Simply put, Hinge hopes that you'll find lasting love and stop using the dating app.
Which App Is Better for Casual Dating?
Tinder
Tinder is, without a doubt, the best app for casual dating. Despite Tinder's justifiable image as a hookup app, it's also a place where meaningful relationships can start–even though it may seem like a brief relationship now, you never know what will happen down the digital dating road! But if you're in the market for some low-commitment love, Tinder is the tried and true go-to.
Which Dating App Is Our Favorite?
We have to call this one a tie–Hinge and Tinder both do what they are supposed to do, and they do it well!
It all comes down to your dating preferences and what you are looking for in a romantic sitch at the moment. If you're looking to meet compatible singles with the goal of starting a serious relationship, Hinge is your best bet–if you're having trouble finding quality matches on Tinder, you might want to give Hinge a go.
But suppose you want a lot of options, like, A LOT of them. In that case, Tinder has an enormous user base and no shortage of potential dates, and it is better for singles living in a more rural or suburban region who are having trouble finding compatible matches on Hinge.
As for price, Tinder's premium features are more advanced and less expensive if you're prepared to invest in a paid subscription.