eHarmony and Tinder are two very different dating apps, but they are arguably the best in their respective field. eHarmony is the goat of online matchmaking and compatible relationship building. At the same time, Tinder has taken the world by storm over the last decade and has become the international mainstay of those looking for casual dating and romance.
You already know exactly which of these dating platforms is the best fit for you and which is most appropriate for the season of life you find yourself in. Our goal in this review is not to convince you which of these is the best dating app of all time but to compare these platforms, reveal their ideal use, and show what they've done to become so successful in the realms of the serious and casual dating scenes.
---
---
General Info Breakdown
Our first order of business is to look at how many people are using each of these online dating apps and what they are like. Believe it or not, for as different as the relational goals of their users are, eHarmony and Tinder are similar in many ways!
Key Information
| | eHarmony | Tinder |
| --- | --- | --- |
| Year Founded | 2000 | 2012 |
| Best For | Meaningful relationships based around compatibility | Casual dating and romance |
| Site URL | eHarmony.com | Tinder.com |
| Active Members | 16+ million (Active weekly) | 8+ million (Active weekly) |
| Gender Ratio | 48% men to 52% women | 61% men to 39% women |
| Average Age | 35-45 years | 18-30 years |
| Free Trial | Yes | Yes |
| Read Review | | |
Our team has independently researched all products and services that we have listed on this page. If you sign up or purchase through our links, we may receive a commission. See how it works.
Key Similarities
eHarmony vsTinder serve around the same number of countries.
Total worldwide users for both apps are comparable.
The number of active users at eHarmony vs Tinder is also in the same ballpark.
Main Differences
Tinder is geared toward singles interested in casual dating and romance, while eHarmony is focused on creating and fostering serious, committed relationships. Tinder allows members to pour through catalogs on singles, and eHarmony is more committed to providing a smaller set of suitable daily matches that are compatible with the users' search settings and the results of their compatibility test.
Here are a few more key differences:
Matchmaking Process
This is the most substantial aspect of eHarmony. Their entire business is based on creating successful, serious relationships, and the result is its detailed and comprehensive 32 Dimensions testing. On the other hand, Tinder uses advanced search settings that allow users to break down searches along parameters of lifestyle, education level, religious beliefs, interests, appearance, age, and more.
Average Age of Members
Tinder is the embodiment of the young, streamlined dating app with the most modern approach and slickest features. People using Tinder are usually in their 20s, with the average age ranging from 18 to 30 years. eHarmony serves an older set of customers, with the average age of its members being between 35 and 45 years.
Gender Ratio
There's a much more even gender distribution at eHarmony (48% men to 52% women). Tinder has a breakdown of 61% men to 39% women. Along with being a top-notch casual dating app, it's a platform much more favorable to women. There are way more men using the app.
Membership Plans
eHarmony offers six-, twelve-, and twenty-four-month plans. Each of these three subscriptions contains the same features and perks for paying customers. Tinder has three membership plans: 1-, 6-, and 12 months.
Top Features Comparison
Both dating apps offer unique features to their customers. Each set of features is well-suited to the mission of each dating app. eHarmony's features aid members in finding true love, while Tinder's features aid in driving a fun, casual dating experience.
eHarmony's Special Features
32 Dimensions of Compatibility – eHarmony's patented compatibility testing is a part of the registration process, and it's used as a basis for daily matching. It's best known for generating quality connections between singles and has been responsible for introducing over 600,000 married couples since 2000!
Reports on Daily Matches – Members can access their compatibility test results and get detailed reports explaining why they're compatible with each of their daily matches. These compatibility breakdowns cover multiple traits that are the hallmarks of happiness, satisfaction, and successful relationships.
Send Smiles – Free users and paying members can send smiles to singles who capture their attention. It's a great way to break the ice or profess your interest in someone without sending a message or making a grand gesture.
Unlimited Messaging – If you're a premium member of the eHarmony dating app, you can send as many messages as you want to your daily matches. There are no limits on messaging with daily matches. Paying members can even send messages to free users (free users can send messages back).
"What If" Feature – Along with daily matches, eHarmony members can get wildcard suggestions each day. These aren't matches per se (because they could be better regarding true compatibility and connectivity), but they are singles that offer something different if members are willing to be open-minded about who they meet.
Favorites List – Members can save their favorite profiles to a separate list to revisit them later. It's a great way to organize and access the profiles that capture your attention.
RelyID – eHarmony allows you to verify your profile on the app to bring trustworthiness and legitimacy to your online account. Provide a form of ID to eHarmony, and they will give you a RelyID verification badge on your profile so other members can see that you're the real deal!
Video Dates – Premium members can meet other singles on the app face-to-face using the video date feature.
Tinder's Special Features
Superlikes – Premium members get five of these per week, and they are a way to show interest in other singles beyond a "like." These are priority likes that get the attention of those you're interested in; they boost your overall visibility on the platform.
Hide Ads – Premium members can be freed from the burdens of intrusive ads that pop up as they swipe through other members' profiles. Becoming a paying member of the app means you no longer must endure these interruptions as you look for singles on Tinder.
Tinder Passport – Using Tinder Passport, you can be matched with international singles from various countries worldwide. You're not limited to meeting singles within the confines of your country. Broaden your horizons!
Swipe Rewind – If you accidentally skip over a profile or want to take back a "like" you gave someone, you can go back and mix your mistake using Tinder's Swipe Rewind. Paying members get an unlimited number of these each day!
1 Free Boost – Each month, Tinder members get a boost on the house. These are used to amplify the visibility of your profile and attract more attention from other singles on the platform.
Send Messages – Like any dating app, paying members can enjoy unlimited messaging with other singles. However, Tinder takes it further and allows members to send messages to those they haven't even matched with yet.
Cost Comparison Between eHarmony and Tinder
eHarmony offers membership plans with more value, while Tinder provides a more affordable dating app option.
eHarmony
| Membership Plan | Cost Per Month | Total Cost |
| --- | --- | --- |
| 6-Month Membership | $65.90 | $395.40 |
| 12-Month Membership | $45.90 | $550.80 |
| 24-Month Membership | $35.90 | $861.60 |
Although Tinder offers cheaper membership and a nice variety of premium plans (9 in total), we don't care that you need to pay extra money to enjoy the higher-end features of Tinder. eHarmony offers the same features regardless of the length of your membership.
Tinder
| Membership Plan | Cost Per Month | Total Cost |
| --- | --- | --- |
| 1-Month Platinum Membership | $26.66 | $26.66 |
| 1-Month Gold Membership | $22.49 | $22.49 |
| 1-Month Plus Membership | $13.49 | $13.49 |
| 6-Month Platinum Membership | $13.50 | $81.00 |
| 6-Month Gold Membership | $11.25 | $67.50 |
| 6-Month Plus Membership | $6.75 | $40.50 |
| 12-Month Platinum Membership | $9.00 | $108.00 |
| 12-Month Gold Membership | $7.50 | $90.00 |
| 12-Month Plus Membership | $4.50 | $54.00 |
eHarmony Offers Better Value
Consider that you're getting the opportunity to take eHarmony's 32 Dimensions of Compatibility testing. You'll get reports for every one of your daily matches with a detailed breakdown of why they are a good match for you. That justifies the price you pay for an eHarmony premium membership: actual value.
Which App Is Better for Serious Relationships?
eHarmony is committed to developing and fostering compatible relationships that lead to true love and serious romance. Not only do they create the best daily matches through their comprehensive compatibility testing, but eHarmony also provides detailed breakdowns and explanations behind those matches. They even offer 30 wildcard matches (What If) for members who feel like doing something different.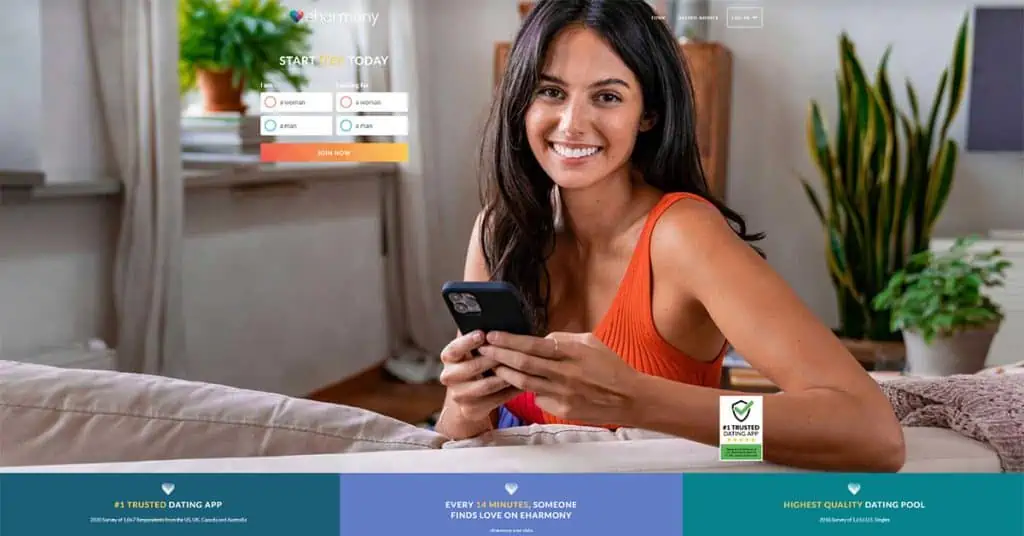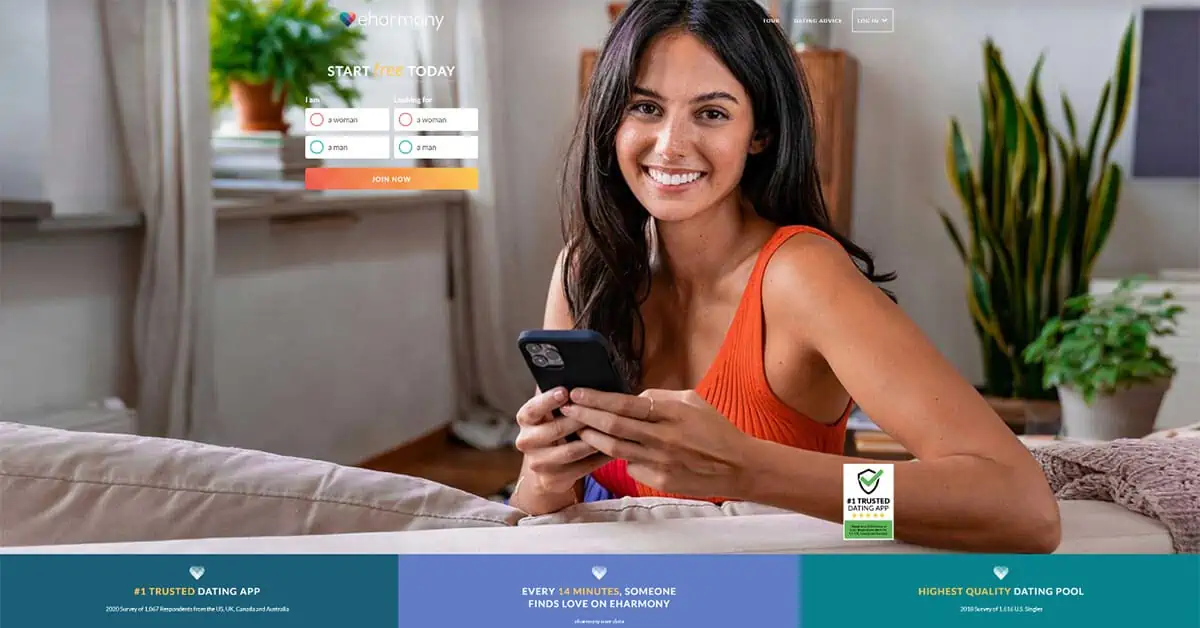 eHarmony
eHarmony does offer swipe-style dating, and it comes in the form of the What If feature, which allows members to enjoy 30 extra matches that might not fit their search settings and parameters. Members can swipe through these 30 matches, either "liking" or "passing" on them.
Which App Is Better for Casual Dating?
How could casual online dating get any better than how Tinder has set the whole thing up? Swipe left or swipe right through an extensive catalog of singles. To go with the casual dating scene, Tinder employs simple methods for gauging essential compatibility: location, age, appearance, and a few other factors. It's the best online dating platform for finding singles quickly and casually.
Tinder
Tinder has been known to develop and foster some serious, meaningful relationships from time to time as well! There are success stories that come out of Tinder, but the app only goes public with them a little. But often, Tinder is the place to be for finding low-key dates or casual romance. It's a dating app where singles typically jump from partner to partner.
Which Dating App Is Our Favorite?
It's a draw for us, to be honest. If you don't believe us, look at how we rated each in our DatingApps.com reviews and the mobile app ratings at Google Play and the App Store! eHarmony and Tinder are too good at what they do in their respective corners of the online dating market for us to choose one as the decisive winner.
Ratings and Scores
While these are two different dating apps in terms of demographics, dating process, and relationship goals, they are comparable regarding ratings!
| | eHarmony | Tinder |
| --- | --- | --- |
| Overall Rating | 4.5/5 | 4.4/5 |
| Usability Rating | 4.6/5 | 4.5/5 |
| Active Members Rating | 4.6/5 | 4.8/5 |
| Daily Matches Rating | 4.8/5 | 4.2/5 |
| Features Rating | 4.9/5 | 4.5/5 |
| Cost Rating | 4.0/5 | 4.0/5 |
| Start for Free | | |
Usability
eHarmony and Tinder are also extremely easy to use. They are dating apps with an intuitive design which makes figuring out where things are located within the grand scheme of the platform relatively easy. Both can be used on mobile devices and desktop computers as well. Both apps have a downside when it comes to the usability factor.
| | eHarmony | Tinder |
| --- | --- | --- |
| Sign-Up Time | 30-45 minutes | 5-10 minutes |
| In-Browser Use on Mobile or PC | Yes | Yes |
| Android App | Yes (Free) | Yes (Free) |
| iOS App | Yes (Free) | Yes (Free) |
| Google Play Rating | 3.2/5 | 3.0/5 |
| App Store Rating | 4.0/5 | 3.8/5 |
Key Points
Registering an account and creating a free profile for Tinder is much quicker.
The eHarmony sign-up is so time-consuming because you're taking the 32 Dimensions testing.
The app ratings at both Google Play and the App Store are right around the same for both eHarmony and Tinder.
Both dating apps can be downloaded to mobile devices and used in-browser and on mobile and desktop PCs.