eHarmony and Match.com are two of the biggest names in the online dating world. Both dating apps have a proven track record of success in setting up serious relationships online. eHarmony is world-renowned for its compatibility testing and has been a titan in the industry since 2000, while Match.com has been honing its craft since 1995 and created a simple but highly effective matching system based around a simple personality test and the user's personal style and dating preferences.

But which of these platforms is the best overall for finding a profound connection or a committed relationship with your soulmate or the love of your life? This is precisely what we're going to cover in our eHarmony vs Match review. Discover the pros and cons of both eHarmony and Match.com, respectively, and check out our detailed comparison charts based on our five-point rating process!
---
---
General Info Breakdown
A large dating pool is critical to have a variety of quality singles to pick and choose from. Find out how many people are currently using eHarmony and Match.com, as well as what customers are generally looking for in an online relationship when they take to these platforms.
Key Information
| | eHarmony | Match |
| --- | --- | --- |
| Year Founded | 2000 | 1995 |
| Best For | Meaningful relationships based around compatibility | Meaningful relationships with professional singles |
| Site URL | eHarmony.com | Match.com |
| Active Members | 16+ million (Active weekly) | 3 million (Active weekly) |
| Gender Ratio | 48% men to 52% women | 55% men to 45% women |
| Average Age | 35-45 years | 30-45 years |
| Free Trial | Yes | Yes |
| Read Review | | |
Our team has independently researched all products and services that we have listed on this page. If you sign up or purchase through our links, we may receive a commission. See how it works.
Similarities
Match.com and eHarmony cater to a demographic of users roughly in the same age range. They deal less with the 20-something crowd and are far more popular with people in their 30s and 40s. In these cases, Match.com and eHarmony are comparable.
Main Differences
Now that we've discussed a few of the ways these dating apps are similar, let's go over how they operate in their unique fashion. eHarmony and Match are more different than they are alike, and here's why!
Online Dating Endgame
eHarmony's mission is to produce relationships based on deep connections and compatibility. Match does its matchmaking magic but then leaves it to the app member what kind of relationship they want to pursue. The result is that Match does a great job producing a mix of serious and casual relationships.
Active Members
These two dating apps differ in the number of people who use the platform, their overall reach in the global market, and the dating endgame of the people on these apps. eHarmony has far more users (16+ million spread across 200+ countries) than Match.com (8+ million spread across 50 countries).
Gender Breakdown
The number of men and women using these dating apps is generally even, but eHarmony caters a bit better to men, while Match caters a bit better to women. eHarmony and Match have gender breakdowns of 48% men to 52% women and 55% men to 45% women, respectively.
Sign-Up Time
It will take 30 to 45 minutes to complete the eHarmony registration process. This is primarily due to the personality and compatibility testing you must complete during sign-up. At Match.com, you only need to endure a 5- or 10-minute registration with more simplistic personality testing.
Matchmaking Process
eHarmony uses its patented 32 Dimensions of Compatibility testing to create successful daily matches. They handle everything, and there's no search option for customers to use on the app. Meanwhile, Match uses a more watered-down personality test and advanced search filters. If you want to have most of the control in your search for the right singles, Match might be a better fit for you!
Top Features Comparison
This category is a tough one when it comes to gauging a winner. Match.com offers its customers many more unique features, but they need to pay more money to enjoy them. But you are probably gaining more in value with an eHarmony membership plan and its patented compatibility testing (even if they have fewer special features than Match.com).
eHarmony's Special Features
Compatibility Reports – eHarmony members get reports on each of their matches with detailed descriptions of why they show promise for a meaningful relationship or connection. Members can compare their daily matches to see which are worth the time and effort.
32 Dimensions & Test Results – eHarmony's top-notch personality and compatibility testing are used to produce daily matches, and premium members can see their test results. They can see how their personality and unique characteristics will mesh with other singles on the app.
RelyID Verification – Premium members can provide an ID to have their profile verified. It's a way to bring legitimacy and reputation to your online account. Once eHarmony has verified your identity, they assign you a RelyID verification badge so other app members know you're a legit eHarmony account.
Match's Special Features
Superlikes – Match members get a monthly allotment of "superlikes." These are more than simple "likes" where you show someone you're interested in their profile. Sending a "superlike" means that you consider the recipient amongst the best profiles you've seen on the app.
Unlimited Rewinds – Match allows its members to go back through the swipe-style profile catalog and make corrections to mistakes they might have created. This includes giving "likes" to a profile you might have accidentally skipped or taking back a "like" you may have changed your mind about.
Incognito Browsing – Premium members have the option of searching using incognito mode. Match members can browse without anyone knowing that their profiles are being viewed. It's an excellent feature for someone who might want to avoid attention drawn to which profiles they looked over.
PromoteMe – Paying app members can use PromoteMe to rank better in Match's search results or experience increased profile visibility. PromoteMe works to help members who need some more buzz and hype created around their profile.
MatchMe – Premium members at Match can request to be placed in someone else's daily matches to have a chance at connecting with someone who has captured their interest.
MatchPhone – This is a personalized phone line that members can use to connect with other members via calls or text. Match members can request voice calls where they can anonymously send messages to their matches.
Date Check-In – This is a safety feature where Match allows three emergency contacts access to the information of your real-life date: the location and the name of the person you're meeting. Match will send a message to you asking if you're comfortable. If you're not, you can say "yes," and your emergency contacts will be alerted to swoop in if need be.
Missed Connections – Match offers the "missed connections" feature to members who want to be local singles that may have crossed paths within their day-to-day life.
Real Talk – Icebreakers are always handy when meeting someone new for the first time. This is why Match.com supplies its members with Real Talk icebreakers that get the online conversation going.
Reverse Matches – These are matches with singles who have their search filters set to the opposite preferences and parameters as you. Reverse matches help you to find singles who offer something different!
If we had to choose a winner when it comes to membership features, we'd have to go with eHarmony because they have a much better success rate with creating compatible connections between its users. If we're going strictly off the number of features, Match.com would be the winner. We're going to give the slight edge in this category to eHarmony. Quantity doesn't necessarily beat quality.
Cost Comparison
Which dating app comes at a more affordable price? Which one contains more value? Where will I get the most bang for my buck? We'll cover these questions about membership costs and address a few other things along the way that you might find helpful!
eHarmony
| Membership Plan | Cost Per Month | Total Cost |
| --- | --- | --- |
| 6-Month Membership | $65.90 | $395.40 |
| 12-Month Membership | $45.90 | $550.80 |
| 24-Month Membership | $35.90 | $861.60 |
Main Advantages
eHarmony membership plans contain more value.
You're getting the chance to take the 32 Dimensions of Compatibility testing and super-detailed reports on why you matched with any of the daily matches that eHarmony sends your way.
eHarmony has more extended plans that are perfect for customers who want to give themselves enough time to find that special someone.
Match.com
| Membership Plan | Cost Per Month | Total Cost |
| --- | --- | --- |
| 3-Month Standard Membership | $31.99 | $95.97 |
| 3-Month Premium Membership | $34.99 | $104.97 |
| 6-Month Standard Membership | $22.99 | $137.94 |
| 6-Month Premium Membership | $24.99 | $149.94 |
| 12-Month Standard Membership | $18.99 | $227.88 |
| 12-Month Premium Membership | $19.99 | $239.88 |
Main Advantages
Match.com offers six membership plans compared to eHarmony's three.
Match.com has more affordable pricing for its memberships overall: premium plans range from $19.99-34.99/month, and standard packages range from $18.99-31.99/month.
Premium and standard plans offer a different set of features. You end up paying for value, but there's also the flexibility that works for a tight budget too.
Which App Is Better for Meaningful Relationships?
If you want to find a compatible connection with someone online, our top recommendation is eHarmony! Its patented compatibility testing is the source of the app's success in joining together marriage partners and soulmates alike. eHarmony is your best option if you want profound dating experiences and solid, long-lasting commitments or relationships.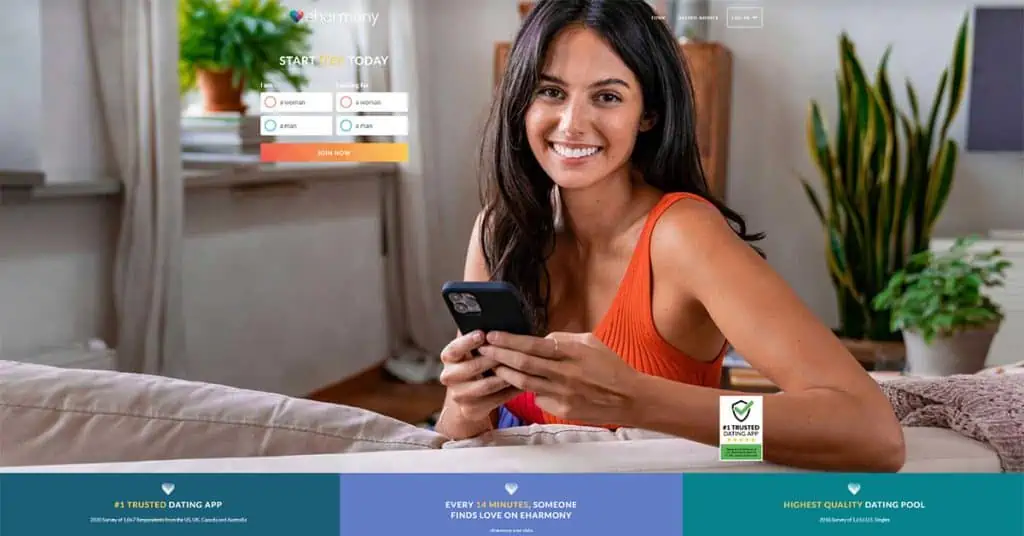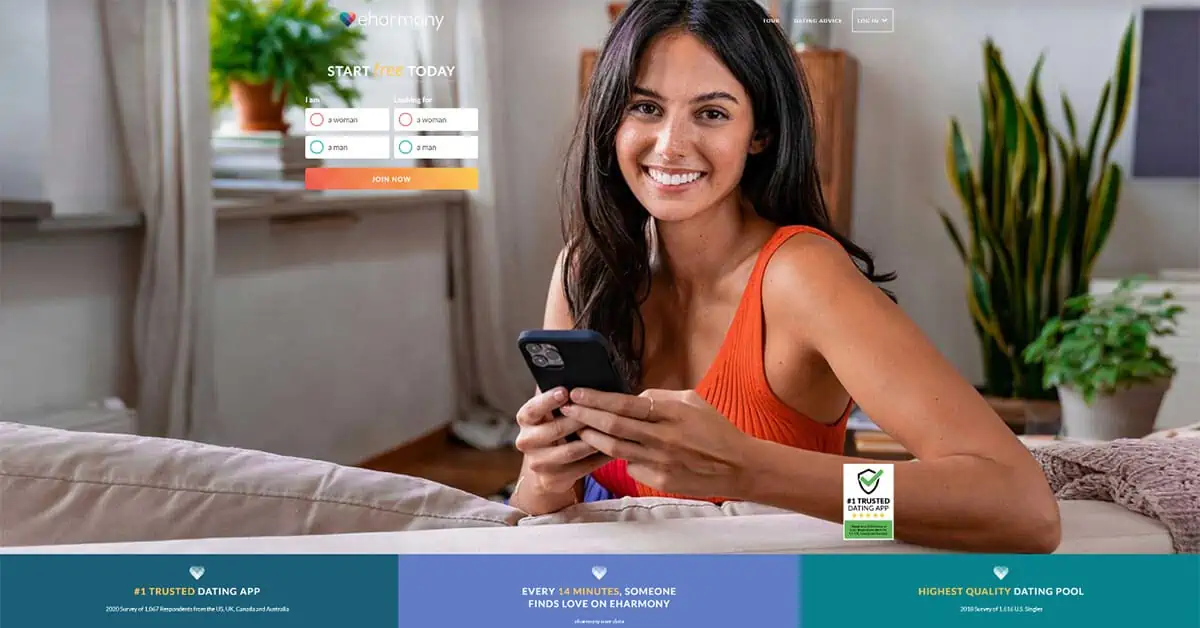 eHarmony
We recommend that you go with eHarmony if you're looking for serious relationships, romance, or true love. eHarmony has a much better success rate in the marriage department than Match.com. eHarmony claims to join over 600,000 couples in marriage since they started in the online dating business.
Which App Is Better for Casual Relationships?
While smaller and not as successful in creating serious relationships as eHarmony, Match.com should be a strong consideration for those who want to find compatible connections and quality matches with online singles. This is an environment where all sorts of relationship possibilities abound. The charm of Match.com is that you can establish quick connections with eligible singles, and there's a good chance that it could be something meaningful OR something more casual.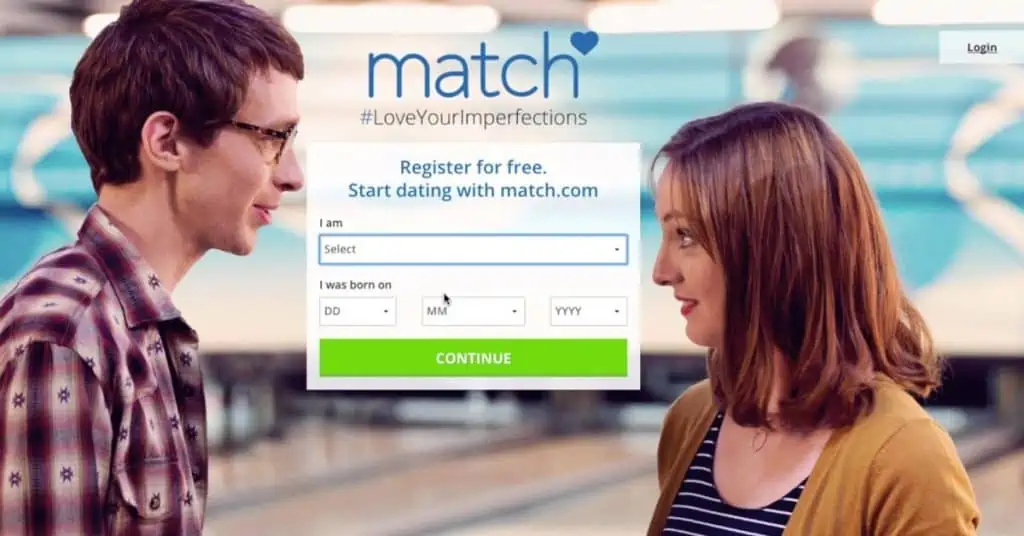 Match.com
Even though they don't have the most detailed testing during the sign-up process, Match.com does a decent job at creating compatible matches going off simplistic testing, profile information, and personal dating preferences. They are good at pairing up singles and going off minimal information.
Which Dating App Is Our Favorite?
It is no surprise that eHarmony is the champion of serious, committed relationships centered around a compatible connection. Match.com is a worthy contender for the title, but it's also a dating app where many people are looking for casual dates and romance. eHarmony is our top pick for finding serious dates and true love.
eHarmony: Our Favorite Dating App
If you want to use the best dating app on the market for finding serious relationships, sign up for a free trial today!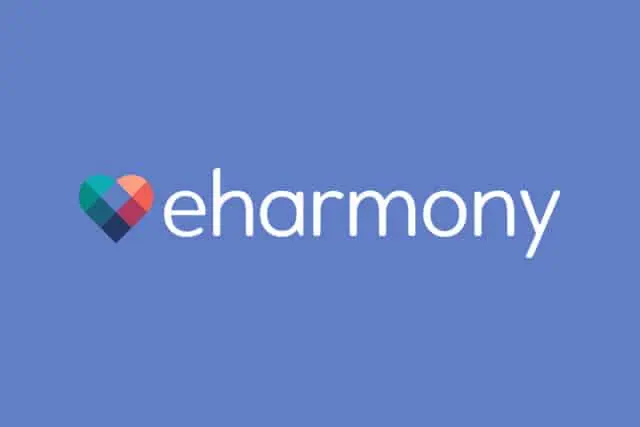 Why eHarmony?
Most members are looking for serious relationships. Only a few want a casual dating experience.
eHarmony's dating pool is a lot bigger (16+ million).
Its patented 32 Dimensions of Compatibility testing has a proven track record of success.
Memberships offer more value in the form of detailed reports explaining why you matched with other singles on the app.
Rating Process
How did you rate we eHarmony and Match.com overall as dating apps? Check out the five key categories we examined during the rating process. We've even included links to the free trial offers and our official reviews for each platform.
| | eHarmony | Match.com |
| --- | --- | --- |
| Overall Rating | 4.5/5 | 4.0/5 |
| Usability Rating | 4.6/5 | 4.0/5 |
| Active Members Rating | 4.6/5 | 4.0/5 |
| Daily Matches Rating | 4.8/5 | 4.0/5 |
| Features Rating | 4.9/5 | 4.0/5 |
| Cost Rating | 4.0/5 | 4.0/5 |
| Free Trial | | |
| Read Review | | |
eHarmony's extensive compatibility testing puts it above Match.com and many other dating apps in general. eHarmony's overall success rate with joining together singles online for successful, serious relationships speaks for itself. eHarmony also features robust dating profiles and advanced search filters.