Many online dating apps specialize in creating and fostering relationships that lead straight to deep romantic connections or true love that lasts a lifetime. eHarmony and Hinge are two prime examples of what it looks like to find a special link or relationship within the confines of an online dating app.
But what is the magic ingredient of the best all-around dating app for serious, long-lasting relationships? Is it good features or a modern design? Is it a large dating pool and an active user base?
In our comparison of eHarmony vs Hinge, we will cover the similarities and differences between these two platforms. You'll better understand which is the superior, serious dating and romance app for 2023. Key criteria for this review include general information, membership plans and pricing, and free trial opportunities.
---
---
General Info Breakdown
Let's discover how eHarmony and Hinge approach online dating and what they do to facilitate long-lasting, meaningful relationships and connections. While they have similar dating end goals in mind, plenty of things make these platforms unique from one another. We'll begin our comparison review of eHarmony and Hinge by covering the basics of each dating app.
Key Information
| | eHarmony | Hinge |
| --- | --- | --- |
| Year Founded | 2000 | 2012 |
| Best For | Meaningful relationships based around compatibility | Serious relationships where singles find love or romance |
| Site URL | eHarmony.com | Hinge.co |
| Active Members | 16+ million (Active weekly) | 500,000 (90,000 daily logins) |
| Gender Ratio | 48% men to 52% women | 55% men to 45% women |
| Average Age | 35-45 years | 25-45 years |
| Free Trial | Yes | Yes |
| Read Review | | |
Key Takeaways
Both dating apps allow users to find serious romance and true love.
The average user age is roughly the same, but Hinge caters to a slightly younger crowd.
The gender ratio at both platforms is nearly even (it's slightly better at eHarmony).
Ultimately, eHarmony has a much larger following than Hinge. Much of this is due to eHarmony's over ten years in the online dating market.
Main Differences
Hinge and eHarmony are similar in their mission to connect singles who desire long-term, meaningful relationships, but there are plenty of ways in which they differ! At every point and turn beyond focusing on serious relationships eHarmony and Hinge are complete opposites in their approach and operation.
Free Trials
Hinge is well known for its swipe-style dating profiles, available to free users and premium members. eHarmony only has swipe-style profiles for its limited wildcard match suggestions (What If). Hinge offers more free trial features than eHarmony, including messaging mutual matches and setting up prompts via videos and polls.
Mobile App
eHarmony can be used as a website where you can access it with your web browser or download the app from the App Store or Google Play. Hinge offers the same two options, but users must download the mobile app first to access the site with their web browser.
Matchmaking
eHarmony takes care of the matching process using profile information and the results of the 32 Dimensions testing to gauge compatibility. They even provide all the wildcard matches. There's no search function for members to search on their own for the right singles proactively. Hinge is the opposite; members set up search filters and dating parameters to find singles who fit their preferences.
Membership Plans
Hinge offers one, three, and six-month membership options, while eHarmony offers six, twelve, and twenty-four-month plans. Hinge has cheaper pricing and is suitable for value and savings if you want to use its membership for less than a year. eHarmony offers more protection throughout a more extended period (a year or more).
Features
The most significant feature difference is that Hinge has swipe-style dating profiles, while eHarmony only has them in a limited form for the wildcard matches, which they provide (What If).
Registration Process
Because of the compatibility and personality testing that comes as a part of the eHarmony sign-up process, it takes 30 to 45 minutes to get an account registered and your profile up and running at eHarmony. The Hinge sign-up time is significantly shorter, taking 5 to 10 minutes to complete.
eHarmony vs Hinge Top Features
If we had to choose a winner for this category, eHarmony would come out on top. There's something to be said about their compatibility testing and how it's used to form compatible connections between its members. Let's look at the best features offered at eHarmony and Hinge to see how customers can benefit from their online dating experience.
eHarmony's Special Features
32 Dimensions Testing – Members answer these personality and compatibility questions. It's used to gauge match recommendations with compatible singles on various levels, leading to happy and satisfying relationships!
Compatibility Reports – Not only can members look at the results of their compatibility test, but they can view detailed reports on all their match suggestions explaining why they are a good fit!
What If – eHarmony offers members a few wildcard matches each day. They're called What If profiles, falling outside of perfect compatibility but are good for members looking for something different.
Video Date – eHarmony offers these so members can meet singles they've met on the app face-to-face. It's a great way of verifying someone's identity or getting to know them better.
Hinge's Special Features
Discover (Swipe-Style Dating) – This is the most substantial element of the Hinge dating app. The Discover feature allows members to "like" or "pass" on profiles presented in a catalog format. You can cycle through a bunch of profiles in a short time.
Video Chats – Like eHarmony, Hinge allows its customers to go on video dates with other singles on the app to know them better.
Cost Comparison
Depending on how long you envision yourself using an online dating app, your best option for affordability will vary. Hinge offers better value over the short term and eHarmony over a more extended period. Let's look at how much it costs to become a member of eHarmony or Hinge.
eHarmony
| Membership Plan | Cost Per Month | Total Cost |
| --- | --- | --- |
| 6-Month Membership | $65.90 | $395.40 |
| 12-Month Membership | $45.90 | $550.80 |
| 24-Month Membership | $35.90 | $861.60 |
If you're looking to use a dating app over a long time, like a year or two, eHarmony would be your best bet for value and savings. They have plans that cover six, twelve, and twenty-four months.
Hinge
| Membership Plan | Cost Per Month | Total Cost |
| --- | --- | --- |
| 1-Month Membership | $34.99 | $34.99 |
| 3-Month Membership | $21.66 | $64.98 |
| 6-Month Membership | $16.66 | $99.96 |
Hinge is cheaper and more affordable if you want to use short-term online dating. The membership plans available at Hinge are cheaper overall, but they only cover one, three, or six months. It would be more expensive to renew a Hinge membership over a year or two than it would be to renew an eHarmony membership over the same time.
Which App Is Better for Serious Relationships?
If you're someone who values the new and modern when it comes to online dating apps, and you're in the market for finding true love or serious romance, try Hinge! They combine the glitz and glamour of Tinder with the dating endgame of eHarmony in mind.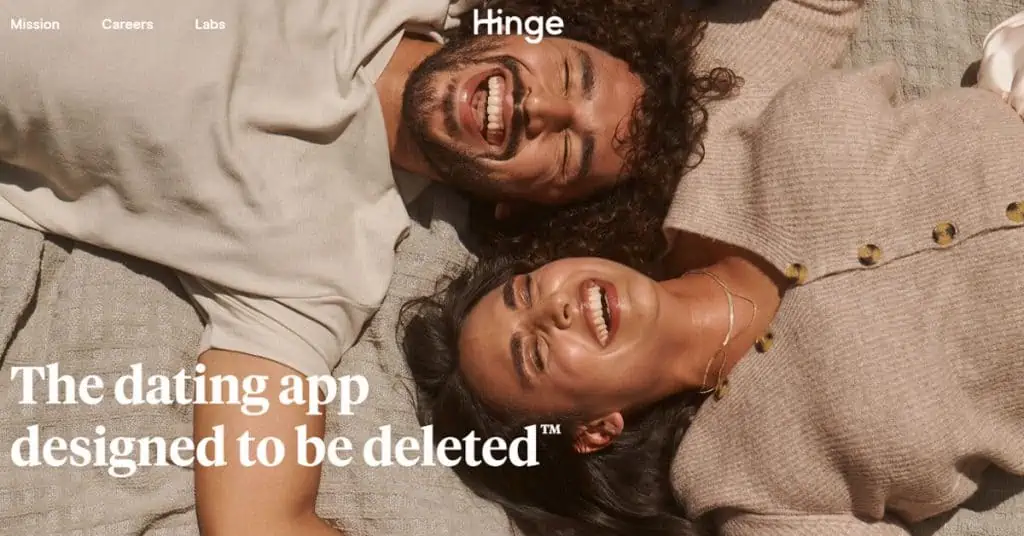 Hinge
But is Hinge and its 10-year tenure in the online dating industry enough to carry it over the finish line of being the best dating app for serious commitments and true love? We'll discuss this more in the breakdown below.
Overview
Hinge is the newer of the two dating apps, founded in 2012. They have 500,000 active users and 900,000 daily logins. They do have a serious relationship focus like eHarmony, but the age demographic they cater to is more like Tinder, singles in their mid-20s but also up into their mid-40s. Hinge can be downloaded to mobile devices in the app stores, and there's a download available for use on desktop PC as well.
Membership and Price
Hinge is one of the more affordable dating apps on the market ranging anywhere from $16.66-34.99 per month and offering 1-, 3-, and 6-month membership plans. There are no payment plans for a membership like at eHarmony, but you'll ultimately pass less in the long run for Hinge's services. Hinge also accepts various payment methods, including gift cards, PayPal, and Google Play/iTunes accounts.
Features
While we felt the design, appearance, and feel of Hinge are sleeker and more modern, eHarmony has better features altogether. We were glad to see that Hinge offers its paying customers unlimited communications, video chat, and swipe-style dating. Still, they did drop the ball regarding read receipts and detailed compatibility test result breakdowns.
Customer Service
Hinge is a dating app where you can contact a real person if you need help! They have a toll-free phone and an email that provide 24/7 customer service care and attention. Like most dating apps, Hinge also has a comprehensive set of FAQs. It's far and away a much better customer support setup than that found at eHarmony.
Which App Is Better for Compatible Connections?
Hinge is great for finding serious, meaningful relationships, but it doesn't mean you'll find the one special person you're truly compatible with on all levels. eHarmony is the best overall for compatible connections.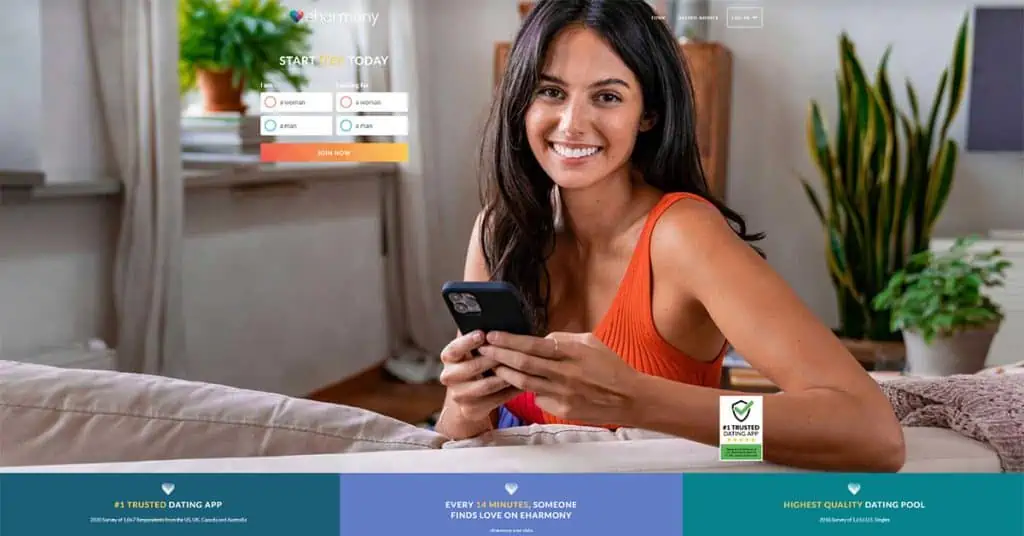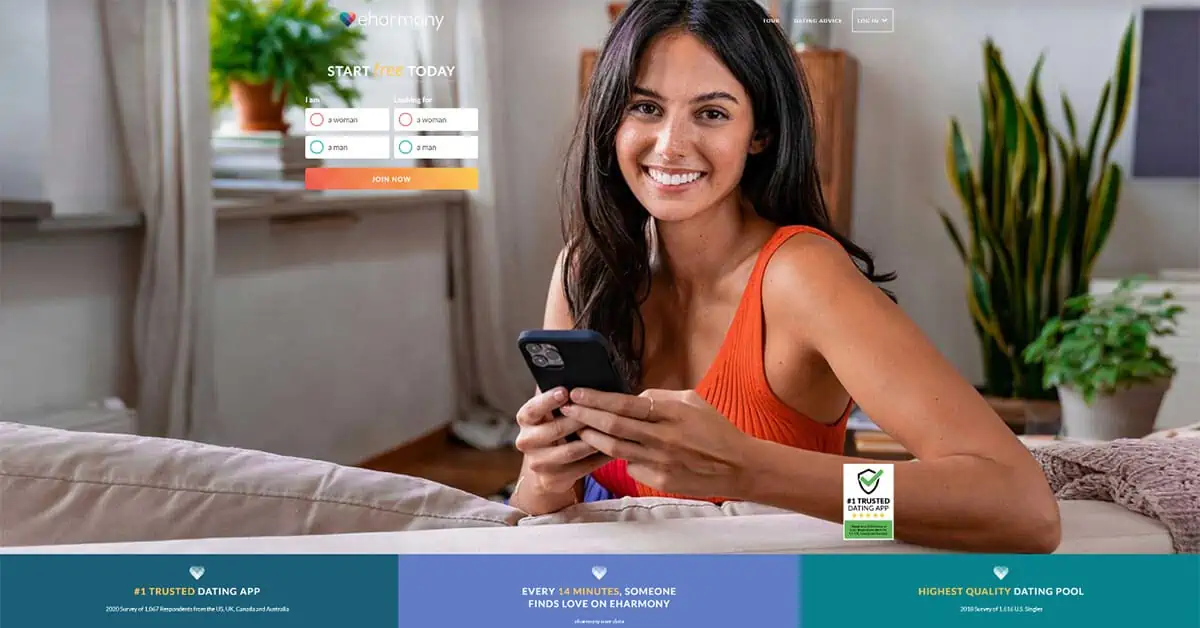 eHarmony
The eHarmony dating app is different from all other dating apps. It's a platform set apart from the others due to its emphasis on compatibility and its execution in joining hundreds of thousands of online singles in serious relationships or long-term commitments. There's something to be said for combining the forces of 32 Dimensions of Compatibility with highly advanced search filtering that leaves no stone unturned.
Overview
eHarmony has been around a lot longer than Hinge. It opened its doors in the year 2000 and has grown to an active membership base of over 16 million worldwide and can be used in over 200 countries across the globe! eHarmony has had much more time to build its business, whereas Hinge is newer to the industry. eHarmony has a slightly older membership base than Hinge but a much more even gender ratio.
Membership and Price
eHarmony will cost more than the Hinge dating app. the top-rated, world-renowned compatibility testing they offer must be paid for somehow. The higher membership cost at eHarmony compared to other dating apps indicates paying for quality. eHarmony also has membership plans that are longer compared to those at Hinge. Hinge offers 1-, 3-, and 6-month plans and eHarmony offers 6-, 12-, and 24-month plans.
Features
Although Hinge does come across as the more modern looking of the two dating apps, we feel that eHarmony eeks out a bit if we're talking about membership features. The feature that puts them over the top is their detailed breakdown of the compatibility testing results and the detailed description of why customers have matches with specific members on the app.
Customer Service
This is a point of disappointment for us. eHarmony does the bare minimum regarding customer service and support, offering an FAQ page at the customer help center on the app. There are no methods for immediately contacting a human service representative. We can point to the customer service experience as being the worst part of eHarmony without much thought.
Which Dating App Is Our Favorite?
eHarmony is the better of the two options for finding a compatible relationship that is bound to last a lifetime. While Hinge is a good option too for the same thing, it's a little more like Tinder in that it's a modern dating app that could be used for casual dating as well. eHarmony has 32 Dimensions of Compatibility testing, creating over 600,000 married couples since 2000!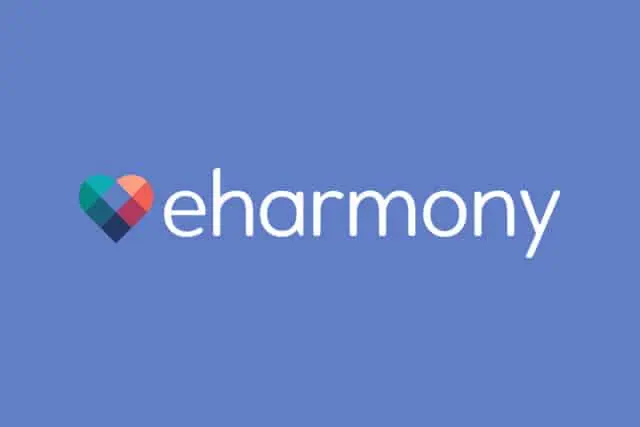 eHarmony: Our Favorite Dating App
Hinge is one of many dating apps with nothing genuinely remarkable to make it stand out amongst its peers. eHarmony has its 32 Dimensions testing, but Hinge offers only a personality test covering factors like lifestyle choices, level of education, religious or political beliefs, and interests. It's an excellent way to generate daily matches, to be sure, but eHarmony is on another level altogether.