CatholicMatch and Christian Mingle are two dynamic dating apps for Christians, but there's a significant difference between them. CatholicMatch is aimed at Christians who believe in and hold to the faith and traditions of the Catholic Church only. On the other hand, Christian Mingle is the more flexible (dare we say more liberal) of the two platforms and allows Christians of all denominational backgrounds to assemble in one online space.
We probably didn't need to tell you all this because the names of the apps give away the kind of people they serve. But that's an important starting point for our Christian Mingle vs CatholicMatch review, and we'll continue to expand upon the similarities and differences between these two Christian dating apps.
Discover which of these is the perfect religious dating app for your relational needs and budget!
---
---
General Info Breakdown
Before we jump into our comparison of Christian Mingle and CatholicMatch, we must first break down the most general elements of dating apps.
Key Information
| | Christian Mingle | CatholicMatch |
| --- | --- | --- |
| Year Founded | 2001 | 1999 |
| Best For | Finding meaningful relationships with Christian singles who want God-centered relationships with those who share their denominational beliefs  | Finding true love, romance, and long-term relationships with Catholic singles |
| Site URL | ChristianMingle.com | CatholicMatch.com |
| Active Members | 16 million | 1.5 million |
| Gender Ratio | 44% men to 56% women | 50% men to 50% women |
| Average Age | 36-50 years | 37-43 years |
| Free Trial | Yes | Yes |
| Read Review | | |
To learn more about these Christian dating apps, check out our honest, unbiased reviews.
Main Differences
Let's begin with the main differences between the two dating apps, shall we? Each platform has strengths and weaknesses; some are obvious, but others can be subtle. We'll cover each to show you the main ways that Christian Mingle and CatholicMatch differ in their approach to online dating.
Membership Base
Christian Mingle caters to Christian singles of various denominations (including Catholics). It has a broader appeal and encompasses Christian singles from diverse backgrounds. CatholicMatch solely focuses on singles who practice the Catholic faith or are members of the Catholic Church.
Dating Pool
Christian Mingle has a more active and robust dating pool (16 million active each week). CatholicMatch is a niche dating app, so its active member base is around 1.5 million each week. There are far more dating opportunities for Christian singles using CM, which is an excellent alternative to CatholicMatch!
Customer Service
There needs to be a way to reach an actual customer service representative, leaving customers to troubleshoot their way through problems. CatholicMatch has a phone number, email address, FAQ troubleshooting page, and a help support ticket feature for customers who need to contact the site. Christian Mingle only has the FAQ page.
Sign-Up Time
It's much quicker to become a member of Christian Mingle than CatholicMatch, but CatholicMatch has the distinction of featuring personality and compatibility testing during its registration process. So, while it's quicker to sign up using CM, the match quality might need improvement, with no test results used to inform the matching algorithm.
Features for Christians
CatholicMatch offers the best Christian-specific features for its customers: the CatholicMatch forum, chatroom, and prayer boards. It feels like a tight-knit community of believers because there are places where members can lift one another in prayer and discuss aspects of their faith. CM has some features, but they could be more generic and forgettable.
Swipe-Style Dating
One of the significant drawbacks of CatholicMatch is its lack of swipe-style profiles. While Christian Mingles has forgettable, stock features, they do at least feature the LookBook, where singles can swipe through a bunch of profiles at once, "liking" or "skipping" based on their dating preferences. CM has a more modern feel overall as a Christian dating app.
Cost
Although it's a niche dating app, CatholicMatch is more affordable regarding the price of its membership plans. On average, the Christian Mingle membership plans range from $20-30 more expensive than CatholicMatch membership plans.
Top Features Comparison
Despite being different in many ways, Christian Mingle and CatholicMatch share many features in common. But they have some unique ones that set them apart from one another. How do the features stack up against one another on these Christian dating apps? Check it out!
CatholicMatch's Special Features
Better Customer Service – This comes in the form of a toll-free phone number, email address, snail mail, and a comprehensive FAQ page for troubleshooting.
Forums and Chatrooms – CatholicMatch has a more tight-knit community. As a result, you have a small, local dating app where everyone knows one another.
Icebreaker Questions – It's easy to reach out to someone confidently at CatholicMatch with personalized icebreakers and emotigrams.
Christian Mingle's Special Features
Anonymous Browsing – Move stealthily across the app without other singles realizing you've viewed their profiles.
Read Notification Receipts – Know when your messages have been received and read them to know when someone is ghosting you.
Christian Mingle vs CatholicMatch Cost Comparison
Let's look at the cost of the premium membership plans now. Something important to note is that neither Christian Mingle nor CatholicMatch offers payment plans or monthly installments to help customers cover the membership cost. All subscriptions must be paid in one lump sum before new members can use their plan.
Christian Mingle
| Membership Plan | Cost Per Month | Total Cost |
| --- | --- | --- |
| 1-Month Membership | $49.99 | $49.99 |
| 3-Month Membership | $34.99 | $104.97 |
| 12-Month Membership | $24.99 | $149.94 |
CatholicMatch
| Membership Plan | Cost Per Month | Total Cost |
| --- | --- | --- |
| 1-Month Membership | $29.99 | $29.99 |
| 6-Month Membership | $14.99 | $89.94 |
| 12-Month Membership | $9.99 | $119.88 |
Both Christian dating apps offer a reduced monthly cost rate with their longer membership plans. For instance, it's much cheaper and cost-effective to buy one 12-month membership plan than buy twelve 1-month memberships. It's a savings of $449.94 and $240 for Christian Mingle and CatholicMatch, respectively!
Which App Is Better for Serious Relationships?
This is a tough one to call because both do a decent job at pairing Christian singles who get married or commit to long-term dating and relationships. And while Christian Mingle has some impressive stats regarding its success rate, we need to give it up to CatholicMatch!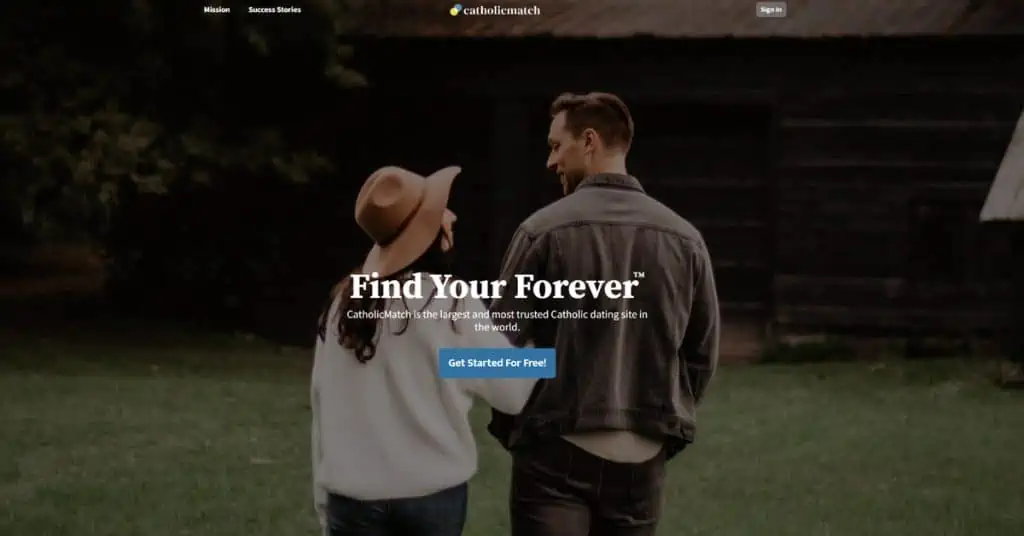 CatholicMatch
When you climb to the top of the mountain and take the 20,000-foot look, you'll see that CatholicMatch is the dating app that's more likely to produce more serious, faith-based relationships.
CatholicMatch has many faith-based features like the prayer board, forum, and chatroom. There's evidence of abundant activity with these features, as members support one another in their faith and lift one another in prayer week to week. It's a homey dating app where many members take the time to know one another outside a romantic context. As a result, some of the strongest bonds are formed between members based on their faith and beliefs.
Key Points
CatholicMatch has over 1.5 million members (500,000 are active each week).
CatholicMatch is designed to find serious, meaningful relationships with other Catholic singles.
The gender ratio is an equal breakdown (50% men to 50% women).
Check out the CatholicMatch forum, where members can enjoy discussions on faith, relationships, and the traditions of the Catholic Church.
They offer affordable membership plans ranging from $9.99-29.99 per month.
On the other hand, you have Christian Mingle, which has few features that focus specifically on Christian faith or prayer. Instead, they feature the CM LookBook, which allows singles to swipe through many profiles quickly, a design popular with dating apps like Tinder and Bumble. As a result, some casual romancing happens on the app, much more than would occur at CatholicMatch.
Which App is Better for Christian Dating?
If we are looking at which dating app is better for Christian singles, this one is no contest. It's Christian Mingle, for the simple fact that it can be used by any Christians regardless of their denominational beliefs and values!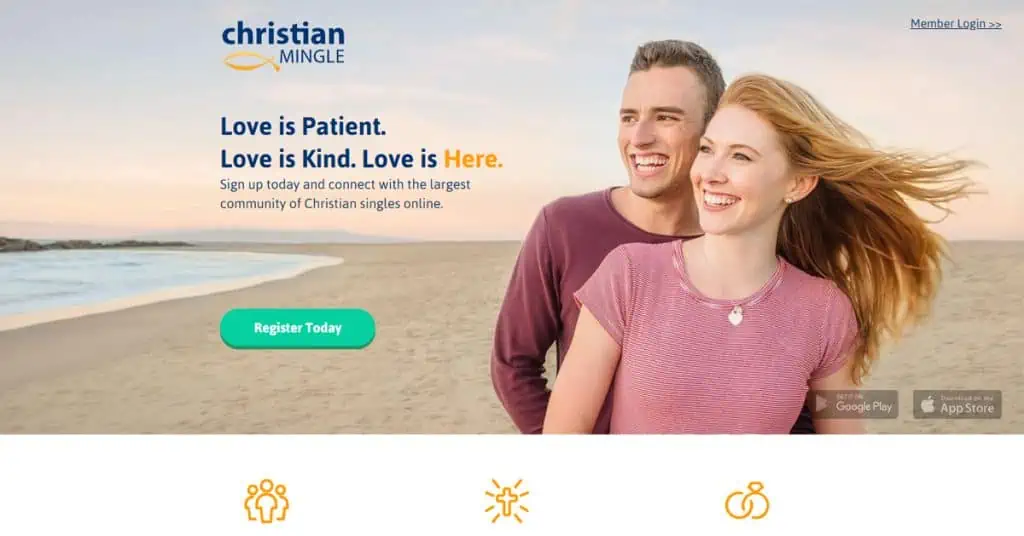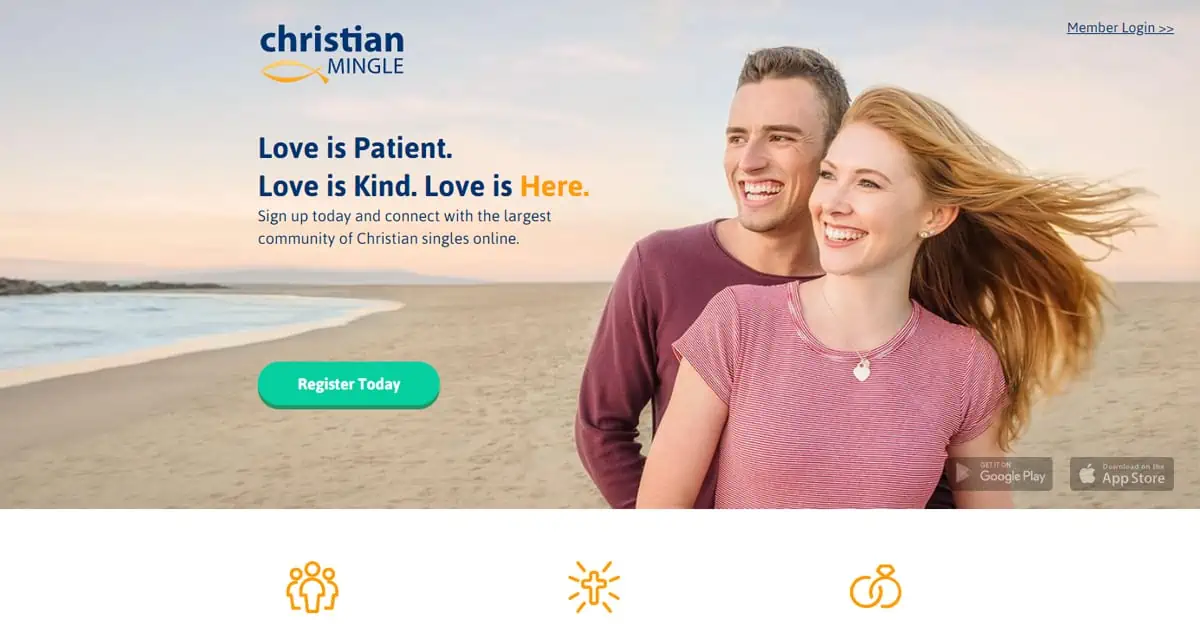 Christian Mingle
Christian Mingle has an excellent rate of success amongst its members, being the source of nearly 30% of all Christian marriages that started online. Several modern features serve its users well: Discovery Preferences, top-rate filters for a thorough, customized search for the right singles, and the Christian Mingle LookBook, which lets members browse large catalogs of singles who might fit their ideal dating parameters.
Key Points
Christian Mingle adds 60,000 new members every month.
CM has fostered and developed 29% of all Christian marriages that began online.
There's a total of 16 million members spread out over seven countries.
The LookBook offers swipe-style dating profiles, and Messaging+ ensures unlimited communications for premium members.
Discovery Preferences act as advanced search filters, offering searches based on denominational backgrounds, values, and lifestyle choices.
90% of members want to marry a Christian, while 71% attend church or religious services.
Christian Mingle also caters to a bunch of religious denominations:
Anglican
Baptist
Episcopalian
Lutheran
Non-denominational
Pentecostal
Seventh-Day Adventist
Apostolic
Catholic
Interdenominational
Methodist
Orthodox
Presbyterian
Southern Baptist
Which Dating App Is Our Favorite?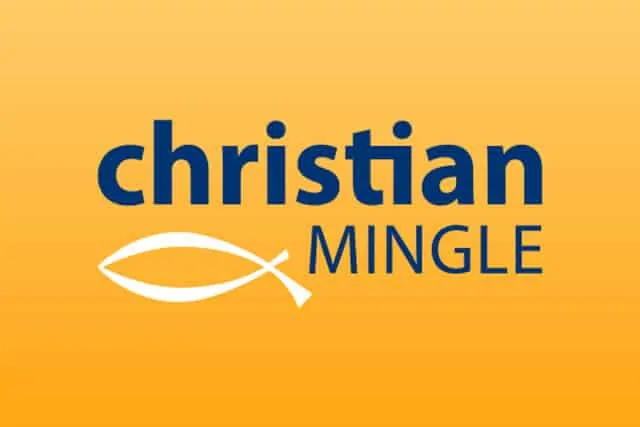 Christian Mingle: Our Favorite Dating App
Overall, we prefer Christian Mingle for its broad appeal. It's a dating app where Christians of any denomination (including Catholic singles) have a high success rate in the department of meaningful relationships with singles who share their faith. If you're Catholic, we feel your ideal choice is CatholicMatch. Still, Christian Mingle is an excellent alternative dating app for Catholic singles and a total win for other denominations.
We appreciate the inclusion of the swipe-style dating profiles found in the Christian Mingle LookBook. While there's a slight tendency for casual dating and romance with the presence of swipe-style profiles, Christian Mingle effectively uses this modern feature to make serious and meaningful Christian dating fun and engaging for its members!