During the pandemic, more people wanted to find creative ways to go on dates while still adhering to social distancing and lockdown rules. This led to the rise of video chat apps and virtual dating. For example, when Gen Zers were forced to eliminate in-person dates, almost 50% chose to explore virtual dating through video chat apps.
Even though lockdown and social distancing rules have eased, people are choosing to continue using video chat apps for dating interactions. It's not only safer, but many people have come to enjoy virtual dates more than in-person dates during the initial stages of getting to know someone.
In recent years the online industry has experienced exponential growth partly because of the pandemic. In fact, in 2021, there were a recorded 324 million users on dating apps worldwide, a significant increase from 241 million in 2016.
If you're considering embracing video chat app dating, you're likely wondering why you should make the most of it. Fortunately, you've come to the right blog because we'll share everything we know, including which video chat apps you should try first.
Why You Should Make the Most of Video Chat Apps
There are numerous video chat apps, but some of the best are the ones created for dating. If you're considering using a video chat app, you're likely curious about why you should make the most of them when dating.
Since there are numerous reasons, we thought it best to narrow down the list for you. See below for the top four reasons why making the most of video chat apps is the best thing you could do for your dating lifestyle.
1. Video Chat Apps Allow You to Express Yourself beyond the Written Word
Have you often cluttered your texts and email correspondence with dates with emojis, pick-up lines, and useless sentences that add nothing to the conversation? Unfortunately, not everyone is a wordsmith who can sprout exactly what the opposite sex (or same sex) wants to or needs to hear.
Have you found yourself sending texts that appear boring or insecure when you don't mean them to? Turning to video chat apps when dating could be a boon for you.
Using a video chat app feature will allow you to accurately showcase your charisma and magnetism face-to-face with a date virtually. You can easily express your true thoughts and feelings, improving your chances of finding a relationship worth your time.
Luckily, there are numerous video chat apps you can use to connect with someone you've matched with online. So why not take the leaps and stop second-guessing every sentence you type?
2. You Can Easily Identify Someone's Identity
There are many safety concerns regarding dating, but one of the biggest is that someone has lied to you about their identity. It's a known issue that most dating sites have scammers.
No one deserves to be intentionally 'catfished' since it wastes your time, time that you could have spent getting to know someone you potentially see a future with in the long run. One of the biggest reasons video chat apps are an excellent idea when dating is because a catfish would have difficulty hiding their identity.
It's immensely more challenging for a scammer to execute a romance scam when you are engaging in video chats with them. Even though the person can still pretend to be someone they are not, there's less risk involved for you.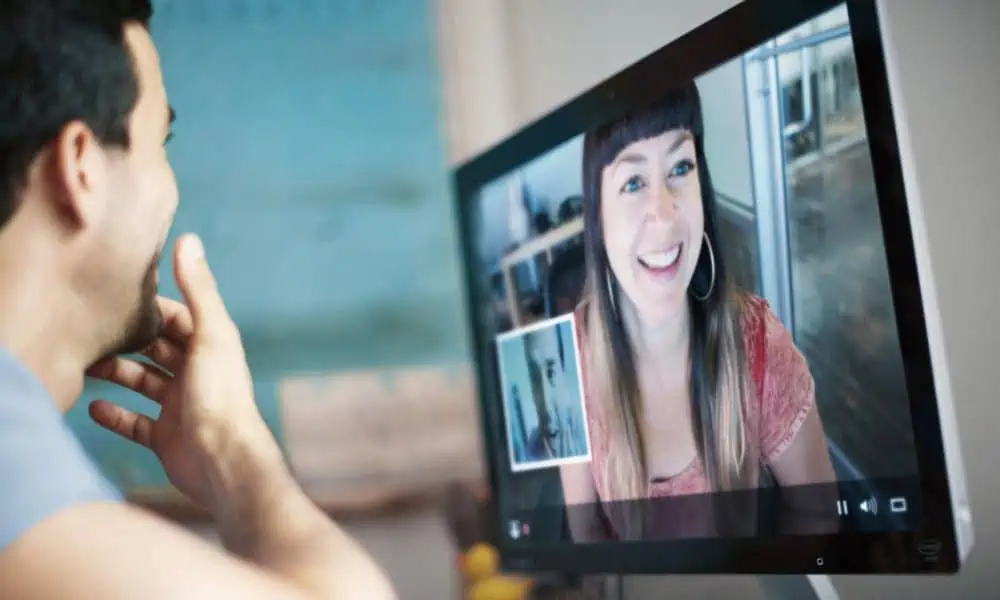 3. You Will Stand Out from the Competition
Online dating is a competitive scene, especially considering how many prospective partners a person can have that they are matched with on dating apps. Since most people live busy lives, most don't have time to spend hours engaging with the many matches they have made on dating apps.
With so much online dating competition, you need to ensure you stand out and get yourself noticed. Undoubtedly, one of the absolute best ways to do this is to use a video chat feature when getting to know someone. Most people are far more likely to engage with a potential partner they can see and meet virtually via a video call.
This is because they can properly see what makes you unique or different from their other matches who are texting them. You'll have the upper hand to show a match face-to-face why dating you is a better idea than dating anyone else. After all, you can show your energy and personality much more than you can over text over a video chat.
4. You Can Go On Virtual Dates
Another reason video chat apps are worth using is that you can go on as many virtual dates as needed until you feel comfortable meeting someone in person. Virtual dates are also an excellent option for those who want to meet someone that isn't from their local area.
Video chat apps allow you to go on dates without leaving your home. In addition, virtual dates cost less, and you can get incredibly creative even though you're not physically with the person you're dating.
For example, if you're dating someone through a video chat, you can both watch the same movie together, or you could have a cooking date where you both try to make the same recipe. Some seeking love have even gone so far as to tour museums via video chat or dress up and enjoy a candle-lit dinner. There is almost no limit to virtual dating through video chat apps if you have an imagination.
What Are Three of the Best Video Chat Apps for Dating?
The stigma surrounding dating online was obliterated when the pandemic forced lockdown rules and social distancing. Nowadays, dating online is not seen as a last resort for those desperately looking for love but rather as a modern tool to find someone who matches your energy and expectations.
Unfortunately, not all dating apps are created equally. That's why we will share some of the best dating apps that have a video chat feature built into their application. We have narrowed down the dating app pool to show you the ones that give you the best chance at finding love through video chatting.
1. Bumble
If you're a woman or non-binary person who doesn't want cis men to have all the power in online dating, you might like Bumble. Many often praise Bumble because this app helps to balance the dating scales and lets women take control.
Unlike other dating apps, on Bumble, men can only speak with those who have already expressed an interest in them. This wholly flips the script, as women are the ones to control the flow of the conversation. This makes video chatting easier since women feel more comfortable going on virtual dates with those they are interested in.
In addition to video chatting, you can send audio notes on Bumble and add a Virtual Dating badge to your profile that shows you are interested in online video chats.
2. eHarmony
For some, eHarmony might sound like an out-of-date dating app that only the older generation likes to use. Yet, the opposite is true thanks to the modern features like video chatting this app presents to users.
If you're logical and have faith in data and statistics, eHarmony might be the best video chat app for you. Unlike other dating apps, eHarmony uses data gleaned from an extensive 100-question survey to learn as much about you as possible to match you with someone truly compatible.
eHarmony has a Video Date feature available to premium users that will allow you to call those you have matched with via their profile or chat.
3. Match.com
If you're after a premium online dating experience that will end in lasting love, you need to sign up for Match. This dating app features immersive and highly detailed dating profiles that will let you get to know a person and determine your compatibility before you go on a date or enter into a relationship.
Match has unlimited video chat options, making forming virtual connections a breeze. One of their best features is Vibe Check which allows you to begin a live video chat in the middle of a conversation.
Besides the video chat features, Match is worth checking out because you can get expert virtual dating advice and block people who make you uncomfortable.
Wrap Up on Video Chat Apps and How to Make the Most of Them
It's evident that video chat apps benefit those interested in virtually dating to find love. With the right video chat app, you can enjoy many dating perks without as many fears about your safety and the competition. Just ensure you're using a legitimate dating app that has a video chat feature.