Our team has independently researched all products and services that we have listed on this page. If you sign up or purchase through our links, we may receive a commission. See how it works.
Today as societal norms change, so do dating norms. Dating is complicated at any age, but dating in your 30s brings new complications. According to statistics, people are now choosing to delay marriage or not to marry until they are in their 30s. Why is this the case?
Well, dating experts say there are some genuine advantages to holding off from marriage and dating until you're in your 30s. So even though dating may seem frustrating or daunting at this age, there's still a bright light at the end of the tunnel.
By taking the time to read this guide, we're confident you can find your soulmate. We'll discuss everything you need to know, including why it's better to date in your 30s and the tips you need to succeed. If you allow us to help, you might hear those wedding bells soon.
Being Thirty Doesn't Mean Your Dating Life Is Over
According to Dr. Hernando Chaves, a licensed marriage and family therapist, people have significantly more clarity with what they want and need in their 30s than in their 20s. They also better understand what truly makes them happy and what specific qualities in a dating partner complement them best as they mature as individuals.
To this end, your 30s start your golden dating years. You won't have to deal with being single forever, so you can breathe a sigh of relief!
Additionally, finding someone in the dating pool at such an age leads to more diversity than the unsalted sea of half-devoured fishes you've likely become accustomed to in your twenties. After all, there are approximately 24 million people ages 30 – 34 and 21 million between the ages of 34 to 39 in the US. This is more than enough people to begin your soulmate search.
Why It's Better to Date in Your Thirties​
1. You Can Easily Discern the Red Flags​
The seemingly desirable traits of emotionally distant individuals that once drew you in are now an example of precisely what you're "NOT" searching for in a partner. Once you've ruled out those potential romantic partners (and their red flags), you can consider individuals you might've never given much thought to when dating in your 20s.
2. You Have More Faith in Your Gut​
Dating in your 30s might be difficult, but one of the biggest positives is that you'll have more faith in yourself after going through tremulous relationships in your 20s. In your 30s, you are aware of your preferences and, more crucially, your dislikes in a mate. Through hard-won experience, you're considerably more likely to trust and adhere to your instincts when searching for a partner.
3. You've Experienced Falling In and Out of Love​
You've already fallen in and out of love, regardless of whether you had one long-term relationship or only occasionally dated in your 20s. This has given you a keen insight into healthy love and unhealthy love.
Additionally, since you've likely gone through one or more breakups and know how painful they can be, you've learned to be more guarded about committing. This skill will help you find the right partner instead of a string of the wrong ones.
4. Your Finances Are Secure​
Dating in your 30s can be limiting because your focus is on establishing your career and becoming financially stable. For many, this means that their 20s were filled with lackluster cheap date experiences that left much to be desired.
5. You're More Aware of Like-Minded Individuals​
Many people in their 20s begin their love lives with a life partner very quickly, which doesn't give them time to truly learn enough about their chosen partner. Unfortunately, this often leads to heartache and emotional wounds when their partner becomes wholly incompatible later in life.
Luckily, in your 30s, you will have learned from these mistakes and are now more aware of like-minded individuals. You will have no issue searching for other 30-year-olds with the same interests, viewpoints, and ideologies as you. Thus streamlining the dating process and making it easier for you to settle with a compatible individual.
6. You Are Psychologically and Emotionally Prepared​
By the time most men and women hit their 30s, they will have typically accomplished most of their educational aspirations and have begun or even excelled in their chosen occupations. In addition, most 30-year-olds are also psychologically and emotionally in a good place which makes them more prepared to have a lasting relationship with their soulmate.
Dating in Your 30's: Singletons Should Use These Sites to Ensure Success​
Some of you may be here now hoping to connect with other single people in their 30s but need to know how. In their 30s, single men and women typically lead active and busy lifestyles. This means they keep themselves busier, don't stay out all evening in bars, and traverse the globe with a clear focus.
An active and busy lifestyle makes it somewhat challenging to locate fellow 30-year-old singles with the same interests as you. Fortunately, online dating has become helpful in this situation.
The top dating sites for singles over 30 will help you filter out the noise, avoid the games, and discover that one person in a million you've been searching for to spend the rest of your life with.
The Top Three Best Dating Sites for Single People in Their 30S​
1. Elite Singles​
This dating site is for you if you're career-driven. Leading American dating site Elite Singles brings together successful singles based on compatibility and personality. Members of Elite Singles frequently have advanced degrees and state they were able to form committed close relationships when using this site.
Additionally, with a large user base across hundreds of sites and numerous countries, Elite Singles is a good option for looking for singles in their 30s from different geographical locations.
EliteSingles.com offers a monthly subscription package with Basic, Silver, Gold, and Platinum memberships starting at about $31.95. Besides being affordable, you will always have matches because 340,000 people, on average, sign up monthly.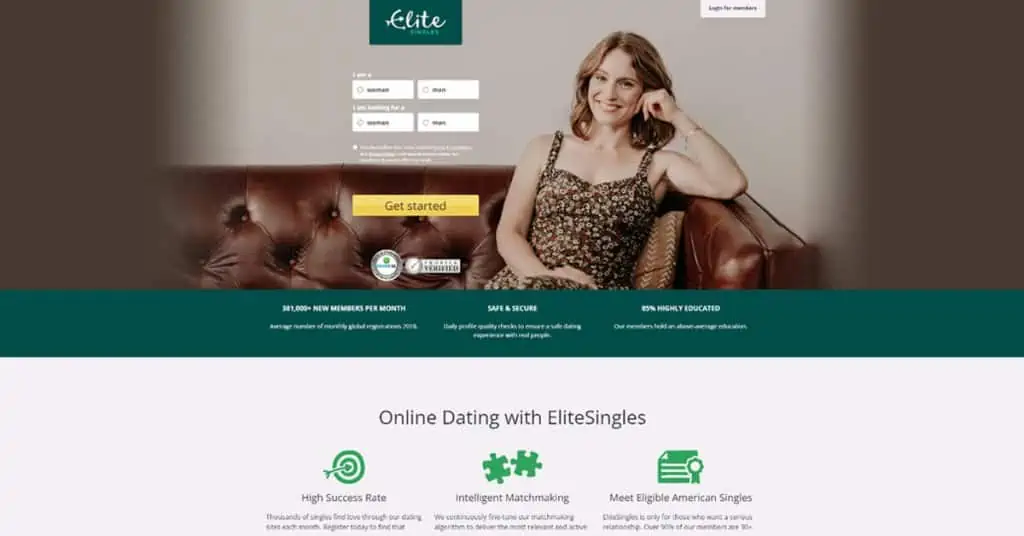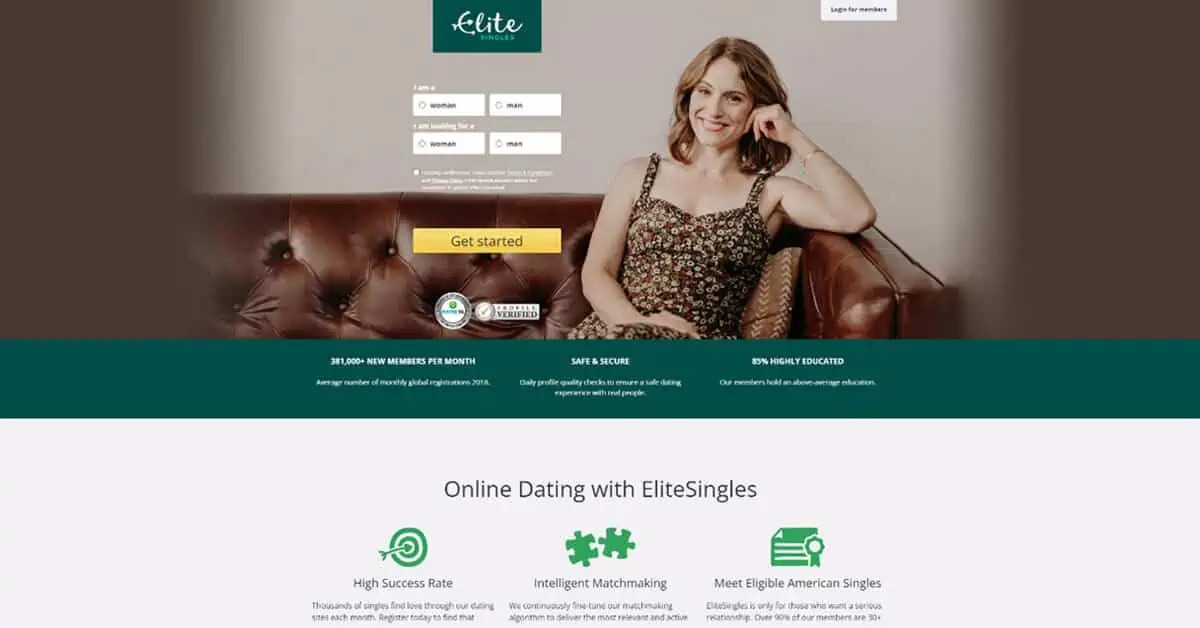 ---
2. Match.com​
It's simple to find somebody who gets you on Match because of its large user base. You can save time and effort on Match by investigating possible matches before you correspond with them. In addition, its 29 compatibility specifications reduce your list of possibilities while increasing your likelihood of matching with a suitable partner.
As one of the oldest dating sites, Match has a diverse user base with many attractive features that help those looking for love. For example, their "Date Night" option enables you to arrange an evening out for around $35. We guarantee you'll love it since it's well-liked by other customers.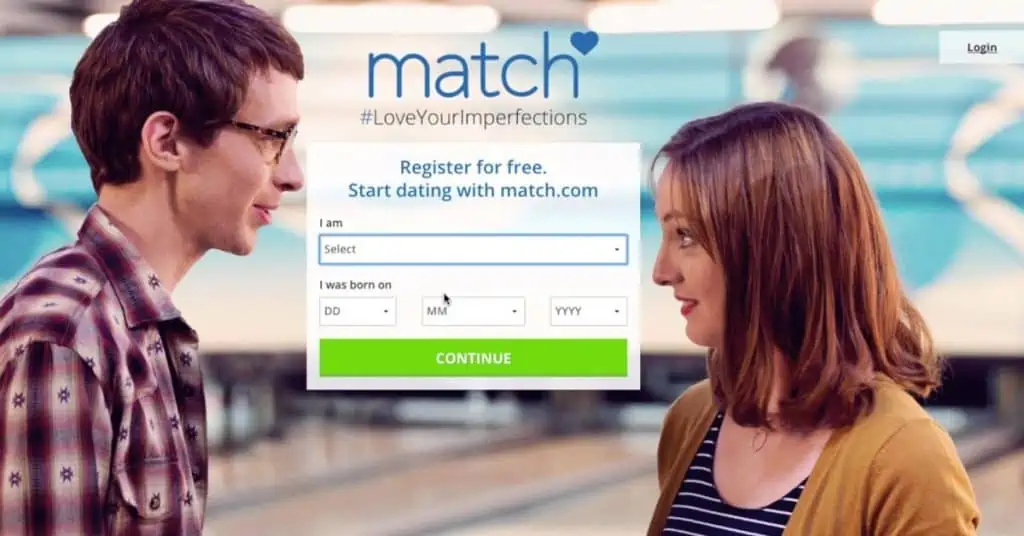 ---
3. eHarmony​
If you've ever thought about online dating, you've probably heard of eHarmony. It's among the most recognizable names in the industry, and for a good reason. The majority of eHarmony users, according to Statistica, are between the ages of 30-44, so if you're in your 30s, you'll have a fantastic chance of meeting someone on this site!
Thanks to their matchmaking technology, they have more relationships ending in weddings than any other app. This is probably because of the detailed personality assessments that form the basis of their matching algorithm.
When you choose eHarmony, an understanding of your personality qualities and the ability to have more meaningful conversations with others can both be gained from taking a personality test. Additionally, you will have access to a free trial to get a sense of the website. After that, expenses start at just $10 per month. It's well worth it; trust us.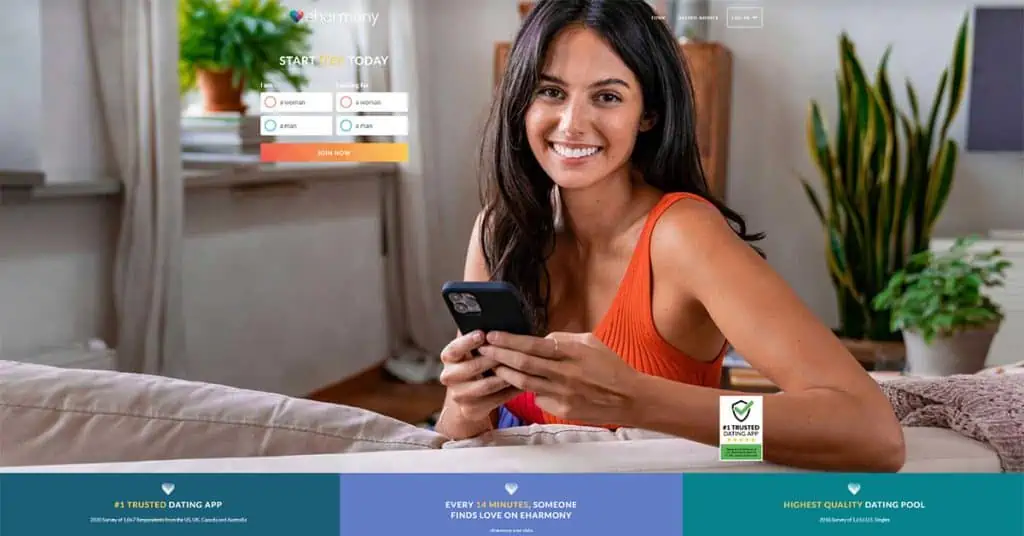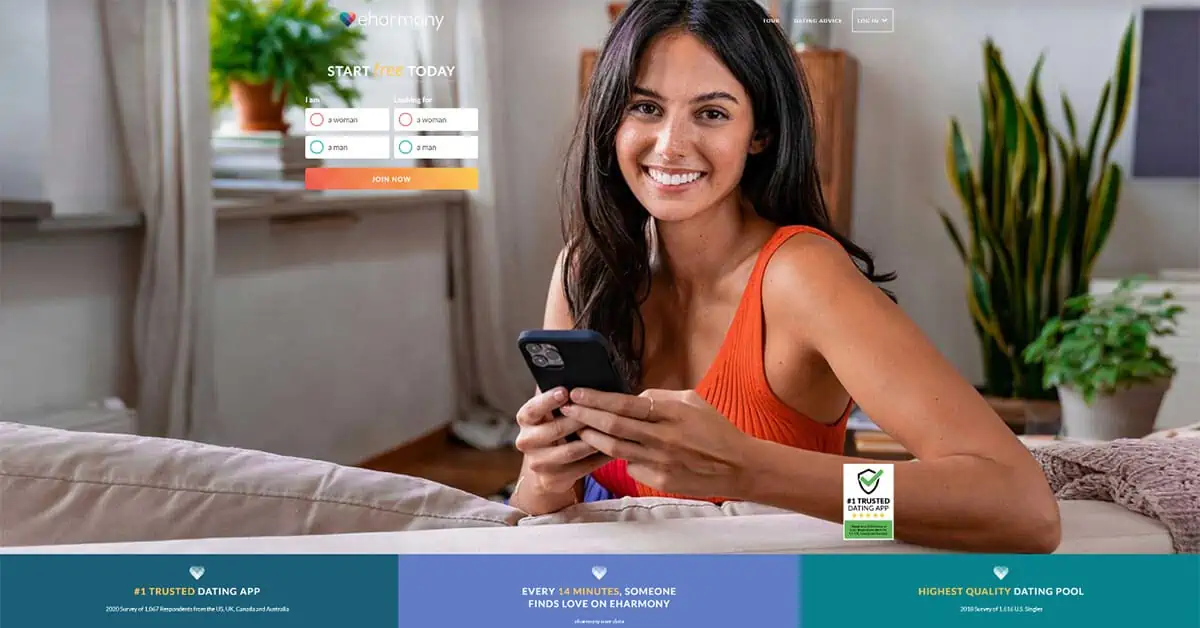 Moreover, this platform is believed to have excellent customer support and strongly emphasizes guarding you against fake accounts. Ultimately, eHarmony is an ideal dating site to consider if you wish to feel secure in your dating website endeavors.
---
The Top Three Best Dating Apps for Single People in Their 30S​
Tinder is the top free dating app that's great for arranging dates and meeting compatible singles. You can "swipe" through hundreds of possible matches in your location daily, thanks to their user community which includes over 100 million people! Thus, it's understandable why the idea behind Tinder has gained popularity all across the world.
When using Tinder, you can also block individuals so that they cannot contact you if you are not interested in them, narrowing down your dating pool to matches that matter. This app also has an easy-to-use interface, decent customer support, and a range of free and paid features that make it worth checking out if you're seeking love in your 30s..
Tinder Review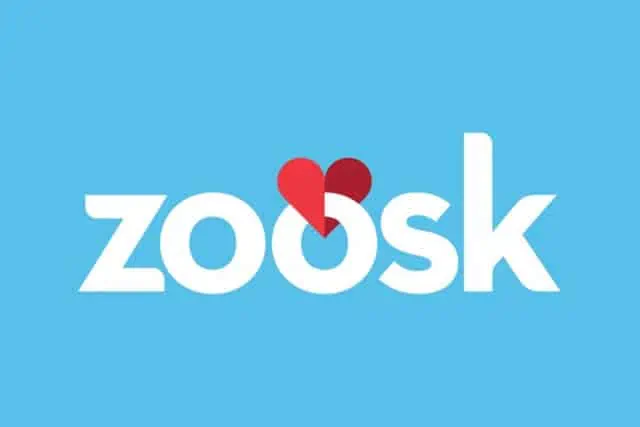 There are 40 million users on Zoosk, a dating app (and website) with an oddly catchy name. After signing up for this app, you'll have a wide range of dating options and potential matches, thanks to its millions of users.
Unlike dating websites, it's a fantastic way to dip your toes into the dating world. This is because, instead of completing a lengthy questionnaire to match members, Zoosk employs a proprietary algorithm dubbed "behavior matchmaking." This algorithm makes matching you with suitable partners more efficient, saving you time finding love. Additionally, the paid subscription costs roughly $12.50 a month, so it won't cost you a fortune to search for your soulmate.
Zoosk Review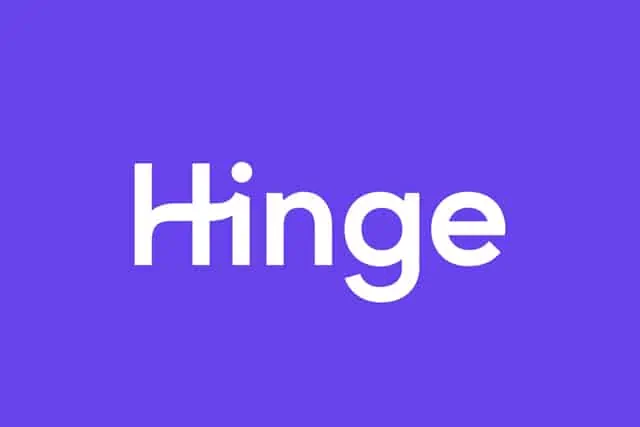 In the past, Hinge operated by identifying Facebook (Meta) connections and social contacts to propose prospective matches. Since then, it has moved away from this strategy, which is understandable given that many people nowadays prefer not to have a Facebook account linked to their dating profiles.
Compared to other apps, Hinge has significantly improved the app's appeal and value by adding a range of attractive features. For example, you can include important information in your profile, such as your political beliefs, religion, level of alcohol intake, and whether you desire to have children in the future.
Ultimately, Hinge is committed to helping you find someone to spend the rest of your life with, as the current tagline alludes to – "built to be deleted."
Hinge Review
Tips to Help You Thrive While Dating in Your Thirties​
1. Be Precise about What You're Looking For​
You don't want to waste time on futile dates, do you? When dating in your 30s, many experts recommend that you should first be quite specific about what you desire in a partner and relationship. So sift through the knowledge you have from past relationships to determine what you want in a mate.
It would help if you also concentrated on the intangible qualities. Yes, it makes sense to initially be drawn to someone based on their looks, but ultimately, their inner qualities and fundamental principles matter the most. Start with a pen and paper and list all the good characteristics you want in a partner and the bad traits you want to avoid. That way, you'll be prepared to start dating other people in their 30s.
2. Stop Thinking That You Must Have Everything Figured Out​
Unfortunately, a sense of haste to have things "sorted out" and a sense that time is running out can accompany dating in your 30s, adding pressure to every encounter.
If you want to be successful in your dating endeavors, you must realize that you don't need to have everything figured out. Although there are many valid concerns, many situations surrounding people rushing into relationships and marriage can be navigated.
For example, many people fear they won't be capable of having children and that, after turning 39, their childbearing years will be over. There is no time limit on love. Couples can adopt or even have kids later in life (science has proven that older people can still have healthy children) and ultimately be happy.
Other people feel they will forever be alone if they are not married by a certain age. This often isn't the case as there is no age limit on when you can get married, so try to keep societal norms from dictating your romantic path in life.
Ultimately, if you stop insisting on having everything planned out, you're more likely to meet people during your 30s that could be potential matches.
3. Boost Your Confidence by Working on Your Social Skills​
As humans, we are naturally sociable. We're designed to feed off each other's energy, but this can get harder as we grow older. For some, dating in our 30s can wound our self-esteem, especially if we already have a poor self-image or feel less desirable because of our age.
Thus, you need to work on your social skills if you feel you have low self-esteem or lack confidence in dating. Luckily doing this is easy as you can become more social by attending more events (happy hour at the bar, festivals, and flea markets), chatting up people on dating apps, and even while on dates.
4. Be Upfront About Your Intentions from the Start​
Being upfront about your intentions from the beginning to discourage time-wasting and falling in love with an individual who will not be "your match" is the best approach to online dating.
So feel free to state that you want to get married and establish roots in a community and your own family on your dating profile or a first date. Yes, it's probably a bold move, but it's the most surefire way to acquire the kind of connection you genuinely desire and weed out the bad matches.
However, there's an art to being upfront. You don't want to make someone feel like they're in an audition or a selection process when you sit down with them on your initial date.
5. Leave the Rules Behind​
All the dating guidelines have probably been repeated a million times:
Call.
Wait three days.
Keep your needs in check.
Don't initiate contact.
Save the kissing till after the initial date.
These so-called rules hinder efforts to make a real connection because every circumstance is unique. Because we are all flawed, the best advice we can provide is not to expect perfection because you're unlikely to find someone to spend your life with if you do.
6. Listen to Your Gut​
The most important thing involved with dating in your 30s is to heed your gut or intuition. The old saying is, "our intuition is always leading us." We may not have been open to heeding such advice in our twenties, but we must listen to it in our 30s.
Now that you've had a decade (or even more) of relationships and dating, you can pay closer attention to cues and gut feelings that warn you against wasting your energy and time on the wrong potential partners.
7. Don't Be Afraid to Date Outside Your Comfort Zone​
The best time to date somebody outside your usual "type" is in your 30s. You can never predict where it will take you. When most individuals discover that they genuinely enjoy dating someone other than who they typically would, it is frequently a great surprise. Look at all the famous 'opposites attract' celebrity couples to know we're telling the truth.
So, try not to be afraid of dating outside your comfort zone. Look at suitors you might not typically consider because you might be surprised to find that you fall in love with someone that's your opposite.
Red Flags to Avoid When Dating in Your 30's​
Multiple Failed Relationships or Divorces – Someone may not be particularly adept in maintaining a relationship if they have numerous (like greater than they're able to count) unsuccessful relationships. Although you should first find out what transpired in prior relationships to determine whether there is a trend, it's usually best to avoid someone who changes relationships like they change their underwear.
Partying Every Day – Not to ruin the fun or be a Debbie downer, but when you become older, excessive drinking can lead to undesirable outcomes and raise serious relationship red flags. So it's safe to presume that if a person over 30 doesn't have their life together and is consistently hungover or partying when you see them (and when you don't), they should be avoided.
Ignoring or Neglecting Their Health – We're all responsible for looking after ourselves as adults. Now it's true that nobody can always eat well, and spending days in the gym isn't always possible, but your potential partner needs to maintain a certain level of self-care. It's not a good indicator when someone is in their 30s and still needs to be babied about their health, or worse, doesn't even care. Additionally, if you make the mistake of falling for someone who neglects their health, you have little chance of them helping you when you need it if they can't take care of themselves. "Through sickness and in health" will fly out the window.
Emotional Immaturity – Can your date discuss complex topics with you without getting upset? Do they not want you when it's difficult and only desire you when it's fun? Is Snapchat the only way to get in touch with you? Immature behaviors like these are typically a warning sign that this person won't make you happy in the long run or respect you during a relationship.
Calling Their Exes Insane or Crazy – Anyone in their 30s who believes their ex-partners are all to blame for failed relationships is a walking red flag. If a single individual truly believes they had no fault in past relationships, it indicates that they are emotionally and psychologically immature. Those eager to disparage their ex-partners show that they don't have respect for their partners and will likely not respect you. So save yourself the hassle of a messy relationship by avoiding matches that repeatedly refer to exes as crazy or insane.
Can't Commit to Anything (Even on a Small Scale) – Most people are confident enough to make commitments by the time they are 30 years old. We're not even discussing marriage here, just little things within a relationship. For example, singles in their 30s should have the ability to agree in advance to take you out on a date and then arrive when they indicated they would come. It is a red flag if the person you're dating cannot commit to things they have promised they would do.
Wrap-up on Successfully Dating in Your 30S​
Your 30s may be the ideal decade for forming new relationships, and what better way to guarantee this than by going on a few dates? As you get older, you will probably know yourself better and feel more at ease within your skin than you did ten years ago.
As such, you will clearly know what you want and be less likely to waste time on the wrong romantic partners. So, don't let the fear of social expectations and the need to settle down control you; take your time to discover the right person, even if you have to sit through copious dates to find 'the one.' Trust me; it's worth it in the end!