Choosing the right location is crucial to the success of your first date with someone you're eager to impress. Fortunately, bustling Las Vegas is one of the best cities to find the ideal location. It has everything you could need to create a memorable experience, whether you plan a date day or night.
Las Vegas is internationally recognized for its luxury hotels, casinos, and nightlife. With thousands of things to do and try, determining where to take a date can be challenging – especially if it's your first time meeting this new romantic interest.
Luckily, there's no need to fret because we're here to help narrow your search. Here are some of the finest locations in Las Vegas to take your new partner to ensure the best first date possible.
The Best First Date Ideas in Las Vegas
If you're dating in Las Vegas, you're fortunate enough to have almost endless options. Yet, with these seemingly never-ending choices, pinpointing the 'creme de la creme' of dating locations can feel like a monumental task.
Add in the locale needing to be first-date appropriate and impressive, and it's a headache waiting to happen. So save yourself the mental fatigue and consider one of the places we've found below.
1. Grab a Ticket to the Eclipse Theater in Las Vegas
The Eclipse Theater is a fantastic two-for-one experience where you get to take your date for a tasty dinner and a thrilling movie! Unlike other theaters in the area, this one has a unique concierge style that expertly blends fine dining with a film experience.
When you and your date visit the Eclipse Theater, besides top-tier cuisine, you can expect an extensive range of tasty cocktails. This "happy juice" is perfect for spicing things up while you and your date enjoy a movie that suits both of your preferences.
If movies aren't what you are looking for, they have numerous events, including regular comedy shows, that you and your date can attend instead. This is the place to be if you're seeking a first date in Las Vegas that provides food and entertainment in a relaxed but exciting environment.
2. TIABI Coffee & Waffle: Coffee with Something Sweet
Nothing goes better with coffee than scrumptious waffles. If Coffee and Waffles are your date's two favorite things, TIABI Coffee & Waffle shop is the perfect first date location!
Yet, even if they aren't a coffee drinker and are more a tea person, this gem of a place is still an attractive unique location that brings a sweet twist to a simple coffee date. It's also quiet and cozy, so you and your date can get to know one another without loud crowds or distracting surroundings.
When visiting you, both can also choose from a wide assortment of waffle-based foods while enjoying a delicious beverage from their incredible menu. It's also budget-friendly, which makes it an excellent option for mid-month first dates when the purse strings are a little tighter than usual!
3. Walk around the Night Market Tivoli Village
There's something special about walking through a glittering urban landscape at night. Suppose you and your date enjoy Las Vegas nightlife but want to avoid spending your evening at a casino or fine dining establishment. Why not consider the Night Market located at Tivoli Village?
The night market at Tivoli Village is one of a kind and one of the best first-date locations in the city. The market can provide you with incredible live music, delicious food, and unique boutique isles with an eclectic mix of items for sale.
You and your date will surely experience the joy of Las Vegas nightlife.
This is an excellent first date experience if your date enjoys fine crafts or vintage items. As a bonus, you can score extra romance points by buying your date a small token while enjoying all this night market offers.
4. Visit The Garden Las Vegas for Brunch
Perhaps you're looking for something more on the LGBTQ+ side of things in the Art District? Don't worry; Las Vegas has you covered with one of the best queer first-date locations. The Garden Las Vegas is out and proud with its quirky decor, colorful theme, and exciting menu.
You also won't be bored when visiting this restaurant, as it's said to host the best Drag brunch you will ever experience.
If you and your date like new experiences, why not visit The Garden Las Vegas when it takes place every weekend on a Saturday or Sunday? Besides the entertainment, there are numerous delicious light meals and craft cocktails.
5. The Big Apple Coaster & Arcade
Are coffee and movie dates too boring an idea for you and your date? Why not enjoy the thrill of a rollercoaster and some light-hearted competitive gaming at the Big Apple Coaster and Arcade instead?
The Big Apple Roller Coaster is the main attraction at the New York Hotel and Casino, which is situated in Las Vegas despite its name. Should you choose this thrilling first date location, remember to take your companion on the 203ft drop. It's sure to get the adrenaline pumping and excitement brewing for the arcade activities.
Since the drop is a little scary, you can look forward to a little hand-holding to test the physical chemistry between you and the person you're interested in dating.
6. The Eiffel Tower – Viewing Deck
Obsessed with Paris but lacking the funds for an international trip? Or are you looking for a romantic setting while you and your date talk about your passions and future goals? If so, The Eiffel Tower viewing deck in Las Vegas has a magnificent view that's perfect for a first date heart to heart.
The Eiffel Tower at the Paris Las Vegas hotel and casino will provide more than a romantic view. It also has an entire casino you can explore, accommodations if happy hour turns into an all-nighter, and numerous eateries for a delicious meal.
If you and your date decide to stay over (sharing a room or each having your own), you can grab a coffee and visit the 540ft tall life-like Eiffel Tower again the following day. When up high, you can take a few memorable pictures and enjoy a conversation while you explore if there will be a second date on the horizon.
7. Purchase Motor Speedway or Go-Kart Tickets
You might find this unusual for a first date, but purchasing motor speedway or go-kart tickets is perfect for those who love adrenaline-pumping outdoor experiences.
If your date enjoys motorsports or fancies themselves a hobby enthusiast, you can take them go-kart racing on a real-life race track. Not only will they feel seen since you are taking one of their hobbies seriously, but you'll both get to enjoy no holds barred fun and a bit of competition.
After racing creates an appetite (it undoubtedly will), take your romantic interest to a nearby restaurant for a quick bite and some animated conversation about the day's events.
8. Red Rock Canyon
Looking for something more scenic? Why not book a guided tour or plan a hike up the trails with your date at the Red Rock Canyon? This beautiful canyon is perfect for outdoor enthusiasts who enjoy reconnecting with nature and getting out of the city once in a while.
Yet, we know this doesn't seem like an ideal choice for a date. After all, who wants to get hot, sweaty, and flushed while trying to make a good impression? But worry not. Take along a picnic blanket, ice-cold beverages, and tasty snacks. You'll enjoy a peaceful first date outdoors amongst beautiful scenery and shrubbery.
Additionally, Red Rock Canyon offers mountain and city views – depending on the trail. There is just something about the outdoors that sets the best scenes for romance. Better yet, if you both don't want to take a hike, you can take the lazy way out and enjoy a scenic drive instead while heading toward the Red Rock Canyon Campground.
9. Take a Beginners Pottery Class
You and your date can explore your creative sides with a local Las Vegas beginner's pottery class. There are countless pottery classes you can sign up for that will teach you both how to create custom 3D pieces that you're sure to remember fondly.
Additionally, unlike other first-date experiences, pottery classes often act as the perfect bonding experience. So if you're a creative soul or someone who enjoys art, this date idea might be worth considering.
Yet, pottery dates can get messy, so it is best to plan a private luncheon or dinner date away from prying eyes afterward. Moreover, you can usually find pottery classes online to book placements at various locations. However, check if it is for beginners as you want to avoid the experience heading toward awkwardsville!
10. Venetian Resort – The Gondola Ride
Want to experience Venice without leaving sunny and sweltering Las Vegas? You don't have to if you take your date to the Venetian Resort, where you can take them on a romantic Gondola Ride.
It might be simple, but it is a classic first date that is creative enough to capture your date's attention. The gondola boat will take you through the canal network and is sure to give you multiple opportunities for private conversations and lots of laughs.
11. The Strat Skypod
The Strat Skypod restaurant will give you and your date the feeling of 'spinning' into romance. This unique Las Vegas restaurant will provide a full sweep of the city skyline as the entire restaurant slowly moves 360 degrees while you enjoy fine dining.
Besides the fine dining, you can appreciate the stunning views since this restaurant is more than 1100 feet above the city. It even has the highest-standing observation tower in the US and is open seven days a week.
Numerous viewfinders will let you both zoom in on the city as you engage in conversation.
12. Restaurant Hopping
Need help deciding on which restaurant? In Las Vegas, the restaurants are so diverse that you don't need to pick one. So, if you're in the mood to taste cuisines from around the world, why not go restaurant hopping with your date?
This is a relatively new first date activity, similar to the well-known bar hop. Restaurant hopping can be just as fun – especially if you start with dessert. You can try out a bunch of different starts and mains to varying restaurants if you both have the appetite for it!
Some of the best Las Vegas eateries you have to visit are in downtown Las Vegas. They include The Smashed Pig, Nacho Daddy, Grotto Ristorante, Andiamo Steakhouse, and Le Thai.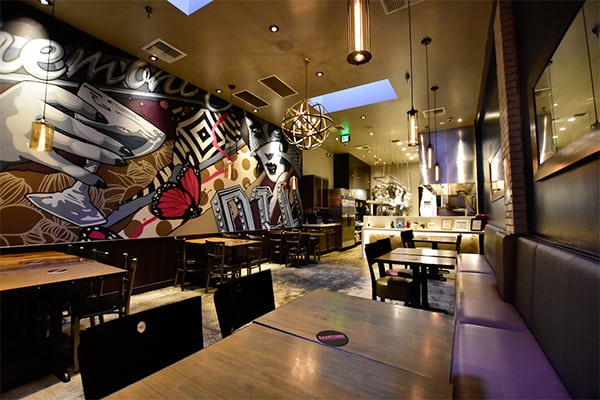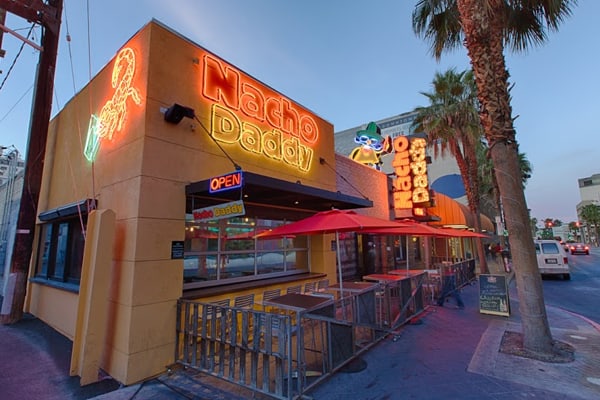 With these restaurants in the same place, you can easily navigate between them while you get to know one another.
13. Walk Down Fremont Street
Depending on who you ask, the best dates involve walking through a unique location. If this sounds like something you'd both love doing, why not plan your first date around walking down Fremont Street?
At Fremont Street in Las Vegas, you can take your date to see free live concerts, LED light shows, and numerous talented street performers taking the 'stage.' If you aren't an amazing conversationalist, this date location will give you many topics and experiences to discuss as the day progresses.
When you are done witnessing the wide variety of entertainment, enjoy a nice quiet end to the evening with an intimate sit down at one of the many restaurants available on Fremont Street.
14. Blackout Restaurant – Dine in the Dark
The Blackout Restaurant in S Valley View Blvd, Las Vegas, is an unusual location choice for a date. Unlike other restaurants, this one serves dinner entirely in the dark! It's guaranteed to be a memorable experience.
The Staff is fully equipped with night vision goggles as they serve you a delicious course of seven mystery meals! Afterward, you and your date will be taken into a lit area where your waiter will reveal all the delicious meals you just tried!
It is said that the sensations are heightened when your eyes can't see, so this is sure to be a first date your romantic interest won't forget.
Conclusion
Ultimately, you must choose a first date location that includes you and your date's shared interests while allowing you the time and intimacy of connecting with one another. If you are still looking for the best location, draw up a list of shared interests and find an event or restaurant that suits these ideas best.
Remember that you don't necessarily have to choose one set location; you could start at one and move to the next. The options are endless for Las Vegas, so think outside the box or pick one of the options we shared.