It is a pretty common occurrence to meet someone online and then feel uncomfortable when the time comes to meet them in person. Even if you talk with them over the phone or on a video chat ahead of time, there can still be some uncertainty there. And that is totally understandable. The best thing that you can do in this situation is to play it safe, to meet in a public place where you can feel more at ease.
Here are nine great ideas for a safe and secure first date when you meet your online dating app match for the first time!
#1: Go Out for Coffee
The coffee shop idea for a first date is not so great when it comes to memorability, but it works well if safety on the first date is a number-one concern. Coffee shops tend to be busy public places, so the chances are that you will be surrounded by a lot of people.
Coffee dates are also low commitment. They can last anywhere from 20 minutes up to an hour.
It would be really easy to cut out early if you feel uncomfortable around your date. If the first date was something like dinner, you would be waiting around longer for the wait staff to take your order and for the food to come out, not to mention the time it takes to eat.
#2: Visit an Animal Shelter
If you know that your date likes animals, you can suggest visiting a local animal shelter to pet some dogs or cats. We don't recommend adopting a pet this early on in the relationship, but it can be a fun way to spend an afternoon and bond over your love for animals.
Animal shelters can be busy places between the staff who take care of the animals and the other patrons who are either visiting the animals or making the plans to adopt them. That makes going to an animal shelter one of the better places for a first date, especially if you want it to be safe.
There are websites like PetFinder that make it very easy to find a local animal shelter that you can go visit.
#3: Visit an Art Gallery
Art galleries can be another good place for a safe first date, especially if your date likes or appreciates art, culture, or the finer things in life. Places like art galleries or museums usually have a lot of people visiting, so much so that they can make for congested spaces.
Chances are that you are not going to be alone at any point. You can play it safe and go on a weekend when you know there will be more people there than usual. You will probably want to avoid slow weekdays like Tuesday or Wednesday.
#4: Head to a Farmers Market
If you have ever been to a farmer's market, you will know that there are plenty of people that show up! Between the vendors and all the people who come to enjoy a hayride, buy products, or meet up with family and friends, there are usually always enough people at these places to set you at ease if you are meeting up with someone new for the first time!
There are plenty of things to do and look at when you visit the local farmer's market. You can spend some time petting farm animals like lambs or pigs. Some markets have orchards where you can pick a bushel of apples. You might even bump into someone you know there, and that could take the pressure off a bit if you are uncomfortable around your date.
#5: Go to Trivia Night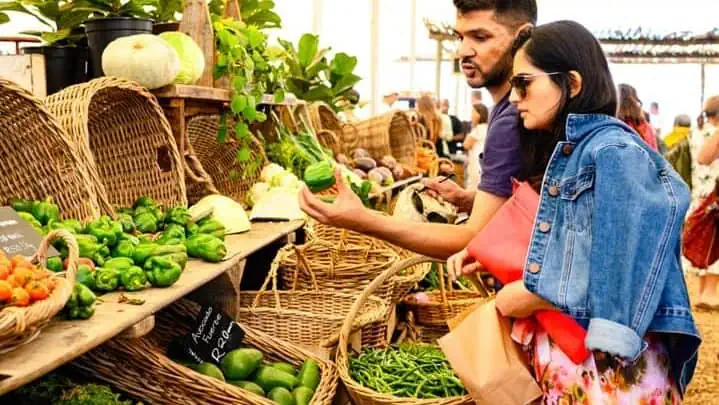 Hit up a trivia night at a local bar or tavern. You and your date can work together as a team to win a discount on your meal and drinks for the night! Focusing on playing trivia can take some of the attention off of you and alleviate any sort of tension that might be in the air.
On trivia nights, bars get busier than usual, so there will be plenty of eyes and ears around to put your mind at ease. Chances are that you will be working with other people on your trivia team, so there will be that added layer of protection as well.
#6: Thrift Shopping
If you know that your date likes secondhand clothes or old antique furniture, have your first date at a local thrift store! Unlike spending your first meetup on coffee, the focus will be less on you and more on the search for some hidden gem in the flotsam and jetsam of the secondhand store you are patronizing.
If you are familiar with the local thrift stores in your area, choose one that has a larger volume of inventory, so you do not spend only ten or fifteen minutes shopping, find nothing, and then try to figure out what to do next! Choose one of the biggest secondhand places you can find to fill in the time and allow you the opportunity to find some cool new stuff!
#7: Grab Some Dessert
Instead of committing to an entire dinner, choose to go out for some dessert instead. Getting dessert is kind of like going to a coffee shop for the first date. It is a lower commitment and can be done in as little as 20 minutes or half an hour. It can be wrapped up quickly, and if you have to bounce because you feel uncertain about the person you are meeting, you won't come across as a jerk or insensitive.
If, for any reason, you need to stretch your time out, go ahead and order a few different desserts and a pot of coffee. As we said, desserts are lower commitment, and they can be much more relaxing compared to an entire dinner scenario. You should be able to get through the date having an enjoyable time the entire way through.
#8: Go to a Local Concert
If there is a concert in your local community and there is a chance that you will see people you know, this could be a great potential first date. You can enjoy the show knowing that if you do begin feeling uncomfortable that someone you know is close by.
You could even plan the date to include your friends if you have a lot of uncertainty about your date.
Concerts are another one of those first dates where a lot of the attention that would usually be on you can be redirected toward the music and the show in front of you. If your date is a music lover, the two of you will have plenty to talk about between the set list, the live rendition of the songs being played, and the aesthetics of the show!
#9: Visit a Local Beer or Wine Festival
Just like going to a local concert, a local beer or wine festival can be a great place to unwind and possibly see people that you know from around town. These tend to be really popular events with plenty of people milling around. Plus, you can bring down some of the stress you might be experiencing by getting a few drinks in you.
On top of all this, venues that hold these events need to have permits in order to operate, and they are usually monitored closely by local law enforcement. Events like beer and wine festivals are places where you can have fun, relax, and not really worry about ever being alone or vulnerable.
Conclusion
Going on a safe first date with someone you recently met online is super important, but you do not have to overthink it. Simply choose a venue where you know there will be plenty of people present, and you really cannot go wrong.
Make sure you use a legitimate dating app and remember to always drive yourself to the date location, so you are not relying on your date to get you back home!