MilitaryCupid is a dedicated dating app for members of the military as well as people who are interested in meaningful relationships and long-term commitments with military singles. It's a niche platform that only caters to 32,000 singles and is used by 2,000 each week, but it's a place where you're guaranteed to meet singles in uniform.
---
---
If you're interested in meeting singles who have served (or are currently serving), check out our MilitaryCupid review. We cover everything you need to know. Discover the features of a membership plan and how much everything will cost. Learn how to become a free membership user or a premium member in 5 to 10 minutes with our step-by-step sign-up guide!

Our team has independently researched all products and services that we have listed on this page. If you sign up or purchase through our links, we may receive a commission. See how it works.
Introduction to MilitaryCupid
Find military singles at MilitaryCupid, a dedicated dating app for helping you find men and women in uniform. Anyone can use the app regardless of whether they've served in the armed forces; you only need to be 18 years or older to use this dating app!
A Brief Overview of MilitaryCupid's History and Success
Because anyone can use MilitaryCupid, many are on the site who have neither served in the military nor are veterans. Many people are simply interested in finding love or romance with someone serious about serving their country.
Even though this is a niche dating site, MilitaryCupid has expanded to 32,000 members worldwide since its induction in 2006. But only 2,000 members are truly active each week on the platform. This site has had much success in fostering meaningful, long-lasting relationships for military singles and veterans, but the smaller dating pool does limit possibilities and opportunities.
MilitaryCupid's Unique Approach to Online Dating
Unlike dating sites where you take a personality test or a detailed compatibility questionnaire, MilitaryCupid gives its customers a short sign-up experience and all the power to perform their searches and determine their matchmaking experience. This is perfect for military singles who are all about taking charge!
All Cupid Media dating sites use two distinct methods for performing successful matching: top-rated search filters (seeking out military singles by factors like appearance, age, beliefs, habits, lifestyle choices, etc.) and detailed profile bios (adding portions like self-authored "About Me" sections, adding a list of hobbies or interests, etc.)
Is Signing Up for MilitaryCupid Worth It?
MilitaryCupid might not be for everyone, but here are a few signs that it's a dating site that is well worth your time and money:
You want to experience love or romance with singles in uniform or veterans
You're willing to commit to a (possibly) long-distance relationship
Your vision is for a long-term relationship that will lead to marriage or a family at some point
Our Ratings
MilitaryCupid is rated 3.7 out of 5 stars, a decent choice for finding singles in uniform, past, and present. We looked at five primary rating factors, including membership costs, features, matchmaking, usability, and how many active members there are each week. We pulled an average of these five ratings to arrive at our overall score for MilitaryCupid.
Overall:
| Category | Score |
| --- | --- |
| Features | 4.5 |
| Ease of Use | 4.3 |
| Match Quality | 3.2 |
| Cost | 3.8 |
| Active User Base | 2.9 |
| Overall | 3.7 |
MilitaryCupid is good for some but less than ideal for others. That's the nature of any online dating site, regardless of who they serve. If you're wondering if MilitaryCupid is worth it, you need to read up on our top reasons to join and our top reasons to look elsewhere.
What We Like
Find Singles in Uniform – MilitaryCupid is an excellent option for finding singles who have or are currently serving in the military. This niche dating platform is geared toward connecting singles in uniform. It takes a lot of work to pull this off using other dating apps.
Find Meaningful Relationships – Most singles using the app are interested in dating singles who serve in the military. These types of relationships are usually deep or serious when you consider tours of duty and long separations from one another. Those who desire serious dating and meaningful relationships can make these desires a reality at MilitaryCupid.
Quick Sign-Up – If you're interested in using your free membership as quickly as possible, MilitaryCupid is a good dating app to check out! MilitaryCupid doesn't waste its users' time with a long, drawn-out sign-up. The registration process only takes 5 to 10 minutes to complete.
Matchmaking Process – Although there aren't any search filters that apply to military experience, members can enjoy many great search tools: appearance, age, location, gender, educational background, occupation, religious beliefs, ethnicity, etc. It only takes seconds to generate new searches, with suggestions appearing instantaneously once they've been entered.
Several Membership Options – MilitaryCupid already comes with great membership pricing, and the choice of twelve subscription plans is perfect for those uncertain of how long they want to use the app or those working on a tighter budget than most. This app is a good choice if you're looking for some diversity in individual membership plans.
Excellent Usability – Not only is the sign-up process an easy five-to-ten minutes, but the entire MilitaryCupid platform is laid out in an organized fashion. It's easy to figure out the search filter settings and create (or edit) your profile. Upgrading your account is a breeze as well. Military singles will love the intuitive design and the app's overall usability!
What We Don't Like
Paying Extra for Better Features – Most dating apps aren't separated into tiers like the Cupid Media dating sites. The lower tiers have the fewest features, and the top tier has all the features offered at MilitaryCupid. You must pay more to get better features. If this is something you don't care for, we advise you to look outside the Cupid Media fleet of dating sites.
Casual Romance or Dates – It's not easy to date someone who's in the military. There are deployments and tours of duty. People who date military singles are in it for the long haul. If casual dates are your thing, try a different dating app. While it does occur on the app occasionally, most people using MilitaryCupid are looking for meaningful relationships and commitments.
Who Is MilitaryCupid Best For?
Let's talk about the people who enjoy the services of MilitaryCupid. Once you see who has taken the time to join as a member, you might gauge a better sense if this is the right dating site to help you find love with someone in the military.
Demographics and User Base
In our detailed review of MilitaryCupid, we found some valid membership numbers and other helpful statistics on the site's user base. This is the definition of niche dating, but then so are all the sites offered by Cupid Media. Of the 32,000 registered accounts, 2,000 are active each week. The dating pool is more limiting than others but still provides some decent matching results.
| Fast Facts | Details |
| --- | --- |
| Best  For |  Meaningful, long-term relationships with singles in uniform |
| Total Members | 32,000 worldwide |
| Active Members | 2,000 Active weekly |
| Gender Distribution | 40% men to 60% women  |
| Average Age | 32-40 years |
User engagement at MilitaryCupid is lower than at mainstream dating sites or mobile apps where you're dealing with a deeper pool of potential singles (including military members or veterans). You might have a better chance at meeting military singles using a prominent site like eHarmony, Elite Singles, or Zoosk.
Relationship Types Best Served by MilitaryCupid
You don't just casually date someone in the military unless, of course, they aren't actively serving elsewhere. Because many singles using that platform must serve tours of duty or are located overseas, MilitaryCupid is generally geared toward meaningful or profound relationships.
This site is excellent for:
Long-distance relationships that have a viable future
Meaningful dating or romance
Fall in love with a future marriage partner or your soulmate
The MilitaryCupid Compatibility Matching System
Because the overall membership base is so meager, the match results could be much better. There are only so many good options when dealing with a dating pool of 2,000 active users. The matchmaking itself is excellent, though, just like all the Cupid Media dating apps.
How the Compatibility Matching System Works
All matching is done by MilitaryCupid's search filters, where members can search for love on their terms. The "Search" menu has a ton of criteria that you can use to find suitable matches that align with your dating preferences and tastes. Under "Advanced Search," you'll discover the following search terms:
Search categories include:
Basic Search
Age
Gender
Location
Distance
Site Activity (within 6 months, a year, etc.)
Background/Cultural Values
Religion
Languages
Education
Nationality
Star sign
Lifestyle
Employment
Income
Living situation
Occupation
Service branch
Children
Marital status
Drinking or smoking habits
Appearance
Hair/eye color
Body type
Body art
Height
Weight
Ethnicity
The Role of a Full-Bodied Profile
It's not enough to plug in your search filters to find true love or romance with your soulmate or future marriage partner. The profiles that appear in your search results need to have excellent bio information so you can learn more about your matches.
All free or premium members should include these things in their MilitaryCupid profile to get other members interested in connecting with them:
A variety of good, clear photos
A filled-out profile bio section
Self-authored "About Me" section
A written section describing your ideal match
A list of interests and hobbies
Personality questions along with personal answers
MilitaryCupid's Communication Features
MilitaryCupid has many great communication features, but unfortunately, they are spread out across three membership tiers. This means that members need to pay more for better components. But the features themselves are top-notch, especially ones like priority messaging, top rankings in the search results, and unlimited communications.
"Like" Profiles
It's the most basic communication form at any Cupid Media dating site. Send a like to the singles who catch your eye by clicking on the heart icon that appears on the condensed profiles you find under the "Matches" tab.
*Free or premium members can send likes.
Unlimited Communication
Any profiles that appear after you set your search parameters are profiles to which you can send messages! The minute you upgrade to a premium membership, you can message anyone you want to on the MilitaryCupid website. And you don't have to rely on forming a mutual match to send messages to the singles you're interested in meeting.
*Only Gold Tier members and higher can enjoy unlimited messaging.
Priority Messaging
One of the challenges of dating someone in the military is their limited personal time. So a great way to get someone to notice you on the site if they only have a short amount of time to log on and search for love or a date is to use the priority messaging feature. Your message will appear at the top of any member's inbox above messages from Gold or Platinum Tier members. The only competition you'll have is from Diamond Tier subscribers, whose messages will also appear near the top of the inbox.
*This is a Diamond-Tier communication feature.
Messages Translators
Perhaps you're searching for love with international singles who serve in their country's military. You might run into a language barrier when you're connecting and networking with those who live overseas. But fear not. Instant message translators can help you get to know anyone without skipping a beat!
*This is a Diamond-Tier communication feature.
MilitaryCupid's Membership Options
The membership pricing is exceptionally reasonable, and there are plenty of options for those who want flexibility with how much they pay. There's also a decent free membership plan that is perfect for getting your feet wet if you're unsure about Military Singles and if it's the best fit. Let's get into this.
What to Know Upfront

The lowest tier memberships (Gold) range from $10-14.99 per month, while the highest tier memberships (Diamond) range from $25-35.00 per month. Each tier offers options for 1-, 3-, and 12 months and one week.
Free vs. Paid Memberships
Like most of the free membership experiences for modern dating apps, MilitaryCupid lets its new users experience a limited number of membership features for free. Those who use the app without paying will need to upgrade to a premium membership to enjoy all the features that MilitaryCupid offers.
Free Features
What can you enjoy for free at MilitaryCupid? Although it's a little, here's a list of everything you can do on the app without having to pay for a membership plan.
Register an Account
Create a Profile
Set Up Search Filters and Parameters
View Profiles and Photos
Basic Matching
Send "Likes"
Add Members to Favorites List
The entire idea of the MilitaryCupid free membership is for prospective members to see how the app works and to get an idea of whether it's the right online dating platform for their needs. It's not meant to be a free alternative to a paid membership plan.
Find out if MilitaryCupid is the online dating app for you! Try out the MilitaryCupid free membership! Create a free profile and view singles on the app that fit your dating criteria and personal preferences.
Premium Membership Benefits and Pricing
How much does MilitaryCupid cost? We can answer that question in twelve ways! All Cupid Media dating apps come with a slew of subscriptions that differ in the features offered and the time they last. Twelve plans are divided evenly into three membership tiers where customers experience more features as they progress up the ladder.
Important Things to Note

Gold is the first membership tier at MilitaryCupid and contains the least number of features. Diamond is the final tier and has all the features that come with the app.
All memberships must be paid for at one time and in one lump sum before members can begin enjoying the features and perks.
The monthly cost rate drops as the length of the membership plan increases. This is a deal that MilitaryCupid offers its customer who decides to commit long-term to using the app.
Gold Plans
| Membership Plan | Cost Per Month | Total Cost |
| --- | --- | --- |
| 1 Week Membership | $14.99 (one week) | $14.99 |
| 1 Month Membership | $29.98 | $29.98 |
| 3 Month Membership | $20.00 | $59.99 |
| 12 Month Membership | $10.00 | $119.98 |
Platinum Plans
| Membership Plan | Cost Per Month | Total Cost |
| --- | --- | --- |
| 1 Week Membership | $17.48 (one week) | $17.48 |
| 1 Month Membership | $34.99 | $34.99 |
| 3 Month Membership | $23.33 | $69.98 |
| 12 Month Membership | $12.50 | $149.99 |
Diamond Plans
| Membership Plan | Cost Per Month | Total Cost |
| --- | --- | --- |
| 1 Week Membership | $35.00 (one week) | $35.00 |
| 1 Month Membership | $69.98 | $69.98 |
| 3 Month Membership | $46.66 | $139.97 |
| 12 Month Membership | $25.00 | $299.98 |
Features by Membership Tier
To help you better understand how the features are divided amongst the membership tiers, we've included a feature table that breaks everything down in easy-to-understand terms. The higher you climb into the membership tiers, the more features you add!
| Features | Gold | Platinum | Diamond |
| --- | --- | --- | --- |
| Basic Matching | X | X | X |
| Like | X | X | X |
| Communicate with Paying Members | X | X | X |
| Unlock Messages | X | X | X |
| No Ads | X | X | X |
| Hide Profile and Photos | X | X | X |
| Double Your Profile Space | | X | X |
| Exclusive Search Filters | | X | X |
| Better Daily Matches | | X | X |
| Instant Message Translators | | X | X |
| Rank Above Gold Members | | X | X |
| Priority Messaging  | | | X |
| Rank Above Gold and Platinum | | | X |
| Profile Highlights | | | X |
| Premium Customer Service | | | X |
Discounts and Promotions
MilitaryCupid doesn't have any apparent promotions or discounts, so this is a hidden saving that you only know about if you look at the prices closely. The only values that we can point to are the reduced monthly cost rates that come with the longer subscription plans. It's cheaper to commit to a longer plan than to renew a shorter plan multiple times to cover the same amount of time.
There are no payment plans or monthly installments that can help you pay for your membership plan. All subscriptions need to be paid for in one lump sum, and you can only begin using it once everything is paid for in full!
Auto-Renewal
Each of the membership plans that MilitaryCupid offers is outfitted with an auto-renewal feature. At the end of each billing cycle, members are automatically charged for a new membership plan, and the features and benefits continue as usual. Members can opt out of the automatic re-up, but it's designed for those who want to avoid experiencing interruptions as they meet singles in uniform online.
Cancel Auto-Renewal
Many people want only to use what they originally paid for and nothing more. And that's why MilitaryCupid allows members to option to cancel auto-renewal. However, it needs to be done 24 hours before the end of the billing cycle.
Cancel the auto-renewal feature by turning it off in your account settings under billing preferences. It's not immediate; you can continue using your account until the next billing cycle. When the next billing cycle rolls around, your membership features and benefits will cease. This is the same process for canceling your MilitaryCupid account.
Payment Options
Credit or Debit Cards
Google Pay
Paysafecard
Bank Transfer
Skrill (e-wallet)
Creating Your MilitaryCupid Profile
You can become a free user or a premium member of the MilitaryCupid dating app in about five to ten minutes. It's a simple registration process where you can access the site for free after the second step. You can work on your profile or adjust your search settings after the fact!
We'll walk you through the process to see exactly what we mean! Check out this step-by-step sign-up guide to see what you can expect along the way as you become a free user or a premium member.
Step #1: Visit MilitaryCupid
Begin by heading over to www.MilitaryCupid.com (or click on the image above). Click the "View Singles Now" button to start the registration process.
Step #2: Enter Initial Information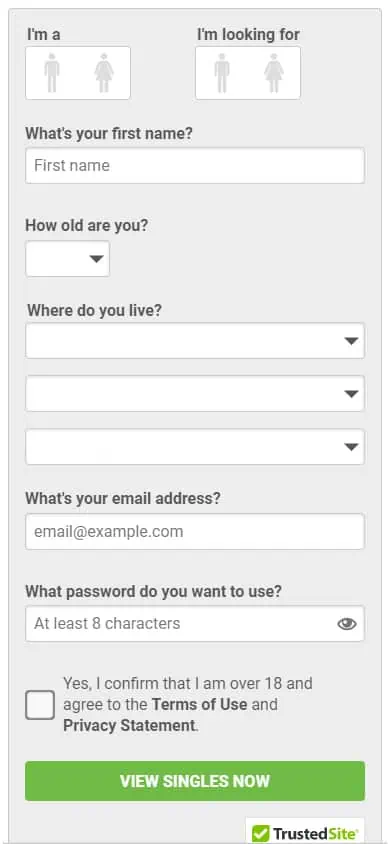 The only other step you need to complete to access the site as a free user is to enter some basic information like your name, gender, age, and email address. You must create a unique password and agree to the Terms of Use and the Privacy Statement.
Click "View Singles Now" to begin using MilitaryCupid for free! At this point in the registration process, you can start looking around the site for military singles. You don't have to complete the following six steps right away. You can accomplish them in your own time!
Step #3: Upload Profile Photos
The first thing you'll see once you get to the next screen is a suggestion to upload at least one profile photo to your new MilitaryCupid account. You don't have to at this point, but having a profile photo will let you experience 10x the attention of other singles in uniform on the app.
Click "Upload a Photo" to add photos to your profile from the files on your desktop computer or mobile device. Click "Close" to skip this step and proceed with a photoless profile.
Photos – If you decide to add a photo later, click "Photos" under the icon with the human silhouette image. You can add up to five pictures, and some photo guidelines are included here for your convenience.
Step #4: Profile Creation
The best way to capture the attention of military singles (aside from a great profile picture) is a robust profile with a ton of bio information. Singles on the app can get to know well with a profile that leaves nothing to speculation or the imagination.
Edit Profile – Begin by clicking on "Edit Profile" (found under the human silhouette icon). All these Cupid Media dating apps come with an exhaustive rundown of bio details and information to curate a profile that captures the attention of other singles and helps to educate them on who you are!
Describe your appearance, lifestyle choices, background, and cultural values. You can add as much information as you want or hold back as you see fit. There's a section at the bottom of this menu where members can create a profile heading, describe themselves, and state what they're looking for in a partner.
View Profile – If you want to see how changes and edits made to your profile will appear to other singles on the MilitaryCupid app, click "View Profile."
If changes need to be made while viewing your profile, there are small pencil icons next to each section. Click on these icons to navigate back to the "Edit Profile" page, where you can keep developing and tweaking your account.
Step #5: Profile Development
In addition to the "Edit Profile" section, there are a few more methods for further developing your MilitaryCupid profile!
Hobbies and Interests – This option is found under the same human silhouette icon at the top right of the main page. You can choose as many hobbies or interests as possible from the list that apply to you, and these will be added to your profile.
Edit Personality Profile – Another option is to add a few questions (along with your answer) to your profile. These Personality Profiles allow singles to discover more about your personality, sense of humor, or interests.
Step #6: Profile Verification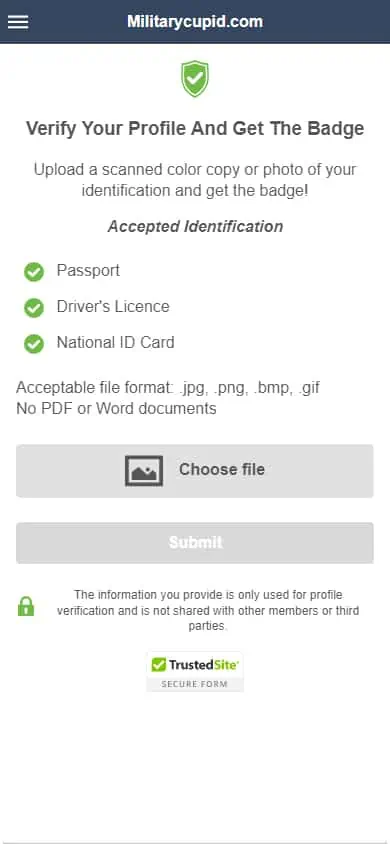 This is another optional step. Because so many online dating platforms have fake profiles or fraudulent accounts, this is a step that MilitaryCupid users can take to establish credibility and create legitimacy around their profiles. It's not required to become a premium member or proceed as a free user.
Premium members or free users can provide a form of ID (driver's license, passport, or national ID card) to MilitaryCupid, which is matched against their profile photo and information. Once the account is officially verified, users will get a verification badge placed on their profile so other singles on the app can see that it's a legitimate account.
Step #7: Set Up Search Filters
To find singles in uniform that fit their dating preferences and criteria, premium members or free users need to set up their search filters. Click on "Search" along the main menu bar across the top of the site's main page.
Under "Advanced Searches," members and free users can adjust filters covering location, gender, age, appearance, lifestyle choices, cultural values, and background. There are also options to perform searches using CupidTags, first names, member numbers, or popular searches.
Step #8: Purchase a Membership
This is another optional step. Nothing says that you need to become a premium member to continue using MilitaryCupid. You can proceed as a free member, but it will only allow you to get anywhere aside from viewing profiles. And that's why it's a good idea to upgrade to a premium membership!
Click on the green "Upgrade Membership" button to access the premium membership options, along with pricing and the list of features that come with the purchase. You can choose from the membership tiers (Gold, Platinum, and Diamond) at the top of the page and the specific subscriptions in the middle.
Choose a plan that works for you and click "Upgrade Now." Then follow the instructions to enter payment information and proceed to checkout.
Step #9: Discover Great Matches
Click on "Matches" to find singles who fit your search filter settings. If you want to make quick changes to your filters without going to "Search," there's a small tab that appears over the profiles where you can adjust only gender, location, and age.
Matches – Once you click on a single's profile photo, you can access the complete profile where all their essential bio information and additional images can be found.
Profiles – As a free member, the only way you can interact with singles on the app is by sending "likes" by clicking on the heart icon at the top right side of the profile. That's it! If you try to send a message, you'll get a notification that you must upgrade to a membership to send messages.
Search – If you need to adjust your search for the right singles, click "Search" and set up your filters accordingly.
Messages and Activity – Although you cannot send or receive messages from other members of the MilitaryCupid dating app, you can see where premium members can access their messages. Unsurprisingly, it's under the "Messages" section.
Under "Activity," there are several options that you can access. First, there's a section where you can view all the profiles that liked you ("Likes"). The option below this, "Favorites," is where you can see if someone on the app added your profile to their Favorites List. "Profile View" lets you know when other members have viewed your profile.
The final option lets you access your list of blocked members. If you choose to unblock them, this menu is where you can make that happen.
How to Delete a MilitaryCupid Account
Are you looking to delete your account with MilitaryCupid? Follow these steps to permanently delete your account as well as your profile, any connections you made, and any messages you sent. It can be done in less than two minutes.
Profile Settings – When you click on the gear icon, a dropdown menu will appear. Click on "Profile Settings."
Click on "Click Here" – Under "Switch Off Profile," click on the "click here" link.
Delete Your Profile (Or Deactivate) – You have a choice between permanently deleting your account and temporarily deactivating it. Choose the one that's right for you and finalize your decision by clicking on "Switch Off Profile."
Note: Deactivation is a temporary switch off your account where it's not visible to others. When you decide you want to come back, you can switch off deactivation and resume business as if nothing happened. Your connections and messages will still be where you left them.
MilitaryCupid Customer Service
If you're looking for assistance or a helping hand, contact customer service using the MilitaryCupid help center. It's limited. There's no toll-free phone line or a live chat feature where you can speak face-to-face with someone in the flesh, but there are a few amenities here that can get the job done when you're facing problems or issues on the site.
Help Tab
If you're looking for customer service or support, click on the "Help" link in the menu that drops down from the gear cog icon.
A help ticket will appear at the bottom right-hand corner of the screen, and you'll be presented with a couple of options. The first of these options is a search bar where you can ask any question. Once your query or keyword has been submitted, a list of top results will come up, and you can click on the link that will best answer your question.
Contact Us
To message the support center directly, click on "Contact Us," and a generic contact form will take the place of the search bar and FAQ suggestions. It comes already filled out with your username and email address.
Then it's up to you to state the problem or issue, including a detailed description of what's going on and any file attachments that might be appropriate.
There's no consensus on exactly how quickly you can expect a response from the support center. It depends on the situation. For some, it has been known to happen within 24 hours or less. For others, it has taken longer.
MilitaryCupid's Mobile App
MilitaryCupid makes it simple for the user to navigate the site. There's not a lot of your time in figuring things out. All menus are well laid-out and organized so that learning how the site works come quickly and effortlessly. And the dedicated mobile app at Google Play does the same!
App Features and Functionality
The features remain constant between the MilitaryCupid site and the mobile app. The setup on the app is different from the site. The menus are more streamlined and simplified, so they're easier to use on a smaller screen. But any changes are super easy to figure out.
Compatibility
MilitaryCupid only offers a mobile app at Google Play. We tried looking for one in the App Store, but we have yet to find anything. But Android and iOS alike can access the site on their mobile device using a web browser and a reliable internet connection. No matter what you own, you can use MilitaryCupid on the go if you have access to the internet!
Google Play
Rated 4.6/5 stars
Based on 1.12k reviews
Over 100k downloads
Free to download
Contains ads
Offers in-app purchases
Frequently Asked Questions
No review of MilitaryCupid would be complete without an FAQ center with plenty of questions from real-life people! These are common questions that our readers and customers have posed to use about this offering from Cupid Media. For any other questions you might still have about MilitaryCupid, you might find something useful here.
What Is MilitaryCupid?
This is an offering from Cupid Media that allows military singles to meet one another and develop (typically) meaningful relationships characterized by long-term commitment. Not everyone who uses the app must have served in the military. It's an excellent place for non-military singles to meet someone in uniform!
Is MilitaryCupid Free?
There are several membership features that free users can enjoy without paying, but those interested in using MilitaryCupid to its fullest extent might want to purchase a membership plan. Free users can create a profile, adjust their search filters, and view profiles based on the criteria of their searches.
What Are MilitaryCupid Members Like?
Singles using MilitaryCupid have typically served in the military. Some are singles who haven't served but are interested in dating or developing relationships with current or former military members. Most people using the app are between the ages of 32 and 40. They are usually looking for serious, long-term relationships and commitments.
How Does Matchmaking Work at MilitaryCupid?
The three most basic search criteria are location, gender, and age. But there are several other factors that you base your searches on, including lifestyle choices, cultural background, appearance, etc. Adjust the search parameters to your liking and begin finding singles in uniform that fit your preferences!
Is There a Dedicated Mobile App?
Customers can use MilitaryCupid on their computer or mobile devices by accessing the site using a web browser. It's a dating app where one can meet military singles on the go! But there are also two mobile apps available for download from Google Play and the App Store.
What Can Other Members See on My Profile?
Other members can see any of the photos you uploaded as well as your bio information which covers anything from your age and appearance to your educational background and lifestyle choices. An excellent way to see what other members see is to click on "View Profile," located in the main menu.
Can I Send Messages for Free?
This is a feature you can only enjoy if you're a paying member. MilitaryCupid does allow free users to "like" profiles or add them to a Favorites List, but these are the only ways to interact with other members on the app without paying.
Is MilitaryCupid Legit?
As far as we can see, MilitaryCupid is a stand-up dating app. It's owned and operated by Cupid Media which oversees several successful international dating properties. MilitaryCupid has been in business since 2006 and has been responsible for thousands of successful relationships between military singles.
Are There Any Major Drawbacks to MilitaryCupid?
There are a few, but we tend to forget them because they are so many more benefits. There are intrusive ads that plague free membership users, but a membership upgrade solves this problem. There are many more women using the app (40% men to 60% women), and there don't seem to be any military-specific search filters.
Do I Need to Upload a Profile Photo?
You don't have to, but we highly recommend that you upload at least one. You're going to get more attention from other singles with a photo than you would without one. It also makes your profile comes across as legitimate. So many dating apps have fake accounts registered, so an attempt to add legitimacy to your profile is always a wise choice!
Are The Good Alternatives for Finding Military Singles?
If MilitaryCupid isn't the ideal dating app for you, two great options for online military singles dating are Elite Singles or Zoosk. Elite Singles is great for finding singles who serve in specific career fields, and Zoosk has an excellent dating pool filled with singles from all backgrounds.