MexicanCupid is a place where culture-based relationships flourish online!
You might not be Mexican by blood, but you're interested in dating someone with a strong Mexican heritage or background. You might be a Mexican single looking for dates or a meaningful relationship with someone who's also proud to call themselves a Mexican single. Either way, you're welcome at MexicanCupid! It's a dedicated dating website and mobile app for finding true love with Mexican singles, at home or around the world!
Our MexicanCupid review will thoroughly review this dating app and help you discover if it's a matchmaking service worth your time and money. This review will take a deep dive into free and paid membership features. You can even learn how MexicanCupid uses advanced search filters to help you find quality matches with Mexican singles who align with your unique dating preferences!
---
---
If you need more clarification about MexicanCupid and want to try it out for free before committing to a paid membership plan, be a free member in about five minutes!
Free members can create a profile on the house. This gets your name, face, and information onto the app free of charge. You can also enter your dating preferences into the search filters and find robust, full-bodied profiles of Mexican singles who fit your parameters and criteria!
Our team has independently researched all products and services that we have listed on this page. If you sign up or purchase through our links, we may receive a commission. See how it works.
Introduction to MexicanCupid
Let's kick start our review of MexicanCupid by addressing some of the basics of the site, including a brief history of success and their approach to online dating and matchmaking. We'll also answer that age-old question: "Is signing up for MexicanCupid worth it?"
A Brief Overview of MexicanCupid's History and Success
MexicanCupid has been a part of Cupid Media since 2005. Cupid Media began five years earlier in 2000, a well-established network that owns and operates over 30 dating sites that cater to niche markets. Their sites usually focus on international dating based on religious beliefs, ethnicity, sexual orientation, and other special interests.
Since that time, the site has built up over 700,000 total members worldwide. There are 350,000 that reside in the United States, and 100,000 of the 700,000 members are actively engaged each week on the site. Those using MexicanCupid are usually in their 30s (the average age is between 34 and 42 years), and 70% of users are men (30% are women).
MexicanCupid's Unique Approach to Online Dating
Like all Cupid Media dating sites, MexicanCupid employs a combination of excellent search filters and detailed profiles to conducting matching between its members. Free and premium subscribers can enter their dating preferences and parameters into the filters, doing searches based on appearance, religious beliefs, lifestyle choices, location, or occupation to find suitable matches.
Then there are the robust profiles that the Cupid Media sites are well-known for; any of the parameters you can use to perform your searches are the basis for members' profiles. Along with basic bio information, members can outfit their profiles with personality questions, a list of interests or hobbies, a profile headline, a self-written "About Me" section, and a detailed description of their perfect match.
Is Signing Up for MexicanCupid Worth It?
It's worth your time and money to become a member of MexicanCupid if you're:
Mexican yourself, and you want to date or find love with singles who share your ethnicity
Interested in dating or romancing Mexican singles
Okay, with long-distance relationships
Looking for casual dates with Mexican singles
A Westerner who wants to date Mexican singles at home or overseas
Our Ratings
We've officially rated MexicanCupid at 4.0 out of 5 stars! It's a great dating app for finding true love or meaningful commitments with singles of Mexican heritage.
Overall:
| Category | Score |
| --- | --- |
| Features | 4.4 |
| Ease of Use | 4.6 |
| Match Quality | 3.3 |
| Cost | 4.2 |
| Active User Base | 3.6 |
| Overall | 4.0 |
There are a few drawbacks: a lean dating pool and daily matching that can be limited due to its meager membership base. But there's more to love than to criticize: flexible memberships, reasonable pricing, excellent usability, and terrific search filters to help you find the right singles!
If you're interested in hearing some voices and opinions of MexicanCupid that are outside of our own, we encourage you to check out user feedback online. We typically acquire feedback from our go-to business review sites, Trustpilot and SiteJabber. There are only so many reviews of MexicanCupid posted on either site, and customer feedback is mixed.
Trustpilot: 4.1/5 stars (based on 48 reviews)
SiteJabber: 1.41/5 stars (based on 22 reviews)
We are never really shocked when we see a lot of negative feedback or reviews of MexicanCupid on either SiteJabber or Trustpilot. Even mainstream dating apps like eHarmony or Tinder get this kind of treatment from reviewers. It's just part of the game. We've learned over time that consumers are far more likely to post a negative story or experience with an online dating app than any positive feedback. We take many of these reviews with a grain of salt, knowing that it's not how everyone feels about these dating platforms.
What We Like
An excellent way to know if MexicanCupid is worth the time and money is to become familiar with the top reasons that our readers and customers join this site in the first place. We'll cover four great reasons to join MexicanCupid and two reasons it might be time to find Mexican singles using another platform.
Meet Mexican or Hispanic Singles – MexicanCupid is marketed to those interested in finding true love or meaningful connections with Mexican singles anywhere in the world. If you're not interested in meeting people of Mexican heritage, this isn't the dating site for you! There are international dating opportunities, and you can meet these singles in your local or regional area.
Easy to Set Up – The website and the mobile app have a simple, intuitive design that makes it easy to view profiles, send messages, and chat with other singles. There's a main menu across the top of the homepage and a few other menus that are contained to two icons in the upper right-hand corner. MexicanCupid makes it easy to get your new account and profile up and running in just a few minutes.
Excellent Matching – Although they don't use a personality test to gauge compatibility between its members, MexicanCupid has some sweet search filters that conduct searches based on several criteria levels. The filters are easy to use, and new searches can be developed in just a few seconds with some quick adjustments.
Reasonable Prices – No matter which membership tier you join, you'll experience reasonable pricing on any of the membership plans available at MexicanCupid. Gold Tier plans range from $11.25-3.74 per month, Platinum Tier plans range from $14.17-39.99 per month, and Platinum Tier plans range from $28.33-79.98 per month.
What We Don't Like
The MexicanCupid dating site might not be the best fit for everyone who encounters it. And that's okay! It's not a one-size-fits-all solution for those looking to fall in love or develop a serious relationship with Mexican or Hispanic singles.
Paying Extra for Better Features – This is the case for all Cupid Media dating sites. They're all broken down into three membership tiers. If you can only afford the lowest membership plans (Gold Tier), you can only experience a small portion of all the membership features available. You should look for another platform if you want to avoid paying extra for better perks and benefits.
Smaller Dating Pool – MexicanCupid is a niche dating app, so its membership pool will be more limited than most mainstream dating sites. Even though they have 700,000 registered profiles, only 100,000 of those profiles show regular activity each week. To find a larger dating pool of Mexican singles, try a larger, more well-known dating app.
Who Is MexicanCupid Best For?
Find Mexican singles at home or abroad when you become a free user or a premium member of the MexicanCupid dating app! There are hundreds of thousands of members worldwide with a registered account and a whopping 40% of all MexicanCupid members hail from Mexico!
Demographics and User Base
What else should I know about MexicanCupid before joining? Check out the essential details below!
| Fast Facts | Details |
| --- | --- |
| Best For | Finding true love, dates, romance, or long-term relationships with Mexican singles |
| Total Members | 700,000 worldwide |
| US Members | 350,000 |
| Active Members | 100,000 Active weekly |
| Gender Distribution | 70% men to 30% women |
| Average Age | 34-42 years |
Relationship Types Best Served by MexicanCupid
MexicanCupid can create and foster several kinds of relationships for its users. It's mainly good at helping to develop meaningful, long-term relationships, but there are other opportunities available as well!
Find the following kinds of relationships at MexicanCupid:
Serious relationship between Mexican singles
Casual romance between Mexican singles
Serious relationship between Mexican singles and Westerners
Casual romance between Mexican singles and Westerners
Committed, long-distance relationships between singles from different countries (at least one person will have Mexican heritage)
The MexicanCupid Compatibility Matching System
The MexicanCupid matching system is a combination of search filter settings and dating preferences along with strong profiles that contain tons of relevant information for interested singles. There are no matchmaking tests or personality/compatibility questionnaires to complete upon sign-up that help the site produce daily matches. The power to search for suitable singles is all in the hands of the user!
How the Compatibility Matching System Works
The compatibility matching system rests on the shoulders of the advanced search filters and discovery settings that come with MexicanCupid (and all other Cupid Media properties). Go to the "Search" menu and set the search parameters to precisely what you're looking for and discover matches on the "Matches" menu.
Begin your search for Mexican singles who fit your dating criteria by looking based on factors like:
Basics
Gender
Age
Online activity
Location/home country
Distance
Relationship goals (dating, romance, friendship, serious relationship, etc.)
Lifestyle
Smoking/drinking habits
Marital status
Children (ages and number of children)
Occupation
Employment
Income
Living situation
Willingness to relocate
Background/Cultural Values
Languages spoken
Religion
Star sign
Education
Nationality
Appearance
Height/weight
BMI
Body type
Ethnicity
Hair/eye color
Body art
The Role of a Quality Profile
The other step is a good profile that allows you to know everything that's important about your match. The more complex the profile, the more interested prospects you'll find yourself connecting with! That's why it's crucial for anyone using MexicanCupid to create a detailed profile that leaves little to the imagination.
Create a Robust Profile by Going under "Edit Profile."

You can include all your basic information that pertains to appearance, lifestyle, background, and cultural values. Then you can add things like a profile tagline that captures the reader's attention. There are even self-authored sections you can complete that talk more about who you are and what you desire in a partner.

Scroll further down the menu below "Edit Profile" to "Hobbies and Interests" and "Personality Questions" to further develop your profile. Add hobbies or interests to your page from the choices provided on an extensive list, courtesy of MexicanCupid. You can add personality questions from a list of twelve as well!
MexicanCupid's Communication Features
All communication features that you'll find at MexicanCupid come standard with all other Cupid Media dating sites. But some are designated for certain members; it depends on which membership tier you're a part of! We'll begin with the free membership communication features and work our way up to Diamond Tier communication perks to show you the entire spectrum of communication benefits that come with MexicanCupid.
Send Likes
All members (including free users) can send likes to other singles on the platform. On each member's profile, there's a heart icon. When you click this symbol, you're sending a like to that member showing your interest. This is the most basic communication feature at Cupid Media, aside from sending messages.
Unlimited Communication
Once you've upgraded from a free membership to a premium subscription, you can send messages without limits to any other singles you meet on the MexicanCupid site. While there is mutual and reverse matching available here, you don't need a mutual match as a condition for reaching out to someone you're interested in; you can message anyone that comes up in your "Matches" section once you've entered your search parameters.
Instant Message Translators
Message translation is a feature that's available only to Diamond Tier members. This is a helpful tool if you find yourself pursuing an international relationship where a language barrier could create challenges. Communicate with those you're interested in without skipping a beat, regardless of their first language.
Priority Messaging
Another Diamond Tier-only feature, priority messaging, allows your messages to appear at the top of the recipient's inbox above messages sent by Gold or Platinum Tier members. Your message will be received and presumably read before anyone else (aside from other Diamond Tier members). It's a handy feature that lets you stand out from the other members who might be interested in the same person.
MexicanCupid's Membership Options
Discover how you can become a member of the MexicanCupid dating site. While doing our MexicanCupid review, we found that the site offers twelve different paid membership plans as well as a robust free membership that is worth the time to check out and use!
Free vs. Paid Memberships
There are several features that free users of MexicanCupid can enjoy without having to pay a dime. However, you need to upgrade to a premium membership to experience all that MexicanCupid has in terms of features and benefits.
Free Features
Check out the complimentary features that MexicanCupid allows its free users to enjoy. It's a place where singles can get their name, face, and bio information into the market without paying. It's free publicity!
Register an Account
Create a Profile
Upload Up to Five Photos
Set Up Search Filters and Parameters
View Members' Profiles and Photos
Basic Matching
Send "Likes"
Add Profiles to Favorites List
Respond to Paying Members' Messages
Report or Block Members
Paid Features
However, there are several perks that free users miss out on! Zero communication with other members is one of the bigger letdowns of the free membership! By upgrading to a paid membership, MexicanCupid's free members can experience these valuable features and benefits.
Instant Messaging
Unlimited Communications
Advanced Search Filters
Advanced Daily Matches
No Ads
Incognito Mode
Priority Messaging
Profile Highlights
Best Ranking in Search Results
Message Translators
Double Profile Space
Enhanced Customer Support
Free membership is the mode that all new members begin with when they arrive at MexicanCupid. It's a decent place to start if you want to test out the app, see where things are located, and find out what kind of Mexican singles are enjoying the site.
And it only takes a couple of minutes to get started! Why not be a risk-free membership run at MexicanCupid today?
Premium Membership Benefits and Pricing
The MexicanCupid dating app has a slew of membership plans (12) that cater well to singles who are flexible with how many features they want to enjoy. This is because memberships here are broken into three tiers where the number of features grows as you work your way upward.
These subscriptions are also known for their affordability since there are so many price points and payment periods to pick and choose from. It's middle-of-the-road pricing, and many different plans can work well for any budget.
Here's how everything shakes out:
Gold Plans
| Membership Plan | Cost Per Month | Total Cost |
| --- | --- | --- |
| 1 Week Membership | $16.87 (one week) | $16.87 |
| 1 Month Membership | $33.74 | $33.74 |
| 3 Month Membership | $22.49 | $67.48 |
| 12 Month Membership | $11.25 | $134.99 |
Platinum Plans
| Membership Plan | Cost Per Month | Total Cost |
| --- | --- | --- |
| 1 Week Membership | $20.00 (one week) | $20.00 |
| 1 Month Membership | $39.99 | $39.99 |
| 3 Month Membership | $26.66 | $79.98 |
| 12 Month Membership | $14.17 | $169.99 |
Diamond Plans
| Membership Plan | Cost Per Month | Total Cost |
| --- | --- | --- |
| 1 Week Membership | $40.00 (one week) | $40.00 |
| 1 Month Membership | $79.98 | $79.98 |
| 3 Month Membership | $53.32 | $159.97 |
| 12 Month Membership | $28.33 | $339.98 |
Membership Features
From unlimited messaging to instant message translators for relationships south of the border, there's no denying that MexicanCupid has some great features in store for those willing to become premium members of the app. Find out which features you can enjoy by joining as a Gold, Platinum, or Diamond Tier member at our favorite Mexican dating site:
| Features | Gold | Platinum | Diamond |
| --- | --- | --- | --- |
| Basic Matching | X | X | X |
| Like | X | X | X |
| Communicate with Paying Members | X | X | X |
| Unlock Messages | X | X | X |
| No Ads | X | X | X |
| Hide Profile and Photos | X | X | X |
| Double Your Profile Space | | X | X |
| Exclusive Search Filters | | X | X |
| Better Daily Matches | | X | X |
| Instant Message Translators | | X | X |
| Rank Above Gold Members | | X | X |
| Priority Messaging  | | | X |
| Rank Above Gold and Platinum | | | X |
| Profile Highlights | | | X |
| Premium Customer Service | | | X |
Discounts and Promotions
Currently, there are no discounts or promotions available at MexicanCupid. They don't offer payment plans or monthly installments to customers to help them, along with covering their membership costs. All memberships must be paid for in full ahead of time and in one lump sum.
Lower Monthly Cost (Hidden Savings)
The only discount we can point to is the reduced monthly cost rates on the longer membership plans. Carefully consider how long you'll realistically need MexicanCupid and choose a more extended plan to capture some of these savings. You end up paying less money by committing to a longer subscription right off the bat than you will by renewing a shorter subscription for the same amount of time.
Auto-Renewal
At the end of each billing cycle, the customer will be charged automatically for a new membership plan. It's a feature that was made to ensure no interruptions in membership features, perks, or benefits.
You can shut off auto-renewal (the same as canceling your account with MexicanCupid) in your account settings under billing preferences. To cancel your auto-renewal, this feature can be turned off if you want only to use the membership you originally paid for. When the next billing cycle arrives, your features and benefits will cease, and you won't be charged for another plan.
Payment Options
All membership plans purchased at MexicanCupid must be paid in full and in one lump sum before premium members can begin enjoying the features. Pay plans or monthly installments are only available to help customers cover the membership cost.
Credit or Debit Cards
Google Pay
Paysafecard
Bank Transfer
Skrill (e-wallet)
Sign up for a free membership to know if MexicanCupid is the right dating app! There aren't any refunds for dissatisfied members, unfortunately. Members can cancel their accounts by disabling the auto-renewal feature, but there's no refund on the unused time either.
Creating Your MexicanCupid Profile
No MexicanCupid review would be complete without a rundown of the sign-up process. Like all Cupid Media dating apps, MexicanCupid features registration that gives you more time to meet Mexican or Hispanic singles and less time with "paperwork." The sign-up time clocks in between five and ten minutes!
Most sign-ups occur after you've already gained access to the app as a free member. We'll show you exactly what we're referring to in our step-by-step guide to the MexicanCupid sign-up process!
Step #1: Visit MexicanCupid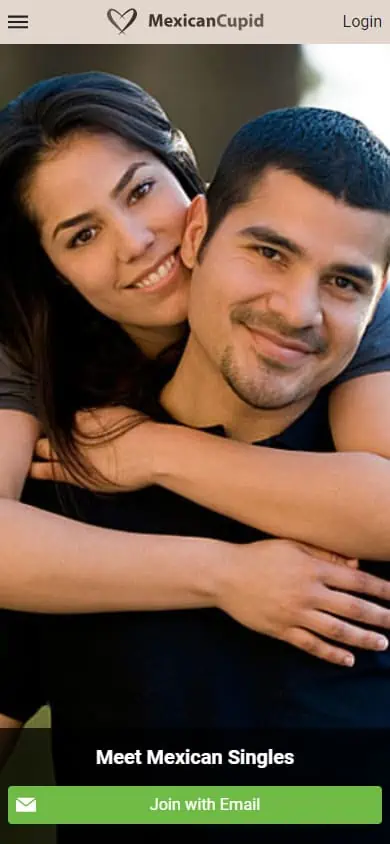 Download the mobile app from Google Play or the App Store. Or visit the website directly to get started: www.MexicanCupid.com. Follow the remaining instructions after clicking on "View Singles" now.
Step #2: Registration Information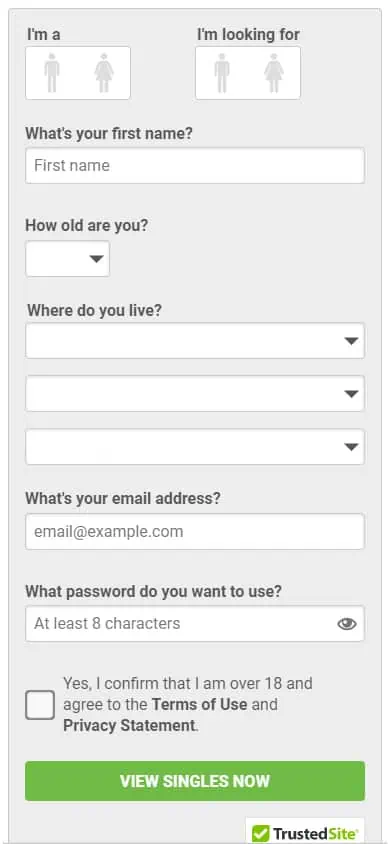 Enter your username, gender, age, and email address. Create a unique password and then agree to the Privacy Statement and the Terms of Use. Click "View Singles Now" to begin using MexicanCupid as a free member.
Step #3: Profile Photos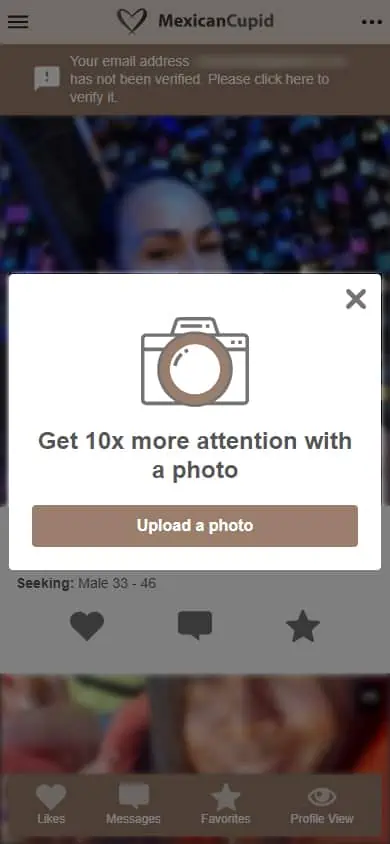 MexicanCupid will prompt you to upload one profile picture. You don't have to at this point in the process (you can add it later at any time), but having a profile picture increases your odds of more attention for other members.
If you want to add profile pictures to your account later (you can upload as many as five for free), click "Photos" under the silhouette icon in the upper right-hand corner of the home page.
MexicanCupid even includes some helpful tips and guidelines for the photos you can post on the site. Make sure it's a clear and appropriate photo!
Step #4: Edit and View Profile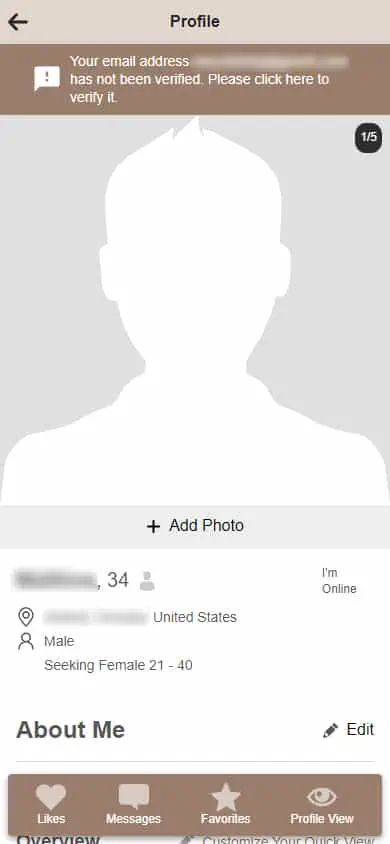 Go to "Edit Profile" to begin developing your MexicanCupid profile. You don't need to complete everything; include the information that you feel other members need to know about you!
Any changes or adjustments you make can be viewed under "View Profile." This allows you to see precisely what Mexican and Hispanic singles on the app will know when you take a closer look at your profile.
Step #5: Supplemental Profile Info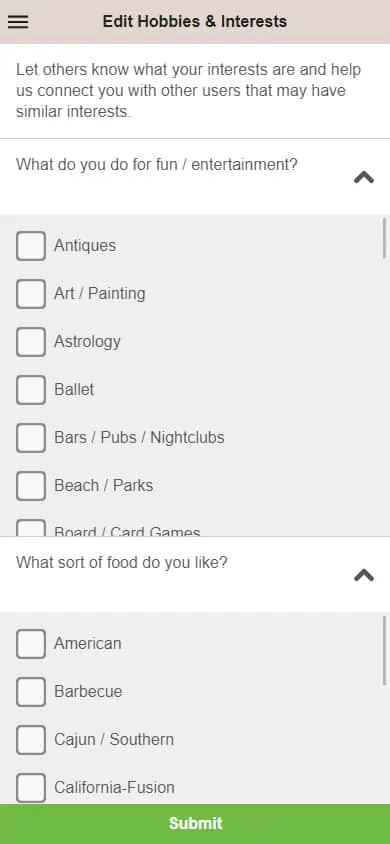 Add more depth and color to your MexicanCupid profile. Under "Hobbies and Interests," you can include as many of the hobbies and interests from the list that apply to you.
Another way to add some pizzazz and flair to your profile is to display some personality questions where other singles can see your unique answers!
Step #6: Get Your Account Verified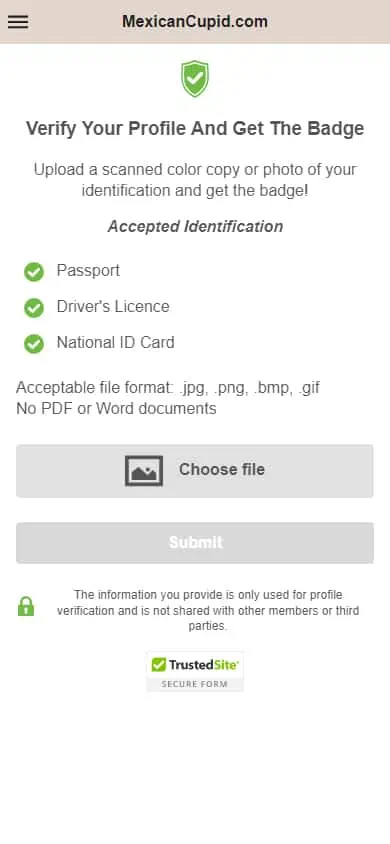 This is an optional step, but it's one worth bringing up. Singles at MexicanCupid have a better chance of success when their profiles are verified.
Members who provide an official form of ID (national ID card, passport, or driver's license) to MexicanCupid can get a verification badge that shows they're a legitimate account on the platform. In a world where a ton of fake accounts and illegitimate profiles inhabit online dating sites, getting your profile verified shows that you took a step to be honest and forthright with the singles you meet on the app.
Step #7: Set Up Dating Parameters
To meet Mexican or Hispanic singles that fit your dating preferences, set up your search filters according to your exact specifications. Aside from advanced search filtering, there are also options to search by popular members, first names, or member numbers.
Step #8: Purchase a Membership
MexicanCupid is way better as a premium member. If you don't believe us, look at the free features versus the membership features. If you're interested in becoming a paying member, click on the green "Upgrade Membership" button to see what kind of MexicanCupid subscriptions are available.
Choose a plan that works for your needs and budget, and then proceed to check out where you can enter your payment information.
Step #9: Find Mexican Singles
Hit "Search" to find singles that match your dating preferences. If you need to make changes to your search, there's a condensed search bar with age, location, and gender options so you can change your criteria without going to the advanced search page.
How to Delete a MexicanCupid Account
It only takes a few minutes to delete your MexicanCupid account and profile permanently. Follow the step-by-step directions below to get started!
Please Note: You want to be sure that it's what you want to do because once you pass the 30-day mark after putting in your request, there's no way to reverse your decision. You'll lose your profile, the matches you encountered during your time, and any message threads sitting in your inbox. You must create an entirely new account and profile to use MexicanCupid again.
Go Into Profile Settings – Click on the "gear cog" icon in the upper right-hand corner of the main screen. On the dropdown menu, click on "Profile Settings."
Switch Off Your Profile – On the next screen, there's a small section at the bottom of the page that says, "Switch Off Profile." Click on the link ("click here") to proceed to the next step.
Delete Your Profile – You have two options in the next step: complete deletion of your MexicanCupid account or a temporary deactivation. No matter which you choose, you have time to reverse course on your decision. If you deactivate, you can always revive your account. With permanent deletion, there's a 30-day grace period.
Choose the one that works best for you and click "Switch Off Profile." We recommend only deactivating your profile if you still intend to use MexicanCupid again.
MexicanCupid Customer Service
As a free member, MexicanCupid's customer service options aren't too much to write home about. Paying members get enhanced customer support which includes phone support! Users can access the help center by clicking "Help" in the main menu, where they can find a generic contact form and the FAQ section.
Help Tab
This is MexicanCupid's "FAQ Section," and it's an excellent way to troubleshoot the problem without contacting the support team.
The help ticket will appear at the bottom of the home screen when you click "Help." You'll see a search bar and some suggestions below. Anything you type into the search bar will generate recommendations based on your inquiry or question.
Contact Us Form
Click on "Contact Us" for a higher level of customer support. The "FAQ Section" will transform into a generic contact for messaging the support team at MexicanCupid. It comes already filled out with your username and email address. All you need to do is generate a message and hit send.
The jury is still out on how long it usually takes to get a response from customer service. It can take anywhere from 24 to 48 hours, depending on the situation.
Ultimately, free users can only enjoy direct contact with the service team if they become paying members of the app. Only then can they access the toll-free phone number to contact MexicanCupid directly! This is yet another reason to become a premium member!
MexicanCupid's Mobile App
MexicanCupid can be used on the go, be it through a downloadable mobile app or accessing the site using your device's web browser. Once you know how to make this happen, you can begin meeting Mexican singles away from your desktop PC while you're out and about.
App Features and Functionality
The dedicated mobile app functions a lot like a website, but there are some key differences. Profile pictures on the mobile app will take up the entire screen on your device, and you must click on the photo to reveal the profile information, whereas the website lets you see everything right on the same screen. There are also a few menus that are streamlined to make them easier to navigate on your mobile device.
Some dating apps will cut down on features for their mobile app platform to simplify matters, but MexicanCupid is different. The features offered to free and premium members stay the same going from the website to the app. While function changes a bit between platforms, even the most advanced features like message translators, priority messaging, or advanced placement in the site's search filters are offered on the mobile app.
Compatibility
Android and iOS users can enjoy meeting Mexican singles on the go; different methods do it. Unfortunately, there's only a mobile app available at the Google Play store. But iOS users are still in luck. You can access MexicanCupid using the web browser on your smartphone or tablet.
Google Play
Rated 4.1/5 stars
Based on 1.91 reviews
Over 100k downloads
Free to download
Offers in-app purchases
Contains ads
Frequently Asked Questions
There's a good chance that anything we might have forgotten to mention in our MexicanCupid review will be brought up here in the FAQ section. These are some of the most common questions from our customers and readers about the MexicanCupid dating site.
Does MexicanCupid Work?
MexicanCupid has been helping Mexican singles find true love and dates since 2005. 100,000 members are active on the website and mobile app each week, a dating platform with some decently well-worn paths by its members. Its advanced search filters do a phenomenal job of generating a large pool of singles that adhere to the preferences and parameters entered.
Is MexicanCupid Legit?
MexicanCupid does have its fair share of fake or inactive profiles, but the site is diligent about clean-up action once they've pinpointed members who are illegitimate or last used their accounts a long time ago. Active members can take steps to bring legitimacy to their profiles by having MexicanCupid official verify their accounts by providing a form of ID.
Does MexicanCupid Have a Mobile App?
There's a mobile available at Google Play and the App Store, which allows for online dating on the go. These apps function similarly to the MexicanCupid dating site, so you never have to worry about figuring out how things go from one format to the other.
Do I Need to be Mexican or Hispanic to Use MexicanCupid?
You can be from any cultural or racial background and use the MexicanCupid dating site. It's a platform for finding Mexican singles rather than one to be used solely by those with Mexican or Hispanic heritage. The only requirement to join MexicanCupid is that you must be at least 18 years old.
Can I Cancel My Account If I'm Dissatisfied?
Members can cancel their accounts by turning off the auto-renewal feature. The membership will continue. During the remaining time left till the next billing cycle, members can keep using the account even if they have already "canceled their membership." When the next billing cycle rolls around, the membership features and benefits will end.
Unfortunately, there are no refunds for those dissatisfied with their plan. Members can't get a refund either for the unused time.
Is the MexicanCupid Dating Site Free?
This is not a free dating site, but there's a free membership where users can enjoy a few free features without paying for a membership. Free users can create a profile, set up search filters, and check out profiles that fall within their dating preferences. But free users cannot send messages to other members, avoid ads, or rank well in the site's searches.
Do I Need to Pay for a Membership to Send Messages?
To send messages to other members, you need to become a premium member of the MexicanCupid dating app. The only way around this rule is if a paying member sends you a message as a free user. You can respond to these messages by paying, but you cannot send your own. You can only message for free if you're approached first.
What Is the IMBRA Safety Information Form?
IMBRA stands for International Marriage Brokers Act. It's a form that needs to be signed by anyone contacting someone who lives outside of the country. Signing this form is a way to ensure the safety of both parties involved in an international dating situation.
Should I Get My Profile Verified?
You don't have to do this, but we recommend it because it's going to help your MexicanCupid profile come across as safe, trusted, and legitimate. It's a proactive step that you can take to be honest, transparent, and respectful of other legit members on the app.
Does the MexicanCupid Dating App Use Personality or Compatibility Testing?
MexicanCupid and all Cupid Media sites used search filters to generate a list of daily matches. They are easier and quicker to use; advanced search filters can break down matches based on criteria like location, age, appearance, interests, educational background, ethnicity, etc. No personality or compatibility tests come along as part of the registration process.