Those interested in meeting a millionaire or dating someone whose life is marked by material wealth or financial success might not find the partner they desire using any old dating app. There's a chance, sure. But when it comes to luxury dating, we recommend going with a specialized platform with millionaire dating in mind.
Enter the Luxy dating app, a top-notch platform where over 60% of members claim to make over $200,000 a year. Because of the app's exclusivity, Luxy has a thorough vetting process to ensure a high-quality membership base. It combines income and occupation with how popular your profile is with existing members. But more on that in a bit.
It can be challenging to join Luxy's ranks because of its niche clientele. You might already know if the Luxy platform is worth it for yourself, but for anyone else on the fence, we hope to provide you with more information in our Luxy dating app review. Discover if this is the right choice to help in your search for rich, high-value singles.
---
---

Our team has independently researched all products and services that we have listed on this page. If you sign up or purchase through our links, we may receive a commission. See how it works.
Introduction to the Luxy Dating App
During our review of the Luxy dating app, we uncovered a lot of helpful information about the platform and its success in pairing rich singles with quality partners who see eye-to-eye on the finer things in life.
But is Luxy worth it? And does their unique approach to wealthy singles dating generate a decent pool of results to sate those with the highest standards? That's what we'll find out in our 2023 Luxy review.
A Brief Overview of Luxy's History and Success
Luxy was founded in 2014 as a dating app for wealthy singles who want to find love connections or meaningful romantic relationships with like-minded singles who value success and high status. It has made it clear to its members that its service does not cater to sugar arrangements. Any profiles the site suspects of trying to find sugars are usually removed.
Luxy originated in the United States and was used there exclusively for quite some time. Most members resided in big cities like Los Angeles and New York. But the site began to expand over the years to include wealthy men and women from other countries. Today, there are over 800,000 overseas members on the Luxy dating app.
In 2023, the platform has 250,000 members from the United States, 50,000 of which are active on the Luxy dating app weekly. More than half of the members claim to have incomes of $500,000 per month or more. The gender ratio is about evenly split between the sexes (55% men to 45% women), and active members are between 31 and 42 years of age.
Luxy's Unique Approach to Online Dating
Other than the fact they cater to rich singles, Luxy is common in their approach to matchmaking. They use matching strategies common to many other dating apps, including advanced search terms, swiping profiles, and communication features like video chat, virtual gifts, and no-limits messaging.
When members enter their search parameters, they'll see profiles of rich or high-quality singles who match the terms they entered. Luxy members can select their favorite profiles in Play by sending "likes" or "dislikes" based on members' profile photos and bio information.
Something unique about the Luxy dating app's approach that's worth noting is the Vouching Process, where new members who want to join for free must be approved by 50% or more of the existing Luxy members. However, this entire process can be bypassed if new members purchase a premium subscription right up front.
Is Signing Up for Luxy Worth It?
It's no secret that Luxy's membership plans cost quite a bit more than the average dating app. And the site caters to a specific clientele that many ordinary people would probably call the "top one-percenters." So, is signing up for a Luxy account worth it?
Let's go over a few of the top reasons it's worth the time and money to join as a premium member of this luxury dating app.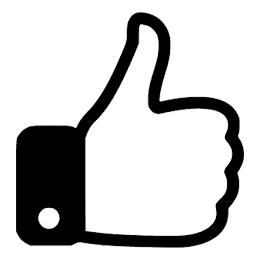 Reasons Luxy Is Worth It
You make over $200,000 a year. Not only will this help you get through the Vouching Process, but it can help you to afford your partner's lifestyle expenses.
You want to find meaningful love or romance with rich singles, people who value a life of wealth and status.
You want to enjoy a wide range of communication tools and search features to find the perfect match.
Our Ratings
Part of conducting an honest and transparent Luxy dating app review is running the service through our unbiased rating process, where we measure the app's worth along five points of criteria: features, ease of use, match quality, cost, and active userbase.
Luxy got a score of 3.7 out of 5 stars. We recommend this one to our readers if they're in the market for finding love or romance with millionaires, wealthy singles, or success-minded individuals.
Overall:
| Category | Score |
| --- | --- |
| Features | 4.5 |
| Ease of Use | 4.2 |
| Match Quality | 3.7 |
| Cost | 2.9 |
| Active User Base | 3.2 |
| Overall | 3.7 |
What We Like
Luxy has a reasonably strong vetting system, including the Vouching Process for free members. It helps to weed out fake profiles or scammers.
Members can enjoy unlimited messaging with any other Luxy members. No mutual match is required.
The Luxy dating app has an intuitive user interface, and the initial sign-up process only takes about five minutes.
What We Don't Like
If you want to join as a free member, you have to wait 24 hours for your profile to be approved by 50% or more of current Luxy members.
Luxy is an expensive dating option; the plans range from $41.99-99.67 per month.
You cannot verify your photos on the website, only on the mobile app.
Who Is the Luxy Dating App Best For?
Luxy is a niche dating platform for wealthy singles to find love and romance with partners who value success and status as much as they do. Relationships forged on this app are generally long-term and meaningful.
Demographics and User Base
Fast Facts
Details

User Base

All singles
(18 years or older)

What Kind of Relationships?

Serious dating and relationships for millionaires and wealthy singles

Average Age

31-42 years

Total Members

1+ million

Active Members

50,000

Gender Distribution

55% men to 45% women
Relationship Types Best Served by Luxy
Luxy is a dating app for wealthy singles who want to find love and connect with those who appreciate the finer things in life, work in high-paying career fields, or have an impressive educational background. While it's not a sugar dating app, Luxy specializes in relationships centered around money, wealth, and success. You can see this during the registration process: including your income and occupation is one of the more critical factors in creating a profile.
Common Relationships Found on Luxy
Meaningful, long-term relationships with other wealthy singles.
Intentional dating experiences with the promise of a long-term commitment or relationship.
Elite dating for people who are like-minded regarding success and status.
Most members are well-off, claiming to make $500,000 a month or more.
People using Luxy are usually in their 30s or 40s. Finding 20-somethings using Luxy is the exception to the rule.
What Luxy Is Not
Luxy isn't a sugar dating service.
You don't come here to have casual dating experiences, flings, or affairs.
It's not a place to find low-commitment or short-term relationships.
The Luxy's Compatibility Matching System
An important aspect of our Luxy dating app review was investigating the matchmaking process. How does Luxy go about successfully pairing those who use its services? Let's dive into the system and discover how this luxury dating platform fosters quality connections between its wealthy members.
Several factors work together to make the matching system work on the Luxy dating app:
Search Terms
Like many dating platforms, Luxy comes with search filters where members can customize their search using factors like appearance, age, location, occupation, yearly income, etc. Once your terms have been set, profiles will appear that match those criteria.
Play
Luxy's answer to swipe-style dating profiles, the Play feature, helps you to match with members you like. You'll be alerted when other members view or like your profile. Play allows you to go through multiple members and assign a "like" or "disklike" based on your attraction and preferences.
Find the One
Premium members will also get an AI-curated match each day, one that the site feels could be the best member on the platform for you based on interests, preferences, and relational goals stated in their profile.
Communication Options
Once you've found suitable matches using the Luxy dating app, there are several excellent options for continuing the connection and growing the relationship:
Unlimited messaging (thanks to BLACK message)
Luxy Video Dates
Video chats via WhatsApp and Instagram
Sending virtual gifts or digital rose bouquets
Communication Features
Because Luxy handles a high-quality clientele, they offer some of the best and most effective features for their members. The deeper we dug into our Luxy review, the more we were surprised by all the little perks and benefits that premium members can enjoy during their time at Luxy. We'll go over the best ones we found.
Anonymous Visitation – A BLACK membership feature, premium members can check out profiles without those members being any the wiser. You can check out other members in a totally anonymous way.
BLACK Messaging – This communication feature lets premium members reach out to any other member without needing a mutual match.
Charm Score – Each premium member gets a score based on how charming they come across to other members. The most charming of Luxy can get exclusive access to the "Charmers" tab to be introduced to other high-value charmers.
Face Me – This feature is only available to those who have had their income verified by the Luxy dating app. "Face Me" includes prompts on all Video Date interactions for members to share their Instagram profile or WhatsApp number. If members provide these details, they can enjoy video chatting on either of those two platforms.
Find the One – This is an AI-generated match that members can experience once a day. The system scans the site and matchmakes based on shared interests and preferences to come up with a match with the true potential to be your soulmate.
Privacy Controls – You can arrange for your profile only to be viewed by the members on Luxy you like. It's a valuable feature for avoiding unwanted advances or connections.
Skip Voucher – Free members must be approved by 50% or more of existing members to become part of Luxy. If you immediately upgrade to a premium membership right from the start, you can skip the entire vouching stage of the sign-up process.
Video Dates – These are available to premium members every day from 8 to 10 p.m. EST, but the catch is that members are matched with random singles based on the chemistry Luxy sees between each member based on their search filter settings. Video dates only last ten minutes, so be ready to make a sound but quick first impression.
Virtual Gifts – Send virtual gifts to members you like. Examples of virtual gifts include rose bouquets, teddy bears, jewelry, and others. It's a way to show other members you're interested in getting to know them better.
Luxy's Membership Options
Luxy offers two kinds of membership plans: BLACK and PLATINUM. BLACK members can choose between three premium subscriptions, while PLATINUM members have only one choice. There's also free membership for newcomers who want to test out the service before committing money-wise. Let's review it all so you know all the options and decide the best one for yourself.
Free vs. Paid Memberships
New members can register a free account with Luxy. This free membership is designed for newcomers to check out Luxy and use a few complimentary features to see if they like the service. Free members can:
Create a profile
Upload a primary profile photo
Enter search terms
Look at other members' profiles
30 free swipes per day
Send roses
Read and reply to messages sent by paying members
When viewing other Luxy members, all you can see is their profile photo and "About Me" section. You must upgrade to the BLACK or PLATINUM membership to send messages and access additional photos or bio information.
The Vouching Process
Free members are subject to the Vouching process (if you choose to join right away as a BLACK premium member, you can avoid this step). Not only do new, non-paying members get extensively screened by the Luxy dating app, but 50% or more of the existing membership base have to vouch for you so you can gain access to a free Luxy membership.
Those willing to pay can get in immediately, but those only wanting to test out Luxy must be vetted. It's a good incentive for newbies to upgrade to a paid membership to "skip the line."
The Vouching process is done over 24 hours, and you can see your progress in real time beside the Photo Wall where your match results appear. Luxy will encourage you to develop your free profile further to increase your odds of being vouched in "by 10%." Yet again, we find another incentive, but here it's to add more details to your Luxy profile.
Premium Membership Benefits and Pricing
Upgrading to a premium membership allows you to navigate the entire Vouching Process. It unlocks many useful communication features that would enable your connections and relationships on Luxy to flourish.
Luxy BLACK Memberships
This is the Luxy membership that most people choose. BLACK offers three membership plans, which are more affordable than the PLATINUM plan. But they don't have the enhanced features of PLATINUM either.
BLACK Features
Get instant access by skipping the Vouching entirely.
Send messages to anyone without matching first.
Luxy BLACK members get 40% more matches.
Double Batch allows you to see 2x the profile to swipe through on Match.
See who viewed your profile.
See who liked your profile.
Get a VIP badge on your profile to stand out from the non-Luxy BLACK members.
Change your profile name.
Luxy PLATINUM Membership
You're entering VIP waters as only seven of these spots are available in each city. You're the cream of the crop if you can land the PLATINUM membership. Easily the most expensive membership plan you'll find at Luxy, the PLATINUM subscription adds a few useful features you won't get with BLACK. But there must first be an opening before you can enter payment information to secure your spot.
PLATINUM Features
Get a PLATINUM badge on your profile, AKA the Noble symbol.
Get three days' Boost for free each month.
Increase your profile exposure on Match and Browse pages.
Enjoy more match opportunities compared to BLACK members.
Skip Vouch to get instant access.
Get the VIP symbol of Luxy BLACK members too.
Messages any members without a mutual match.
See who viewed your profile.
See who likes your profile.
Only Luxy BLACK members can change their profile name without limits.
Creating Your Luxy Profile
Technically, it takes about five minutes to register your new account and create a free profile at the Luxy dating app. But there's the matter of going through the Vouching Process if you're joining as a free member. And this takes 24 hours from the time of sign-up.
However, an upgrade to the BLACK or PLATINUM plan bypasses the Vouching Process. So, newcomers who register a standard account and then immediately upgrade to a paid membership can probably be up and running in around ten minutes total.
Regardless of what you decide as you join the Luxy dating app, we've undergone the sign-up process to deliver you a step-by-step instruction guide for getting started. Follow the steps below to become a free or premium Luxy member.
Step 1: Visit the Luxy Dating Website
Head over to www.onLuxy.com and click on "Sign Up" to begin. You need to enter your name, gender, and birthday. To log in to your new Luxy account, you'll be asked to create a unique username and password too. Once you're finished, click "Sign Up for FREE Today."
Step 2: Include a Profile Photo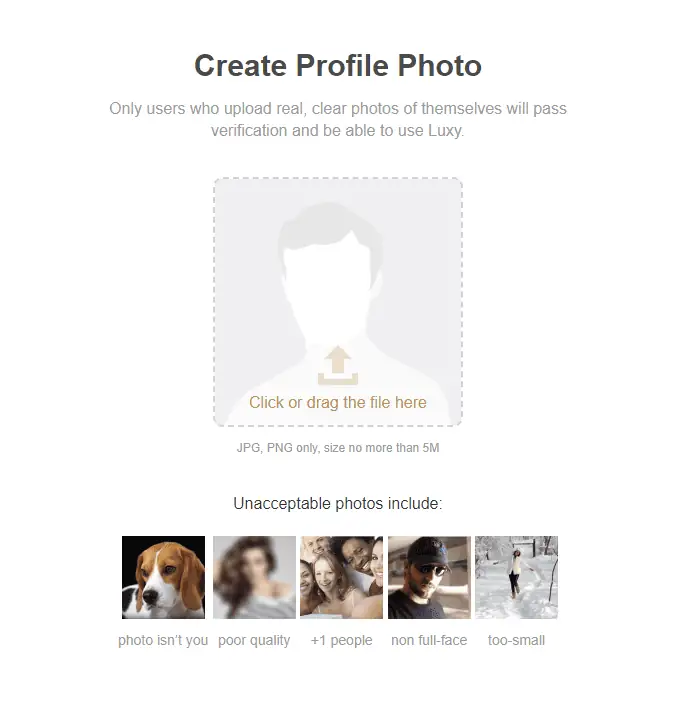 All new members must submit a profile photo as part of the registration process. Select one from your device's files and make sure it's clear and has a good shot of your face. Luxy reserves the right to reject new accounts that don't meet their photo standards, so choose wisely.
Step 3: Fill Out Basic Profile Information
And just like that, you're on the Luxy dating platform as a free member. However, your 24-hour waiting period begins as you go through the Vouching Process to continue as a free member.
At this point, you have two choices: upgrade to a premium membership and sidestep the Vouching Process altogether or continue for free but develop your profile to increase your chances of other members vouching for your admission to Luxy.
Step 4: Develop Your Luxy Profile
At the top of Luxy's homepage, you'll find an icon with your username. Click here, and you'll be directed to the page where you can improve and edit your profile for increased trustworthiness among existing members that you depend on to vouch for you.
Upload another six photos, complete the self-authored bio sections, and enter basic information about your educational background, religious beliefs, lifestyle habits, height, etc. The more you include, the better the chances of getting 50% or more of current members to vote for you.
Step 5: Upgrade to a Paid Subscription
Completely avoid the Vouching Process by becoming a premium member straightaway. You can find the membership plans by clicking on "Skip Vouch."
Choose from any of the three BLACK membership plans, or click on the Luxy PLATINUM tab to see the details of Luxy's best subscription.
Click on "Purchase Now" to enter payment information, skip the Vouching stage of registration, and become an official premium member of Luxy.
Step 6: Set Your Search Terms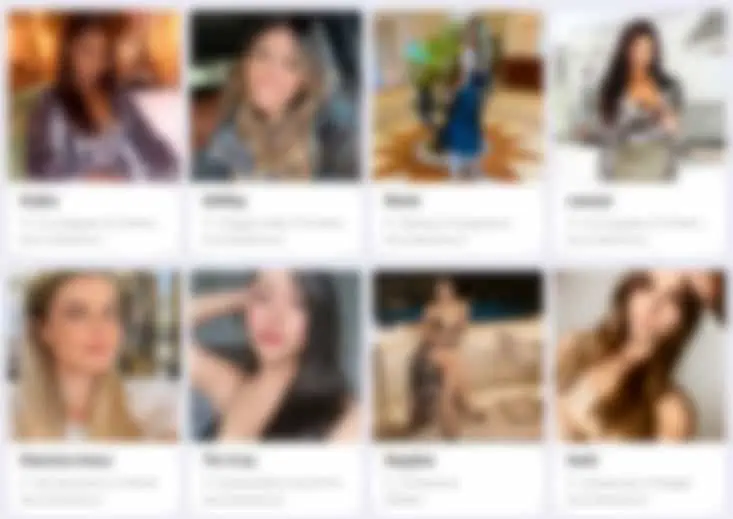 If you choose to go through the Vouching Process, you have some time to kill before you're officially onboarded. You can take that time to look around. Set your search filters to find singles that fit the bill for you in terms of appearance, interests, and relational goals.
The results will appear on the Photo Wall, where you can see condensed versions of the profiles. Free members can view the main profile photo and the "About Me" section. They can also read and respond to messages sent by paying members. But that's about it. To send messages or video chat with members, you must become a BLACK or PLATINUM subscriber.
How to Delete an Account
Luxy makes it super easy for members to delete their accounts and walk away from using the app. But how you do this depends on which app you downloaded and which device you're using. Follow the instructions for account deletion below for iOS and Android users.
Account Deletion for iOS Users
Go to the "More" page.
Select "Settings."
Find "Account & Security."
Click on "Disable My Account."
Your Luxy account will be permanently erased.
Account Deletion for Android Users
Go to the "More" page.
Select "Settings."
Click on "Disable My Account."
Select "Disable My Account."
Your Luxy account will be permanently erased.
Remember that once your Luxy account is deleted, there's no retrieving your profile, messages, connections, or anything else. Once the deed is done, everything is lost. You would have to create a brand-new account and start from scratch if you wanted to be a Luxy member again.
Auto-Renewal
Don't want to delete your account entirely but want to go inactive for a while? You can do this and keep your Luxy dating app account around for a rainy day. To cancel your subscription, you must turn off the auto-renewal feature, and, of course, how you do this will depend on being an iOS or Android user:
Cancel Your Membership (iOS)
Open "Settings," and then select iTunes & App Store.
Select your Apple ID.
Click "View Apple ID" and sign in if prompted.
Click "Subscriptions."
Click the subscription you would like to cancel.
Choose "Cancel Subscription" or set Automatic Renewal to "off."
Cancel Your Membership (Android)
Open your Google Play app.
Click the profile icon at the top.
Select "Payments & subscriptions."
Select the subscription you want to cancel.
Click "Cancel Subscription."
Follow the instructions to completion.
Once you've canceled the auto-renewal feature, you can still use the remaining time left on your membership. But once your plan hits its end date, it won't re-up, and you'll go back to being a free (or standard) member of Luxy. The main idea is that your profile and account remain intact if you want to use them again.
Customer Service
Luxy has a customer service center that consists of multiple FAQ pages. Click on the icon with your profile photo at the top of the page and select "FAQ." You're immediately guided to the customer support page.
There's a search bar where you can describe your problem. Luxy will guide you to an FAQ page or post they feel best addresses the issue. But there are three primary pages where reader FAQs are split up: Guide, Troubleshooting, and Safety/Privacy.
There's also an email address for sending messages straight to the support team: support@onluxy.com.
For being a platform that caters to wealthy singles and comes with high membership prices, Luxy doesn't offer any customer service options to premium members beyond the FAQ page and email address. This seems weird to us. You're a "top one-percenter," and you're still relegated to a simple FAQ section or generic email address if something goes wrong. It seems like Luxy should offer enhanced customer service for its BLACK and PLATINUM members, even if it's only a toll-free phone number on the weekdays.
Luxy's Mobile App
The Luxy app is free to download at the App Store and Google Play. When you first visit the Lux website, there's a "Download App" button that'll direct you automatically to the app store that syncs with your mobile device. Let's get into more of the specifics of the Luxy app, like how it functions, which features are included, and how it rates as a whole with members.
App Features and Functionality
We discovered that the mobile app functions a lot like the website version of Luxy. As far as we can see, there aren't any features the app excludes for the sake of simplicity or ease of use. All the features you experience on the website (including video chats, swiping profiles, privacy controls, the Charm Score, etc.) can be experienced on the Luxy app.
Note: The one difference between the site and the app is that you can only verify your profile photos using the Luxy app. So, if you want to take this step toward honesty and transparency, you'll have to download it from Google Play or the App Store.
Compatibility
We checked out the reviews and ratings for Luxy at the App Store and Google Play. This dating app gets high praise from iOS and Android users alike. There is a lot more positive feedback and experiences posted by real customers, which increases our overall confidence in Luxy.
App Store
Rated 4.7/5 stars
Based on 90.1k reviews
Free to download
Offers in-app purchases
Google Play
Rated 4.0/5 stars
Based on 3.63k reviews
Over 100k downloads
Free to download
Offers in-app purchases
The app will appear as "Luxy Pro-Elite Dating."
Frequently Asked Questions
We've answered some of the most common questions from our readers on the Luxy dating app and compiled them into the FAQ section below. If you seek quick answers on this wealthy singles platform, you might find what you're looking for here.
Who Is Luxy Best For?
The Luxy app is a good option for millionaires and wealthy singles who want to find a serious romantic partner or a quality dating experience. To be clear, this isn't a sugar dating platform. Luxy goes so far as to remove any profiles they suspect of being there in the hopes of finding a sugar arrangement.
What's the Difference Between the BLACK and PLATINUM Plans?
The PLATINUM plans offer a few more advanced features: better exposure to other members overall in Match/Browsing pages, the PLATINUM badge (Noble symbol) appearing on your profile to set you apart from BLACK members, and three days' worth of free boosts every month.
Are There Privacy Controls Available at Luxy?
Luxy is a place where you'll never be asked to overshare. Verifying your income can help you achieve better results, but it is never a requirement. Regarding privacy, when browsing other members, you can hide your profile, appearing only to members whose profiles you like. When your privacy controls are switched off, other premium members will know when you've liked or viewed their profile.
Is the Luxy Dating App Free?
There's a free membership plan, but newcomers need to have their new profiles vouched for by 50% or more of the current members in the first 24 hours of registering the new account. The free membership is quite limited. You can design a profile, enter search terms, and see which members will appear according to those terms. But that's about it. You can't send messages or perform any other meaningful functions unless you pay for a premium plan.
Is the Luxy App Safe and Secure?
It is, and there's no indication from the platform itself that they deal with many fake profiles or scam accounts. They have a vetting system that seems to weed out these problems in the early stages of the registration process. All new members have to be vouched for by existing members too. Luxy has also partnered with WhatsApp and Instagram in recent years to improve communication between members, so they've ramped up security across the board.
Should I Verify My Income?
That's up to you, ultimately. But it'll increase your chances of being accepted as a free member, especially if you make over $200,000 a year. Free members who verify their income can also enjoy one free message per day using their free membership. If you want to take this step toward transparency and complimentary messaging, click the "Verify" button and provide the needed documentation.
How Much Does It Cost to Join the Luxy App?
There are four membership plans. Three fall under the BLACK title:
• The one-month plan for $79.99
• The three-month plan for $167.97
• The six-month plan for $251.94
Then there's the lone PLATINUM 3 month plan which costs $299.00. Luxy doesn't offer any payment plans or monthly installments. All plans must be paid for at once and in one lump sum.
Are There Swipe Style Profiles?
Yes, Luxy allows premium members to cycle through a high volume of profiles by choosing to "like" or "dislike" based on profile photos and bio information. There is one significant downside to this setup, however, that we wish the Luxy app would fix: there's no way to redo accidental mis-swipes. Many other dating apps offer unlimited rewinds to correct this issue, but sadly, Luxy does not.
How Does Messaging Work for Paying Members?
One of the perks of premium membership (BLACK and PLATINUM plans) is that you don't have to rely on a mutual match to message other members.
Will My Membership Automatically Renew?
Yes, your membership will automatically re-up once it ends. It'll be for the same subscription plan and at the same rate you originally paid for (this includes any promotions that may have been running at the time). To avoid being charged automatically when the time comes, you must shut off the auto-renewal feature within one day before the membership ends. Shutting off auto-renewal is essentially discontinuing your membership.