The tagline for Keeper AI is "With Keeper, love is just a click away." They'll find you a keeper, get it?
Before we get into the nitty-gritty of the platform, you should know right off the bat that Keeper AI isn't a traditional dating app; it's a high-end matchmaking service that uses AI and humans to find compatible partners for users—and not just for dating. This platform has high hopes and lofty goals: To find people a spouse. And if they don't? You get your money back.
Sounds interesting, right? Let's get into it with our complete review of Keeper AI for 2023!
---
---
Our team has independently researched all products and services that we have listed on this page. If you sign up or purchase through our links, we may receive a commission. See how it works.
Introduction to Keeper AI
Keeper AI CEO Jake Kozloski outlines the company's strategy on the platform's homepage, and it's a heavy lift. He wants to tackle worldwide marriage and fertility challenges, detailing the roadmap to achieve these goals.
"I'm Jake Kozloski, CEO and co-founder of Keeper. My favorite companies are ones that communicate a clear vision of how they'll improve the trajectory of humanity and outline a path for how to get there. SpaceX, OpenAI, and Tesla are a few that set this example. Keeper is no different. I want to outline Keeper's vision for you, taking inspiration from Musk's classic Tesla Master Plan," according to "The Keeper Master Plan" blog on the app.
A Brief Overview of Keeper AI's History and Success
Keeper AI provides a high-end, personalized matchmaking service, establishing romantic matches where both parties meet each other's specified long-term partner preferences. Men or women have the option to pay for initial dates or place a deposit to access matches (one at a time), which is used as payment upon marriage.
No other matchmaking service provides a 100% criteria match, not to mention a money-back guarantee if your date doesn't align with your provided preferences. This distinct difference arises because other matchmaking services tend to be low-tech, inefficient, and improperly incentivized, often preferring to facilitate 10 average matches instead of a single exemplary one. At the extreme, there are apps like Hinge and Tinder, which might match you with thousands, yet potentially none would be marriage material. Keeper AI prioritizes quality over quantity in lifelong partnerships, establishing guaranteed quality as the fundamental pillar of the company and brand.
Keeper AI's Unique Approach to Online Dating
Keeper AI aspires to develop the first algorithm dedicated to forming genuinely suitable, pretty much perfect matches, as opposed to the not-so-great pairings provided by competing dating and matchmaking apps.
Kozloski believes that the first platform to achieve this will be to online romance, what Google is to search.
Here's how the homepage describes why Keeper AI is distinct:
"If a dating app or matchmaker has you on a subscription, their incentive is not to get you married. Keeper is not like the competition."
No blind dates.
Keeper doesn't try to pull a fast on one on you.
100% preference match guarantee.
Or your money back. For real. No halfway matches.
Keeper aims to create the first algorithm that makes genuinely good matches rather than the inexact pairings on offer from existing services.
Guidance and coaching: Because we want you to succeed.
Aligned incentives: Keeper doesn't get paid until you're married.
AI-assisted judgments: To make the strongest possible matches faster.
On a mission to solve the marriage crisis: Keeper's reason for existence is its mission.
One ultra-high-quality match at a time.
Keeper AI will let them know if you are not interested in your match and try again.
So, in short, the master plan is:
Build a high-end matchmaking service with guaranteed 100% criteria matching and aligned incentives for finding every user a spouse.
Use that money to build a more affordable, productized, semi-automated matchmaking service with the same guaranteed 100% criteria matching.
Use that money to build an even more affordable, fully automated matchmaking service that finds every user love on the first try.
"While doing the above, provide best-in-class guidance and feedback to people on improving themselves to increase their attractiveness in the eyes of their ideal partner.
"We hope you'll join us on this journey. Amor vincit omnia."
We will save you a search if you aren't familiar with Latin: Amor vincit omnia means "Love conquers all."
Is Signing Up for Keeper AI Worth It?
To be honest, we aren't quite sure how to advise you on the question of whether signing up for Keeper AI is worth it. There simply isn't enough data, reviews, or testimonials (there are a few) to justify us giving you a hard yes/no to this platform.
What we can say is if you have the funds and are tired of the regular dating app grind being unsatisfying or unsuccessful for your romantic relationship goals, there is absolutely no reason not to sign up. After all, they offer a money-back guarantee, so what do you have to lose? And you could gain a spouse!
Our Ratings
You all know how our rating system works—you're not new here! And if you are new, we rate each dating app we review on a scale of 1 to 5, with 1 being the lowest and 5 being the highest.
Unfortunately, there are a few things we don't know about Keeper AI, so we can't rate every category as we usually do. The scores below are what we can definitively tell you about certain aspects.
Overall:

| Category | Score |
| --- | --- |
| Features | N/A |
| Ease of Use | 4.0 |
| Match Quality | N/A |
| Cost | 3.0 |
| Active User Base | N/A |
| Overall | 3.5 |
What We Like
Keeper AI has some genuinely cool aspects. Here's what we like about it!
It Could Lead to Marriage – If you are looking for marriage and haven't found success anywhere else, Keeper AI is an excellent option for those interested in long-term relationships that can lead to wedding bells. Using artificial intelligence and relationship science, it is a highly personalized service with a "white glove" service that sets it apart from other dating apps.
A Mix of AI and Human Matchmakers – We really like that they use both humans and artificial intelligence to pair up potential partners–although this may not be the case for much longer, as the CEO says it hopes to go full-on AI in the near future. But for now, we appreciate the human touch.
What We Don't Like
And although we do like its unique process and approach, there are some concerns to consider if you're thinking about taking Keeper AI for a spin.
Cost – We can't tell you how much you're going to pay for the premium tiers, and that makes us NERVOUS. Usually, if a platform doesn't publicize its prices, that means it's going to be exorbitantly expensive–but to be fair to Keeper AI, they do offer refunds and have a money-back guarantee!
It's Not a Traditional Dating App – It's not Keeper AI's fault they aren't a conventional dating app, and they've never pretended to be anything else! But we do want to let you know that you won't be doing any of your own matching, so if you are a hands-on dater, this may not be your ideal platform.
Who Is Keeper AI Dating App Best For?
Keeper AI is def best for those who want to find someone special and are not having much success on popular dating apps.
It's also great for those who don't have the time or don't want to spend an inordinate amount of time searching and swiping on platforms.
Demographics and User Base
We don't have any hard data on the demo and user base of the Keeper AI platform at this time of this review, but the founder has said there are thousands using the service.
Relationship Types Best Served by Mila Dating App
The relationships best served by Keeper AI are serious ones. And not just long-term committed partnerships—we're talking soulmates and marriage seekers.
Keeper AI's Compatibility Matching System
The Keeper AI platform uses a combo of human and AI matchmakers to ensure that members are paired with the best and most compatible matches.
Distinct from other contemporary matchmakers, Keeper AI has upended the process by incorporating artificial intelligence—this not only overcomes the constraints of traditional matchmaking but also exceeds the abilities of modern matchmakers without AI.
Keeper employs a data-driven approach, using AI to process vast amounts of data about each client. This helps avoid personal bias and makes sure matches are compatible, considering many factors and making matchmaking more accurate and fair.
Using AI, Keeper can handle numerous clients at once, making it more available and efficient than other matchmaking services. This enables more individuals to find their ideal match more quickly.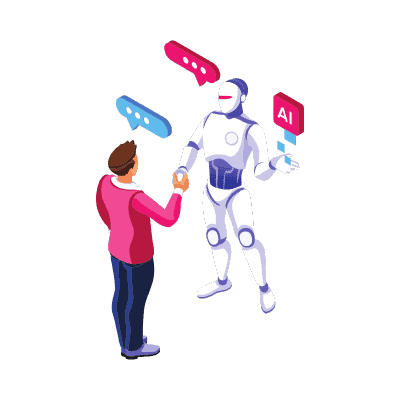 Keeper's AI system naturally has the ability to learn from every match it creates. It constantly updates its algorithms based on feedback and results, enhancing the precision and success rate of its matchmaking with time.
The Role of Personality Assessments in Matchmaking
Keeper AI utilizes the Big 5/Ocean Personality and IQ screening (you are asked to give your SAT scores) in order to make matches based in psychology.
Keeper AI's Membership Options
The Keeper AI platform has three payment tiers: Free, Pay for First Date, and Marriage Bounty. Prices aren't publicly available for the paid services—we assume they'll let you know the details if you sign up!
Discounts and Promotions
As of this time, there are no discounts or running promotions for Keeper AI although in interviews, the founder has stated that by transitioning to fully AI matchmaking and phasing out human matchmakers, the memberships will decrease.
How to Sign Up on the Keeper AI Dating App
We did the full sign-up and created a Keeper AI dating profile and it was a pretty extensive registration process—they ask for a lot of info and details, which is necessary if they're promising to get you married!
It took us about 20 minutes in total–you can skip some sections, but we don't recommend signing up with a half-built dating profile if you are truly invested in finding a compatible partner! Since there is no dedicated mobile app, we signed up via mobile browser, and the step-by-step guide is below.
Step 1: Go to Keeper AI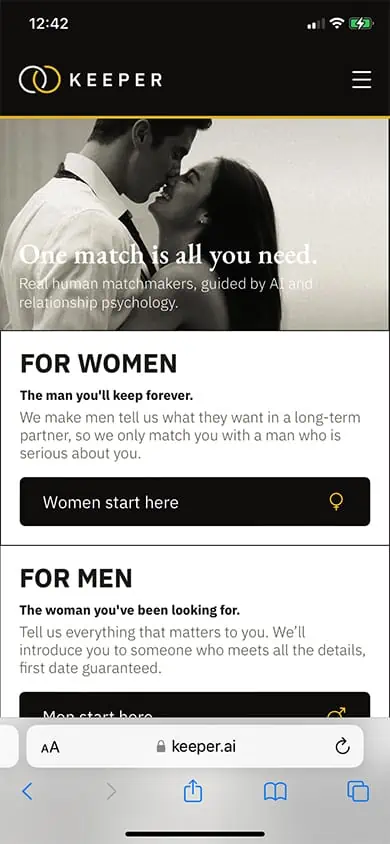 On your computer or mobile device, head to Keeper AI's homepage, and click on "women start here" or "men start here" to begin the signup process.
Step 2: Enable Location
Allow Keeper AI access to your location so it can match you with compatible matches in your area, read the guidelines, and then hit the "Ok, let's continue" button.
Step 3: Enter Basic Details
Input your full name, email, location, date of birth, social media accounts (optional), height, and ethnicity.
Step 4: Upload a Profile Photo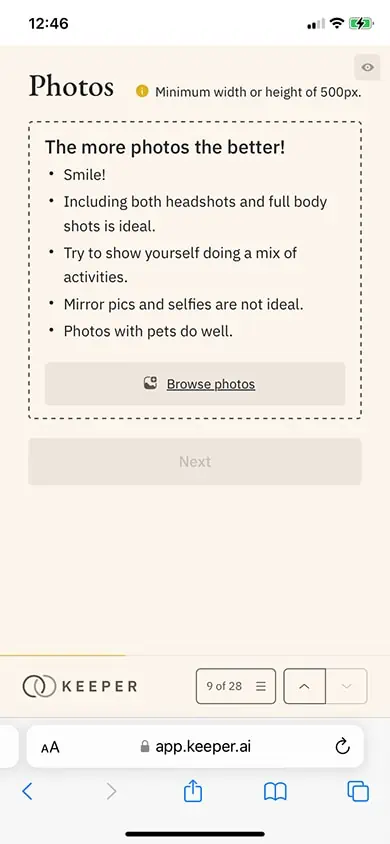 Time for your photoshoot! Upload at least one picture—follow the guidelines to ensure you choose the best pics.
Step 5: Enter More Detailed Info
Choose your education level, your SAT scores (weird), if you have or want kids, politics, religion, and your personality type.
The Keeper AI platform works on the Big 5/OCEAN personality framework; if you don't know your type, they offer a link to a free Truity test so you can find out! You can also add your Myers-Briggs and Enneagram types.
Step 6: Add Interests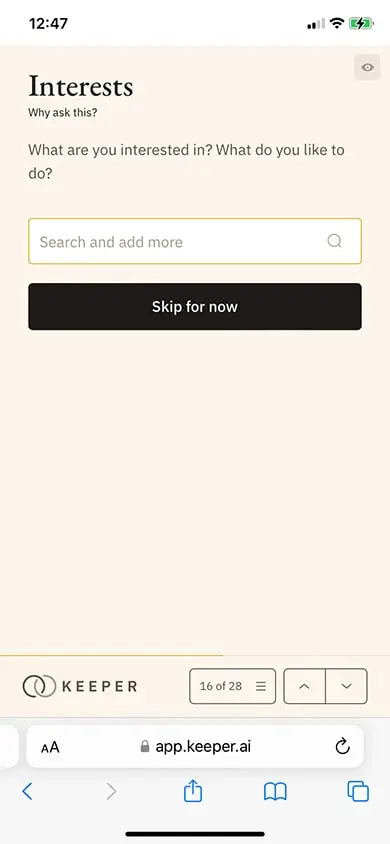 Now, add your interests and hobbies, and use the space provided to tell Keeper AI anything else about yourself you think they ought to know so they can match you with the most compatible singles!
Step 7: Specify Dating Preferences
Choose your dating preferences pertaining to age, height, ethnicity, location, physical appearance, personality types, and anything else you think matters for your search.
Step 8: Choose Your Membership
Your profile is created! Now you can choose what kind of membership you're interested in: the free standard one, Pay for First Date, or the Marriage Bounty!
How to Delete an Account
As far as we can tell, the way to delete your Keeper AI dating account is to email customer service and request for your profile to be terminated–there are no options in the settings that we could find to do it ourselves.
Customer Service
The Keeper AI dating platform has a phone number for real-life help (we love to see it) and an email for customer service requests and other issues.
How to Contact Customer Service
📧  Email: contact@keeper
☎️  Phone Number: (305) 250-2964
Frequently Asked Questions
We have arrived at the FAQs! We'll answer the most frequently asked questions from our readers about how it works, how much it costs, and all of that other good stuff you need to know.
Is Keeper AI a Traditional Dating App?
Not really—at the moment, Keeper AI is best described as a matchmaking service with the aim of helping individuals find love, marry, and begin families, not to enable endless dating. Keeper may not be suitable for those looking to 'play the field' or casually explore options. For those looking for their lifelong partner criteria to be earnestly considered and seeking quality introductions to like-minded individuals, Keeper is happy to help! While they do intend to eventually transform the entire service into a dedicated "app," at present, it's a human and AI matchmaking service.
How Fast Can Keeper AI Find You a Match?
It varies. Keeper's goal isn't to give you lots of matches quickly but to find someone who really suits what you're looking for, and it might take a few months. The signup and info collection takes a few weeks. The process is slower than most dating apps because Keeper takes more care in making matches.
Members with paid plans typically get matched faster than those using the free service due to significant resources being allocated to search for them. While free members can anticipate a match in due course, those who pay are advanced to the front of the line and given priority in the system since every match must involve at least one paying member.
Where Can You Use the Keeper AI Platform?
Keeper AI currently accepts paid users from those who reside or spend time in North America and Europe, but people from anywhere in the world are welcome to join the Keeper AI matchmaking pool!
Will Keeper AI Match Me With My Future Spouse on the First Attempt?
Possibly! They have succeeded in doing so before, but it's not a consistent outcome—it largely hinges on your awareness of what you're looking for and the details of the preferences and info you supply when filling out your dating profile.
Does Keeper Only Pair Me With Singles Who Meet All My Preferences?
Yes. Contrary to other matchmakers, they don't create matches merely to meet a quota. They only initiate a match when they find someone who aligns with all your criteria, and vice versa. Before facilitating an introduction, they vet both you and your potential match to ensure all mutual preferences are met. They will then communicate with both parties to assess if and where there's flexibility, with the aim being to identify a true fit, not to force one.
How Is Keeper AI Different from Other Matchmaking Services?
According to the website, here is how they differ:
• You only pay for success with Keeper. Most matchmakers charge a subscription or yearly fee. Keeper only gets paid when you get married or go on a date with your perfect match.
• We don't make fuzzy matches. Other matchmakers will make mediocre matches just to hit a quota. Their incentive structure is simply different than ours, which lets us only make matches that are mutually strong.
• Keeper goes deep on psychometric attributes like IQ, personality type, and masculinity/femininity polarity, as well as many other predictors. We're not relying on mere intuition and guesswork.
• We actively help you improve yourself and your odds at success. We'll give you feedback on things you need to work on to get the matches you want based on feedback from real people who meet your preferences for a spouse. We also test your photos and optimize your profile for you. On Keeper, your best foot will always be forward.
How Is Pricing Structured at Keeper AI?
Keeper offers three payment levels: Free, Pay for First Date, and Marriage Bounty.
Free members can only be matched with paying ones on Keeper. If you opt not to pay, joining as a free member is encouraged since there's a good chance you'll get matched. There's no cost, and your match will adhere to 100% of your preferences.
In the Pay for First Date plan, you pay to date someone who satisfies all your preferences. Notably, this plan, unlike the free membership, allows you to be matched with both paying and free members, offering access to numerous potential matches, with pricing tailored to your situation and needs.
The Marriage Bounty plan gives you unlimited, sequential matches and requires payment only if you marry someone they introduce to you. All matches assuredly meet all your partner criteria (and you meet theirs). Members on this plan can be matched with both paid and free members, with pricing adjusted to your specific situation and needs.
How Does the Experience Vary for Women and Men on Keeper AI?
When a match is made, the woman views the man's profile before he sees hers. If the woman expresses interest in meeting the man, they then present her profile to him. If she's not interested, the man never gets to see her profile.
How Big Is Keeper AI's User Database?
Keeper's database now encompasses thousands of users. Moreover, they actively reach out on behalf of all their paying users, utilizing various channels to locate precisely who you're seeking, even if those individuals haven't registered with Keeper yet.
Is a Subscription or Long-Term Contract Required to Use Keeper?
Nope! Keeper AI's services are offered on an as-needed basis, and you can cancel at any time for a full refund.
What Is Keeper AI's Rate of Success in Matching?
Since its inception in 2022, approximately one out of every 10 first dates they have arranged has resulted in an engagement.
Does Keeper AI Have a Money-back Guarantee if You Aren't Matched?
They do! In the "pay for first date" plan, they assure that your match will meet all your provided preferences, with a money-back guarantee if not met. They don't advocate for blind dates and aim to align incentives as closely as possible.
In the "Marriage Bounty" plan, there's no initial payment required, with payment due only upon marriage. Note: Keeper AI does not provide refunds in cases of annulment or divorce.
Does Keeper AI Utilize ChatGPT?
Keeper employs a unique algorithm crafted through a mix of bespoke AI models and third-party models, including OpenAI's GPT API. All AI algorithms are informed by relationship science and evolutionary psychology, enabling them to forge matches that are optimized for both immediate attraction and enduring compatibility.
Does Keeper AI Have a Mobile App?
Currently, Keeper AI utilizes an AI-powered application internally for matchmakers and gathers user information through the website, text, phone, and email. They are developing a user-facing web app that will offer fully automated matchmaking.
What Languages Does Keeper AI Support?
Currently, the platform is only available in English.