Do you want to meet singles online who share your same love and passion for gaming? Look no further than GamerDating.com, a niche dating app that caters specifically to gamers. For about 12 years now, they have been responsible for successfully matching single gamers up for strong friendships and serious, committed relationships with other singles who love gaming too!
In this 2023 GamerDating review, we are going to dig deep and show you what this dating app has to offer its customers. We will cover all membership plans and prices as well as any free trial opportunities that are currently available for testing out the site. In addition, we will go over the super-easy sign-up process (5-10 minutes!) in detail and touch on what you can expect from the customer support center.
We will also show how we chose to rate GamerDating as a whole. This review of the GamerDating site is one where we focused on being completely honest and transparent, covering all the pros and cons that we found along the way! We have an entire section of suitable alternative dating apps (just in case you read through this GamerDating review and find out it's not the best platform for you).
---
---

Our team has independently researched all products and services that we have listed on this page. If you sign up or purchase through our links, we may receive a commission. See how it works.
Our GamerDating App Rating
This is the process that we used to come to our overall rating of GamerDating as an online dating app in 2023! We examined five critical categories and gave each of those an individual rating. We then averaged these out, and we came to the overall rating for GamerDating!
Overall:

Some Key Takeaways on GamerDating.com
GamerDating is one of the more affordable dating app options we have seen online. The beginning monthly rate is $17.50! The Silver Quest Plan (2 months) is priced at $35, and the Gold Quest Plan (4 months) is priced at $70.
GamerDating does not really come with a whole lot of interesting features. You can search for singles using more advanced search filters, glean some advice on dating a gamer from the blog section, and get six new matches each day. But that is about it!
GamerDating does not actually have a dating app but can only be used on mobile by visiting the site in-browser. The site itself is not one of the best we have seen when it comes to mobile browsing. The interface is a bit clunky and outdated.
| Category | Score |
| --- | --- |
| Features | 3.2 |
| Ease of Use | 3.9 |
| Match Quality | 2.8 |
| Cost | 4.4 |
| Active User Base | 2.5 |
| Overall | 3.4 |
GamerDating supplies their users with six daily matches, something we really liked to see! But while GamerDating is a great place to meet singles who are interested in gaming, their smaller user base can make it a little difficult to get good matches.
The active user base is pretty small, which is not a big surprise because this is a niche dating app. There are about 1,800 daily logins, 3,500 users from the US, and 5,000 across the site worldwide.
GamerDating Pros and Cons
We want to be completely honest and accurate in our assessment of GamerDating so you can make the best decision for yourself. Just know that GamerDating is not a perfect online dating app. While it is a great place to meet and network with singles who share your passion for gaming, there are definitely some major drawbacks with this platform.
Check out our full list of pros and cons below and find out if GamerDating will be worth your time and money: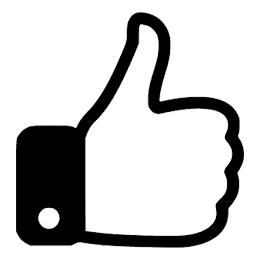 Reasons to Join
Great for finding romantic connections or significant friendships with other gamers
The "free trial" allows users to read, send, and receive messages from paying members
Paying members can get one or two free games from GamerDating
Pricing begins at $17.50 per month
GamerDating keeps its members informed of new games and important updates
GamerDating is inclusive when it comes to sexuality and gender
There is still technically no app available (users have to visit the site in-browser)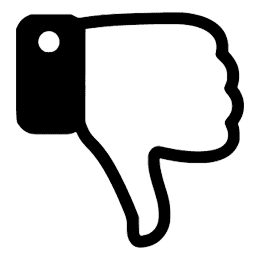 Reasons Not to Join
There are a lot fewer women who use this app (74% men to 26% women)
The user base is a lot smaller compared to other dating apps (5,000 members total)
You only have 7 days from the time of membership purchase to get a refund
Not the best user interface when it comes to mobile browsing
There is no identity verification when creating a new profile at GamerDating
There are only around 1,800 daily logins
As with any dating app, there are fake profiles that make their way through vetting
About GamerDating
The first thing we want to address before we jump into our GamerDating review is a few of the key facts and details about the dating app that any newcomer should know about! These are some of the most important things to know about GamerDating if you want to find out if this dating app is the right one for you!
Fact
Details

Site Name

Key Info

• Total Active Members (US): 3,500
• Daily Logins: 1,800
• Gender Ratio: 74% men to 26% women
• Number of Countries Serviced: 5+
• Most Popular Country: United States (40.89% of total users)
• Average User Age: 18-34 years old
• User Base: Single gamers who are looking for serious friendships or true love

Cost of Membership

GamerDating prices start at $17.50

Free Trial

Yes
Free Trial Opportunities
GamerDating does come equipped with a "free trial," and we say this in quotations because this is not a truly free trial but simply a limited free features opportunity. You can use GamerDating and enjoy a limited range of its features without having to pay anything in membership costs.
If you want to take advantage of this offer, you can click on the link below. This is a great way to get a feel for the site and see what kind of singles you could meet!
Even though you do not have to pay anything to use these features at GamerDating.com, you are not going to experience the full range of features that are available to paying customers. The "free trial" can give you a good idea of how the site operates and give you the ability to see if there are some good singles gamers that catch your eye. You can even do some messaging. But you are not going to be able to do everything that a GamerDating account is designed to do.
"Free Trial" Features
Create a profile at GamerDating, including uploading photos and providing profile information
Browse the dating profiles of GamerDating members (no "free trial" users' profiles will be visible)
Receive and read messages from members and send messages to members of GamerDating (no messaging with "free trial" users
Things Not Included with the "Free Trial"
You will not be able to get any of the free games that come with any of the paid subscription plans
You will not get messages from other "free trial" users
GamerDating Memberships Plans and Prices
There are two subscription plans available at GamerDating, and they last 2 months or 4 months, respectively. Each of them comes with just about the same features (with the exception of the free game selection that you can enjoy). You end up paying for the length of time the membership is good for.
We really liked the affordability of both plans! The monthly price rate was relatively low compared to a lot of other dating apps out there!
Plans and Pricing
Total Cost: $70.00
Gold Quest
4-Month Membership
$17

50
Monthly
Select Plan
Total Cost: $35.00
Silver Quest
2-Month Membership
$17

50
Monthly
Select Plan
Membership Features
When you become a member at GamerDating, you are going to have access to the full range of features, including everything that you could do as a "free trial" user.
Browse profiles and photos of ALL users at GamerDating (members and "free trial" users)
Unlimited messaging with anyone at GamerDating (sending, receiving, and reading)
6 matches provided daily by GamerDating
Refine the matchmaking process through 1Up (new searches based on which profiles you end up liking)
Access to advanced search filters or "Find a Date"
Access to Advice Section, filled with blogs produced by GamerDating's contributors
Access to the Games Center, where members can add favorite games to their personal libraries and read up on any new updates in the gaming world
Free game(s) for creating a membership with GameDating.com (choice of 1 gold game or 2 silver games)
Customer Support
When you become a member at GamerDating, you are going to have access to the full range of features, including everything that you could do as a "free trial" user.
Generic Contact Form
On the GamerDating homepage, you can go down to the footer, and there will be a link that says "support." You can click on this, and you will be taken directly to this contact form, where you can choose a subject, write out a message, and submit it to customer service.
Generic Contact Form: A Closer Look
When you click on the drop-down menu that says, "choose one," you will be provided with five options for customer service:
Payment
Issue with registration
I couldn't find my favorite game in your library
I found a bug! Something does not work
Something else
FAQ Center
Down on the footer of the homepage, right next to the "support" link, you will find another that says "FAQ." When you click there, you will be taken to the page features in the image above. You will have access to a limited FAQ center with a bunch of questions that only address general topics and nothing super specific when it comes to problems you could potentially face using the site.
Support Email
Click on the last drop-down menu that says "Help!" and you will find the little-known support email address for GamerDating: support@gamerdating.com. This is probably the best way to contact the support center at GamerDating, but you can still expect to be waiting upwards of 24 hours for a response.
Signing Up for a New Account with SugarDaddyMeet
The sign-up process at GamerDating did not take up a whole lot of time. We got everything done with everything in about 5 to 10 minutes. This is one of the more simple and more straightforward sign-ups we have recently done, so do not fret about it eating up a bunch of time.
If you want to begin a membership or a "free trial" with GamerDating.com, the process of signing up is going to be the same up until the final few steps. Follow our step-by-step instructions below to get started!
Step #1: Visit the GamerDating Homepage
Begin by visiting https://www.gamerdating.com! You will need to create a unique profile name and a password for your new account. Provide your email address, your date of birth, your gender, and the preferred gender of the singles that you are looking to meet!
Hit "Sign Up" once you are finished to get to the next step.
Step #2: Confirm Your Email Address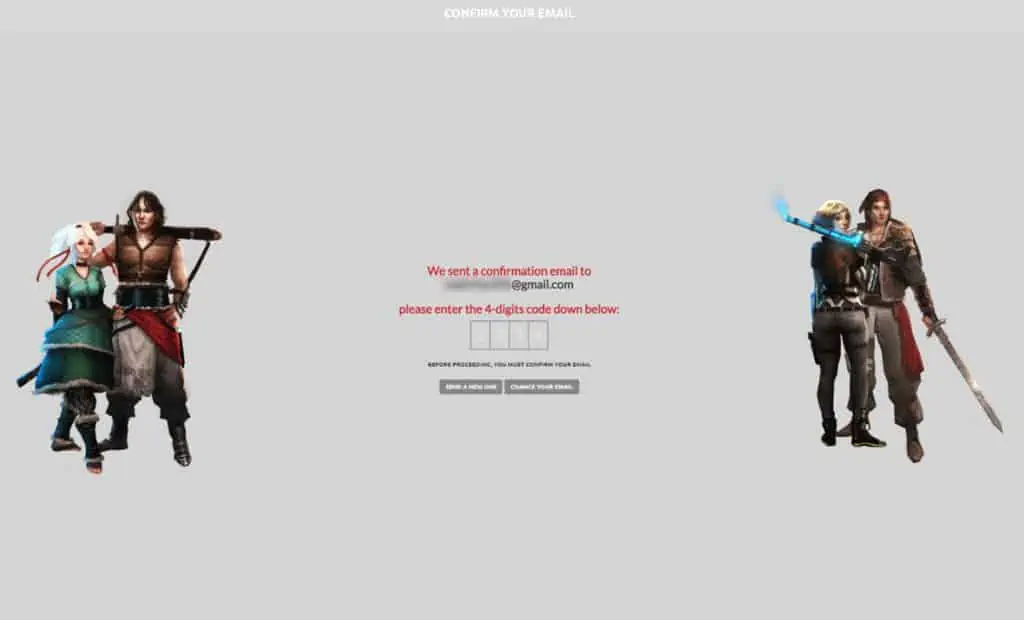 A confirmation code will be sent to your email address. You will need to provide this information in order to proceed to the next step.
Step #3: Upload One Photo
In the next step, you are required to upload at least one good, clear photo of yourself that will serve as your profile picture. You can upload photos straight from your mobile device or your PC.
There is even an entire list of photo guidelines provided.
Step #4: Select Your Top Games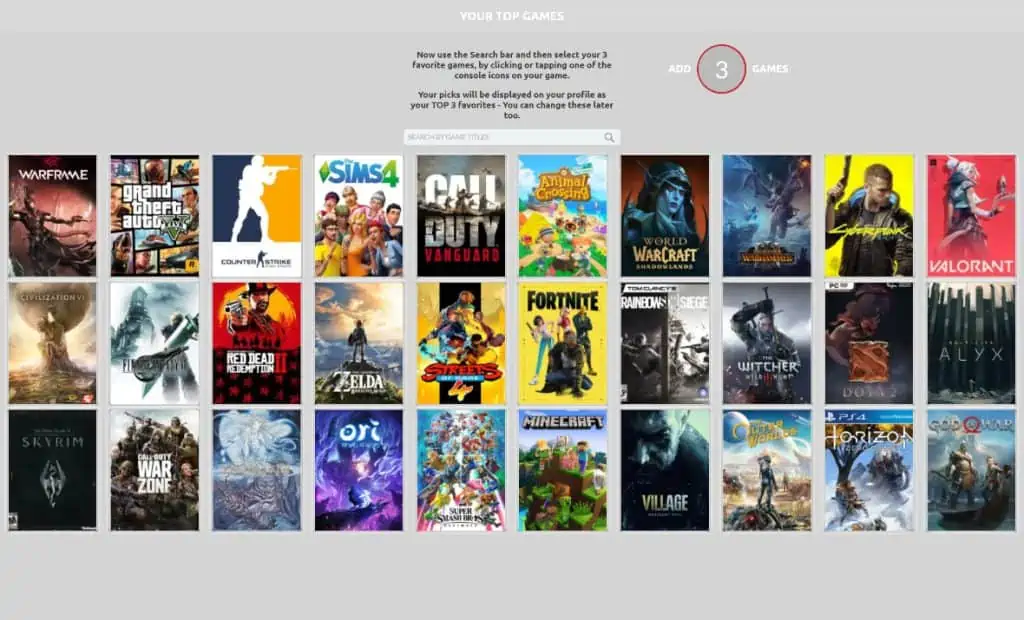 GamerDating will ask you to select three games from the list provided, or you can search for any games that do not appear and add them to your profile. The idea here is to give other singles an idea of what kind of games you are interested in. GamerDating uses this information to gauge how compatible you could possibly be with other members.
Step #5: Basic Profile Questions
This first round of questions focuses on basic topics like where you live, your level of education, or the languages that you speak. This portion of the process should take a minute or less to complete!
Step #6: Appearance and Aspirations
This step focuses on describing how you look, what you are looking for in a partner, and questions about faith and family. This is another super-simple step and can be done in a fairly quick amount of time.
Step #7: Social Habits and Gaming Habits
Let GamerDating know how often you drink, smoke, and spend time playing games. This will give other members an idea of how often you indulge in your various vices! We say this with a bit of sarcasm, but this is definitely important information that other members should know about you in advance!
Step #8: Choose a Membership or the "Free Trial"
Before you can proceed to your new profile, you will be given the choice of the two membership plans or to proceed using the "free trial." You are presented with the various features and functions that will be available to you with each course of action. Even if you decide to simply do the "free trial," you can always go back later and upgrade to a membership!
It is here that you can also enter any voucher codes that you might want to use!
Step #9: Get to Finding Your "Player 2"
Once you have either purchased a membership or decided to do the "free trial," you will be sent to your new profile page as it appears above.
In the middle of the page, you can view singles who are currently using the app and 1Up any of them, which will help GamerDating improve their searches for you!
Off to the left, near the top, there is a menu where you can manage your profile, message other members, manage members (blocking or reporting), and get advice from the site's blog section.
Off to the left, near the bottom, there is a menu where you can manage your game library, showcasing your tastes and interests. It is here that you can also check out any developments in the gaming world, including new games or releases.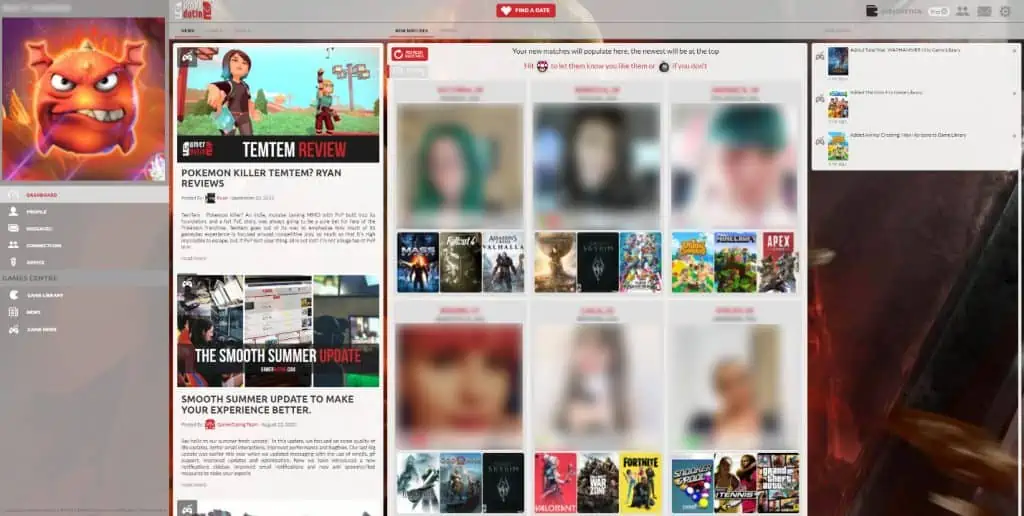 Alternatives to GamerDating.com
As we have discussed throughout this GamerDating.com review, there are plenty of drawbacks and shortcomings to using GamerDating as your dating app of choice. They do not have the biggest user base, the gender ratio skews heavily toward male users, and they do not have the most extensive set of features and functions for their customers.
These are some of the best alternative dating apps for those who are looking for singles who happen to be gamers. With many of these apps, you will have access to a bigger pool of potential candidates as well as a more even ratio of men to women!
Dating App
Fast Facts
Review

Zoosk

Active Users: 500,000+
Gender Ratio: 48% men to 52% women
Number of Countries Serviced: 80+ countries
Membership Cost: $12.50/month (beginning rate)

eHarmony

User Base: All singles (including gamers)
Monthly Users: 10 million
Gender Ratio: 51% men to 49% women
Paid Subscription: Yes
Free Trial: Yes (limited)
Subscription Price: begins at $35.90/month

LFGDating

User Base: Singles who are gamers
Paid Subscription: Yes
Free Trial: Yes (limited)
Subscription Price: begins at $5/month

Match.com

User Base: All singles (including gamers)
Monthly Users: 15 million
Gender Ratio: 49% men to 51% women
Paid Subscription: Yes
Free Trial: Yes (limited)
Subscription Price: begins at $18.99/month
Be sure to check out Best Gamer Dating Apps for more information on some great dating sites for gamers!
GamerDating FAQ
Is GamerDating Legit?
Anyone who goes to make a profile at GamerDating must include a picture of themselves and accurate information in order to be able to use the app. While this is not a completely foolproof way to ensure that all users are on the up-and-up, it does make it so that the vast majority of those with profiles on the site are legit! Compared to a lot of other gamer dating sites, we experienced far fewer fake profiles or spam accounts at GamerDating!
Is This GamerDating.com Review Honest and Transparent?
Yes, you can rely on our GamerDating review to be honest and completely transparent. Early on, we were sure to include a pretty extensive list of the pros and cons that you will encounter when using their dating app. we did not hesitate throughout this review to bring up the areas of this dating app where we felt improvements could be made. And there were parts of the app that we just did not like at all. And we never hesitated to make this known!
Is GamerDating Free?
There is a way that you can use GamerDating for free, but it is going to be in a limited capacity. You will be able to create a free profile, browse the profiles of other members, and there are no limits on messaging. The two big things that you will not be able to do with the "free trial" is message other trial members, and you cannot get any of the free games that GamerDating offers.
How Much Does a GamerDating.com Membership Cost?
There are two options for those who want to get a membership at GamerDating.com. There is the Gold Quest Membership which lasts four months and costs $70. Those who sign up for this plan can get one free game from GamerDating! The other option is the Silver Quest membership which lasts for only two months but only costs $35. Those who go with Silver Quest can get 2 free games courtesy of GamerDating!
Can I Cancel My GamerDating Subscription?
Yes, you can cancel your membership with GamerDating.com at any time! All you need to do is go into the "settings" section of the app. Click on "other" and then hit "cancel subscription." If you still have some time left on your plan, you can continue to enjoy the services of GamerDating until it expires. Canceling your subscription basically means that your subscription is not going to auto-renew itself once you have reached the end of your plan.
Is There Any Way to Block or Report People on the App?
If you want to report or block another user at GamerDating, you simply need to go to their profile and click one of two icons in the upper right-hand corner, depending on what you want to do (or both if the person is really giving you a hard time). To block someone, click on the 'X' icon at the top right-hand corner of their profile. To report someone, you will find a red flag icon right near the 'X' icon. Click on this to report a person.
How Does GamerDating Do Its Matchmaking Work?
GamerDating works off of a user's personal information, preferences, and favorite game genres to generate good matches. Because of the nature of GamerDating's smaller network and overall userbase, the app will allow users to get six matches per day!
Is My Personal and Financial Info Safe at GamerDating?
Yes, GamerDating has a strict privacy policy that ensures that no personal or financial information will ever be shared for marking purposes or with third parties. GamerDating does not sell data, they have never been hacked, and (perhaps most importantly) you will never get spam offers from the site!
How Do I Get Free Games at GamerDating as a New Member?
In order to get free games from GamerDating, you will need to sign up for a paid membership (either the Gold or Silver Quest Plans). If you choose the Gold Quest Membership, you will be able to choose one free game. The Silver Quest Membership allows you to choose two free games!
Who Can See My Pictures at GamerDating?
The only people that will have access to the pictures you share with GamerDating are the other members of the app! The images or photos that you share with the app will never appear in Google search results or be sold off to third parties for marketing purposes.