Attention all gamers: We're gonna need you to pause whatever game you are currently obsessed with for a few minutes–that is if you are looking for a romantic Player 2 in your life. If you're not, then you can return to your MMOG or whatever game is your flavor of the month and miss out on our complete review of LFGDating for 2023.
Is this niche dating app for gamers all it's cracked up to be? Let's find out!
---
---
Our team has independently researched all products and services that we have listed on this page. If you sign up or purchase through our links, we may receive a commission. See how it works.
Introduction to LFGDating
LFGDating was founded in 2012 and is geared toward the gaming community—a niche category of gamer dating apps that cater to specific interests or communities.
A common goal of such niche dating apps is to facilitate the introduction of like-minded individuals for the purpose of romance, and their goal is to bring together people who have a passion for gaming, be it on a recreational or competitive level. Users may find it easier to begin talking and have more fulfilling dates if they share a common interest–like a love of all things gaming!
A Brief Overview of LFGDating's History and Success
The LFGdating app was actually created by an HS English teacher and a Marine Corps officer–he wanted to create a trustworthy dating platform specifically for gamers.
The app store description reads: "Welcome to LFGdating, the world's only fully custom-built, premium gamer dating app. Finding other single gamers is no easy task. LFGdating is the United States' largest gamer-only dating app. Whether you game casually or through the night, use LFGdating to find someone else to game with!"
Since its launch in 2012, LFGdating has enabled numerous single gamers to connect with like-minded individuals–the app claims there is no better gaming dating app where you can meet so many other compatible singles.
LFGDating's Unique Approach to Online Dating
There are few things more unique than someone's gaming preferences, and the LFGDating app capitalizes on those specific tastes in order to match its members. When you create a dating profile, you specify what games you play, and how long you play them (a few hours a day, more, etc.), and then the algorithm goes to work to pair users up who have similar gaming habits!
Members can also adjust their search filters based on interests to narrow down compatible matches in their area.
Is Signing Up for the LFGDating App Worth It?
From what we've seen in our review of LFGDating, it seems to be a popular dating app for single gamers. However, we didn't find it particularly attractive as a whole, and although we think some users will love the app, we are hesitant to give it a hearty recommendation.
That being said, we have no doubt that if you are a gamer looking for a romantic connection, there is no harm in trying out LFGDating–you may find it's to your liking, even though we aren't crazy about it!
Our Ratings
Our complete review of the LFGDating app calls for taking five factors into consideration. Once we have determined how well the dating app performs across all five categories, we will then determine an overall score for the platform based on the average of those ratings. Overall, LFGDating receives 3.1 stars out of 5.
Overall:

| Category | Score |
| --- | --- |
| Features | 3.0 |
| Ease of Use | 4.5 |
| Match Quality | 2.0 |
| Cost | 3.8 |
| Active User Base | 2.5 |
| Overall | 3.1 |
What We Like
We like a lot of things about LFGDating, especially that it's geared toward gamers, a historically overlooked demographic in the dating community! See what else we think deserves a shoutout below:
Gamer-specific Dating App: The most compelling reason for signing up for the LFGDating app is that it is made for gamers. Although single gamers can (and do) use popular dating platforms, you'll need to do a lot of screening to discover people you click with, find appealing, and who like gaming. Because it is a specialized dating app for gamers, LFGDating eliminates that headache.
User-Friendly: LFGDating is super simple to use–members are able to locate items because of the straightforward layout of the options, sections, and layout. The app is easy to navigate and lets you change/tweak your search criteria or easily add a profile boost.
Affordable Cost: Free members have the option to upgrade to a premium membership at an affordable price–the cost is $15 for one month, $3 for three months, and $75 for a whole year.
Matching Algorithm: In order to help its members find those who share their interests in video games, LFGDating uses a personalized matching algorithm.
What We Don't Like
Sure, there's a lot to like about this niche dating platform–but the operative word here is "niche." Check out some of the things we found a little concerning and why we are holding back on giving LFGDating an enthusiastic two thumbs up (it definitely gets at least one thump up).
Only a Few Features: Some users may find that LFGDating's lack of features is a downside in comparison to other dating platforms.
Smaller Dating Pool: We can't really fault LFGDating for having a smaller dating pool, as it is a niche platform–but it is something we have to take into consideration when reviewing and potentially recommending a dating app to our readers!
Concerns Regarding Privacy: While we did not get this vibe from our time on the platform, some LFGDating members have voiced concern regarding the confidentiality and security of their profile data, and we'd be remiss to not mention it.
Matching Process: Those hoping for a more diverse pool of potential partners than just gamers may find themselves disappointed with LFGDating, which utilizes an algorithm to pair users based solely on their gaming preferences.
Who Is LFGDating Best For?
It's for gamers, full stop, point, blank, period.
If the thought of picking up a remote and putting on a headset to head into battle online bores you, the LFGDating app is not for you! If you are a gamer who is searching for someone special to play with, whether it's IRL or online, then you should check out this specialized dating app. It was created by a gamer for gamers.
Demographics and User Base
Although the majority of LFGdating's members are in their twenties and thirties, the platform welcomes singles of all ages! The youngest members are 18, and there are some older gamers on there as well–some in their 60s.
While there are more males than females on LFGdating, the gender gap isn't as wide as one might think–the founder predicted that the platform would draw more men than women after his initial advertising campaign in 2012. LFGDating has over 600,000 active users all over the world.
Relationship Types Best Served by LFGDating
From the user reviews and our time on LFGDating, most members are looking for serious, long-term relationships with other gamers. A lot of members are also looking for gaming friends and a community where they feel at home and accepted, all of which the app provides.
The LFGDating's Compatibility Matching System
The LFGDating app uses a matching algorithm based on a member's gaming interests, which they fill out when creating a dating profile on the platform. It's nothing fancy or sophisticated–just a simple matching method.
When two members have similar gaming interests, the algorithm ensures they end up in each other's searches when they are browsing for compatible people.
Members can also do their own searches by using advanced filters in order to narrow down the dating pool by searching for people in their area, preferences, and gaming habits.
Communication Features
Users can create their own profiles, complete with images and notes about their gaming habits. They let users narrow their search results depending on a number of criteria, including the type of gaming console they own, the games they prefer, and their location. In addition, users can communicate with one another through the use of private messages, real-time chat, and group and individual game activities.
Guided Communication
Guided communication on the LFGDating app includes a live chat/messaging feature for members to send and receive private communications.
Secure Messaging
The LFGDating app, like the vast majority of other dating platforms, utilizes a safe and secured connection to ensure the privacy of its users at all times, and that includes its messaging functions.
LFGDating's Membership Options
All new users automatically enroll in the app's free trial upon signing up. In order to use all of LFGDating's features, you'll need to become a paying member, but the freemium model membership is an excellent place to begin because it allows you to try out the app without spending any money until you're sure it's the place you want to find love!
Free vs. Paid Memberships
A free membership on LFGDating is an ideal way to get to know the platform and its users before committing to a paid upgrade. While there is no method to communicate with other users, you can browse through their profiles, complete with images and bios, and save the ones you like to a favorites list. The primary benefit of becoming a free member is the ability to evaluate the app's potential for fulfilling your romantic goals.
Sign up and register an account
Create a free dating profile
Upload photos
Adjust search filters
See members' profiles and photos
Add LFGDating members to a "Favorites List"
Premium Membership Benefits and Pricing
As with every dating app we review, we feel that paying for a membership to LFGDating is the most beneficial option. While we are not convinced this is the best platform out there for gamers, there is no question that a paid subscription allowing you to chat with other members is necessary if you want to meet compatible gaming matches!
Premium Membership Features:
Unlimited Messaging
Discover (increase your matches by 3x)
See who viewed your profile
See who favorited your profile
Ad-free experience
Members can also purchase a one-time Email Spotlight Boost, in addition to premium membership plans, to boost their profile's exposure to other users. There is a one-time fee of $10 for each profile boost.
Spotlight Boosts:
Your profile is matched with thousands of people on LFGDating.
To purchase or use them, you don't need to upgrade to a premium membership.
According to LFGDating, this is the easiest method to meet someone on the app.
Results for matches stemming from a Spotlight Boost are going to be delivered within a week.
Discounts and Promotions
There are no discounts or promotions available at this time for the LFGDating app, but always check the platform to see if one pops up!
Creating Your LFGDating Profile
We signed up for an LFGDating dating app profile in about 5 minutes—the process is straightforward and super easy to do.
We registered on an iOS device, but the steps are the same for Android users; if you head to LFGDating's homepage, just click on the desired app, and you'll be taken to the App Store of your choice!
You can also sign up and access the dating app on a computer if you want—it's fully functional on any PC or Mac.
Step 1: Download the LFGDating App
Go to the App Store, search for the LFGDating app, and when it pops up, click the "GET" button to start the download.
Step 2: Create Your Account and Enter Basic Details
When the app is installed, hit the green "REGISTER" button to move on to the next step.
Enter your name, location, gender, and the gender of whom you want to meet.
Step 3: Upload a Profile Pic
The most important step is to upload a great profile image that will attract the attention of other gamers!
Step 4: Enter Basic Info, Preferences & Gaming Habits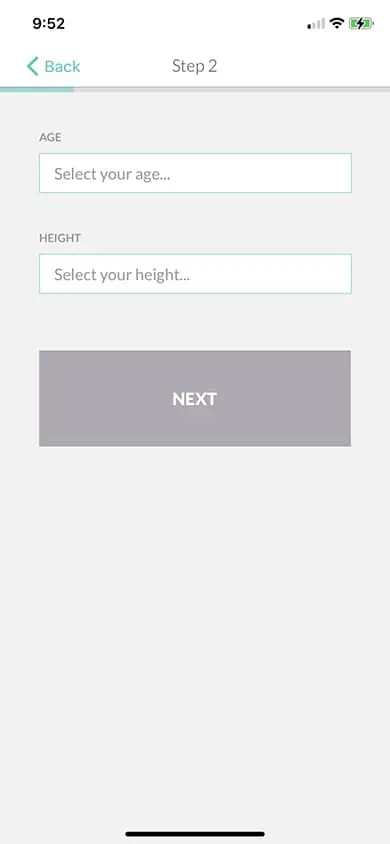 Add your age, height, lifestyle, reading and movie preferences, education, languages spoken, pets you have, and, most importantly, your gaming loves and habits!
Step 5: Write Your 'About Me'
Tell the LFGDating community about yourself with a catchy "About me," your small pleasures, and your greatest gift.
Step 6: Begin Your Search
You're all set up and can start looking for your Player 2!
Step 7: Upgrade to a Premium Membership (Optional)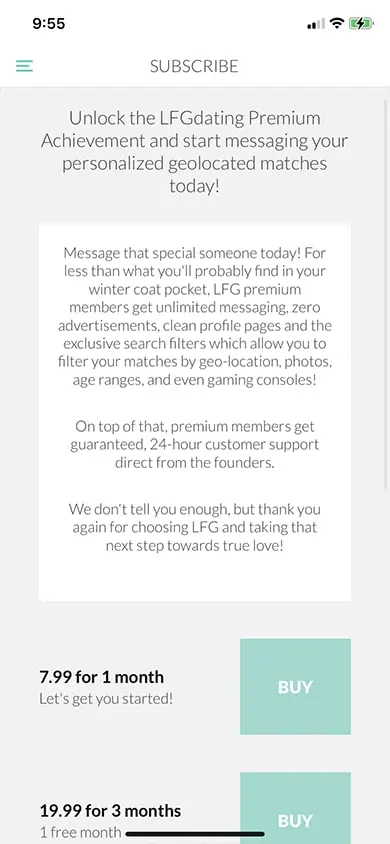 If you want to get the most out of your experience on the app, you might want to upgrade to a premium membership. It's optional, but we recommend it for those serious about finding someone special!
How to Delete an Account
Step-by-Step Guide to Account Deletion
Step 1: Go to Your Profile – On your dating profile, click on the three lines in the top left corner, and then click on settings.
Step 2: Delete Profile – Scroll down to the bottom of the screen and click the pink "DELETE PROFILE" button.
Step 3: Confirm Deletion – To remove your LFGDating app profile, click the "OK" button to confirm deletion.
Customer Service
There is only one way to contact the LFGDating customer service and that's by filling out a request and sending it via the platform's contact page. Although the app page says customer support will answer in less than 24 hours, it took us a little bit longer to hear back.
How to Contact Customer Service
📧 Email: support@lfgdating.com
☎️  Corporate Phone Number: 1-815-546-4001
📣 Facebook: https://www.facebook.com/LFGdating/
📣 X (Formerly Twitter): https://twitter.com/lfgdating
📣 Instagram: https://www.instagram.com/lfgdating/
📣 YouTube: https://www.youtube.com/@Lfgdating
📣 LFGDating Blog: http://www.lfgdating.com/gamer-dating-blog/
LFGDating's Mobile App
LFGDating's mobile app facilitates instantaneous, on-the-go communication between users. They can browse through profiles, communicate with others, and establish communities with like-minded people. The app can be downloaded from either the App Store or Google Play, depending on the user's preference.
Their website and app share the same user experience, enabling members to quickly find and interact with other gamers seeking companionship, romance, and gaming buddies.
LFGDating's website has a responsive layout, making it accessible from any desktop, laptop, tablet, or smartphone. The LFGDating iOS software is available on the App Store for iOS devices like the iPhone and iPad. Also, you can download the Android app from the Google Play Store.
Compatibility
iOS
iPhone: Requires iOS 12.0 or later.
iPad: Requires iPadOS 12.0 or later.
iPod touch: Requires iOS 12.0 or later.
Mac: Requires macOS 11.0 or later and a Mac with Apple M1 chip or later.
Android
Google Pixel 7A
Samsung Galaxy S23, S23+, and S23 Ultra
Google Pixel 7 and Pixel 7 Pro
Samsung Galaxy A54 5G
OnePlus 11
Frequently Asked Questions
That's all, folks! This concludes our review of LFGDating, and we hope we gave you all the info you need to decide if this is the gamer dating app for you!
We've also compiled a handy list of the most frequently asked questions we've gotten from our dearest readers concerning the LFGDating app, and you can see them below.
Is the LFGDating App Legit?
Of course, it is! LFGDating.com is owned and operated by Glass Boot Ventures LLC, a Houston-based company.
Can I Use LFGDating for Free?
New members who have not yet subscribed to a premium membership can still enjoy a few free features–the app offers a freemium plan, but there are certain key features that are only accessible to paid members. These features include messaging other members (free members can respond to messages sent from premium subscribers) and seeing who has liked their profiles. In order to fully experience all that LFGDating has to offer, a paid subscription is required.
How Much Are LFGDating Premium Memberships?
A monthly subscription is $15, while a three-month subscription costs $35, and an annual subscription costs $75– the longer the duration of the membership plan, the cheaper it is.
Do LFGDating Premium Memberships Automatically Renew?
Yes, when a membership's duration ends, it will be automatically renewed. The new plan payment will be processed using the existing billing information.
How Do I Disable Automatic Renewal on the LFGDating App?
To prevent automatic charges for another premium subscription, you can disable the auto-renewal function by accessing your "Account Settings" and turning off the feature.
What Does "LFG" Stand for in the LFGDating App?
It stands for "Looking for Group." In today's society of gamers, the acronym LFG serves as a channel or platform for players to connect with one another. According to the creators, this is why it was chosen as a fitting title for a dating app designed specifically for gamers.
How Does LFGdating Determine Which Members to Match?
The matching algorithm on LFGDating was developed using a number of different approaches to study and testing. While they don't go into detail, they do note that the majority of the data they utilize to determine compatibility comes from the details that users provide.
Does LFGDating Have a Mobile App?
Yup! In May 2019, they released their app for iOS, and in June of that year, the app for Android made its way to the Google Play Store. And since the website is fully responsive and if you don't want to install yet another app on your already cluttered-with-apps phone, simply add a bookmark to LFGdating.com on your mobile device's home screen and you'll be able to access the site from any web browser.
How Do I Delete My LFGDating Account?
On the website, you can easily delete your LFGDating account by clicking the "Delete Profile/Cancel Account" link located in the main menu at the top left-hand side of the page.
In the mobile app:
• On your dating profile, click on the three lines in the top left corner, and then click on settings.
• Scroll down to the bottom of the screen and click the pink "DELETE PROFILE" button.
• To remove your app profile, click the "OK" button to confirm deletion.
Can I Block Another Member?
In the "Contact" section at the very bottom of every page, you'll see a button that says "Report User." If you want to proceed, follow the link and fill out the form, and the dating app's customer support will get back to you as soon as they can.