In an era where dating apps are as plentiful as convenience stores, FriendFinder sets itself apart by aiming to create not just romantic connections but friendships as well. Offering a blend of traditional profile matching with a sprinkle of social networking features, FriendFinder appeals to those looking for a more comprehensive approach to online relationships.
Whether seeking love, friendship, or just someone to chat with, this platform offers a unique experience. But how effective is it in the bustling online dating scene? We aim to find out in our complete review of the FriendFinder app for 2023!
---
---
Our team has independently researched all products and services that we have listed on this page. If you sign up or purchase through our links, we may receive a commission. See how it works.
Introduction to FriendFinder
FriendFinder is a dating and social networking platform that aims to help people form various types of relationships, whether friendship, casual dating, or more serious partnerships.
A Brief Overview of FriendFinder's History and Success
FriendFinder has been operating since 1996, which makes it one of the oldest and longest-running online dating services, making it a popular choice for those looking for companions of all sorts.
It is one of the older online dating platforms and is part of the larger FriendFinder Network, which includes other specialized sites like Adult FriendFinder. The platform offers features like profiles, chat rooms, and matching algorithms to help users connect with others who share similar interests.
FriendFinder's Unique Approach to Online Dating
The FriendFinder app distinguishes itself through a more holistic approach to online relationships. Unlike many apps that solely focus on romantic connections, FriendFinder caters to a range of relationship types—be it friendship, casual dating, or long-term partnerships. It combines the traditional elements of dating apps, like user profiles and direct messaging, with social networking features such as chat rooms and discussion forums.
This blend aims to create a more community-centric experience, encouraging users to form bonds based on shared interests and activities rather than just physical attraction or location proximity. This multifaceted approach makes FriendFinder a versatile platform for all kinds of social interactions.
Is Signing Up for FriendFinder Worth It?
We think it's definitely worth signing up for a FriendFinder account–no question about it! Why? Well, for one thing, it's one of the oldest dating platforms around, which means it's been helping singles find companions, both romantic and platonic, for decades longer than other dating apps. While the UI is outdated, we feel that if it's not broken, there's no need for any fixes (although we wouldn't mind an update or a dedicated mobile app, just sayin.')
Our Ratings
How did the FriendFinder platform do on our rating scale? Overall, it landed at an impressive 4.3 out of 5 stars! For every dating app review, we test out the core qualities that our readers will need to have a beneficial and enjoyable experience on a platform and give them a numerical score between 1 and 5.
Overall:

| Category | Score |
| --- | --- |
| Features | 3.5 |
| Ease of Use | 5.0 |
| Match Quality | 4.0 |
| Cost | 4.5 |
| Active User Base | 4.5 |
| Overall | 4.3 |
What We Like
What's so special about the FriendFinder app? Actually, there's a lot to like! We chose four things we really dig about this dating platform.
Versatile Relationship Options: FriendFinder accommodates users looking for various types of relationships, from friendships to romantic partnerships, making it more versatile than many dating-only apps.
Community Features: The addition of chat rooms and discussion forums allows for a broader social experience and can help users form connections based on shared interests or activities.
Broad User Base: Being one of the older platforms in the online dating scene, FriendFinder has a diverse range of users in terms of age and background, increasing the odds of finding a compatible match.
Search Filters: Advanced search options allow you to sort profiles based on specific criteria, making it easier to find people who align with your interests and dating preferences!
What We Don't Like
Although we don't have much to complain about regarding the FriendFinder platform, we do have some small gripes where we'd like to see some improvement.
Outdated Design: Compared to newer apps, FriendFinder's interface can feel dated, which might not appeal to users accustomed to sleeker, more modern designs.
Limited Free Features: While the FriendFinder app does offer free accounts, the functionality can be limited, pushing users towards a paid subscription for the full experience.
Male-Dominated User Base: Traditionally, FriendFinder has a higher percentage of male users, which may affect the dating dynamics for users.
Lack of Mobile App:There is no dedicated mobile app, making it less convenient for users who prefer app-based interactions.
Who Is FriendFinder Best For?
FriendFinder is best suited for individuals who are open to different types of relationships, from friendships to romantic partnerships. Its community-oriented features, like chat rooms and forums, are ideal for those who enjoy more social interaction rather than just one-on-one messaging.
Additionally, the platform's age and broad user base make it a good fit for people who might be new to online dating and prefer a more traditional, less swipe-based approach. Because it offers various relationship options and social features, it can cater to people looking for a more comprehensive online social experience beyond just dating.
Demographics and User Base
FriendFinder tends to have a broad user base in terms of age, though it generally skews towards adults who are 25 and older. The service has been around for quite some time, which means it has attracted a more diverse age range compared to newer, more popular, mainstream apps. The gender distribution can vary, but like many of the best dating apps, it has traditionally seen a higher percentage of male users (70% men to 30% women).
Geographically, FriendFinder's reach is global, but the majority of its users are from English-speaking countries like the United States, Canada, and the United Kingdom. The platform also attracts a diverse set of people in terms of interests, backgrounds, and relationship goals, thanks in part to its community features like forums and chat rooms, which cater to various topics and interests.
Relationship Types Best Served by FriendFinder
FriendFinder is designed to serve a variety of relationship needs–its features make it a good fit for those seeking friendships, casual dating, hookups, and even long-term partnerships. The platform's community-centric approach, which includes chat rooms and discussion forums, allows for broader social interactions. This is great for people who are not solely focused on romantic connections but are also interested in expanding their social circles or chatting about their shared interests.
Given its diverse user base and features that cater to community interaction, FriendFinder can be a good option for people who are open to different types of connections. Whether you're looking for love, friendship, or just someone to chat with about common interests, the platform provides an accommodating environment for various social and romantic interactions.
The FriendFinder's Compatibility Matching System
FriendFinder uses a combination of profile information and user preferences to facilitate matches. While it may not employ a highly complex algorithm like some dating platforms, it offers various filters and search criteria that allow you to narrow down potential matches based on specific traits, interests, and preferences.
Users can sort and browse through profiles based on factors like age, location, interests, and other demographic or personal features.
Communication Features
FriendFinder offers a variety of communication features designed to help users interact and form connections–in fact, we are really impressed by all of the avenues it offers members to engage with each other!
Some core features include:
Direct Messaging: The most straightforward way to communicate, allowing users to send private messages to each other.
Chat Rooms: These are community spaces where multiple users can chat about shared interests or various topics, providing a more casual way to get to know people.
Discussion Forums: Like chat rooms, but usually more topic-focused. Users can post threads or reply to ongoing discussions, which can be a way to meet like-minded individuals.
Flirts:These are quick, non-verbal ways to show interest in someone else's profile.
Videos:You can see videos that other members have uploaded to the platform.
Hotlists:Users can add profiles they're interested in into a "hotlist," making it easy to revisit them later.
Post Statuses: FriendFinder's status-update function is similar to that of other social networking platforms–your profile and the app's activity stream will show any updates you make to your status! FYI: Every member's status update undergoes review before it goes live on the feed.
Advanced Search:This feature lets users filter potential matches based on a variety of criteria, from basic attributes like age and location to more specific interests or characteristics.
Secure Messaging and Video Calls
FriendFinder offers secure direct messaging and video chat capabilities. Since it is a reputable dating platform, it employs encryption and other security measures to protect user data.
FriendFinder's Membership Options
The FriendFinder app has both free and paid membership options for users to choose from. If you compare the prices of FriendFinder and similar dating apps, you'll see that it's a pretty affordable premium membership pricing plan. In addition to offering a free plan to poke around, the expense of FriendFinder's additional features are quite inexpensive when you consider all you get with a Gold or Silver membership.
Free vs. Paid Memberships
Even without the premium upgrade, you can engage with the community by posting to forums, blogs, and magazines. But keep in mind that if you're just a basic member, you might not have access to all of these options–it could change.
Initiating interactions via email messages, seeing full-length profile videos, getting profile highlights, etc., are all features that are only accessible to paid users.
Free Membership Features
Create a dating profile
Upload photos
Add people to your "Hotlist"
Search for members
See profiles
Upload a video
Send flirts to people
Design magazines
Write blogs
Join chat groups and discussion forums
Paid Membership Features
Unlimited Messaging: Premium members can send and receive direct messages without restrictions.
Advanced Search: Gives you access to more advanced filters to find matches tailored to your preferences.
Access to Exclusive Features: Full access to forums, and the ability to view full-sized photos, videos, and profiles.
Add friends
View other members' ICQ, AIM, and MSN IDs
Access to expedited phone tech support
Premium Membership Benefits and Pricing
There are two tiers of premium membership available on the FriendFinder app–Gold and Silver. In contrast to the "Gold" membership, the "Silver" membership only grants access to a subset of the platform's premium features. If you sign up for Gold for 3 months, you'll get 1 free month, and if you sign up for 6 months, you'll get 2 free months.
Premium Gold
| Membership Length | Cost Per Month | Total Cost |
| --- | --- | --- |
| 1 Month | $34.94 | $34.94 |
| 3 Months | $19.98 | $59.94 |
| 6 Months | $15.82 | $94.92 |
Premium Silver
| Membership Length | Cost Per Month | Total Cost |
| --- | --- | --- |
| 1 Month | $22.94 | $22.94 |
| 3 Months | $13.31 | $39.93 |
| 6 Months | $10.58 | $63.48 |
To get the most out of the FriendFinder community, we suggest signing up for a three-month membership. It's like a quarterly "buy two, get one free" bargain!
Discounts and Promotions
Currently, there are no discounts or promotions being offered by FriendFinder, but always check the website to see if they decide to offer any!
Creating Your FriendFinder Profile
We signed up and created a FriendFinder profile, which took us less than 5 minutes in total! If you are interested in registering and building a dating profile, just follow the steps we've laid out below.
Step 1: Go to FriendFinder.com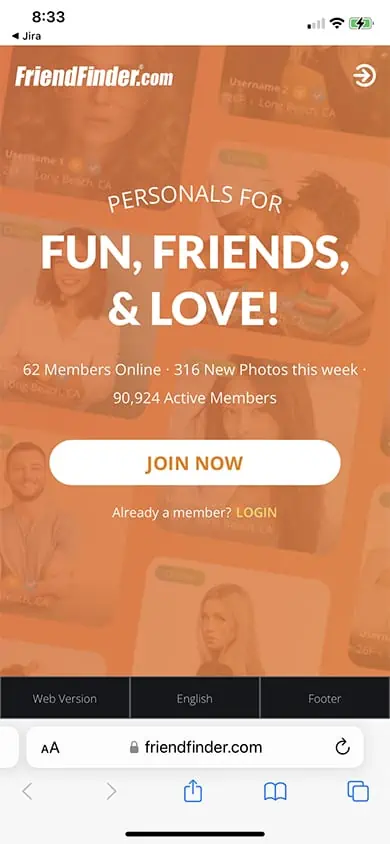 The first step is to head to the FriendFinder homepage from any computer or mobile web browser and click the "JOIN NOW" button.
Step 2: Enter Basic Details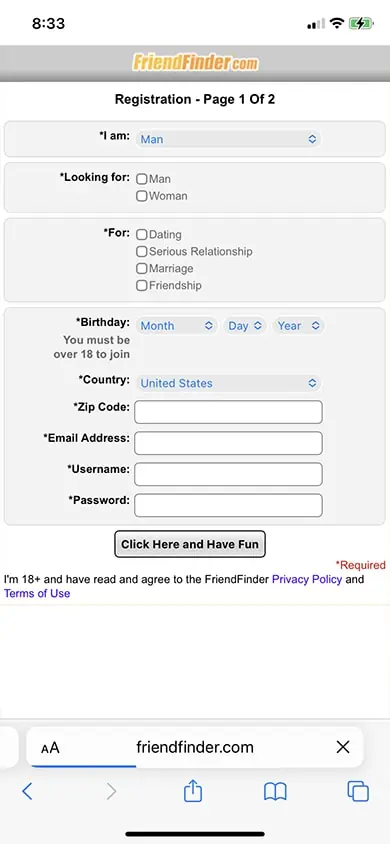 Specify your gender, the gender you want to meet, your dating goals, birthdate, location, email, and create a password.
You can also specify your sexual orientation, body type, and marital status at this stage, as well as adding an introduction and a description of what you're searching for on the FriendFinder platform. Then click on the blue "Become a FREE member."
Step 3: Activate Your FriendFinder Account
To activate your dating account, go to your email and click on the activation link!
Step 4: Upload Profile Pic & Build Profile
Your profile is now active! Start building your profile and upload an attractive profile photo.
Step 5: Upgrade to a Premium Membership (Optional)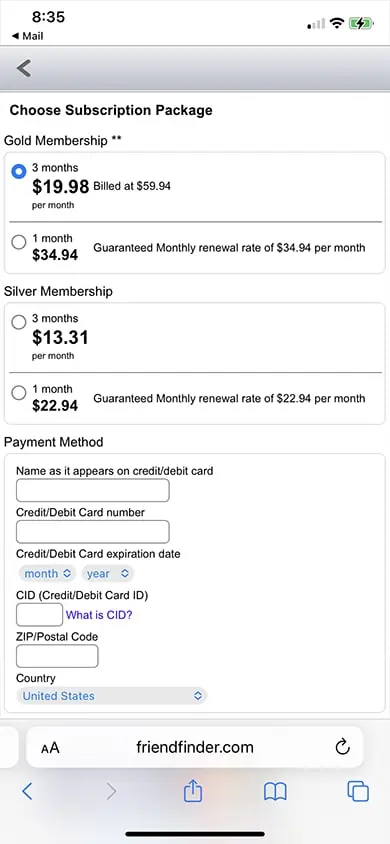 This step is optional, but you can choose to upgrade your FriendFinder account to a premium membership now or at any time in the future!
How to Delete an Account
If FriendFinder has served its purpose and you've found someone amazing, or you want to delete your account for any other reason, it's easy to do!
Step-by-Step Guide to Account Deletion
Go To Your FriendFinder Profile – Navigate to your dating profile and click on your profile pic.
Click on 'My Settings' – Select the "My Settings" on the right side under your profile pic.
Choose Logout – Click on the "Logout" option in the upper right corner, and then your profile is deactivated.
Customer Service
The customer service at FriendFinder is a little more traditional, and you know what? We don't hate that. In fact, we appreciate it! You can either find an answer to your issue in the platform's help sections or send an email using the contact form. And guess what? They have a toll-free hotline for users, which we love. There's nothing better than hearing a voice at the other end of the line when you are having a problem you need help with!
How to Contact Customer Service
📞 Phone: 408-702-1033
📞 Toll-Free Phone: 408-702-1033
📧  Email: 888-575-8383
✉️ Address: Various Inc. at 910 E. Hamilton Ave. Suite 600, Campbell, CA. 95008
Frequently Asked Questions
And there you have it, dear daters–our complete review of FriendFinder for 2023. We really hope we answered any concerns you may have had if you were on the fence about signing up for the platform, but if you need a last nudge in one direction or the other, we wrapped it all up with a list of frequently asked questions we've gotten from our dedicated readers!
Is FriendFinder Legit?
FriendFinder is, indeed, legit. It's owned and operated by the FriendFinder Network, which is also home to AFF (AdultFriendFinder). While there may be some fake profiles encountered on the platform, it is a legitimate dating app with real users looking for all kinds of connections, romantic and platonic.
Can I Use the FriendFinder Platform for Free?
Yup! You can absolutely use FriendFinder for free as a basic member. As a basic member, you'll have access to all of the communication tools and user profiles from around the world, and its magazine also features a community forum where you can ask and answer questions, share creative works, and talk about current events.
You might want to consider upgrading to a premium membership if you want to speed up or broaden your search capabilities for compatible matches and send unlimited email or instant messages.
Can Anyone Sign Up For a FriendFinder Account?
If you're over the age of 18 then yes! Anyone 18 and up is welcome to join, regardless of their gender, sexual orientation, or marital status. This is one of the few online dating apps that welcomes people of all various identities and orientations.
How Much are FriendFinder Premium Memberships?
The FriendFinder service offers two levels of paid membership: Gold and Silver. The premium features of the app are more broadly accessible with the "Gold" subscription than with the "Silver" membership. When you subscribe to Gold for 3 months, you'll receive 1 free month; for 6 months, you'll receive 2 free months.
How Can I Subscribe to a Premium Membership on FriendFinder?
There is an "Upgrade Now" button in the upper right corner of your homepage that you can click on to upgrade your membership level at any time! You'll then be redirected to the order form page where you can choose the plan you want to subscribe to.
How Can I Update My FriendFinder Profile?
You can update your FriendFinder profile by following the steps below:
• Enter your login details to access the app.
• Select the "My Account" button.
• Under the "Profile" tab, you'll find three different places from which you can modify your profile details: the "Basic Profile," "Personal Information," and "Physical Information" links.
• Your "Basic Profile" includes your name, birth date, age, location, and other identifying data.
• The info under "Personal Information" allows you to fill in the blanks about yourself, like your level of education, occupation, and marital status.
• Your physical characteristics, such as height, body type, and hair color, are detailed in "Physical Information."
• Be aware that the approval procedure, which can take 24-72 hours to complete, applies to all accounts and auto-replies.
Do FriendFinder Premium Memberships Auto-Renew?
Yes–when your current membership is about to expire, the Auto Renew function automatically renews it at the same duration and price. The billing information and the credit card you have on file for your account will be charged automatically.
The required cancellation notice is 3 days before the start of the next subscription.
How Do I Disable FriendFinder's Subscription Auto-Renewal?
Login to your FriendFinder profile and follow the steps below:
• Go to the member homepage and select "My Account" from the menu bar.
• In the Account menu, select the "Billing History & Credit Card Info" option.
• The Page header bar displays the current "product status."
• Click "OFF" under "Product Status" to disable automatic renewal.