Players have been forming relationships with each other in virtual worlds since the earliest days of Internet multiplayer games. With the advancements in immersive VR technology, the avatars that reflect the individuals that visit these spaces have become more lifelike and immersive.
Now, two real individuals are able to meet at a predetermined location within the metaverse, such as the coffee spot in VRChat, depicted by their realistic virtual avatars, to chat about their passions, aspirations, and daily lives.
In our complete review of the Flirtual dating app for 2023, we'll be taking a look at virtual reality dating for singles who are eager to take their online dating up a notch.
---
---

Our team has independently researched all products and services that we have listed on this page. If you sign up or purchase through our links, we may receive a commission. See how it works.
Introduction to Flirtual
In 2018, Kyle Farwell joined VRChat and saw that people were taking part in virtual reality (VR) dating, but he soon realized that there was a lack of dedicated VR dating platforms available–so he created one.
It was called VRLFP, or Virtual Reality Looking for a Partner, and it pioneered the virtual reality dating scene, matching thousands of users from around the world and facilitating hundreds of virtual first dates before being upgraded into what is now known as the Flirtual dating app.
A Brief Overview of Flirtual's History and Success
Now the head of Flirtual, Farwell has first-hand experience with VR dating: he met his current spouse through VR dating. Both the Flirtual team and the augmented and virtual dating community have seen significant growth since Farwell first developed the first version of the software.
Flirtual's Unique Approach to Online Dating
Flirtual is an expansive VR dating app designed to connect users and facilitate virtual dates and real-life relationships. Once matched, users have the ability to decide when and where they would like to meet within the virtual reality environment.
Flirtual organizes speed dates and social events where members can set up VR experiences with compatible matches for adventurous and scenic dates–they could go for a stroll in a picturesque forest, get a drink at a local watering hole, or spend their time playing games.
Is Signing Up for Flirtual Worth It?
Users of Flirtual range from tech-savvy singles looking for virtual flirting and long-term relationships to tech enthusiasts looking to meet new friends who share their love of virtual reality. If this sounds like you, then you'll get a lot out of the Flirtual dating app–you could meet your soulmate in a VR setting!
Our Ratings
We compared Flirtual to the gold standard of dating apps across five metrics to find out how well it performs as a dating app.
In order to offer you a precise and objective ranking, we analyzed a variety of factors, including the overall number of users, premium membership costs, the success rate of the matchmaking algorithm, and the features that are offered to members.
Overall:

| Category | Score |
| --- | --- |
| Features | 3.5 |
| Ease of Use | 4.0 |
| Match Quality | 3.0 |
| Cost | 4.0 |
| Active User Base | 3.0 |
| Overall | 3.5 |
What We Like
Let's say you're thinking about downloading the Flirtual dating app–if so, you can make a well-informed choice with the help of our thorough review, but we wanted to add some things that we really like about the app in case you need a little push!
VR Dating!!! – If you're a true believer in the world of virtual reality and you want to find love while also experiencing one of your favorite pastimes, then the Flirtual dating app is the ideal destination for you.
Diverse Membership – Flirtual encourages individuals of all sexual orientations and genders to become members, regardless of whether they are monogamous, non-monogamous, or receptive to both forms of relationships.
Detailed Dating Profiles – We appreciate that users of the Flirtual dating app are obligated to submit lots of details about themselves, including their age, gender, location, and sexual orientation. And users can pick "match" if they're searching for a romantic partner and "homies" if they're more interested in making virtual pals–we like that there are options!
Easy to Use – The visually pleasing UI of the Flirtual dating app makes using it straightforward AND fun, especially for individuals who aren't super tech-savvy–anyone can use the app without missing a beat thanks to its bright and interactive layout.
What We Don't Like
The virtual reality features and other perks of the Flirtual dating app make it appealing to certain singles for sure! But there are a few things that we don't like and could make people think twice about signing up for the platform.
Flirtual Doesn't Have Messaging Features – Since Flirtual lacks any sort of message functionality, it seems to be little more than a profile database. Instead, members can only communicate with one another through the use of a separate messaging platform such as Discord and VRChat. That's inconvenient at best and annoying at worst.
You Are Not a VR User – If you are not interested in virtual reality or are unfamiliar with it, then Flirtual might not be right for you. If you're not intrigued by augmented reality and computer-generated avatars and want to see profile pictures of actual real people, it's probably best to avoid signing up.
Complaints of Bugs and Glitches – Some of the testimonials we read slammed the dating app and website for having a "buggy" interface and a variety of "glitchy" problems. Users have expressed worry over this but seem otherwise satisfied with the dating app as a whole. Since Flirtual is still relatively new, the developers can resolve the UI issues soon!
Smaller User Base – Since it is still in its infancy when compared to other, more established dating apps, Flirtual has a smaller user base, which means fewer dating options for the single crowd on the platform.
Who Is Flirtual Dating App Best For?
Members of Flirtual have a high level of technological literacy and are actively seeking meaningful relationships. Despite being relatively new, Flirtual has quickly garnered popularity with millennials who are interested in virtual reality (VR) and virtual dating. The majority of its users are from the United States and are in their thirties.
Demographics and User Base
The majority of Flirtual's membership consists of male users, accounting for 71%. Flirtual attracts members from diverse gender identities and sexual orientations, falls within the age range of 30 to 36, and has an intense interest in staying up-to-date with the most recent developments in technology.
Relationship Types Best Served by Flirtual Dating App
Since Flirtual is a VR dating app, it tends to attract those looking for long-term, serious relationships. If long-term is going to be a problem for you or you are looking for something quick and casual, you'd be better off on a dating app geared toward short-term fun–Flirtual users are more serious about connections.
Flirtual's Compatibility Matching System
Flirtual's compatibility matching system makes use of a user's personal information, stated preferences, and personality traits to determine compatibility with other members.
How the Compatibility Matching System Works
The compatibility matching system used by Flirtual relies on personal data, tastes, and personality traits. Users are also given the option to take the "Big 5" personality test–although it is not mandatory, we strongly suggest taking it as it will help Flirtual to locate your most compatible matches!
The Role of Personality Assessments in Matchmaking
As we said above, the Flirtual dating app uses the "Big 5" personality assessment to help pair up compatible users–this is key when used in combination with a user's stated preferences and dating goals on any dating app!
Communication Features
Unlike other comparable VR dating platforms, Flirtual does not have any messaging functions. Flirtual allows you to connect your VRChat and Discord accounts, allowing others to message you outside of the Flirtual platform.
Matches are recommended by considering your preferences and assessing compatibility based on your personality, and users can customize their search filters. When browsing other profiles, you're given the option to either 'Like' or 'Pass' them based on your level of interest. You can find a "homie" to experience the VR settings with or a potential romantic partner on Flirtual!
Flirtual's Membership Options
Flirtual offers a range of membership options, including a freemium model membership with limited features, as well as three premium tiers to choose from: Lifetime Premium, Premium, and Supporter.
Free vs. Paid Memberships
Flirtual does not provide a "free trial" option where new users can check out all of the premium features for free for a certain amount of time. However, there is no cost associated with using Flirtual's basic version.
You might run into certain constraints when it comes to finding compatible matches if you stick with the free version, but you do have the choice to upgrade to a paid membership at any time in order to gain access to special features and perks.
Here are the standard (free) features that come with Flirtual:
Register a profile
Create a profile
Browse profiles of other users 
Premium memberships come with the following benefits and features:
Browse unlimited profiles – Flirtual limits your ability to browse other users until you subscribe to a premium membership, and then you are able to carry out as many searches for other compatible singles as you want to!
See who likes you – Are you interested in seeing who has" liked" you and want to know if you should return the favor? This premium feature makes it possible.
Incognito mode – Using incognito mode, you can prevent other users from seeing what you've been up to on Flirtual.
Control your matchmaking algorithm – When you subscribe to a premium membership, you will be able to personalize your matching preferences and will get results that are customized to those changes.
An optional badge on your profile – Premium members of Flirtual have access to printable trademarks, logos, and badges.
Early access to new features as they are tested/rolled out – Since Flirtual is a dating app still in the early stages of development, they are constantly enhancing the program and introducing new features. The good news is that premium members get to take advantage of them first!
Matches and Homies – You have options when it comes to the kinds of dates you go on on Flirtual–you can browse for singles looking for romantic matches or friends (homies).
Events – Members of the virtual reality chat service VRChat can sign up for speed dating events hosted by Flirtual! Each event space has an array of conversation starters and prompts to help get the romantic ball rolling.
Premium Membership Benefits and Pricing
Flirtual's premium membership options include a 1-month, 3-month, and 6-month option and a lifetime subscription. Users with a paid premium account can see who "liked" them, browse as many profiles as they like and complete customization of the matchmaking algorithm.
Lifetime subscribers pay a single fee of $99.99. The cost of the plans decreases with the length of the premium membership!
Creating Your Profile on the Flirtual Dating App
The sign-up procedure is standard for the Flirtual dating app is pretty standard, and it includes questions about who you want to meet and your interests. The major difference is that members of Flirtual do not have to post real pictures of themselves–they have to upload pics of their avatar(s).
In addition, while there is a 'Sexual Orientation' option, 'Experimenting in VR' is just one of several generalized options. It will also ask VR-specific questions, such as what VR equipment you have and how often you use social VR apps.
While there is currently no native app for Apple devices, you can still access Flirtual on your iPhone, iPad, or iPod touch using a web browser. For the sake of full disclosure, the steps outlined could differ from signing up using a mobile app since we joined up through the Flirtual website!
Step 1: Go to the Flirtual Dating App Website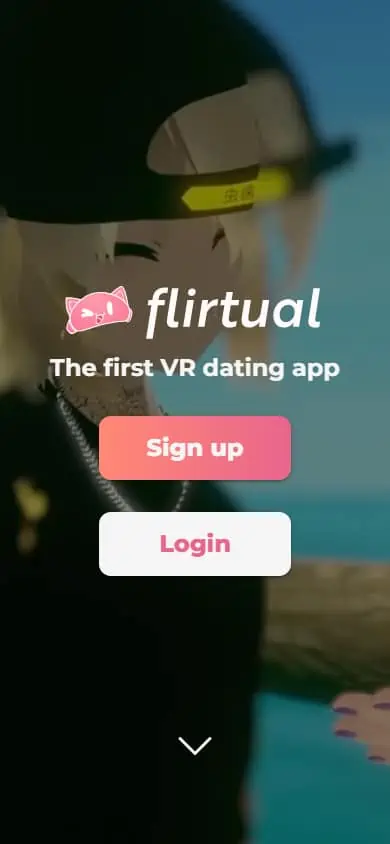 To get started with the registration process on your computer, go to the Flirtual homepage and click the pink "Sign up" button.
Step 2: Create Your Account
Add a username, email address, and password. Prior to checking the "I agree" box, review the Terms of Service and the Privacy Policy to confirm that you are at least 18 years old. At this point, you can also choose whether or not to get Flirtual notifications on the release of new features, updates, and special offers.
Click the "Create account" link after you've proven you're not a robot by solving the CAPTCHA.
Step 3: Indicate Your Preferences for Dating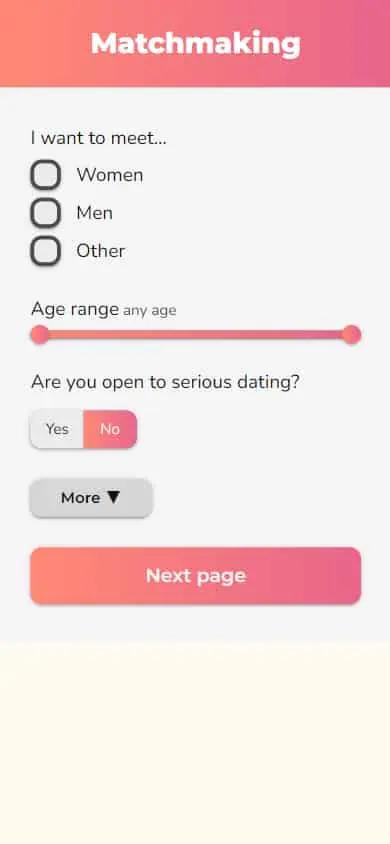 Here, you can select who you are interested in meeting on Flirtual–women, men, or both. Then toggle the age preference slider and answer "yes" or "no" to indicate your interest in a long-term relationship.
A drop-down menu listing your choices for relationship options will show after you select the "more" tab. Whether you're looking for a committed or polyamorous relationship is optional. This step can be skipped, or you can indicate if you're looking for monogamous or non-monogamous relationships.
To proceed to the next step, click the pink "Next" button.
Step 4: Enter Your Info and Tags
Enter your birthdate, gender, sexual orientation (optional), place of residence, language, VR setup, top five VR games, and VR experience, along with up to seven personal interest tags. At this juncture, you can decide whether to keep your location and sexual orientation hidden from other Flirtual users.
Then click "Next Page."
Step 5: Craft Your Dating Bio and Upload Profile Photos
Now that you have a display name, a VR avatar profile picture, a clever bio, and, if you have them, VRChat and Discord accounts, it's time to complete your dating profile! Once you have finished completing this section, click "Next Page."
Step 6: Take the Personality Assessment
The "Big 5" personality test is optional, but we strongly encourage taking it to ensure that Flirtual connects you with others who will be compatible with you–you can also decide who can view your personality traits too! Click "next page" to move on.
Step 7: Confirm Your Email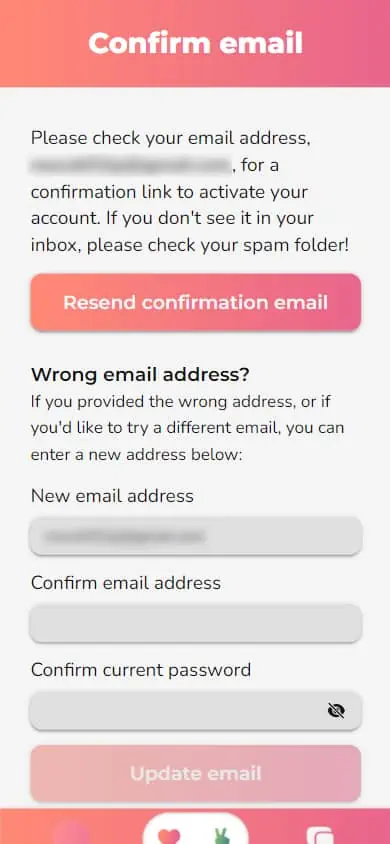 For a confirmation link to activate your brand-new Flirtual dating app account, check your inbox. When you click the link, a confirmation window will appear. Click "Confirm."
Step 8: Upgrade to a Premium Membership (optional) and Begin Browsing for Matches!
You finally have a live dating profile on the Flirtual dating app–have fun and be safe out there in the virtual reality singles scene!
How to Delete an Account
The only way to delete your Flirtual dating app account is to contact its customer service and request that your profile be deleted.
Customer Service
The customer service options at Flirtual consist of email (they were super quick in responding to us) and a "support" section on their website.
To get to the support section, go to the bottom of the homepage and click where it says "About," scroll down to the bottom of the page, and click "Support." That will open a box where you can type in your question, and it will search for answers and relative articles. If you don't find what you are looking for, click the "contact us" button to email (hello@studiopaprika.io).
Flirtual's Mobile App
If you own an Android device, you can download the Flirtual mobile app from the Google Play Store for free. Although a Flirtual app is not yet available for iOS users, the web-based version of the platform can be accessed and easily used on Safari.
App Features and Functionality
Since we are working with the website on a browser, we aren't quite sure how the mobile app runs. But we can report that it has the same features and functions as the Flirtual website, according to the reviews of mobile app users!
Compatibility
Except for iOS's Safari, the Flirtual dating app is incompatible with other mobile-based web browsers.
Frequently Asked Questions
We think that we have given you a good head start for everything you need to know if you are thinking about signing up for the Flirtual dating app. But just in case, we put together a list of the most frequently asked questions we have gotten from our readers about the VR dating app and virtual reality dating platforms.
Is the Flirtual Dating App Legit?
Yep! Flirtual is a totally legit dating app for creating romantic or platonic relationships in the virtual world–you can contact the company's owners and management of Flirtual, STUDIO PAPRIKA, INC., by emailing them at hello@studiopaprika.io!
Can Anyone Sign Up for the Flirtual Dating App?
Yes! Anyone can create a dating profile on the Flirtual dating app if they're at least 18 years old.
Is the Flirtual Dating App Free?
Unlike some of its dating app peers, the Flirtual dating app doesn't offer a traditional "free trial" period during which new users can take advantage of some premium features without paying anything. While you can utilize the freemium basic version, there will be limits regarding how far you can go in terms of finding compatible matches without paying for a premium membership.
How Much Do Flirtual Premium Subscriptions Cost?
The Flirtual dating app premium memberships costs and plans are as follows:
 
• Premium 1 month, $14.99 per month ($14.99 total)
• Premium 3 months, $9.99 per month ($29.99 total)
• Premium 6 months, $7.49 per month ($44.99 total)
• Lifetime Premium, $129.99 (total)
Does Flirtual Have a Mobile App?
While the Flirtual app is available for download on Android and Microsoft devices, there is currently no iOS version. If you use an iPhone, you can still use Flirtual by loading it in the Safari web browser.
Can You Message Other Members in the Flirtual Dating App?
Unfortunately, the Flirtual dating app does not support any type of messaging through the app–if you want to send a direct message to a potential match, you have to use either a VRChat or Discord account to interact with them.
What Exactly Are Flirtual Dating App' Events?'
Users of VRChat can hit up speed dating events hosted by Flirtual–this enables them to meet and interact with potential partners in five-minute rounds! There are ideas for conversation starters and discussion prompts available in each event space.
Are Flirtual Premium Memberships Set to Automatically Renew?
They are. At the end of each billing cycle, the monthly memberships and the Supporter plan renew automatically. If you want to switch off or disable the auto-renewal feature, contact Flirtual's customer care staff. 
FYI: Deleting your account or uninstalling the Flirtual dating app from your device or computer will NOT cancel your premium subscription!