FilipinoCupid is one of our top picks for the best Filipino dating sites of 2023! There are 3.5 million users in various nations across the globe who use the platform to find deep, meaningful connections with singles from the Philippines or who have Filipino heritage. FilipinoCupid also comes as a dedicated mobile app, so customers can meet Filipino singles on the go, all from the comfort and convenience of their mobile device!
---
---
Is FilipinoCupid Worth It?
That's what we'll find out in our 2023 FilipinoCupid review, where we'll lay out the best reasons for joining! Our assessment will also cover membership features and the cost of the twelve membership plans that the app provides prospective customers. If you're interested in joining FilipinoCupid today, follow the sign-up steps in the review to become a free member in 2 minutes or a premium member in around 15 minutes!
Our team has independently researched all products and services that we have listed on this page. If you sign up or purchase through our links, we may receive a commission. See how it works.
Introduction to FilipinoCupid
Are you looking for love with Filipino singles? Look no further than FilipinoCupid, one of the older (but highly effective) dating site offerings from Cupid Media. Let's take a deeper look into the site's history and unique approach to connecting online singles!
A Brief Overview of FilipinoCupid's History and Success
Since 2005, FilipinoCupid has grown to 3.5 million members worldwide. 46,000 registered members live in the US, making it the country with the most users on FilipinoCupid. There are many more women using the site than men (65% to 35%, to be exact). Most men using the site come from places like Australia, the United States, the United Kingdom, and other Western countries, while most women hail from none other than the Philippines.
There is some decent weekly activity on the site, with 20,000 dedicated members logging into and using their FilipinoCupid accounts each week! Ultimately, FilipinoCupid is a platform where men from Western nations are looking for long-term commitments and relationships with Filipino women. There are exceptions, but this is the most popular connection forged on the site.
FilipinoCupid's Unique Approach to Online Dating
FilipinoCupid is outfitted with helpful member features that bode well, gaining the attention and interest of singles using the app. Members can enjoy profile highlighting to stand out above the crowd, messages translators perfect for finding love internationally, and priority messaging that allows your messages to be placed at the top of selected singles' inboxes.
But the two keys to creating successful matches on the site come from the Cupid Media search filters and the profile set that allows free and premium members to include self-authored sections where they can talk more about themselves and their ideal match, personality questions, and a list of hobbies or interests.
Search filters include:
Gender
Location
Age
Educational background
Occupation
Smoking/drinking habits
Ethnicity
Children
Language spoken
Etc.
Profile Features include:
Basic profile information fields
An add-on section of hobbies or interests
Personality questions
An "About Me" section
A self-authored section describing your ideal match
A profile headline
Is Signing Up for FilipinoCupid Worth It?
FilipinoCupid might be worth the time, energy, and money if:
You're a man from a Western country looking for a Filipino woman to be your soulmate or marriage partner.
You're looking for love or romance with Filipino singles who share your heritage and cultural background.
You want to find Filipino singles near you or in foreign countries.
You're open to international dating opportunities.
Our Ratings
As usual, we've examined five significant categories for rating FilipinoCupid as an online dating app. We investigated a variety of criteria so we could come to a fair and honest rating: membership features, the overall ease of use, the matching process, the cost of membership, and how many active users there are on the app.
Once we pulled an average of the five critical rating categories, we came down to an official rating for FilipinoCupid: 3.9 out of 5!
Overall:

| Category | Score |
| --- | --- |
| Features | 4.3 |
| Ease of Use | 4.5 |
| Match Quality | 3.9 |
| Cost | 3.7 |
| Active User Base | 3.5 |
| Overall | 3.9 |
Plenty of people have used FilipinoCupid firsthand, experiencing a range of different outcomes. We checked out Trustpilot and SiteJabber for a mix of user experiences. To keep our FilipinoCupid review complete honest, and accurate, we viewed customer feedback from recent years that focuses on the good and bad sides of the site.
Trustpilot: 4/5 stars (based on 725 reviews)
SiteJabber: 1.5/5 stars (based on 167 reviews)
What We Like
You might be asking yourself this question right now. Knowing where FilipinoCupid's strengths and weaknesses lie is a suitable method for gauging if it's the dating app for you and your needs! And it's a common place to be when you're considering joining any online dating app or service.
Find Filipino Singles – This is one of the best dating apps for finding Filipino singles across the globe. There are 3.5 million members altogether, with 46,000 located in the US. You could be interested in an international dating experience or looking for Filipino singles near you. Either way, you can find Filipino relationships that fit you well, regardless of your location.
Meaningful, Committed Relationships – FilipinoCupid is a solid dating platform that's more adept at connecting singles with meaningful, long-term relationships and commitments in mind. FilipinoCupid is good for finding a soulmate or someone interested in being a marriage partner. There are some exceptions to this, but by and large, FilipinoCupid members are looking for some serious, committed, and long-term.
Top-Rated Matching System – Many dating apps play an active role in deciding their members' daily matches, but all the power lies in the hands of FilipinoCupid members. A simplified, efficient matching system is precisely what you'll find at FilipinoCupid. Customers can easily find eligible singles by setting their search filters according to their dating preferences and tastes. It's a great dating platform for those who are independent.
Variety of Subscriptions and Payment Options – This is a terrific dating app for those seeking flexible membership options that work well within a budget. FilipinoCupid has twelve subscriptions spread over three membership tiers with plans that last one week, one month, three months, or twelve months. Five payment options are available to cover the cost: Google Pay, credit cards, Skrill, bank transfers, and Paysafecard.
Easy Sign-Up – Registering for a new FilipinoCupid account might take 10 to 15 minutes. Members can have their face and bio information on the site and look for the right match in as little as 10 minutes! The steps are simple to follow, and new customers can set up a comprehensive, information-rich profile that gets decent views from singles on the app.
Intuitive Design – FilipinoCupid might be the perfect dating app for you if you're interested in using a platform that is easy to maneuver around. The website and the downloadable app are designed so that the formatting and ease of use are the same across both platforms. All the menus are laid out orderly, making them easy to access and use to the best effect.
What We Don't Like
You're Looking for a Large Dating Pool – Although there are 3.5 million users worldwide, FilipinoCupid only has 20,00 active members. This makes for a dating pool that's smaller than most. However, this shouldn't be a huge surprise as this is a niche dating app. You had the best look at other platforms to find a larger dating pool with more opportunities.
You Want Casual Dating or Romance – There are better places to find casual dates or romance. FilipinoCupid's more focused on serious, meaningful relationships. You should investigate another Filipino dating platform if you want short-term relationships or weekend dates.
Who Is FilipinoCupid Best For?
It's all in the name. FilipinoCupid is a dating site perfect for finding Filipino singles who are down for long-term, meaningful relationships or commitments. But there's more to the site than meets the eye. Let's take a closer look at FilipinoCupid to see what its members are like and what kind of relationships are possible!
Demographics and User Base
There are 3.5 million registered accounts worldwide, but there are only 46,000 that apply to the US. To knock the number down even further, only 20,000 of the 3.5 million profiles are active each week. It's still a decent dating pool of options, but most profiles found at FilipinoCupid are inactive, illegitimate, or non-viable leads in other nations worldwide.
| Fast Facts | Details |
| --- | --- |
| Best  For |  Developing meaningful relationships and finding true love with Filipino singles |
| Total Members | 3.5 million worldwide |
| US Members | 46,000 |
| Regular Users | 20,000 (Active Weekly) |
| Gender Distribution |  65% men to 35% women  |
| Average Age | 25-35 (women) and 35-55 (men) |
Relationship Types Best Served by FilipinoCupid
FilipinoCupid is a great dating site for finding the following kinds of relationships:
Serious dating or meaningful, long-term relationships with Filipino men or women
International dating experiences with Filipino singles
Profound relationships that lead to marriage or a long-lasting commitment with a Filipino single
FilipinoCupid is not so great for:
Casual dating or romance with Filipino singles
Singles who are uninterested in dating someone with a Filipino heritage or ethnic background
The FilipinoCupid Compatibility Matching System
We liked what we saw in the matchmaking process. The search filter settings provided by FilipinoCupid are easy to adjust and make for a quality, streamlined system for matchmaking. While personality testing can be helpful in many cases, we appreciate the simple process of matching offered here. The system is user-friendly, and the search parameters can be changed quickly.
How the Search Filters Work
Click on "Searches" along the main menu bar that spans the top of the FilipinoCupid homepage. Under this menu, you can see all the search parameters that help you find singles who fit your tastes and personal criteria.
Search categories include:
Basics: gender, location, age, etc.
Appearance: height/weight, BMI, body art, ethnicity, hair/eye color, etc.
Lifestyle: occupation, employment status, income, drinking/smoking habits, etc.
Background/Cultural Values: nationality, education, languages spoken, etc.
Once you've entered your search terms, click "Matches" to find out who aligns with your dating preferences and criteria. And remember, there are no limits on sending messages for premium members of FilipinoCupid. Contact free members and allow them the ability to receive, read, and respond to you. Or you can contact singles in other countries and use instant message translators (as a Diamond Tier member) for a seamless communication experience!
The Role of Quality Profiles in Matchmaking
The more you add to your profile, the more other singles on the FilipinoCupid site can learn about who you are and the type of relationship you seek. It's best to add as much detail as possible to your profile for other members to decide whether you'll be a match worth pursuing.
Include these parts to your profile for best results:
A Profile Headline: write something that sums up what you're all about, something that captures the viewer's attention.
"About Me": describe yourself in additional detail beyond your basic profile bio information.
Describe Your Perfect Match: this is another self-authored section where you can delve into what you're looking for in a partner and a relationship.
Add Personality Questions: add any of the twelve personality questions provided by FilipinoCupid to your profile with your answers.
Add Hobbies or Interests: FilipinoCupid also provides an expansive list of hobbies and interests that members can add to their profiles for more depth.
FilipinoCupid's Communication Features
To meet Filipino singles at home or abroad, you need some solid communication features to keep the conversation going or to overcome a possible language barrier. Check out what FilipinoCupid offers in terms of communication perks and benefits.
Unlimited Communication
Premium members of FilipinoCupid can send messages to anyone on the platform with no limitations whatsoever. Any matches or contacts you make on the site are someone you can send a message to, including free members. Premium members sending messages to free members allows the limited free user to receive and read the message and even send a reply! 
Instant Message Translation
For overseas relationships where your match might not speak your language, consider using instant message translators. They let you connect with singles regardless of the languages you speak. This feature only comes with a Diamond-Tier membership plan. 
Priority Messages
This is another feature that comes only to Diamond-Tier members. Priority messages allow Gold-Tier members' messages to appear at the top of the recipient's inbox (along with any other Gold-Tier member messages). This feature will let you get a leg up on Gold or Platinum-Tier members. 
FilipinoCupid's Membership Options
We appreciate the many paths to becoming a member and that customers are open to more than three or four subscription choices. There are many good options for becoming a member because FilipinoCupid has twelve subscription plans and five ways to pay! At FilipinoCupid, there's some excellent flexibility with how you can join the platform and cover the cost.
Free vs. Paid Memberships
Like all Cupid Media dating sites, FilipinoCupid has a free membership for new users, but it's not set up as most people would think. See exactly what we're talking about below as we break down the difference between old free membership formats and the ones used today by most modern dating sites.
Old Free Membership Formats
It used to be that new users could enjoy all membership features by providing their payment information upfront. They would have access to all perks and benefits that members enjoy for 3 to 7 days. If they didn't cancel their free membership before the time ended, new users' free memberships would upgrade to a paid membership, and they'd be charged the plan's cost.
FilipinoCupid Free Membership
Most dating apps today provide free memberships where new customers can experience a few member perks and benefits, but there's no need to provide payment. New users can register a new account, create a profile, and set their search parameters for free. Still, they need to upgrade to a membership to enjoy things like unlimited messaging, no ads, better search filter settings, and better placement on the site's search results (and many more).
Free Features
Register an Account
Create a Profile
Set Up Search Filters and Parameters
View Profiles and Photos
Basic Matching
Like Other Members' Profiles
Read and Respond to Paying Members' Messages
The FilipinoCupid free membership has limitations, making a premium membership much more desirable. But free membership is a great place to begin, to get your face and your bio information out there free of charge and to see what kind of singles you can find using the free membership's search filters.
Premium Membership Benefits and Pricing
Cupid Media dating apps are well noted for their variety of membership plans. FilipinoCupid is one platform offering twelve memberships for new customers!
There are three membership tiers with four plans of varying lengths for each tier. We'll break down each tier to show you the membership price and how long you can enjoy the perks and benefits!
Gold Plans
| Membership Plan | Cost Per Month | Total Cost |
| --- | --- | --- |
| 1 Week Membership | $25.48 (one week) | $25.48 |
| 1 Month Membership | $51.49 | $51.49 |
| 3 Month Membership | $33.49 | $100.48 |
| 12 Month Membership | $16.67 | $199.99 |
All Gold Tier memberships must be paid in full before customers can use the premium features and enjoy the benefits. The price must be paid at one time in one lump sum.
No payment plans or installments are available to help customers cover the cost of a Gold Tier membership.
The monthly cost of membership falls as the membership plan length increases. Customers who commit to more extended plans can enjoy these savings that grow over time.
Gold Tier plans come with the least features of all the paid membership plans (total of 6).
Platinum Plans
| Membership Plan | Cost Per Month | Total Cost |
| --- | --- | --- |
| 1 Week Membership | $30.48 (one week) | $30.48 |
| 1 Month Membership | $60.99 | $60.99 |
| 3 Month Membership | $39.99 | $119.98 |
| 12 Month Membership | $20.00 | $239.99 |
All Platinum Tier memberships must be paid at once before customers can begin enjoying their membership. There are no payment plans to cover membership costs.
It's cheaper over time to commit to a more extended membership plan than to renew a shorter plan repeatedly.
Platinum Tier memberships are the middle ground between Gold and Diamond, containing a decent number of features (total of 11), but only some are available.
Diamond Plans
| Membership Plan | Cost Per Month | Total Cost |
| --- | --- | --- |
| 1 Week Membership | $60.99 (one week) | $60.99 |
| 1 Month Membership | $111.98 | $111.98 |
| 3 Month Membership | $73.33 | $219.99 |
| 12 Month Membership | $36.67 | $439.99 |
Like all the other membership plans at FilipinoCupid, Diamond Tier memberships must be paid in full before members can enjoy the feature and benefits.
The exact savings that the longer memberships offer are also available for Diamond Tier members.
Diamond members experience every single feature and benefit that FilipinoCupid offers. Diamond members can take advantage of everything the app provides.
Which Features Come with Each Tier?
The chart below covers every feature that comes with a membership plan at FilipinoCupid, including a breakdown of which membership tier you need to be a part of to enjoy certain features. Gold is the first paid membership tier with fewer perks, but the Diamond tier is where customers can experience every feature and benefit that FilipinoCupid offers its customers.
| Features | Gold | Platinum | Diamond |
| --- | --- | --- | --- |
| Basic Matching | X | X | X |
| Like | X | X | X |
| Communicate with Paying Members | X | X | X |
| Unlock Messages | X | X | X |
| No Ads | X | X | X |
| Hide Profile and Photos | X | X | X |
| Double Your Profile Space | | X | X |
| Exclusive Search Filters | | X | X |
| Better Daily Matches | | X | X |
| Instant Message Translators | | X | X |
| Rank Above Gold Members | | X | X |
| Priority Messaging  | | | X |
| Rank Above Gold and Platinum | | | X |
| Profile Highlights | | | X |
| Premium Customer Service | | | X |
Discounts and Promotions
There are no currently advertised discounts or promotions at FilipinoCupid. Still, we did discover some hidden savings in our FilipinoCupid review, a few tricks to saving some cash that you might be interested in trying out. We looked closely at the membership plan list and found that longer membership plans offer a lower monthly cost rate. For those interested in using FilipinoCupid long-term, it's cheaper over time to commit to a longer membership straight away than to renew a shorter plan over and over again.
Auto-Renewal
Every membership plan at FilipinoCupid comes with an auto-renewal feature. It's to ensure uninterrupted service for paying customers who want to meet and connect with singles with no interruptions. Whenever a membership plan ends, it will automatically re-up, the customers being automatically charged the price for the exact plan they originally purchased. Features, perks, and benefits continue as usual, as if nothing happened.
Opt-Out of Auto-Renewal
You may have purchased a FilipinoCupid membership, and you only want to use it for the time you bought it. You must go into the "Billing" menu and turn the auto-renewal feature off. The plan will end, as well as all membership features and benefits. The plan will continue to its end date, but there's no chance of being charged automatically for a new plan.
If you fail to turn off the auto-renewal feature, your membership plan will re-up automatically.
Payment Options
There are many great membership plans available at FilipinoCupid, and there are multiple ways to pay as well! Any Cupid Media dating app gives its customers some of the best overall flexibility anywhere in the online dating market regarding the choice of memberships and payment methods.
Credit or Debit Cards
Google Pay
Paysafecard
Bank Transfer
Skrill (e-wallet)
Creating Your FilipinoCupid Profile
New users registering at any Cupid Media dating app can create a free profile and adjust their search filters after gaining access to the app. Registering a new account takes about 2 minutes, while the rest of the process might draw everything out to between 10 and 15 minutes.
Follow the instructions below to register your new FilipinoCupid account, create your profile, and adjust your search setting to find the ideal Filipino singles! And that's precisely what we've done! It's a fast, easy process that can be described in a few simple steps.
Step #1: Visit the Website
Head over to www.FilipinoCupid.com or click on the image above to begin registration. The FilipinoCupid homepage will have a red "View Singles Now" that you need to click on to get started.
Step #2: Register Your Account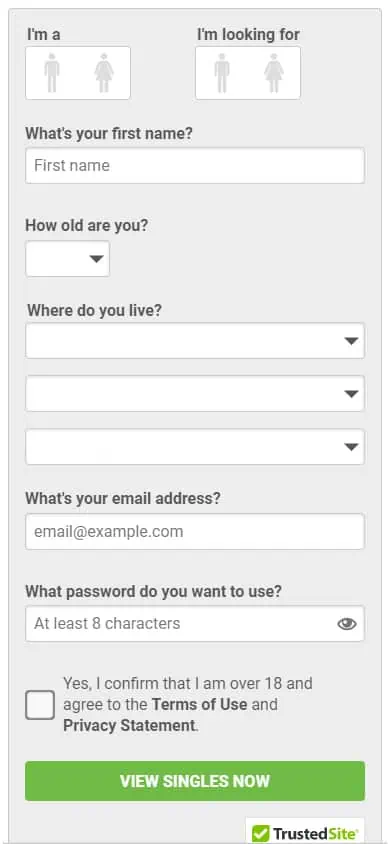 A small information box pops up when you click "View Singles Now." Filipino requires you to provide a first name for your profile, your gender, and the gender of the singles you want to meet, as well as your age and email address. Create a unique password for accessing your new account.
There's a small box that you can check which says you read and agree to the Terms of Use and the Privacy Statement. Click on "View Singles Now" to get to the next step.
Step #3: Add a Profile Photo
FilipinoCupid will prompt you to add a profile picture for your new account. You're not required to add one, but it makes for a more effective profile.
Photos – If you decide to add a profile photo later, click "Photos" on the drop-down menu that appears when you click on the icon containing your profile picture. Free users can add up to five photos to their free profile.
Step #4: Develop Your Profile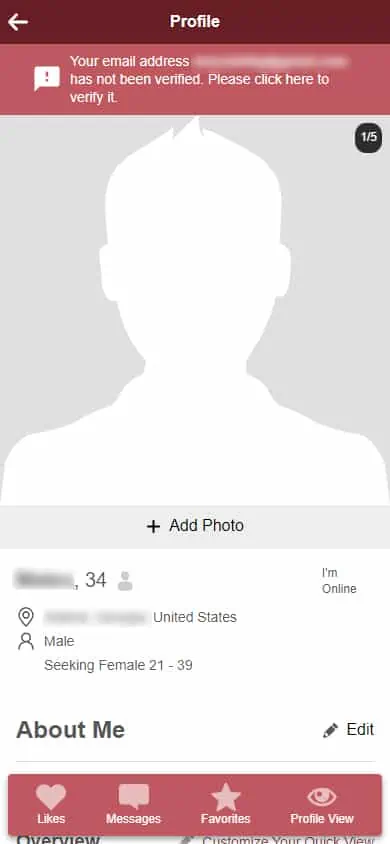 This next step will require you to click on a few different menus. Getting your profile set up and looking good is essential before you begin finding singles on the app. Click on "Edit Profile," which appears on the main menu that stretches across the top of the screen.
Edit Profile – Add bio information to your profile so other singles on the app can learn everything they need to know about you. Edit your profile with a ton of relevant information like your appearance, location, age, lifestyle, occupation, and many others.
View Profile – Anytime you edit your profile, you can click on "View Profile" to see how the changes display to other users. It's a convenient way to check your work and see how to better your profile.
Step #5: Enhance Your Profile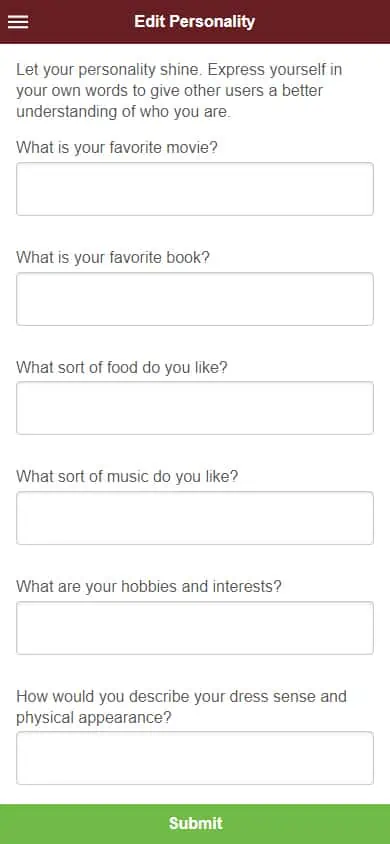 If you want your FilipinoCupid profile to stand out to other app members, you can add hobbies and interests and include personality profile questions and answers. Taking these small steps can make your profile extremely informative.
Hobbies and Interests – New users can add hobbies and interests to their profile by choosing from suggestions on the subject lists. You can add as many as you want! This is found under the "Hobbies and Interests" tab.
Edit Personality Profile – There are twelve personality questions that FilipinoCupid provides under the "Edit Personality Profile" tab. New users can give answers to as many of these questions as they want, and they will appear on their profile.
Step #6: Verify Your Profile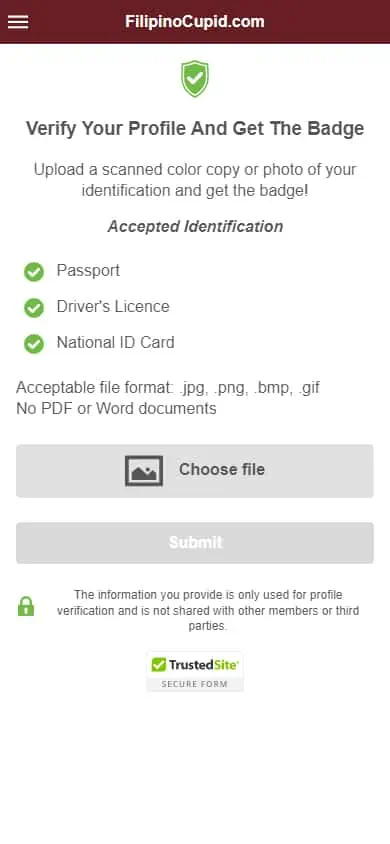 This is another optional step for those completing the registration process. But verifying your profile has plenty of long-term benefits to FilipinoCupid members. Completing this step brings legitimacy to your profile, considering plenty of illegitimate users creep their way onto the FilipinoCupid platform.
Newcomers signing up for an account can provide some form of ID (national ID card, passport, or driver's license) to FilipinoCupid so they can verify the authenticity of your profile photo.
Step #7: Adjust Your Search Parameters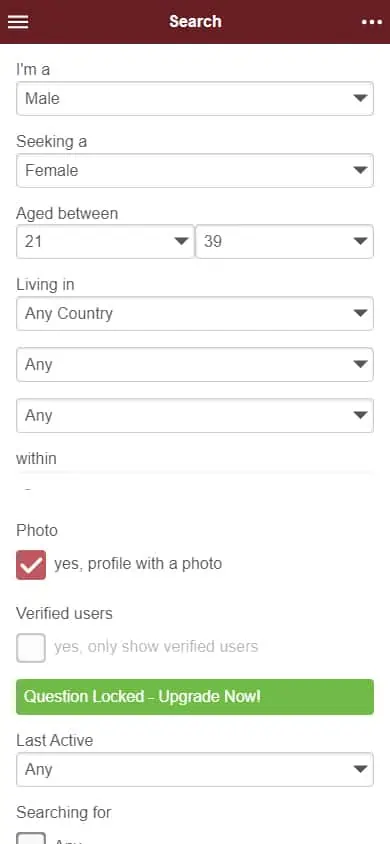 Adjust your search parameters under "Search." This is where you can set up your dating preferences and criteria for finding the singles you're interested in meeting. FilipinoCupid allows you to search along the lines of age, location, appearance, and other factors.
Step #8: Become a Premium Member
If you want to become a paying premium member, all you need to do is click on the green "Upgrade Membership" button to access all membership plans and payment options. Choose a subscription that works best for you and complete the payment process.
Step #9: Discover Great Matches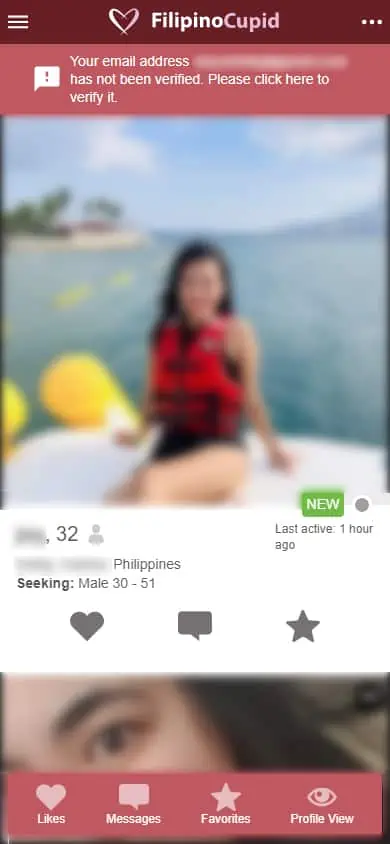 Click on the "Matches" tab, where you can discover any profiles that align with your dating preferences and search filter settings.
Matches – Free users can enjoy this function, but paying members have the luxury of accessing Mutual Matches and Reverse Matches. Mutuals are matches with singles who share your preferences and tastes with a companion. Reverse matches are singles with their search filters adjusted to the opposite settings as you.
Search – Click on the "Search" bar along the top menu to find where you set up your search filters and dating preferences. There are many factors that one can adjust their search to appearance, age, interests, beliefs, educational background, appearance, and others.
Messages – By clicking on "Messages," you can find all the messages you've sent to any singles at FilipinoCupid all in one place. There are a few options here. You have sections for messages received and messages sent. There's a dedicated section for messages sent by singles from your Favorites List.
Activity– Click on the "Activity" tab to access your favorite profiles, any of your liked profiles, and your entire list of blocked profiles (if you want to unblock those members).
How to Delete a FilipinoCupid Account
Are you looking to delete your FilipinoCupid profile and account? It only takes a few minutes to execute. Follow the instructions below to get started.
Select "Profile Settings" – Click on the gear cog icon in the upper right-hand corner of the screen. Select "Profile Settings."
Switch Off Profile – On the next page, click on the "Click Here" link at the bottom.
Delete or Deactivate Your Profile – You have the choice to deactivate your profile (temporarily disabling it for a time) or permanently delete it. If you choose to delete your FilipinoCupid profile completely, it will be gone for good (there's a 30-day grace period where you can reverse your decision), and you'd need to create a new account and profile to use the site again.
Once you've chosen an option, confirm your decision to finalize things.
FilipinoCupid Customer Service
Customer service at all Cupid Media dating sites is limited to an FAQ page and a help support ticket for messaging customer service when problems come up. Here's how it works and where you can find these tools.
Help Tab
By clicking on the "Help" button, you can access a customer help ticket. There are some suggestions for frequently asked questions as well as a search bar where you can ask questions on any subject concerning FilipinoCupid.
Contact Us
By clicking on "Contact Us," you'll find a generic contact form that comes prepared with your username and email address. You can use this tool to send messages directly to the FilipinoCupid customer service team.
There's no timeframe that FilipinoCupid gives its customers on how soon they can expect an answer from the support team. It depends on the nature of the problem and the membership tier the user belongs to.
FilipinoCupid's Mobile App
FilipinoCupid has a good dating app that's easy to navigate. All the features and functions available here are laid out clearly in the menus and tabs. The design is intuitive, and there's little guesswork in figuring out how to operate the app or where things are located. And the member profiles are information-rich and easy to view!
App Features and Functionality
You can experience the same features on the mobile app as you can on the website. The overall setup will be different as the app design is streamlined to work better on a smaller screen. The big difference is that each profile photo takes up most of the screen, and there's more scrolling involved to view all the singles that appear under "Matches."
But aside from this, it's the same site with the same menus and navigation. And anything different is super easy to adapt to and learn.
Compatibility
FilipinoCupid's mobile app can be downloaded for free at the App Store and Google Play. Even if you don't download the app, you can use your mobile device's web browser to access the site for a mobile dating experience.
App Store
Rated 4.6/5 stars
Based on 875 reviews
Free to download
Offers in-app purchases
Google Play
Rated 4.5/5 stars
Based on 26.5k reviews
Over 1 million downloads
Free to download
Offers in-app purchases
Frequently Asked Questions
Check out some of the most common questions from real customers and readers about FilipinoCupid. If there were anything we missed in our FilipinoCupid review, it should be addressed here in the FAQ section.
What Is FilipinoCupid?
This is an international dating app that is a part of the Cupid Media network on online dating sites. It's been in business since 2001 and caters to Filipino singles as well as singles who are interested in dating people with Filipino blood. It's not an international marriage broker.
Is FilipinoCupid Legit?
FilipinoCupid uses an encrypted connection to keep its customer's information completely private. It's all kept contained to the platform, never to be shared with third parties or online marketing. We've dug into this dating site's past, and we didn't find any instances where FilipinoCupid misused or mishandled any personal or financial information.
Can I Use FilipinoCupid for Free?
There are several free features that new users can enjoy without having to pay for a membership. Free FilipinoCupid users can register a new account, create a profile, and set up their search parameters to find the right singles on the app. However, you must become a paying member to enjoy the full features and benefits.
Are There International Dating Opportunities?
Yes. FilipinoCupid offers Platinum Tier members instant message translators for those dating singles in foreign countries to make messaging a breeze! There are 3.5 total members registered, and FilipinoCupid can be used in various countries worldwide. You don't even have to be Filipino to register an account. Users are in the Philippines, the United States, the UK, and Australia, as well as many other nations across the globe.
How Old Are FilipinoCupid Members?
It's a dating app that caters to an older clientele compared to other platforms of its kind. The typical member of FilipinoCupid is between 34 and 42 years of age. There are exceptions to this average age range, but you can expect most members to be in their 30s.
What Kind of Relationships Can I Find at FilipinoCupid?
Most people are interested in finding a marriage partner or true love with the help of FilipinoCupid. FilipinoCupid is known for facilitating serious, meaningful relationships based on commitment. It's not a dating app great for casual romance or low-key dating opportunities.
Do I Have to Verify My Account?
You don't have to, but it goes a long way with other members on the app looking for legitimate, authentic profiles that provide promising opportunities. Getting your account verified shows you're the genuine article, and FilipinoCupid even gives you a verification badge to prove that!
Is There a Mobile App for FilipinoCupid?
FilipinoCupid members can access the site with their mobile or desktop web browser, but its dedicated mobile app can be downloaded from Google Play or the App Store. We tried both methods of using FilipinoCupid, and we didn't notice any significant difference between using the site and the app. They work relatively the same if we're honest.
What's the Main Difference Between the Three Membership Tiers?
Each membership tier comes with a one-week, one-month, three-month, and twelve-month membership plan, but each tier has a different price. The higher membership tiers come with more features for customers to enjoy. But the higher you climb through the tiers, the steeper the cost to become a premium member.
Is FilipinoCupid Worth It?
If you want to develop serious, long-term relationships with Filipino singles, this dating app will be worth it! There are better platforms for seeking short-term relationships or casual dates.
How Long Does It Take to Sign-Up?
It should only take 10 to 15 minutes to complete all the official steps of the sign-up process for FilipinoCupid. Compared to other platforms, it's a typical sign-up timeframe. Several parts of the registration are optional, so that the time may vary from person to person.
How Does FilipinoCupid Create its Daily Matches?
The matchmaking process is based on each user's search filter settings and dating preferences. Matching can be done using interests, values, educational background, age, location, etc. Daily match suggestions are formed based on how someone sets up these parameters.