DominicanCupid is a fantastic dating app for finding Dominican singles, but it is especially popular with men from Western nations interested in meeting younger Dominican women from overseas. DC uses a simplified matching system for finding compatible connections between its singles and comes at various reasonable costs for members. Newcomers can find the perfect membership plan from a list of twelve!
Begin meeting Dominican singles online with the help of DominicanCupid! Our DominicanCupid review will show you the difference between the three membership tiers and which incredible features you'll discover at each. We'll review how much it costs to enjoy these perks and benefits and show you how easy it is to register a new account and create a free profile!
---
---

Our team has independently researched all products and services that we have listed on this page. If you sign up or purchase through our links, we may receive a commission. See how it works.
Overview of DominicanCupid
DominicanCupid Fast Facts​
Fact
Details

Site Name

Key Info

• Year Founded: 2006
• Best For: Those who want to fall in love and find meaningful relationships with Dominican singles

• Total Members: 400,000 worldwide (136,000 in the US)

• Gender Ratio:   55% men to 45% women

• Average Age: 33-42 years of age

Cost of Membership

DominicanCupid prices start at $11.25

Matchmaking Process

Advanced search filters

and dating preferences

Sign Up Time

10-15 minutes
How Did We Rate the App?
As usual, we've used our five-point criteria for rating the DominicanCupid dating app, examining membership features, cost, overall ease of use, daily matchmaking systems, and the number of active users. We drew an average based on the rating for each category to arrive at an overall rating of 3.8 out of 5 for the DominicanCupid site!
Overall:

| Category | Score |
| --- | --- |
| Features | 4.1 |
| Ease of Use | 4.3 |
| Match Quality | 3.9 |
| Cost | 4.5 |
| Active User Base | 3.2 |
| Overall | 3.8 |
Key Points from the Rating Process
Features – Many useful features on this dating platform are ideal for meeting and connecting with Dominican singles, including message translators and advanced search filters that help you track down singles who fit your tastes and dating preferences. Those who reach the top membership tier can enjoy between 15 and 20 features!
Usability – Using DominicanCupid or figuring out where the features and functions are located on the interface is relatively easy. It's an intuitive design that makes finding Dominican singles easy and fun. The sign-up process is simple, too, taking around 10 minutes. In that time, you can be registered and have a robust profile built up and ready to go!
Daily Matches – Good matchmaking is contingent upon two significant factors: the process itself and the size of the dating pool. We have no complaints about the process. It's easy to use and understand. It makes for a quick search that takes a lot of significant compatibility factors into account. But DominicanCupid isn't a large dating app in terms of its membership pool. So, the strength of the daily matches here isn't as strong as it could be.
Cost of Membership – DominicanCupid has pricing that's right down the middle, affordable but inexpensive. They don't offer payment plans to cover the membership cost, but twelve subscription choices allow customers some flexibility with the price. DominicanCupid lets its customers enjoy five payment options to cover the costs!
Active Members – This isn't the largest dating app out there. 400,000 registered accounts worldwide is already a small number, and it gets even scanter considering only 1,100 active members log in daily. You're dealing with a niche dating platform, after all. DominicanCupid's dating pool is wanting and only offers a few opportunities for members.
Is DominicanCupid Worth It?
When you know what DominicanCupid is well known for accomplishing for its members, you'll better understand if it's the right dating app for your needs!
There are far more good reasons for joining this DC than there are reasons to keep looking. However, the one reason not to join is a major one. We'll describe exactly what we mean below!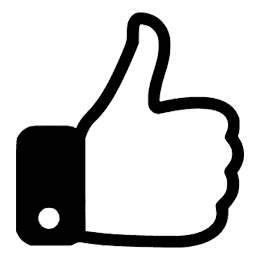 Reasons to Join
Find Dominican Singles – While the dating pool isn't the deepest one around, it's a decent dating app for finding singles who have a Dominican heritage or are from the Dominican Republic. There are international dating possibilities, but you can also find Dominican singles who live in your local or regional area.
Easy Registration – One of the convenient aspects of the Cupid Media dating apps is that new customers can access the platform first and then create their profile. The process takes 10 minutes, a little longer if you want to create a super informative, rich profile page. If you're going to spend less time signing up for a new account, DominicanCupid (or any of the Cupid Media sites) is a great place to call home.
Find True Love or Meaningful Relationships – Many singles who use DominicanCupid search for a soulmate, marriage partner, or a long-term, committed relationship. If you are interested in low-commitment dating or romance, there are better dating apps to hitch your wagon to.
Excellent Matchmaking – The simplicity and ease of use that comes with the matchmaking experience on DominicanCupid cannot be beaten. It only takes a few seconds to go into the search filters, change your preferences, and find all new profile results. These custom searches give all the daily matching power over to the paying customer and their tastes.
Various Membership Plans – Cupid Media dating sites are some of the best for folks working on a tight budget. Even though the membership features are stratified across three membership tiers, three sets of four subscription plans offer customers timeframes of one week, one month, three months, or twelve months to enjoy the app's service and benefits. There are twelve paths to becoming a premium member of DominicanCupid.
Ease of Use – Everything about this dating app is easy and one of the best reasons to join DominicanCupid. The sign-up process is quick. The search filters are easy to set. Finding singles that fit your dating preferences can be done in just a few minutes. And it's simple to find features and functions on DominicanCupid's user interface.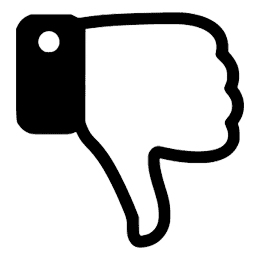 Reasons to Look Elsewhere
The Dating Pool Is Paltry – As many good features as there are at DominicanCupid, it's a dating site with a limited dating pool. Many Dominican singles can be found using the app, but the options are limited and spread worldwide. The daily matches could be better because many are far away.
Standard Membership Plan
Like all Cupid Media dating sites, DominicanCupid users can register a new account and create a free profile at no cost. They can also set and adjust their search filters and see which profiles come up that align with their dating preferences. To experience all membership features, Standard Plan users must upgrade to a premium membership.
Standard Membership Features
Here's a complete list of the features that free users can take advantage of before paying for a premium membership plan:
Register an Account
Create a Profile
Set Up Search Filters and Parameters
Basic Matching
Like Other Members' Profiles
Read and Respond to Paying Members' Messages
The free membership found at DominicanCupid is the perfect way to test the platform without committing to a membership plan. New users can get their profile photo and bio information into the market without paying a penny; they can even check out other profiles to see what kind of people they can meet and connect with on the app.
Membership Plans | How Much Does DominicanCupid Cost?
DominicanCupid has twelve subscription plans spread across three membership tiers. We're going to break down each of these plans in the charts below, but before we begin, there are some essential things to know about these plans that apply to each regardless of the membership tier.
What to Know
All membership plans need to be paid in one lump sum at one time before the new member can enjoy the benefits.
There are no payment plans available to cover the cost of membership. All subscription costs must be paid in full ahead of time.
All membership tiers have plans where the longer the subscription gets, the lower the monthly cost rate. It's a deal that DominicanCupid offers its members who commit to a lengthier membership plan to experience savings over time.
It's much more affordable to purchase a longer membership than to renew a shorter one repeatedly.
Gold Plans
| Membership Plan | Cost Per Month | Total Cost |
| --- | --- | --- |
| 1 Week Membership | $17.37 (one week) | $17.37 |
| 1 Month Membership | $34.74 | $34.74 |
| 3 Month Membership | $22.49 | $67.48 |
| 12 Month Membership | $11.25 | $134.99 |
Platinum Plans
| Membership Plan | Cost Per Month | Total Cost |
| --- | --- | --- |
| 1 Week Membership | $20.50 (one week) | $20.50 |
| 1 Month Membership | $40.99 | $40.99 |
| 3 Month Membership | $26.66 | $79.98 |
| 12 Month Membership | $14.17 | $169.99 |
Diamond Plans
| Membership Plan | Cost Per Month | Total Cost |
| --- | --- | --- |
| 1 Week Membership | $41.00 (one week) | $41.00 |
| 1 Month Membership | $81.98 | $81.98 |
| 3 Month Membership | $53.32 | $159.97 |
| 12 Month Membership | $28.33 | $339.98 |
Membership Features by Tier
You can enjoy better, more advanced features as you advance in the membership tiers (Gold to Diamond). As a Gold or Platinum member, any features you have had are maintained as you make your way to the Diamond Tier. They keep building up as you climb through the tiers.
Here's how everything breaks down within each membership tier:
| Features | Gold | Platinum | Diamond |
| --- | --- | --- | --- |
| Basic Matching | X | X | X |
| Like | X | X | X |
| Communicate with Paying Members | X | X | X |
| Unlock Messages | X | X | X |
| No Ads | X | X | X |
| Hide Profile and Photos | X | X | X |
| Double Your Profile Space | | X | X |
| Exclusive Search Filters | | X | X |
| Better Daily Matches | | X | X |
| Instant Message Translators | | X | X |
| Rank Above Gold Members | | X | X |
| Priority Messaging | | | X |
| Rank Above Gold and Platinum | | | X |
| Profile Highlights | | | X |
| Premium Customer Service | | | X |
Auto-Renewal
Each subscription plan is equipped with an auto-renewal function. At the end of each billing cycle, the membership will automatically re-up, which allows customers to experience zero interruptions in service and benefits. The subscription will continue as if nothing happened. It's a seamless experience, with the only difference being that you'll be charged the cost of a membership plan.
Turn Off Auto-Renewal

Some only want to experience DominicanCupid membership for the time they originally paid for. This can be done by shutting off the auto-renewal feature. Customers can go into "Billing" and switch the function off. When the next billing cycle comes, they can avoid being charged for another membership, and their service will cease.
Options to Pay
There are five ways to pay for your DominicanCupid membership plan. The plan must be paid in one lump sum using the five methods listed below. Keep in mind that there are no payment plans available.
Credit or Debit Cards
Google Pay
Paysafecard
Bank Transfer
Skrill (e-wallet)
Signing up with DominicanCupid​
For your convenience, we will walk you through the DominicanCupid sign-up process to show you how easy it is to become a free or paying member. Registration will take between 10 and 15 minutes, depending on how thorough you want to be in developing your online dating profile.
Follow the steps below to start registering your account, creating a profile, setting up your search filters, and even going as far as purchasing a premium membership!
Step #1: Visit the DominicanCupid Website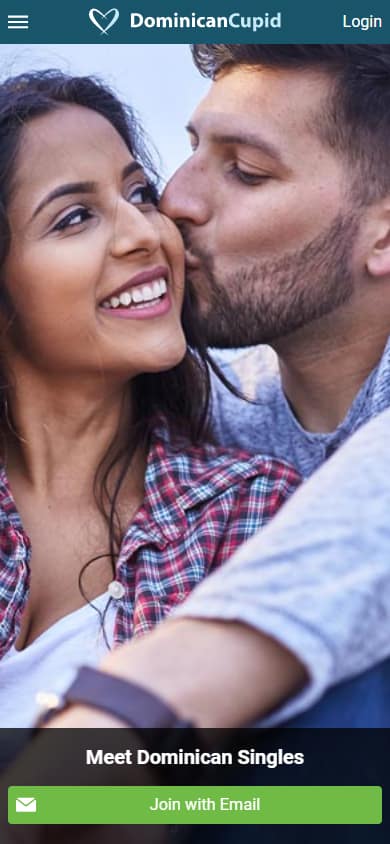 To begin the registration process, visit the DominicanCupid website: www.DominicanCupid.com. You can click on the image above to get there too.
You can download the mobile app from either Google Play or App Store, and the rest of the steps are the same.
Step #2: Begin Registering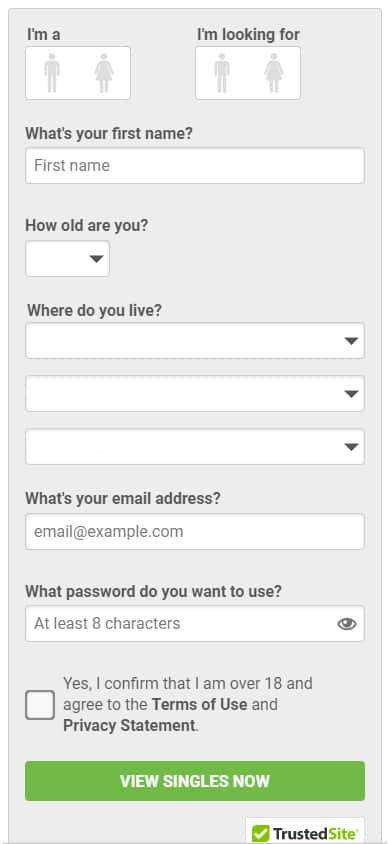 The first step is filling in your basic registration information. This includes the name of your profile, your gender, and the gender of the singles you're interested in meeting. Add your age and email address as well.
Create a unique password to access your DominicanCupid account and click on the little box that says you read the Terms of Use and the Privacy Policy. Then click on the blue button to continue to the site.
Step #3: Upload Profile Photos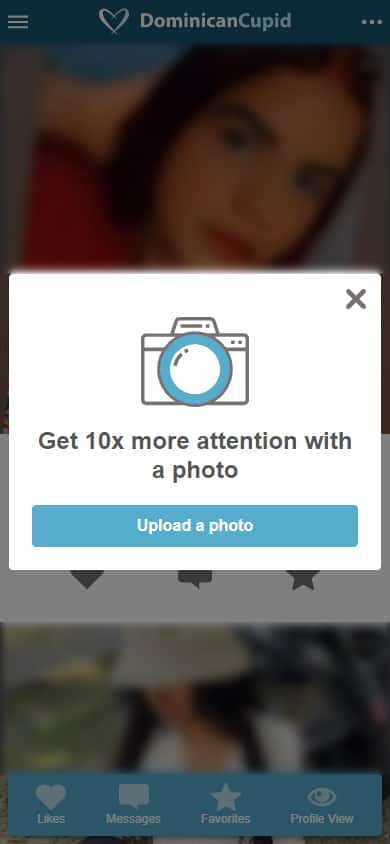 Profiles with photos posted get ten times the attention of profiles that don't. It's highly advised that you upload at least one image (free users can upload as many as five), but you can skip this point if you prefer not to.
You can also click on "Photos" if you decide to upload a clear, appropriate photo to your DominicanCupid profile later.
Note: At this point, you can access the DominicanCupid website. You can set your dating preferences or search parameters to find suitable profiles during this time. There's still work to be done on your profile, but DC gives its customers the luxury of access to the site even before their profiles are complete.
Step #4: Develop Your Profile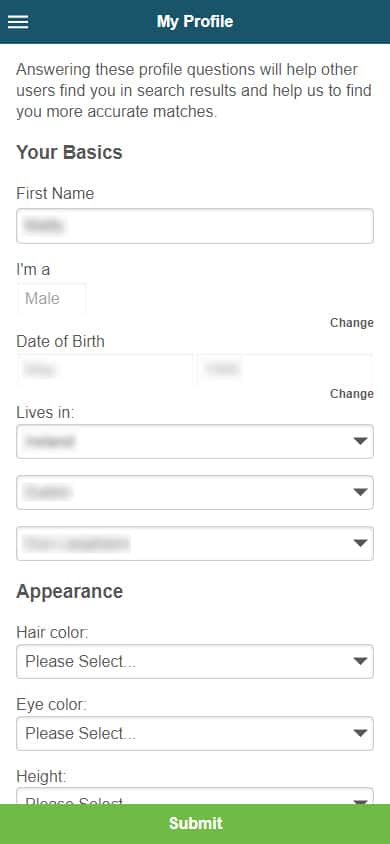 One of the keys to finding Dominican singles that are the perfect fit for your dating needs is developing a knockout profile that will get other peoples' attention. To begin this next step of the sign-up process, click on "Edit Profile." It's found under the icon with your profile picture
Edit Profile – Under this section, you can adjust your profile by including helpful information about your height and weight, lifestyle habits, living situation, and cultural background.
View Profile – Once you've made changes to your profile and it's edited right where you want it, click "View Profile" to see how the changes look to those viewing your profile on the app. It's a convenient way to check your progress.
Step #5: Additional Profile Information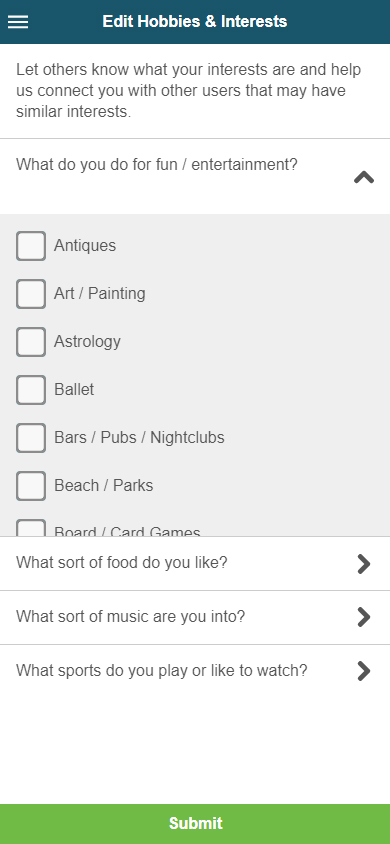 There's more information to include in your DominicanCupid profile that isn't found under "Edit Profile." You can find these options under the icon with your profile picture.
Hobbies and Interests – Add any relevant hobbies and interests to your profile by choosing from any options in the lists (seen in the image above). Adding this extra information can bring more depth and shade to your profile and help singles on the app learn more about what makes you unique.
Edit Personality Profile – Under the same profile picture icon, you can find "Edit Personality Profile," where there are several questions you can answer that will be featured on your profile page for other members to see. You can answer as many or as few as you want!
Step #6: Profile Verification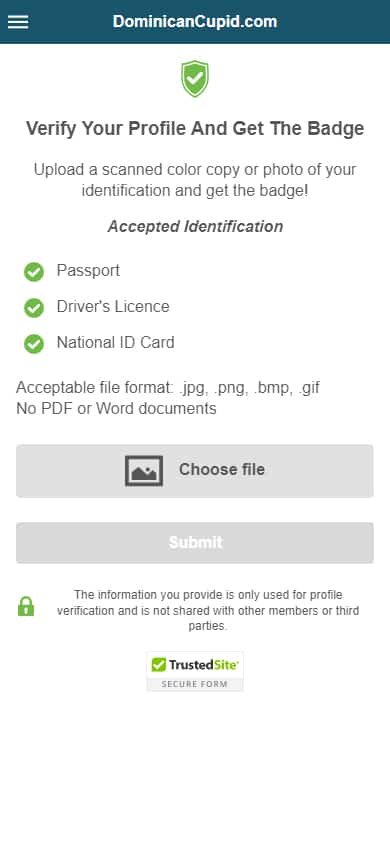 This is another optional step, but when that can do wonders in building trust with other members of the DominicanCupid app. Customers allow the app to verify their identity in exchange for a verification badge on their profile. This badge shows that all profile pictures posted are entirely legitimate.
Customers can have their identity verified by providing any of the following ID documents to DominicanCupid: Driver's License, Passport, and/or National ID Card.
Step #7: Adjust Your Search Parameters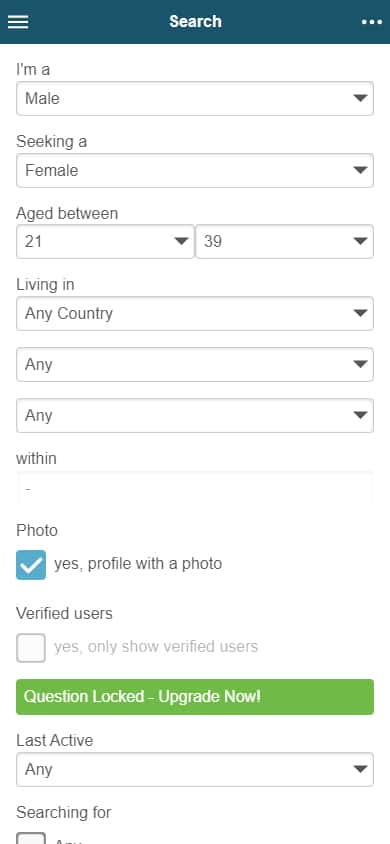 It's important to get your search parameters and filters to meet Dominican singles you're attracted to based on personality, age, and lifestyle choices. It's about more than looks! You're using DominicanCupid to find singles who fit all your dating specifications.
Once you've adjusted the filter, you can find plenty of profiles with promising dating opportunities.
Step #8: Become a Premium Member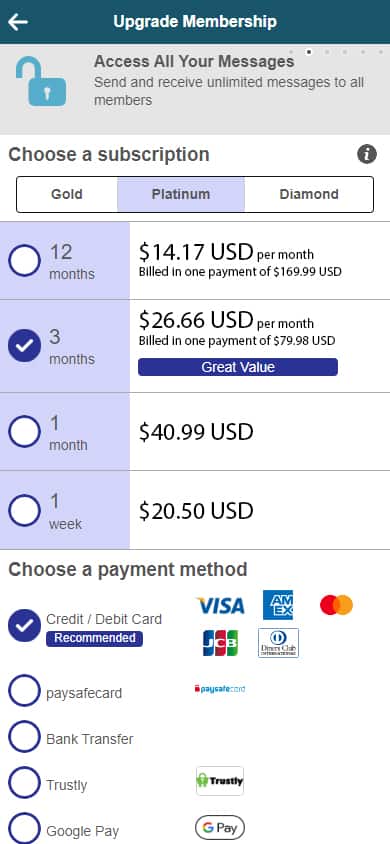 If you like what you've experienced at DominicanCupid, why not become a premium member with access to all the available features? Click the green "Upgrade Membership" button to view all the available membership plans and prices.
Choose a plan that's best suited to your needs. There's a tab at the top of the page to view Gold, Platinum, and Diamond Tier memberships, along with the features and price points. And then you're all set! Follow to instructions to finalize the purchase and proceed to checkout.
Customer Support
The customer service experience at DominicanCupid is about the same as any of the Cupid Media; it's limited, and there's only one method for directly contacting the support team: email. By and large, the customer service department consists of a comprehensive FAQ page. Let's look at how it all works.
Help – You can access customer service by clicking the "Help" option in the drop-down menu under the cog wheel icon. There's a search bar where you can type in questions you might have about DominicanCupid. Some suggestions appear in the main section of the FAQ as well.
Contact Us – By clicking "Contact Us," you'll find a prepared help ticket with your username and email address. You can use this ticket to directly submit questions, requests, or concerns to customer service. There's a section to include a description of your problem and any relevant file attachments that the support center might be interested in viewing. Click "Send" when you're finished. When you should expect a response is anyone's guess. There's no timeframe listed on when customer service will reply.
What Are People Saying About ColombianCupid?​
Even though this is our review of DominicanCupid, it can become tiring hearing just our voice telling you about the dating app. It's refreshing to hear someone else's perspective, especially those of real people who've used DominicanCupid for themselves. We've included positive and negative feedback from the app users to provide an accurate picture of what this Cupid Media site offers.
DominicanCupid Overall Scores​
Real customers and members of DominicanCupid have left recent feedback from their various experiences on the website at both Trustpilot and SiteJabber.
Trustpilot: 3.7/5 stars (based on 70 reviews)
SiteJabber: 2.23/5 stars (based on 14 reviews)
Reviews
DominicanCupid users have certainly had positive and negative experiences alike. We assess the site and take what users have reported with a grain of salt. We've found more negative feedback for online products and services posted to sites like Trustpilot or SiteJabber, so we're never quick to make a quick judgment.
Nonetheless, you probably want to know what other people are saying about DominicanCupid, so here you are:
"My experience with DominicanCupid was really hideous. I bite the bullet and kept on searching on some other platforms. My search was quite long but eventually I met my girlfriend on J4Date.com Anyway don't let DominicanCupid string you along. All they can offer you is tons of scammers who will sooner or later ask you for money. You can also meet some social misfits and drama queen who basically just take your time and give you a headache. Hands down, Dominicancupid is one of the worst dating sites ever."
Andreas Gamino – January 11, 2023 – Trustpilot Review
"well it is nice but i need to have more replying from the Ladies that are in DominicanCupid many of them responceing ' but i need to see their writing in a little bit more English ' i speak a little bit of spanish but not much thank you."
Olsen Williams – October 17, 2022 – Trustpilot Review
"It is the best dating site that I have ever used! I would log in and I would have no less than 10 messages from real beautiful Dominican women every day! I met my future wife on this website!"
Travis – September 5, 2021 – Trustpilot Review
"First off, I speak decent Spanish and I think that makes a difference. I think a lot of the scammer/golddigger (in the DR the word is "chapiadora") impression comes from the Dominican culture itself, no so much the website. The Dominican women expect their men to essentially give them money in order for them to date and have sex. Definitely a lot of chapiadoras on the site but I did travel and meet a beautiful girl 13 years younger than me and I stayed with her at her house and had sex with her. Not sure if it's gonna work out long term though."
Paul R. – September 3, 2021 – SiteJabber Review
"Only to those people that are really looking for something serious. It's not a scam. I met my wife two years ago and now I speak Spanish and I'm living in the Dominican Republic. I work in the states. I love going home. We also going different places and enjoying my life. So give it a chance. You will find a lot of women that want money and some that just want conversation. Give it time."
Antonio T. – April 19, 2021 – SiteJabber Review
"I've been one the site and travelled to the country many times and recently married my Dominican queen. It's true that 99% of the women will ask for money. But that's not the problem. The problem is distinguishing the difference between the good women who are really struggling and need help and the ones who are only running game. The struggle is real in many parts of DR. I've seen it with my own eyes. It's not a place to go looking for love if your not in a position to offer support. It's just a matter of choosing one who's legit and being ready to travel."
Cee D. – October 7, 2021 – SiteJabber Review
DominicanCupid FAQ
Check out some of the most common questions about DominicanCupid asked of us by real people: our readers and customers. This FAQ might illuminate some topics we have glossed over or completely missed in our DominicanCupid review.
What Is DominicanCupid?
This dating app was established in 2006 as a part of the Cupid Media group of dating sites. It's a platform for finding Dominican singles (typically, it's men from Western countries looking for Dominican women), but anyone can sign up for a new account.
Can I Trust DominicanCupid?
Customers can trust DominicanCupid with their private financial information because the site uses a secure, encrypted connection to keep everything confidential and safe. DominicanCupid vets all new members who join, but some illegitimate users enter the site. So, you can't always trust every profile on the site, so customers need to be wary of those they meet and connect with on the app.
Is DominicanCupid Free?
The DominicanCupid dating app can be used to a limited extent for free, but you need to become a premium member if you want to use the site without any limits. Standard Membership Plan users can register their accounts free of charge, create a profile, and set up their search filters to find singles that fit their online dating preferences.
What Are Members of DominicanCupid Like?
DominicanCupid members usually seek a long-term, meaningful relationship characterized by commitment. 55% of members are men, while 45% are women. Women are typically between 25 and 36, while men are between 35 and 49. For the most part, it's men from Western nations looking for relationships with Dominican women, but there are exceptions to this rule.
Is DominicanCupid Worth It?
There are many good reasons to join DominicanCupid, the most important of which is meeting Dominican singles. It's a good dating app when it comes to a variety of membership plans and a way to pay. DC has an intuitive interface that provides excellent ease of use. They also have some tremendous advanced search filters that generate decent daily matches.
What Kind of Filters Can I Use to Perform Match Searches?
Members can search based on location, appearance, cultural values, and lifestyle choices. Cultural value factors cover nationality, spoken language, and religious beliefs. Lifestyle choice options look into members' smoking or drinking habits, marital status, and children.
Does DominicanCupid Come with a Mobile App?
DominicanCupid can be used through the web browser on your mobile device or desktop computer, and it's available for download as an app from Google Play or the App Store. The app is set up like the website and functions much in the same fashion.
Is There a Way to Cancel My Account?
You can cancel your account, but it won't be immediate. You can cancel your account by clicking "Billing" and turning off the auto-renewal function. Your membership will continue until its end date, but it will only re-up automatically once done. Your plan can expire once it reaches the next billing cycle.
Is There Any Way to Communicate with Other Members for Free?
Standard Membership Plan members can receive, read, and respond to messages sent by paying members. This is the only way to communicate for free on the DominicanCupid dating app. Free members can also express their interest in their profile by sending likes or adding specific profiles to their Favorites List.
What Are the Best Features Available at DominicanCupid?
Some of the app's most helpful features for finding Dominican singles include instant message translators for international dating scenarios and advanced search filters that let you hone your search using more detailed criteria. Priority messaging, profile highlights, and ranking above other members allow higher-tier members to stand out better amongst the competition on the platform.
Can I Upload Photos for Free?
Standard Plan members can upload as many as five photos for free. Paying members to have the luxury of uploading more!
How Many People Are Using DominicanCupid?
There are 400,000 total profiles registered on the DominicanCupid dating app, with 136,000 in the US. We found there are only 1,100 daily logins, indicating that there are a lot of inactive profiles. Being a niche dating app, it will be much smaller than mainstream dating services, with fewer opportunities.