ColombianCupid has been connecting Colombian singles worldwide for many years, allowing couples to find love and romance from a handy mobile app. And you don't have to be Colombian or Latino to enjoy the app. They cover hundreds of countries, including the US, the UK, Australia, and Canada, an excellent source for exciting international dating experiences and relationship opportunities.
Our ColombianCupid review will break down the mobile app and website in detail. We'll discuss helpful membership features like message translation and unlimited communications that work well with long-distance overseas dating. And if you're amped to join this dynamic dating platform, check out our guide for registering a new account, whether a premium membership or a no cost plan! Discover how ColombianCupid comes at a reasonable price for all the awesome perks and benefits that come along the way.
---
---

Our team has independently researched all products and services that we have listed on this page. If you sign up or purchase through our links, we may receive a commission. See how it works.
Overview of ColombianCupid
ColombianCupid Fast Facts​
Fact
Details

Site Name

Key Info

• Year Founded: 2003
• Best For: Find Colombian singles who are interested in long-term, meaningful relationships & commitments
• Number of Active Members: 2 million worldwide (100,000 located in the US)
• Gender Ratio:   60% men to 40% women
• Average Age: 33-40 years of age

Cost of Membership

ColombianCupid prices start at $14.42

Sign Up Time

5-10 minutes
How Did We Rate the App?
For our ColombianCupid review, we performed our rating process, where we examined our five-point criteria. ColombianCupid gets a total rating of 8.8/10, an excellent choice for those who want to meet and connect with Colombian singles online!
Overall:

| Category | Score |
| --- | --- |
| Features | 4.2 |
| Ease of Use | 4.5 |
| Match Quality | 3.7 |
| Cost | 3.2 |
| Active User Base | 3.4 |
| Overall | 3.8 |
Pros and Cons of ColombianCupid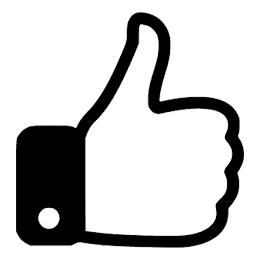 Reasons to Join
Date Colombian Singles – You want to meet Colombian singles, and that's precisely what you'll find on this app. More specifically, this is the ideal dating app for finding meaningful and compatible relationships with these singles, at home or overseas. This is the top reason to join ColombianCupid as a paying subscriber or even a free member.
Simple Searching Filters – One of the draws of the app is its use of simple search filters that are easy to set and adjust. ColombianCupid doesn't have any complicated personality testing or an advanced matching algorithm. The mechanism to search for singles who fit your criteria is simple and easy to understand. And you're always in complete control of your search.
Simple User Interface – If you like dating apps that are easy to use and don't bog you down with a complicated display, ColombianCupid will be a good fit! The user interface only takes about a minute to figure out. Everything is well-organized; you can adjust search filters in seconds, find appropriate singles quickly, and send or receive messages in an easy-to-use dashboard display.
Quick Sign-Up Process – Some dating apps allow you to spend 15 to 20 minutes or more registering your new account, creating a profile, or taking compatibility testing. ColombianCupid has no personality or compatibility testing, which already cuts down the registration time. But they also allow their users to access the app before they need to work off their profile or set up their search parameters. New users can have access to ColombianCupid in two minutes or less.
Robust Dating Profiles – These are some of the richest, most detailed online dating profiles we've seen while reviewing dating apps. When you scroll through a single profile, you've access to a wealth of information on the single you're viewing, everything from location, age, appearance, and educational background to religious beliefs, lifestyle choices, ethnic background, current employment, and current income. There are even options for members to state how many kids they have and what kind of pets they own. These profiles run the gamut.
A Bunch of Useful Features – Like all Cupid Media dating apps, ColombianCupid has more features than the average online dating platform. Remember that you need to be a member of the highest tier to enjoy every benefit the app offers. Still, anywhere from twelve to twenty features is a sign of the dating app that will deliver decent daily matches and tools to help you along in your online dating pursuits. Many of these features are stock, but they serve a useful purpose.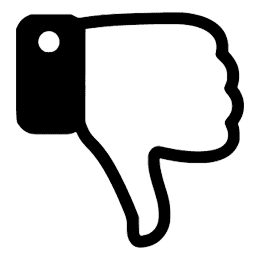 Reasons to Look Elsewhere
You Want to Find a Wide Variety of Users – ColombianCupid is evident in its mission; it's a dating app that caters to Colombian singles and those who want meaningful connections and relationships with Colombian men and women. Most people who use the platform will be Colombian, and the overall user base is relatively minor compared to other dating apps.
You're Looking for Casual Romance or Love – You can find these kinds of relationships using the app or the website, but most who use ColombianCupid are looking for serious, long-lasting relationships. Consider looking elsewhere if you're looking for casual dates or short flings.
You're an iOS User Who Wants a Mobile App – There's no mobile app available for download at the App Store, but iOS users can use the website by accessing it in their web browser.
How Much Does ColombianCupid Cost?
As with most Cupid Media dating apps, ColombianCupid's membership plans are broken up into three tiers: Gold, Platinum, and Diamond. The higher you climb through tiers, the more membership features you'll be able to enjoy. Within each tier are four plans that differ in length: one week, one month, three months, and 12 months.
Instead of trying to describe these subscription plans, we've laid them out in the charts below so you can get a better idea of what's available.
Gold Plans
| Membership Plan | Cost Per Month | Total Cost |
| --- | --- | --- |
| 1 Week Membership | $12.98 (one week) | $12.98 |
| 1 Month Membership | $43.49 | $43.49 |
| 3 Month Membership | $28.83 | $86.48 |
| 12 Month Membership | $14.42 | $172.99 |
All new users at ColombianCupid begin as free members, and they have a few membership features at their disposal. But the possibilities start opening with a paid membership plan. And this is where the Gold Plan comes in.
Gold Features
The first of the membership tiers, the Gold Plan, contains the least number of paid features. But free users can now enjoy a host of new abilities like unlimited communications and hiding their profile or photos from other members.
Unlimited communications
No ads
Unlock inbox messages
Hide your profile and photos
Special Discount
A sizeable discount that ColombianCupid offers its members is a lower monthly subscription price rate as the length of the plan increases. You can see in the chart above that as the total price goes up, the monthly cost drops. If you plan on using ColombianCupid long-term, you'll save a lot of money by committing to a more extended plan right off the bat.
For example, purchasing a 12-month plan costs $172.99. If you bought a 1-month plan and renewed it twelve times, you would pay $521.88. That's a savings of $348.89. The moral of the story is to carefully consider beforehand how long you could see yourself using the app so you can capture this discount.
Platinum Plans
| Membership Plan | Cost Per Month | Total Cost |
| --- | --- | --- |
| 1 Week Membership | $25.98 (one week) | $25.98 |
| 1 Month Membership | $51.99 | $51.99 |
| 3 Month Membership | $34.66 | $103.98 |
| 12 Month Membership | $17.50 | $209.99 |
The Platinum Plan is the next tier up from the Gold Plan. As is the case with any membership tier at ColombianCupid, there are the same savings to be had with Platinum plans, the monthly cost rate going lower as the total cost of membership rises.
Platinum Features
Members add on four new features when upgrading to Platinum from Gold, including better daily matches and better search results ranking (at least over Gold members).
Unlimited communications
No ads
Double profile space
Messages translator
Unlock inbox messages
Hide your profile and photos
Enhanced daily matching
Rank above Gold members
International Dating
We recommend the Platinum Plan to those dating internationally because this is the first of the paid memberships to have the message translator as a feature. If you're connecting with Colombian singles in another country and there's a language barrier, a Platinum membership is a must!
Diamond Plans
| Membership Plan | Cost Per Month | Total Cost |
| --- | --- | --- |
| 1 Week Membership | $51.99 (one week) | $51.99 |
| 1 Month Membership | $103.98 | $103.98 |
| 3 Month Membership | $69.33 | $207.99 |
| 12 Month Membership | $35.00 | $419.99 |
Diamond Plans are the highest tier of membership offered at ColombianCupid, where those upgrading from Platinum can add another four unique features to their arsenal.
Diamond Features
Unlimited communications
No ads
Double profile space
Messages translator
Priority messaging
Profile highlighting
Unlock inbox messages
Hide your profile and photos
Enhanced daily matching
Rank above Gold members
Rank over Platinum users
Premium customer service
Being a Gold member means that you're a true VIP at ColombianCupid. You get the best placement in the site's search results, your messages will appear at the top of recipients' inboxes regardless of when you sent them, and you have access to an enhanced customer support system.
Payment Options
All subscriptions need to be paid upfront, and in one lump sum before new members can begin enjoying the app's paid services and features. There are several ways to pay for a premium membership plan at ColombianCupid:
Credit or Debit Cards
Google Pay
Paysafecard
Bank Transfer
Skrill (e-wallet)
Auto-Renewal
All twelve premium memberships available at ColombianCupid will automatically renew once they've ended. Members will be charged automatically for the period stated in their original subscription, and a new plan will begin. It's a seamless transition that lets customers experience no interruptions in service, a handy feature to ensure no missed connections with potential matches.
Opt-Out of Auto-Renewal

Customers can opt out of auto-renewal at any time, so long as it's done two days before the membership ends. Go into your account settings and click on "Billing." You'll see an option called "Auto Renew My Membership?" Click "no" and click on "Switch Off Auto Rebilling."
If you're ready to experience everything ColombianCupid offers, sign up today for a Gold, Platinum, or Diamond membership plan!
Signing up with ColombianCupid​
The registration process will take 5 to 10 minutes to complete when you consider developing your profile, setting up the search filters, and paying for a premium membership plan. But gaining access to the ColombianCupid app itself takes less than a minute. You'll see why in the registration steps below!
Follow the step-by-step instructions below to get your ColombianCupid account and profile up and running in less than 10 minutes.
Step #1: Download the App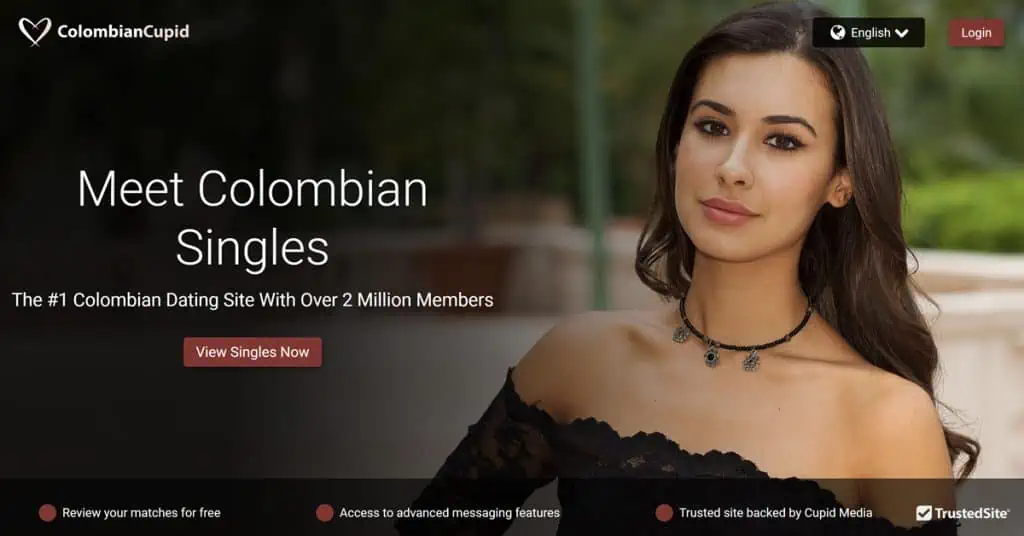 Go to ColombianCupid.com or click on the image to get started. Click on "View Singles Now" to begin the registration process.
Note: ColombianCupid has a mobile app available for download at Google Play. Anyone can enjoy ColombianCupid on the go! However, it doesn't matter what kind of device you have because the site can be accessed on any mobile device's web browser.
Step #2: Enter Basic Info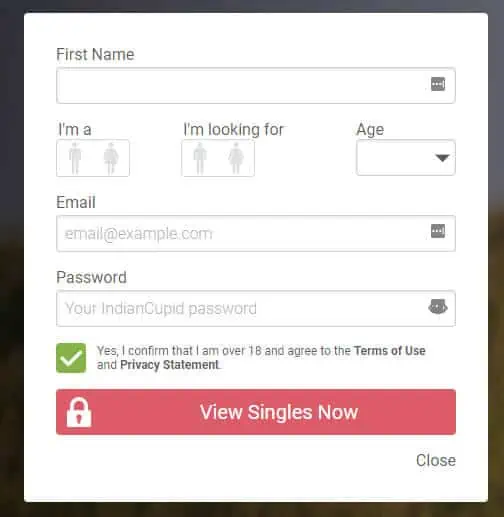 In this next step, include the name you want to appear on your profile, along with your age, gender, and the gender of the singles you're interested in meeting. Provide your email address (used for customer support and not spam) and generate a unique password for account access.
There are links to ColombianCupid's Terms of Service and Privacy Statements. You're not obligated to read them entirely, only to agree to them by checking the small box to the left. Click on "View Singles Now" to proceed to the next step.
Step #3: Your Profile Photo
The more photos you post to your ColombianCupid profile, the more legitimacy and transparency it brings to your account. Online singles are far more likely to interact with your profile if it has an excellent clear image of you!
You can upload photos of yourself from the files on your mobile device or desktop PC. You can upload as many as five to your new profile for free. Or you can opt out of performing this step by hitting "skip."
Note: At this stage of the registration process, you're free to roam the website. You can see how things work, find out where certain functions or features are located on the platform or begin reviewing profiles of Colombian singles. You can develop your profile and set up your search filters when convenient.
Step #4: Your ColombianCupid Profile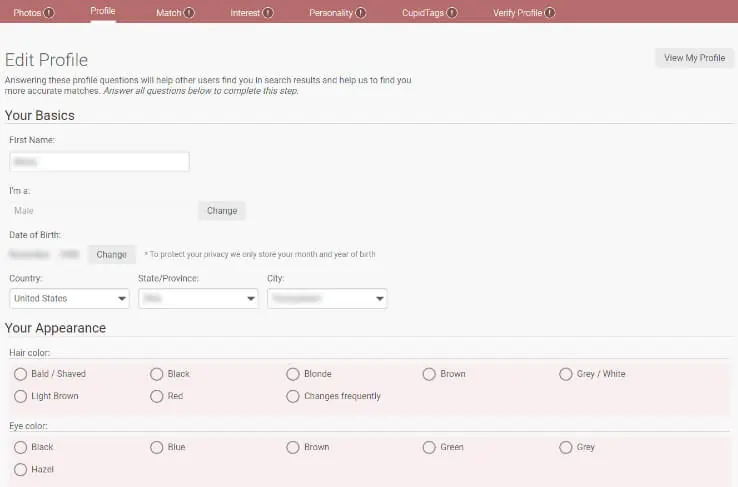 "View Profile" lets you see what your profile looks like following any changes you might have made. Click on the icon with your profile image and choose "Edit Profile" from the choices on the drop-down menu. You can begin working on your profile page whenever you're ready to do so.
The Basics – Your most important information is posted at the top of "Edit Profile." This is your username, location, age, and gender. They're all crucial factors in the matchmaking system on the app because other singles search using things like age and location.
Appearance – Honesty is always the best course of action on dating apps. Describe what you look like. Make sure it matches the profile picture you post to your account.
Lifestyle – In this section, you can describe your family or living situation. You can state whether you have any children or pets. You can list your occupation, employment status, and lifestyle choices like smoking or drinking habits.
Background and Cultural Values – List your level of education, nationality, and any religious practices or beliefs you may hold.
Self-Authored Bios – Create a profile headline to capture the attention of singles on the app. You can craft a small bio describing yourself in more detail as well. This last section also allows you to expand upon what you're looking for in a potential partner.
Step #5: Set Up Search Filters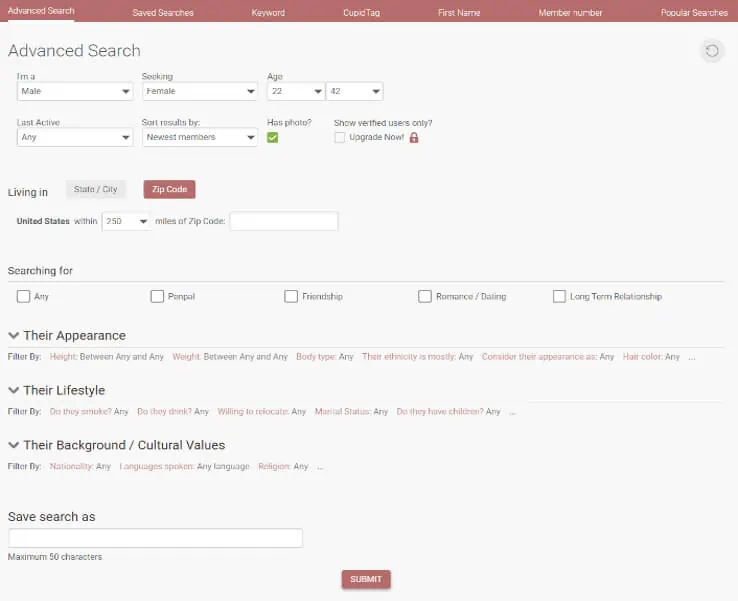 To find Colombian singles that fit your dating criteria to the T, you must set up your search filters and dating parameters. These can be found, surprisingly enough, under the "Search" button along the top menu. You want to click "Advanced Search" to access the app's primary search filters.
Most of the searching uses gender, location, and a specified age range. But users can lengthen the scope of the search by using lifestyle choices, appearance, and background factors like religious beliefs, nationality, or education.
Other ways to search include:
Saved Searches: past search criteria that you saved for another day
Keyword: any words like "curvy" or "educated."
Cupid Tag: keywords that ColombianCupid provides as profile descriptors
First Name: good to use if you want to meet someone with a specific name
Member Number: the number that every profile on the app is assigned
Popular Searches: the most common searches conducted by other members
Step #6: Become a Premium Member
The final step of the official sign-up process would be to become a premium member to enjoy the best features that ColombianCupid has to offer the public. You'll find a bright green "Upgrade Membership" button on the site's homepage. Click here to choose a membership plan that's right for you.
Across the top of this page, you will see the membership tiers: Gold, Platinum, or Diamond. We clicked on "Gold," and all the available membership plans populated the screen, complete with the cost per month and total price. There's even a rundown of all the payment methods they accept.
Once you've chosen the ideal membership plan for your needs, follow the rest of the instructions (providing payment information, checking out, and such) to complete.
Customer Service
When you're faced with a problem or issue, click on the "Help" button on the drop-down menu under the "gear cog" icon.
By and large, ColombianCupid's customer support consists of FAQs that force customers to troubleshoot problems independently. A small window will appear directly below, containing a search bar and some suggestions. Use the search bar to type in any questions or concerns. It will direct you to the appropriate answer.
However, you want a response from a real person working for ColombianCupid. In that case, your only option is to click on "Contact Us," which directs you to a contact form that already contains your username and email address.
Note: ColombianCupid never specifies how long it will be before you get a response email. It can change depending on the nature of the problem or the request.
What Are People Saying About ColombianCupid?​
In this section of our ColombianCupid review, we feature feedback and firsthand experiences from real people who have used the app to find Colombian singles. We did our best to capture a balance of positive and negative feedback to give you an accurate picture of the significant pros and cons of the dating app.
ColombianCupid Overall Scores​
We've consulted SiteJabber and Trustpilot for customer feedback. Many of these quotes are from last year or earlier this year to see how the dating app has been performing as of late. Both sites captured a decent cross-section of user experiences.
SiteJabber: 1.59/5 stars (based on 35 reviews)
Trustpilot: 3.8/5 stars (based on 99 reviews)
Reviews
We compiled a good mix of positive and negative user feedback. We typically find more negative feedback for these dating apps as people who have had a bad experience are far more likely to share their experience online. In the case of ColombianCupid, we also found a decent number of positive reviews
"My experience with Chemistry.com was horrible. Are used the app one day that signed up for six months and found that most of the profiles have no pets and no profile"Forget all of the other dating websites. This website is amazing, you will meet actual singles that you would never have had the chance to meet. The automatic Translator software that is built into the messages is a huge help". Horrible service. It's also the field with advertisement. It's not a user friendly. When I called two days later to get a refund they told me no because I used it one day on one person who seems to not be a real person. So before I went any further I'm trying to figure out how this works I just thought I'd would go ahead and cancel delete my file and get a refund."
Brian Beck – March 22, 2022 – Trustpilot Review
"There are some lovely women here. However, it's a very shallow woman whose beauty is all she has. Some women here post old pics of younger years, some show only half face, and some are so distant, it's impossible to view. Also, I set the age of women that I am interested in, but am bombarded by young girls, 30 and 40 years younger than me. I plainly state in my profile what I seek."
Mr. Leonard Watkins Jr. – October 6, 2022 – Trustpilot Review
"I'm using this site for a week now , and i can see all women there are a scamers girls sent me messages then the next day her account disappers !!!! even if we can say there are a real women there , all of them are a standard members even if u are a platinum member if u wrote them a message they wont be able to read it , cuz they have a standard membership they can't read messages or send messages , so i think they are not serious cuz they didn't buy for a membership or they are a scammers and fake profiles"
Eslam Solyman – April 7, 2022 – Trustpilot Review
"Wasted $ on CC and met my g/f on J4Dates.com within a couple of weeks of joining. Now that we live together I am the happiest man on Earth. But I remember how disappointed and frustrated I was when using ColombianCupid. This company is only busy with fooling men. Maybe they have a handful of actual people, but 99% are fake profiles. These con artists will tell you any kind of lie you want to hear and then ask you for money. ColombianCupid is definitely not a confidence builder. It's a money-making machine which exploits the vulnerable (especially in the pandemic and lockdown time). It's a lucrative business and 100% scam."
Nathan B. – January 6, 2023 – SiteJabber Review
"These women will use many tactics to gain your sympathy and keep you in chat for years! The truth is nobody wants to meet in real or switch to free messengers. I wish I knew it before I joined them and let them milk money from me. There are no real hot and naughty girls. Beware of ColombianCupid fakes and scammers! They do have some real women, but they are almost impossible to find among multitudes of scam artists, so it makes sense not to venture out and just stay away from them!"
Alain C. – May 12, 2022 – SiteJabber Review
"I had a premium membership for 3 months. The worst customer service I ever experience. You will be lucky if you get a replay and the replay is automatic replay. Secondly, quality of women is very shaky I will not recommend to anyone."
John E. – September 13, 2022 – SiteJabber Review
ColombianCupid FAQ
If there's anything else you want to know about ColombianCupid, you can find answers to your questions in our FAQ. These are common questions from real people, namely our customers and readers.
What Is ColombianCupid?
This is a dating app that caters to Colombian singles and those who are interested in dating or finding romance with Colombian singles. The app is available in over 100 countries, including the US, the UK, Canada, and Australia. You can also meet Colombian singles in places like Cartagena, Bogota, and Cali.
Is ColombianCupid Free?
New users can use ColombianCupid for free, but they can only use a few membership features without paying. Standard Membership users can create a profile, send "likes" to other members, get some basic daily matches, and respond to messages sent by paying customers.
How Much Does ColombianCupid Cost?
There are a whopping twelve membership plans available to those interested in joining ColombianCupid. They range anywhere from $14.42-103.98 per month. The Gold, Platinum, and Diamond membership tiers each have plans that cover one week, one month, three months, or twelve months. The cost of ColombianCupid depends on which plan you choose.
What Kind of Relationships Can I Find at ColombianCupid?
ColombianCupid is generally used for finding long-lasting, meaningful relationships with Colombian men and women. Many long-distance relationships develop on ColombianCupid, so those using the app are usually interested in building something that will last time. However, many singles also use the app for casual dating and romance.
How Long Does It Take to Sign Up?
The initial steps you must go through to gain access to the app take less than one minute. Once you've completed your ColombianCupid profile, set up your search parameters, and upgraded to a paid membership, the entire process might take between five and ten minutes.
Must I Be Colombian to Use ColombianCupid?
To use this app, you don't have to be Colombian, Latino, or living somewhere in Latin America. It's just a dating platform for finding Colombian singles. Anyone can use the app so long as they are 18 or older.
Does ColombianCupid Have a Message Translator?
ColombianCupid has a message translator feature that comes in handy for international dating and the language barriers that might come along the way.
Is There a ColombianCupid Mobile App?
There's a mobile app for ColombianCupid, but it's only available on Google Play for Android users. Despite no mobile app available for download at the App Store, iOS users can access the site using their web browser for a top-rate on-the-go dating experience.
Is ColombianCupid Safe?
ColombianCupid keeps its users' financial and personal information safe and secure using an encrypted connection. It's safe in that sense. But plenty of fake accounts appear on the site, so users must be cautious and carefully screen their matches or anyone they talk to and meet on the platform.