While it's no Christian Mingle or ChristianCafe, Christian Connection is a friendly little dating app for finding love and long-term commitment with Christian men or women. It was initially started in 2000 in the UK but has since expanded to many other countries worldwide, including the United States, Australia, New Zealand, and Canada. Christian Connection makes marriages or long-lasting relationships possible, and they cater to Christian singles from various church backgrounds and traditions.
---
---

Our team has independently researched all products and services that we have listed on this page. If you sign up or purchase through our links, we may receive a commission. See how it works.
Introduction to Christian Connection
Let's dive into this Christian Connection review with some background on the site and how it's grown and developed over the last twenty years. We'll talk about their unique approach to dating as well. And we'll answer the big question that might be on your mind: "Is signing up for Christian Connection worth it?" Right from the get-go, you can know if this dating app will suit your dating and relationship needs.
A Brief Overview of Christian Connection's History and Success
Christian Connection initially began as a dating app for Christians in the United Kingdom. They operated for about ten years before they began setting their sights on other international markets. The United States was added in 2012. And Christian Connection has since expanded its influence into other Western nations like Australia and Canada. The UK remains the site's largest market and reports the most success overall.
In 2023, Christian Connection has a little over 18,000 members who actively use the service every week. Most customers are between the ages of 32 and 40, with the bulk of users interested in pursuing relationships that are serious, meaningful, and based on faith. Christian Connection caters to many different denominations but also offers Christian-specific features like the Board Post and Blog sections that foster community among the platform's members.
Christian Connection's Unique Approach to Online Dating
Christian Connection is set up like many other Christian dating apps, so its approach to matchmaking is common, but a few things make it stand out among its peers. For instance, the free membership allows for a three-day window where new members can send five complimentary messages to prospective matches. There are also various places on the platform where Christian members can discuss faith and relationships with other members (the Board Post).
Christian Connection members search for matches using top-notch search filters that cover factors like:
Location
Distance
Age
Faith tradition
Relationship status
Ethnicity
Members can look for love with singles who share their religious beliefs or denominational backgrounds. As you can see, Christian Connection takes matching with someone with a similar religious background seriously! The "faith tradition" options include the following:
Anglican
Apostolic
Assembly of God
Baptist
Brethren
Calvinistic Baptist
Catholic
Catholic-Charismatic
Christian Reformed
Church of Christ
Church of God
Episcopalian
House Church
Lutheran
Mennonite
Messianic
Methodist
Missionary Alliance
Missionary Church
Nazarene
Non-denominational
Orthodox
Pentecostal-Charismatic
Presbyterian
Quaker
Reformed Baptist
Reformed Presbyterian
Salvation Army
7th Day Adventist
Southern Baptist
United
United Pentecostal Church
Christian Connection profiles are not set up for swiping. Once you've set your search terms, a wall of photos will populate with match results that align with your preferences. But you'll need to click on each one to view it in better detail. And then you have to back out to move on to another profile. What Christian Connection lacks in intuitive design, though, they more than make up for informative profiles that feature excellent self-authored sections.
Is Signing Up for Christian Connection Worth It?
The answer to this question will look different for every person. It depends on what kind of relationship you enjoy, your dating goals, and the quality of the singles you hope to meet. We can best sum things up with our top reasons to join or to look elsewhere.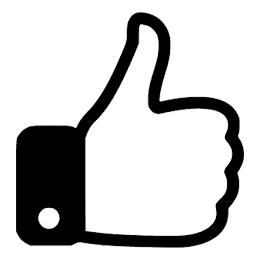 Reasons to Join
You live in the UK. This has always been Christian Connection's main stomping ground.
You're looking for a spouse or a forever partner. Over 100,000 Christian Connection members from the UK found their marriage partner using the service.
You want features that connect you with other members on a platonic level. Develop connections or friendships by posting blogs or reading board posts.
You're "older," roughly between 30 and 40. Most members fall into this age range, but some 20-somethings have had success too.
You want to find love or romance with someone who sees eye to eye on denominational beliefs and practices.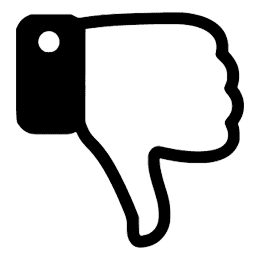 Reasons to Look Elsewhere
You're interested in swiping through profiles.
You want to have a casual date, enjoy a fling, or hookup.
You desire a large dating pool for a wide range of possibilities. There are only 18,000 active members worldwide, and they're spread out over various countries.
Our Ratings
Before going further into our Christian Connection review, let's show you how we rated the dating app during our time testing it out and becoming familiar with the service. Christian Connection comes in at 3.2 out of 5 stars. This means we recommend it for Christian singles looking for love, even if it needs more in the dating pool department.
Overall:

| Category | Score |
| --- | --- |
| Features | 3.2 |
| Ease of Use | 4.1 |
| Match Quality | 2.7 |
| Cost | 3.6 |
| Active User Base | 2.5 |
| Overall | 3.2 |
What We Like
Christian Connection has unlimited messaging and allows members to post personal blogs and chat on the board posts to develop non-romantic connections with other users.
The website and mobile app are easy to use and navigate. All the main functions are laid out in straightforward tabs and menus: upgrading to a premium membership or setting your search filters and editing your profile.
Christian Connection is a reasonably priced Christian dating service, ranging anywhere from $8-16 per month.
What We Don't Like
Because the site's largest market is the United Kingdom, many other markets (including the US) are prone to more lackluster results regarding matchmaking success.
The dating pool is tiny: 18,000 active members each week. There are fewer possibilities for matching compared to a place like Christian Mingle.
Who Is Christian Connection Best For?
Now let's see who's using Christian Connection. Examining the user base can determine what kind of people the site best serves. But right up front, this site is well-suited for singles with Christian beliefs and those who want to find a marriage partner or a Christian soulmate.
Demographics and User Base
Fast Facts
Details

User Base

All singles
(But preferrable Christians)

What Kind of Relationships?

Long-term relationship and commitments
(Marriage, soulmates, etc.)

Average Age

32-40
years

Active Members

18,000+

Gender Distribution

53% men to 47% women
Relationship Types Best Served by Christian Connection
Christian women will succeed more because more men signed up with Christian Connection than women. Most, if not all, members here are in heterosexual relationships.
Let's say it: Christian Connection is designed to help you find a Christian spouse. And serious dating that happens here is done with the intent of it leading to discovering your marriage partner.
The Christian Connection Compatibility Matching System
Fortunately, there's no long-drawn out personality or compatibility testing to become a member of Christian Connection. The matching done at this app is with search filters and good, informative profiles that capture the viewer's interest.
How the Compatibility Matching System Works
Click on the "Filters" tab above the photo wall. Use these to ensure that your matches are people you'd be interested in dating. Search terms include these factors:
Location
Distance
Age
Faith tradition
Relationship status
Ethnicity
The search filters are the main driver behind successful matching, but several supplemental aspects also help drive attractions and interest. Consider the personalized blog posts that members can create for anyone to see. These can be useful in helping you learn more about a potential match and reveal extra information beyond the confines of a simple profile page.
Then think about the profiles themselves with all the relevant bio information and a host of self-authored topics like faith, church priorities, inspirations, life/work, interests, or adjectives. Because so many Christian Connection profiles are self-written by members, you can learn a lot of specific information about the members you view.
The Role of Personality Assessments in Matchmaking
Again, Christian Connection doesn't require its members to take a personality test. They use the search filter settings and informative member profiles as the basis for their matchmaking. And you can learn a lot about someone's personality in a Christian Connection profile. All the super-specific information you find makes your matches come across as real people, not a stock dating profile.
Communication Features
Several communication features guarantee quick, quality connections between Christian Connection members. You can learn more about a potential love interest and do so knowing that everything is completely private and secure.
Unlimited Communication
Premium members can talk with anyone they meet on the website or mobile app. There's no mutual match required to unlock messaging abilities. Christian Connection even allows its members to use their emails to respond to messages sent on the platform. Other communication methods with your matches include unlimited "likes" and "waves."
Secure Messaging
All messaging systems use an encrypted connection to ensure all conversations are private. After digging into Christian Connection's history, we found no instances where private member information was used for marketing purposes.
3-Day Trial
It's worth noting that free members can enjoy five complimentary messages without having to pay during their first three days as new members of the app. While it's not a premium feature, it's still an incredible communication perk to help newer members get out there and establish new connections.
Christian Connection's Membership Options
As a member of Christian Connection, you can use the dating app for free or join as a paid subscriber. While the free membership has advantages, we highly recommend becoming a premium member to get the utmost enjoyment out of Christian Connection and use it for everything it's worth.
Free vs. Paid Memberships
The free membership allows you to use Christian Connection to a limited extent free of charge. You pay no membership fees, and you can establish yourself on the platform and enjoy a few complimentary features. But the biggest thing you miss out on as a free member is unlimited messaging with your matches.
Here's an idea of what you can use for free and what you must pay for at Christian Connection:
Free Features:
Create a profile
Use search filters to find matches
View profiles and photos
Get free text alerts
Add members to your Favorites List
Use privacy controls
Five free messages (during the first three days)
Paid Features:
Unlimited communications
See who's currently online
See who viewed your profile
Enhanced customer service
Reply to messages using your email
The most significant advantage to becoming a paid subscriber of Christian Connection is communicating with any matches you meet on the platform. You can only get so far with five free messages. Using Christian Connection long-term as a free member won't yield great results because messaging and communicating with your matches is disabled. You need to be a premium member to enjoy communicating with other singles.
Premium Membership Benefits and Pricing
Compared to other dating apps, Christian Connection is on the lower end regarding cost! You get a membership cost range of $8.00-16.00/month, which is nearly as cheap as some Tinder or Bumble subscription plans.
This is one of the better aspects of Christian Connection aside from its overall ease of use and simple design. You can join as a premium member for little money and gain access to some decent communication features and matching systems.
Discounts and Promotions
You won't find any overt promotions or discounts on Christian Connection memberships, but if you look at the price chart above, you can see that the monthly cost rate is much lower for the longer subscriptions. You can choose a longer subscription and save some money over time instead of re-upping shorter, more costly monthly memberships.
Creating Your Christian Connection Profile
It only takes around ten minutes to complete the entire sign-up process at Christian Connection. We found this one of the simpler registrations we've encountered in our reviews of dating apps. Follow the steps below to onboard as a free member so you can test out the service and then possibly upgrade to a premium membership plan.
Step 1: Enter Your Email to Start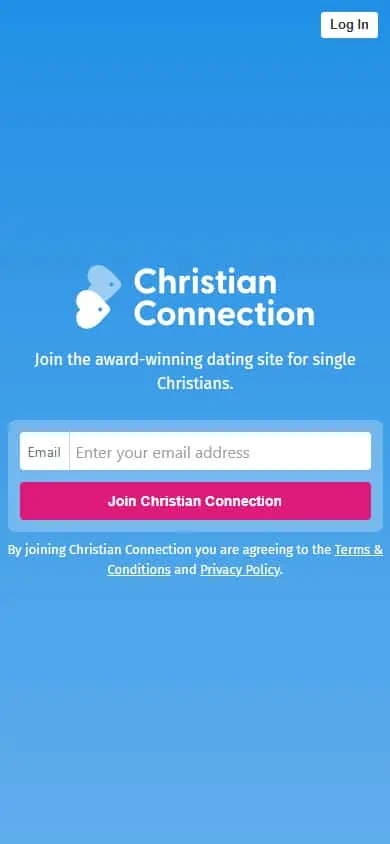 Visit www.ChristianConnection.com. Include your email address, then hit the "Join Christian Connection" button to continue.
Step 2: Input the Basics
This step is several steps combined into one. The first phase of signing up at this site involves answering fundamental questions about your gender, name, age, and the kind of relationship you want.
Step 3: Create a Unique Password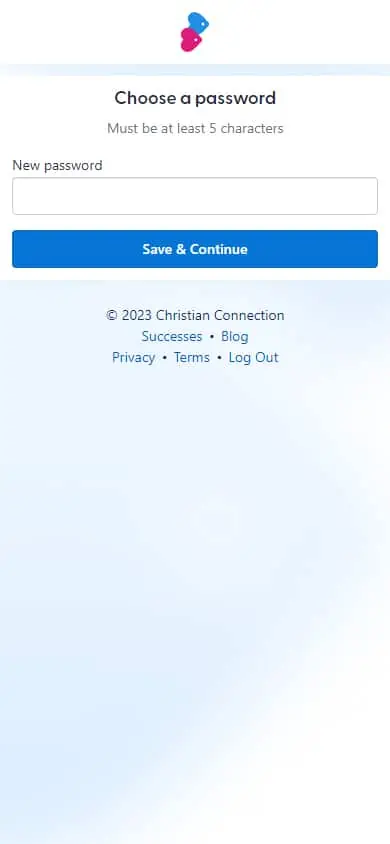 Create a unique password for accessing your new Christian Connection account.
Step 4: Enter Location, Denominational Beliefs, Etc.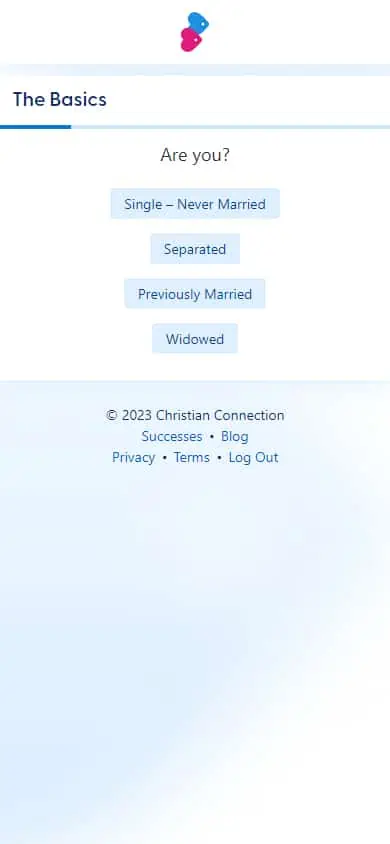 After creating your password, you'll continue to enter additional basics into your Christian Connection profile. There are many questions to answer but trust us; it doesn't take long to answer simple questions like these.
What area do you live in?
Marital status
Faith Tradition
Ethnic Background
Step 5: Add a Profile Photo
Upload a photo for your Christian Connection profile. You don't have to, though. You can skip this step and upload an image later. But we recommend including a photo so you can bring legitimacy to your profile. Online singles trust dating profiles with a real photo over those with a stock photo or none.
Step 6: Self-Authored Sections
The next phase of the sign-up process is describing yourself and your relationship goals at Christian Connection by putting your creative writing skills to the test. These profile sections are the heart and soul of Christian Connection, along with the Board Posts and personal blogs. They bring so much depth and character to each profile. You get to learn a lot about your matches.
Step 7: View Matches
Once you've completed all the sign-up steps and crafted the self-written sections of your profile, the next step is to set your search filters and find suitable matches who share your Christian faith and beliefs.
Click "Filters" to adjust your settings, and the results will appear on the photo wall below.
Step 8: Make Changes to Your Profile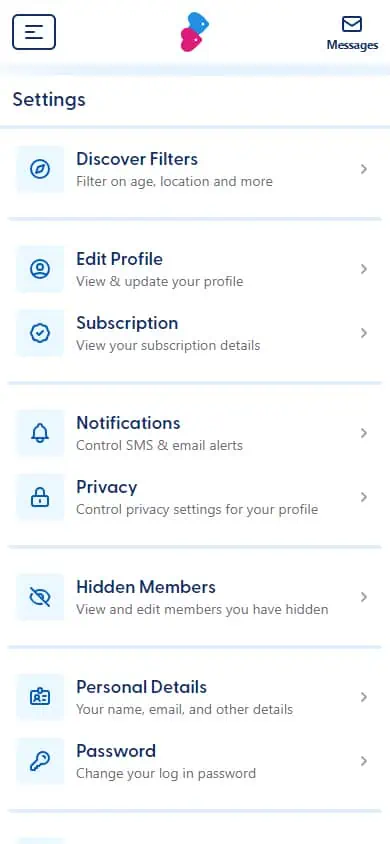 Part of becoming a free or paying member of Christian Connection is developing a profile that appeals to other Christian singles on the app. Click on the " You " icon and select "Profile and Settings" to access your profile page.
Here, you can also set your search filters, manage your subscription, or adjust your privacy controls.
Step 9: Become a Premium Subscriber
The last official step to signing up at Christian Connection would be committing to the paid membership plan.
The subscriptions are under the "You" tab and "Profile and Settings." It will be called "Subscriptions." Choose a plan that works for your needs and budget, input payment information, and begin enjoying the benefits of a paid membership!
How to Delete an Account
If you need to delete your Christian Connection account for any reason, the process is simple and quick. Follow the instructions below to wipe your account and profile so there's no trace that you were even there.
Step-by-Step Guide to Account Deletion
Click on "Close Your Account.
On the next page, choose why you're canceling your account.
Then click on "Yes, I understand. Close my account."
What Happens When You Close Your Account?
These are a few things to keep in mind when closing out your Christian Connection account permanently:
Your subscription will be canceled.
Other members will no longer be able to view your profile.
Other members will no longer be able to contact you.
You can reopen your account at any time by logging in with your usual details.
Customer Service
There's little to say about the customer service center at this site. All you need to know is that its extensive FAQ page lets you troubleshoot commonplace problems on the platform. There are specific categories with long lists of questions and answers. But there's also a search bar where you can type in your query.
As far as we could see in our Christian Connection review, there are no methods to raise customer service over the phone or email. If this changes, we'll be sure to update the information so you can know all available options when it comes to service and support.
Access the customer service center by clicking on the "You" tab and selecting "Help and Support."
Christian Connection's Mobile App
You can use Christian Connection on your computer or mobile device using the web browser, and they offer a dedicated mobile app for iOS and Android users. You could be using a smartphone or a tablet and still be meeting Christian singles all from the convenience of your pocket.
App Features and Functionality
For the most part, the website and mobile apps are configured the same way. The app design is slightly simplified for the smaller screens of smartphones and other devices, but the matching, browsing, and features are unaltered. This makes it easy to go from using Christian Connection on your desktop to a much smaller device without sacrificing quality!
Compatibility
Christian Connection is available for iOS and Android devices:
Google Play
Rated 3.5/5 stars
Based on 2.24k reviews
100k+ downloads
Free to download
Allows in-app purchases
App Store
Rated 3.8/5 stars
Based on 176 reviews
Free to download
Allows in-app purchases
Frequently Asked Questions
What are real people asking about Christian Connection? These are some of the most common questions we've gotten on the service from people looking to use it for the first time.
Is Christian Connection Worth the Money?
If you're a Christian and want to find someone who shares your love of God and Christian principles, Christian Connection will be worth the money. Those residing in the UK will see an excellent return for what they paid because this is the site's primary market. The United Kingdom has reported the best success with the app and website.
Is Christian Connection Free?
While the Christian Connection free membership is, by and large, based on the freemium model (access to a small handful of free features at no cost), there's a bit more to it that makes it stand out from other free trials at other Christian dating apps. New members can send five free messages in the first three days of their free trial. This is not the case with many free trials, as messaging is typically prohibited unless you're a paying member.
How Long Does It Take to Become a Member?
The sign-up process only takes around ten minutes to complete. You must answer several fundamental questions initially, but then you must also develop your profile, upload photos, select a membership plan, and enter payment information.
What's the Matching System Like at Christian Connection?
This dating app lets its members be responsible for their matches by offering search filters that break down your search using factors like location, age, distance, ethnicity, and, of course, faith.
What Denominations Are Using Christian Connection?
For any denomination or sect of Christianity that you can think of, Christian Connection most likely offers search terms for finding it. There's a list of over 30 denominations that come as a part of the Discovery Filters, so there's a good chance you'll meet someone from the same faith.
Does Christian Connection Have a Mobile App?
Yes, there's a downloadable app available at the App Store and Google Play. But you don't have to use the app to enjoy Christian Connection on your smartphone or mobile device. You can also visit the site using your web browser and a good internet connection. With Christian Connection, you have choices.
What Countries Does Christian Connection Serve?
Christian Connection was established in the UK in 2000, and this remains their primary market. However, the site can also be used in the United States, Canada, Australia, New Zealand, Hong Kong, Singapore, and Ireland.
How Many People Use Christian Connection?
There are over 18,000 dedicated members who use the app every week. The biggest market has always been the United Kingdom, but the site has made significant strides in places like the US, Canada, Australia, and others.