The Boo dating app takes a fresh approach to matching up its users, allowing them to meet and create connections with people from various walks of life. Its sophisticated profile-building and matching algorithms rely on the Myers-Briggs Type Indicator (MBTI) tests, and the company behind the program claims this is what gives its customers a really unique experience.
But does it live up to its MBTI compatibility matching claims? In our in-depth review of the Boo dating app for 2023, we explore the features, pricing, and functionality that set it apart from the competition and weigh its upsides and downsides.
---
---

Our team has independently researched all products and services that we have listed on this page. If you sign up or purchase through our links, we may receive a commission. See how it works.
Introduction to the Boo Dating App
Because it assesses a user's personality, preferences, and characteristics—including their astrological sign, compatibility, and interests—Boo is one of the most engaging dating apps. On Boo, members can meet appealing singles from multiple walks of life, have engaging chats, and find potential romantic partners!
A Brief Overview of Boo's History and Success
Current dating apps are unproductive, in Boo's opinion, since they enable you to meet more people but not necessarily the right people, leading to an increased probability of going on disappointing dates.
That's why they made Boo, after all. The founders had grown weary of hearing about their friends' painful breakups, seeing them settle for partners whose values were not compatible with their own, witnessing their struggle to find common ground in a partnership where their differences outweighed their openness to compromise, and worrying that they wouldn't be accepted for who they truly are. Boo believes it is high time for singles wanting to connect to have a dating app that represents how far we've come in our understanding of attraction thanks to developments in technology and personality study.
Boo's Unique Approach to Online Dating
"Boo is for connecting with compatible and like-minded souls. Date, chat, match, make friends, and meet new people by personality. We're your tour guide through the strange landscape of another's heart and mind. We use personality psychology to help you find dates and friends that'll effortlessly love, appreciate, and understand you for who you naturally are," reads Boo's homepage. "Find your soulmate or your best friend."
Even though Boo will suggest users that you are bound to click with, it is ultimately up to you to decide who you want to match with, regardless of whether or not they fit the MBTI compatibility profile.
Is Signing Up for Boo Worth It?
We say it is totally worth it if you are in the market for a dating app that's a little bit different and a lot more personalized. If so, the one we recommend is the Boo dating app, which first analyzes your MBTI type of personality before showing you compatible matches.
Our Ratings
Our reviews will always be comprehensive and objective because we include factors like the total number of users, the cost of premium paid memberships, the success of the matchmaking system as a whole, and the features and perks offered to members.
We suggest taking a peek at the Boo dating app, which receives a prestigious rating of 4.2 out of 5 stars if you've been looking for a psychology-centric dating app to help you meet "the one" based on the famous MBTI personality assessment.
Overall:

| Category | Score |
| --- | --- |
| Features | 4.0 |
| Ease of Use | 4.0 |
| Match Quality | 4.5 |
| Cost | 4.5 |
| Active User Base | 4.0 |
| Overall | 4.2 |
What We Like
There are a lot of great things to say about the Boo dating app, but the following are the things that we really liked about the platform!
Diverse and Inclusive Community – The Boo dating app encourages a positive, diverse atmosphere by offering a platform that values diversity and welcomes users searching for both love and casual connections.
Utilizes the Myers-Briggs Type Indicator to Match Members – The use of the MBTI method of matching singles highlights the importance of different types of personalities in creating genuine romantic relationships.
Learn and Practice New Languages – The software's built-in translation tool and language-learning features make it simple to translate across many languages–b removing the obstacles of language barriers; this feature allows users to connect with people who come from various walks of life.
Dating Profile Verification – Boo's verified account option screens out fake profiles so users can zero in on the real ones! As a result of this function, the platform is able to guarantee that its members will only come into contact with just a handful of automated or fake profiles.
What We Don't Like
And while we predict great things and romantic success stories from the Boo dating app, there were a few things that we feel could use some improvement to make it even better for members.
There Is a Time Limit for Responses – Because of the three-day window to acknowledge a message or "like," users who don't check the app regularly risk missing out on potential matches and relationships.
Limited Number of Local Matches – Some Boo users have complained that there aren't many compatible local matches, which isn't a problem if you're looking for a long-distance romantic connection or friend, but not so great if you're looking for someone to go on a date with tonight or in the very near future.
The Dating App Can Be Buggy – Several users have complained that the Boo dating app is full of glitches and other tech issues, particularly with its matching mechanism.
Not For Casual Daters – Boo is not the dating app for you if you're searching for a casual encounter or hookup. All those looking for a quick fling or a one-night stand ought to try Tinder because, on the Boo dating app, they are focused on creating more substantive relationships between people based on their individual personality types.
Who Is Boo Dating App Best For?
Boo is a cutting-edge dating software that recognizes the value of individual differences in laying the groundwork for meaningful encounters–it's also a social network that welcomes people of all sexual orientations, gender identities, and gender expressions so that its users can find friends, explore distinct personality characteristics, and have genuine chats with people who understand and share their interests.
It's best for those seeking genuine compatibility and romantic connections within an inclusive and welcoming dating app.
Demographics and User Base
Boo clocks in with over 1 million members, and they fall between the ages of 17-32. Unfortunately, we don't have exact data on the gender ratio on the dating app as of now–we can't tell you what percentage of the members are male and female.
Relationship Types Best Served by Boo Dating App
Boo is a dating app focused on helping users discover meaningful connections rooted in personality compatibility. If you're seeking a committed, long-term relationship, joining Boo is a great choice. And if you are searching for something casual and short-term, although we aren't saying this is out of the question on Boo, it's definitely not geared toward the love 'em and leave 'em crowd, if you catch our drift.
Boo's Compatibility Matching System
The matchmaking algorithms on the Boo dating app are driven mainly by personality frameworks, specifically drawing from the work of Jungian psychology and the Big Five (OCEAN) model. Personality types are utilized to facilitate a better understanding of oneself and others–they provide insights into how we think, our strengths, weaknesses, and how we see the world.
How the Compatibility Matching System Works
Boo employs the MBTI 16 personality type framework in conjunction with an advanced matching algorithm in order to evaluate a user's traits and determine which ones, whether similar or opposing, are most likely to spark romantic attraction between users.
The Role of Personality Assessments in Matchmaking
The Myers-Briggs Type Indicator (MBTI) is a psychological framework that divides people into 16 distinct types–it gives a rationale for how individual differences in perceptual processes give rise to distinctive personalities. The Swiss psychiatrist Carl Jung considered the discipline's "father," inspired this.
Since MBTI is considered the end-all-be-all of personality assessments, it stands to reason that it is highly effective in matching up compatible people! Using well-established personality tests as a foundation, Boo not only explains your preferences but also provides unique features like personalized suggestions that map out the steps to finding your soul mate.
Communication Features
The Boo dating app provides all the necessary tools for users to communicate with one another; most of these tools can be accessed while browsing a user's dating profile or via shortcuts in the interface's bottom bar.
Boo dating app members can also post and interact with one another on an active social public forum–they can like and comment on someone else's post and bookmark something that interests them to revisit later on!
Guided Communication
The profile-viewing process works much like that of Tinder–you'll see a person's profile picture at first, along with a "like" or "pass" option.
But the Boo dating app ditches the traditional 'swipe to like' idea–it encourages users to promptly send a message if they like another user's profile or risk missing their opportunity to connect.
Secure Messaging and Video Calls
From what we've read about the Boo dating app's safety and encryption protocols on the website and from various user feedback, the platform's private messaging function is completely secure. The dating app doesn't support video calls at this time, but that could always change in the future.
Icebreakers and Pre-Written Questions
When a user creates an account, they are given the option of adding three prompts that, according to Boo, will boost their chances of finding a compatible match by 128 percent!
Boo's Membership Options
The Boo dating app offers members a freemium model membership and premium paid subscriptions. Traditional free trials often provide new users access to some premium features for a limited time in exchange for payment details, but that's not how it works with the Boo dating app. There is a more feature-rich basic edition that users can try out, which lets users have 30 daily swipes and limited messaging capabilities.
Free vs. Paid Memberships
While the free version isn't super restrictive, you definitely get much more out of upgrading to a premium membership on the Boo dating app!
With the free plan, users get to:
Create an account and dating profile
Upload profile pictures and videos
Receive suggested matches
Like or pass on matches (limit of 30 swipes per day)
Limited messaging
But with a paid membership, you'll get so many more beneficial features and perks, such as:
Unlimited Recommendations – Users of the basic version are limited to 30 swipes per day, while premium members are free to swipe as much as they like!
Unlimited Messaging – Premium users of the Boo dating app aren't confined to exchanging a couple of messages here and there; instead, they're able to chat with everyone on the app.
Time Travel – Premium users have access to time travel tools that allow them to go back and talk to the previous "soul" they passed on and take another look to see reconsider a match.
Revival – This premium feature enables members to access all their previously suggested matches.
No ads – No explanation is needed other than there are no annoying ads to interrupt your browsing and chatting.
Read Receipts – You can enable read receipts, so you'll be able to see when a member has read your message–the recipient's double check mark will turn blue.
Premium Membership Benefits and Pricing
Look below for a breakdown of the four different levels of premium membership available through the Boo dating app, with prices beginning at $10.08 per month and durations spanning 1, 3, 6, and 12 months and a lifetime membership of $200.
Discounts and Promotions
You get 6 hours to decide if you want to sign up for a Boo dating app membership and take advantage of the following discounts.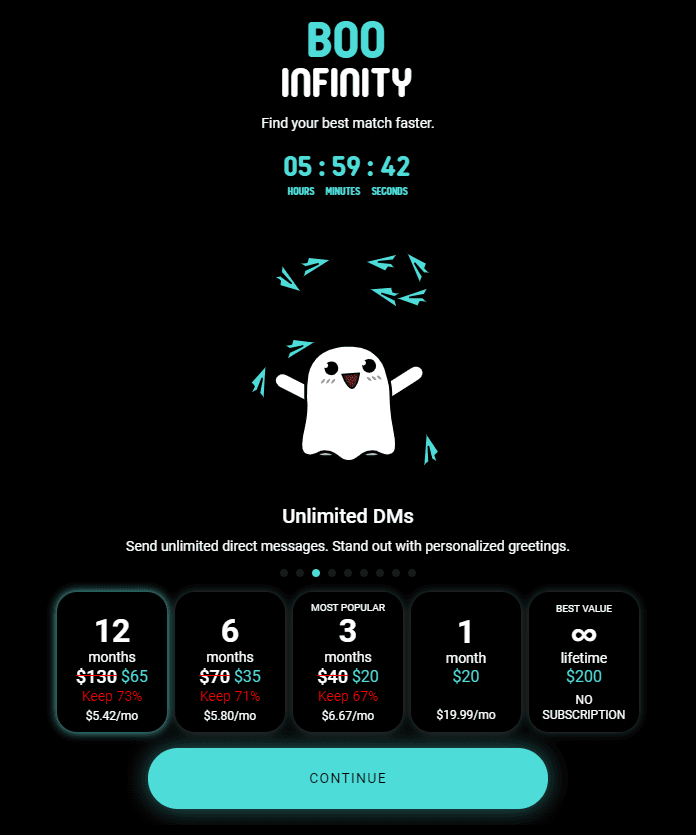 Creating Your Profile on the Boo Dating App
We joined the Boo dating app and set up a complete dating profile, which took a little longer than other dating apps but is worth the extra time because of the personality assessment. It took us around 10 to 15 minutes to complete, but if you've previously done the Myers-Briggs personality test and know which of the sixteen classifications you are, you can skip that step and finish in just a few minutes!
We created a profile using an Apple iOS mobile device, but the process is the same for Android users. Read on for additional guidance for building your Boo dating profile!
Step 1: Download and Install the Boo Dating App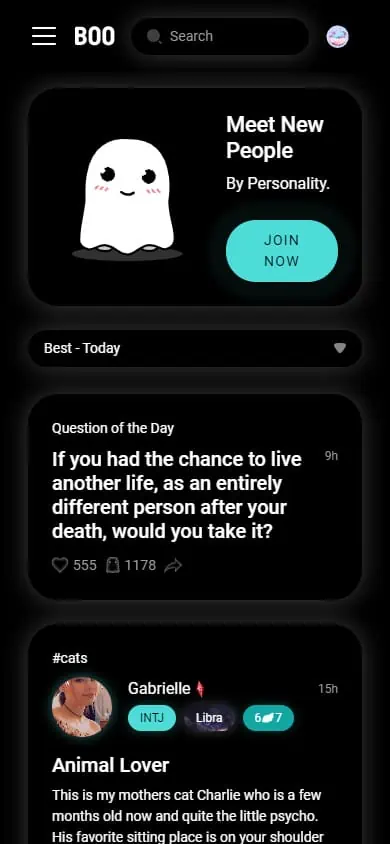 Browse for the Boo dating app on the App Store, then click "GET" to download and install it. Additionally, you can go to Boo's homepage, which will redirect you to the app of your choice.
Step 2: Select a Sign-In Method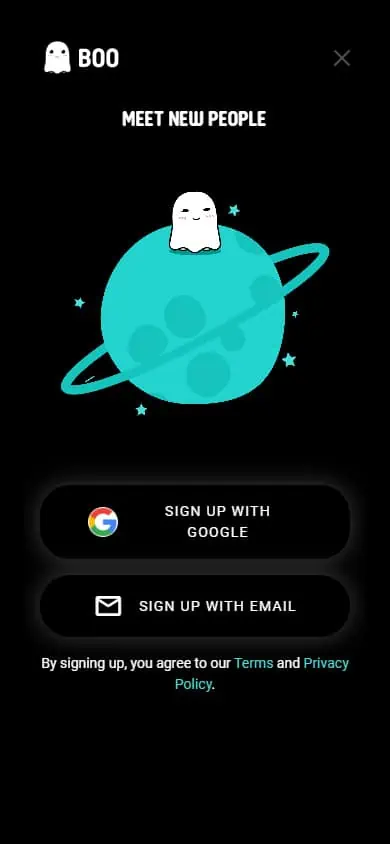 Once the Boo dating app is downloaded and installed on your device, choose how you want to sign up–you can use your email, Apple ID, or Google account.
Step 3: Plug in Your Basic Info/Details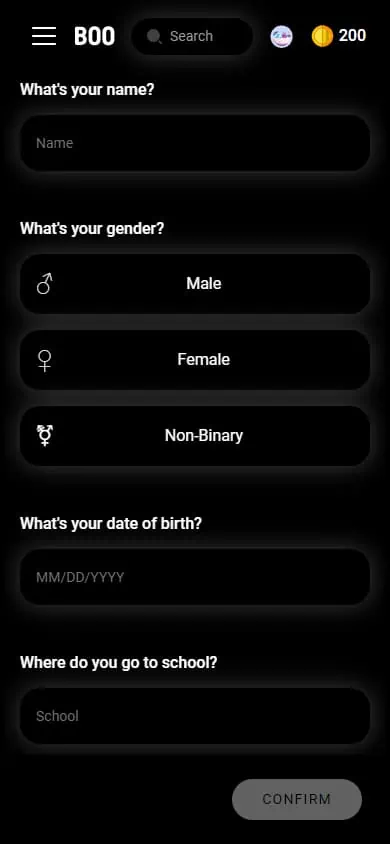 Fill in your personal information, including name, gender, and birth date. You'll also have to verify your birthday is correct before moving forward, so be sure you enter it correctly the first time around–no take backsies or changes allowed.
Step 4: Tell the Boo Dating App Who You Want to Meet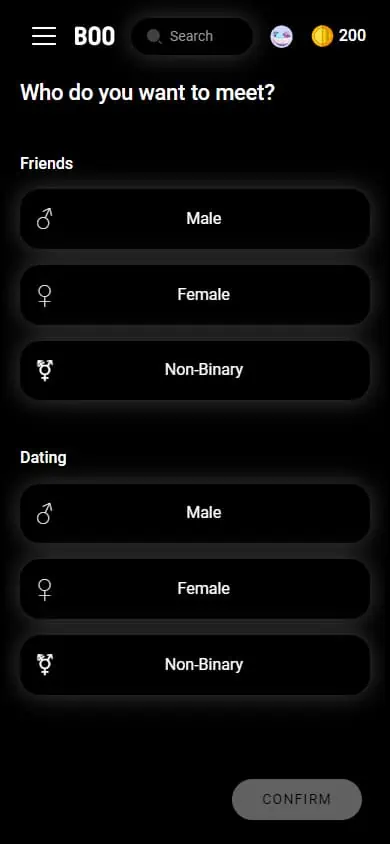 In this step, you'll specify the kind of people you're hoping to meet on the Boo dating app–friendships or romantic relationships.
Step 5: Learn About the Boo Dating App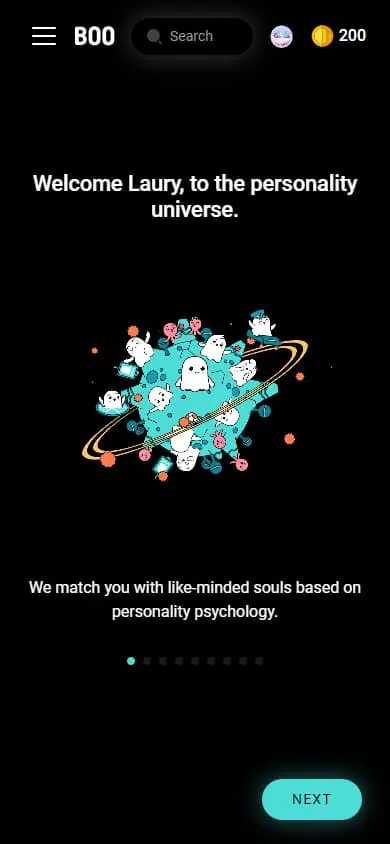 Now you can read the Boo dating app introduction and explanation on the next few screens to go on to the next phase, or you can quickly skim through them to head to the next step.
Step 6: Complete the Boo Dating App's Personality Quiz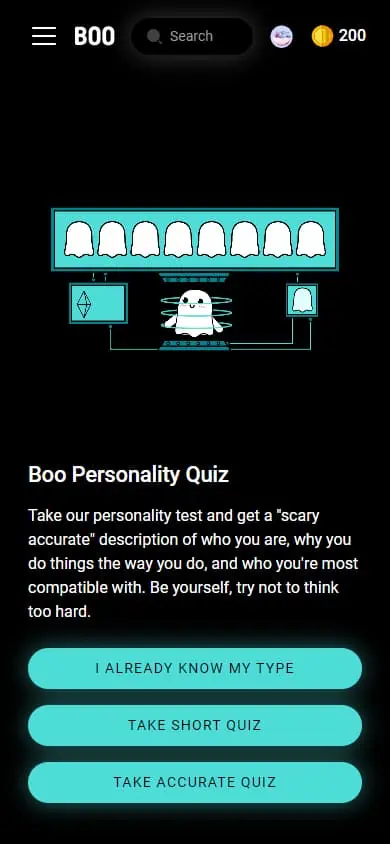 At this point, you can choose between skipping the personality test altogether, taking a quick quiz, or taking a comprehensive and thorough assessment to determine your personality type. After taking the test, the app will recommend people you share the most in common with.
Step 7: Include Your Interests, Lifestyle Choices, Job, and Education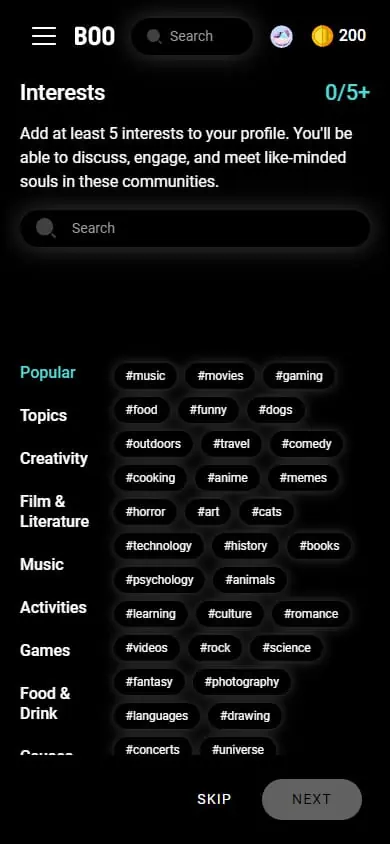 In this section, submit at least five of your interests, your lifestyle preferences, your occupation, and your educational background.
Step 8: Set Your Dating Preferences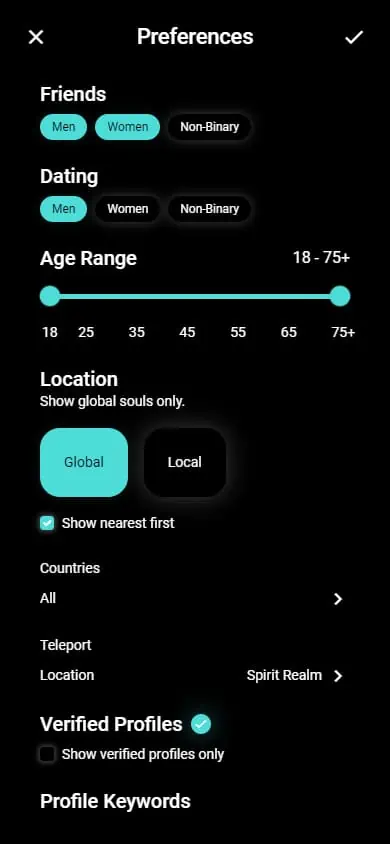 Check out the options and pick the ones that work best for you.
Step 9: Choose Prompts & Language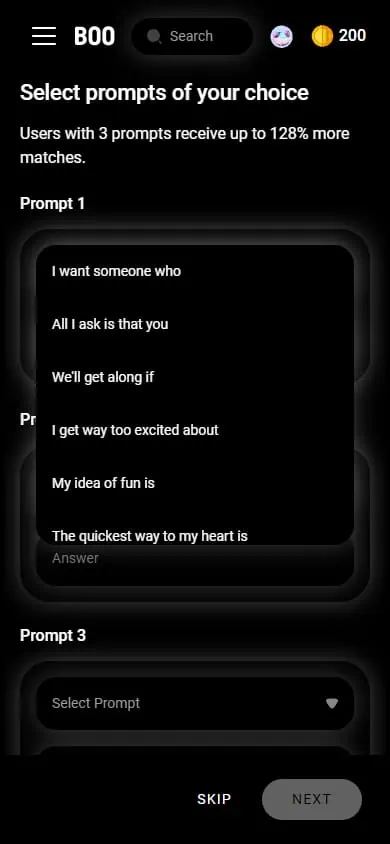 Check out the options under "Privacy Sanctuary" and pick the ones that work best for you.
Step 10: Upload Profile Images and Videos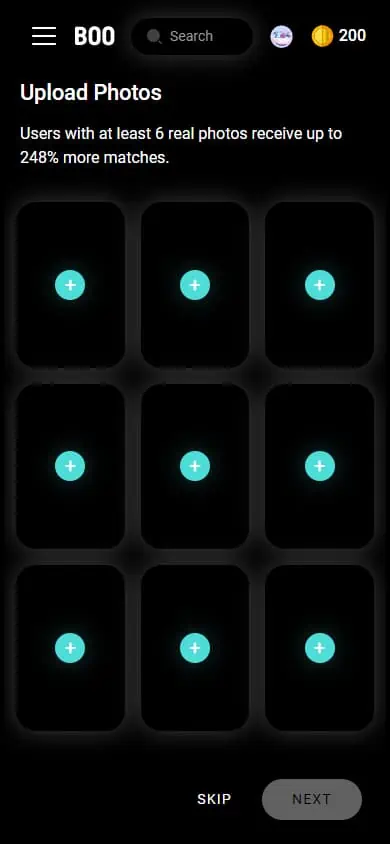 Now, put some pictures on your profile! Boo lets users add up to nine pictures and videos to their profile, giving you plenty of opportunities to showcase your unique sense of style and personality to potential matches.
Step 11: Craft Your Dating Profile Bio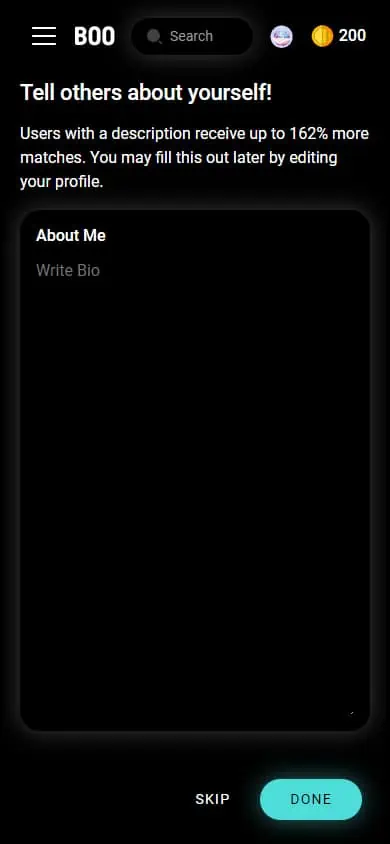 Last but not least, put some soul into your "About me" blurb for your dating profile.
Step 12: Upgrade to a Premium Boo Infinity Subscription (Optional)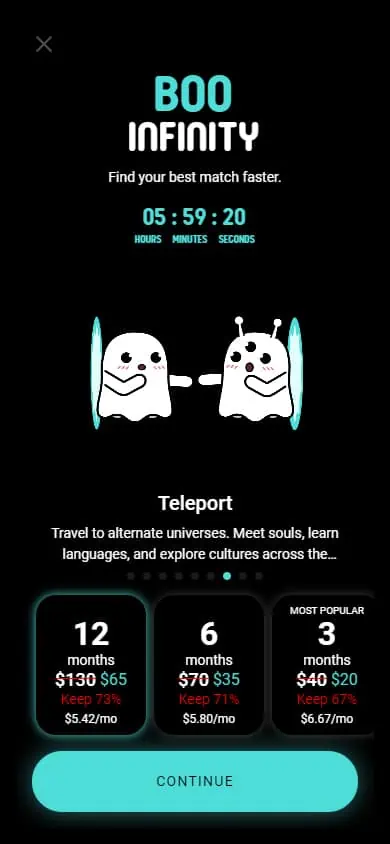 Done and done! To up your chances of finding that special someone, all you have to do is purchase a premium subscription to the Boo dating app–which is completely optional, but we recommend it if you are serious about finding a relationship.
How to Delete an Account
It's easy to delete your Boo dating app account, and it can be done in a few simple steps. Whether you're considering a move to a new dating app or just want to say adieu to your Boo dating profile, follow the instructions below.
On your device, launch the Boo app. In the upper right side of the screen, tap the settings gear icon. Find and choose "Account" from the menu selections.
Select the "Delete an Account" tab and provide feedback/reason for deleting the account.
Confirm that you want to delete your dating account (twice).
Customer Service
The customer service options for the Boo dating app consist of an email, a contact email, and a huge, comprehensive FAQ section (over 150 questions) on its website.
How to Contact Customer Service (list the methods of communication)
Email: hello@boo.world
Facebook: TheBooApp
Instagram: BooTheApp
Twitter: BooTheApp
YouTube: BooTheApp
YouTube: BooTheApp
Boo's Mobile App
Boo is available as a mobile app on both iOS and Android devices, and you can download it for free from the Apple App Store or the Google Play Store.
App Features and Functionality
The Boo mobile dating app has a user-friendly UI, with just four main options displayed on the home screen.
You can access and edit your personal information by clicking the Profile button.
In the Community section, you can browse questions asked by other users and the responses given by the community as a whole–you can also follow people whose posts you find intriguing, like and comment on questions, and save those you find especially interesting from this spot.
You can find people who share your interests and values on the Home page, where you also have quick access to their posts and easy avenues for communication.
Finally, the Messages section is where you can see your own messages and carry out private conversations, and the "Requests" option in the menu allows you to monitor and control all inbound requests for connections.
Compatibility
Although Boo has a website, all of its features and functionality are only available through the mobile app. Boo provides an iOS app that can be installed on your iPhone or iPad by going to the App Store and an Android app available for download from the Google Play Store.
Frequently Asked Questions
While we do our best to cover every single base in our dating app reviews, there may be a possibility that we missed something! Here is a rundown of the most frequently asked questions we've received from readers regarding the Boo dating app.
How Does the Boo Dating App Work?
Boo is a personality-based dating app that helps you meet people with whom you have a lot in common and who are excellent matches for romantic partners, dating, friendship, and social networking. As for how it matches compatible members, here is how it works:
• Discover a bit more about yourself by answering five quick questions to see which of the 16 Myers-Briggs personality types best describes you. 
• The dating apps will offer guidance to their users on the personality types with which they are most likely to click. 
• Meet "souls" that share your interests and ideals by either liking or passing on recommended matches from the Boo dating app.
Is the Boo Dating App Good?
Yes! We love this app because it uses the Myers-Briggs personality test to pair users who are likely to make a spark! In addition, there are a few more reasons why we think it truly distinguishes itself from other dating apps: 
• There are a lot more compatible matches to choose from compared to other dating apps. 
• The dating app makes use of in-depth analyses of users' individual characteristics. 
• You can find out more information about potential partners and their personality features, allowing you to modify your approach for a romantic connection accordingly.
• You can have casual conversations with other users by posting on a social feed that functions much like an online forum. 
• The dating app takes great pains to match people with the most probability of romantic connection successfully. 
• From what we saw, the quality of the matches on the Boo dating app is higher than those of competing dating platforms. 
Can I Use the Boo Dating App for Free?
Boo's most basic features (such as liking, passing, limited private messaging, and chatting with other users) are free, and the app is available for download at no cost on the App Store and Google Play.
You only need to purchase a paid membership or make in-app purchases if you want to use the app's premium features and extras.
Why Does the Boo Dating App Utilize Personality Types?
Boo's matching algorithms are powered by combining the Big Five (OCEAN) model and Jungian psychology-inspired personality theories. By understanding the characteristics shared by people of different personality types, users can gain insight into themselves and others!
What Is Myers-Briggs?
The Myers-Briggs Type Indicator (MBTI) is a type of personality assessment that categorizes people into one of 16 different personality types. It provides a theoretical foundation for understanding how variances in people's perceptual processes give rise to their unique character traits. The "father" of Jungian psychology, Swiss psychiatrist Carl Jung, inspired this study.
How Can I Determine What My MBTI Personality Is?
Both the Boo dating app and this website provide a free version of the 16 personality assessments. 
How Can I Change the Settings for My Search Filters?
By clicking "Filter" in the upper right corner of the Boo dating app's homepage, you're able to customize your search based on gender, dating/friends, age, type of personality, and distance.
How Do I Block a User on the Boo Dating App?
To block a user, go to the user's dating profile and click on the three vertical dots in the upper right corner.
How Much Does It Cost to Upgrade to a Boo Premium Membership?
Boo Infinity is the paid upgrade to the dating platform, and the cost of this upgrade will be listed in your dating profile's currency conversion section if you are located outside the United States.
In the US, the Boo Infinity premium subscription can be purchased for $1 per month and $1.75 for three months, and members will get access to beneficial features like dating telepathy, unlimited match suggestions, unlimited messaging, interplanetary mode, and time travel.
How Can I Cancel My Boo Infinity Premium Membership?
You can end your paid subscription in the Apple App Store or the Google Play settings–you have to go through the service where you initially paid for the premium membership. Simply deleting or uninstalling the Boo dating app will NOT cancel your membership!