Whether you're seeking single soldiers who are on active duty or a civilian who has served their country but now leads a quiet life away from the action, you best check out our best military dating apps for 2023! These are the best online dating services that can be used by soldiers looking for love with other soldiers or singles who admire military members, or veterans who have fought for freedom and served their country.
Because military dating and relationships can involve long separations, we were sure to recommend dating apps that cater to profound and meaningful relationships. There were several other factors we considered while forming this list. Our review of the best military dating apps will break down what makes these apps ideal for finding love or romance with those in uniform, past, and present.
Best Military Dating Apps (Updated September 2023)
Each dating app provides a decent dating pool with promising opportunities for finding love with someone in uniform! We consider these the best military dating apps, including soldiers and civilians. Most singles using these platforms are looking for true love and long-term commitment, but they're also great for finding dates if that's something you're interested in pursuing.
| Military Dating App | Best For | Get Started |
| --- | --- | --- |
| Elite Singles | Meaningful relationships with highly educated soldiers or civilians | Start for Free Today! |
| eHarmony | Profound relationships with soldiers or civilians centered on compatibility | Start for Free Today! |
| Zoosk | Falling in love or finding casual dates with soldiers or civilians | Start for Free Today! |
| MilitaryCupid | Find love or romance with singles soldiers from any armed forces branch | Start for Free Today! |
| UniformDating.com | Meaningful relationships and commitments with soldiers and civilians | Start for Free Today! |
Create a free trial account at any of our favorite military dating apps and begin connecting with singles who have served or are currently serving in the armed forces! The free trials allow you to see which singles are using the platform and what features you can use to find love or romance online.
Why Trust Our Recommendations
If you're wondering why you can rely on our recommendations regarding military dating and online relationships, here are five great reasons for trying out any of the military dating apps we've suggested in this review!
All Review Are Written from Experience
To craft our dating app reviews, we don't draw information from other online reviews. We require our writers to begin a free trial membership at each dating app and use the service to see what's offered and how the app works. They use the service firsthand and write reviews that are rooted in experience!
Our Unbiased Review Process
We heap on the praise where it's due, but we never shy away from reporting the weak points or the significant downsides of the dating apps we review. We're always sure to keep our reviews entirely unbiased to show that we can examine these dating apps objectively. You're getting an honest, accurate review, not one skewed in either direction.
We Regularly Update Our Content
Things change in the online dating market. Some services adjust their membership pricing. Some add new features into the mix, while others discontinue certain perks or benefits. The way customer service is done might change. A dating app might shift the timeframes of how long their membership plans cover. Whatever the case, we keep every review of ours up to date and current!
We Drop Links to Free Trials
We have nothing to hide. You can see for yourself how truthful we were in our thoughts. It keeps us honest! We've already used the free memberships for ourselves, and we will always include free trial links in our reviews so you can experience these dating apps for yourself!
Promoting the Best Services
There's no sense in promoting dating apps, sites, or services that are so small and insignificant that they don't generate any promising results or leads. We make a point of pushing only the best dating apps out there so you're using something worthwhile. We recommend mainstream dating apps as well as niche dating apps, but they cannot be too obscure.
Reviews of the Top 5 Military Dating Apps
Let's dig a little deeper into these military dating apps, showing you exactly why they are ideal for finding military singles or singles interested in dating someone who serves in the armed forces.
#1: Elite Singles
Key Information
Frequently, military singles are enticed to enlist because of financial assistance for their schooling, which results in many soldiers and veterans who have completed a form of higher education. People in the military also tend to have go-getter attitudes in general, and they're characterized by a high-performance mentality which allows them to mesh well with other high-performing personalities.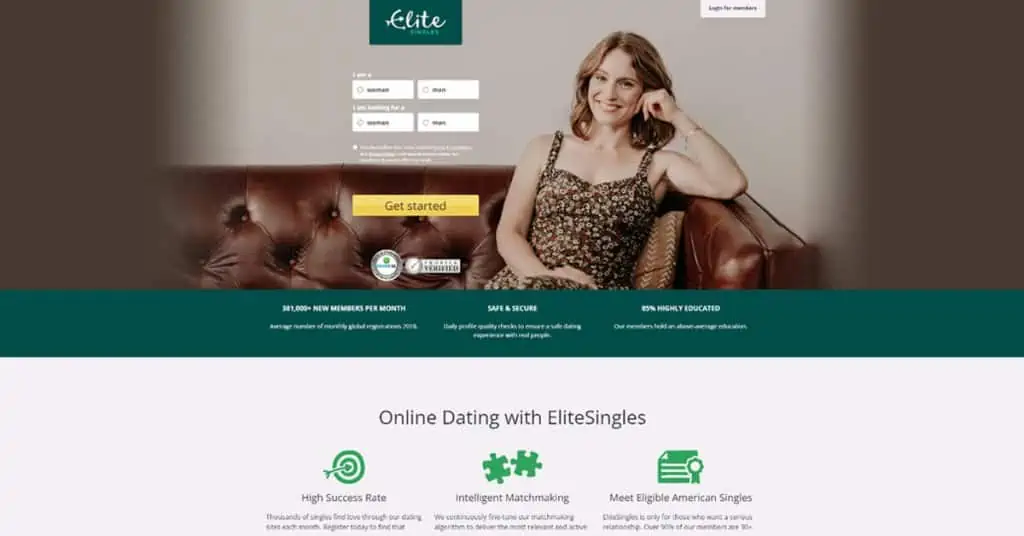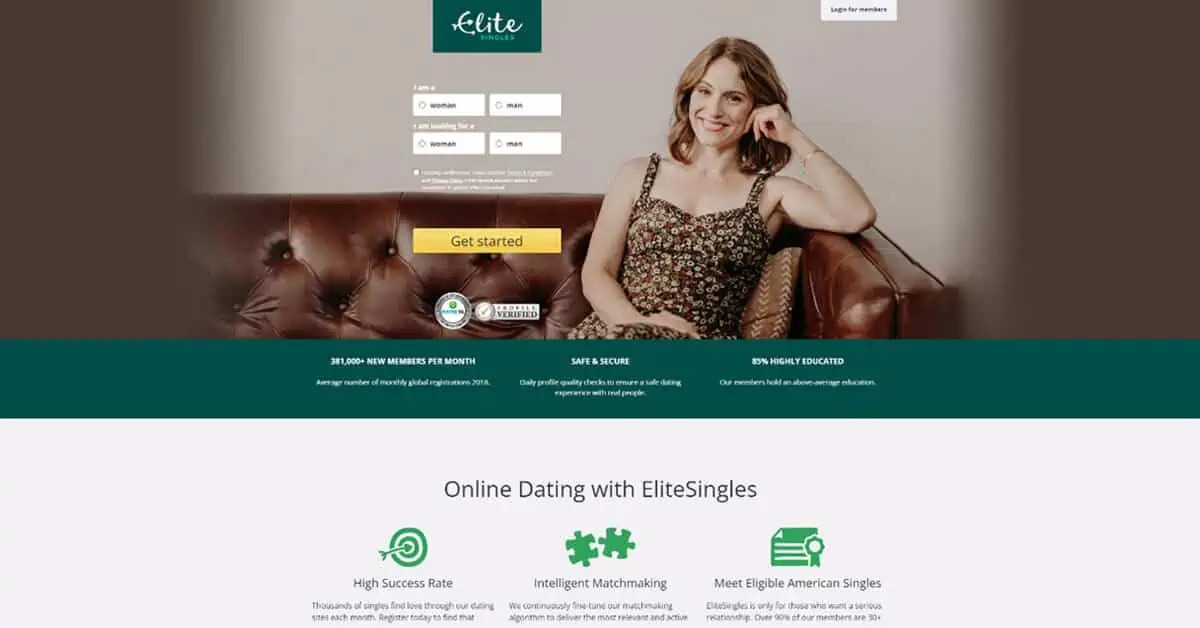 This is what makes Elite Singles a perfect fit for finding single soldiers or someone who used to serve in the armed forces. 85% of its members have completed a form of higher education, and many work in high-paying career fields or hold down successful, prestigious positions where they're employed.
---
#2: eHarmony
Key Information
Military singles can be extremely busy, be it doing tours of duty or rising through the ranks. It comes as no surprise that people who serve in the military tend to use dating apps and services to find meaningful and profound relationships. They're looking for someone willing to commit to the military lifestyle, someone who is seriously in it for the long haul. And there's no better platform to use for these purposes than eHarmony!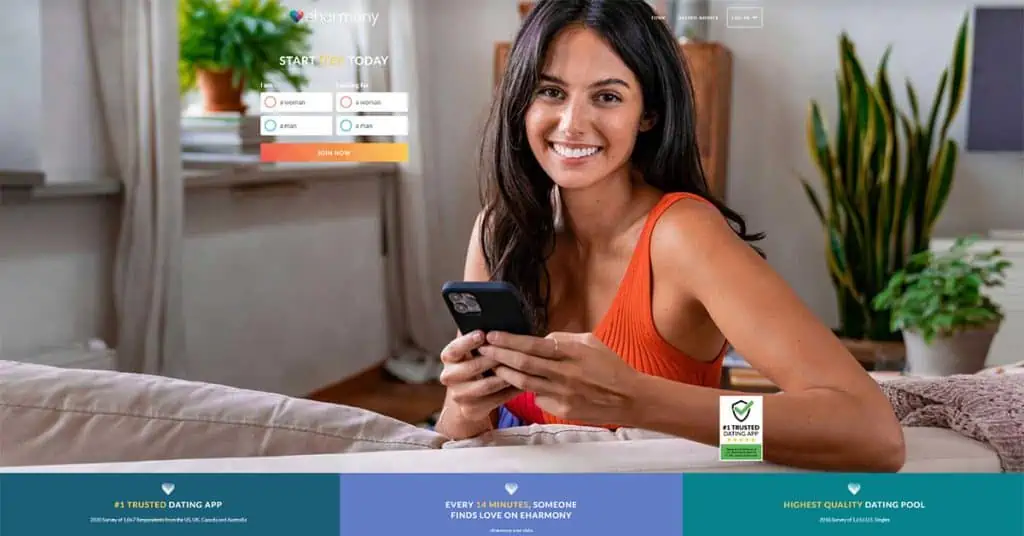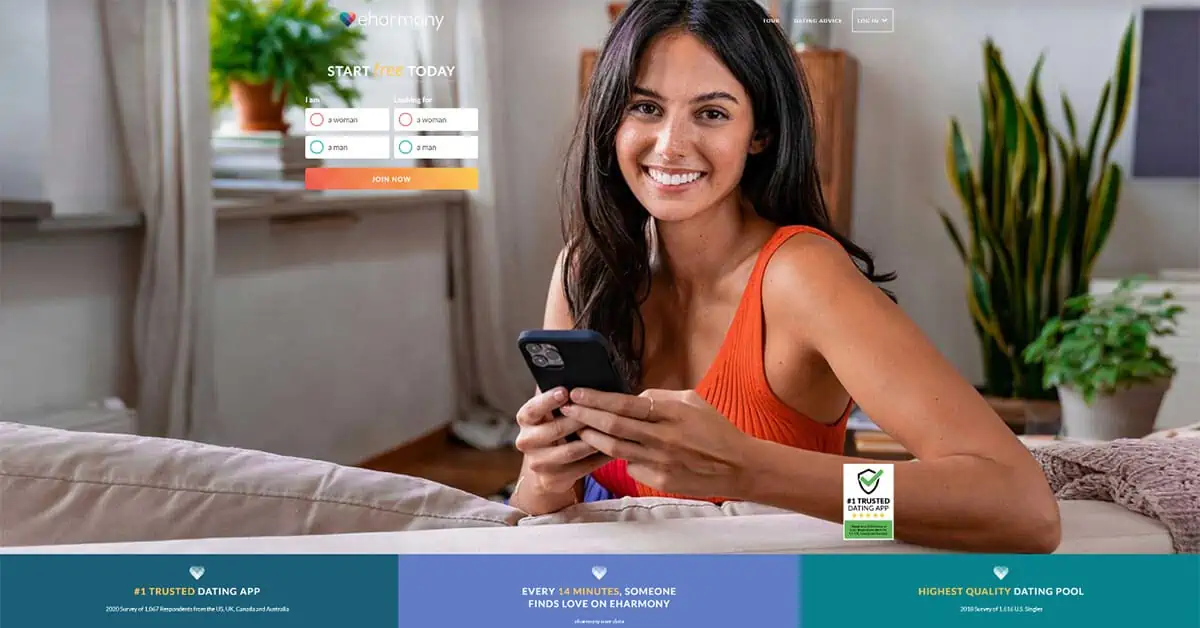 eHarmony is built around creating compatible connections between singles. This includes compatibility with lifestyle, career, education, and interests. eHarmony is more than capable of forming successful connections between non-military singles and those in uniform where the chemistry and relationship longevity is there! And it's a terrific dating pool: over 16 million!
---
#3: Zoosk
Key Information
Active Users: 50+ million
Gender Ratio: 48% men to 52% women
Free Trial: Start a Free Trial at Zoosk
Membership Price: begins at $10.00/month
This is the best choice for military singles (or non-military singles) who are interested in falling in love or going out on dates with just about anyone! It's a great online dating app if you're doing a tour of duty overseas and looking for dates where you're stationed now. Zoosk has a vast dating pool: there are over 40 million users worldwide, spread out over 80 countries.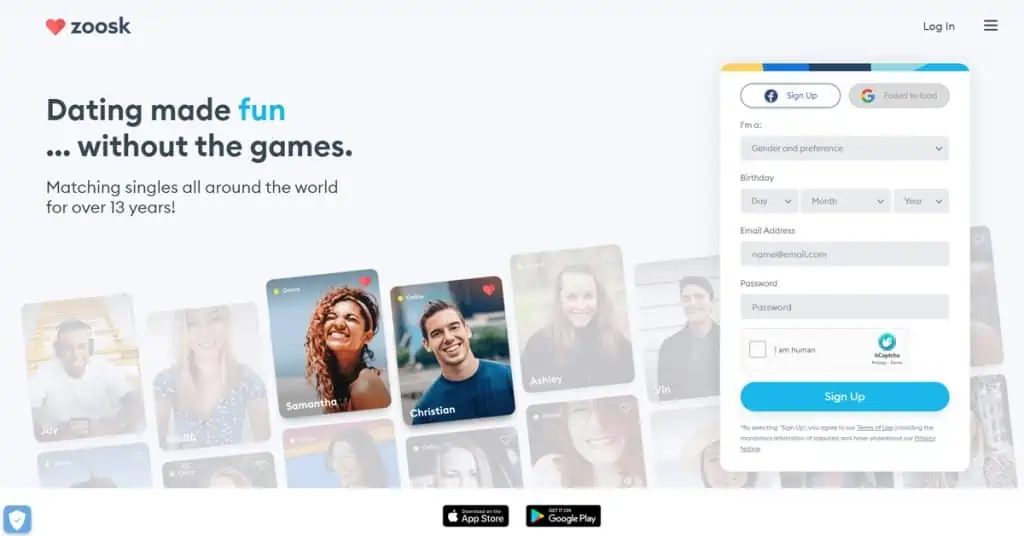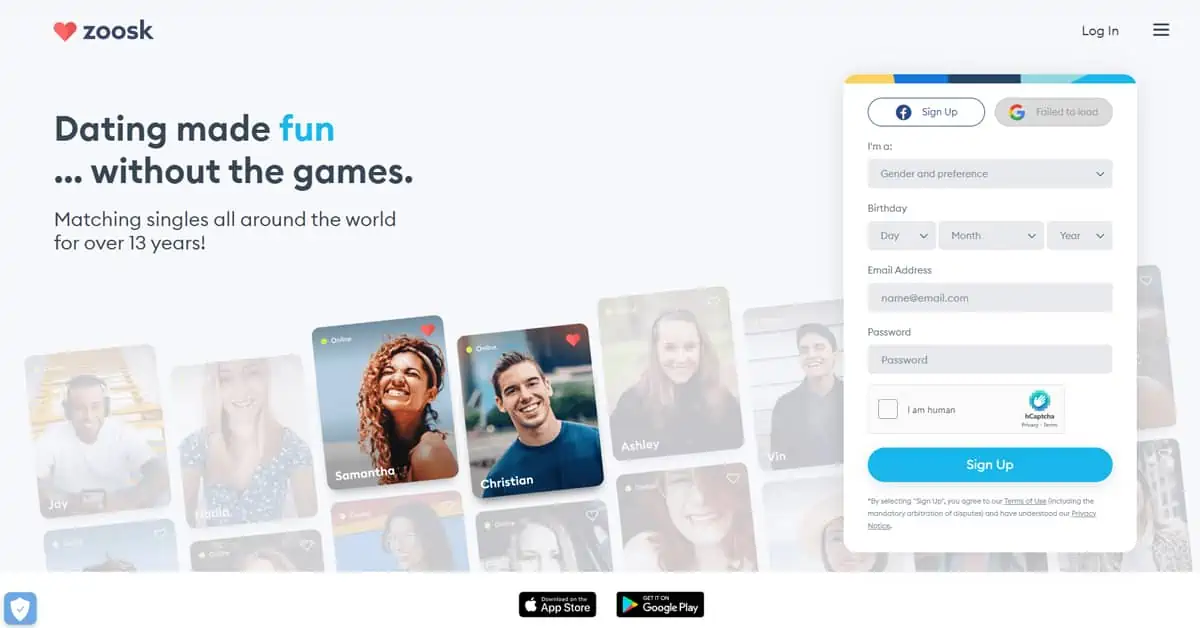 Serving your country can be demanding! Being in the military, you might not have a ton of time to yourself. Zoosk is perfect for military singles because of its Carousel feature, which allows users to take a rapid-fire look through a ton of profiles to find singles that fit their dating parameters and criteria.
---
# 4: MilitaryCupid
Key Information
This is our fourth recommendation, but it's the first dating app we're promoting on this list that 100% caters to military singles, both current soldiers and civilians. The reason for this is that MilitaryCupid is a niche dating site with a smaller user base than the mainstream recommendations that compose the top three of our list. Sure, you're guaranteed to meet military singles and those interested in dating soldiers or veterans, but you're dealing with a small dating pool of only 2,000 active each week.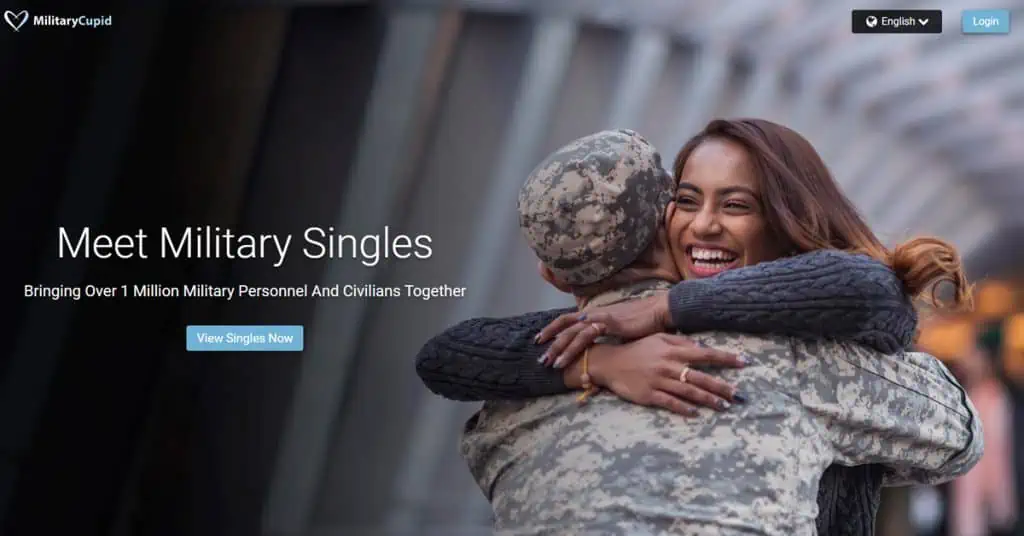 Something that is super appealing about MilitaryCupid is its robust profiles that let you know each member well before meeting them in person, and the extensive array of top-notch membership features, including instant message translators, profile highlighting, and advanced search filtering. This makes it another excellent platform for international dating possibilities and for finding singles who match your criteria to the T.
---
#5: UniformDating.com
Key Information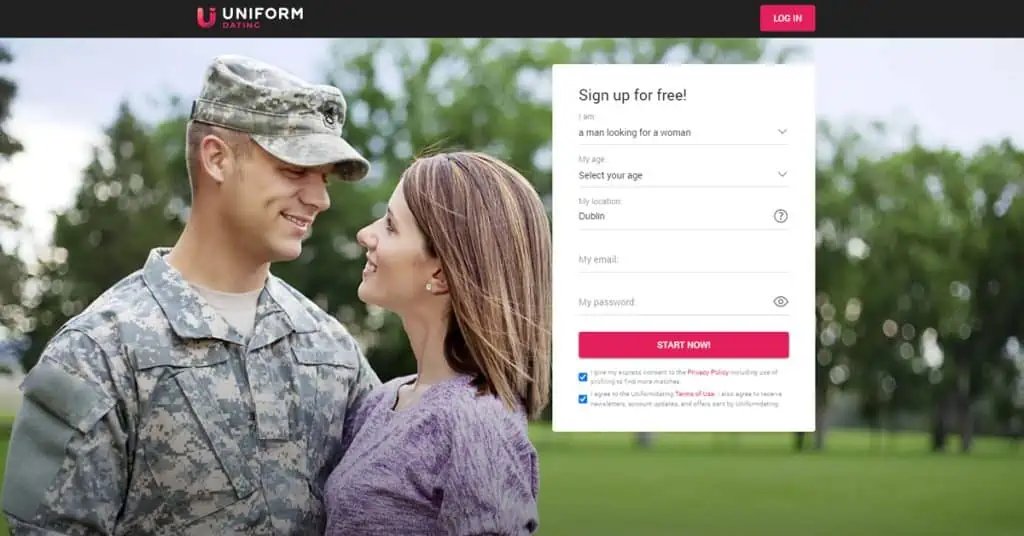 Another niche dating app for finding military singles, UniformDating.com, is composed of 400,000 members in the United States. 95,000 of those members are active on the app each week. This platform handles singles who served in the armed forces as well as law enforcement and community service members. Paying members can enjoy profile highlights and a live chatroom to connect with singles in uniform who align with dating parameters set in the searches.
---
Why These Are the Best Military Dating Apps
They Admit Anyone – It doesn't matter if you're the one who has served Uncle Sam or if you're non-military, but you're interested in dating or romancing someone who is a soldier or a veteran. You have a good chance of finding singles in uniform as well as civilians! Anyone is free to join the military dating apps presented in this review.
Matching Based on Dating Preferences – Each of these military dating apps comes with search filters that allow members to break down their searches using advanced criteria like interests, lifestyle choices, occupation, educational background, and many others. And those sites that don't use search filters have top-notch compatibility and personality testing that inform the matching process and tap into the user's dating preferences anyways.
Decent Dating Pools – The first half of our list is composed of mainstream dating platforms with a broad appeal, primarily because of their larger dating pools. The more people there are using the service, the more opportunities to find singles who have served in the armed forces, be it the Army, Navy, Marines, Air Force, or Coast Guard.
Reasonable Membership Pricing – You don't have to put yourself in the poor house to afford the membership costs on these dating apps. Each of these dating apps for finding love with military singles is reasonably priced and offers several membership plans to provide flexibility for a variety of budgets.
On-the-Go Dating – Each military dating site on our list can be accessed on mobile devices using the web browser, and they come with dedicated mobile apps. You can search for singles who fit your dating preferences all in the palm of your hand! Either of these methods allows military singles to enjoy an on-the-go online dating experience.
FAQ
Do I Need to be a Soldier or Part of the Military to Use These Apps?
Plenty of singles join these sites to find military singles, including soldiers, armed forces members, or veterans. You're not required to be a member of the military or a soldier to use these dating platforms. So, there are no limits on who can join these military dating apps besides being older than 18.
How Can I Meet a Military Man?
You can do so by using one of our favorite military dating apps and setting up your search filters to look for singles who might have been in the armed forces and listed it as one of their past or present occupations. Outside of using these sites, you could also live close to a military base or begin hanging out in businesses located near these bases to meet a soldier or military man organically.
Are There Challenges with Military Dating?
There are a lot of challenges, for sure. Many military singles are active and could be serving tours of duty or could be deployed when the higher-ups give the word. You could be dating someone who's gone for months in another country, away from home for weeks or months on end. So there's a separation factor when it comes to military dating and romance. If you're dating a veteran, there's a chance that you might deal with someone who comes back home with PTSD or might have trouble trying to find employment once their time with the military is finished.
Should I Use Niche Military Dating Apps?
There's a reason that we listed the mainstream dating apps ahead of the niche apps in our recommendation list. The more prominent dating platforms have much better dating pools which means you have a greater chance of meeting military singles. Sure, you'll meet soldiers or veterans on the niche dating apps guaranteed, but the smaller pool drum up fewer promising leads than a mainstream platform could.
Are There Any Good Tips for Dating a Solider or Veteran?
Military service is time-consuming and can involve tours of service in foreign nations. It's essential to be patient and understanding with the soldier you're speaking to and know that they might take a while to respond to your messages or dedicate time to meet up. Dating veterans can be quite an undertaking as well. Be understanding of those who might be dealing with trauma experienced during a tour of duty.