Is there really an Elite Singles free trial?
Yes, there are actually a couple of ways that you can enjoy the services and features of Elite Singles without having to pay any money for a subscription plan, but there are some advantages and disadvantages to each method. We are going to cover the Limited Free Features Plan as well as the 3-Day Money-Back Guarantee, both of which allow you to get a taste of Elite Singles, how they operate, and what kind of singles await you on the app!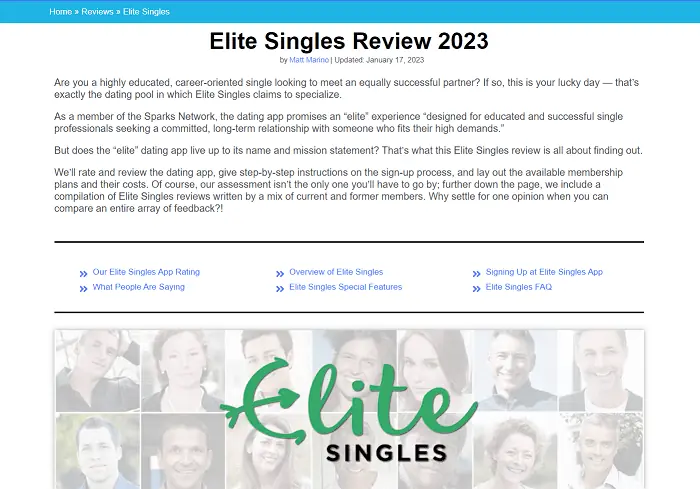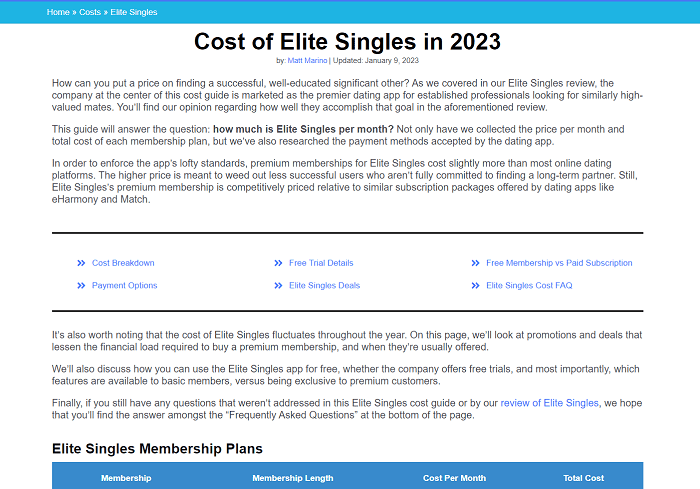 Overview of Elite Singles Free Trial​
Before you begin creating a free account at Elite Singles, know that there are a couple of different ways that you can test out the site without having to pay any money! There is one option that anyone across the country can use as well as an option that is only open to residents of certain states.
Limited Features "Free Trial"​
This option is not technically a Elite Singles free trial because it only allows the user to enjoy a limited range of features and functions that Elite Singles has to offer. One of the greatest setbacks when it comes to this "free trial" is the fact that you cannot message other singles or members you meet on the app.
These features and functions include:
Creating an Elite Singles profile​
Taking the personality and compatibility tests​
Uploading photos​
Receiving messages​
Getting suggestions for matches​
As far as we can see, there is no limit on the time that someone has to use these limited free features. But while you can use these features for an indefinite period of time, there is really not a whole lot that you can accomplish with what they allow you to use!
Elite Singles 3-Day Free Trial​
Elite Singles offers a 3-Day Money Back Guarantee in select states.
Elite Singles free trial users can upgrade to a membership but cancel it within the first three days if they "are not completely satisfied." What this essentially means is that customers can get a full 3 days (72 consecutive hours) of Elite Singles' services without having to pay any sort of money. As long as the customer cancels their subscription within that 3-day window of time, they will not be charged for full 3-day use of the dating app!
Which States Offers This Guarantee?​
Arizona
Connecticut
Minnesota
Ohio
California
Illinois
New York
Rhode Island​
Colorado
Iowa​
North Carolina​
Free Features and Paid Features​
What will I get with an Elite Singles free trial versus a paid membership or a 3-day money-back guarantee? There are so few features and functions that come with a "free trial" that we feel you will be running to get an Elite Singles membership or money-back guarantee!
However, using a limited features Elite Singles free trial can be a good method for browsing the selection of singles available on the app, finding daily matches, and giving you an idea of how the app works. Check out the primary difference below: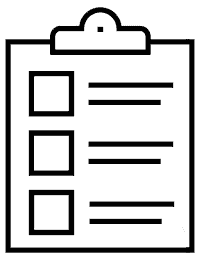 Free Trial
Create a profile at Elite Singles
Take the personality and compatibility quizzes and tests
Upload pictures to your personal profile
Browse members' profiles and daily matches from Elite Singles
Receiving messages from members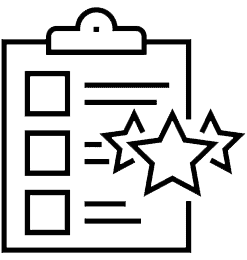 Paid Membership
Unlimited messages with other members
"Have We Met?" features give you access to 20 new matches every day
View all photos and see which members have viewed your profile
Leave comments on other members' profiles and photos
Access to a detailed breakdown of the personality testing results
Elite Singles Free Trial Features​
Let's take a deeper look at all the features you can experience for free at Elite Single when you create a free account and profile. While they are limited, these features and functions can give you a good idea if Elite Singles is a dating app that could be a good fit for you!
Create an Elite Singles Profile​
You do not have to pay a single cent to create a free profile at Elite Singles. The great thing about this is that you are getting your name and your face out there into the market for other singles to see, even if you haven't paid for a membership! It's free publicity!
Take the Personality Tests​
As a part of the free sign-up process at Elite Singles, you can take their personality and compatibility quizzing free of charge. By taking advantage of these free tests, you can begin the process of matching up with eligible singles on the app!
Browse Profiles and Get Daily Matches​
Elite Singles will allow you to browse other members' profiles for free, and they will even provide you with some daily matches, so you do not have to do all the searching by yourself! One of the biggest strengths of the Elite Singles free trial is the ability to view other singles (even if there are extremely limited ways to message them).
Get Messages from Members​
As an Elite Singles free trial member, you cannot send messages to other singles, but you can receive messages from paying members. With this capability, at least you can see if there are any singles interested in your profile. If there is anyone who catches your eye, this could be the thing that cements your decision to get a paid subscription!
Upload Photos of Yourself​
Not only can you get your profile up and running free of charge, but you can also add multiple, photos of yourself to this profile! Other Elite Singles free trial users or paying members at Elite Singles can match your name with a face, and they might possibly send some messages your way.
---
How to Create an Elite Singles Free Trial Account​
You are going to go through the same process, whether you want to use the Elite Singles free trial, take advantage of the 3-Day Money-Back Guarantee, or simply want to pay for a membership.
Sign-up should take right around 15 or 20 minutes. Be prepared because the personality questionnaire can be lengthy in sections. We could even see it taking someone 25 minutes to complete sign-up if they were taking their time with answering the questions. Check out these step-by-step instructions for getting your Elite Singles account up and running!
Step #1: Go to Elite Singles' Home Page
Begin by going to the Elite Singles home page or you could simply click on the image to get there.
Once you are on the main home page, select your gender and the gender of the singles who want to discover. Add your email and create a password for your free Elite Singles account. Be sure to look over the Terms and Conditions and the Privacy Policy as well. Hit the "Get Started" button to continue to the next step.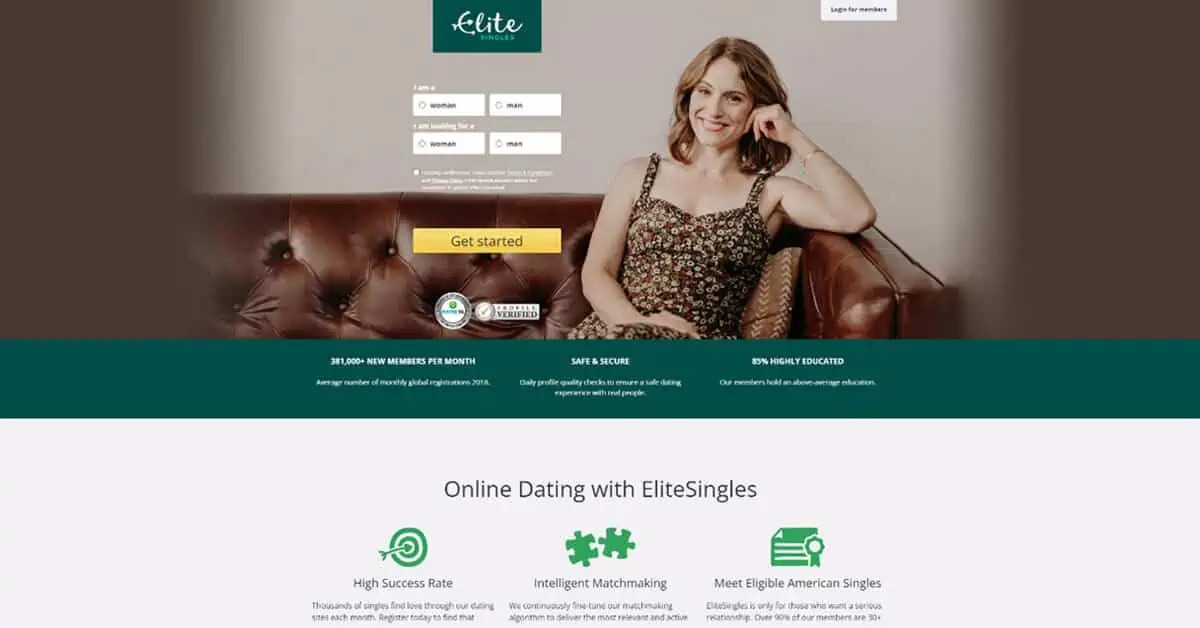 Step #2: Complete the Personality and Compatibility Tests
The bulk of the sign-up process is going to be spent on personality and compatibility testing. We will give you a quick overview of what kind of questions to expect along the way. These are in no particular order (we would be here all day if we went through each step right in order).
General Questions
The first series of questions were super easy to answer. This part of the questionnaire was relatively quick and did not require a whole lot of thinking. As far as we could see, there was no multiple-choice in this stretch of questions.
Here are some examples of what you will be asked in these initial stages of the questionnaire:
What is your marital status?
What is your level of education?
How Far Will You Travel?
When Were You Born?
What is Your Profession?
Detailed Questions About You
This next portion focuses more on some of the things that are unique to you, like your appearance, interests, beliefs, or general worldview. In this section, some multiple-choice questions began to spring up, but this was still a generally easy part of the questionnaire to get through.
Here are some examples of questions we ran into during this segment of the test:
How tall are you?
What ethnic group do you belong to?
How satisfied are you with your appearance?
How would you best describe your beliefs?
Which role would you like your partner to fulfill?
Questions About Behavior
This was another series of mixed multiple-choice questions that focused on behaviors and how you would potentially react when put into certain situations. These questions seemingly took a little more thought to answer than many of the previous ones we ran across.
Here are a few examples of behavioral questions we encountered:
How likely are you to initiate the first kiss?
What is your date most like to notice about you on the first meetup?
How apt are you to reconcile with your partner when there are disagreements or fights?
What do your weekend plans typically look like?
Select-All-Images-That-Applies
Some of the questions get a little more interesting and will present you with a choice of four images to choose from. For example:
Applies/Doesn't Apply
For some of the questions, you are presented with a statement, and then you can choose from a list of seven possible responses that range from "doesn't apply at all" all the way to "completely applicable."
Possible Statement
I pay attention to detail.
I get upset easily.
I consider myself to be optimistic.
I make time for others.
I have a strong desire for sex.
I believe monogamy is essential in a relationship.
I like a great deal of variety.
Possible Response
Completely applicable
Applies mostly
Applies to some extent
Slightly applies
Applies to a lesser extent
Doesn't really apply
Doesn't apply at all
Step #3: Questions Requiring a Written Response
When the main body of the questionnaire is finished, there are going to be a few more questions, but these are going to be written response questions, allowing you to elaborate and be a little creative in your responses.
Step #4: Include a Photo of Yourself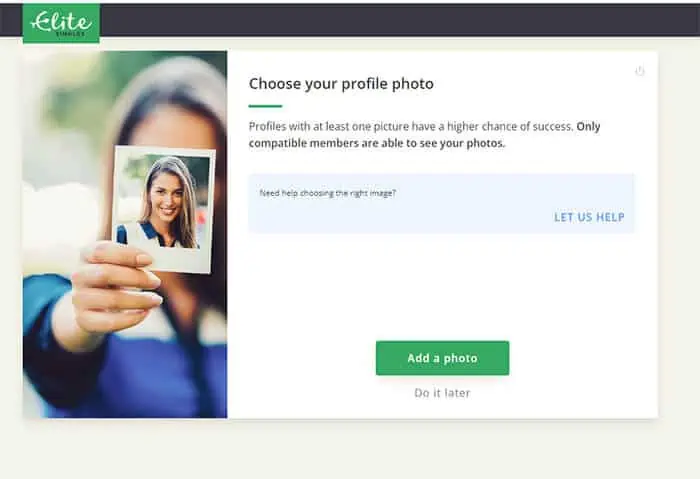 You can add a photo of yourself, or you can skip this step and come back to it at a later time. Adding a clear photo of yourself can greatly increase the traffic you experience, so it's recommended that you add a photo right then and there if you can!
Step #5: Questions to Break the Ice
Icebreakers are another great way to generate some interest in your profile and increase the overall volume of traffic you experience! And you can add as many of these to your profile as you want! Once you have finished answering one, you can add it to your profile and move on to the next.
All of these questions are going to be written responses, so come with your creative writing juices flowing!
Step #6: Select a Subscription Plan
The next step is to either select a subscription plan or skip this step and go on to your "free account." If you live in a qualifying state, you can opt for the 3-Day Money-Back Guarantee, which will require you to pay for a subscription. Choose a plan and proceed to check out.
Step #7: Pay for the Plan (But Be Sure to Request a Refund!)
Input your payment method. If you want to use Elite Singles' services and features free for 3 entire days, go ahead and purchase the subscription plan, but be sure to cancel it within that 3-day span so you can get a refund!
Note: This 3-Day Money-Back Guarantee is a loophole that allows you to use Elite Singles' services and features without limit for no charge whatsoever! Just like the Limited Free Features Plan is not really a free trial, this method is not really a free trial either.
Conclusion​
If you want to try out Elite Singles before paying for a membership, we recommend trying out the Limited Free Features Plan or taking advantage of the 3-Day Money-Back Guarantee if you live in a qualifying state.
Either way, you choose to go, you will need to begin in the same place. Click on the link below to get started!