Divorce can be a time of upheaval and turmoil in your life, and this can result in a lot of divorced singles who are too weary and jaded at the prospect of finding love or a deep connection again anytime too soon. Some throw in the towel on the dating game. Others see this time as an opportunity to start fresh and explore new possibilities! For all of you optimistic, divorced singles out there, you have a fresh chance to begin over again and do things better this time around. That is why you have to check out our favorite divorced dating apps in 2023!
These dating apps give divorced singles a renewed shot at finding a deep connection or true love with someone new. Divorcees now have some great tools to move on to the next phase of their life within the timing that works for their needs and comfortability. We are looking specifically at five great dating sites for divorcees that are fun to use, easy to set up, and come free of charge!
---
---

4 Best Divorce Dating Apps
#1: eHarmony
Best For: Deep, long-term relationships or casual dating
Gender Ratio: 48% men and 52% women
Match System: Personality and compatibility testing
Active Members: 10+ million
Visits Each Month: 4 million
Free Trial: Start Your eHarmony Free Trial Today!
Subscription Price: Starting at $35.90 a month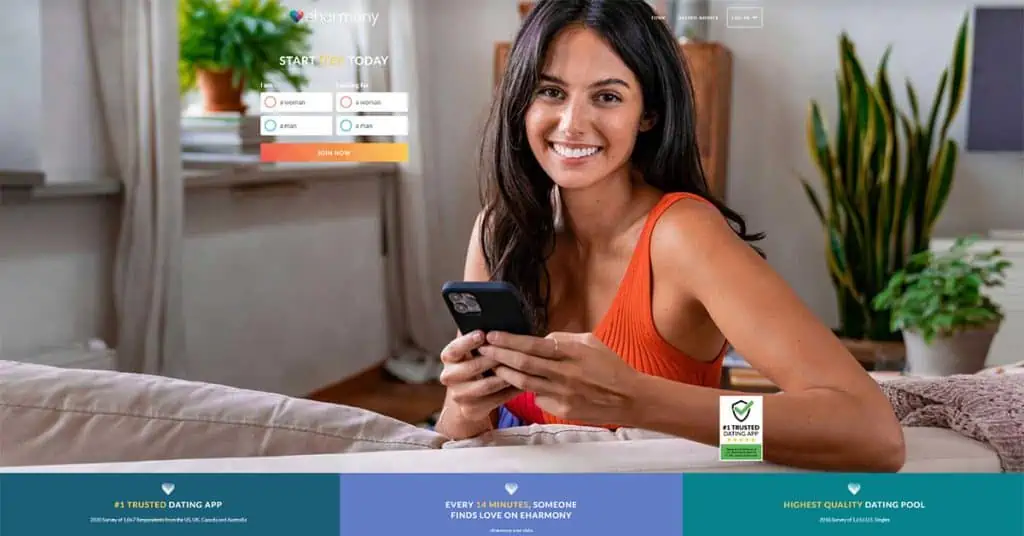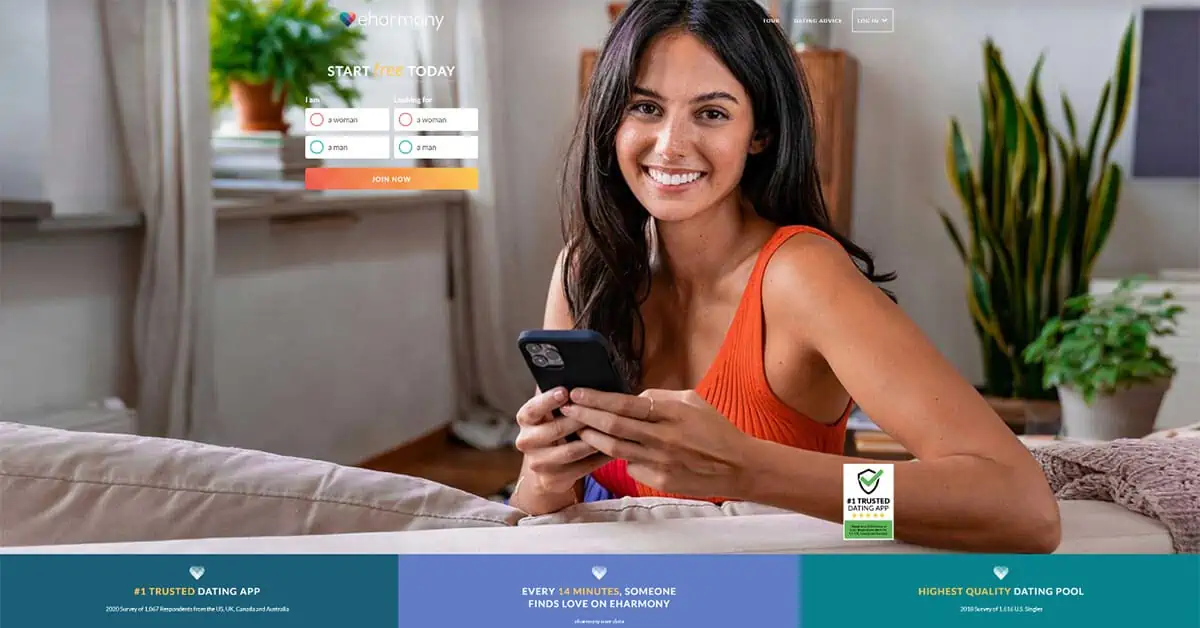 Perhaps your previous marriage did not stand the test of time because compatibility in the relationship was lacking. This is precisely why eHarmony is a great dating app for the divorced single! This dating app creates compatible matches through the use of personality testing that covers 32 dimensions and really delves into the psychological principles that lead to successful and healthy relationships.
The entire goal of eHarmony is to help singles find the right dating partner and foster long-term happiness in that relationship.
The dating app examines each individual's personality, how they communicate, and their core values and then creates quality matches based on these facts. It has resulted in one of the most successful matchmaking businesses in modern history, with nearly 2 million people claiming to have found love in this place.
If you are a divorced single and you love the idea of finding someone special through the use of top-rated matchmaking magic, create a free account at eHarmony!
---
#2: Zoosk
Best For: Dates, relationships, and friends
Gender Ratio: 48% men and 52% women
Match System: Age, geography, appearance, etc.
Active Members: 40+ million
Visits Each Month: 12 million
Free Trial: Start Your Zoosk Free Trial Today!
Subscription Price: Starting at $10.00 a month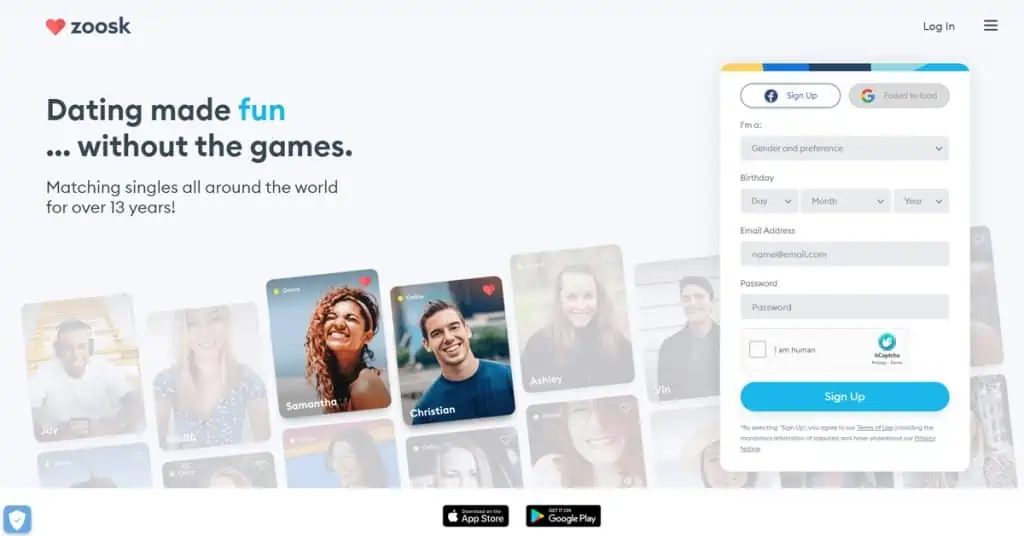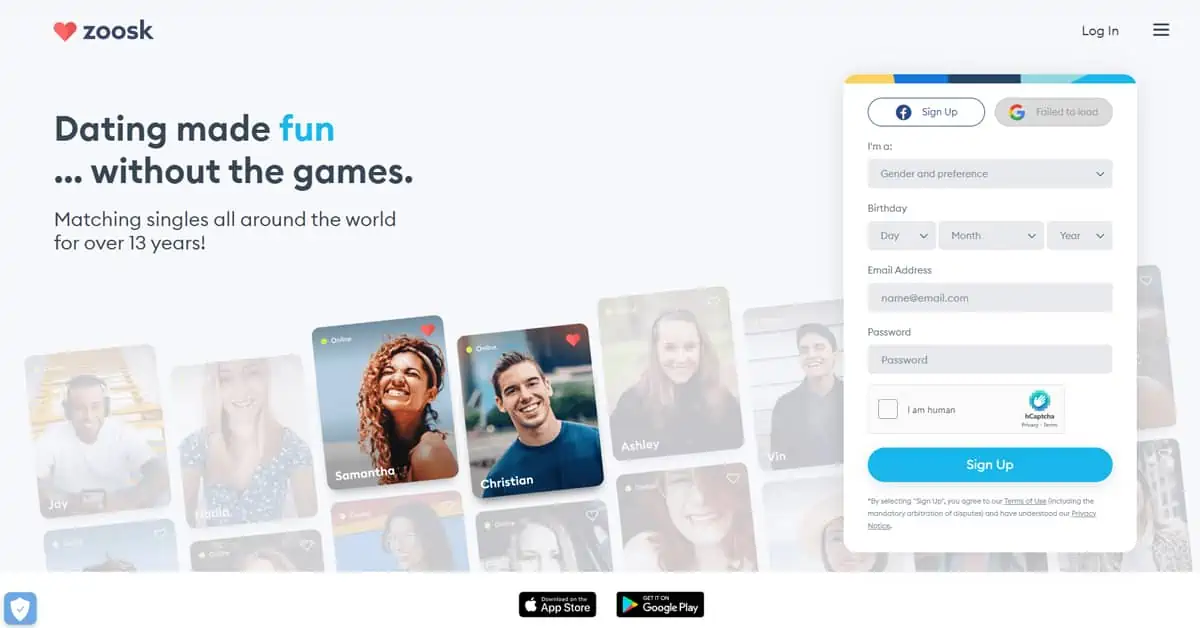 Zoosk is an online dating app that appeals to a wide audience. The app contains a really unique blend of younger and older users with everything in between. This means that if you are divorced, it does not matter your age or what stage of life you currently find yourself in.
Zoosk services over 40 million singles worldwide, all of whom are extremely different from one another, and they successfully create amazing matches for both casual and serious relationships alike! Most notably, they are keen on helping users to form fast connections with other singles on the website.
If you have recently gone through a divorce and need to move on quickly, Zoosk might be the best-divorced dating app for you to be using this year. They use a top-rated matchmaking system that is rooted in individual behavior to create their pairings as well as search filters that generate results based on locality, age, interests, and physical appearance!
---
#3: Elite Singles
Best For: Serious relationships with other professionals
Gender Ratio: 43% men and 57% women
Match System: Search and get suggestions
Active Members: 2+ million
Visits Each Month: 2 million
Free Trial: Start Your Elite Singles Free Trial Today!
Subscription Price: Starting at $31.95 a month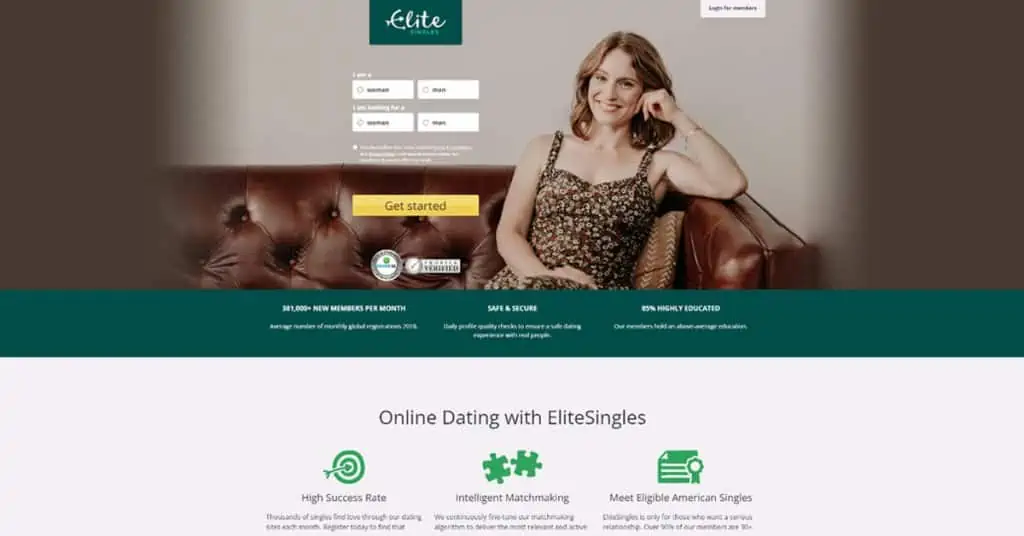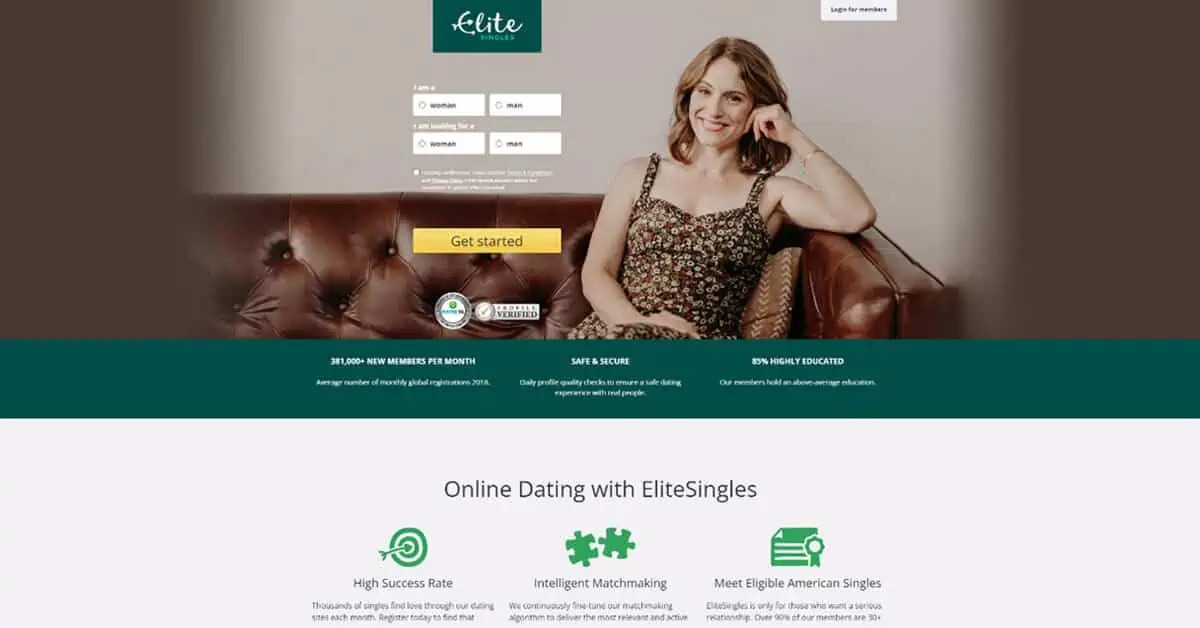 If you have gotten divorced recently and you are looking to begin a relationship with other professional singles, we need to steer you in the direction of Elite Singles. This is a divorced dating app for the "older" crowd as nearly all its members are over the age of 30.
Elite Singles boasts that over 80% of their members have completed some form of higher education, anything from a bachelor's degree all the way up to a doctorate! So if you find yourself divorced and looking to develop a relationship with a more sophisticated and professional type, this might be the best dating app for you to use!
You can create a free account at Elite Singles, but it pales in comparison to the features and benefits that you find when you pay for a subscription! Either way you choose to go, you will still be able to find plenty of professional singles in no time.
---
#4: Christian Mingle​
Best For: Serious relationships with Christian values
Gender Ratio: 44% men and 56% women
Match System: The user searches for matches and gets suggestions
Visits Each Month: 3.5 million
Free Trial: Start Your Christian Mingle Free Trial Today!
Subscription Price: Starting at $14.99 a month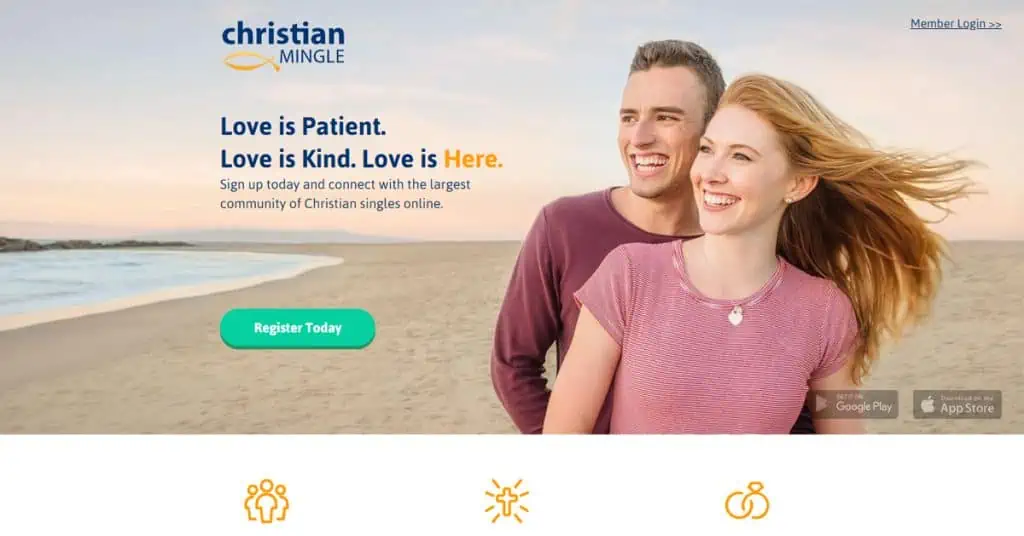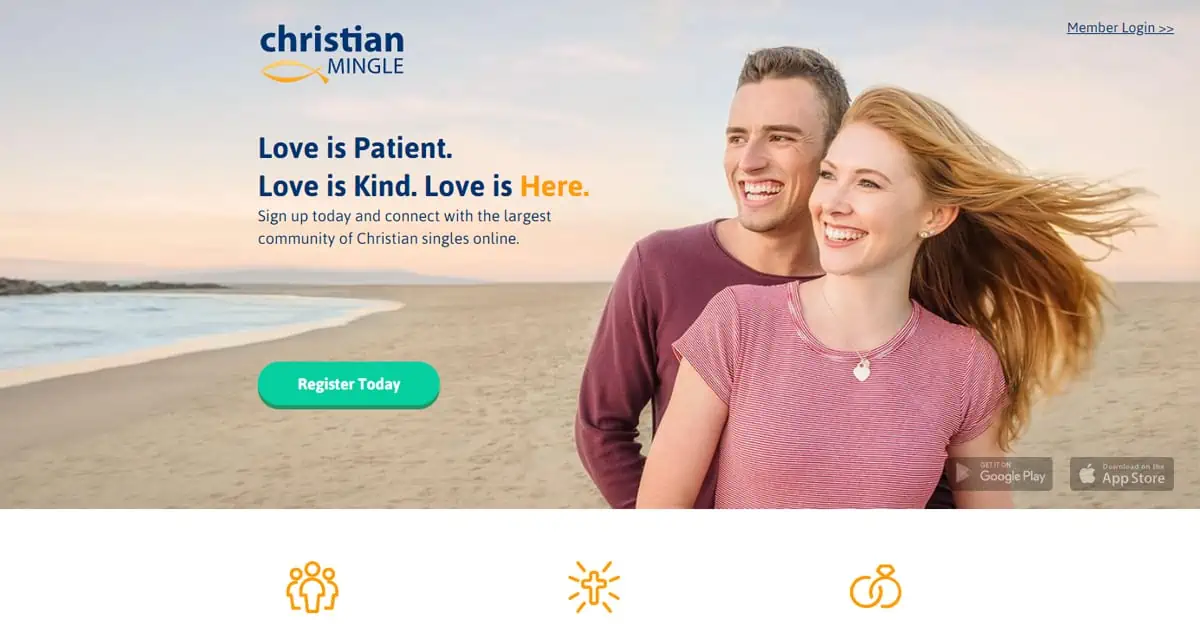 Maybe you ended up getting divorced because your relationship with your partner was not built on a strong foundation. Or maybe your relationship was not as centered around God as it should have been. Christian Mingle offers a second chance to divorced singles who are seeking partners rooted in their Christian values and faith!
If you are a Christian divorcee, you still have a chance at finding a great God-centered relationship. In fact, Christian Mingle has been responsible for creating a third of all Christian marriages in 2023!
A majority of the users believe in Christian values and are all about faith-based romance. This Christian dating app is ultimately ideal for someone who is pursuing a serious, long-term relationship.
If you are divorced but are ready to meet a strong man or woman of faith at Christian Mingle, now is the time to create a new account and meet Christian singles.
---
Advice for "Divorced" Singles​
Dating someone following a divorce can be tricky and difficult to navigate at times. Whether you are the divorced one, your date is the divorced one, or you both are divorced, it can be hard to meet new people and form a relationship coming off of the hurt or violation of trust that happened in the past. If you are a divorced single and you want some good advice on how to approach the dating game, here are some great things to keep in mind on your journey.
| Advice | Details |
| --- | --- |
| Be Honest About Your Past | You will want to be honest about your divorce online as well as any children that you might have from that previous marriage or relationship. It is better to be honest about it now than to try and conceal it and come off as dishonest or a liar online. |
| Take Your Time Getting to Know One Another | As a divorcee, it might be easy to dwell on the hurt of the past. But that is the past. Leave that kind of talk there. Embrace the present and get to know your date. Ask them good questions based on what you know from their dating app profile and show genuine interest and enthusiasm in the conversation. |
| Don't Jump into a New Relationship too Quickly | This is called a rebound. And people typically hurt or get hurt by other people in a rebound scenario. Avoid getting involved with the next person who shows interest in you following your divorce. It is probably not going to end well for those involved. |
| Know What You Want | If that divorce has taught you anything, it is that there are certain things about your former spouse or partner that you do not want for your new relationship. This is why it is important to know what you want and to communicate that clearly to your current date or match. |
| Wait Until the Divorce is Official Before Dating Another | If you decide to get involved with someone else as a distraction from the hurt of the divorce, you might miss out on important parts of the healing process. Give yourself time to grieve the loss of the marriage and deal with those emotions without using someone new as a way to escape the hurt or trauma. |
And last but not least, one of the best bits of dating advice to divorced singles is to use a dating app that you can trust…like the ones featured in this review! Sign up for an account today and begin finding divorced singles near you!
Sign Up For a Divorced Dating App​
You might be wondering how involved the sign-up process is at a dating app like Zoosk or eHarmony. The answer is that it has never been easier! Just to illustrate how self-explanatory and user-friendly sign-ups at these sites are, we are going to sum everything up in five quick steps. The process in its entirety should only take about 10 to 15 minutes to complete. That's it!
Begin by going to Google Play or the App Store. To find the dating app you are looking for, type out the name in the search bar. Once it has been found, download the app to your smartphone, tablet, or mobile device.
When the download has been completed, you will need to provide some personal information to the app including your name, email address, and age.
You will be asked to create a username and password for your new account.
The next step is the time-consuming part of the process, and this is filling out the customer questionnaire as well as the compatibility test. Depending on which dating app you're using this might take close to 10 minutes.
You will have the option to stick with your trial account or to purchase a subscription plan. If you want to enjoy all the benefits and features of the membership plan, hit the Subscribe button.
How to Find "Divorced" Singles Near Me
It is not that hard to find divorced singles in your local area. There are traditional ways of making this a reality as well as some that are only possible through the great technology of the modern dating app! Finding divorced singles has never been so simple.
Use a Trusted and Reliable Divorced Dating App
It seems silly to mention, but this is one of the most obvious things you can be doing to find local divorced singles. Many dating apps will allow the user to do search filters based on age, appearance, geographic location, interests, and behaviors. Not only can you find divorced singles near you, but you can find ones that also look and act in ways that you find irresistible! The search filters are a great help in narrowing down exactly what you are looking for.
Hang Out at Social Places
You can meet divorced singles by going out to bars and nightclubs. Classic. There is also the venue of the local coffee shop. A great way to make a connection with someone you have just met is to buy them a drink. Everything is occurring in a safe public setting, and there is little to no pressure!
Attend Community Activities or Events
Find out if there are any events or activities occurring in your local community. These can be a treasure trove of opportunities to meet all sorts of singles who may live close by. A lot of towns put on a street fair each year, or you can hit up the annual beer and wine festival. These are all great venues to potentially find someone special and get a relationship going.
Serve or Volunteer
This is one that not a lot of peoples' minds jump to initially. This is a great way though to meet new people all while doing something toward a greater good. You can volunteer time at a soup kitchen or an after-school program for disadvantaged youth. You could help out at a summer camp or do a clothing drive at a local church. These are things that I'm pulling off the top of my head. A great aspect of choosing to volunteer as a way to meet someone special is that they get to see an altruistic, gentle side of you.
Divorce Dating Apps FAQ
Getting back to dating after divorce can be a very difficult time, and if you have never dated online before, there will most likely be a lot of questions that come up. Below we have put together a list of the most commonly asked questions that we see when it comes to divorced singles on dating apps and have tried to answer them as clearly as possible.
Are There Dating Apps for Divorcees Exclusively?
Yes, there are divorced dating apps out there that are specifically designed for only divorced people. However, the dating apps we recommend have userbases that include all sorts of singles, divorced or otherwise. This allows the divorcee to meet a wider range of people and not just those who have experienced the divorce process.
How Soon Should I Begin Dating After Getting a Divorce?
This will all depend on how comfortable you are with the idea but when the time is ready you will certainly know. For some people, it takes years to break back into the dating scene or muster up the energy to put themselves out there again. For others, they are ready to meet someone new as soon as the divorce papers are signed. There is not a right or wrong answer to this one. It all depends on the individual.
Are There Dating Apps for Divorcees To Have Hookups or Casual Sex?
Although none of these dating apps are featured in our review, there are plenty out there that cater to divorced singles who want to simply get out and have a good time with strangers. A lot of these are referred to as adult dating sites and they feature singles who are ready to explore the wild world of dating with you.
How Do I Know Which Is the Best-divorced Dating App for Me?
You need to find a dating app that works for your needs and your budget. Consider the divorced dating apps we reviewed. They are all pretty and different and offer a certain experience to a certain clientele. If you are looking for long-term serious relationships, consider eHarmony. Looking for dating and casual relationships? You best head over to Zoosk. If you fancy yourself a professional, Elite Singles is the way to go. Also, be sure to look into subscription pricing to find a dating app that fits into your budget.
Would You Recommend Dating Someone Who Has Gotten a Divorce?
We recommend beginning a relationship with another person based on compatibility. If the two of you end up together, it is going to be because you complement one another and are drawn to one another. And it will not matter what happened in your past. This compatibility and attraction will go far beyond the mistakes you have made. All that to say, just keep an open mind and be understanding of what people have gone through in their past.
Should I Wait Until After My Divorce to Officially Begin Dating Someone?
Yes, you probably should wait. The idea of dating before a divorce has been finalized can lead to any sort of weird complication. It is best to simply wait before barreling ahead with using a divorced dating site or meeting up with someone else.
How Can I Meet Divorced Singles?
One of the best ways to meet divorced singles is by using the dating apps that are featured in this review! You can set your search filters to sort out matches based on how close they are to you geographically, their looks, their age, and many other factors. There are the older methods of meeting people as well such as community events, church, volunteering, or down at the local watering hole.
How Common Is It To Find Divorced Men and Women Dating Online?
Yes, there are probably more divorced men and women out there using online dating apps than you could ever imagine. Our research has shown that women in particular are using divorced dating apps at a much higher rate than men. Whether you are into the guys or into the ladies, there are a ton of divorced singles using dating apps this very second!
Is It Hard To Get a Date Following a Divorce?
I guess it depends on how much you let the effects of the divorce dictate your success with getting back into the dating market. Divorce hurts, and many people have a hard time learning to trust again. And sometimes, there are unhealthy patterns from a failed marriage that need to be dealt with. Dating following a divorce is what you make it! You can let the hurt and failures of the past control you, or you can go into meeting a new person with the idea that it is a fresh start and a clean slate!
In the Divorced Dating App Profile, Should I Come Out and Mention That I'm Divorced?
It is always best to be honest when using dating apps especially divorced dating apps! Be open about being divorced and how many children you might have from a previous marriage. That way, anyone that matches with you can know the whole truth firsthand and have that expectation going into a relationship.