If you're looking for love and companionship in the constantly growing world of online dating, deciding on the "right" platform is super important! And if you are a Christian single, you have some great options–two of them being Upward and Christian Mingle–both dating apps made with you in mind.
Both of them are dedicated to helping Christians connect with one another, but they use somewhat different methods to do so. While Christian Mingle is well-known, has a large user base, and has a more traditional approach to Christian dating, the newbie Upward places more emphasis on holistic compatibility by taking into account mutual interests and personal growth in addition to faith.

In this comprehensive comparison, we'll go over the differences and similarities between them, giving you all the details you need so you can choose the one that best serves your search for faith-based love!
Throughout our comparison, we'll explore the features, costs, differences, and similarities of both Upward and Christian Mingle. Whether you're a devout Christian searching for a like-minded partner or someone interested in dating within the Christian community, our side-by-side breakdown will arm you with the knowledge you need to steer your ship through Christian dating apps with know-how and clarity!
---
---
Which Is Better for Finding Christian Singles?
Both Upward and Christian Mingle have their strengths when it comes to finding Christian singles. As an older, more established platform, Christian Mingle has a larger user base, which can level up your chances of finding potential matches within the Christian community–it was specifically created for Christians seeking like-minded partners.
On the other hand, the Upward dating app emphasizes compatibility based on shared interests and personal growth alongside faith. While it may have a smaller user base than Christian Mingle, its approach might lead to more meaningful and in-tune connections with Christian singles who share their values and interests.
The choice between the two ultimately depends on your preferences. Christian Mingle might be your best bet if you prioritize a larger pool of potential matches and a more traditional Christian dating experience. If you value compatibility beyond faith and are open to a newer, more holistic approach to Christian dating, Upward could be a great option! We recommend trying out both platforms for a spell to see which one meets your dating and relationship goals!
General Info Breakdown
To give you a complete comparison of Upward and Christian Mingle, we have to start by looking at the general info of both dating apps—especially the size and activity of the user bases—so check out the fast facts below!
Key Information
Upward
Christian Mingle

Year Founded

2020

2001

Best For

Christian singles looking for meaningful relationships or casual dating experiences

Meaningful relationships with other Christian singles

Site URL

Upward-App.com

ChristianMingle.com

Active Members

N/A

16 million worldwide
(3.5 million active weekly)

Gender Ratio

N/A

44% men to 56% women

Averag Age

18-35 years

35-50 years

Free Trial

Yes

Yes

Read Review
Our team has independently researched all products and services that we have listed on this page. If you sign up or purchase through our links, we may receive a commission. See how it works.
Both Upward and Christian Mingle offer free trials so you can get a feel for what the platform is like and the people who are on it!
Main Differences
Now, let's look at some of the main differences between Upward and Christian Mingle, which will help you choose the best Christian dating platform for you.
Customer Base
Upward has a smaller and steadily growing customer base, appealing to those who value shared interests and personal growth alongside their faith. On the other hand, Christian Mingle's more established platform boasts a larger and more diverse pool of Christian singles.
Membership Price
The Upward dating app has a smaller dating pool but offers more affordable premium memberships, while Christian Mingle, with a bigger user base, has more expensive subscription plans–your choice in this department could depend on budget considerations and whether you prefer a niche or a larger pool of potential matches.
Matchmaking
Upward and Christian Mingle approach matchmaking differently–Upward matches its members through sophisticated search options that encompass a wide range of criteria–these search terms do double duty and act as useful bullet points for each member's dating profile on Upward. Christian Mingle, on the other hand, places a strong emphasis on faith-based matchmaking.
Swipe-Style Profiles
Both the Upward and Christian Mingle dating apps use swipe functions as part of their user interface, letting users quickly browse profiles and show interest (or disinterest) by swiping right or left.
Sign-Up Time
The sign-up time for both Upward and Christian Mingle typically involves a few straightforward steps, and it can take anywhere from 5-10 minutes, depending on how quickly you complete the required information and profile setup. This includes providing basic details about yourself, such as your name, age, and location, and creating a profile with photos and "about me" sections.
Influence and Reach
The difference between Upward and Christian Mingle's influence and reach lies in how their dating pools work. Upward focuses on influence, making connections that matter through shared hobbies, personal growth, and faith. This can lead to deeper and more significant relationships within a smaller user group. Because it has more users, Christian Mingle has a bigger reach and could help you meet a broader spectrum of Christian people, though the focus is on faith-based connection.
How Are Upward and Christian Mingle Similar?
Faith-Centric Focus: Both Upward and Christian Mingle are dating platforms designed to primarily connect Christian singles with similar faith values and beliefs.
Profile Creation: Both apps require users to create detailed profiles, including information about their faith denomination, interests, and personal preferences to help facilitate meaningful matches.
Messaging and Interaction: Both platforms offer messaging features that enable users to engage in conversations with their matches, fostering communication and connections within the Christian dating community.
Top Features Comparison
In this section, we'll explore the top features of Upward and Christian Mingle, providing a side-by-side comparison to help you discover which platform offers the tools and functionalities that resonate best with your Christian dating goals.
Upward's Best Features
Unlocks Messaging – Only when two users have made a mutual match (by liking one other's profiles) on Upward are they able to exchange messages with one another.
Unlimited Swiping – You can only swipe through so many profiles each day if you're a free member, but if you pay for a premium membership, you can indulge in as many swipes as you want!
Unlimited Rewinds – It's easy to accidentally "skip" or "like" a profile while you're looking at dating profiles, but on the Upward dating app, there are no restrictions on how many times or how far back users can go to undo these mis-swipes.
Ad-Free Experience – If you're a free member, you'll see ads while you swipe through profiles, but paid users won't encounter any.
Five Free Super Likes – Paying members receive five free Super Likes every week (20 for an entire month) in addition to the free monthly profile boost.
One Free Profile Boost – Each month, paid subscribers are eligible for one free profile boost.
See Who Likes You – If you're a premium member, you'll be able to see which other users have expressed interest in your profile.
Christian Mingle's Best Features
Read Receipts – Using read receipts, you can keep track of who has seen your communications.
Worship Center – This feature offers access to articles, advice, and resources on Christian dating, relationships, and faith, providing valuable insights and guidance.
Messaging+ – A premium feature that allows free members to receive and respond to messages from premium members, promoting communication and connections.
LookBook – This premium feature offers users an enjoyable change of pace by providing them with a swipe-based dating app experience.
Anonymous Browsing – If you want to conceal when you're active on the platform, you can do so with this premium feature.
Spotlight – This optional upgrade puts your profile at the very top of other singles' search results, improving your exposure and the likelihood of meeting a potential match.
Upward vs Christian Mingle Cost Comparison
When trying to decide on a Christian dating app, you have to consider the price of a premium membership, especially if you are limited in what you can do if you don't upgrade. Below are the breakdowns for the premium membership plan prices and durations.
Upward: Best for Budget
The Upward dating app is the cheaper alternative when it comes to premium pricing!
| Membership Plan | Cost Per Month | Total Cost |
| --- | --- | --- |
| 1-Month Membership | $14.99 | $14.99 |
| 3-Month Membership | $7.49 | $22.49 |
| 12-Month Membership | $5.99 | $35.99 |
Christian Mingle: Best for Value
Although the cost of Christian Mingle is higher, it has a proven track record due to its longevity on the dating market and offers a few more premium perks and features when you upgrade to a paid subscription.
| Membership Plan | Cost Per Month | Total Cost |
| --- | --- | --- |
| 1-Month Membership | $49.99 | $49.99 |
| 3-Month Membership | $34.99 | $104.97 |
| 12-Month Membership | $24.99 | $149.94 |
Which App Is Better for Serious Relationships?
Christian Cafe is the best overall dating app for Christian singles, mainly due to the features that cater well to Christian singles, like the online prayer boards and its robust forum and chatroom where members can discuss their faith and what that looks like for online relationships!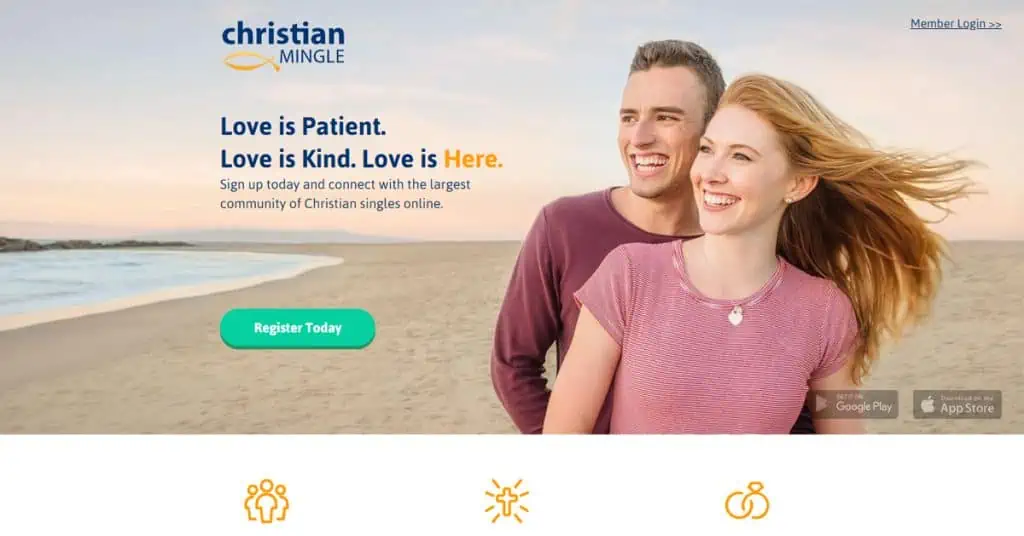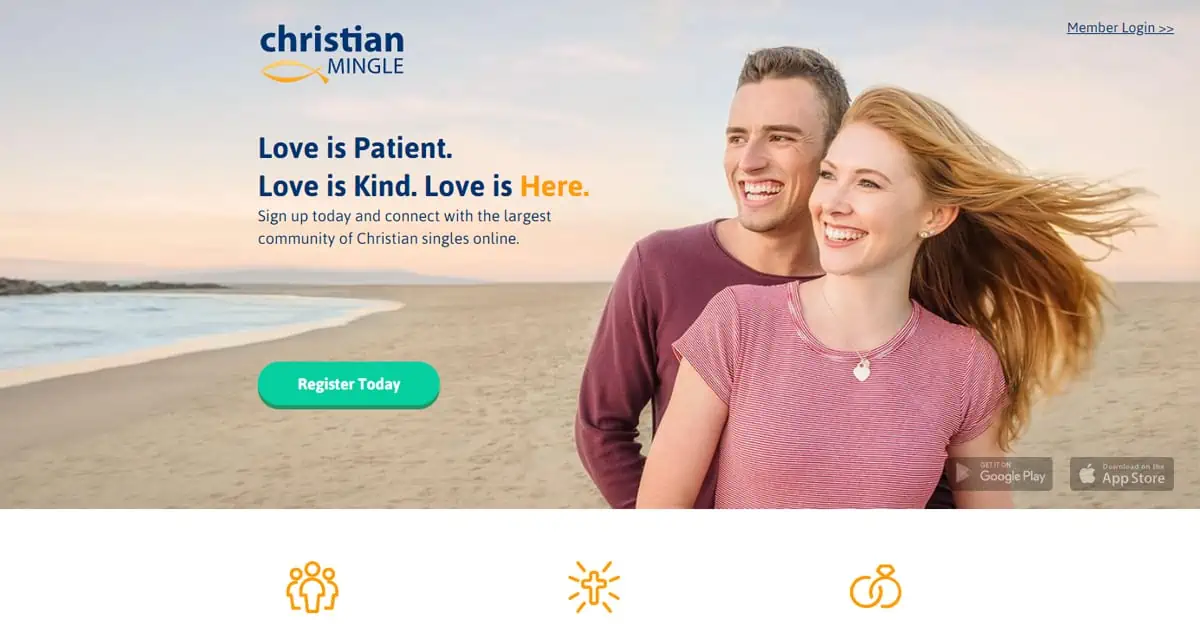 Christian Mingle
We debated about this, as both Upward and Christian Mingle are geared toward people seeking serious connections, but, in the end, we have to say that Christian Mingle edges Upward out in this area. It's not that there aren't people looking for meaningful, long-term commitments on Upward–they are. However, the users on the platform are more open to casual relationships than the members of Christian Mingle.
Which Dating App Is Better for Christian Dating?
This is a straight-up tie, as both Upward and Christian Mingle were designed specifically for Christians who want to find a serious significant other who shares their strong faith!
Which Dating App Is Our Favorite?
Although we don't like to play favorites, we use our trusty rating system for all dating app reviews, and you can see how the Upward and Christian Mingle dating apps fared in the table below.
Rating Process
| | Upward | Christian Mingle |
| --- | --- | --- |
| Overall Rating | 3.9/5 | 3.7/5 |
| Usability Rating | 4.3/5 | 4.9/5 |
| Active Members Rating | 3.5/5 | 3.6/5 |
| Daily Matches Rating | 3.7/5 | 3.0/5 |
| Features Rating | 4.1/5 | 3.5/5 |
| Cost Rating | 3.7/5 | 3.5/5 |
| Free Trial | | |
As you can see, Upward scored slightly higher than the Christian Mingle dating app on our rating scale.
So there you have it—a comprehensive comparison between Upward and Christian Mingle! Both are stellar platforms for Christian singles, so you can't go wrong with either one. It all comes down to personal preferences and what you are comfortable with. And if you're still unsure, you can always try both for free and see which one suits you best.