As one might suspect, this a Christian Mingle vs. eHarmony comparison. One is known as the king of the online dating market, and the other is the elder statesman of the Christian online dating scene. And believe it or not, these are both respected and viable options for meeting and developing relationships with singles who hold the Christian faith.
But which is the best for finding true love, romance, and serious commitments with Christian singles? Great question. Our Christian Mingle vs. eHarmony matchup will cover this matter in depth and point you toward the best platform for finding church-going singles who take their faith seriously.
---
---
Which Is Better for Finding Christian Singles?

Both dating apps are terrific options for serious dating and relationships, some of the best online dating markets. But these two platforms diverge when it comes to the faith of their online users:
Faith-Focused Relationships – If you're looking specifically for someone who shares your Christian values and beliefs, the winner is Christian Mingle. This is the best dating app if you want relationships where God and faith are integral to the center of the relationship. Their top priority is faith and ensuring that Christian singles can find true love or romance with other Christian singles.
Compatibility-Focused Relationships While Christian Mingle's focus is on faith in relationships, eHarmony's primary goal is for compatible connections. Many Christians have eHarmony accounts, but you could meet someone who isn't a Christian on the eHarmony dating app. eHarmony doesn't focus on faith but on compatible connections. One of those factors could include religion!
General Info Breakdown
Let's look at who is using eHarmony and Christian Mingle, respectively. One of the essential factors in these reviews is knowing whether the dating app is active and enjoys a lot of user engagement. After all, you want a strong dating pool for some choice and variety in your search for the right Christian singles!
Key Information
| | Christian Mingle | eHarmony |
| --- | --- | --- |
| Year Founded | 2001 | 2000 |
| Best For | Meaningful relationships with other Christian singles | Serious relationships marked by compatibility and connectivity |
| Site URL | ChristianMingle.com | eHarmony.com |
| Active Members | 16 million (Active weekly) | 16+ million (Active weekly) |
| Gender Ratio | 44% men to 56% women | 48% men to 52% women |
| Average Age | 35-50 years | 35-45 years |
| Free Trial | Yes | Yes |
| Read Review | | |
To learn more about eHarmony or Christian Mingle, become a free member using the free trial. There are several premium features you can enjoy free of charge: registering an account, creating a profile, and checking out some basic daily matches.
Main Differences
There are a lot of similarities between eHarmony and Christian Mingle when it comes to their members. The number of committed, active users and the monthly visit rate is around the same ballpark for both apps. The gender ratio is relatively even for both platforms, and they cater to customers in their mid-30s and 40s.
Customer Base
eHarmony doesn't cater solely to Christian singles, while Christian Mingle is a niche Christian dating app. Plenty of people who aren't Christian use the eHarmony dating app. Using Christian Mingle as a non-religious person is more challenging than being a religious person using eHarmony.
Membership Price
Christian Mingle is the more affordable of the two dating apps. They also offer 1, 3, and 6-month memberships while eHarmony extends to its customers 6, 12, and 24-month installments. CM is best for an affordable price, while eHarmony is better for the value its memberships contain (think 32 Dimensions of Compatibility testing).
Matchmaking
eHarmony's matchmaking process involves its patented 32 Dimensions of Compatibility testing. It helps gauge compatible connections between singles on the app. Christian Mingle mainly uses basic search filters and a bit of the user's personal dating preferences to inform daily matching. Matchmaking at eHarmony is much more in-depth and accurate to the user's needs.
Swipe-Style Profiles
Christian Mingle has the LookBook, which features swipe-style profiles based on each member's dating preferences and searches filter settings. eHarmony doesn't have a swipe-style profile per se; the daily matching is primarily done using the 32 Dimensions testing. But there is the "What If" feature, which offers a handful of profiles that fall outside the members' ideal parameters (you can swipe through the suggestions).
Sign-Up Time
Christian Mingle's sign-up process only takes 5 to 10 minutes to complete. This is due in part to the thorough 32 Dimensions of compatibility testing. If you want to spend 30-45 minutes creating a new account and dating profile, check out eHarmony.
Influence and Reach
The main differences between these two dating apps are their overall branding and subsequent reach in the market. One dating app serves many countries, while one only knows a little. eHarmony is available in 200+ countries. Christian Mingle only serves 7.
How Are Christian Mingle and eHarmony Similar?
Both dating apps are excellent at forming serious, meaningful relationships that last the test of time.
The number of active members (around 16 million) and the gender breakdowns are comparable. Members are typically in their 30s and 40s.
eHarmony and Christian Mingle have a dedicated mobile app available for download at Google Play and the App Store.
Top Features Comparison
We looked at the membership features offered at both eHarmony and Christian Mingle and concluded that eHarmony wins in this category, hands down. Christian Mingle doesn't have any impressive features. They are boilerplate.
Christian Mingle's Special Features
LookBook – Christian Mingle is known for its swipe-style dating profile, which makes the hunt for Christian singles fun and exciting, like on dating apps like Tinder and Bumble.
Advanced Search Filters – eHarmony lacks search filters and does matching based on 32 Dimensions. Christian Mingle uses search filters and dating preferences exclusively to inform its daily matching.
Anonymous Browsing – Christian Mingle members can search other members' profiles without those profiles being notified that they're being viewed.
eHarmony's Special Features
32 Dimensions of Compatibility – This is the top-notch compatibility and personality testing that eHarmony is well-known for. It helps to establish connections on various levels, forming the basis for satisfying relationships.
Breakdown of Your Test Results – Once you complete the testing, you gain access to a detailed analysis of your results and what it means moving forward with the eHarmony app.
Compatibility Reports – eHarmony will use your test results to develop thorough reports for each connection they produce in your daily matches. See how compatible you are with each of your matches and the reasons why!
Video Date – Unlike Christian Mingle, eHarmony extends its customers' video chatting capabilities so that they can meet their matches face-to-face.
Christian Mingle is about as basic as you can get with the features of an online dating app (except for the LookBook). Meanwhile, eHarmony has great video chatting capabilities and some of the best matchmaking and compatibility testing (32 Dimensions) you'll find anywhere in the online dating markets.
Cost Comparison
When choosing the right dating app for finding Christian singles, the cost of membership matters, especially if you're working within a limited budget. But there's also the idea of value and getting the best bang for your buck.
Christian Mingle
| Membership Plan | Cost Per Month | Total Cost |
| --- | --- | --- |
| 1-Month Membership | $49.99 | $49.99 |
| 3-Month Membership | $34.99 | $104.97 |
| 12-Month Membership | $24.99 | $149.94 |
eHarmony
| Membership Plan | Cost Per Month | Total Cost |
| --- | --- | --- |
| 6-Month Membership | $65.90 | $395.40 |
| 12-Month Membership | $45.90 | $550.80 |
| 24-Month Membership | $35.90 | $861.60 |
eHarmony: Best for Value
Consider that you're getting the opportunity to take eHarmony's 32 Dimensions of Compatibility testing. You'll get reports for every one of your daily matches with a detailed breakdown of why they are a good match for you. That justifies the price you pay for an eHarmony premium membership: actual value.
Christian Mingle: Best for Affordability
Christian Mingle premium memberships are cheaper, so you do end up with what you pay for: a straightforward dating app with few membership features. CM is a better dating app to use if you're looking for a smaller commitment.
Which App Is Better for Serious Relationships?
eHarmony's user base is much more diverse. You can find people of all different faiths on the app, but the one thing they all generally have in common is the desire for serious, committed relationships. Christian Mingle comprises users who hold Christian beliefs and are looking for like-minded singles for serious dating or marriage.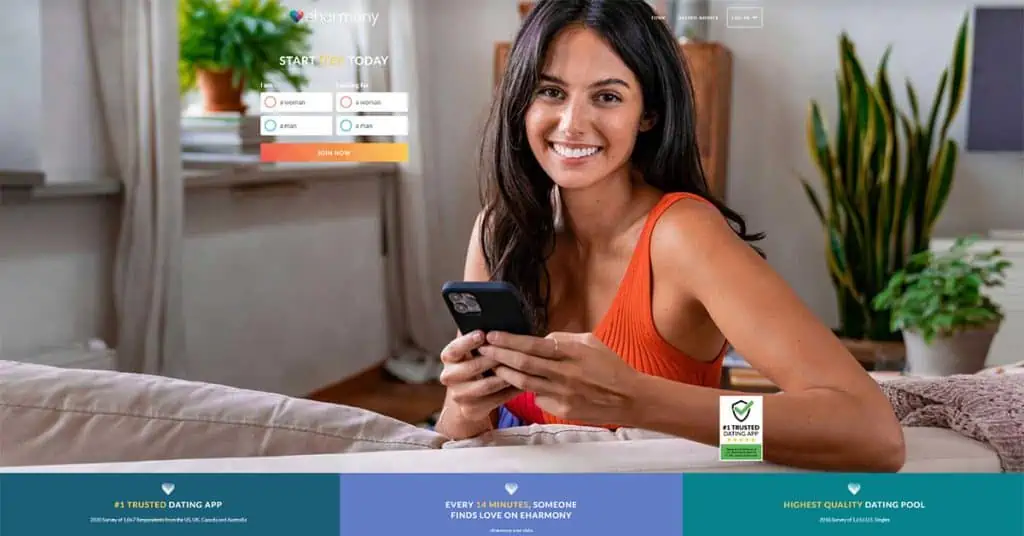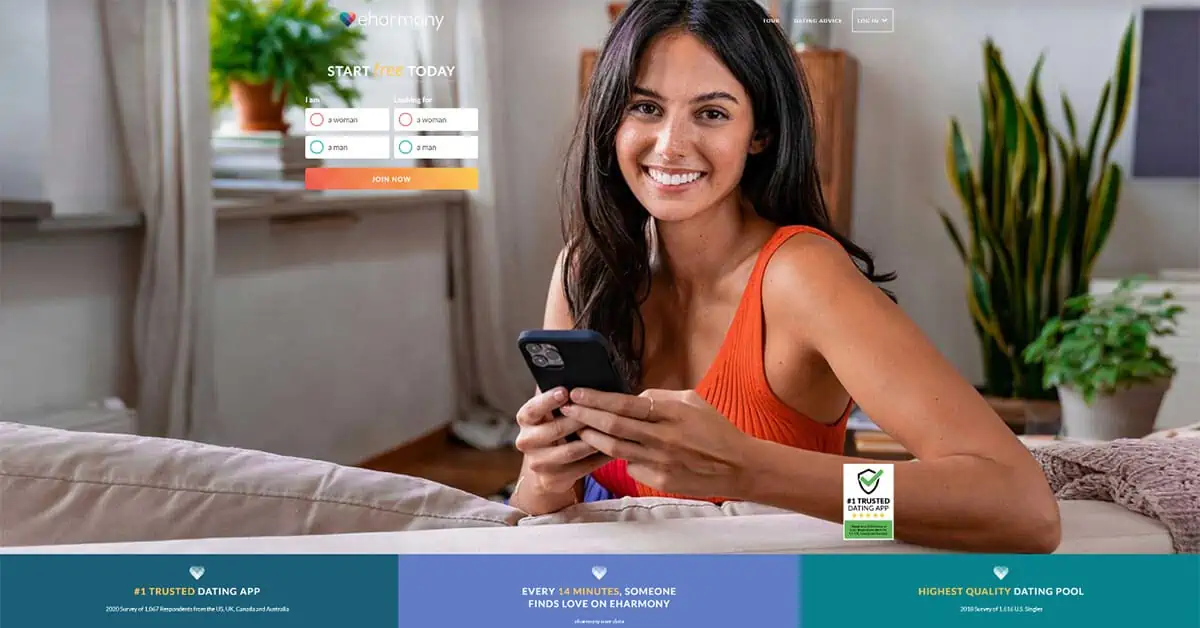 eHarmony
eHarmony also has more exciting and dynamic features than Christian Mingle; it's the dominant force of the two when it comes to amenities for its customers. eHarmony boasts the creation of 600,000 marriages in the last 20+ years, and this is due to its best overall feature: the 32 Dimensions of Compatibility testing. It's the ideal basis for laying the relational groundwork for something long-term, meaningful, and committed.
Which App is Better for Christian Dating?
Although many Christians use eHarmony to find true love or romance with those who share their faith, it's not a niche Christian dating app and caters to singles who might only sometimes hold Christian beliefs and values. To find Christian singles guaranteed, check out Christian Mingle.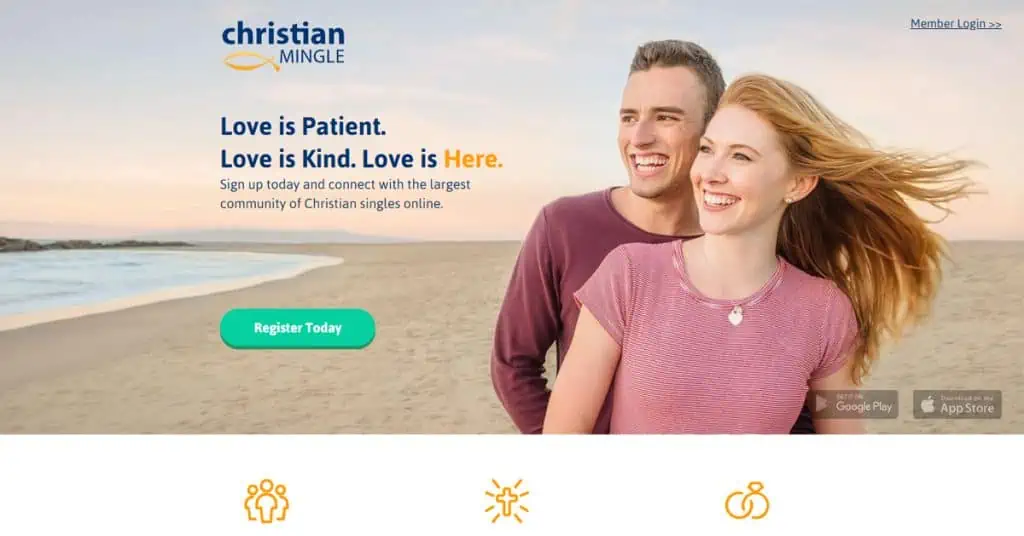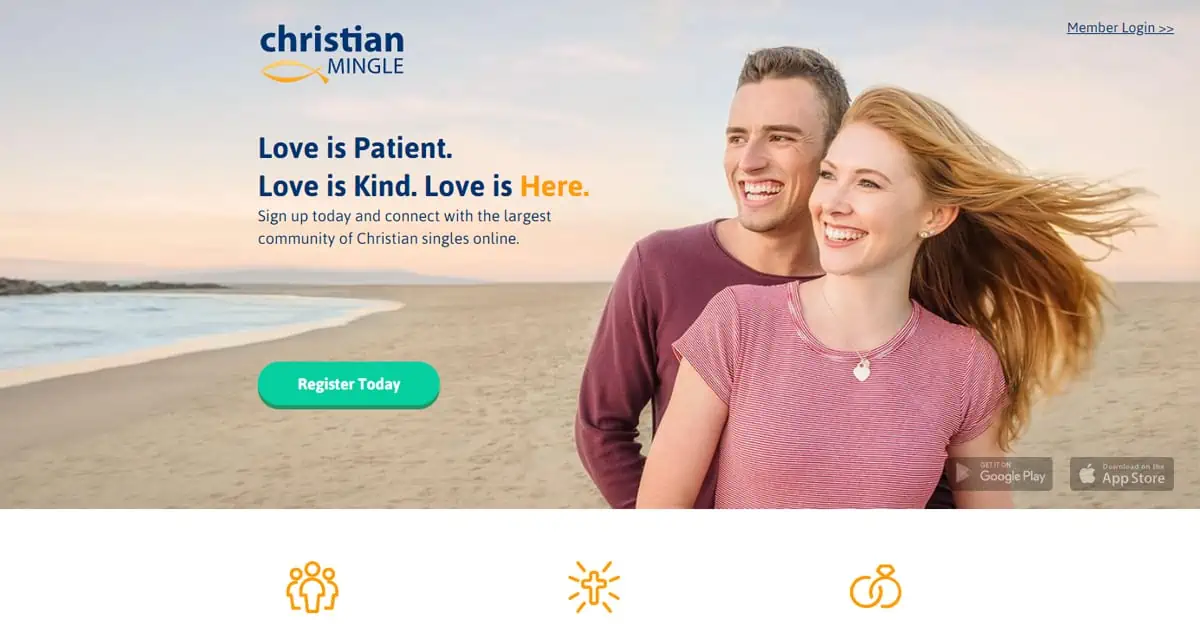 Christian Mingle
Christian Mingle is responsible for nearly 30% of all Christian marriages starting online. One of its better aspects is how its matching system works, which gives all the power to the customers. CM members set up their search filters and dating preferences to generate a unique set of matches based on the settings and parameters established! Members can discover singles based on denominational beliefs, interests, ethnicity, lifestyle choices, etc.
Why Christian Mingle?
It's a niche Christian dating app where nearly every user holds to Christian faith and beliefs.
Christian Mingle is responsible for 29% of the Christian marriages that originated online.
They provide a large dating pool of quality singles: 16 million.
71% of members attend church on Sundays.
90% of members want to marry someone who's a Christian.
Sixty thousand new people join Christian Mingle each month. It's an active platform for faith-seeking singles.
Which Dating App Is Our Favorite?
As always, we've included our five-point process for rating any dating app we review. We look at both eHarmony and Christian Mingle in terms of their usability, active members, the quality of daily matches, their membership features, and the membership cost.
| | Christian Mingle | eHarmony |
| --- | --- | --- |
| Overall Rating | 3.5/5 | 4.5/5 |
| Usability Rating | 4.9/5 | 4.6/5 |
| Active Members Rating | 3.0/5 | 4.6/5 |
| Daily Matches Rating | 3.0/5 | 4.8/5 |
| Features Rating | 3.0/5 | 4.9/5 |
| Cost Rating | 3.5/5 | 4.0/5 |
| Free Trial | | |
An excellent way to test out either eHarmony or Christian Mingle is to create a free trial account and test out the app free of charge. Use the links above to get started. You can also read full reviews of both eHarmony and Christian Mingle to learn more about these dating platforms and what they offer.