Where can I find a good cup of coffee in Dahntahn, Pittsburgh? Better yet, where is a good coffee shop and eatery where I could take a first date when I head into Iron City?
We are going to focus on ten of the best coffee shops and eateries that can be found around Greater Pittsburgh, ones that you cannot miss when you begin planning your first date with someone new!
We recommend reading: 10 Unique Ideas for a First Date
#1: Commonplace Coffee Company
About Commonplace
Commonplace Coffee Company is one of the elder statesmen of the coffee scene in Steel City. They have been in business since 2003 and have grown to four locations across Pittsburgh over the last 20 years, plus a few locations out of town. The Squirrel Hill location is particularly quaint and one of the best places to spend a lazy afternoon with friends or even a first date! It is within walking distance of Frick Park. In addition to these shops, they also have their own roastery and baking facilities!
Commonplace is known for specially crafted blends like Perpetual Espresso with a bright and sweet design of milk chocolate, almond butter, and shortbread, the perfect ingredient for their robust cortados, macchiatos, and straight shots (these are great drinks, by the way, to be enjoyed on a nice warm afternoon with someone special). Or you can check out their Morning Blend, which they have been producing for close to 15 years, a sweet and smooth blend of agave, green apple, and milk chocolate that can be enjoyed for early morning meetups or casual afternoon get-togethers.
In recent years, Commonplace has begun to develop coffee blends to raise money for Pittsburgh Parks Conservancy, an organization whose goal is to bring the Pittsburgh regional parks back to excellency. They have developed a line of Pittsburgh Parks Series coffees that take their inspiration from the four primary region parks: Schenley, Frick, Highland, and Riverview!
Commonplace is a great coffee shop to enjoy some good Pittsburgh-based roasts as well as support a great cause for the local community. Take your date here, and they will no doubt see your good taste in coffee but also your charitable side!
#2: The Vandal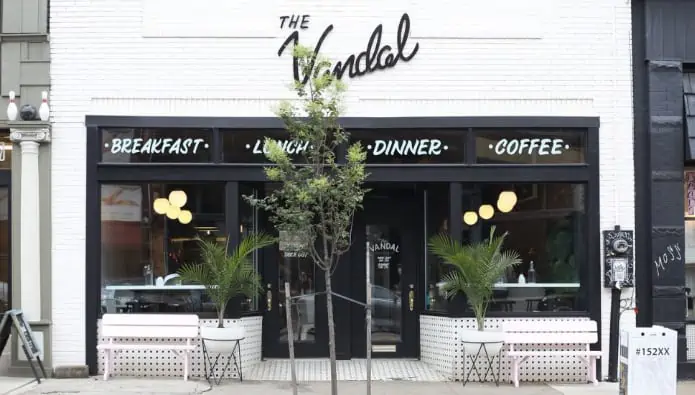 About The Vandal
The Vandal is located in the Pittsburgh neighborhood of Lawrenceville, which is situated northeast of Downtown and the Strip District. Not only is this a terrific place for a good cup of coffee when you are visiting the Burgh, but it is also a full-scale dinner spot and wine/craft cocktail bar with a modern atmosphere! This is a place for a night to remember, a beautiful location that we feel will really impress your date and have them wondering when they will be able to come back again!
The Vandal features all the usual staples that you will find at any good coffee shop, including americanos, cortados, cold brews, chai, and golden milk lattes. They even have a line of bottled Mexican colas, Topo Chico drinks, and espresso seltzer blends for the hotter days of the year.
As for dinner, the Vandal is a remarkably high scale for such a small operation. They feature dishes such as burrata salad, steak tartare, Malagash oysters, gnocchi sardi, and New York strip steaks. They also have a full line of craft cocktails (drinks like bourbon, sherry, and sweet vermouth) as well as a complete wine bar (Domaine Le Briseau, Pineau d'Aunis "Patapon," Loire 2018 for reds and Domaine Valette, Chardonnay, Macon-Villages 2017 for whites, just to name a few).
#3: De Fer Coffee and Tea
About De Fer
This is another one of those Burgh coffee shops that have multiple locations, a small business that has grown with such strength and popularity in the Steel City market that they can even be found in a small location on the Carnegie Mellon University campus! The Strip District and the Market Square locations, in particular, receive some heavy foot traffic and have remained a favorite staple for Pittsburgh residents for the past five years.
Just as they have expanded their locations, they have also expanded their menu past coffee and into craft cocktails, wine, paninis, and toasts. They cover just about every hour of the day! De Fer can be an awesome place to take your date for a nice lunch or even a night out for some good wine and a cheese board to share! There are some locations that put on pub trivia nights which could be a great potential first date with the two of your kicking back a few De Fer premium craft beers!
You can enjoy the hustle and bustle of the Strip District when you visit the location on Smallman Street. Or, if you want a better look at the more historical side of Pittsburgh, you could check out the De Fer location in Troy Hill for a look at some of the older neighborhoods. De Fer locations are scattered across the City of Bridges, so you really cannot go wrong with any location you choose to take your date! There is always something super unique to each location!
#4: Espresso a Mano
About Espresso a Mano
Espresso a Mano is a great, smaller-scale coffee shop with a big focus on customer service and local sourcing. This is a good place to take a date if you want to avoid the busyness of the bigger outfits like De Fer or Commonplace and simply relax in a quiet atmosphere with super attentive service. They also feature a small line of food, including breakfast pastries and sandwiches. But this is definitely the place to go if you are looking for a quality cup of coffee or tea!
If local and sustainable sourcing is something that is important to your date, this might be the perfect coffee shop for a first date! Located in the heart of Lawrenceville, Espresso a Mano gets its coffee from exceptional exporters, including BeanBelt Coffees, Keffa Coffee, and Red Fox Coffee Merchants. In order to supply their teas and their food menu, a Mano has partnered with local businesses in the Greater Pittsburgh region, such as Gryphon Tea Company, Mediterra Bake House, Turner Dairy Farms, and Enrico Biscotti Company.
#5: Adda Coffee and Tea House
About Adda
Just like De Fer, Adda Coffee and Tea House is a chain of coffee houses that seemed to spring up overnight in Steel City beginning in 2016. Although they boast four major locations across Greater Pittsburgh and are one of the bigger coffee house operations around the city, their focus is on community and creating relationships with their patrons. Adda, in fact, is a Bengali word that means to engage in friendly conversations and the place where that interaction happens.
Adda is a great coffee shop if you are looking for pour-overs, americanos, cappuccinos, or cortados. But they have also partnered with a handful of regional companies to bring their customers a full line of food and other delicious treats! This is a really great place for a first date if you are looking for some unique dishes!
Adda has partnered with Mi Empanada to deliver delicious chicken and beef hand pies to their customers on a daily basis! Madeline Bakery and Bistro supply a line of delicious, classic French pastries, Wise Country Biscuits does an Appalachian breakfast sandwich, and Liminal Café helps to supply a line of healthy lunch options with a focus on organic greens and gluten-free options!
#6: Yinz Coffee
About Yinz Coffee
Yinz Coffee came on the scene in 2021, and they sprang up like a jaggerbush! In just a year's time, they have expanded to eight locations, including one inside the Carnegie Library and one inside UPMC East! They specialize in delivering to the local community hot and cold coffee drinks, pastries, and the Pittsburgh-based Fancypants Popcorn!
In just a short year, this chain of independently run coffee shops has become the quintessential place in the City of Champions to get a good cup of coffee and get together with friends! It can also be a terrific first date location if your date is someone who bleeds Black and Gold. If it is not completely obvious in the name, Yinz Coffee has really embraced everything about Pittsburgh in its branding!
There is even an online store where you can purchase all sorts of merchandise, everything from hats and hoodies to coffee cups and even bicycle jerseys! Yinz Coffee is a little more simple when it comes to a lot of the other shops in town, and they are still coming into their own, but this can be a great down-to-earth place to bring a first date who loves everything to do with Pittsburgh and being Dahntahn!
#7: Constellation Coffee
About Constellation
This single-location coffee shop, located on Penn Avenue between Lawrenceville and Bloomfield, has been featured in Business Insider's "Top 20 Cities in America For Coffee Lovers."
This is one of the shops in Pittsburgh that the public raves about! As of June 2022, they source their beans from roasters such as Little Waves, Mother Tongue, Regalia, Brandywine, and Maquina Coffee. This is an excellent spot from grabbing some coffee for a first date as Constellation carries a wide variety of drinks like maple spice, a flat white, raspberry white chocolate mocha, cold brews, pour-overs, and more!
You can order some snacks here, but they do not have a full menu for lunches or dinners. Constellation is much more focused on getting good, quality coffee to their customers. If your date is interested in good coffee and the quality of the beverage, Constellation is a great place for a first date to try out some of their custom creations!
#8: La Prima Espresso Company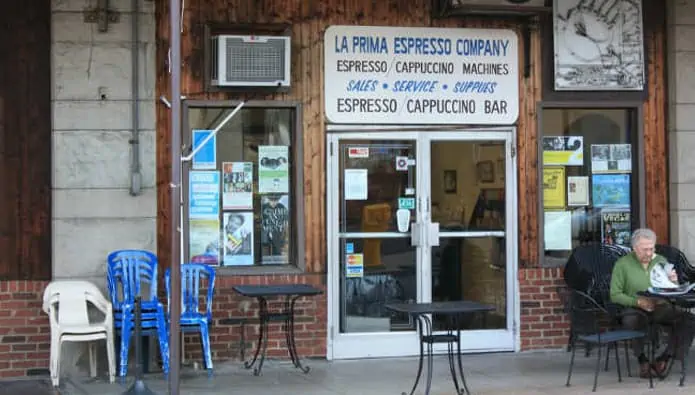 About La Prima
By far, La Prima is the oldest coffee shop that we are featuring on our list of the best coffee places around Pittsburgh. They were founded in 1988, with its first location being in the Strip District, but they have since expanded to a location on the CMU campus and one inside the AC Marriot on Smallman street.
Their original location has been standing for over 30 years now and still has a lot of that Old World flair and charm. This could definitely make for a memorable first date. The Strip District, in general, is always a great place to visit. There is plenty of shops and unique bodegas that could keep one busy for hours! So it is nothing to stop in for a few minutes at La Prima while you work your way around the Strip.
#9: Delanie's Coffee House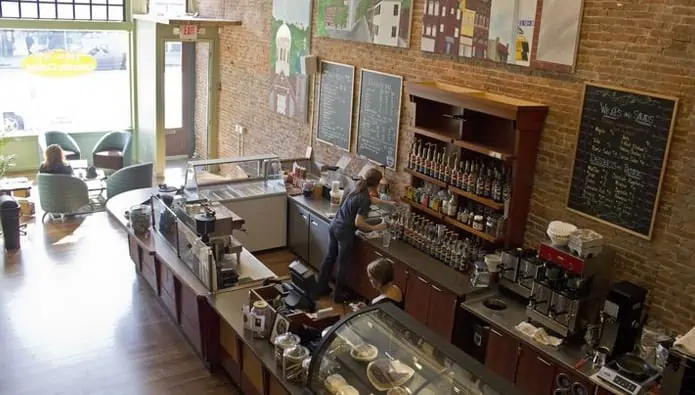 About Delanie's
If you happen to find yourself on Pittsburgh's Southside on East Carson Street, you might want to check out Delanie's for your first date! You can go to Delanie's and get breakfast, lunch, or light snacks, as well as their famous coffees, espressos, teas, or smoothies! If your date is an early riser, this can be a great place for an early morning breakfast where you can grab a plate of waffles! Or you could always make a nice lunch and get sandwiches, wraps, or paninis!
Carson Street is a bustling little place (not quite as much as the Strip District), and there are some opportunities for taking to the streets following your date and checking out some of the shops and boutiques that are scattered along Pittsburgh's Southside.
#10: Ineffable Ca Phe
About Ineffable
This is another one of the bigger players when it comes to coffee shops in the Lawrenceville neighborhood of Pittsburgh. Ineffable has some major partnerships going with some big Pennsylvania-based companies like La Colombe (Philadelphia) for their espresso bar as well as Caphe Roasters (also in Philadelphia).
This can be a great place to take a first date on the weekends, as Ineffable offers breakfast and brunch on Saturday and Sunday mornings! Their daily menu items include pho and rice bowls as well as banh mi and bubble teas. If your date is someone who likes Vietnamese cuisine, Ineffable might be the ticket for a great first date or meetup!