Pittsburgh has a dating scene that is unlike any other in the US and is marked by all sorts of interesting quirks and nuances! And we are not just talking about putting fries and coleslaw on your sandwich!
There are definitely some important things to keep in mind about the Pittsburgh culture before you begin looking over the dating apps for true love or a casual date in Steel City! Once you have a good idea of the Burgh's dating landscape, you can be that much more successful at finding someone truly special!
The City of Pittsburgh Is Smaller than You Think
The immediate city of Pittsburgh is actually a lot smaller than one would imagine, being home to just over 300,000 people! This makes the dating scene in Pittsburgh pretty close-knit. There is a high probability that you could run into an ex (or, for that matter, someone who knows your ex), or you might have an awkward encounter with someone you recently ghosted on a dating app!
Pittsburgh is not a city where you can hide in the crowd. Chances are that you will see someone you met online in real life somewhere dahntahn, be it the Strip, at Giant Eagle, or hanging out on a lazy afternoon somewhere like Highland Park.
More Singles Are Down for Commitment
There is a casual dating scene around Pittsburgh, but it does seem to be more prevalent among younger people who are attending the city's universities like Carnegie Mellon, Duquesne, or the University of Pittsburgh (Pitt). A lot of these people are from places outside of Pittsburgh, and they do not accurately reflect the dating culture of the city as a whole.
The people who were born and raised around the Burgh are actually more likely to want a serious, committed relationship versus something more casual! People from Pittsburgh are known for their loyalty and commitment to one another, so it is not really a surprise that serious dating is most prevalent in the city's culture.
When you examine the popularity of certain dating apps that Pittsburgh singles gravitate toward, this reality becomes even more apparent and clear. Two of the biggest dating apps that are used around the Burgh are eHarmony and Christian Mingle!
You Might Meet Some Out-Of-Towners
If you live in Pittsburgh and you are younger and are using an online dating app to find love or dates, there is a good chance that you might match with someone who is attending one of many universities scattered across the city.
If you have lived in the Burgh your whole life (you bleed Black and Gold) and you have no plans of moving (leave Steelers Nation???), you might want to be careful in pursuing a relationship with someone from Carlow, Point Park, or La Roche. There is a good possibility that once their four years of schooling are done that they have plans to move back home to Milwaukee or take that job out in Texas after graduation.
Resident Tend to Date within the Limits
If you live in Pittsburgh or have ever visited the Greater Pittsburgh region, you will know that the traffic can be a nightmare! This is not a city that is built on a grid. With all the hills and rivers that the roads need to zig-zag around and navigate past, Pittsburgh is a city where the roads can get congested really quickly!
Because it can be difficult to get out of town in the first place, many Pittsburgh residents prefer to simply stay within the city limits and meet other singles around town. They typically do not venture out to the surrounding counties for dates or to find true love. You're not going to really find a situation where someone from Shadyside or Lawrenceville is in a serious, committed relationship with someone who lives on the western end of Beaver County.
The geography of the city keeps people bound to the city limits for the most part.
The Pittsburgh Metropolitan Statistical Area is home to about 2.4 million people in total. This includes the city and all of Allegheny County, plus the surrounding counties of Armstrong, Beaver, Butler, Fayette, Washington, and Westmoreland. You would think that the total dating pool for someone using a dating app in Pittsburgh would capture a wider swath of that 2.4 million, but it is really only a small percentage of the 300,000 that inhabit the city limits. As we said, the Pittsburgh dating pool is like a small pond.
When the Weather Breaks, You Will Meet More People
When the weather gets nice around Pittsburgh, watch out. Everyone and his uncle is out and about in Steel City, enjoying their day in one of the regional parks, kayaking up and down the Monongahela, or riding their bikes dahntahn. Not only is this prime time to possibly meet someone new in person, but this is also a great stretch of days to do something fun on a first date!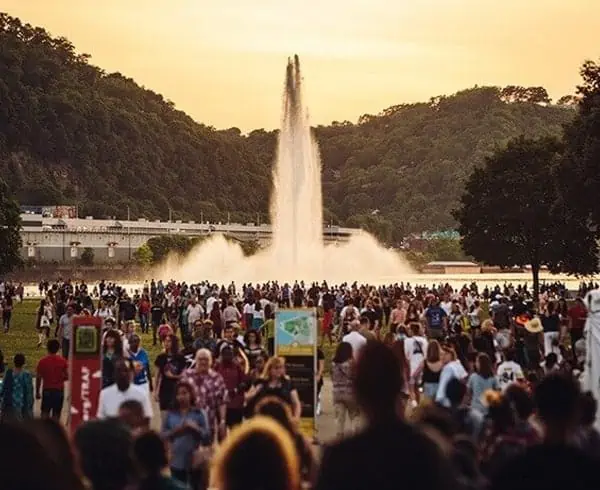 There is the Allegheny County Summer Concert Series that runs from June all the way through to September, perfect for music lovers and beer drinkers. In early June, the Dollar Bank Three Rivers Arts Festival takes place in the Cultural District. One of the bigger events during the summer season in Steel City is the Three Rivers Regatta at Point State Park!
When the weather breaks and temperatures begin to go up, there are a lot of ways that you can meet new singles around the City of Bridges!
Things Are More Casual than Formal
Pittsburgh has a lot of blue-collar roots that go back decades to when the first steel mills sprung up and down the river valleys. This has always been a hard-working town, and you are more likely to find someone in their work boots and Steelers hoodie than someone dressed in slacks, polo shirts, or sweater vests.
Things are much more laid back in Western PA, and it is not out of the question to wind up drinking Yuenglings at Primanti's for your first date (with the Stillers game on in the background, of course.)
Now don't get us wrong. There are plenty of nice, upscale restaurants and places to visit across the city. There are places like Acacia on East Carson Street, the Mount Washington Observatory Deck, and Grand Concourse in Station Square where you can go for some fine dining, and you can get away with wearing a suit and tie or a fancy dress. But, by and large, Pittsburgh is a more casual place at heart!
Things Are Affordable around the Burgh
While we wish we could say the same for in Western PA, the entire Pittsburgh area is a great place to go on a first date if you are looking to take it easy on your wallet! There are a lot of upscale pubs, taverns, and restaurants located all around the city where it is not uncommon to get out for under $30 to $40 with two people eating and a tip included!
You can get into the Heinz History Center for $18 per person,
a Pens game at PPG Paints Arena for around $25,
or Phipps Conservatory and Botanical Gardens for as little as $3 per person
Even something more upscale, like seeing the Pittsburgh Symphony, only runs about $60 per person! It does not take a whole lot of money to do something fun around Pittsburgh (or even something that is nice and well-thought-out).
Steel City Has Some Great Scenic Locations
Pittsburgh is one of the best US cities when it comes to scenic places within the city limits. There are a ton of great ways to spend a date with someone new! You can ride the incline to the top of Mount Washington for a great view of the Pittsburgh skyline. There is Point State Park which is on the confluence of the Allegheny and Monongahela Rivers, a great place to spend a sunny afternoon watching the boats or throwing coins into the large fountain.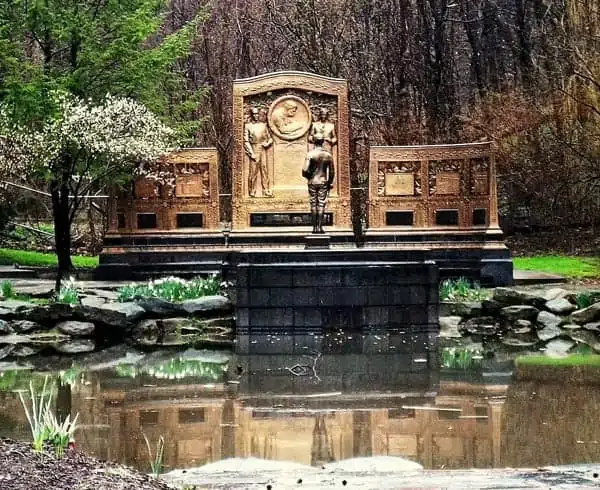 Pittsburgh is also home to four large regional parks: Frick, Highland, Riverview, and Schenley. Each of these has an extensive network of beautiful walking trails and scenic viewing points that can make for a first date to truly remember. With some of these parks, there are portions where you could mistakenly think you are out somewhere in the Pennsylvania Wilds when in fact, you are right in the heart of Pittsburgh!
You'll Likely Meet a Smoker
If you are looking for a date or a serious commitment with someone in the Pittsburgh dating market, there is a high probability that you will find someone who is a smoker. They might not always be a regular smoker, but there are a ton of social smokers in Steel City.
A study done in 2017 showed that the percentage of people from Pittsburgh who identified as current smokers was 21.3% which was up from the 16.7% statistic from 2016! This is higher than the national average, so you can fully expect to meet someone in Pittsburgh on a dating app that smokes in some capacity.
You Better like the Stillers and the Pens
Perhaps one of the most unsurprising things that will occur when you date someone who lives in Pittsburgh is that they will be OBSESSED with the Steelers and the Pens. It's inevitable.
And if you are someone who likes another team or feels apathetic towards sports in general, this might pose a problem for you in the future. It's actually better to be apathetic about sports than to root against the Steelers for another NFL team! If you begin dating a diehard Pittsburgh fan, you will definitely have a lot going against you if Sundays aren't spent tailgating, watching the Steelers play, and donning your Terrible Towel!