Our team has independently researched all products and services that we have listed on this page. If you sign up or purchase through our links, we may receive a commission. See how it works.
Who says that dating apps have to be one thing? While it can be fun to go online and find the love of your life about five minutes after you've logged in, the power that dating apps have to connect people from all over the world and in all walks of life shouldn't just be limited to online dating.
Thankfully, the revolutionary dating app Bumble knows just how much potential these apps have to create community and foster relationships, and the team at Bumble has worked tirelessly to make sure that their dating app doesn't just stop at forming romantic relationships but also networking opportunities, friendships, and so much more.
Bumble is one of the most forward-thinking and operating apps.
Bumble places a significant emphasis on women and their safety when they're online dating, which is almost unheard of in the world of dating apps.
Bumble also knows the power it holds and the audience it appeals to. It knows the young people that are constantly on the app.
The team at Bumble wants to ensure that everyone who joins any version of the dating app comes away from their experience not with success but also with a new understanding of how to treat people online and how to love them.
Although Bumble has already broken so many records when it comes to being a dating app that cares about its customers and keeps them safe, it wanted to continue. The team at Bumble created two new versions of the app where people could use any of the fantastic tools already accessible in the dating app but not find love online.
If you have yet to hear of the Bumble Bizz and Bumble BFF options that the famous dating app offers (for free!), you're in for a treat.
Bumble Bizz is the uncomplicated and utterly accessible version of LinkedIn that everyone needs to try. While you might not be able to send your resume to companies when you're on this version of the app, users are encouraged to network and match with influential individuals in their field of work.
With the help and accessibility granted to users through Bumble Bizz, it's no longer a bad thing to match with your future boss on a dating app. That match might help you get the job.
At first glance, Bumble BFF looks almost, if not entirely, identical to Bumble's original version of the app, And when you think about it, why would it be any different? Bumble BFF uses the same algorithm and method to match its users up with their new best friend when they're on the friendship version of the app.
While there are a few different features and prompts between these two apps, Bumble BFF and the original version of Bumble are very similar to each other, so you won't have to worry about learning a whole new system.
If you're curious about Bumble Bizz and Bumble BFF and what these unique and inclusive versions of one of the most reliable and innovative dating apps can do for you, keep reading!
Bumble BFF
Bumble BFF is the closest version to what Bumble's founder originally wanted the dating app to look like when she launched the company that would immediately create the most groundbreaking dating app.
Whitney Wolfe Herd was one of the original creators of Tinder. Because of the experience and customer feedback she had while working on the app, she wanted to do a complete pivot and change the way dating apps worked through her new dating app invention. Her original vision for Bumble was a women-only, compliments-only app.
She didn't necessarily care if she created the best dating app; she just wanted to make a safe place online for women to connect and not feel judged by other women or like they had to perform. 
Thankfully, she pivoted from her original design of the app a bit and created Bumble, one of the safest and most female-forward dating apps on the market. But she always wanted to go back to her original plan for a dating app because she believed that that kind of energy and app would change how people viewed and approached online dating.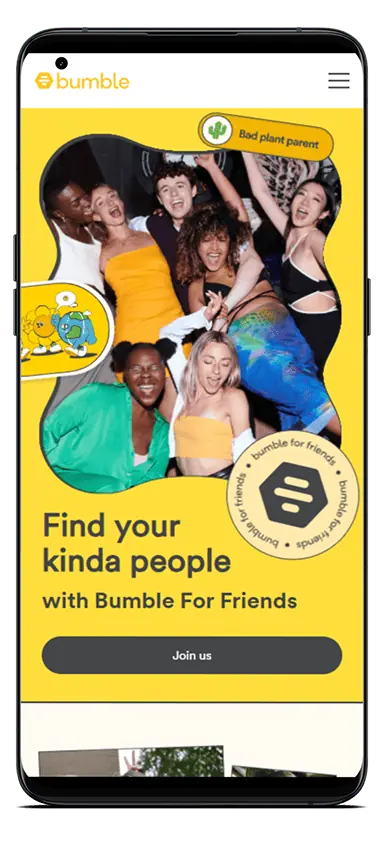 Enter Bumble BFF. Bumble BFF launched in March of 2016, about a year and a half after Bumble launched. While Herd might have appreciated this version of the app launching first because Bumble was so successful and so many people were not only finding love online. Still, they were also enjoying it. Bumble BFF had a platform to stand on.
With the invention of Bumble BFF, once you've found love online using the dating app, users could pop over to the friend finder version without any hassle or stress! It's a genuinely brilliant idea.
You might be wondering what the shift from a dating app to seeking a best friend app might look like.
Fortunately, for anyone who doesn't love change and who doesn't want to relearn an entirely new app, the standard version of Bumble and Bumble BFF look almost the same. Sure, the pictures might be a little less sexy on Bumble BFF. If you're only attracted to one gender romantically, you will be met with another gender on Bumble BFF. Everything else is similar in the app's layout, which we love.
But even though the app looks the same whether you're on Bumble's dating version of the app or Bumble BFF, Bumble BFF does come with a few fantastic features that make this friend-finding version of the app extremely successful.
Bumble BFF Features
When you log onto the Bumble app, you can choose one of the three modes you would like to experience that day: Date, BFF, or Bizz. All of these options are listed in the drop-down menu on the top left-hand corner of your screen. Once you're on the correct version of the app, you can explore it.
Create Your Profile
All of a sudden, the typical dating app rules don't apply to your profile anymore. You can add group photos; you can even add pictures of you and your partner! While you don't need to change any information or images on your profile if you don't want to, it's good to remember that you're appealing to a different audience.
No matter what you choose to add to your profile, make sure that you're 100% yourself, and people can see who you are and what matters to you when they're scrolling through your profile.
One of the rules that will stay the same when you shift from Bumble Date mode to Bumble BFF is that you're going to want to fill out all of the information on your profile. This way, you'll be more likely to match with a kindred spirit, and the friends you find when you're on the app will already have a good idea of who you are and what matters to you.
Fill Out the Prompts
One of the things that we adore about Bumble is that it provides its users with brilliant prompts when creating their online profiles. While the prompts on Bumble BFF are different from the prompts on Bumble Date, they are no less important to fill out.
The prompts that Bumble BFF offers its users are much more casual than those on the date version, but they're also an excellent way for you to let your personality shine while you're online and embrace all the joy that can come from being your true self.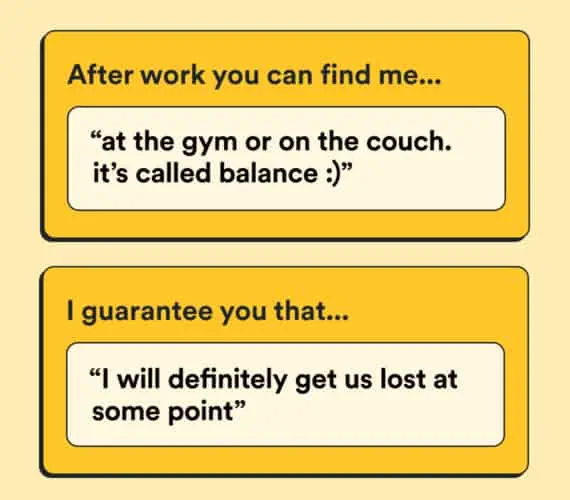 Add Your Interests
The ability to add your interests to your profile is not limited to Bumble BFF. Still, there are several friend-specific interests that you can choose from to round out your profile and let people know what you're interested in!
The interests that Bumble BFF offers its users to choose from are fantastic. Users can decide if they're interested in theater, trivia, book clubs, and so much more. Honestly, if you want to join Bumble BFF and look through everyone's interests, you might get inspired to get out there just from that!
We've all been in a friendship where one of you wants to go out and enjoy the bar scene while the other wants to curl up in bed without a care in the world. And while opposites do attract, when you're on Bumble BFF, you might want to find more of a kindred spirit.
Adjust Your Filters
Just like Bumble, users can adjust the filters on the profiles they want to see based on other users' age, distances, and languages.
Users can also use more advanced filters if they want to upgrade their Bumble subscription. The advanced filter options include:
Verified profiles
Star signs
Relationship status
Kids
Smoking
Dining preferences
Activity level
Religion
Whether or not they're new to your area
Even though Bumble BFF is a brilliant idea and there are several amazing people on this version of the app, there are not nearly as many profiles on Bumble BFF as there are on Bumble Date, unless you're in a huge city. Because of this, adding too many filters to your Bumble BFF swipe deck might severely limit, if not eliminate, the possibility of finding your new best friend while you're online.
Start Looking for Your Next BFF!
Once you've done everything and adjusted your profile appropriately, it's time to start looking for your new best friend!
While you might need to take a minute to wrap your head around the fact that you're swiping on a dating app, but you're not necessarily looking for a romantic relationship, once you've adjusted your mindset, you should be good to go!
Have fun exploring all of the amazing options you can find on Bumble BFF!
Bumble Bizz
If LinkedIn is the Facebook of the business world, then Bumble Bizz is its Tinder… or maybe it's Bumble. Either way, Bumble Bizz has taken the old way of doing things, like networking in person and going to endless events to get your name and face out there, and created a new and improved way to go about them.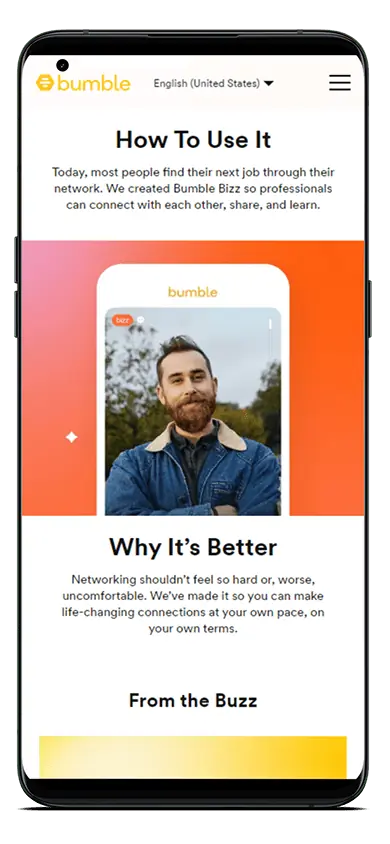 Bumble Bizz is a way for professionals to meet each other online and find job opportunities as a result. While when you're on LinkedIn, you might be able to connect with people that you knew in high school or college, on Bumble Bizz, the world is your oyster, and you can meet with and connect with people who you otherwise would have never known about if you hadn't downloaded the app.
Not to mention, you have to add people to your network when you're on LinkedIn. But on Bumble Bizz, all you have to do is swipe left or right. While it's the same result, the action is a lot simpler. And you're more likely to get more results and connections when using this app version.
If you need to put your best foot forward when you're on a dating app, allow us to introduce you to the professional pressure that comes from joining Bumble Bizz.
Thankfully, because the app is quite frankly a dating app and the swipe-right, the swipe-left feature is still very much in play, people can't help but feel more comfortable when scrolling through their networking options on Bumble Bizz.
But how can you take full advantage of this business and networking version of the dating app? Here are a few features that you might be interested in when you use Bumble Bizz.
Bumble Bizz Features
Add Your Headshot
While you always want to look your best when you're on a dating app, Bumble Bizz encourages its users to add professional headshots when choosing their profile pictures.
If you don't have headshots, try to look professional in the profile picture you choose. Find a picture of you at work or doing something similar to the job field in which you are looking to get hired.
Fill Out the 'About Me Section'
Now it's time to fill out your profile! While Bumble and Bumble BFF encourage you to talk about yourself and your interests in this section, you should speak about your accomplishments instead.
Because this is a free-write section, you can add any information prevalent to your job or the work you're looking for. Share any awards or accolades that you have. You can also incorporate some of the information on your LinkedIn page, like your headline or job title.
While you don't necessarily need to sell yourself in this section, it will be best for you if you can tell the people looking at your profile why you're passionate about your job and why you think you could be a good candidate for hire. 
Think of this section in your bio as an elevator pitch for yourself to any potential networking options or jobs.
Add Your Previous Work Experience and Education
This section is also available in both the dating and BFF versions of the app, but you should focus on this section more than you have in the other versions.
While it's nice for your future friends and partner to know what you do for a living, your potential employers must see that you have the experience and education required to fill their jobs.
Add as much information as you would like in this section. If you don't think a job is relevant, you don't have to add it! But we always encourage everyone to fill the space they're given, especially when it comes to job experience.
Start Looking for Matches
This step might require a considerable mind-shift, especially because Bumble Bizz still maintains its original swipe-left, swipe-right setup.
But thankfully, there aren't so many similarities between the original version of Bumble and the business version.
As soon as you see a new profile on your Bumble Bizz feed, you will also be greeted by everyone's accolades and work history on the app. Their credentials are more prevalent than their photos on the app, making a very different swift between swiping for looks and relationships to swiping on potential business partners.
Most people on Bumble Bizz clearly state their intentions on the app because they want to avoid getting matched with someone who is not looking for the same thing as they are. And when it comes to jobs and networking, no one wants to play that game. 
If you meet a professional in the same field as you are or in your area, you can choose to swipe right. Once you've matched with them, feel free to message them just like you would in a normal dating app. If that feels too weird, you can always ask them to meet for coffee or meet you in their office!
No matter how you choose to explore Bumble Bizz. We hope you find success online while you're on it.
A Final Note
If you've wanted to expand your horizons and explore more relationships and opportunities but still need to figure out how to do that, thankfully, there is an app for that.
Bumble is one of the most innovative and forward-thinking apps on the market right now. Not only has the team at Bumble reinvented how people approach online dating, but they have also created countless brilliant ways for people to connect and form relationships while they're on something as simple as a dating app.
If the idea of logging onto a dating app and finding your new best friend or accepting a job position because you've used the app to network excites you, then you need to download Bumble right now and seize all of the opportunities that the revolutionary dating app has for you.