Interested in a VR dating platform where you can embark on anything from a leisurely beach stroll in an exotic virtual location to an exhilarating city tour to an out-of-this-world space adventure? Hold on to your VR headsets because all of the above, and more, is possible with vTime XR.
Get ready to blast off into a new virtual reality dating adventure if you are up for it, and read on for our complete review of the vTime XR dating app for 2023–we'll tell you everything you need to know!
---
---

Our team has independently researched all products and services that we have listed on this page. If you sign up or purchase through our links, we may receive a commission. See how it works.
Introduction to vTime XR
The vTime XR dating app offers a wide range of online hangout spots where you can socialize and meet new people. Within the app, you can try out different activities with compatible matches, and you can do it without leaving your home.
A Brief Overview of vTime XR's History and Success
vTime XR, developed by the British virtual reality and augmented reality tech company vTime Limited, is the first social network to seamlessly blend the online and offline worlds, allowing users to connect with new people, have insightful conversations, stream films, and swap images.
Launched in 2015, vTime XR was the pioneering virtual reality (VR) dating app and social network. With the introduction of the platform's Picture Sharing feature, users could not only visit one of vTime XR's established VR locales but could also create their own VR hangout spot by using their favorite photographs!
vTime XR's Unique Approach to Online Dating
As the first VR dating platform, vTime XR offered a new and exciting feature to the realm of dating applications by enabling its users to meet and chat with potential matches in a fully immersive virtual setting.
Unique in its ability to play back your virtual reality (VR) memories in 3D, vTime XR is also cross-platform, supporting not just Oculus VR and Windows Mixed Reality but also two-dimensional experiences on Android smartphones and tablets and devices running iOS–vTime XR is the very first social platform that facilitates global interaction through virtual reality.
Is Signing Up for vTime XR Worth It?
Uh, yeah! If you are a virtual reality fan and want to kill two birds with one stone, looking for love while indulging in the fascinating world of VR, then we think signing up for the vTime XR dating app is more than worth it!
And even if you never even considered joining a VR dating platform before, if you are looking for a new dating experience or just burned out from using mainstream dating apps, taking a chance on vTIme XR is a win-win; it's a great place to start your VR dating journey and it isn't super complicated for newbies!
Our Ratings
In order to gauge vTime XR's overall efficacy, we benchmarked its features against the very best in five different categories.
Our reviews are always comprehensive and objective since we take into account all relevant factors, such as the number of active users, the cost of premium memberships, the efficacy of the matching system, and the features and benefits available to members–and the vTime XR dating app did not disappoint, coming in with an overall rating of 4.3 out of 5–that's pretty close to a perfect score!
Overall:

| Category | Score |
| --- | --- |
| Features | 4.0 |
| Ease of Use | 5.0 |
| Match Quality | 3.0 |
| Cost | 5.0 |
| Active User Base | 4.5 |
| Overall | 4.3 |
What We Like
We think vTime XR is ideal if you're looking for an innovative dating experience and a departure from the usual one-dimensional dating platforms, and we think it will change the game for dating apps in general because of the way it handles the virtual reality component.
Before committing time and energy to a dating platform, it's smart to weigh its pluses and minuses to see if it's a suitable fit for you!
In the sections that follow, we'll discuss what we like–and what we don't like–about the vTime XR dating app so that you can make a well-informed choice about whether or not this platform is for you.
Here is what we really like:
Unparalleled VR Dates: Instead of meeting at the same old coffee shop or restaurant, users of vTime XR can choose from a variety of distinctive and unforgettable virtual settings to spice up how they connect.
Immersive and Unique Environment for Dating: By placing you in a virtual reality setting, vTime XR creates a one-of-a-kind dating experience that is both stimulating and groundbreaking.
Customized Dating Profile Avatars: Don't want to see any human faces? You're in luck! vTime XR dating app members use 3D personalized digital avatars that are uniquely theirs, thanks to the platform's extensive customization options.
Enhanced Interactions: With vTime XR, users can engage in more immersive and close-to-real-life experiences with tools like emotive gestures, voice chat, and gift exchanges, all of which improve the quality of conversations and connections.
What We Don't Like
And here is what we aren't over the moon about:
Less Relaxed Setting: The seriousness of the virtual reality portion of vTime XR could result in a more serious dating setting, which might not be for those seeking a more lighthearted and casual atmosphere.
You Don't Care About Virtual Reality: If you have no desire to explore or find the concept of virtual reality to be too complicated, the vTime XR dating app is def not for you. Don't download vTime XR if you have zero interest in exploring virtual worlds, CGI avatars, or video games.
Reduced Engagement with Reality: The virtual world provides a compelling substitute for being somewhere else, but it can never fully replace the in-person experience. vTime XR could come up short of what you're looking for if you're hoping for physical closeness and consistent, real-life dates.
You Have No Plan to Purchase a VR Headset: Dislike the idea of dropping $300 on a VR headset? If face-to-face communication is crucial in your love life, then using vTime XR without the right hardware is not a great idea–having the right virtual reality software is a must for making the most of any of the best VR dating apps.
Who Is vTime XR Best For?
Without question, the vTIme XR dating app is best for virtual reality lovers and for those who want to try out a new way of dating! It offers members a bevy of high-tech, immersive options for interacting with potential matches–and the VR date locations are endless.
With over a million users, vTime XR is one of (if not the most) popular VR dating apps out there. On the vTime XR Dating App, the average age of users falls within the range of 18 to 35. Additionally, the gender ratio on the app is comprised of 62% men and 38% women.
Relationship Types Best Served by vTime XR
We are going to go out on a limb here and say that vTime XR is mostly for those looking for serious, long-term relationships. And it's not because it's a VR dating platform, which means that the chances of finding a casual hookup or fling are unlikely unless you happen to meet someone who lives nearby; it's because those who use VR dating services are in it for deeper connections.
This stems from members using avatars instead of photos on their dating profiles–it's a much less superficial atmosphere.
The vTime XR's Compatibility Matching System
There is no dedicated matching system or algorithm at work on the vTime dating app–it's completely down to users and who they choose to interact with.
Communication Features
vTime XR offers a variety of expressive gestures and interactions that enhance communication during virtual dates or hangouts–users can engage in voice chats and employ gestures that effectively express their emotions and actions.
Guided Communication
In addition to voice chat and private messaging, members have the ability to express themselves using vMote gestures–the suite of virtual emojis offered by vTime XR consists of 17 options, including blowing a kiss, waving, and celebrating.
The vTime XR dating app ensures that your data is encrypted during transit and is transferred through a secure connection.
vTime XR's Membership Options
There are no paid upgrades or in-app purchases on the vTime XR dating app because it is a free service. And although the dating app itself is free, if you want to get the most out of your dating experience, we highly recommend investing in a virtual reality headset.
| Membership Package | Length | Price Per Month | Total Cost |
| --- | --- | --- | --- |
| Premium Light | N/A | N/A | N/A |
| Premium Plus | N/A | | N/A |
| Premium Extra | N/A | N/A | N/A |
Standard (Free) Features
Social interaction: With vTime XR, you can interact virtually with potential partners from every corner of the globe.
Customize it: With hundreds of customization choices, you can transform your vTime XR avatar into a lifelike digital representation of yourself.
Decide on a reality: Without a VR headset, you may use vTime XR to connect to VR, AR (powered by ARCore), or Magic Window mode.
Choose your online destination: Join friends in the incredible, ever-changing virtual worlds available on the platform!
Send 360-degree images: You may communicate while within your memories or share 2D images in the 360 Gallery.
Use "vMote" gestures to convey your emotions: The 17 virtual emojis included in vTime XR include the wave, blow kiss, and rejoice emojis.
Keep in touch with your pals: To quickly connect with people on your VR social network and to know when they are online, set up and update a friends list.
Keep in touch by using 'vText': Users of vTime XR can always send or receive private messages, regardless of whether they are online or offline.
Genuinely feel as though you are there: DTS: X® Game Audio provides true 360-degree audio.
Submit a vSelfie: Take a virtual selfie to capture the occasion and save it to your virtual reality social network!
Cross-platform completely: Seven platforms, including PC and mobile, provide vTime XR.
Creating Your vTime XR Profile
In just under 10 minutes, we were signed up for the vTime XR dating app and completed our profile! We joined using the iOS app, so the registration procedure could look different on an Android device or a desktop computer.
Follow the step-by-step instructions below to set up your very own vTime XR dating profile.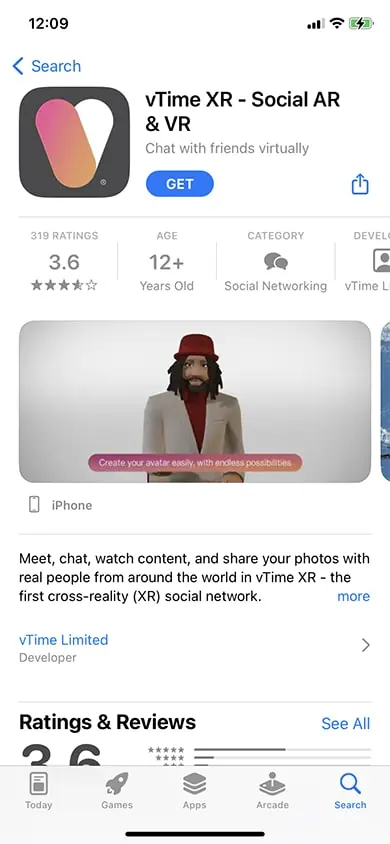 Step 1: Download and Install the vTime XR Dating App
The first step is to download the vTime XR dating app on your VR headset, smartphone, or PC. The vTime XR website also provides quick access to the appropriate app. Then launch the vTime XR app to get going!
Step 2: Allow Device and Microphone Access
In order to connect to the app and communicate with other users, vTime XR will need access to your devices, networks, and microphone. To continue, click "Allow."
Step 3: Play the Welcome Message
Play the "Welcome to vTime XR" that appears on your screen. It will provide you with more information about the platform and help you become more familiar with it.
Step 4: Enter and Confirm Your Email
Enter a valid email address, and then check your inbox (be sure to check your spam folder as well) for a confirmation email. Once you received it, click on the provided link to complete the setup process for your vTime XR account.
Step 5: Set Up Your vTime XR Dating App Profile
Then, fill up your vTime XR dating profile with whatever details you'd like to share and adjust your settings and preferences by clicking the cogwheel symbol next to "Edit account."
Step 6: Upload Your Customized Profile Avatar
Now, create your own unique VR avatar! Experiment with your hair, face, clothes, and accessories to find the style that best suits you.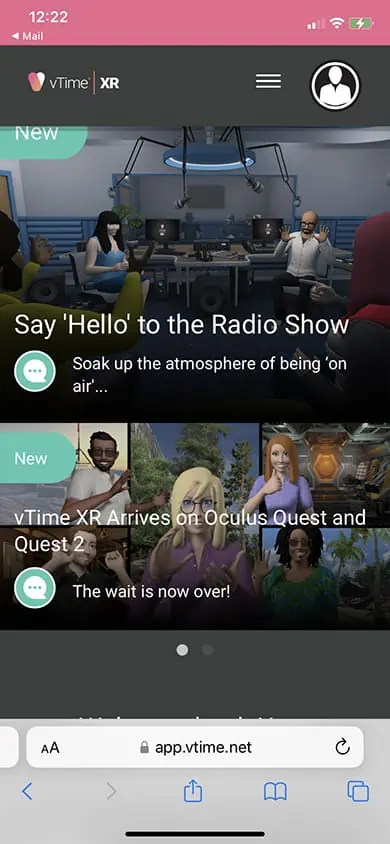 Step 7: Take a Tour and Get Familiar With Your Surroundings
And your account creation is complete! You are now free to explore the app's features and digital environments, learn the ins and outs of the vTime XR app, and how to connect with other users.
How to Delete an Account
Deleting a vTime XR dating app account is simple and quick–just follow the instructions below!
Step 1: Go To Your vTime XR Dating App Profile
Step 2: Click on Your Profile Avatar & Click Account Settings
Step 3: Scroll Down to 'Delete My Account"
Step 4: Enter Your Account ID & Enter Reason for Deletion, Then Confirm Decision
Customer Service
While members' experiences may, of course, vary, vTime XR is committed to providing members with consistent and quality support! Members can call or email customer service and will most times receive a prompt reply to their issue or question.
How to Contact Customer Service
📧  Email: hello@vtime.net
☎️  Phone Number: +44 1515581360
📣 Reports: Online Form at www.vTime.net, accounts@vtime.net
📣 Customer Feedback: feedback@vtime.net
✉️ Address: vTime Limited, 4th Floor Elevator Building, 25-27 Parliament Street, Liverpool, Merseyside L8 5RN, UK
vTime XR's Mobile App
vTime XR is available for free on almost every gadget out there. This covers the Oculus Rift, Android, Daydream View, Windows Mixed Reality, Gear VR, Oculus Go, and the iPhone.
On the vTime XR app, members can use virtual reality (VR) goggles or augmented reality (AR) apps on a mobile device to join virtual hangouts or dates with others– they can choose their preferred device and immersive experience by switching between augmented reality (AR), virtual reality (VR), and a 2D magic window mode.
Members can choose from a variety of vacation-like places, and while doing so, they can invite others to join them by projecting a live 360-degree model of the location onto any flat surface in the real world. Users of augmented reality platforms can connect with one another, shift their perspective of the location, and utilize additional Vtime tools like avatar creation, media sharing, and direct messaging.
Compatibility
iPhone: Requires iOS 13.0 or later
Android: vTime XR is exclusively available for Google Daydream users. However, users who do not have a Daydream View headset can still access the app by downloading the Google Cardboard version.
VR Headsets: vTime XR's platform flexibility allows it to work with any headset once it becomes available to the public. Windows Mixed Reality, Samsung Gear VR, Oculus Go, Oculus Rift, iPhone, Android, Google Daydream, and Google Cardboard are all compatible with the vTime XR dating app.
Frequently Asked Questions
Our review of vTime XR hopefully has shed a lot of light on any queries you had about the VR dating platform. Still, if not, we've answered several of the most frequently asked questions we've gotten from readers regarding the app and virtual reality dating.
Is the vTime XR Dating App Legit?
Yep! Martin Kenwright, a renowned software entrepreneur, founded vTime XR, which unites talent from the world's gaming industry. vTime XR was developed by British virtual and augmented reality innovation business vTime Limited, and it's free to anybody who wants to join.
How Exactly Does the vTime XR Dating App Work?
The vTime XR dating app allows users to have virtual chats with potential partners, friends, and family members located anywhere in the globe using a mobile device, VR headset, or PC. They've taken care of all the technical details, so all you have to do is download, launch, create an account, and start your virtual reality voyage.
Once you've got everything set up, head to the vTime XR lobby, create an avatar, add some friends, and then choose a scene from one of the many available virtual worlds. After assembling the group, you can take them anywhere and have hangouts and dates with them!
Can You Use vTime XR Without a VR Headset?
You can! You can run vTime XR on your iOS or Android smartphone using the Magic Window or AR mode, but only if your device supports Apple's ARKit or Google's ARCore. But if you really want to get the most out of looking for romantic partners in a VR environment, we highly suggest using a VR headset.
What VR Headsets Can I Use With vTime XR Compatible?
vTime XR will work with any headset on the market since it is platform-independent. As of the writing of this review, it is available on Windows Mixed Reality headsets, Samsung Gear VR headsets, Oculus Go headsets, iPhone, Android, Google Daydream headsets, and Google Cardboard headsets; support for PlayStation VR and HTC Vive is planned.
What Can You Do in the vTime XR Dating App?
You have the opportunity to gather a group of up to three friends and enjoy a wide range of settings for a fun get-together–you can socialize to your heart's content and also have the chance to get to know new people and interact with them whenever you want to!
Exciting new features are coming soon for the current vText messaging feature. Right now, you have the ability to share photographs and immerse yourself in your own 360 images. Additionally, you can send messages to both online and offline vTime XR friends.
Is the vTime XR Dating App Free?
Yes! Downloading and using it is completely free, and no premium memberships are available.
How Old Do You Have to Be to Join the vTime XR Dating App?
You must be at least 16 years old to sign up and use the vTime XR dating app.
How Are VR Dating Apps Different from Regular Dating Apps?
VR dating apps function similarly to conventional dating apps, except that users can interact and chat with others in VR by donning headsets or goggles. When juxtaposed with users of traditional dating apps, people who opt for virtual reality dating apps show their physical appearance in the form of virtual avatars.
What Can I Do if a Member Makes Me Feel Uncomfortable on vTime XR?
The administrators of vTime XR put forth a lot of effort to ensure that the platform is secure and user-friendly. In any case, if someone is being problematic, you can block them by going to the settings, selecting the culprit's avatar bubble, and hitting the 'Block' option. When someone is online, you may block them by visiting their profile and selecting the 'Block/Report' option.
If you believe that someone's behavior deserves reporting, you have the option to do so. After blocking a user, you are going to get an email asking if you would like to report the individual in question–all reports are kept anonymous.
How Can I Report an App Glitch or Bug on vTime XR?
If you encounter a glitch or bug, submit an email to feedback@vtime.net with as much information as you can about the problem, and the support staff will look into it!
How Can I Provide Feedback to vTime XR?
Don't be afraid to share your opinions about the vTime XR app with the vTime community, whether they're favorable or negative; they want to hear from you so they can make the platform into the kind of VR environment you want it to be!
Write an email to feedback@vtime.net or post in the app's suggestions section in the vTime XR forums to share your thoughts with the team.