The Teleport app is an exclusive membership-only AI-driven dating platform for a handful of elite daters–5,000 to be exact. Its tagline, "Attract–don't chase," makes it sound as if eligible singles will be hitting you up left and right, which is great! But is it true? And how hard is it to get accepted or "be invited" into the Teleport dating pool?
We are going to find out in our complete review of the Teleport dating app!
---
---
Our team has independently researched all products and services that we have listed on this page. If you sign up or purchase through our links, we may receive a commission. See how it works.
Introduction to the Teleport Dating App
We have exciting news for singles who want a first date, or any date, that is time-efficient, affordable, and lets you stay home while on said date. Introducing the Teleport dating app, a video-first dating platform that enables members to have "microdates" with compatible singles!
The video-first dating app, which was launched in the summer of 2023, offers users the chance to take part in five-minute speed dates that are invite-only. We think of it as an upscale, bougie version of Tinder, but with fewer cases of lewd DMs, boring dating app profiles that quote The Office, or the dreaded ghosters.
In 2019, Tyler Greenberg and Chad Goodman, the parents and co-founders of the Teleport app, were fed up with the existing popular dating apps. They decided to shake up the world of online dating by introducing an original concept–to create a dating platform that enables communities and influencers to organize their own online speed dating events.
Teleport's Unique Approach to Online Dating
With a premium membership-based business model and an AI matchmaker that learns from a user's every move, Teleport hopes to spark romances and claim a portion of the $4.6 billion dating app market.
What do Teleport members get with a premium membership? They can visit five dating profiles per day, send messages, and "rate" their dates–the AI learns and adapts to these behaviors.
And every week, they are also given three "optimal" matches, but they can only communicate with one of them. The Teleport app's mission is to make using dating apps better by employing the most effective strategy of all: matchmaking. The invite-only software costs $111 each month, but its developers claim that it will put an end to the unending cycle of scrolls and swipes that never ends in a compatible match.
Is Signing Up for Teleport Worth It?
We really wish we could give you some sense of whether signing up for the Teleport app is worth it, but the truth is, we just don't know. Since its only been on the scene for a short time and we are still on the waitlist, we have no idea and won't pretend otherwise.
It has gotten a lot of positive buzz, and the reviews are good, which is promising, so we hope it's successful for the lucky 5,000 daters on the platform!
Our Ratings
We use our standard five categories to rate every dating app we review to see if they offer all of the tools that singles need to find compatible matches and how they measure up to what we consider a beneficial dating platform for our readers and anyone looking for a romantic partner.
We know a few things about the Teleport dating app, but not enough to give it an overall rating, so we could only rate a few of the criteria–the overall rating is based on the three categories we could evaluate.
Overall:
| Category | Score |
| --- | --- |
| Features | N/A |
| Ease of Use | 4.0 |
| Match Quality | N/A |
| Cost | 3.0 |
| Active User Base | 3.0 |
| Overall | 3.3 |
Who Is the Teleport App Best For?
According to the Teleport app, the platform is best for the most eligible singles out there looking to meet their match and embark upon serious, long-term relationships.
According to Goodman, "In the upcoming years, we will be opening up the product to a wider demographic. Today, we're entirely focused on building the technology that is mandatory to evolve the human race, to making it effortless to find your perfect match. And over the course of the next two, three, four years, we will have built the product and the algorithm that can predict who you are looking for, and who you have the top chemistry with, with a– a high success rate. That's when we'll open the app to a wider demographic."
Relationship Types Best Served by Teleport Dating App
The membership committee of the Teleport dating app conducts extensive screenings to select and admit only the most compatible people from all over the world. They claim you'll meet compatible individuals who are looking for the same things in a romantic partner–those who have a clear idea of who they want to be with and how they want to live their lives.
Teleport's Compatibility Matching System
The AI on the Teleport app is completely user-driven. Members are given the resources they need to better understand themselves by completing Teleport's branded sessions and learning about their interests, love languages, and desires, browsing other members, and telling the algorithm what they're looking for in a partner.
And on Mondays at 11:11 a.m., members receive their top three potential matches.
The compatibility system on the Teleport dating app works by utilizing members' dating preferences and activity on the platform–then, the AI steps in and goes to work by analyzing that data to provide users with the most compatible matches.
Teleport's Membership Options
The platform's artificial intelligence, according to Teleport's founder Alex Goodman, can effectively couple people at scale, but only once they've agreed to pay a minimum of three months for a subscription (there are six and 12-month plans as well).
He claims that by doing this, the algorithm will learn how to better satisfy people's requirements throughout the duration of the investment term, resulting in more powerful connections that will last longer.
Free vs. Paid Memberships
While you can technically "reserve" your place in line on the Teleport app, there is no freemium or standard membership available–every user must pay for a three-month upgraded subscription if and when they are accepted onto the platform.
Premium Membership Benefits and Pricing
There are three tiers of premium membership plans available on the Teleport app–check out the table below!
What you get with a premium 3 and 6-month memberships:
Al MATCHMAKING: Meet the members who check off all your boxes.
EXPERIENCES: Access to monthly, curated, members-only events.
SELECT EVENTS: Exclusive access to intimate dinners, drinks, and activities with select members.
What you get with a premium 12-month membership:
Everything you get with the 3 and 6-month memberships.
SESSIONS: Program your Al with your values, passions, dreams, and lifestyle.
GIFTING: Receive luxury gift packages bi-monthly from the Teleport dating app.
Discounts and Promotions
The Teleport app is currently not offering any promotions, but the prices decrease if you purchase a longer duration plan: 6 months, you save 20%, and if you sign up for 12 months, you save 40%.
Creating Your Profile on the Teleport App
We signed up for a Teleport app account and created a profile, but that's about as far as you can go due to the 5,000-member cap in place. We aren't saying this to discourage anyone who wants to join, but unless you have a secret "in" or a few referrals from those already active on the platform, you're going to be sitting on the waiting list–and we can't tell you for how long.
We created an account using the iOS app, and signing up was fairly simple–it took under 5 minutes, but listen up: If you give them your payment info, even if you chose the "Reserve for free" option, you will be charged $333 if and when you are accepted onto the dating app.
And sorry, Android users and those who don't use an Apple device–this is the only platform where you can utilize the dating app.
Step 1: Download and Install the Teleport Dating App
Go to the Apple App Store and search for the Teleport dating app. When you locate it, click the "GET" button to download and install it.
Step 2: Open the App and Enter Your Mobile Number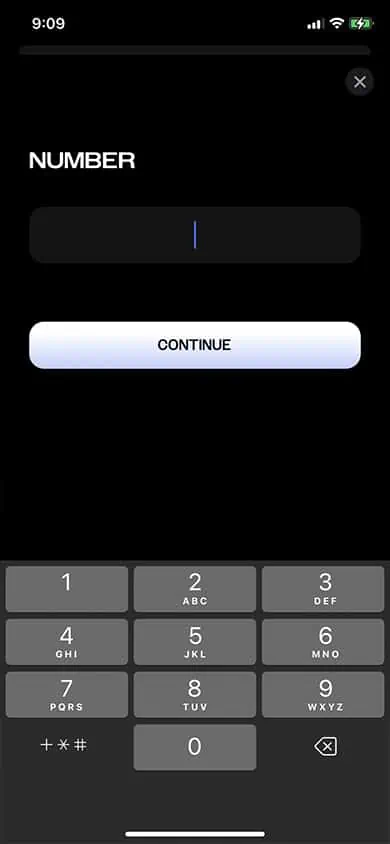 Once you've installed the app, open it and click the "Get Started" tab at the bottom of the screen.
Next, you'll have to input a valid mobile phone number–when Teleport texts you a verification code, enter it into the provided field and then click "continue."
Step 3: Enter Your Basic Info
Decide on a username for your Teleport profile. Next is to enter your first and last name–don't worry, only your first name will be shown to other members!
Secure your Teleport profile by entering your email address.
Step 4: Submit Your Application
You'll receive your waiting list number (we are 5,888 in line) and then click on the "Submit application" button to finish up.
Step 5: Complete Profile
You can go back after submitting your application and build out your dating profile by uploading photos and specifying your dating preferences.
Step 6: Upgrade to Premium Membership (Optional)
We are not sure if upgrading to a premium membership bumps you up on the waiting list, so we don't want to lead you astray. But with elite, bougie dating apps, sometimes, you can cut the line if you pay for a subscription.
We did not see any language to say that this is the case here (as with The League dating app), but you are offered the option to purchase a three, six, or 12-month plan. If you don't want to shell out any money just yet, you can click the silver "Reserve for Free" button.
Step 7: Wait Your Turn
And now, we wait! The Teleport app will notify you when you have been accepted and you can periodically check the app to see if you've moved up in the queue.
Customer Service
To get in touch with the Teleport app's customer service, you can contact them via email (membership@teleport.co) through the mobile app and they typically respond within an hour.
Teleport's Mobile App
The Teleport app boasts a user-friendly interface that is well-designed, guaranteeing easy navigation for members–if you are invited to join!
We don't have access to the Teleport app's features since we are still waitlisted, but as for function, we tooled around the platform easily and could explore and edit our dating profile–it functions well!
The Teleport dating app is only compatible with iOS devices–there is no Android mobile app, website, or mobile phone web-browser accessibility.
iPhone: Requires iOS 15.0 or later.
iPad: Requires iPadOS 15.0 or later.
iPod touch: Requires iOS 15.0 or later.
Mac: Requires macOS 12.0 or later and a Mac with Apple M1 chip or later.
Frequently Asked Questions
We got as much info about the Teleport dating app as we could, but unfortunately, it has some holes, and we're sorry about that! If and when we are accepted onto the platform, we will head right back here and update this review.
But in the meantime, here are some frequently asked questions that we think people will want to know the answers to!
What Is the Teleport App?
The Teleport app is a video-first dating app and matchmaking service where users can go on "microdates" with other eligible singles–it's an exclusive, invite-only platform. If you aren't invited to join, you can sign up, create a dating profile, and join the waiting list!
Who Founded the Teleport App?
In 2019, Chad Goodman and Tyler Greenberg, the two founders of the Teleport dating app, had grown frustrated with the existing mainstream dating apps. They decided to transform the world of online dating by introducing an innovative proposal–make a dating app that lets communities and influencers organize their own online speed dating events. The innovative video-first dating app was launched in June 2023 and allows members to go on five-minute invite-only "microdates."
Can I Use the Teleport Dating App for Free?
Nope! There is no basic or "freemium" model plan for the Teleport dating app–users must commit to a minimum of three months for an upgraded membership.
How Much Are Premium Memberships?
The Teleport app offers three different premium membership options:
• 3 months: $111.00 per month ($333.00 total)
• 6 months: $99.00 per month ($594.00 total)
• 12 months: $88.00 per month ($1056.00 total)
How Does Teleport Match Members?
It utilizes a highly advanced AI algorithm that takes into account your dating profile information and preferences in order to match you with other compatible members.
How Many Members Are on the Teleport Dating App?
Teleport's membership has been shut off at 5,000 members for now, but the creators have intimated that they will potentially open up the strict membership cap to a wider demographic in the future.
What Is a Video-First Dating App?
Video-first dating apps are disrupting the swipe-based approach to online dating in a good way! Video-centric online dating offers a practical and realistic approach. Instead of anxiety over clothes, arranging transportation, and spending precious time on disappointing dates, users of video-first dating apps are able to communicate in real time from home.
By incorporating a combination of social networking and dating features, video-first apps allow users to get a more complete picture of their potential matches right from the get-go. Plus, on a video-first dating app, it is harder to deceive potential matches about your physical characteristics because users have the ability to see you.