Do you want the down low on Our Secret—a dating platform that promises to connect people looking for sugar dating, love (or maybe just a fun night out) in a safe and discreet atmosphere? You've come to the right place. In our 2023 review of Our Secret, we're going to see if it really gives users those secret, sweet connections it says it does!
---
---

Our team has independently researched all products and services that we have listed on this page. If you sign up or purchase through our links, we may receive a commission. See how it works.
Introduction to the Our Secret Dating App
Searching for some hush-hush on the QT fun? The Our Secret dating platform claims to be the spot, promising connections in a community that embraces all sorts of singles. But does it tick the boxes for safety and cost? We'll go into every detail in our review.
Positioned as the go-to for secret trysts, casual flings, and sugar dating arrangements, Our Secret boasts a whopping 230k unique monthly visitors, offering quite a large dating pool. With guarantees of secure online dating, easy potential partner finding thanks to filters and a 'Matches' section, and instant chat accessibility, the app sure does talk a big game. Keep scrolling to find out if Our Secret is worth the time and effort or if you should search for rendezvous on another platform!
A Brief Overview of Our Secret's History and Success
Launched in 2019, Our Secret serves as a hub for those seeking sugar dating scenarios, covert affairs, and other non-committal romantic engagements. While various types of connections can be found here, it's crucial to note that most users predominantly seek mutually advantageous sugar arrangements. A substantial portion of the singles hail from the US and the UK, with women commonly aged 22-34 and men between 38-49, maintaining a gender distribution of 56% men to 44% women on the platform.
Our Secret's Unique Approach to Online Dating
Our Secret takes a different approach to online dating than other mainstream platforms—it's a place mainly for people who are looking for sugar dating and secret meetups, so everyone can be open about what they want without the fear of judgment or bias.
What stands out is how the app is all about clear and upfront "sugar" relationships. This means everyone's on the same page from the start, avoiding any possible mix-ups and making sure all users are clear about what they're getting into—it focuses on clear dating goals, direct chats, and keeping things very shhhh, making it a unique spot for those looking to explore an outside of the box dating world.
Is Signing Up for Our Secret Worth It?
Whether signing up for Our Secret is worth it is truly up to each individual and depends on a number of factors, including personal dating preferences and what you're looking for in an online platform. Considering its focus on sugar dating and discreet encounters, if that's what you're into, then we say go for it!
Our Ratings
With a commendable 3.8 out of 5 in our overall rating, the Our Secret app shows promise! Our evaluations, scaled from 1 to 5 (where 1 is the lowest and 5 the highest), are based on several key criteria: user-friendliness, valuable user features, premium membership pricing, match quality, safety, security, and customer service. And in this gamut, Our Secret has proven its merit.
Overall:

| Category | Score |
| --- | --- |
| Features | 4.0 |
| Ease of Use | 4.0 |
| Match Quality | 3.5 |
| Cost | 4.0 |
| Active User Base | 3.5 |
| Overall | 3.8 |
What We Like
While sugar dating certainly isn't everyone's thing, if you're curious about the whole sugar dating scene or mutually beneficial arrangement dating, or if you're a seasoned vet looking for a new sugar daddy or baby, these are the things we like about the platform and why you might consider joining Our Secret.
You Are Looking for a Sugar Arrangement – If you're looking to become a sugar daddy or sugar baby, this app is a great place to find that special someone! All users on the platform are on the same page, minimizing the chances of awkward miscommunications or misunderstandings. Want your relationship to be discreet? That's no issue—it's all in the name. After all, it's not called Our Secret for nothing!
Credit System – The credit system of Our Secret is one of our favorite things about the platform—it presents a more logical approach to accessing premium features by charging users only for the features they use. Additionally, it provides an option to pay a flat rate for unlimited messaging.
Every Day is Ladies Night – Our Secret is completely free for sugar babies, allowing them access to all premium features without purchasing credit bundles. However, this complimentary access comes with a caveat—sugar babies, whether aspiring or established, must post an initial video to verify their identity in order to fully utilize the platform. This safety precaution ensures that only genuine sugar babies are connecting with sugar daddies, protecting the latter from potential scams.
Exemplary Customer Support – Another big plus for the Our Secret app is its amazing customer support. You can talk to them anytime you want – day or night, all year—through email, phone (yes, a real person is on the other end of the line), or live chat. They also have a super helpful FAQ section that can help solve lots of common problems.
What We Don't Like
While we think Our Secret is pretty great, there are a few aspects that, although not deal breakers for us, might be for you!
There Is No Free Trial – We're big fans of the credit bundle system, but we do wish there was a short free trial period, even just 24 hours, for users to test the premium features before deciding to purchase cred its.
No Option for a Monthly Membership Subscription – While we appreciate the credit system, some folks might find it bothersome to regularly top up their credits instead of just paying a monthly membership fee. Different strokes for different folks!
Sugar Daddies Aren't Required to Verify Their Financial Status – Given that this is a sugar dating app, it might be beneficial to incorporate some form of background check to confirm that the sugar daddies are financially stable as they claim to be. No one needs the specifics, but this info would help a sugar baby in determining whether a potential sugar daddy can indeed back up his promises, financially speaking. No "Splenda Daddies," please.
There Is No Dedicated Mobile App – Using the website on a smartphone or other handheld device is easy, but we'd really like to see a dedicated mobile app developed soon!
Who Is the Our Secret Dating App Best For?
If you're intrigued by sugar dating and want to explore it, Our Secret appears to be a solid starting point—and it's an obvious choice for those already engaged in the discreet relationship scene.
Demographics and User Base
Sugar dating platforms, such as Our Secret, generally serve two primary user categories: sugar daddies, often older, affluent men, and sugar babies, usually younger people seeking financial assistance or mentorship. These platforms draw in individuals from various age groups, financial backgrounds, and lifestyles, all agreeing to engage in relationships on mutually beneficial terms.
Relationship Types Best Served by Our Secret
The Our Secret app tends to best serve relationship types that are casual and mutually beneficial in nature, notably:
Sugar Dating: This involves relationships between sugar daddies (typically wealthier, older men) and sugar babies (often younger individuals) where financial support, luxury gifts, or professional mentorship are exchanged for companionship or other agreed-upon terms.
Discreet Affairs: Those seeking secret affairs, perhaps outside of their current relationship.
Casual Hookups: For those not seeking anything serious but are interested in casual, no-strings-attached interactions.
Non-Traditional Relationships: Including arrangements that might not fit the typical romantic relationship mold and are tailored to specific, agreed-upon conditions between parties.
Short-Term Relationships: For individuals not necessarily seeking long-term commitments but rather short, fun connections.
The Our Secret's Compatibility Matching System
How exactly does the Our Secret dating platform make compatible matches among its members? We're so glad you asked!
Our Secret uses a compatibility matching system designed to connect daters based on their mutual interests and preferences in the sugar dating world. It curates connections by aligning profiles based on specified criteria and user input, ensuring that matches share common ground, whether in interests, lifestyle, or desired arrangement specifics.
Communication Features
Our Secret makes chatting with other users easy and fun! With options like messaging, sharing pictures, and video chats, it helps members connect and get to know each other better in a safe place.
Guided Communication
As for guided communication, a feature some dating apps use to help people start conversations and get to know each other by providing icebreakers or pre-set questions, the Our Secret app doesn't offer any—the only communication options are direct messaging and video chats.
Secure Messaging and Video Calls
Secure messaging and video calls on the Our Secret platform ensure that interactions among users remain confidential and safe. These measures are essential for maintaining privacy while also allowing open and clear communication between those seeking sugar dating arrangements and discreet connections. Members can chat, send messages, and engage in video calls with a sense of security, knowing their conversations are kept private—a must for a trusting space on a dating platform.
Our Secret's Membership Options
Unlike many other dating apps, Our Secret doesn't charge users a regular monthly fee for premium membership. Instead, users can buy credits, allowing them to use extra features and perks without needing to commit to a monthly subscription, offering a flexible alternative.
Free vs. Paid Memberships
Unlike the common "free trial" approach where new users get full premium benefits for a short period of time, often having to enter payment details upfront, Our Secret takes a different route. It allows new users to set up a profile and use a few features for free without requiring any payment info.
Our Secret doesn't offer the typical free trial seen with many dating apps, and women especially benefit from the pricing structure on Our Secret—it's totally free for them! Men also get some accessibility without purchasing credit bundles; the freemium version of the app is less restrictive compared to other platforms.
Standard (Free) Features
Sign up and register with Our Secret
Build a dating profile
Verify your account
Browse Our Secret profiles
See public photos
Utilize Search filters
Users can "like" other dating profiles
Use the "Matches" function
Ability to request access to Secret Albums
Premium Membership Features
Photo Messaging – Our Secret's Photo Messaging function makes it easy to share pics in encrypted chats with other users.
SecretBrowsing – For 24 hours of anonymous searching, members can hide their accounts for 10 credits.
Unlimited Messaging – There is no recurring cost for premium users to reread messages from potential matches–users can always revisit any chat with a one-time payment of 10 credits. When compared to other popular dating apps, Our Secret's secure messaging process is both novel (we appreciate it) and a simpler and cheaper way to meet possible sugar partners.
Priority Customer Support – By purchasing any credit bundle, you will gain access to premium member support on the Our Secret app. This means that you can receive immediate responses to your questions, without having to search through the FAQ page.
Premium Membership Benefits and Pricing
Our Secret does not offer traditional monthly premium memberships. Instead, they offer a trio of credit bundle packages, which can be found in the table below.
| Number of Credits | Price per Credits | Total Cost |
| --- | --- | --- |
| 100 | $0.59  | $59.00 |
| 500 | $0.34 | $169.00 |
| 1000 | $0.29 | $289.00 |
Members have the option to buy bundle packages of 100, 500, or 1,000 credits. The price per credit ranges from $0.28 to $0.59, and it's easy to see that purchasing a larger credit bundle provides better value for your money. When you decide to use credits on Our Secret, you have a choice to either gain access to a chat or look at a gallery of secret pictures and videos–or both if you use more credits! To start chatting with a member, you have to pay 10 credits. However, once you have made this purchase, you can continue chatting with them without any additional charges.
The cheapest package, which includes 100 credits, provides users with 10 message exchanges, and the largest bundle, consisting of 1,000 credits, provides access to 100 messages. Men and women on Our Secret have different price points in that sugar babies don't have to pay for anything. But that's only if they complete the stricter requirements regarding image uploading, profile completion, and verification, while sugar daddies need to buy credits to communicate in any way with members.
Creating Your Our Secret Profile
Since there is no dedicated mobile app for Our Secret, we signed up and built a dating profile through the website, which was a cinch on our smartphone! Creating a new account is quick and easy–it took us all of 5 minutes.
Keep scrolling for a step-by-step process of how to sign up for your very own Our Secret profile!
Step 1: Visit OurSecret.com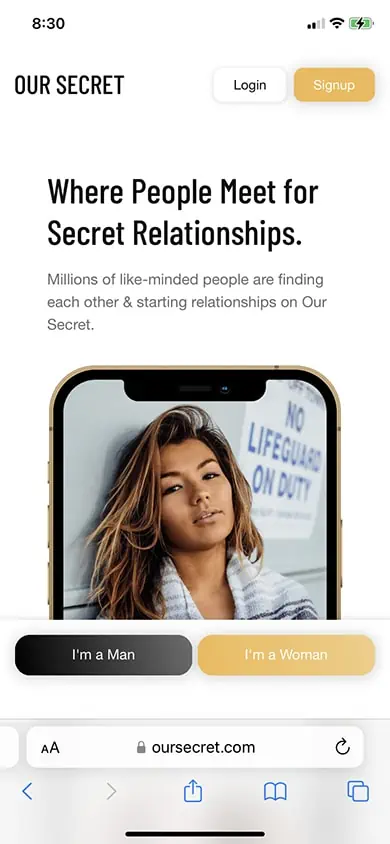 Launch the browser of your choice and navigate to Our Secret's main page.
Step 2: Enter Your Basic Information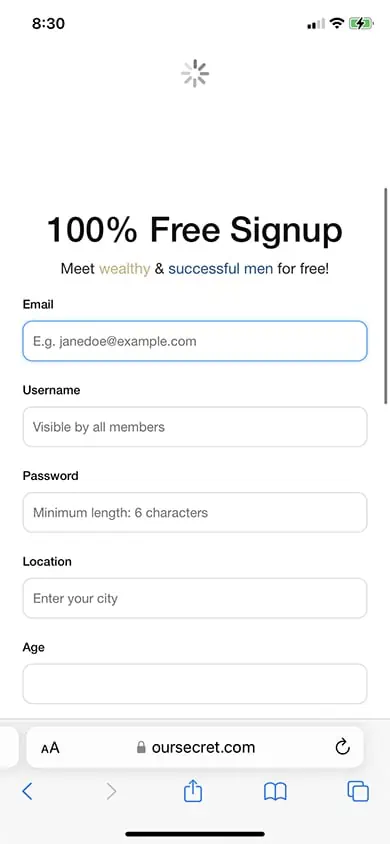 After entering your email address and creating a strong password, select your location, age, body type, and ethnicity, and click the green "Next" button to proceed.
Step 3: Upload Profile Photos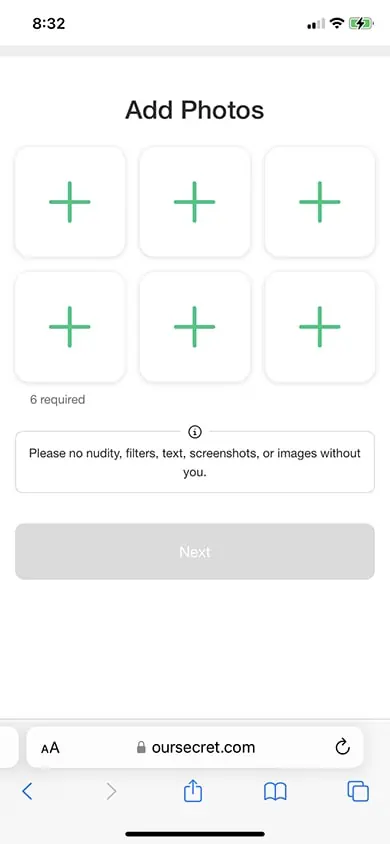 Now it's time to post some profile photos! Upload six of your best pictures–if you have three more favorites, you are able to include a total of nine images.
Step 4: Explain What You're Looking For
In this section, you will have a chance to introduce yourself to other members of the Our Secret dating platform by sharing your interests, goals, and personality traits with them.
Step 5: Add Secret Images to a Private Collection
You must add at least four photos to your private gallery, but you can decide whether or not to share them.
Step 6: Use a Mobile Device to Secure Your Account
The next step in making your Our Secret account safe is to provide a legit mobile phone number. The app will send a four-digit number to your phone, which you'll need to type into the designated space.
Step 7: Complete Your Dating Profile and Start Searching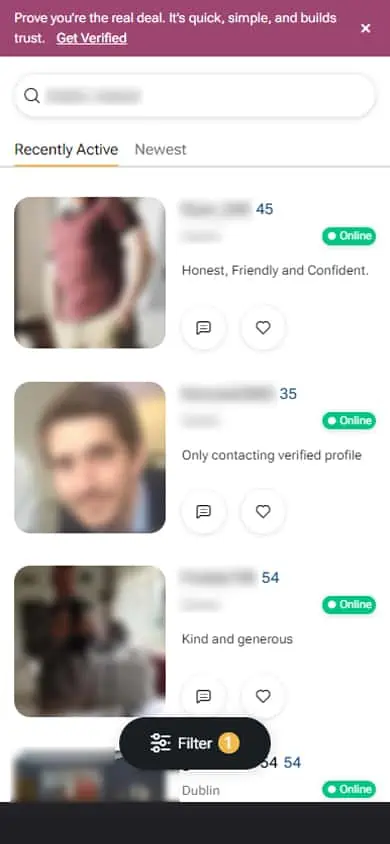 Congratulations, your profile on Our Secret is now live! You are free to start pursuing sugar partners or anything else you're looking for romantically speaking.
Step 8: Verify Your Our Secret Dating Account (Optional)
While it's not required, verifying your Our Secret dating profile will let other users know that you're who you say you are. You just record a brief video where you say, "Let me be your secret," and then submit it through the app.
How to Delete an Account
In order to delete an Our Secret account, you'll need to request it by emailing support@OurSecret.com, and they'll take it from there!
Customer Service
Customer service is on point at Our Secret—users can call, email, or contact support via live chat with any burning questions or issues.
How to Contact Customer Service
📧  Email: help@oursecret.com, support@oursecret.com
☎️  Phone Number: 357-700-0003
Frequently Asked Questions
We've shared every bit of info available on Our Secret, and we hope we covered everything! In case we missed anything or you prefer a convenient list of our readers' most common queries, take a look at the frequently asked questions below.
Is Our Secret a Legit Dating Platform?
Yes! They have millions of members who are all active and looking for relationships, making Our Secret an excellent spot to find a sugar relationship or a discreet partner.
Our Secret does not tolerate or promote the creation of fake accounts, and the platform takes precautions to ensure that all profiles are legitimately created by people who are actively using the app for romantic purposes.
Is It Safe to Use Our Secret?
Without a doubt, if you take the usual measures and use common sense while interacting with strangers online, the Our Secret app is as secure as any other online dating platform. And if you're unsure of the best ways to safeguard yourself when using the app or out on a date, you can find some helpful pointers.
Members' privacy regarding their desired sugar arrangements is one reason Our Secret does not conduct background checks on its users. In light of this, Our Secret recommends approaching new romantic partnerships with a healthy dose of both caution and optimism.
Can I Use Our Secret For Free?
Creating a profile and signing up with Our Secret to start dating is always 100% free. However, credit bundle packages are available for purchase if you want to communicate with other members or view their private images–men cannot do that for free, but women never have to pay for any features.
How Much Are Credit Packages?
Credit packages are available in quantities of 100, 500, and 1,000; prices per credit range from $0.28 to $0.59. Depending on how many credits you use, this can be a cheaper method than the cost of other dating apps.
Who Can Sign Up for Our Secret?
If you're over the age of 18, you can join Our Secret and create your own dating profile! However, a word of warning: this is definitely not the ideal dating app for you if you're searching for a traditional relationship and aren't interested in a sugar relationship or secret romance.
How Do I Verify My Profile?
You can verify your profile on Our Secret by doing the following:
• Next to the site's header image, select the "Get Verified" button.
• Take a short video that meets the requirements for the video clip, Displays your facial features in full, and contains an audio recording of you saying an identifying phrase provided on the page for the video verification process.
• Click "Upload Video" when you're ready to submit the video.
• You will receive an email once the profile review committee has seen the video; if accepted, your profile will display the green "Verified" mark!
Does Our Secret Have a Dedicated Mobile App?
There is currently no mobile version of the Our Secret dating platform, but maybe this will change soon! If you're concerned about accessing the platform from a mobile device, be assured that the user interface (UI) is fully optimized for use with any mobile web browser.
Do Profile Images Show Up in a Random Google Search?
Nope! Images and text you post to your Our Secret profile will never appear in a Google search. When uploading photos of a more personal kind to your private album, please use extra discretion regarding who you choose to share them with.