In search of your virtual reality soul mate? With the Nevermet dating app, you can go on a date without logging out of the metaverse. Check out our complete review of Nevermet for 2023–it is one of the hottest VR dating platforms to hit the market!
---
---

Our team has independently researched all products and services that we have listed on this page. If you sign up or purchase through our links, we may receive a commission. See how it works.
Introduction to the Nevermet Dating App
Founded in 2022, Nevermet is a VR dating app catering to those who are interested in online dating but not necessarily meeting up with people IRL! Sounds odd to traditional daters, right? That's a fair first reaction, but don't judge before you find out exactly how this app works and what it can offer!
You could be missing out on a whole new world of online dating if you think VR dating is not for you–and possibly your other half.
A Brief Overview of Nevermet's History and Success
It's quite similar to dating platforms like Zoosk and Hinge, but users communicate with one another by means of their VRChat avatars or other virtual identities. According to Cheerio, the developers of other successful VR apps like Somewhere and Couch, the Nevermet app has zero human faces–instead, they evaluate users based on how their virtual avatars act and sound.
Nevermet's motto, "What happens in VR stays in VR," exemplifies the company's commitment to keeping all interactions within the virtual realm. The term "Nevermet" originally appeared in cyberslang to describe online romantic partners who haven't met one other in person.
Nevermet's Unique Approach to Online Dating
On the Nevermet app, you do not post photos of yourself–you use your customized avatar–there are no human faces to be seen! After creating a profile and narrowing your search results by age and gender, the real fun is about to start–users can browse potential matches, and if you find someone you click with (and they with you), you can send a text to set up a virtual reality date.
Users can create profiles with the usual dating app criteria (such as age and gender) but are not required to provide a location–instead, they designate a virtual meeting place, such as VRChat, Meta Horizon Worlds, or Rec Room.
Is Signing Up for Nevermet Worth It?
Let's cut to the chase: is it worth it to create a profile on the Nevermet dating app? If it were up to us, we'd answer a resounding "yes," but it's not for us to decide. We can't make the choice for you, so we'll lay out the cases for joining or opting to sign up for another dating app so you can make a well-informed decision.
Our Ratings
So, how can we rate how well the Nevermet dating app performs overall? We centered our review on five important factors. Then, in order to determine the Nevermet score, we simply took the average of the ratings we gave for each of the categories. We've ranked each category on a scale from 1 to 5, with 1 being the lowest and 5 being the highest. Check out the scores below!
Overall:

| Category | Score |
| --- | --- |
| Features | 4.0 |
| Ease of Use | 4.0 |
| Match Quality | 4.5 |
| Cost | 4.0 |
| Active User Base | 3.5 |
| Overall | 4.1 |
What We Like
While this list is in no way exhaustive, we have gathered a number of the more compelling reasons why you should consider joining the Nevermet dating app. These reasons highlight the platform's top advantages and features that we found during our review.
Unique Concept: In a novel twist, the Nevermet app connects people who have never met in person and likely never will, hence the name Nevermet! Through commonalities in interests and online conversations, the platform facilitates the development of meaningful relationships between its users.
The Likelihood of Serious Connections: Because of Nevermet's unusual approach, users are able to move past shallow initial reactions and make honest connections based on their shared interests and hobbies, increasing the likelihood that their interactions will continue to grow over time.
Powerful Matching Algorithm: Using a sophisticated algorithm that takes into account each user's likes, dislikes, and personality traits, Nevermet dramatically boosts the likelihood that its users will find a compatible match without having to endlessly search and come up empty-handed.
Dating in Virtual Reality: Virtual reality (VR) has taken the online world by storm, and Nevermet is taking it to the next stage by connecting its users through shared VR experiences like movie nights and online gaming. These exciting activities infuse a fresh perspective into online dating by mirroring the experience of meeting in person.
What We Don't Like
Listed below are a few of the potential downsides of joining the Nevermet dating app. You might want to look into alternative dating apps (either VR or mainstream) if you can relate to one or more of the reasons listed below.
Smaller Dating Pool: Since Nevermet is a specialized VR dating app with fewer users than large-scale dating apps, people who use it in areas that are less populated will probably find there are much fewer potential matches and fewer choices when it comes to potential matches.
Zero Physical Contact: There is an absence of actual physical contact because the app fosters conversation between those who have "Nevermet" in person–and probably won't ever meet. For those who prefer face-to-face interaction, establishing real relationships through virtual means may be challenging or impossible, depending on location barriers.
Technology Dependence: As a virtual reality dating app, Nevermet relies heavily on both hardware and software for its operation. If your internet connection glitches or you experience any other technical difficulties, it will interfere with your online dating experience.
Avatar-only Images Call to Catfishers:There is always the chance of meeting a "catfish" or someone who otherwise misrepresents themselves on any dating platform, so it's only rational that when a platform uses avatars for dating profiles, it's a foghorn to those who are looking mislead others on a dating platform.
Who Is the Nevermet App Best For?
First and foremost, the Nevermet dating app is best for those who are virtual reality enthusiasts and want to engage in this online space and make connections, possibly romantic, while doing so!
It's also a great platform for those who are tired of the focus on just physical appearances rather than genuine connections based on what's on the inside. If you relate to either of these things, then the Nevermet app is right up your dating alley.
Demographics and User Base
The user base of this VR dating app is around 20,000 strong and is expected to rise as more people start to explore the concept of dating in the metaverse. The average age on the Nevermet app is 18-35, and the gender ratio is 60% men to 40% women.
Relationship Types Best Served by Nevermet
If you are looking for an IRL date tonight, it's not gonna happen on Nevermet–you'll need to use a mainstream platform. As for the type of relationships created on the VR platform, they veer more toward genuine connections that grow and blossom the longer users interact with each other.
Whether or not this translates into a real-world romance remains to be seen; after all, remember the name of the app! But just because members may not have face-to-face interactions doesn't mean their relationships aren't real. This platform is for those interested in serious connections and long-distance relationships.
The Nevermet's Compatibility Matching System
Nevermet wrote a "manifesto" that says: "We're giving rise to a new relationship culture, where relationships in the metaverse are everything we've ever hoped for in our quest for connection. Now, people might presume the 'real world' is real and that VR is fake. They're wrong. The truth is. VR frees us to explore the depths of authentic expression and connection."
As you can see, they are serious about VR dating and use the right tools to connect people!
One of Nevermet's most prominent features is its advanced matching algorithm, which takes into account a number of factors, including the user's preferences, hobbies, and personality type, in order to provide highly personalized recommendations and increase the likelihood of finding a compatible partner. Users are matched with others who share their interests and preferences based on a number of factors, including geography, age, and hobbies.
Communication Features
Members of the Nevermet app have a variety of ways to communicate with other users–all are easy to use and enable people to chat and interact in order to further connections.
Guided Communication
Members have the option to swipe right after observing a Nevermet user's avatar's movements, style, and voice. If there is a mutual match, they can then arrange a meeting in the metaverse.
Basic users have the option to send limited messages, but by upgrading to a premium membership, users can have more meaningful conversations with their compatible matches by gaining access to unlimited messaging features. Furthermore, premium members have the advantage of accessing a greater variety of virtual dating activities, allowing them to engage in more meaningful and deeper conversations with their matches.
Secure Messaging and Video Calls
Nevemet offers its users secure messaging and video and voice calls by using SSL-encrypted software–the app offers voice and video calling features that enhance communication between members, making it more organic and engaging.
Nevermet's Membership Options
Nevermet has a "freemium" model plan, but to enjoy all the benefits of premium membership for a limited period during a traditional free trial, customers must first enter payment information. Most dating platforms, including the Nevermet app, allow new users to set up a dating profile and try out some of the services free of charge, but if the trial isn't terminated before it ends, your account automatically switches to a paid premium account, and the customer is charged.
Free vs. Paid Memberships
Nevermet is free to use with optional paid upgrades for those who are looking for more from the VR dating app–the paid premium membership provides additional beneficial, fun features and access to the platform than the free standard membership.
Standard (Free) Features
Profile and Account Creation
Upload Dating Profile Avatars
Browse Nevermet Dating Profiles
Basic Matching
Limited Messaging
Dating Profile Customization
Basic Search Filters
Virtual Dating Experiences
Premium Membership Benefits and Pricing
A Nevermet premium membership plan is available at a monthly cost of $9.99 or an annual price of $79. By choosing the annual plan, you can save around $3 per month.
| Membership Package | Cost Per Month | Total Cost |
| --- | --- | --- |
| In-app Purchases | $19.99 | $19.99 |
| Premium | $9.99 | $79.00 |
Paid premium subscribers of the Nevermet dating app gain access to an extensive list of additional features and benefits. Premium features vary per app and membership tier, however many of the following are standard:
Unlimited Messaging – Premium members can engage in more in-depth conversations with their matches since they have access to infinite messages.
Enhanced Matching Algorithms – Paid users get access to additional search filters and more advanced matching algorithms, allowing them to find a match that fulfills their individual dating wants and needs!
Ad-Free – Premium users can enjoy uninterrupted browsing and communication without the nuisance of ads.
Dating Profile Boosts – A premium membership grants you access to more member profiles, more prospective matches, and more communication options.
Enhanced Privacy Settings – Users can decide who can view their profiles and what information about them is publicly available.
Video and Voice Calls – Voice and video calling functions inside the app allow for more natural and engaging interaction between users.
Virtual Dating Experiences – Members have the advantage of accessing a greater variety of VR dating activities, which allows them to take part in more substantive and interesting conversations and dates with their matches.
Just a heads up: If you decide to sign up for an ongoing membership, you will continue to be charged until you opt out or cancel–your membership will automatically renew for the same duration at the price you chose during the initial subscription, at the end of every subsequent membership period.
Your subscription will remain active until you terminate it through the Nevermet customer service or a third-party account (like Apple or Google Play), even if you deactivate your account and delete the Nevermet dating app from your device. If you choose to cancel your membership, you will still have full access to the platform until the conclusion of your current subscription term.
Discounts and Promotions
At the time of this review, there are no listed discounts or promotions for the Nevermet app. But as you can see in the premium membership options if you purchase a longer duration plan, the less expensive it is in the long run!
Creating Your Nevermet Profile
The entire process of creating an account and dating profile on the Nevermet dating app took us no more than five minutes. The software is compatible with both iOS and Android, and there is a dedicated Discord server for the service.
We joined and created a dating profile using an iPhone, but the process is the same for Android users!
Step 1: Get and Download the Nevermet Dating App
To begin the installation process, open the app store on your iPhone or other Apple device and select "GET". Click the app to launch it after downloading. Additionally, you can go to the Nevermet homepage using any online browser, select the program you wish to download, and you will be sent directly to the app store.
Step 2: Register Your Nevermet Account
To set up your dating account, click the neon pink "GET STARTED" button. Select your preferred method of logging in when prompted on the next screen. You can do this using a mobile number, an Apple ID, or a Google or Discord account.
Step 3: Select a Username and Enter Basic Info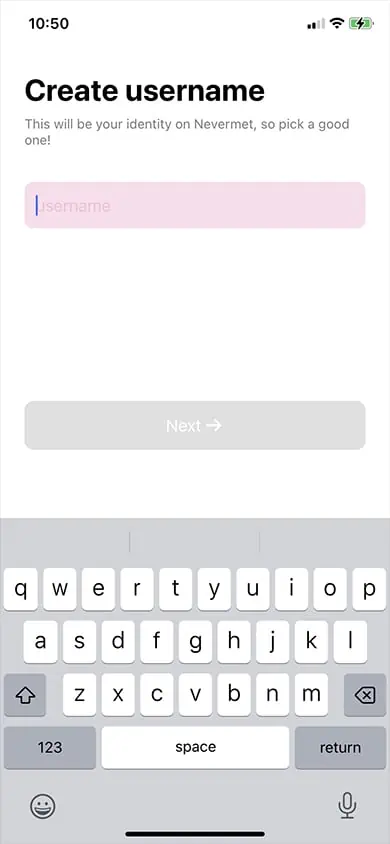 Come up with a distinctive and one-of-a-kind username for your new dating profile. It's important to choose something that represents you well, so create one that stands out!
Pick an identifier and providing a birth date. When you're ready to go, click the "Next" button.
Step 4: Create Your Nevermet App Profile
Your username will appear on this screen once you click the pink "Create Profile" button.
Step 5: Select Your Profile Avatar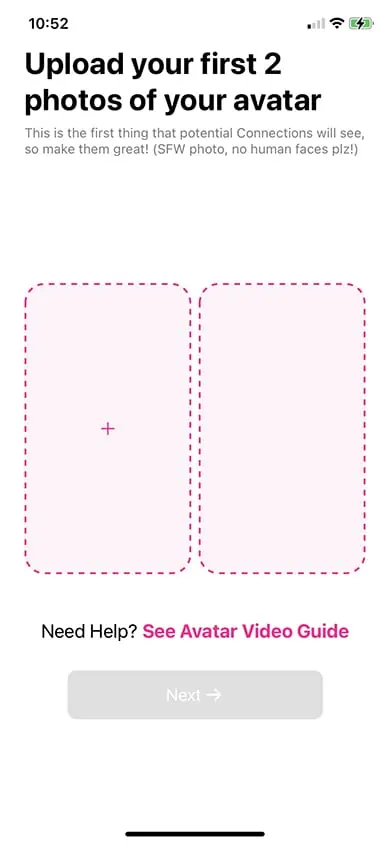 There are no conventional photographs on Nevermet; in fact, the platform explicitly prohibits posting images of human faces. If you agree to the terms, submit two SFW (suitable for work) avatars and click the "I understand" box.
Step 6: Build Out Your Dating Profile and Select Preferences
Create your Nevermet profile and tell potential matches a little bit about yourself in just over 100 characters (or more)!
Select what VR equipment you already have and are currently using.
Choose the online communities to which you belong.
Set the age range using the slider and tell Nevermet who you would like to connect with on the VR dating app.
Nevermet wants to hear how you learned about them! Click "Other" to go to the following step if none apply.
Step 7: Verify Your Nevermet Profile (Optional)
Congratulations on finishing your dating profile on the Nevermet app!
All that's left to do is verify your dating profile. This is optional but recommended so that other users are able to confirm that you're real and you gain the capacity to make notes inside the application's interface. You can also upgrade to a premium account and connect your Google and Discord profiles to your dating profile.
Although you can view profiles, you won't be able to communicate with anybody until Nevermet approves your profile–the dating app will let you know when you're in the clear and can really start using the platform!
How to Delete an Account
To delete your account, simply send an email with your username and phone number to support@nevermet.io and then follow the subsequent instructions provided by the platform.
Customer Service
Nevermet's website is the first place you should go for assistance; it includes several sections dedicated to common questions and tutorials for using the dating app. If you still have questions or issues after reading through those sections, feel free to contact customer support by email or phone. On weekdays, you should anticipate a response within 24 hours, and on holidays and weekends (depending on availability), you can expect a response within 48 hours.
How to Contact Customer Service
🌐 Website: https://www.nevermet.io/
📧  Email: support@nevermet.io
📣 Discord: https://discord.com/invite/nevermet
📣 Cheerio (Nevermet app developer): support@cheerioworld.com, hi@nevermet.io
Nevermet's Mobile App
The Nevermet dating app has dedicated mobile apps for both Apple and Android users–they are free to download in the Apple Store and the Google Play Store
App Features and Functionality
The Nevermet app features a sleek and contemporary design, incorporating vibrant hues and a user-friendly interface–finding dating profiles is a simple task that can be achieved via the search bar or by exploring various categories.
The app's ease of use and navigation are both outstanding. While paying for a premium membership does not level up the platform's user interface, it does get you access to extra features such as unlimited messages and more profile modification choices, which can boost your odds of connecting with a compatible partner.
Compatibility
For Apple devices:
iPhone: Requires iOS 13.0 or later.
iPod touch: Requires iOS 13.0 or later.
Mac: Requires macOS 11.0 or later and a Mac with Apple M1 chip or later.
For Android devices:
Requires Android 5.0 and up
Frequently Asked Questions
We know that VR dating apps can be a little overwhelming to those not familiar with virtual reality, but we hope we cleared any misconceptions you may have had about what the Nevermet app is and how it works!
Look below for answers to some of the most frequently asked questions our readers have voiced concerning Nevermet and VR dating in general!
Is the Nevermet Dating App Legit?
It is indeed! Founded by Cheerio and launched in 2022, the Nevermet app is a totally legit platform where users can connect, interact, and plan virtual reality dates in the metaverse.
Is Nevermet Safe?
Yes! Nevermet places a premium on user privacy and security, and the company takes all necessary measures to protect its users' personal information and physical safety. And while Nevermet happens to be one of the dating apps that take extra precautions to ensure its users' safety, no dating app can provide absolute security.
How Do Virtual Reality (VR) Dating Platforms Function?
VR dating platforms function similarly to traditional ones–you can connect with people you're interested in while being given a chance to get to know them better.
Virtual reality dating apps differ significantly from traditional dating apps in one key aspect: instead of using real photos, potential matches present themselves through 3D digital avatars.
Do I Need a VR Headset to Use the Nevermet App?
While it is not necessary to use a VR headset for Nevermet, it kind of defeats the purpose of using a virtual reality dating platform if you don't! VR headsets significantly enhance the experience of using the Nevermet app–you are able to fully immerse yourself in the amazing world of virtual reality, and without a head-mounted display (HMD) or VR goggles, you're missing out.
The headgear connects to a user's computer or mobile device that is running specialized software and it blocks out the external environment so you can fully be in the metaverse with no real-world noise or distractions.
How Exactly Does the Nevermet Dating App Work?
A complex matching algorithm takes into account the user's interests, dislikes, and region to generate a list of prospective matches, and this is the secret to Nevermet's success in bringing together individuals who have "Nevermet" in person before. Users can talk to one another online using a number of different mediums (chat, phone calls, video calls, and VR dates).
Can Anyone Join Nevermet?
Yup! As long as you are 18 years old and your profile is approved by the Nevermet team, you can sign up and start VR dating in the metaverse!
Is Nevermet Only for Long-distance Relationships?
People from all over the world can use Nevermet to meet romantic partners, casual connections, and friends, despite the app's name, which would lead you to believe that it's exclusively for people who are just interested in online and long-distance relationships with people on the platform.
Can You Use Nevemet For Free?
Yes! With Nevermet's free plan, users can create a profile, explore other users' profiles, and communicate with their matches in a limited capacity. However, we recommend upgrading to a premium membership grants users access to exclusive features and benefits that expand the platform's usefulness and boost your chances of finding the one.
Who Created the Nevermet App?
The Nevermet app was designed by developers Cam Mullen and Solaris Nite, who have worked on VR applications including Cheerio, Couch, and Somewhere. The opportunity to meet and engage in innovative surroundings that are practically impossible to build in real life, according to the platform's founders, is its unique selling feature. You could, in the words of Nite and Mullen, "Play ping pong, ride unicorns, and go to Paris," on a first date.
Do Premium Memberships Automatically Renew?
They do–after purchasing a premium membership, your account will be automatically charged at the beginning of every billing period unless you cancel or turn off the auto-renewal function. Even if you delete the Nevermet app and account from your phone, your subscription will continue unless you cancel it through the app or the third party you purchased it from (Google or Apple).
You will still be able to utilize all premium features up to the end of the current subscription period if you opt to terminate your membership.
How Can I Cancel My Premium Membership?
You can cancel your account at any time; all you need to do is send an email to support@nevermet.io with your username and phone number, and they'll tell you how to proceed!