Navigating the world of online dating can be like a CrossFit obstacle course, but the Fitness Singles dating platform aims to make the journey a little easier for those who prioritize an active lifestyle.
Designed to bring together fitness enthusiasts, this app is more than just a platform for romantic connections—it's a community where health and wellness get all oiled up to take center stage. But does it truly help you find your swole-mate (sorry, we had to), or will you just be spinning your Spinning class bike wheels? Let's find out in our complete review of Fitness Singles for 2023!
---
---
Our team has independently researched all products and services that we have listed on this page. If you sign up or purchase through our links, we may receive a commission. See how it works.
Introduction to Fitness Singles
In the crowded market of dating apps, the Fitness Singles app makes its play by targeting a specific niche: Super active singles who are fierce about fitness and wellness. With its focus on facilitating genuine connections among health-conscious singles, the platform promises more than just sweaty gym selfies and swapping protein shake recipes.
A Brief Overview of Fitness Singles' History and Success
Founded in 2003, Fitness Singles has carved out a unique space in the crowded world of online dating by focusing solely on active, fitness-oriented individuals. The app's success can be attributed to its targeted approach, attracting a dedicated user base who share common interests in health and physical activity.
Over the years, it has garnered positive reviews and testimonials, boasting numerous success stories of people finding not just workout bros and buddies but life partners as well! With a presence in multiple countries, Fitness Singles continues to grow, cementing its reputation as a go-to platform for fitness enthusiasts looking for love.
Fitness Singles' Unique Approach to Online Dating
Fitness Singles takes a unique approach to online dating by zeroing in on a niche community of health and fitness enthusiasts. Unlike general dating apps where hobbies and interests are often secondary considerations, the Fitness Singles app places a person's fitness lifestyle at the forefront of matchmaking.
Users are encouraged to share details about their favorite physical activities, workout routines, and health goals right from the start—in fact, it's a required part of the profile creation process. The service even allows members to search for potential matches based on specific sports or activities they love. This targeted focus creates an instant common ground, making it easier for users to find compatible partners who share their passion for being active.
Is Signing Up for the Fitness Singles App Worth It?
Whether or not signing up for Fitness Singles is worth it depends on your specific needs and priorities. If maintaining an active lifestyle is an important part of who you are, and you're interested in meeting a partner who feels the same, then Fitness Singles offers a tailored experience that mainstream dating apps might not provide.
The niche focus can be a significant advantage in finding a compatible match who shares your interests and values physical fitness as much as you do. However, niche dating apps like this often have smaller user bases compared to more generalized platforms, which could limit your options. Additionally, some users have noted that the subscription cost for Fitness Singles is on the higher side. So, it's worth considering these factors before making a decision.
As for us, we think that if you're a fitness fanatic, it's def worth a test run!
Our Ratings
When we review a dating platform, we take into account a number of factors and rate them on a scale of 1 to 5, with 1 being the worst and 5 being the best. How did Fitness Singles fare in our ratings gauntlet? Not too shabby at all, coming in at a 4.1 out of 5 overall!
Overall:

| Category | Score |
| --- | --- |
| Features | 4.0 |
| Ease of Use | 5.0 |
| Match Quality | 4.5 |
| Cost | 3.0 |
| Active User Base | 4.0 |
| Overall | 4.1 |
What We Like
There's a lot to like about Fitness Singles, so if you're looking for an excuse to sign up, we have some below!
Great for Active Singles: Fitness enthusiasts who consider an active lifestyle a key element in a relationship, Fitness Singles can be an ideal platform for finding a like-minded partner.
Niche Demographic: While this can be seen as a negative, we feel it belongs in the "pro" column because it's a specialized community that the Fitness Singles platform is targeting. That means that if you're into an active lifestyle, this service will be filled with people who can keep up with you!
Ad Free Zone: There are zero pop-up ads on Fitness Singles. Zero. Zilch. Nada. And you don't have to upgrade to a premium membership to get this ad-free dating experience!
What We Don't Like
And, as always, no dating service is perfect, and there are a few reasons why some daters might not want to sign up for this particular platform.
Smaller User Base: The specialized nature of Fitness Singles means you'll be entering into a smaller, more niche pool of potential matches, which may not appeal to everyone.
No Dedicated Mobile App: The lack of a dedicated mobile app might be a drawback for some users who prefer the convenience of mobile applications for their online dating activities.
No Video Chat Feature: We'd love to see Fitness Singles incorporate a video chat feature in the future–it's a great tool for "meeting" face-to-face before going out on an IRL date and it's an important safety feature so you can vet any potential matches!
Who Is Fitness Singles Best For?
The Fitness Singles platform is best for singles passionate about maintaining an active lifestyle and seeking a partner with similar interests. Whether you're a gym rat, a yoga enthusiast, a dedicated runner, or involved in any other form of physical activity, this platform offers a tailored dating experience that mainstream apps may not provide.
Demographics and User Base
Fitness Singles caters to a fairly specific demographic focused on physical fitness and active lifestyles. The age range tends to skew a bit older than other dating apps, often attracting users in their late 20s to 50s who are serious about fitness and finding a meaningful relationship. While the app is open to people of all fitness levels, from beginners to professional athletes, its user base generally consists of individuals who take their physical activity quite seriously.
Regarding geography, Fitness Singles has a presence in multiple countries, including the United States, Canada, the UK, Australia, and several European nations. This international reach allows for a more diverse user base, although the community remains niche in its focus on fitness.
Gender distribution on the app tends to be fairly balanced, although this can vary depending on the location and the specific activities featured.
Relationship Types Best Served by Fitness Singles
The Fitness Singles dating platform is also a great fit for those who are not just looking for a casual date but are interested in forming a meaningful connection based on shared values and lifestyles—and fitness, of course!
The Fitness Singles' Compatibility Matching System
Fitness Singles does not utilize a complex compatibility matching algorithm like some other dating apps do–the platform primarily focuses on connecting people based on shared interests in physical activities and sports.
How the Compatibility Matching System Works
Users can list their favorite activities and skill levels, which serve as a basis for connecting with others.
The search functionality allows for customization, letting you find matches based on specific activities, age range, distance, and other criteria. While this isn't a formal compatibility matching system, it does offer a targeted way to find like-minded individuals.
Communication Features
Fitness Singles offers a range of communication features to facilitate interaction between members. While not as extensive as some of the most popular dating apps, the platform provides the essentials for making meaningful connections.
Guided Communication
Email Messaging:The primary method of communication is the messaging system, which allows for direct, text-based communication between users.
Instant Messaging: When a member sees another member online, they can switch from email messaging to IM within the dating platform.
Search and Connect: The search functionality is also a cornerstone of the app's communication features. By allowing users to filter potential matches based on specific sports, activities, or other criteria, Fitness Singles makes it easier to find people you'd likely want to communicate with.
Top 25: A unique feature called the "Top 25" showcases the most popular profiles in your area, providing an additional avenue to initiate contact.
Icebreakers and Pre-Written Questions
The "Show Interest" option is an effortless way to break the ice and express your interest in another Fitness Singles member. When you view a member's profile and click the "Show Interest" button, you'll automatically send them a message, but you'll be able to preview the pre-written message before sending it.
Fitness Singles' Membership Options
The Fitness Singles platform offers two types of membership: a freemium basic plan and a premium membership upgraded subscription.
Free vs. Paid Memberships
Free Membership: With a free account, you can create a profile, upload photos, and browse through the profiles of other users. The search functionality is often limited but still allows you to get a sense of the user base. However, communication features like messaging are usually restricted.
Premium Membership: A premium subscription unlocks full access to the Fitness Singles features, including unlimited messaging, advanced search options, and seeing who has viewed your profile.
Premium Membership Benefits and Pricing
The benefits of premium membership on Fitness Singles include the following:
Unlimited Email Messaging: Premium members can send and receive unlimited email messages, allowing for more in-depth conversations and a better chance of making a meaningful connection.
Instant Messaging: Instant messages take over where emails leave off–if you see a member of Fitness Singles online, you can IM them.
Advanced Search Options: The premium subscription typically allows you to access more advanced search filters, making it easier to find compatible matches based on specific criteria like activity level or favorite sports.
Profile Visibility: Premium members often can see who has viewed their profile, which can be a super helpful tool for gauging interest!
Top 25: Premium members get access to features like the "Top 25," which showcases the most popular profiles in your area.
Discounts and Promotions
As of the publication of this review, the Fitness Singles service is not offering any discounts or special promotions for new users interested in joining the platform.
Creating Your Fitness Singles Profile
We registered and signed up for a Fitness Singles account and created a complete dating profile in just under 12 minutes, so it'll take the average user about 10-15 minutes to get it done, depending on how quick you are or if you skip any sections (please don't skip any sections).
Look below for a complete step-by-step guide (with pictures!) on creating your very own Fitness Singles profile.
Step 1: Go to Fitness Singles
Navigate to the Fitness Singles homepage and click on the "Join for Free" button.
Step 2: Select Gender
Choose your gender, the gender you're interested in meeting on the Fitness Singles app, and the age range of singles.
Step 3: Enter Basic Details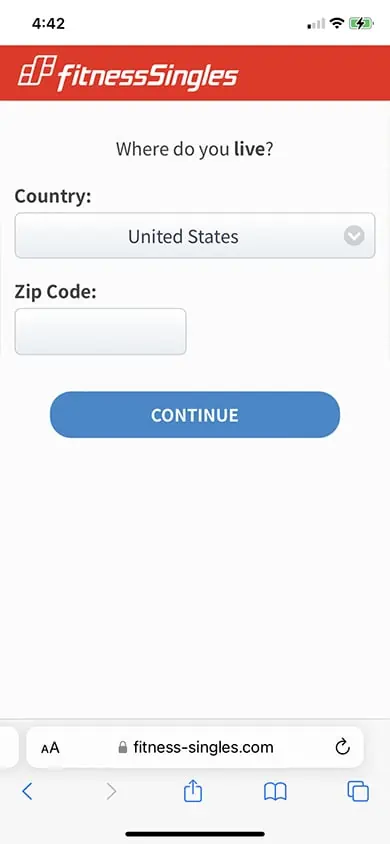 Enter your birthdate and location.
Step 4: Choose Username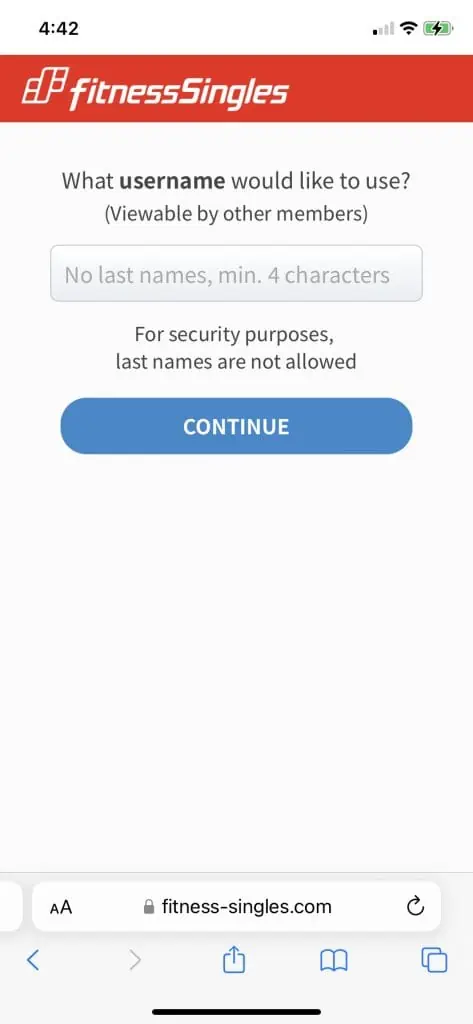 Create a username and a unique password and then hit the blue "CONTINUE" button to move on to the next step.
And enter your email address.
Step 5: Choose Your Fav Activities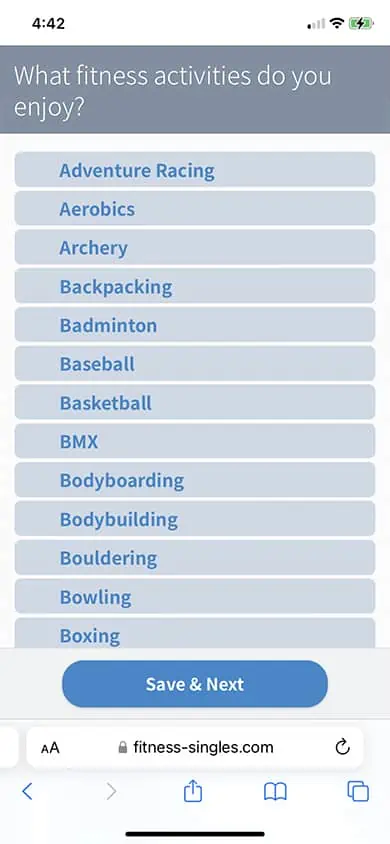 This step requires you to pick from a long list of fitness activities—you can choose as many as you like, but you are required to pick at least one.
When you've chosen your interests, you'll be asked what your skill level for each one is.
Step 6: Appearance/Lifestyle Info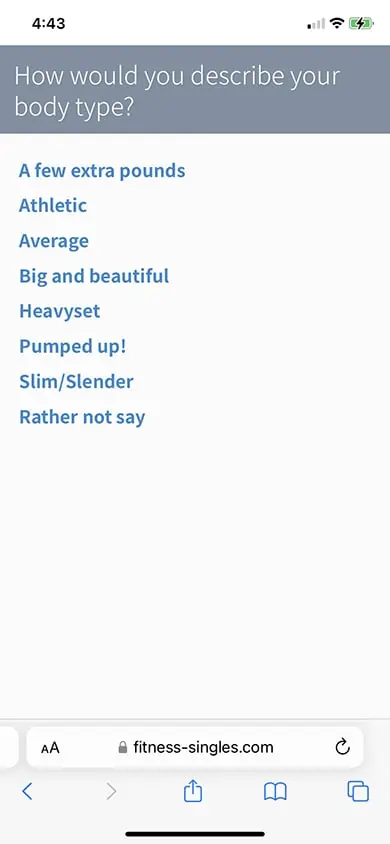 The next section is all about your appearance and lifestyle choices and habits. Enter your body type, looks, height, weight, ethnicity, hair and eye color, etc.—you get the idea!
Step 7: Specify Your Fitness Engagement Levels
Almost there! Tell your potential matches how active you are, your alcohol consumption, and native language.
Step 8: Upload Profile Photo
The last step is to upload a great profile photo.
Step 9: Build Your Dating Profile
You can skip this step, but we recommend filling out your profile completely in order to get the most compatible matches, so create a fun headline and an about me section so other daters can get to know you a bit!
Step 10: Wait for Photo Approval
You're all done! You can view your matches while waiting for the Fitness Singles team to review your profile photo.
How to Delete an Account
Didn't (or did!) find your swole-mate on the Fitness Singles platform or want to delete your account for any other reason? It's easy to do; just follow the steps below!
Step-by-Step Guide to Account Deletion
Go to Your Fitness Singles Profile – Head to your profile and click on the three lines in the top left corner to access the menu, then select "My Account."
Go to Account Settings – Now, click on your "Account Settings."
Cancel Membership – Scroll to the very bottom of the page and hit the "Cancel Free Membership" link in blue.
Select Cancellation Reason – Choose a reason why you have decided to cancel your Fitness Singles account and then hit the "Continue" button. On the next screen, you'll get a confirmation that your dating account has been deactivated.
Customer Service
There is only one way to get in touch with customer support at Fitness Singles, and that's via their contact page. Their website states the response time is less than 24 hours.
🌐 Contact Page: https://www.fitness-singles.com/info/contact_us
✉️ Address: 257 S Shore Drive Buffalo, NY 14219
Frequently Asked Questions
We hope we told you everything you need to know about Fitness Singles and that you gave your eyes a real workout reading our complete review! Just in case your peepers are worn out, we've compiled a collection of the most frequently asked questions we've gotten from our readers regarding this platform–check them out below!
Is Fitness Singles Legit?
Yes! Fitness Singles is a totally legit dating platform designed to bring together people who are interested in fitness and active lifestyles. But just like any online platform, it's essential to use caution and follow best practices for online safety. Make sure to read reviews and user testimonials to get a sense of how people who've used the app feel about it.
Do I Have to Be into Fitness to Join the Fitness Singles App?
While Fitness Singles targets individuals interested in fitness and active lifestyles, you don't necessarily have to be an athlete or fitness enthusiast to join. However, you might find that the platform is mainly geared toward people who really love physical activity, so the conversations and profiles you come across will likely reflect that focus.
So, while you don't have to be a fitness fanatic, if you are a couch potato, joining a niche dating platform like Fitness Singles will def limit your potential matches and overall dating experience.
Can I Use the Fitness Singles Platform for Free?
You can! Fitness Singles operates on a freemium plan, meaning that you can sign up and use a limited amount of features without paying for a premium membership. But if you want to get the most out of your time on the platform, we recommend upgrading to a subscription if you're serious about finding a romantic fitness fiend!
Does Fitness Singles Have a Mobile App?
Unfortunately, the Fitness Singles platform does not have a dedicated mobile app at this time. But the website is very mobile-friendly, so if you have an iPhone, Android, or tablet, you can access a mobile-optimized version!
Do Fitness Singles Premium Memberships Auto-Renew?
Yes, subscriptions will renew automatically until you cancel them. Your subscription will stay active until the end of the paid-for period upon cancellation, but it will not be automatically renewed at the end of that period. The deadline for cancelation requests is 24 hours before the scheduled renewal.
How Do I Turn Off the Auto-Renewal Feature on Fitness Singles?
Select "My Account" from the main menu, then click "Cancel Paid Subscription" beside "Subscription Status" to cancel your membership at any time. Fitness Singles does not offer adjusted refunds for unused parts of subscriptions.
How Can I Make Sure My Fitness Singles Profile Pic Is Approved?
Profile photos must pass a review and approval procedure to provide an enjoyable and secure online space for everyone. If you want your photo posted ASAP, follow these guidelines:
• Photos that are sexually explicit or otherwise objectionable are not allowed.
• An image of yourself must be uploaded.
• You shouldn't upload a photo that's larger than 6 MB.
• JPEG, GIF, or BMP are all acceptable formats for your photo.
• No copyrighted material.
• To enhance the appearance of your online dating profile, use a high-resolution headshot and full-body photo.
To review your photo, the admin staff will need at least 24 hours. Your photo will be uploaded to your profile once it has been reviewed, and an email will be sent out to your Fitness Singles account when it has been given the green light!
How Do I Block Someone?
To block a user, just choose "Block" from the drop-down menu next to their name or select "Block Member" from their profile page. If you want to unblock someone, go to the "Blocked Members" section of your Messaging page and click on their name. If you block a user, they will no longer have the ability to send you private messages. It will also prevent the individual you've blocked from viewing your profile.