Those who work in agriculture, whether as farmers, ranchers, agricultural laborers, livestock owners, or cowboys and cowgirls, put in long hours to guarantee that the whole world is fed and that the products of their labor reach consumers quickly–it's a job that never stops–it's a hard life and definitely not for everyone. There are times throughout your days when you are out on the range, in the fields, or the pastures, and you might feel completely alone.
Farmers and other single people in the agricultural industry are just like anybody else when it comes to wanting to find love and go on dates. Farmers Only is a dating app designed specifically for farmers, ranchers, and cowboys to connect and for other singles looking to date a farmer and form meaningful, long-lasting relationships.
---
---

Our team has independently researched all products and services that we have listed on this page. If you sign up or purchase through our links, we may receive a commission. See how it works.
Introduction to FarmersOnly
This review of FarmersOnly will go over the price of the premium membership plans and the benefits you'll get. We'll also walk you through creating a FarmersOnly account and profile so you can start searching for other people who share your love of country life and wide-open spaces. Finally, we'll discuss "free trial" deals, which provide you access to a subset of the membership benefits but require you to pay nothing to use the dating app!
A Brief Overview of FarmersOnly's History and Success
How can you decide whether FarmersOnly is the best dating app for you? We'll highlight some fast facts to help you understand who this dating app is designed for, how it matches compatible users, and how many people are already using it in search of a sweetheart!
FarmersOnly was launched in 2005 and is geared toward farmers and ranchers looking for serious relationships, true love, and romance. The dating app has 4.5 million active members and more than 100,000 unique visits per week.
The gender ratio on FarmersOnly is 65% men to 35% women, and the platform's matchmaking process consists of daters' personal information and their specified dating wants and needs.
FarmersOnly's Unique Approach to Online Dating
Although there is no fancy matching algorithm that matches up compatible users on Famers Only, it's not a hindrance to the members who use it! Members are matched with other users based on their personal preferences and location, and FarmersOnly will send matches that meet their dating criteria their way!
FarmersOnly dating profiles are extensive, with clear indications of the participants' dating tastes and other relevant details. Users can express themselves in profile introductions and update their profiles at any time.
Is Signing Up for FarmersOnly Worth It?
It is well worth it if you are in the farming field! Our review of FarmersOnly revealed both its many positive features and several of its shortcomings. Despite its outdated appearance, FarmersOnly is easy to use because of its intuitive interface and modern swipe-style dating function.
FarmersOnly may be a specialized dating service, but its user base is full of quality men and women looking for meaningful relationships. Ultimately, you might have better results with a mainstream dating app because many using FarmersOnly live in rural areas, and they might be hard to connect with or visit.
Our Ratings
Look below to see how we ranked all of the features of the FarmersOnly app. The most important characteristics of the platform, such as membership benefits, pricing, and active user numbers, were evaluated in five key categories.
Overall:
| Category | Score |
| --- | --- |
| Features | 2.5 |
| Ease of Use | 4.5 |
| Match Quality | 3.1 |
| Cost | 3.9 |
| Active User Base | 2.9 |
| Overall | 3.3 |
What We Like
There's a lot to like about FarmersOnly, and we broke down our favorite things about the dating platform:
Niche dating app for finding true love and romance with farmers or ranchers
4.5 million members from the US and Canada
103,000 members active weekly and 100,000 new visitors each month
Create a profile, adjust search settings, and view FarmersOnly members for free
FarmPhone is a private phone line for premium members to call and text on
Discover feature allows for modern swipe-style dating
5-minute sign-up process and intuitively designed for excellent ease of use
What We Don't Like
Even though we really like FarmersOnly, there are a few areas where they could step up their game:
Uninteresting and limited features for paying members
Many members live in rural areas, which makes real-life dating difficult
Niche dating apps have fewer members than mainstream apps
Far more men use the app than women (65% men to 35% women)
There's currently no app available for iOS users
Customer support isn't the most responsive and can be vastly improved
A limited free trial account doesn't allow for any messaging
Who Is FarmersOnly Best For?
The FarmersOnly dating app is best for singles in the farming biz searching for a compatible match to connect with and possibly foster a long-term, meaningful relationship. You don't have to be a farmer or in the agricultural to sign up for an account–you could be living in a rural area and don't have many options for dating like those in major cities!
And if you have a thing for men or women in cowboy hats and want to date a farmer? This is the dating app for you as well!
Demographics and User Base
How will you know if FarmersOnly is the right dating app for your needs? We'll present you with some fast facts to give you an idea of who this app is for, who is on the dating app, and how many people are currently enjoying its services.
| Fast Facts | Details |
| --- | --- |
| User Base | Farmer singles (but anyone over 18 can join) |
| What Kind of Relationships? | Genuine connections and long-term commitments |
| Average Age | 24-35 years |
| Active Members | 4.5 million |
| Paid Subscribers | 500,000 |
| Gender Ration | 65% men to 35% women |
Relationship Types Best Served by FarmersOnly
From our research, for the most part, the FarmersOnly dating app users are there to make deep connections and foster long-term relationships–maybe even marriage. That doesn't mean that you can't find someone who wants to date or hook up causally, but the majority of members are in it for the long haul.
The FarmersOnly Compatibility Matching System
The FarmersOnly dating app doesn't utilize a sophisticated matching algorithm to pair users.
Members are matched based on their location, personal dating preferences, and the search filters they designate within their profile settings.
FarmersOnly's Communication Features
The features of FarmersOnly did not really excite us, TBH. You can communicate with other users, see who visited your profile and sent you flirts, utilize a feature called FarmPhone, and more if you upgrade to a paid membership. There aren't a lot of cool extras for paying users to enjoy on this platform, and we didn't find anything that made this software stand out from the rest of the pack.
Guided Communication
Users of the FarmersOnly dating app can personalize their list of compatible matches for guided communication depending on their interests. The communications tools on the platform, such as FarmPhone and direct messages, can then be used by users to communicate with one another.
With FarmPhone, you can use a messaging service to access some FarmersOnly services. After signing up with your cell phone number, all future communications with the dating app will be delivered to your mobile device through text message. Additionally, you can block and reply to other users; however, only premium users have access to these features.
Secure Messaging and Video Calls
Through SSL encryption, each messaging system offers a private and secure connection. FarmersOnly have never been suspected of disclosing user information or private discussions to other parties for marketing reasons, and the platform guarantees the total privacy of all user-to-user contacts.
FarmersOnly's Membership Options
FarmersOnly offer three different premium membership packages to its users, all of which are identical in terms of features and perks–membership plans vary in price depending on their duration.
Free vs. Paid Memberships
We covered what free trial users can do at FarmersOnly without paying, but what can paying members enjoy and experience? Check out our comparison of free and paid features below.
If you're already interested in using FarmersOnly, consider a premium membership. Becoming a member is much more rewarding, primarily because you can send and receive messages from other members.
The following are some of the free perks of a basic membership:
Create your profile
Upload Photos
Search Membership Pool
See Members' Photos
See who's viewed your profile
Favorite profiles you like
Below, you can see the free vs. paid memberships side by side.
| Free Features | Paid Features |
| --- | --- |
| Register an account at FarmersOnly | Unlimited messaging with other singles |
| Create, develop, and edit your personal profile | See other members' statuses and their last visit date to FarmersOnly |
| Set and adjust your search criteria | Post unlimited photos |
| View other members' profiles and pictures | Find out which members have liked your profile or pictures |
| See who's currently online at FarmersOnly | FarmPhone allows members to speak with other singles via a private phone line. |
| Use the Discovery feature to browse through a catalog of singles | Block members |
| Add singles to your Favorites List | See which members have sent you flirts |
| Send "flirts" | Any free trial features and capabilities |
Premium Membership Benefits and Pricing
The FarmersOnly free version has decent functions, but there's plenty of room for improvement. This is a great incentive to pay for a premium account and get access to more features and tools that will help in your search for love!
The price per month of the premium membership goes down as the length of the plan increases, which means some savings that customers can capitalize on. You might pay more in total for extended membership plans, but you can take advantage of some monthly savings along the way. Who wants to constantly renew a 1-month membership plan over and over again and pay full price?
There are no payment plans for premium memberships. Customers need to pay the entire membership cost at one time and in one shot before they can even begin using FarmersOnly.
FYI: Each premium membership plan offered at FarmersOnly is set to automatically renew once it has reached the end of its term. If you purchase a FarmersOnly premium membership, it will continue to automatically renew at the end of each cycle unless you contact customer service to cancel or set the auto-renewal feature to "off" in your account settings.
Creating Your Sugarbook Profile
When we created a free trial account at FarmersOnly.com, we were shocked by how easy it was to set up the account, create our personal profile, and then navigate the app. This is the quickest sign-up process we have ever encountered. It didn't take much more than five minutes to complete! And we were really impressed by Farmers Only's intuitive design. It allows you to get around the platform with hardly any trouble at all.
Step #1: Visit the Site or Download the App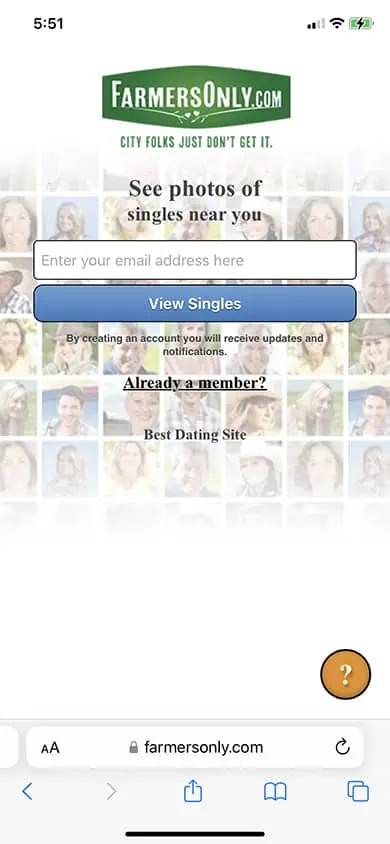 Begin by visiting FarmersOnly.com or clicking on the image above. The first step involves a few things. You will need to provide your email address, zip code, and age. You'll also need to specify your gender and the gender of the singles you're looking to meet on the app.
Read and agree to the terms of service and then click on "search now!"
Step #2: Choose a Profile Photo
Upload at least one photo of yourself to continue to the next step. You can upload from your mobile device or import photos directly from your Facebook account.
Step #3: Develop Your Profile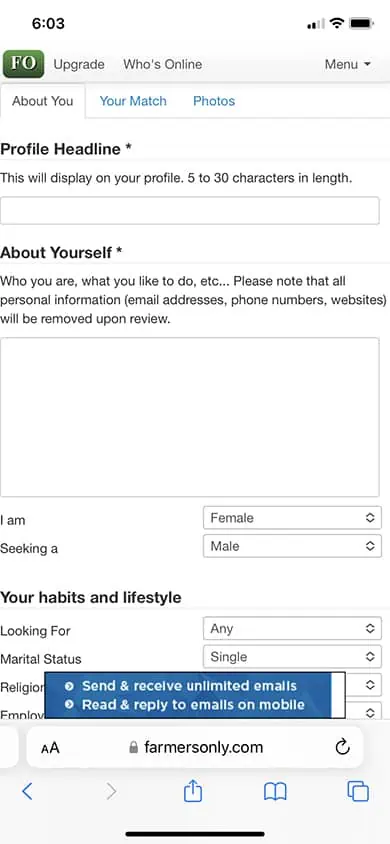 Once you've submitted your profile photo, you're immediately taken to the FarmersOnly home page. It was somewhat jarring because we were expecting to keep jumping through the hoops of the sign-up process. With numerous other dating apps, you develop and add information to your personal profile as you go through the sign-up process, but with FarmersOnly, you go straight to the app, and you can create and develop your profile as you go!
Homepage: Under the "profile settings" menu, you can view your profile as it stands, edit your location, post additional photos, and set your profile to be visible or hidden to other users. There's also the "edit your profile" option, where you can make changes as you see fit.
Edit Your Profile: Under the "about you" tab, you have an entire menu where you can add different facts about yourself, describe who you are in more detail via written-word response, and provide a profile headline to get other readers' attention.
Your Match: Shift one tab over from "about you," and you'll see the "your match" section where you can describe your ideal match. FarmersOnly.com will take your personal information and these preferences into consideration.
Step #4: Search For Singles Near You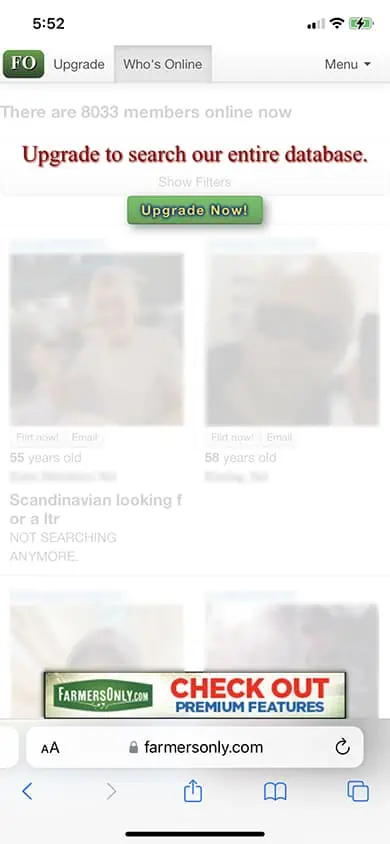 Now, we'll talk about how to go about finding singles on FarmersOnly. There are several ways you can go about finding people on the app. We'll cover each and every one so you have a good understanding of what tools are available and the best way to begin your search.
Search Function: On FarmersOnly's homepage, click on the "search" icon above the "profile settings." It's indicated by an image of a magnifying glass in front of a desktop computer. You can also access this page by clicking on "member search" in the lefthand main menu. Either link you click on, you will be sent to the app's advanced search criteria, where you can search members by their name, desired relationship, smoking or drinking habits, body type, ethnicity, education level, education, and many other topics.
Who's Online?: This is an option for finding out who's online at that very moment. This page can be accessed by clicking "Who's online?" in the main menu on the left-hand side of the screen. There's even a set of search criteria at the top of the page where you can adjust your search based on factors like age and distance.
Discover: Click on the "discover" tab on the lefthand main menu, and browse through a catalog of singles matching your personal preferences and search criteria. You can give them a thumbs down if you're not interested or a thumbs up if you like what you see. You can access their profile information by clicking on the little white circle icon with the "i" in the middle. As a premium member, you can click on the little white speech bubble to send them a message.
How to Delete a FarmersOnly Account
If, for any reason, you wish to delete your Famers Only dating app account, you can easily do so in four easy steps, which we have laid out in the next section.
Step-by-Step Guide to Account Deletion
Go to www.FarmersOnly.com
Click on Account settings + in the left menu
The "delete profile option" will appear
Give a reason why you want to delete your profile
FarmersOnly Customer Service
Compared to other specialty dating apps, FarmersOnly's customer service options were about par for the course. There is a toll-free customer support phone number, but there is a long wait to get a human being on the line. There is a frequently asked questions page and a standard contact form if users need assistance. From what we have seen and heard directly from members, customer support and service are subpar.
To access the customer service and support center, scroll down on the main menu on the left-hand side of the screen to "frequently asked questions." Once you click there, you'll be taken to the comprehensive FAQ guide, broken down by common subjects.
When you click on either "suggestions" or "can't find an answer to your question," you'll be taken to a generic contact form–including your name, phone number, and message. Customer service is usually good about responding to inquiries within 24 hours or less.
How to Contact Customer Service
🌐 Website: https://www.farmersonly.com/customer_support
📧  Email: support@farmersonly.com, contact@farmersonly.com and mail@farmersonly.com
☎️  Phone Number: (888) 755 9655 during regular business hours (8 am-8 pm Eastern Standard Time)
📣 Social Media: https://twitter.com/farmersonly
▶️ YouTube: https://www.youtube.com/user/FarmersOnly
FarmersOnly's Mobile App
Only Android users can download the FarmersOnly app. Users of iOS can use FarmersOnly on their mobile's internet browser without any issue, as it's not a dating app with tons of bells and whistles.
Farmers, who may not be the most tech-savvy people (no offense), will appreciate the mobile app since it is simple and straightforward to use. The app's design may be antiquated compared to modern dating platforms, but it manages to function well.
App Features and Functionality
The FarmersOnly mobile dating app is essentially the same as the website, and users have access to everything they need to meet someone special–it has the same functionality in both the desktop and Android mobile versions.
Compatibility
FarmersOnly is a free app that can be downloaded from the Google Play Store and used with any modern web browser on a computer, smartphone, or tablet. FarmersOnly can be used on any smartphone or tablet without downloading and installing any additional software, as long as a web browser is installed.
Frequently Asked Questions
You could be having reservations about the Famers Only app and if it is the best fit for you. Read on for a handful of the most frequently asked questions we've received from our readers to see if they can help steer you in the right direction!
What Is FarmersOnly?
FarmersOnly is a niche dating app founded in April 2005 in Ohio. This app caters to those who live out in the country working as farmers, ranch hands, cowboys/cowgirls, and livestock owners. People all over the country use this app, and anyone is free to join.
How Did FarmersOnly Come To Be?
There aren't many dating choices for those who live in rural areas, which is why FarmersOnly was created. Your next-door neighbor may be miles away, and everyone knows one other. The inventor also cites the general public's ignorance of farming and ranching as a contributing factor.
Is FarmersOnly a Popular Dating App?
Since 2013, membership has steadily increased, and now there are 4.5 million members throughout the country. More than two weddings occur every week in the United States due to them, claims the FarmersOnly blog.
Who Can Use the FarmersOnly Dating App?
You don't have to be a farmer, a rancher, or work in agriculture to become a member of FarmersOnly. Anyone who wants to can join the app and purchase a premium membership plan. But your chances of finding someone who works as a farmer increase significantly using FarmersOnly because many of its members are involved in this lifestyle and vocation.
How Long Does It Take to Sign Up and Create a FarmersOnly Profile?
The FarmersOnly dating app is unique in that the "sign-up process" comprises only two steps: the first screen, where you include your zip code, email address, and age, and the second screen, where you add a profile photo. After this, you're immediately launched to your personal profile, and you can continue to work on developing it at your own pace. Everything might take you 5 minutes to complete!
How Much Does a FarmersOnly Membership Cost?
There are three different premium membership plans that you can purchase at FarmersOnly.com. The 1-month membership costs $21.95 per month, the 3-month membership costs $39.96 ($13.32 per month), and the 6-month membership costs $65.94 ($10.99 per month).
Can I Use FarmersOnly Dating App for Free?
You begin as a free user when you first create an account and a personal profile on the FarmersOnly dating app. As a free trial member, you will only be able to enjoy a few of the features that a paying member can experience. Free users cannot message other singles on the app, see who has viewed their profile, or access FarmPhone. You can upgrade to a premium membership at any point you choose.
What Features Come with a Membership Plan?
The most significant advantage of premium membership is the ability to communicate with other singles on the app without any restrictions. Members can also post unlimited photos, see when other members have viewed their profiles or sent flirts, and block members they do not want to deal with. FarmersOnly doesn't come with a whole lot of exciting features, if we're being totally honest.
How Can I Cancel My FarmersOnly Membership?
"Manage your subscription" can be found under Account Settings in the navigation menu on the left. Follow the steps there to cancel your premium subscription.
Is FarmersOnly a Safe Dating App?
As far as we can see in this FarmersOnly review, this is an entirely legitimate and safe-to-use dating app. We looked into the app's 17-year history and found no instances whatsoever of the app selling off the customers' personal or financial information to third parties. Any pictures that customers share with the platform have never appeared in Google search results.
Are There Other Dating Apps Like FarmersOnly?
Yes, but the pool of potential dates will be significantly less since they are all specialized farmers' dating apps! FarmersOnly Dating, Farmers Meet, and Hillbilly Dating are other dating platforms catering to those living in rural areas.
How Can I Contact FarmersOnly?
You can contact them at support@farmersonly.com in addition to using their customer service website, email them at contact@farmersonly.com and mail@farmersonly.com, or by calling (888) 755-9655, their toll-free helpline during their business hours, which is 8 am-8 pm EST. They are additionally pretty active on social media platforms like Youtube and Twitter.