Founded in 2002, BlackPeopleMeet is an online dating app that allows its members to find true love, romance, or dates with black singles. This platform allows anyone to join (so long as they are 18 years of age or older), so you don't have to be black to become a member of the app. BlackPeopleMeet is comprised chiefly of black singles, but they cater to black and non-black people, anyone interested in meaningful relationships, falling in love, or getting dates with black singles.
---
---
Our review of BlackPeopleMeet will go over how much it costs to become a member, what kind of features come with a paid subscription plan, and how the entire search process is done to ensure you find singles that fit your criteria and preferences. Our BlackPeopleMeet review also provides an excellent guide to completing the registration process and an app walkthrough so you can begin using it without much guesswork!

Our team has independently researched all products and services that we have listed on this page. If you sign up or purchase through our links, we may receive a commission. See how it works.
Overview of BlackPeopleMeet
Let's look at some of the top fast facts for BlackPeopleMeet before we dive into our 2023 review. These are essential things that anyone should know about the dating app before becoming a free trial user or a paying member.
BlackPeopleMeet Fast Facts​
Fact
Details

Site Name

Key Info

• Year Founded: 2000
• Best For: Finding black singles who want to find love, romance, and serious relationships
• Number of Active Members: 900,000 (from the US)
• Active Weekly: 30,000
• Gender Ratio: 60% men to 40% women

Cost of Membership

BlackPeopleMeet prices start at $12.10

Sign Up Time

Less than 5 minutes
BlackPeopleMeet Ratings
Let's look at how we rated BlackPeopleMeet as a whole and the process we used to appraise this top-rated dating app. We examined five crucial categories and assigned a score to each. We then took an average to arrive at our overall rating for BlackPeopleMeet.
And with a total score of 4.1/5 from us, it's a great dating app to discover if you're interested in finding dates, love, or romance with black singles.
Overall:

| Category | Score |
| --- | --- |
| Features | 3.7 |
| Ease of Use | 4.6 |
| Match Quality | 3.8 |
| Cost | 4.2 |
| Active User Base | 3.9 |
| Overall | 4.1 |
Key Takeaways
Features – BlackPeopleMeet has many remarkable features, including limited messaging capabilities for free users (something not seen in many other dating apps). The one big downside of BlackPeopleMeet features is that customers must pay extra money for things like profile boosts, better rankings in the search results, sending virtual gifts, and the ability to appear in specific singles' daily matches.
Usability – There's only a little guesswork involved in using this app or its website. BlackPeopleMeet has a simple design that makes it easy and fun to use. It's straightforward to find where things are located on the platform, thanks to the simplistic menu setup. The sign-up process takes less than five minutes, and the app can be downloaded easily from Google Play or the App Store.
Daily Matches – Though there's no matching algorithm or personality or compatibility quizzing during registration, BlackPeopleMeet puts its best foot forward regarding matchmaking. The app uses a combination of dating preferences, location, desired age range, and several other factors to deliver hard-hitting matches that align well with the criteria set forth by the user.
Cost of Membership – BlackPeopleMeet is a middle-of-the-road option for membership pricing, but it does stray to the cheaper end of dating app costs. New users can become members for as little as $12.10-20.64 per month. This is a highly reasonable price to become a subscriber for the number of features you can experience and the decent dating pool you can access.
Active Members – While it's not the biggest dating app out there, BlackPeopleMeet and its 900,000 committed members provide a decent dating pool for new members to enjoy. There are around 30,000 that are active each week on the app. When you consider BlackPeopleMeet, a niche dating app, the number of active members is in line with other well-known niche names in the online dating world.
Should I Join BlackPeopleMeet?
Some people know right away if a dating app is a proper fit. For others, it's more complicated. If you are still deciding whether to register as a paying member or a free trial user of BlackPeopleMeet, we've created a list of reasons to join and not to join.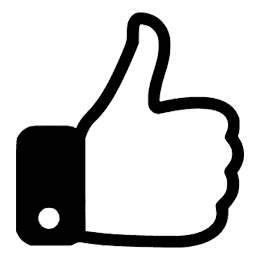 Reasons to Join
You're looking for dating or relationships with black singles
You don't want to spend a lot of time signing up for a new account
You're not interested in taking a personality or compatibility test.
You want a free trial experience where you can send messages to other members.
You want to use advanced filters that break down searches using unique criteria.
You want good customer service. (toll-free phone, email, and FAQ page)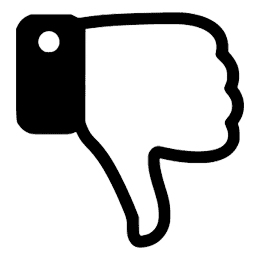 Reasons Not to Join
You want to date or develop a relationship with someone who isn't black.
You don't want to pay extra for the more advanced membership features.
You want to enjoy a thorough, top-notch matchmaking algorithm
You want to see robust, interesting member profiles
You don't want to deal with any illegitimate accounts or catfishers
You want a completely even breakdown of men to women
Free Trial
There's a free trial membership available at BlackPeopleMeet, but it needs to be set up as one would think. Most of today's dating apps allow new users to register an account, create a free profile (along with a few other essential features), and call it a "free trial." In all actuality, it's a limited-feature free trial that allows new users to check out the platform and see other members' profiles free of charge. However, they must pay for a complete subscription plan before accessing the app's more critical features.
Free Trial Features
These are all the things that users can partake in when they become a "free trial" member. Using these features doesn't cost any money; new users can enjoy them indefinitely.
Register an account
Create a profile
Set up search parameters
View profiles (photos and bio info)
Search profiles by keyword or "online now"
Swipe-style dating (like or pass)
Send eight complimentary messages per day
Send "likes"
Premium Subscription Plans
BlackPeopleMeet offers three membership plans for its customers. They come in lengths of one, three, and six months but have all the same features. Although we show the monthly cost breakdown in the table below, it should be noted that all memberships and subscriptions are billed in one payment. There are no month-to-month payment plans or installments available. New users need to pay the total cost before than can begin using BlackPeopleMeet.
Subscription Plans
This is a deal that BlackPeopleMeet offers its members. If you're eagle-eyed, you'll notice that the more expensive the membership plan, the lower the monthly cost rate. Those that commit to a more extended membership plan get a break on the monthly cost. You'll save money if you purchase a long membership plan instead of renewing a shorter one several times.
Subscription Features
As a paying member of the app, you'll enjoy these perks and benefits:
Send and receive emails
Chat using instant messenger
Access advanced search filters
Get enhanced daily matching
See who liked or viewed your profile
Send virtual gifts
MatchMe
NotifyMe
PromoteMe
Access ProfilePro
You'll also be able to enjoy any of the features that come with the "free trial" offer. You can still send "likes," make changes to your search filter settings and swipe through BlackPeopleMeet profiles.
Boosts
Members can purchase boost bundles to boost their profiles for an hour or more. This means increased visibility in the app's overall search rankings and the possibility of catching the attention of more singles on the platform.
| Boost Bundles | Cost Per Boost | Total Cost |
| --- | --- | --- |
| 1 Boost | $2.49 | $2.49 |
| 5 Boosts | $1.99 | $9.95 |
| 10 Boosts | $1.49 | $14.90 |
Note: Boost bundles don't come with the cost of membership. They are separate items altogether. One boost is good for precisely one hour of profile boosting, while five boosts are good for five individual hours.
Tokens
Token bundles are another a la carte item that BlackPeopleMeet offers its customers. They are sold in large bundles of 25, 110, and 280. Tokens can be used to buy virtual gifts for other members on the app and a few other things.
| Token Bundles | Total Cost |
| --- | --- |
| 280 Tokens | $9.99 |
| 110 Tokens | $3.99 |
| 25 Tokens  | $0.99 |
What Can I Use Tokens For?
Send Virtual Gifts: Members can send gifts like rose bouquets, teddy bears, and jewelry to other members on the app.
PromoteMe: 20 tokens allow members to appear at the top of the app's search results to achieve a day's worth of activity in one hour.
NotifyMe: Members can be notified when someone interested logs into their BlackPeopleMeet account.
MatchMe: Members can choose whose daily matches they want to be placed in to gauge interest.
Auto-Renewal
Regardless of the subscription plan one chooses at BlackPeopleMeet, each one is set to automatically renew once it comes to the end of its term. The auto-renewal feature exists for members who never want to go without membership features and benefits coverage. Once the subscription has ended, the customer will automatically be billed for another one, and the service will continue as usual.
Those who don't want their membership to renew automatically can shut off the feature in their account settings. This is essentially the same thing as "canceling your membership." Shutting off auto-renewal means that your plan will continue until its end date, but its services will be terminated after that date. It won't be immediate.
Sign-Up Process
BlackPeopleMeet is an online dating app with a relatively quick and painless registration process. There's no advanced personality or compatibility testing during sign-up, and you don't need to create your profile during this time either, leading to a process that should take at most five minutes!
Use the instructions below if you need help with how to begin registering a new account. You'll be signed up and ready to meet black singles in no time!
Step #1: Visit the BlackPeopleMeet Website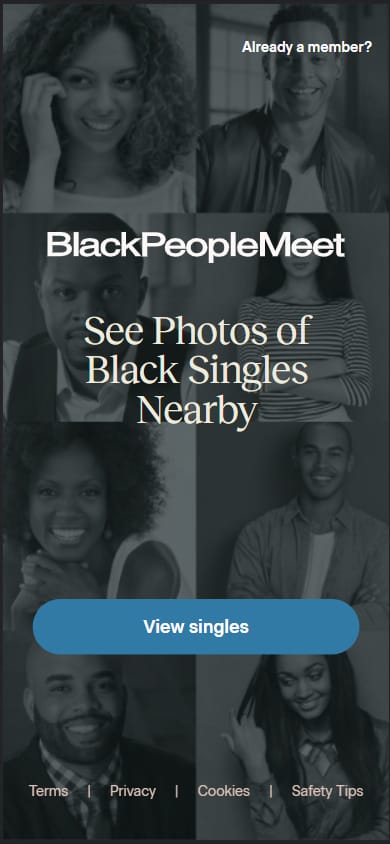 Head to the BlackPeopleMeet website or download the mobile app from Google Play or the App Store. Click on the image to get to the website as well.
After you hit the "view singles" button, you'll need to state your gender and the gender of the singles you wish to meet on the app. There'll be a drop-down menu with the four possible relationship paths (BlackPeopleMeet does cater to same-sex relationships and all the LGBTQ).
Steps #2 – #5: Enter Basic Information
Members of BlackPeopleMeet must be 18 years of age or older. Submit your date of birth to confirm that you're legally old enough to use the platform.
Select your country of origin. BlackPeopleMeet is only available in the United States and Canada, a dating app that's well-restricted to North America.
Enter your zip code. BlackPeopleMeet uses your location in its matchmaking process to help you find singles in your area. Members can adjust their distance settings later to establish a search radius from their location.
Create the username that will appear on your dating profile at BlackPeopleMeet. Provide your email so BlackPeopleMeet can send you confirmation codes or proof of purchase receipts when you upgrade to a paid subscription plan. And you're also required to create a unique password to access your account.
Step #6: Add a Profile Photo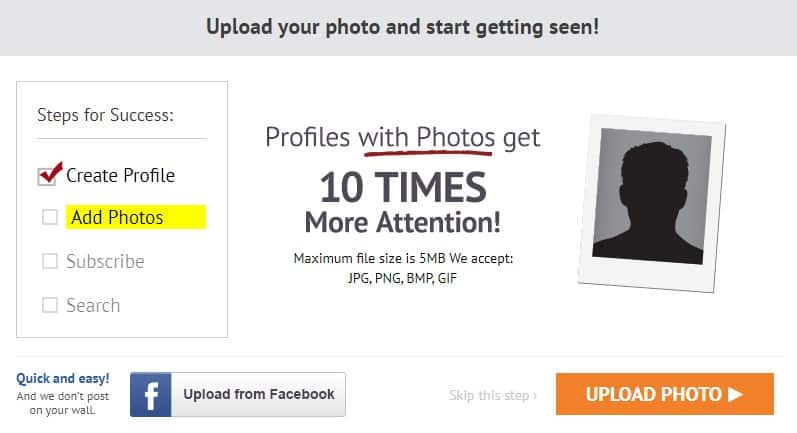 You don't have to complete this step to use your BlackPeopleMeet account. You can skip and head on to the next step. But BlackPeopleMeet recommends uploading at least one profile photo to get "10 times more attention."
You can upload photos from Facebook or the files on your desktop or mobile device. The more pictures you add to your profile, the more legitimate it will appear to other app members. It'll increase your likelihood of making new contacts, connections, and relationships.
Step #7: Written Bio
Let other app members know more about who you are in this step. In 1,250 characters or less, you can write whatever you want about yourself. It could be about your interests, personality, lifestyle choices, or anything that you feel other singles should know about you ahead of time.
Once you've put your creative writing skills to the test here, click "keep going" to proceed to the final steps of registration.
Step #8: Subscribe or Skip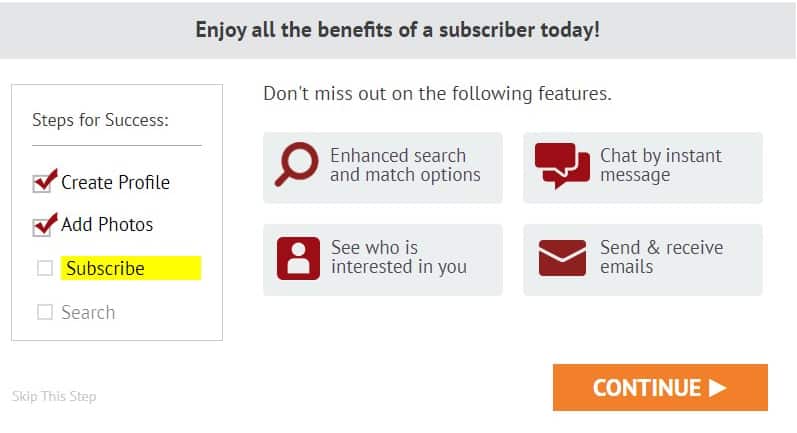 In the next step, you can upgrade to a paid membership plan. You don't have to pay for a membership plan right then and there. You can skip this step if you want to act later.
BlackPeopleMeet lays out the benefits of upgrading in this step, including:
Better search filters
Better daily match quality
Find out who viewed or liked your profile
Unlimited messaging
IM chatting capabilities
Step #9: Verify Your Account
The last step is to verify your new account at BlackPeopleMeet. Send your phone number, and BlackPeopleMeet will text a confirmation code that needs to be sent back to the app. Once you're confirmed, you can begin using your new account!
Step #10: Another Chance to Upgrade to a Premium Subscription
There's only one last step before you can officially access your new account at BlackPeopleMeet. This is one last chance to become a paying premium app member during the registration process.
You can view the three membership plans available and how they break down in price per week (although they need to be paid in one lump sum ahead of time). New users can also see the payment methods for purchasing a subscription plan.
Again, this is a step that can be skipped. At any point using BlackPeopleMeet, free users can upgrade to a premium membership.
Using BlackPeopleMeet
Now that you've completed the registration process at BlackPeopleMeet, it's time to develop your new profile and meet black singles. But where to begin?
For your convenience, we've included a small rundown of the main menus and free trial features you can now access, how to use them, and how to get things established so you can use the app effectively. If you have any doubts about how things work on the BlackPeopleMeet app, we're sure to cover any questions you might have in this section.
Send 8 Free Messages Per Day
The first thing you'll see once the registration process is complete is one of the best free trial features: the ability to send eight complimentary messages per day to BlackPeopleMeet's "Our Picks."
You can send these complimentary messages by swiping profiles under the "Discover" tab.
Discover
The "Discover" feature is the first tab on the left-hand side of the top menu. This is the feature where you'll find daily matches from BlackPeopleMeet, including "Our Picks," the singles that free users can send messages to for free.
You'll be able to see their profile picture, age, and location. Further down the screen, you'll see additional photos and profile information. If you like the profile, click the pink "like" button. If you're not interested, click the grey "pass" button. Click the red "free message" button to send your free message.
Search
If you want to meet singles using specific criteria, head to the next button on the top menu: "Search." You'll see a long list of potential profiles that fit your criteria. Above the photos, you can see the "I'm Looking For:" menu, followed by your requirements, such as age and distance from your location.
Online Now Searches
Under the "Search" tab, you can find an option for "Online Now." These are searches that users can perform to discover which singles are currently using the platform. The only criteria that can be set for this type of search are the age range.
Keyword Searches
"Keyword" searches are more in-depth than the "Online Now" searches. As the tab's name suggests, you can search by keywords, age range, and distance radius from your current zip code.
Keyword suggestions include:
Travel
Dancing
Movies
Sense of Humor
Hiking
Dining Out
Pets
Messages, Likes, and Views
The following three tabs to the left of "Search" are features that can only be used by paying members of the BlackPeopleMeet dating app. Each of these sections is where members can view any messages from other members or free users on the app and any likes or views from other singles.
Upgrade to a premium subscription plan to take advantage of unlimited messaging and access to all likes and views on your profile.
Boosts
Under the "Boost" tab, view any of the boost bundles offered to members looking to rank higher in the app's searches or get increased visibility.
Me (Edit Your Profile)
Click on the next tab (Me) to develop and edit your profile information. The more you flesh out your BlackPeopleMeet profile, the more other singles using the app can learn about who you are.
Tokens
"Tokens" can be found under the "Settings" tab. Under this menu, members can purchase BlackPeopleMeet's in-app currency to purchase virtual gifts, admissions into other members' daily match suggestions, or promoted in the app's search results.
Customer Service
Many dating apps offer only an FAQ page as their customer service and support center. And that's why we were pleasantly surprised to see that BlackPeopleMeet includes a toll-free phone number and an email address in addition to its FAQ page. This is a dating app where customers can experience first-rate service.
Here's a closer look at all the customer service options available to those who use the BlackPeopleMeet dating app. You can access these customer service options by clicking "Settings" and "Help."
FAQ Page
The commonly asked questions that BlackPeopleMeet gets from its customers and members are placed into significant categories and can be viewed once you click the "Help" tab under "Settings." They are separated into:
Profiles and Photos
Paid Features and Power-Ups
Account Settings
Member Communication
Technical Issues
Advice and Safety
Manage My Subscription
Contact Us
Email
If you click "Contact Us" under the FAQ section, you'll see a link to an email contact form. This comes in the form of "Submit a Request," a generic messaging form allowing members to include their phone number, message, and any applicable file attachments that might be needed.
Customers can expect a response from the support team at BlackPeopleMeet within 48 hours.
Toll-Free Phone
BlackPeopleMeet even offers a toll-free phone number for instant access to the app's service center. The number is 1-866-727-8920, and customers will get responses from Monday to Friday between 8 AM and 6 PM Central Time.
What Are People Saying About BlackPeopleMeet?​
If you're curious about how customers feel about BlackPeopleMeet, we've included customer feedback from our trusted sources: SiteJabber, Trustpilot, and Best Company. Find out what customers have experienced firsthand when using BlackPeopleMeet. This can better understand the app and gauge if it'll be a good option for you.
Note: Over the years, we've generally found that people are more likely to post negative feedback online about a product or an experience. Naturally, most of the reviews and comments we found on BlackPeopleMeet are negative. And there were not many reviews listed on Trustpilot or Best Company (four and ten, respectively), so it doesn't truly capture the BlackPeopleMeet experience as accurately as possible.
Overall Ratings
SiteJabber: 1.67/5 stars (based on 406 reviews)
Trustpilot: 2.7/5 stars (based on 4 reviews)
Best Company: 1.5/5 stars (based on 10 reviews)
Feedback
"I met my wonderful future husband on this site. I had to go through some "wrong" ones for 8 months. I was about to give up. He is amazing wedding spring of 2023!"
Inez H.- July 25, 2022 – SiteJabber Review
"This is one of the worst sites I've been on, the men are fake or not who they say they are. When you try to cancel they will keep charging you. I have tried this site at least three times over the years but they still have the same faces from years ago. They will not let you cancel. It showed that I had one day left and I went on the site and cancelled, I even sent them a email telling them this will be my last day on the site."
Carla W. – November 4, 2022 – SiteJabber Review
"They are Dishonest miss leading signed up soon as they took the money out of my account realized that what was said on the site was different what I done and what I paid immediately called and asked for a refund told me absolutely it would be three or four days That is a lie still have not received it it's been a week with many calls and I keep getting pushed back three or four days every time I call please do not trust this company they have many sites that belong to them do you not trust them."
Teresa Westfall – August 5, 2021 – Trustpilot Review
"Crazy fraudulent site. They use fake profiles. They send fake messages. They wuld do anything to lure you into subscription. There is no quality, just a huge ripoff. Well once bitten twice shy. I have become more careful after using this site. I did my due diligence. I found J4Date to be efficient service and I found my love there. What's most amazing it took only three weeks! It was a miracle after wasting so many months and even years of my life on other lousy phony sites and apps that had nothing to do with real dating. My recommendation is to stop wasting money and time on blackpeoplemeet All they do is demand more and more money from you without giving you any real service. Better find other avenues. There are plenty of legitimate dating sites."
Sean – July 12, 2022 – Trustpilot Review
"This site is an COMPLETELY a waste of time and money. If I'm paying for a service, at least have a site of respectful men. But, this site doesn't have such. I was on this site for 1 month, and every guy I thought were an decent person turned out to be a jerk. I had a few guys to send me pictures of their penis' and requested for I to do the same by sending naked pictures of myself to them. There have to be a easier way to meet some intelligent guys, but this site isn't it. Don't waste your money ladies, just a bunch of dumb men wanting to get laid."
Sandra Myles – February 2020 – Best Company Review
"my favorite dating app for my fellow african americans! it's been such a success meeting people of my same race! so grateful for black people meet!"
Kymberlee Yack – February 2019 – Best Company Review
BlackPeopleMeet Alternatives
There might be better dating apps than BlackPeopleMeet for your needs. But there are plenty of other platforms that are great for helping you find relationships with black singles. One of these platforms may be better suited for meeting your needs and dating goals! In the table below, we've included our favorite alternative dating apps to BlackPeopleMeet.
Dating App
Fast Facts
Review

eHarmony

Best For: serious, compatible relationships with black singles
Active Users: 16+ million
Gender Ratio: 48% men to 52% women
Free Trial: Yes (limited)
Membership Price: begins at $35.90/month

Zoosk

Best For: meeting a variety of black singles from a large dating pool
Active Users: 50+ million worldwide
Gender Ratio: 48% men to 52% women
Free Trial: Yes (limited)
Membership Price: begins at $10/month

Elite Singles

Best For: serious relationships with highly educated black singles
Active Users: 2+ million
Gender Ratio: 44% men to 56% women
Free Trial: Yes (limited)
Membership Price: begins at $19.95/month

BLK

Best For: finding black singles who want to find meaningful relationships 
Active Users: 40,000
Gender Ratio: 70% men to 30% women
Free Trial: Yes (limited)
Membership Price: begins at $5.99/month

SilverSingles

Best For: serious relationships with black singles over 50
Active Users: 100,000
Gender Ratio: 53% men to 47% women
Free Trial: Yes (limited)
Membership Price: begins at $19.95/month
Use the free links above to use any of these dating apps in a limited capacity without any money coming out of your pocket. You can register an account, create a profile, and view singles using the app.
BlackPeopleMeet FAQ​
There might be some questions we still need to answer or subjects we should have touched on in our BlackPeopleMeet review. There's a good chance that our FAQ will address some of these subjects. For your convenience, we've included several of the most common questions we've gotten from real people at BlackPeopleMeet.
Do I Have to Be Black to Use BlackPeopleMeet?
You don't have to be black to use BlackPeopleMeet. It's simply a dating platform where most people using it happens to be black. The app is open to people of any race or ethnicity and is a great place to meet black singles. Many non-black people are interested in relationships with black singles, and BlackPeopleMeet is just the place to fulfill that need.
Does BlackPeopleMeet Offer an App?
BlackPeopleMeet has a website that can be accessed using your mobile device's or desktop PC's web browser. But there's also an app that you can download for mobile. It's available on Google and the App Store. It functions the same way as the website does, making it easy to go back and forth between the two if needed.
Is BlackPeopleMeet Free?
You can use BlackPeopleMeet for free to an extent. Free features include sending "likes," viewing profiles, and eight complimentary daily messages. There are only a few features available to new users for free, but you'll need to upgrade to a premium membership to use the better features offered.
Is BlackCupid Only for Black Singles?
While a good majority of the users at BlackCupid are black singles, it's a dating app that is open to anyone to use, so long as they are 18 years of age or older. Some non-black users join BlackCupid because they want to fall in love or develop relationships with black singles.
How Can I Cancel My Subscription?
You can cancel your membership plan by heading into your account settings and turning off the auto-renewal feature. Your subscription won't immediately terminate but will expire once the membership has reached its end date. This means you can cancel your subscription but still have time to use it before it ends.
What's the Cost of Membership at BlackPeopleMeet?
There are three membership plans at BlackPeopleMeet: one month, three months, and six months. They cost $20.64, $39.86, and $72.59, respectively. A deal that BlackPeopleMeet offers its new members is a reduced price on monthly membership costs. The higher the total price and length of the plan, the more of a monthly discount the customer gets.
What Are the BlackPeopleMeet Tokens Used For?
Tokens are an in-app currency that can be purchased in bundles by BlackPeopleMeet members. Members can use tokens to buy PromoteMe (top rankings in the search results), NotifyMe (getting notified when certain members log in), and MatchMe (being featured in certain members' daily matches). Tokens can be used to buy virtual gifts for other members using the app.
What Is ProfilePro?
This professional service is offered at BlackPeopleMeet, where members can get advice on developing their online profile best. A team of experts is there to consult members who feel their profile needs a bit of TLC to be more effective.
How Are Daily Matches Generated at BlackPeopleMeet?
Because there are no personality quizzes or compatibility tests to be completed during the sign-up process, BlackPeopleMeet creates daily matches for members by using their search filter settings, online dating preferences, and the results of their profile swiping habits.
Does BlackPeopleMeet Offer Swipe Style Profiles?
BlackPeopleMeet offers swipe-style dating to help its members shuffle through many profiles in a short amount of time. Members can use either "like" or "pass" on profiles under the "Discover" section of the app. You can view singles' profile pictures, names, and ages. There are also options to send personalized messages to the profiles you're interested in connecting with.
How Can I Pay for My BlackPeopleMeet Subscription?
There are several ways to pay for your BlackPeopleMeet subscription plan, including major credit cards and PayPal. Customers can use Visa, Mastercard, Discover, and American Express.
Are There Payment Plans for Subscriptions?
BlackPeopleMeet doesn't offer payment plans or monthly installments to help customers cover the membership cost. Before the new customer can access the app, all subscriptions must be paid in one lump sum.