We have some good news for those singles who wish that a first date, or any date, won't take up too much of your precious time, is pretty cheap, and won't force you to leave your house. Say hello to Teleport, a video-first dating app that enables users to have "microdates" with singles who share their hobbies, passions, or values.
The innovative video-first dating app launched this summer (2023) and provides users with the chance to engage in five-minute invite-only speed dates. It's kinda like an elite Tinder, but with less ghosting, done-to-death dating app bios, or pics of men presenting you with a fish.
The latest digital matchmaker is charging users $111 per month for fewer features and fewer options in the online dating swiping landscape. That sounds wrong, but allow us to explain Teleport's "less is more" approach.
---

Using an artificial intelligence (AI) matchmaker that learns from a user's every move, Teleport seeks to ignite romance and capture a share of the $4.6 billion dating app industry through a premium membership-based model. This covers the five profiles a user visits each day, who they write messages to, and how they rate their dates–they'll also have three weekly "optimal" matches, but they can only initiate contact with one.
---
Teleport's goal is to streamline the experience of using dating apps by employing one of the greatest strategies: matchmaking. The steep $111 monthly fee for the invite-only app says it will end the never-ending swiping process that rarely leads to compatible matches.
Dating app veteran and creator Chad Goodman (who also created Lucid and Firstdate) defend the cost by saying that it attracts only those truly interested in a meaningful relationship and holds the company accountable. He told Yahoo, "We exist to find you your person."
Teleport's Origin Story
Goodman and Tyler Greenberg, the co-founders of Teleport, were frustrated with popular dating apps, so they set out to shake up the notion of online dating and came up with the concept for a dating app that makes it possible for communities and influencers to hold their own online speed dating events in 2019.
You can sign up by creating a profile and then signing up for gatherings that interest you; options range from "Digital Nomads" to "Queer and Here NYC." You can categorize activities by age range, location, and individual identity.
---
Tickets cost about $20, with most of the money going to the hosting organizations. On the night of the event, you will be given five 5-minute video chat dates with other attendees who match your preferences for location, age range, and/or gender. After the initial five dates, you will be able to "like" any of the persons you had conversations with. If you find that you have a mutual interest, you can exchange messages within the app and see where it goes from there.

---
You'll need to create a profile to join, but other participants won't be able to view it unless you've taken part in a video chat. It's an attempt to "replace the first date," Goodman explains.–you can tell right away whether you have chemistry with someone on video.
Swipe Culture Is Changing with Video-First Dating
Teleport is one of several innovative video-first startup dating apps challenging the swipe-based model of online dating.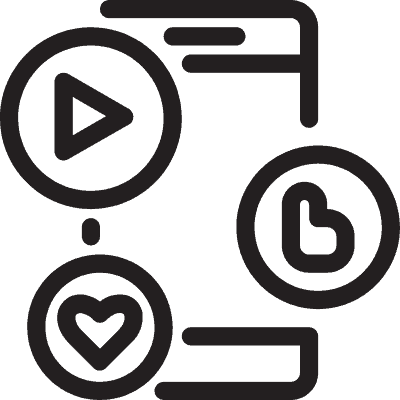 Using a combo of social media and dating features, users of video-first apps will get a more complete picture of a match from the start. And it's also tougher to mislead matches about your appearance on a video-first dating app since users can literally see you.
Online dating that centers around videos is more practical and realistic–instead of worrying about what to wear, paying for an Uber to take you to a club or restaurant, and dropping a lot of money on a bad date, video-first dating app users can connect in real-time and sit on the sofa while doing it.
Takeaways
Founder Alex Goodman of Teleport boasts that the app's artificial intelligence can successfully pair users at scale, but only after they've paid for a minimum of three months of service. According to him, this will teach the algorithm how to better meet people's needs throughout the course of the investment period, leading to stronger and longer-lasting relationships.
Teleport has also thrown in-person events to expand the waiting list and foster in-person connections amongst the exclusive dating app's members.
---

Goodman explains that the app's founders and network of influence are highly committed to finding their ideal partner, demonstrating a strong level of intentionality in their decision to join Teleport. He believes the future of connecting with people goes beyond dating apps; it revolves around matchmaking.
---
While it sounds like a great concept, good luck getting on Teleport–they capped their membership to 5,000 when they launched in June, similar to what The League tried when it launched in 2014–we're guessing that was too strict a cap, as The League now has a free "guest" tier that delivers a stripped-down version of the service.
Time will only tell if Teleport will stick to its uber-strict membership or if it will ease up.