Wintertime is the perfect season for romance. There's just something about snuggling around a warm fire with your partner, away from the blistery cold outdoors. The beautiful decorations, colorful lights, and piping hot drinks make the Christmas season the ideal time to get romantic.
'Tis the season to be jolly, sexy, and romantic with fun and exciting winter activities. Some ideas you can do from home, and others involve glamorous getaways for two.
However, the most important takeaway is to keep your lover in mind when planning romantic activities. Be thoughtful yet creative when planning a date you and your partner will enjoy.
When it comes to dating, this is the time to step it up a notch or two with a few Christmas date ideas. So this year, grab your lover and try something new or add more spice to a tradition. Here are 17 romantic activities that you can try with your significant other.
1). Visit a Christmas Tree Farm
The festive season isn't complete without a tree. But even if you have already put up and decorated your tree, it's still fun to visit a Christmas tree farm. You can spend some time getting into the season by walking around and admiring all the beautiful trees. In addition, some farms let you go through a netting machine, which is an excellent photo opportunity for social media.
After your trek through the farm while holding hands, stop for a cup of hot chocolate and some intimate conversation. This idea is good for couples who:
are looking for something different to do
love the cold, wintry outdoors
are on a first date and just getting to know one another
are in a long-term relationship
2). Go to a Christmas Market
Have you ever just wanted to be around Christmas-y things all day? Well, now you can, at least for a few hours. A Christmas market is similar to a flea market, but it's only about Christmas. Some are open only for the season, but others are open all year round. Wow! Can you imagine doing your Christmas shopping in June?
These stores are located in most cities and towns and are a fun way to explore the many different traditions of Christmas in several countries, including German-inspired traditions.
So if you're looking for home or tree decorations, wrapping paper, bows, or trinkets, you can pick them up at the market.
3). Café Hop for Christmas Specialties
This idea is great for foodies. It's like bar-hopping, but instead of getting drunk off spirits, you're getting "drunk" off chocolate. Visit several cafes and coffee shops in your area and sample all the different flavors of hot chocolate.
Or, if you prefer to cozy up to a warm fire at home and enjoy your hot chocolate, create a DIY station with a variety of your favorite toppings. Either way, you can enjoy chatting and spending time together.
12 New and Inventive Flavors of Hot Chocolate to Keep You Warm This Season
Salted Peanut Butter
Mexican
French Vanilla
Black Cherry Bourbon
Fluffernutter
Gingerbread
Aztec
Peppermint
Orange Pisco
Pina Colada
White Fudge Oreo
Red Velvet
And you can't have hot chocolate without tasting delicious desserts like pumpkin pie, fruit cake, and sugar cookies.
4). Visit an Ice Bar
If you need a little more oomph in your drink, skip the hot chocolate and go to an ice bar. An ice bar is a permanent bar made of, well, ice.
There are only a few around, but if they're in your town, they make for a memorable date experience. However, because they are made of ice, remember to wrap yourself up from head to toe. But then again, that's the perfect excuse to snuggle close together.
5). Christmas Shop Together
If you don't like Christmas shopping, you now have a partner to help make it fun.
On the other hand, if you're a Christmas shop-a-holic, you have someone to join you and make it more exciting. Shopping for gifts is a great practical date. Think about it; you get to spend time with your love and buy gifts for all the loved ones in your life.
If you still need to buy your partner's gift, here's a hint: see what items they check out in the stores, and later, you can sneak out and purchase it. By the same token, drop a few hints on the kind of gifts you'd like.
Sneaky Ways to Find Out What She Wants for Christmas
Has your girlfriend been naughty or nice? It probably doesn't matter to you because you're getting her a gift either way. The question is, what are you buying? If the answer is, I don't know, keep reading.
Last year it was the designer bag she had never used. She still hasn't forgiven you for buying her the–in her words–" hideous outfit" the year before that.
This year, you don't want to take any chances. So, if you want to be her favorite Santa baby this holiday season, try these sneaky ideas to figure out EXACTLY what she wants.
Look at her "likes" on Twitter: Everybody is all over Twitter these days, so if your girlfriend loves makeup or stylish handbags, she has clicked the "like" on a few twit-pics of her desired colors and styles.
Look at her Pinterest: Fun Fact: Pinterest was created solely to alert guys about what their girlfriends want for Christmas. Only kidding! However, that wouldn't have been a bad idea. If she's an avid user, she will have posted tons of images of what she likes. The site has even created buyable pins to make it easier. In other words, guys, all you have to do is utilize the one-click, and she'll love you forever.
Ask her family: Is she close to her mom and sister? Next time you see them, ask what she wants. That may be easier than figuring out her shares and likes on social media. Mom (and sis) will think you're a gem for caring enough to come to them to get the perfect Christmas gift.
Ask friends: If the professional mind reader is out of town, the next best option is to ask her nearest and dearest friends. They'll know exactly what she wants; bonus, her friend will probably even know where to get it and how much it costs. Heck, you could give her friend the money, and she can get it for you. See how easy that is?
Check out her "shares" on Facebook: If you're tired of looking through clothes and makeup, check out what she shares on Facebook for cool techie gadgets. What videos has she shared? It's not that hard. At least ONE thing she shared has to be within your budget.
Give the ol' "shopping for my sister" excuse: If your girlfriend and sister are close in age, check out your sister's stocking stuffers to know what your girlfriend might appreciate. Another option is to ask your girlfriend what she thinks your "sister" would like. She'll basically give you a listing of everything she wants. Tip: Make sure you have a sister. If not, use a cousin.
Check your old texts: Your girlfriend may have dropped hints two weeks ago, and you didn't even notice. Sometimes they drop hints and don't even realize they're doing it, or did she flat-out tell you that she needed a new bed in a bag? Check all messages, texts, and funny memes she sent you. There are hints somewhere. You just need to put on your Sherlock Holmes cap and find them.
Take her out shopping: You've tried all the tricks, and you failed. Her social media was no help, and you scrolled through and didn't find one text hinting at what she wanted. You give up! Your last ditch attempt is dragging her to the mall and letting her pick out her own gift. Sometimes all a girl wants is to be left to her own devices and shop alone. Just remember the money. Please, and thank you.
6). Go to a Winter Wonderland
Suppose you are in the area on vacation or visiting friends. In that case, the annual Winter Wonderland is a Christmas spectacular held in Hyde Park, London, that begins in November and ends at the beginning of January.
It's a fun day involving plenty of winter activities like ice skating or the giant wheel. Remember how much fun you had sledding as a kid? Well, now you can create new sledding memories as an adult.
There are also loads of street vendors, ice sculpting classes, and an ice bar. We need one of these in every city. So, where do I sign the petition?
7). Visit a Garden Center
Take a romantic stroll through a local garden center. Garden centers are filled with Christmas trees and other winter plants during the holiday season.
Plus, Christmas ornaments and trinkets are on sale. So why not pick out an ornament together for the Christmas tree at home? Find a romantic one that says how much you love each other. Awwww!
8). Check Out Harry Potter World
You must be in the Orlando area to visit, but for Harry Potter fans, can you imagine enjoying a magical day out and exploring The Wizarding World of Harry Potter? Even for those who aren't big fans of the boy wizard, it's still an entertaining experience.
Hogwarts in the Snow runs from November to January and is a great way to check out all the Harry Potter sets that are dressed up for Christmas like they are in the films.
9). Ice Skating
Ice skating in the park? What a perfect winter date idea. Whether it's an indoor or outdoor rink, it doesn't matter. If outdoors, you'll be able to skate underneath the stars while holding hands.
Indoor rinks often create a magical wonderland filled with fake snow and a Christmas-y atmosphere for those photo-ready moments. Two prime ice skating locations include Somerset House in London and the Rockefeller Center in New York.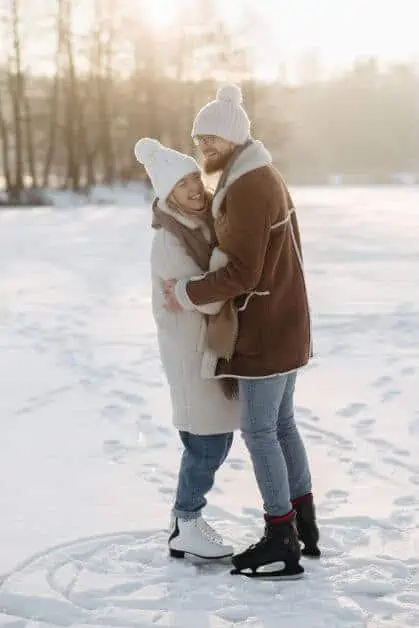 10). Bake Together
Nothing is better than a cozy house filled with the scent of freshly baked cookies, especially if you and your love made them from scratch.
Bake some of the classics like chocolate chip and sugar cookies while creating a new tradition with other baked goods like strawberry cheesecake and apple pie.
Classic Sugar Cookie Recipe Ingredients:
3 C all-purpose flour
1 ½ tsp baking powder
1 tsp fine sea salt
3 sticks unsalted butter (softened)
1 ½ C granulated sugar (some extra for rolling)
2 large eggs
1 Tbsp pure vanilla extract
Preheat oven to 375 degrees F. Line baking sheets with parchment paper. Mix flour, salt, and baking powder in a medium bowl.
Place the butter and sugar in the bowl of an electric mixer. Cream butter and sugar together on high until fluffy (approx 3-5 mins). Turn the mixer on low and add the eggs and vanilla extract. Scrape the bowl.
With the mixer on low, slowly add in the flour mixture. Scrape the bowl. Beat again for 30 secs.
Pour a little extra sugar into a bowl to coat each cookie. Scoop the dough out and roll it into 1-inch balls. (The dough should be soft.) Coat each ball in the sugar bowl. Then, place it onto the cookie sheet approximately 2 inches apart. Use the bottom of a drinking glass and press down on each ball until they're ⅓-½ inch thick.
Bake each sheet of sugar cookies for 8-10 mins, until the edges are slightly golden and the centers are barely set. Completely cool on the cookie sheet.
11). Make a Gingerbread House Together
This is a classic your mom may have taught you. Now, it's time to create your own tradition by baking gingerbread houses. Spend a quiet evening at home, play Christmas music, and light a few candles. Then, make it a contest by baking a gingerbread house and seeing who can decorate it the best. The winner gets a sexy gift of their choice.
12). Decorate the House
Make your home feel cozy and festive by putting up the decorations together. If you're not a big decorator, only decorate the tree.
However, if you like to go all out, play a sentimental, romantic Christmas playlist and decorate the entire house until your little heart is content.
Then, take a break, sip some tea, hot chocolate, or something a bit stronger, and sit back and enjoy all your hard work.
13). Create Winter Cocktails
If you love a good cocktail, this idea is for you. Spend the evening and host a winter cocktail extravaganza for the two of you. All you need is a little creativity and some yummy ingredients. If you like, invite a few friends over to participate. But once the group festivities are over, spend the rest of the evening with your partner in romance mode.
14). Spa Night
You've heard of a spa day, but this spa time is during the evening hours. Create a sexy wonderland for you and your love. Take turns giving each other sensuous rub-downs with warm oils. End the evening in the shower or a bubble bath together. What you do after that is your choice.
15). Prepare Dinner
Sure, you could go to a restaurant for a romantic dinner, but why bother when you have all the ingredients at home? So instead, pick a favorite meal that reminds you of something you did as a couple and prepare it together.
For example, your first date was at a seafood restaurant, so recreate that meal in the privacy of your own home. Set a romantic scene with candles and a soft, romantic playlist. Go all out and dress in formal attire as you did that night of your first date.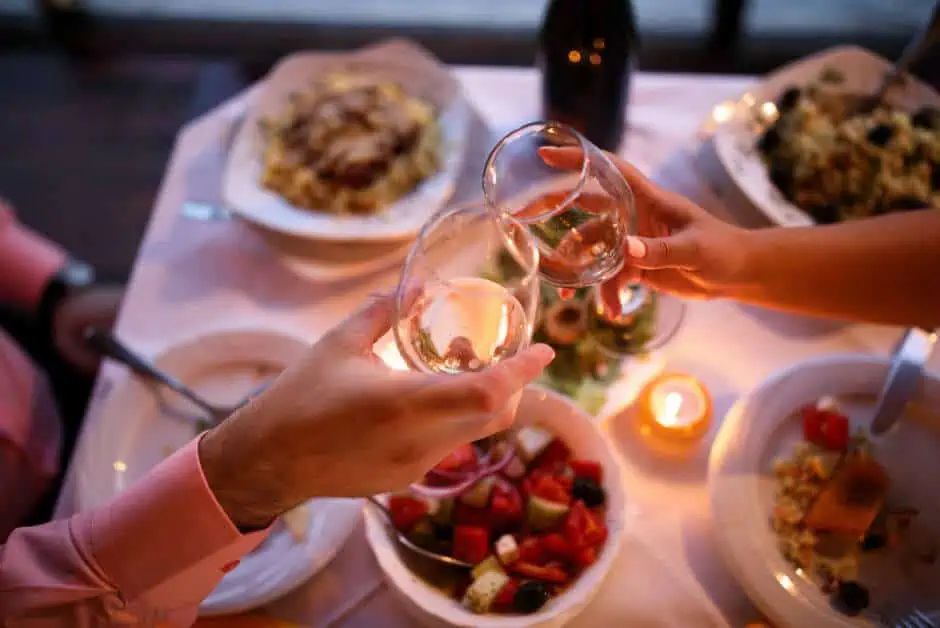 16). 12 Days of Christmas
Just like the Christmas song, give your lover small gifts in the twelve days leading up to Christmas. No, we aren't talking about a partridge in a pear tree or a turtle dove.
Instead, we're referring to recreating your 12 days of Christmas with more practical gifts like sentimental ornaments or their favorite cologne or perfume.
It doesn't have to be anything expensive. You can save that for Christmas day. Instead, keep it simple by exchanging small gifts each day. Or, if you prefer, make your partner work for their gift by making it fun with clues to a treasure hunt.
17). Create a Holiday Bucket List
Write a bucket list detailing all the festive activities you want to do this year with your partner. Create the list as if you're writing it to Santa, expecting every desire to be fulfilled.
For example, you can put things on your list, like seeing a Christmas play or caroling through the neighborhood. After creating your list, see how many you can cross off before the season ends.
Another idea is to spice up your bucket list by writing down all the sexy things you'd like to do in the bedroom and then see how many you can cross off. However, it doesn't all have to be sexy activities. Your list can also contain romantic ideas like evening ice skating or a sunset walk in the park.
So, are you excited yet? Hopefully, this list gave you some romantic suggestions for Christmas dates for couples. Or, at the very least, it gave you a starting point for a few activities you and your love can do this holiday season.