'Tis the season for laughter. With all the shopping, holiday functions, and family drama, people tend to take Christmas way too seriously. You feel like you should enjoy it all, but you don't. This Christmas, find an empty office and take a moment to chill between decorating the corporate tree and pretending to be thrilled to join your department's Secret Santa. Don't worry; it will all still be there later. Here are our 9 favorite Christmas memes for families and relationships.
1). The list of people I'm shopping for this Christmas (Ken Jeong)
This is so true this year. Sorry, but due to inflation, job loss/job change/job cutbacks, I can't afford to shop for my family and friends, PLUS, the dog groomer, the mailman, and the lady who puts extra foam in my latte. If things pick up, I'll catch ya next year! If not, meh. I didn't really like you anyway.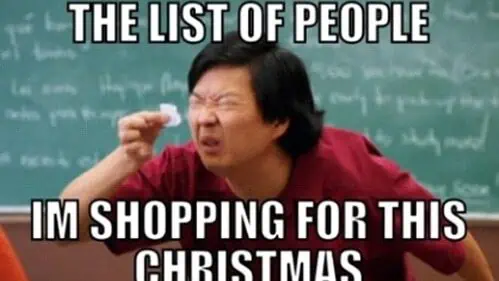 ---
2). When you finally got a bae: You gettin cut off! You gettin cut off (Oprah)
Ladies, you totally get this one. As much as we like to say chicks before d**ks, if it's been a while (and you know what I mean), we are cutting you off faster than a rabbi at a Jewish bris. Don't hate. You know you'd do the same.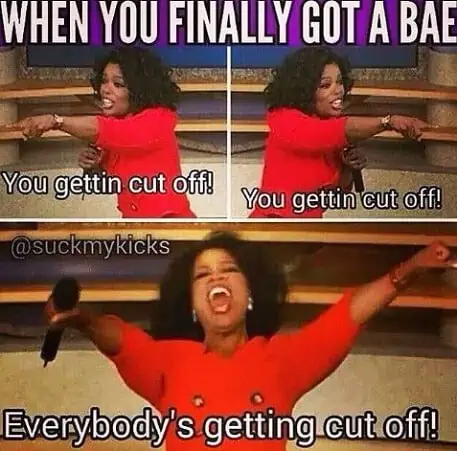 ---
3). My underwear watching me buy more stuff for my dogs (Spiderman/Tobey McGuire)
Is it bad that I don't see the funny in this one? I love my wittle doggies, plus at the rate I'm going, the only people going to see my underwear for the next six months are me, myself, and I, and we don't care.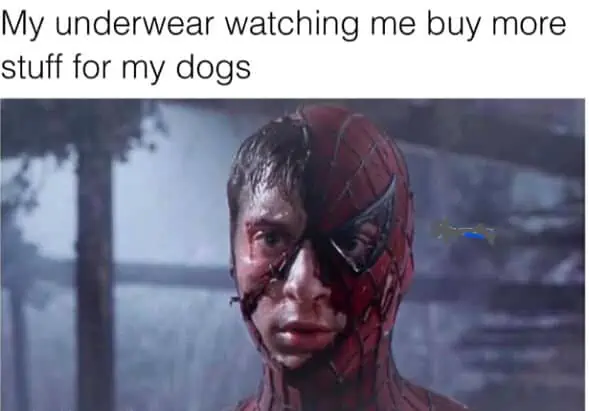 ---
4). You getting your wife a vacuum for Christmas is like her getting you a gas grill
Unfortunately, this is what it has come to for couples exchanging Christmas gifts. At this point, you should just buy her new underwear and call it a day. And if you really want to make her feel good, splurge on the tummy control briefs. Yawn!
---
5). The office Christmas party is a great way to catch up with people you haven't seen for 20 minutes
Truthfully, I'd rather skip the party and have my boss let us leave early. Being fake and smiling in the face of all those co-workers who secretly pray for my downfall is exhausting. But that's just me, I guess.
---
6). Brace yourself- random 'Merry Christmas' texts are coming
Honestly, I enjoy getting these from my Facebook "friends," especially ones I have never met, yet they take the time to wish me a 'Merry Christmas.' Then, the season is over, and I don't hear from them until the next year.
I don't have to talk to them for the other eleven months, which means they don't ask me to give them a ride, nor do they complain about their boyfriend/girlfriend and then ask to borrow money and never pay it back. Hmmmmm, maybe I need more "friends" like these random 'Merry Christmas' texters.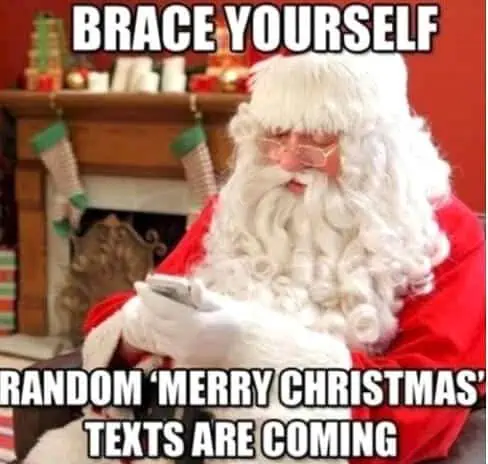 ---
7). I don't always wrap Christmas gifts but when I do it looks like a six year old did it
Mine, too, but that's only because I pay my six-year-old to do it. I don't have time to wrap. I work. Someone has to pay for all this shit!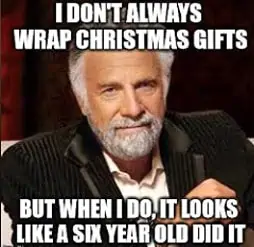 ---
8). You don't have to get me anything for Christmas. it's a trap (Star Wars)
Guys, please do not fall for this trick. Here's the thing, while women may feel this way leading up to Christmas, I guarantee when the day comes and they don't have a gift under that tree, she will unleash the fury, and it won't be pretty.
So, if she says, 'you don't have to get me anything for Christmas,' smile and then sprint–not walk–to the nearest mall and buy her the most expensive thing you can find.
---
9). OK! Yes! I went to my old girlfriend's house last night! It's my job! (Santa Claus)
Guys, this excuse only works if you're Santa Claus or the Easter Bunny. Otherwise, don't even bother or there will definitely be two extra chestnuts roasting on an open fire.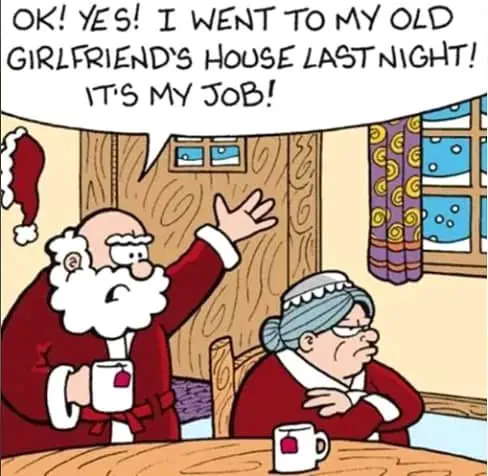 ---
I hope you found a little humor in these memes. Remember, Christmas only comes once a year (thank goodness), so enjoy the season and don't stress yourself out. Now get back to work and stop wasting time reading memes. Happy Holidays to all!