So, you've made plans to go on vacation. Does that mean you need to close out all your dating apps? Nope, not necessarily. Before shutting down your Bumble, OkCupid, Hinge, Tinder, BlackCupid, and all the other dating apps, consider keeping them up and running.
Using dating apps for spring break might seem like a waste of time because you'll only be at your relaxing destination for a short time. But it can be a great way to meet new friends, set up an amazing date, or have some hot and titillating casual sex if that's what you like.
Some people have these great baller positions like concert promoters or anything in the music business, so they often get free tickets through their job. So, when they're traveling, they'll update their dating apps to say that they're going to see such-and-such play in concert and have an extra ticket if anyone's interested.
After the concert, you can go out for dessert or coffee or hang out for dinner and drinks before the show. This is a way to meet incredible people and have a fun and exciting time. And who knows, it could turn into something romantic, but even if it doesn't, you've met a new friend.
Whether you're looking for friendship or you're open to something a little more, this person could be the one thing that creates an adventure for you on your vacation, so don't miss this opportunity.
When it comes to Spring Break and going to a hot location, don't assume you need to quit all your dating apps. Here are some tips on using dating apps to make the most of your party time and to find a potential Spring Break Vacay Bae.
Be Clear and Concise with Your Matches
If you plan to use dating apps while on vacation, be sure you know what you're looking for before getting started. And make sure your matches understand as well.
For example, are you searching for a casual hookup? If you're traveling alone, maybe you're just looking for a platonic friend to hang out with and to show you around.
If you're vacationing with friends and attempting to meet some chill, laid-back people who can join your group, you want to let them know that, too.
Or are you running out of dating potential in your hometown, and you're seriously looking for a relationship? Decide on whatever you're searching for, and then put that in your bio on your profile. Just be sure to be explicitly clear on your intentions.
For instance, you could say, "I'm in the area for seven days and looking for someone who knows the local hot spots and can show me around." Or, "I'm traveling to New York next month and looking for a casual hookup, no strings attached. Can you show me a good time?"
Plan Ahead
If you have a free version of your dating app, most don't allow you to change your location without physically being in a different area. However, some apps offer paid premium services, like Tinder Passport. 
Tinder Passport allows you to change your location before leaving. If you're truly serious about meeting new people while you're vacationing, the premium cost is worth it, and you'll only have to pay for one month–or the duration of your vacation.
You will want to make matches before you get there. Otherwise, you may run out of time because you miss communication or are too busy, and it won't work.
Invest in a feature that allows you to swipe on matches beforehand. Doing so can make or break your perfect experience of meeting people while on vacation.
If you don't want to pay into an app that's ordinarily free, another option is to check if that feature has a free trial around the same time you're going on vacation.
Be Considerate
When traveling to a destination where the culture is very different from yours, understand and respect that. For example, if you're on a gay or queer dating app and doing some international traveling, understand that in some countries, it's still dangerous to be openly homosexual.
So, while you may be out to your family and friends and on social media, the people you're meeting might not be out, so therefore, they probably wouldn't want photos of them at queer events floating all over Instagram or Facebook.
If that's not an issue, for your own safety, it's still important to read up on the local customs and culture whenever you're traveling. Your research can eliminate the possibility of offending anyone.
Stay Safe
Like going out on a date with someone for the first time and letting your friend know the details, you should do the same when traveling. Follow the same safety tips and rules while dating abroad. 
Never tell any potential matches where you're staying. You don't give out your home address, so why would you say which hotel you're staying in?
As you travel, those same rules might feel slightly more lax because you're ready to let loose and have a good time. But safety is still important because you may be experiencing a completely different culture and are likely unfamiliar with the area.
Here are some tips to stay safe while dating in unfamiliar areas:
Make sure someone knows where you are at all times
Make sure people know where you're going, especially if it's to a private location
Refrain from getting too drunk
If your spidey senses start tingling and you begin feeling uncomfortable, trust your gut. Tell them something like, "It was great meeting you but I'm not sure this is a good fit," and then graciously make your way to the exit.
Quick Tips for Staying Safe While Traveling Alone
Use recent photos on your online dating profile, and avoid sexy and suggestive poses if you're looking for a local guide rather than a fling or hookup.
Keep your location set within 12 or 15 miles of your hotel. State in the profile your approximate time/date range you need a companion and what for. For example, "Someone local to show me the best downtown picnic area." or "A hiking partner to help me explore the area's most beautiful and unique park."
Specify those activities you want to do. For instance, let others know if you're going to hike on trails, view an art show, bicycle through town, or sample beer at a local brewery.
If you connect with someone on an app, check out their social media to get more information about them before meeting. If they state they don't have any (and some don't), move on. Why take the chance?
When it comes to online dating, there is no benefit of the doubt. If you get creepy vibes from someone, trust your instincts and steer clear.
Keep the meeting public, like in a crowded lobby (preferably not your own) or a local cafe or town park.
Use your own transportation. Walk to a public meeting area. Keep money on you and the local transportation schedule to get yourself back to your hotel.
Always leave a note in your room listing details like your phone number, where you're going, and your date's contact information. Also, please share this information with the front desk staff and send it to a trusted friend.
Exercise caution all the time! This isn't a Lifetime movie of the week. In real life, danger is not sexy.
Tips for Using Dating Apps for Spring Break
Whether it's Spring Break or you're going away for a much-needed vacation from work, you don't have to deactivate your online dating apps. For single travelers ready to mingle, online dating apps are an excellent way to find romance.
If you're ready to take your dating game to new heights, here are some tips to make the path to true love run smoothly.
1. Don't Be Afraid to Try More than One Dating App
Pick and download your dating app. You may already have one on your phone, but you can also check out all the options to add a few more. If you're unsure which ones are the most cost-effective, especially after spending big bucks for your vacation, do a quick cost analysis to see which app fits your budget.
2. Fix Your Profile
Your photos should be current and show your interests and personality to attract the right person. Be sure your profile stands out to catch potential matches' attention. Also, be upfront about how long you'll be in the area. This way, your dates know not to expect a long-term relationship. Also, be clear if you're looking for a casual fling or a platonic partner to show you around the area.
3. Set Your First Date in a Public Area
Don't you meet up with new people at home in a public area? Do that while on vacation, too. It's way too easy to relax and forget the rules, but you should always take precautions when dating, even if you're in another part of the world.
4. Swipe Right on Other Travelers
It feels good to meet other traveling adventurers on dating apps. You'll encounter people from all over the world that you'd never run into in your hometown.
Even though vacation flings are typically short-lived, if things work out, you might find your true love. At the very least, you've encountered a new friend who enjoys seeing the world just as much as you do.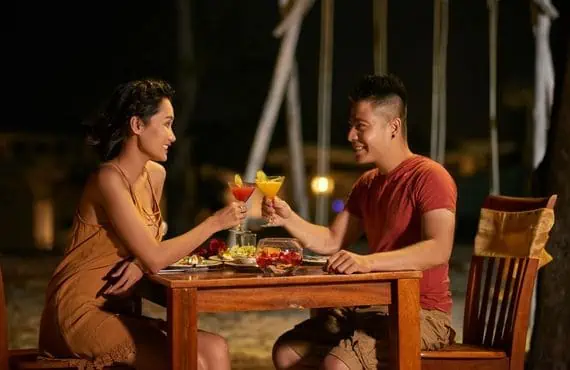 5. Take the Opportunity to Visit Local Hot Spots
When you search for love on dating apps while traveling, you expose yourself to a brand new city of potential partners and many possible tour guides.
Hit up a match or two for inside information and travel advice. Find out the best little-known local hot spots that aren't tourist traps. Even if you don't meet them in person, you'll still have a wonderful conversation; plus, people love to share their favorite areas in their hometowns.
6. Be Open and Have a Good Time!
Using dating apps while traveling is exciting and fun, so make the most of your adventure. Set realistic expectations, and don't set the bar too high. When you go on dates, do so with an open mind because not all dates will lead to romance, and you'll likely like some matches more than others.
Final Thoughts
Spring Break is one of the most awesome vacation times for the younger generation. Typically, this is when people naturally meet others while partying at their destination.
However, if you don't want to take any chances, use an online dating app to set something up beforehand. They're among the best ways to find your Spring Break Vacay Bae.