In honor of Passover, Jewish households worldwide will host dinners with their family members. The younger guests will sing the Four Questions song during these seders.
What are the Four Questions? As cited in the Babylonian Talmud: Why is matzah eaten, why is maror eaten, why is all meat consumed roasted, and why is food dipped twice?
More importantly, what is the significance of asking questions, and what on earth do they have to do with dating and relationships? We are so glad you asked–apparently, a lot!
We should be concerned when we cease asking questions and show our disinterest.
My bubbe cited a rabbi (don't ask me his name, I have no idea) who asked, "What is the key to understanding love, creativity, religion, and life? A path lined with thoughtful questions." He meant that when we stop asking questions, we show disinterest in those around us.
The same is true for romantic relationships, according to our study of dating and long-term relationships. The secret to creating deeper connections in our daily lives is to ask open-ended questions involving more than a "yes" or "no" response.
Friendship is the cornerstone of a successful relationship. The exchange of thoughtful, inquisitive inquiries that signal concern and interest marks the beginning of a meaningful relationship. That's how the Four Questions can come into play with your dating life (and beyond); always try to ask open-ended questions.
If you find yourself at this year's seder and wish you had a plus-one, do not despair–you can hop on one of the top dating apps for finding connections during Passover!
Jdate
JDate was among the earliest Jewish-only internet dating platforms, debuting in 1997. While non-Jews are welcome to join, the site's primary demographic is Jewish people looking for love.
You can narrow your search for a Jewish life partner by selecting from many different criteria, such as whether or not they are Conservative, Orthodox, culturally Jewish, or even prepared to convert. To avoid feeling limited, you can select more than one option from the list of possible identifiers.
The JDate app itself is free to download and use, but in order to actually initiate communication with other users, you'll need to upgrade to a paid membership.
JSwipe
Whether you are Jewish or are interested in dating Jewish people, JSwipe is a good contender. The Brooklyn-based app was released in time for Passover 2014 by creator David Yarus, who worked for Birthright Israel at the time.
You can use JSwipe by filling in a brief bio, educational background, and age. It also requests your religion as well as if you observe kosher practices. After that, you can start swiping. Because your user profile is linked to your Facebook page, the app can determine your mutual interests by looking at the pages and posts you've liked in the past.
There is a premium paid version of JSwipe in addition to the free one. The paid version adds features like profile boosts, super swipes, a swiping note, and the ability to view who has liked your profile.
A premium membership ranges from $17.99 to $59.99 per month. Like Tinder, it displays nearby users based on their location, but users can always also expand the search radius to see people from all over the globe.
JCrush
After choosing your Jewish denomination in the app's settings, you can use the swiping feature to connect with other Jewish singles in your area. JCrush has a variety of features inside the app itself, such as the ability to see your "oy veys" (those you've dismissed) if you decide to reconsider, see everyone who "crushes" on you, or "go incognito" to hide your profile from everyone but your initial "likers."
Users may also send their Crushes music, GIFs, or date ideas using the special messaging option. Thus far, the Crush is responsible for 10 weddings. Mazel!
EliteSingles
The most successful Jewish singles use EliteSingles to find love and build meaningful relationships. It has more than 13 million users and facilitates religiously-specific partner searches. Not only can you highlight the fact that you're interested in meeting Jewish individuals, but you can also rate the degree to which it's important that your matches also share your religious identity.
When it comes to finding you a compatible companion, EliteSingles employs a system based on personality assessment.
The League
The League is known for its high quality of service and ability to attract a select clientele. Past users have been invited to huge Shabbat meals hosted by The League, where they were strategically placed next to others who shared their interests, backgrounds, and professions.
It has 35,000 Jewish members worldwide, and while there is a waitlist to be approved for this exclusive dating app, users say it's well worth the wait!
eHarmony
This is a platform for those who want more than just a fling or two and want to find a lifelong partner. If that's what you're after, you may want to give eHarmony a try. Millions of users from all over the globe are on the site, and the site's advanced search filters and matchmaking capabilities make it simple to discover a suitable partner.
Dating apps like eHarmony can be a great way for Jewish singles to meet compatible partners within their faith. If you want to narrow your search for a compatible Jewish partner, the platform's straightforward preferences and simple interface might help you do just that!
Saw You at Sinai
Saw You at Sinai is an easy-to-use Jewish dating app that connects Jewish individuals for friendship, romance, and marriage.
Signing up for the app takes time due to the extensive questionnaire users must fill out—but these questions are, however, designed to facilitate the process of locating suitable partners. Once you complete your profile, the platform will display potential matches that you may be interested in, and members will be matched with other individuals who share their interests and preferences.
The dating app also has a unique function called Matchmakers, who are devoted and qualified members who can help you find matches. But only premium users have access to this feature, so you'll need to upgrade to one of the three distinct membership tiers offered.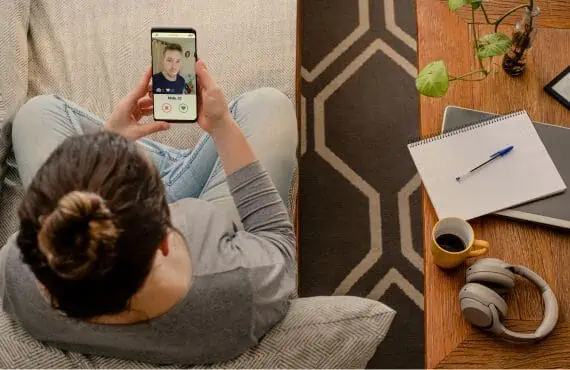 JWed
JWed might be the perfect Jewish dating app for you if you are eager to get married and are seeking a partner for your Simcha (happy) ever after. The dating app was developed with a singular purpose in mind: to make it possible for Jewish singles to meet their mate and head down the aisle to stand under the chuppah to wed their beshert.
To help you discover your perfect match, JWed provides a number of useful filters and other tools for free. Don't be put off by the lengthy questionnaire that comes with creating a profile—your chances of finding a compatible match increase as you reveal more about yourself. After all, it is the site's stated goal to introduce you to people that could end up being your lifelong companions. That could take some time, yet it could prove absolutely worth it in the end.
Final Thoughts
Dating is challenging, whether it's Passover or a regular old day, regardless of your religious beliefs, particularly if you are searching for the ideal partner.
Joining a Jewish dating app will help you discover that special someone if you think that mainstream dating services are not cutting the kosher mustard. To get started, you only need to sign up for the dating app you think will cut the kosher mustard, create a profile for yourself, and begin searching for potential bubelehs. L'Chaim!