Do you have The Right Stuff? No, we aren't talking about the 1983 movie that chronicled the first 15 years of our country's space program. We mean the stuff it takes to join a dating app that goes by the same name.
The Right Stuff dating app is "A dating app for the right wing" and has the tagline "Profiles without Pronouns." If you haven't already guessed, it's a dating platform for conservatives.
How does it work exactly, and is it worth signing up for? We are going to veer a little to the right (we have to!) and tell you everything you need to know about this political dating platform, so keep reading for our complete review of The Right Stuff dating app for 2023!
---
---
Our team has independently researched all products and services that we have listed on this page. If you sign up or purchase through our links, we may receive a commission. See how it works.
Introduction to The Right Stuff Dating App
The Right Stuff dating app was created specifically for the politically conservative—it's a platform for those who aren't "woke" to connect genuinely and not have to worry about defending their politics to more liberally-minded singles.
The platform says, "Other dating apps have gone woke. We bring people together with shared values and similar passions." Peter Thiel funded the platform John McEntee, Daniel Huff, and Isaac Stalzer created.
A Brief Overview of The Right Stuff's History and Success
The Right Stuff is a dating app for conservative people, especially those in their 20s and 30s. Ryann McEnany, younger sister of former White House press secretary Kayleigh McEnany, launched the dating platform. She also appears in the website's promotional video, and Peter Thiel, billionaire and co-founder of PayPal, is just one of numerous well-known backers of the app. A growing number of conservatives are creating projects like The Right Stuff dating app in an effort to counter what they regard as the left's stranglehold on the media and culture in general.
On its first two days in the Apple App Store after its release on September 30, 2022, the Right Stuff dating app saw between 6,000 and 7,000 downloads; however, that number dropped to 1,000 between October 8 and 10, 2022.
The Right Stuff's Unique Approach to Online Dating
The Right Stuff's main selling point is that it is only for "ladies and gentlemen"; users cannot specify their preferred pronouns in their profiles. The Hill reports that the app may eventually expand to include same-sex couples, but for the time being, it is exclusively available to heterosexual users.
The taglines for the Right Stuff dating app are as follows:
Quit swiping, scrolling, and trolling the wrong people. There are people out there just like you.
Discover other conservatives.
Connect with people who aren't offended by everything.
If you're single and not on this app, you ain't conservative!
If you don't have an invite code, new dating profiles are reviewed daily, and those that meet The Right Stuff's criteria are usually approved within a day or two.
Is Signing Up for The Right Stuff Worth It?
If you are a conservative looking for love with like-minded singles who you know share your values and politics, you should definitely check out The Right Stuff dating app!
Our Ratings
While we know a few things for sure about The Right Stuff dating app, there are a few categories that we cannot speak to; as of the time of this review, the dating profile we created has not yet been approved, and we didn't have an invite. But we rated the sections we could, and you can find those below!
Overall:
| Category | Score |
| --- | --- |
| Features | N/A |
| Ease of Use | 4.0 |
| Match Quality | N/A |
| Cost | 5.0 |
| Active User Base | N/A |
| Overall | 4.5 |
As far as we can tell, customer service is solely via email, but the response time is quick—they responded to our request within an hour, which is great, but we always like to see a live chat or a phone number so people can get immediate assistance.
What We Like
If you are a conservative, there is a lot to love about a right-leaning dating app that was made just for you! Here are the things we like most about The Right Stuff:
No Clashing Political Views: You know when you meet someone on a dating app and they tick all of your boxes, but then you have to have "the talk;" the "who did you vote for" or are you a liberal or conservative conversation. Well, there will be none of that on The Right Stuff dating app–everyone on the platform is in the same political boat as you are. Unless you come across a liberal troll who decided it would be hilarious to join the platform and harass members. But that is their problem, not yours–and they are few and far between.
Meet Those Who Share Your Views and Values: On The Right Stuff dating app, you are only going to meet and match with compatible singles who share your values and views, which is refreshing in today's politically hostile climate.
Free for Women: Women can access all premium content for free by simply inviting a handful of friends to download the The Right Stuff dating app.
No Pronouns or Gender Confusion: If the sight of pronouns makes you roll your eyes or you don't want to accidentally misgender another person, then The Right Stuff dating app is right up your political alley! There are no pronouns allowed; it says so when you download the app. And if there aren't pronouns, there is no risk of you offending anyone by calling them a pronoun they don't use.
What We Don't Like
As always, with the good comes the not-so-great, and The Right Stuff is no exception—nothing is perfect! Here are some reasons why people might hesitate to sign up for the conservative-only platform.
Lack of Female Users: According to reviews, there is a noticeable absence of women using the app, and since it only caters to heterosexual relationships, men might have a problem finding female matches.
Limited Location Searches: The App Store page says that it limits your matches/searches to a 100-mile radius, which could limit the dating pool for some users.
Invite-Only: Since the dating app is invite-only, people who want to date right away might not want to wait for another member to invite them in order to gain access to the platform.
You Aren't a Conservative:This is a no-brainer; if your politics clash with conservatism, this is not the dating app for you! It was created for conservatives, and they are who populate the platform. There have been scores of articles about how liberals join just to "troll," which is just a waste of time and energy.
Who Is The Right Stuff App Best For?
Obviously, The Right Stuff dating app is best for conservatives—especially in the younger demographic. That's not to say that there aren't older singles on the platform, but the focus caters to the millennial/Gen Z crowd of daters.
Demographics and User Base
around 5,000 active users.
Founder John McEntee said the "Gender and age ratios are 'close' to half," reported Fox Business.
"The average age right now is between 23 and 35. So it's a younger demographic we started with, and it's growing from there," he said. "Obviously, conservatives are a little older, a little more male-dominated, but we have this as close to [a] 50:50 ratio as possible."
Relationship Types Best Served by The Right Stuf
We get the feeling that the relationships formed on the Right Stuff dating app are serious, but we can't say this with 100% certainty. We are going off of the advertising, and while that's not always accurate, considering the traditional values of most conservatives, we'd bet money that those on the platform are in it for the long haul when it comes to romantic partnerships.
Communication Features
After completing their profile, users can check out other profiles in their local area or expand their search to include profiles from anywhere. The app also includes a messaging section where users can engage in conversations with other users of the app who have reciprocated their interest.
Guided Communication
Users can 'Create a Date' once they have shown an interest in one or more profiles by hitting the 'Like' button–the date creator specifies the day and time, as well as the location, and describes his or her ideal date. The user has the option of making the date public or private within the app. To start chatting, other users can tap the "I'm interested" button in response to the date.
Secure Messaging and Video Calls
The Right Stuff has a secure messaging function referred to as the chat feature, where members can send private communications to one another.
Icebreakers and Pre-Written Questions
There are a ton of icebreakers and prompts on The Right Stuff dating app, and users can even craft their own. Here is a list of the prompts members can use on their dating profiles:
Jan 6th was…
My favorite liberal lie is…
Do you agree or disagree that…
I'm weirdly attracted to…
If loving this is wrong, I don't want to be right…
Most underrated movie…
Most overrated athlete of all-time…
A random fact that I love about America is…
A shower thought that I recently had…
Biggest risk I've ever taken…
Change my mind about…
Fact about me that surprises people…
The perfect Sunday…
The science is settle on…
My best dad joke…
Teach me something about…
One thing I'll never do again…
Never have I ever…
My IQ is…
My most controversial opinion is…
My most irrational fear…
My simple pleasures…
Alexa, change the…
A quick rant about…
My favorite bible verse…
My favorite conservative pundit…
The Right Stuff's Membership Options
While women can use all the premium features for free, the men who sign up need to pay for a subscription, which is $9.99 per month.
Free Memberships
The Right Stuff dating app operates on a "freemium" model, meaning basic members can do a limited number of things without paying for an upgrade.
Free Features
Sign Up
Create a dating profile
Browse matches
Like Profiles
Create a date
Premium Membership Benefits and Pricing
If you want to send unlimited messages, see who has liked your profile, or use advanced search filters, you'll want to upgrade to a premium membership!
Premium Features
Unlimited chatting (messaging)
Advanced filters
See who's "liked" your profile
Create a date
| Membership Package | Cost Per Month | Total Cost |
| --- | --- | --- |
| 1 Month | $9.99 | $9.99 |
Discounts and Promotions
As of the publication of this review, no discounts or promotions are being offered by The Right Stuff dating app.
Creating Your The Right Stuff Profile
We signed up and created a dating profile on The Right Stuff app, which took just under 10 minutes. We built out the profile as far as we could, but we couldn't see any matches, as you have to wait until the platform approves another member has invited you.
But don't let that deter you—according to the App Store, they review profiles every day, and most are approved in a day or two! Keep scrolling for a step-by-step guide on how to create your own profile.
Step 1: Download The Right Stuff Dating App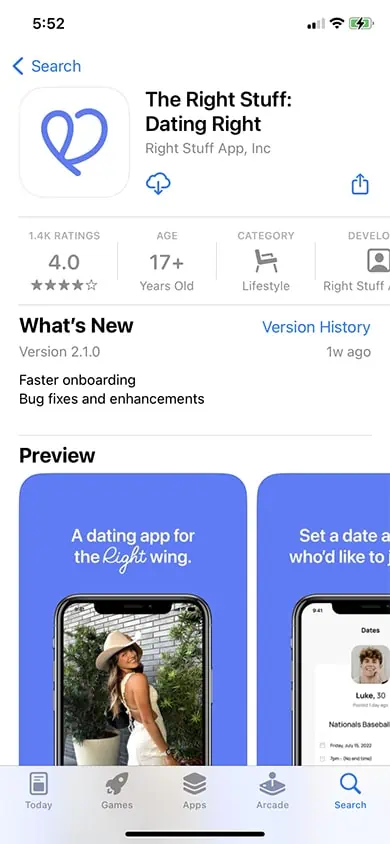 Head to the Apple Store and search for The Right Stuff dating app. When it appears, click on the "GET" button to download and install!
Step 2: Open the App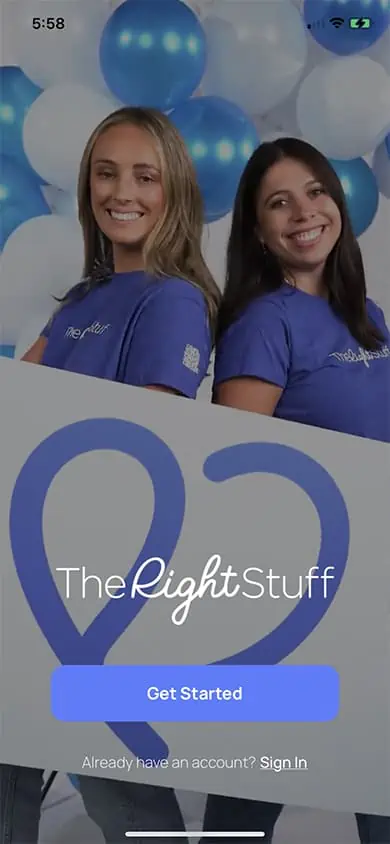 Once you've completed the download, open the Right Stuff dating app and click the "Get Started" button.
Step 3: Create Your Account
To create your dating profile, enter your mobile phone number and then enter the five-digit code the app sends to you via text message.
Next, enter your email and first name (last name is optional).
Step 4: Enter Your Location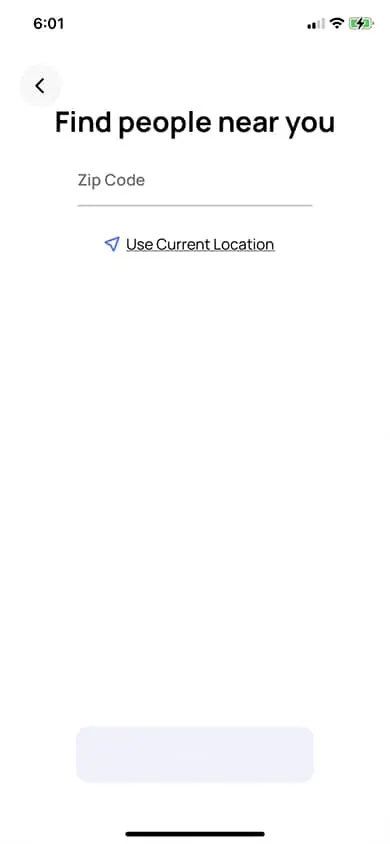 You can enter your zip code or click "Use Current Location" so the Right Stuff app can find compatible matches near you!
Step 5: Add Basic Details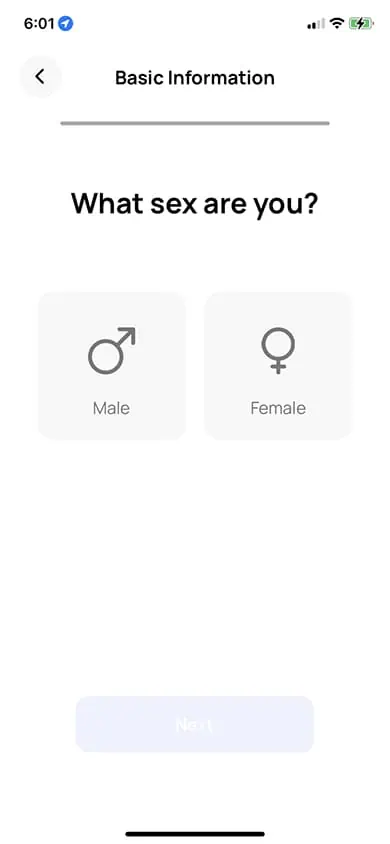 Enter your gender, height, birthday, and religious beliefs.
Step 6: Upload Profile Photo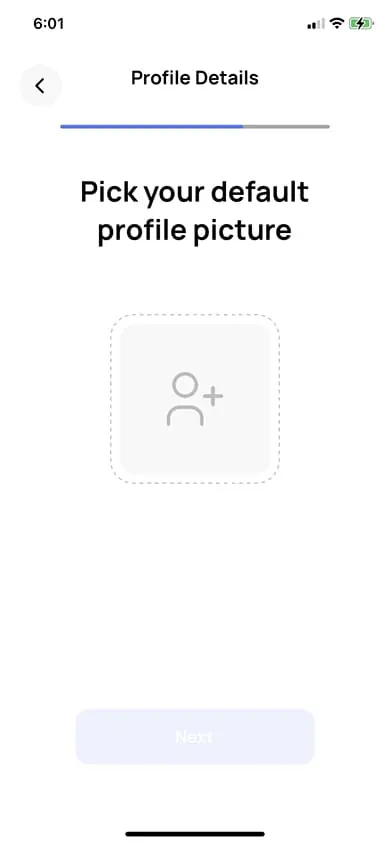 Now it's time to upload a great profile photo! In addition to a main profile pic, you are required to add an additional five images. You can also pick music from a library of songs to customize your dating profile, which is a really cute feature (we picked Britney Spears' 'Hit Me Baby One More Time').
Step 7: Create Your Dating Profile Prompts and Start Searching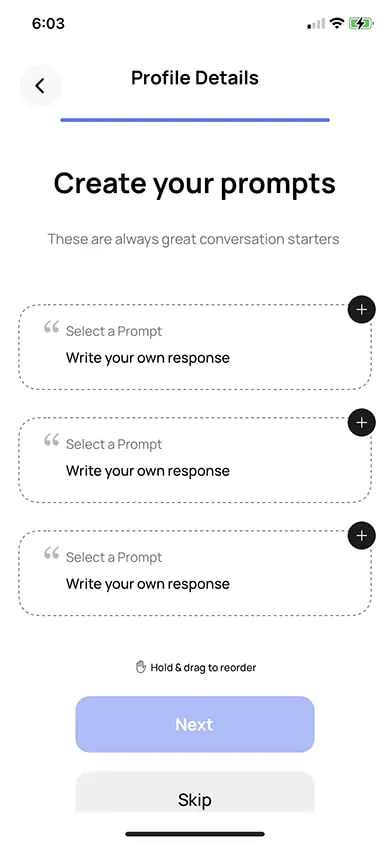 You can choose from a number of pre-written prompts and icebreakers or you can write your own to get the convos started!
After your account is approved, you can start searching for fellow compatible conservative matches!
How to Delete an Account
If you want to delete your account at The Right Stuff dating app, just follow the three steps below!
Step-by-Step Guide to Account Deletion
Step 1: Go to Your Dating Profile – Go to your dating profile and click on "Account."
Step 2: Delete Your Account – Scroll down to the bottom and click the "Delete Account" button.
Step 3: Confirm Account Deletion – Click on the "Confirm Delete" button, then type the word "delete" into the space provided, and then hit the "Confirm" button.
Customer Service
Customer service consists of email support; members can send a message detailing their issue or question, and the staff will get back to them in a few hours.
📧  Email: hello@daterightstuff.com
✉️ Address: Privacy Officer – Right Stuff App, Inc3 – 230 E Imperial Hwy, Suite 300 – Brea, CA 92821
The Right Stuff's Mobile App
Currently, there is only a mobile app for iOS (sorry, Android users!), and it's intuitive and easy to use. The user interface is sleek, well-designed, and has a colorful, pleasing aesthetic and vibe.
Users can like profiles, use the chat feature for private messaging after a mutual match, and create dates that are visible to everyone or just the people they've liked.
Compatibility iPhone: Requires iOS 15.0 or later.
iPod touch: Requires iOS 15.0 or later.
Mac: Requires macOS 12.0 or later and a Mac with Apple M1 chip or later.
Frequently Asked Questions
We hope you've found our review of The Right Stuff dating app to be informative and helpful! In case you have any other concerns, we've compiled a selection of the most frequently asked questions we've been sent about the conservative dating platform for your convenience!
Is The Right Stuff Dating App Legit?
Yup! It was created by several well-known conservatives in the D.C. in-crowd and is backed by billionaire Peter Thiel, the co-founder of PayPal. It's definitely a legit dating app!
Do You Have to Be a Conservative to Join The Right Stuff Dating App?
We are going to say yes to this question since it was literally created by conservatives for conservatives. There is a vetting process to be accepted onto the platform, and if you proudly state that you're a liberal, chances are pretty slim you'll be approved–and why would you want to be?
There are plenty of other dating apps that are left-leaning, so we highly recommend signing up for one of those!
Is The Right Stuff Dating App Free?
It can be used for free, yes. The Right Stuff dating app has a "freemium" basic plan, which means that the free version has reduced functionality compared to the paid version.
How Much Are Premium Memberships?
Women are the lucky ones on the Right Stuff dating app when it comes to upgrades–it's free for females. The men, however, must pay for an upgraded membership to get access to any of the beneficial features. But at only $9.99 each month, it's one of the lower-cost memberships we've come across!
Is The Right Stuff the Only Conservative Dating App?
Yes, but remember that conservatives can still date and find people who share their political views on mainstream dating apps. Platforms like Hinge allow users to choose preferences based on demographics like age, region, and political views.
Do Premium Memberships on The Right Stuff Dating App Automatically Renew?
Yes–a premium subscription will automatically renew for a further identical period at the price agreed upon at the time of subscribing at the end of the first commitment period and at the end of any subsequent subscription period.
Does The Right Stuff Have a Mobile App?
Yes! In fact, that's all it has, as it is not available on a website browser. Unfortunately, it is currently only available for iOS users–there is no Android mobile app available.