You're single, you're incredibly career-driven, and you have experienced a lot of success in life, personally and professionally. And you're good-looking to boot! You want to meet singles online who share your drive and passion. You want to develop committed relationships or experience serious romance with those who see the world exactly as you do: as a ladder that must be climbed all the way to the top!
Why not check out MillionaireMatch? This dating app caters to singles who are financially successful or physically attractive and allows them to meet others with similar priorities and values. This is not a sugar dating or sugar arrangement site but a site composed of singles worth millions of dollars or look like a million dollars when it comes to their personal appearance!
---
---
Is MillionaireMatch Legit?

Our MillionaireMatch review for 2023 will cover a bit of this dating site's history and how they do business. More importantly, it will cover things like the price of membership, the features you'll get when you come on board, and the quality of the site as a whole.

Our team has independently researched all products and services that we have listed on this page. If you sign up or purchase through our links, we may receive a commission. See how it works.
About MillionaireMatch
What are some of the most important things to know before diving into our MillionaireMatch review? Our fast facts below can give you more context on MillionaireMatch as a whole, the clientele they serve, and the size of its reach in the online dating market.
MillionaireMatch Fast Facts
Fact
Details

Site Name

Key Info

• Year Founded: 2001
• Best For: Successful, career-driven singles who are looking for serious relationships with other like-minded individuals
• Number of Active Members: 2.6 million
• Daily Logins: 2,700
• Gender Ratio: 55% men to 45% women
• Average Age of Members: 35-45 years
• Matchmaking Process: MillionaireMatch factors personal preferences with a preferred age and distance range to develop daily matches

Cost of Membership

Prices start at $45.00

Free Trial

Yes (limited)

Sign Up Time

5-10 minutes
Rating MillionaireMatch
The chart below is a complete breakdown of how we rated MillionaireMatch category-by-category as an online dating app. We took the average of each category rating and arrived at our overall MillionaireMatch rating: 4.0/5.
Overall:
| Category | Score |
| --- | --- |
| Features | 4.5 |
| Ease of Use | 4.5 |
| Match Quality | 3.9 |
| Cost | 3.0 |
| Active User Base | 4.3 |
| Overall | 4.0 |
MillionaireMatch Pros and Cons
We promise that our MillionaireMatch review will present this dating site in an honest and transparent light. We're adamant about including a complete list of the pros and cons so you can see MillionaireMatch warts and all so you can make the best-informed decision for yourself!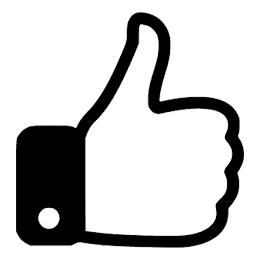 Reasons to Join
Long-standing name in the online dating market since 2001
24/7 customer service via live chat
Profiles are verified with Certified Millionaire Badges
A long list of features is available to those who become premium members
Free members can reply to messages sent by Gold members
There are no ads to deal with while using MillionaireMatch
2.6 million members from the US and 2,700 daily logins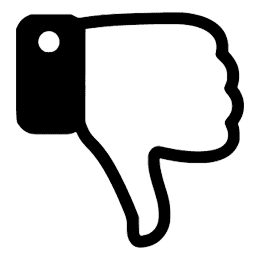 Reasons Not to Join
Not a viable option for sugar dating or sugar arrangements
Free members can only reply to messages sent by Gold members
Some scammers and fake accounts make their way through the vetting process.
Higher price for membership compared to a lot of other dating sites or apps
The MillionaireMatch app has been reported to be a bit glitchy and prone to errors.
No auto-renewal for the 3-month or the 6-month membership plans
You'll find some gold diggers on the MillionaireMatch dating site.
Free Trial
MillionaireMatch has a "free trial" that allows you to test out the site to see if it fits your needs. It's the perfect way to take the service for a test drive and decide if you like what you see. You can view other singles who use the platform and get a feel for how the site works and how to get around.
The downside is that the "free trial" will only allow you to experience a limited number of the features that MillionaireMatch offers. In fact, you'll miss out on at least 15 elements that come only with a premium membership plan!
Free Trial Features
Register an account
Create a personal profile
Mandatory verification
Add up to 26 photos and create private albums
Edit your profile
Adjust your search settings
Search for members by username or by first-date ideas
Send 50 free "winks" per day
Leave comments on profiles, photos, forums, and blogs
Reply to messages sent by Gold status members
Edit messages on the forum or the blog
Get customer support via live chat
There are quite a few features that you can take advantage of free of charge at MillionaireMatch. Still, you're barred from communicating with other members or users on the site (except for replying to the messages sent by Gold members). This is the one huge drawback of only using MillionaireMatch "for free."
The entire point of using the dating app is to meet other singles and connect with them. You cannot do so if you're wholly hindered from communicating. This is why it's important to eventually go with a premium membership plan.
Premium Membership Plans
There are three premium membership plans that you can choose from at MillionaireMatch. Each of these plans comes with the same features, so more extended packages do not equate to enhanced features or extra perks. You're paying based on the duration of your MillionaireMatch benefits.
Due to the market they cater to, MillionaireMatch is a bit higher in price than most dating sites out on the market. This is because they know their customers can afford it, but once you begin factoring in the 40 or more features that come with a premium membership, the ultimate price tag makes a bit more sense.
Plans and Prices​
All premium membership plans must be purchased upfront in one lump sum. There are no installment plans or ways to break up what you owe into monthly payments or anything like that.
Notice that the monthly rate decreases when you look at lengthier premium memberships. You'll ultimately pay more money for more extended plans, but MillionaireMatch does give a bit of a deal with a longer-term commitment. If you want a full breakdown be sure to read through our MillionaireMatch cost page.
Auto-Renewal
MillionaireMatch is unique when it comes to its auto-renewal feature. Auto-renewal only comes with the 1-month premium membership, while the 3-month and 6-month plans expire once they run their course. This means that if you have a 1-month premium membership, you'll be charged for another month once its term ends.
If you want to keep your 1-month membership from automatically renewing, you can contact customer service and cancel it. Or you can go into your account settings and switch the auto-renew feature to "off." Auto-renewal can save you the time it takes to go back in and purchase another plan, but it's totally understandable if this is something you want to be deactivated.
Free Features vs. Paid Features
While there are plenty of features to enjoy as a free trial member at MillionaireMatch, there are also plenty that you miss out on. There are around 40 special features at MillionaireMatch.com, and they all come with any length of premium membership plan. One of the most significant features you'll be barred from as a free member is communicating on the app.
So, are you better off using the dating site for free or committing to a premium membership plan? We've listed out all the features you get with both formats below so you can make the best determination!
Free Features
Register an account
Create a personal profile
Mandatory verification
Add up to 26 photos
Edit your profile
Adjust your search settings
Create private photo albums
Send 50 free "winks" per day
Leave comments on profiles and photos
Leave comments on the forum or the blogs
Search for members based on usernames
Search for members based on first-date ideas
Reply to messages sent by Gold members only
Edit messages on the forum
Edit messages on the blogs
Live chat customer support
Paid Features
Unlimited messaging
See who has viewed your profile
See who likes you
Unlimited rewinds
Customize your profile privacy
Advanced search filters
Unlimited likes and winks
Find new members
Browse based on distance
View certified Millionaire List
Choose who sees you
Change username
Certified Millionaire Certificate
Top placement in the search results
Unlimited videos
Read receipts
Customer Service
Customer service and support at MillionaireMatch are a bit better than most dating apps we have reviewed in the past. So many of these online dating platforms come with just an FAQ section and an impersonal, generic contact form that eliminates any human touch from the customer service equation.
But this is different at MillionaireMatch. They've gone to great lengths to bring ideal accommodations to their customers. But it definitely makes sense when you consider the clientele they cater to and the price that's to be paid for premium membership at the site.
So, what does MillionaireMatch offer as far as service and support are concerned?
Help Page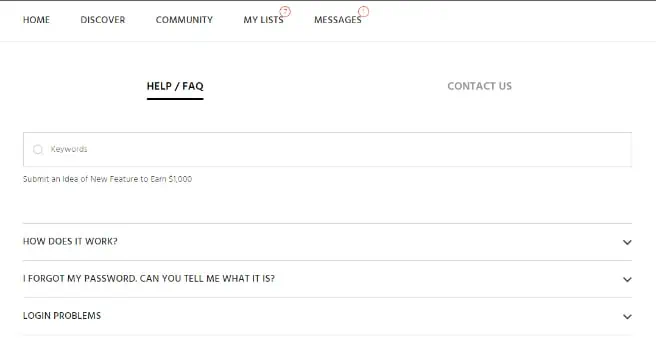 When you click on the drop-down menu next to the icon with your profile picture in the top right-hand corner of the main page, you will click on "help" to get to the customer service page. A "help" link also appears in MillionaireMatch.com's footer.
The first thing you'll see is the FAQ center, complete with a ton of questions and answers that address some of the most common problems or concerns that may arise at MillionaireMatch.
Contact Us
Next to the "Help/FAQ" tab, there's a tab called "Contact Us." Here, you'll find multiple ways to contact MillionaireMatch, one of which allows you to enjoy support on a 24/7 basis!
Option
Details

Email Us

This is where you can use the generic contact form to reach out to MillionaireMatch.com. There are several topic options to choose from when drafting your messages:

Send feedback
Submit suggestions
Send success stories
Press or business development inquiries
Get 1-month bonus premium membership
Billing or claim issues
Dating advice and safety tips
Career opportunities

Snail Mail

If you want to kick it old school and are okay with waiting longer than usual, you can send mail to MillionaireMatch's home office. Use the address listed below.

 

MillionaireMatch.com
10 – 8707 Dufferin St, Suite 160
Vaughan, Ontario L4J 0A6
Canada

Live Chat

This is probably the best way to experience service and support at MillionaireMatch. This is the sole 24/7 service option, and it's available to free trial members and those who pay for a premium membership plan.
Customer Service for Paying Members
Those who purchase a premium membership have access to their own personal customer service concierge who can accommodate their needs around the clock! This is another great reason to commit to a premium membership plan at MillionaireMatch.
Sign Up For a MillionaireMatch Account
As we mentioned earlier, the sign-up process at MillionaireMatch is not time-consuming. The entire thing might have taken us 5 to 10 minutes to complete. We will walk you through the process of creating a free trial account at MillionaireMatch step by step.
Note: If you're looking to begin a premium membership plan, the process will take longer than the estimated completion time listed above. Paying members must select a plan, enter payment information, and undergo additional verification steps.
Step #2: Sign In with Google or Create an Account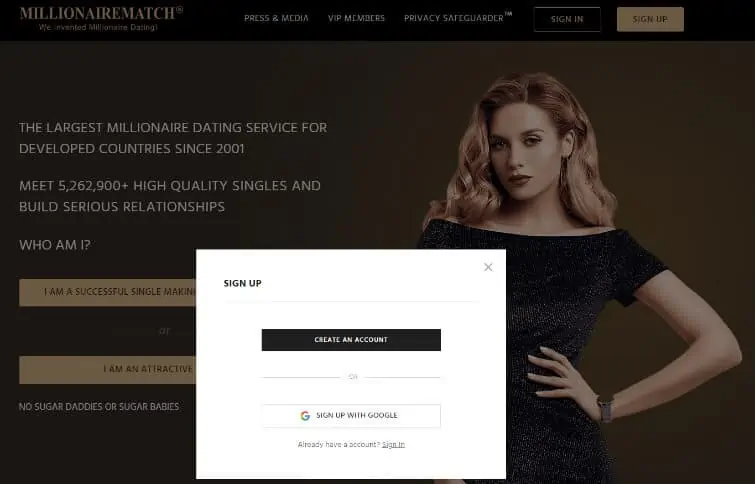 You can sign in using Google or create your own account. If you choose Google, most of your information will be filled in automatically. If you select to create an account, you'll have to create a username and password like usual.
Step #3: Email Address and T&Cs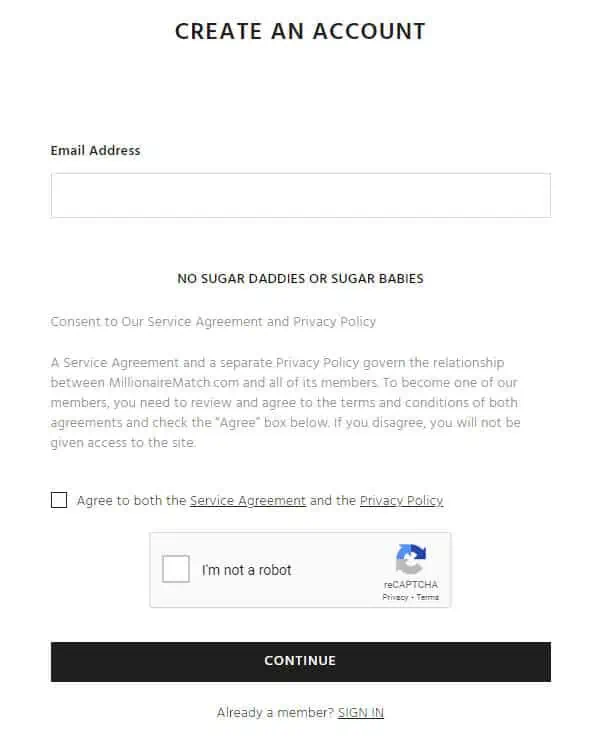 Provide your email address. Read and agree to the service agreement and the privacy policy. Prove that you're not a robot and click on "continue."
Step #4: Man or Woman?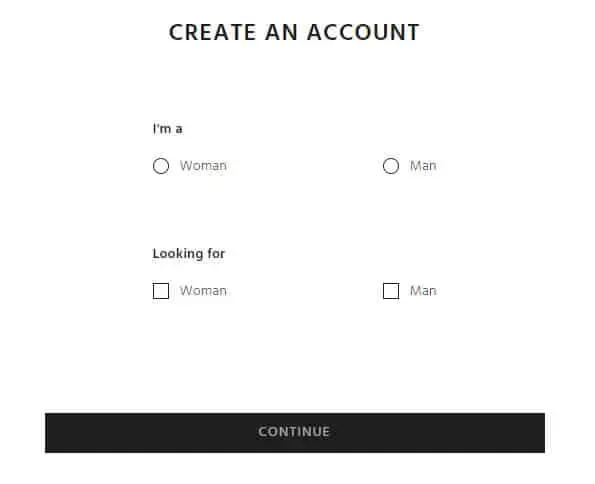 Select your gender. MillionaireMatch is known for not promoting same-sex relationships, so if you select that you're a man, the "looking for" field below will automatically choose "woman." And vice versa.
Step #5: Password, Location, and Age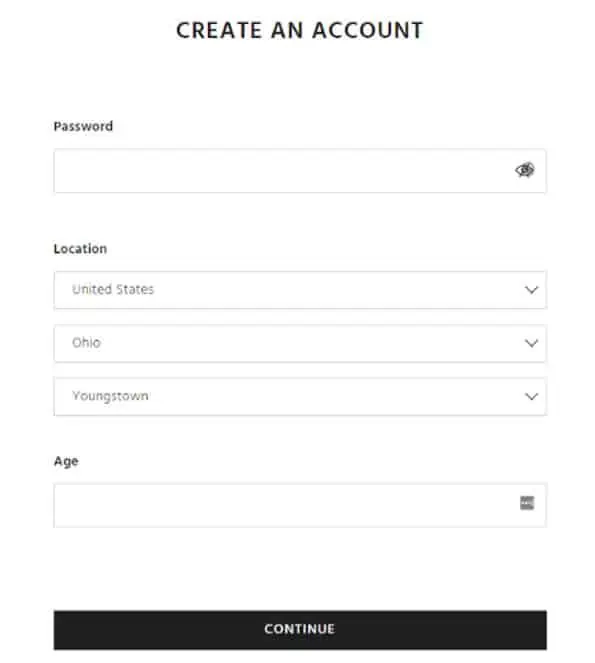 Create a unique password for accessing your MillionaireMatch account in the future. Provide your location and your age as well. These two things will become significant factors as MillionaireMatch does its matchmaking and comes up with daily matches for you.
Step #6: Username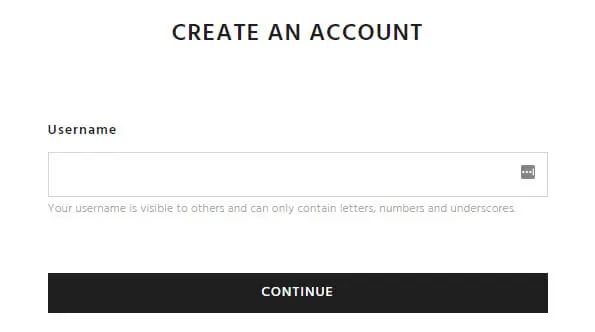 Create a username that will appear on your MillionaireMatch personal profile. As a premium member, you can change your username in the future if you so choose.
Step #7: Short Questionnaire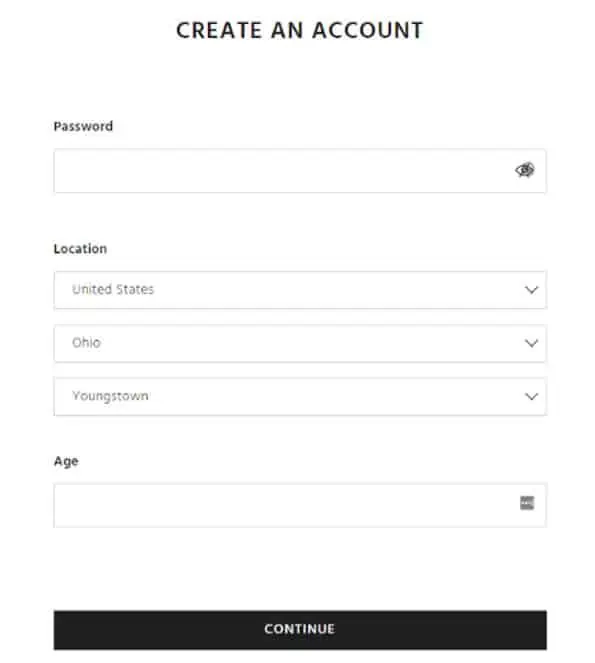 We lumped together the next several steps. They should take at most a couple of minutes to answer. It's a little generous of us to call this portion the "questionnaire," but this is as close as MillionaireMatch comes to personality or compatibility testing.
Questions about:
Annual Income
Height
Ethnicity
Relationship Status
Step #8: Written Response Questions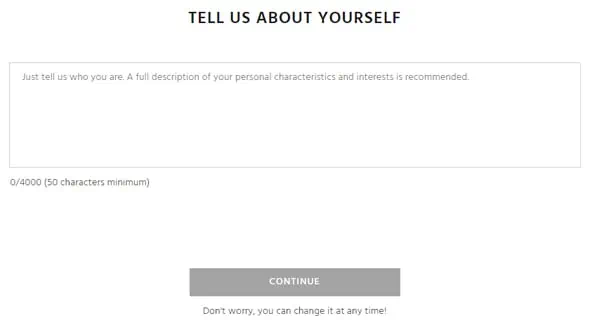 This next portion of the sign-up process allows you to put your creative writing skills to the test! These written response questions can help flesh out your personal profile and make you stand out with singles at MillionaireMatch.
Profile Headline
This short phrase acts as a tagline or caption that draws the attention of other singles. It can be serious or funny, really anything you want. It needs to be between 10 and 50 characters.
More About You
Here's where you can expand on your profile and write a bit more about yourself in detail. You can cover things like your personality, your interests, your passions, or your beliefs. It's simply another way to add more dimension to your MillionaireMatch profile.
Step #9: Phone Verification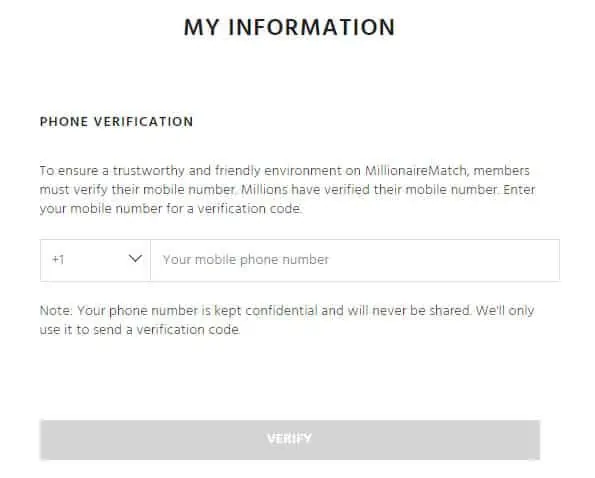 For an added step of security, you must provide your phone number. MillionaireMatch will send a secret security code to your number, and you must send it back to the site to continue to the final step of sign-up.
Step #10: Add Photos (Up to 26)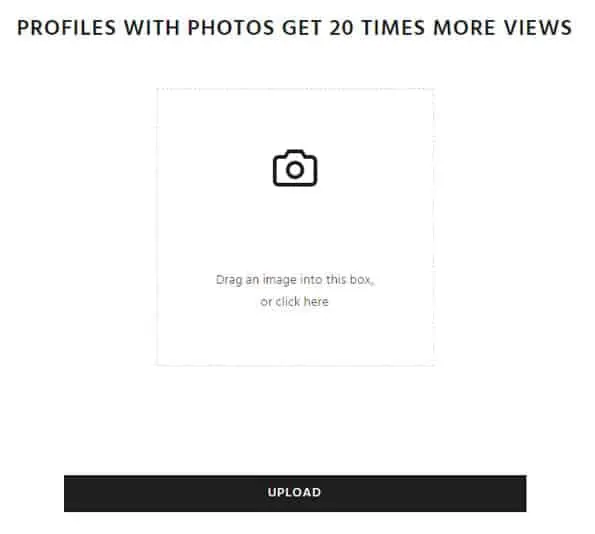 Those starting off with the free trial account can post up to 26 photos of themselves! You'll need to add at least one clear, high-quality image of yourself to proceed to your MillionaireMatch profile.
What People Are Saying About the MillionaireMatch App
Our MillionaireMatch review has presented you with valuable information about the site, but what are the customers who have used the site firsthand saying? We have taken to SiteJabber and Trustpilot to find out how the consumers feel about this niche dating site.




MillionaireMatch Alternatives
If you feel there are better fits for you than MillionaireMatch, we encourage you to check out some of our best alternative dating sites to find prestigious and successful singles!
Dating App
Fast Facts
More Info

Elite Singles

Best For: Finding Highly Educated Singles
Active Members: 5 million
Gender Ratio: 50% men to 50% women

eHarmony

Best For: Finding Compatible Relationships
Active Members: 16 million
Gender Ratio: 48% men to 52% women

The League

Best For: Finding Singles Who Value Excellence
Active Members: 32,000
Gender Ratio: 48% men to 52% women

Zoosk

Best For: Finding the Largest Dating Pool
Active Members: 500,000
Gender Ratio: 53% men to 47% women

Match.com

Best For: Quality Matches Based on Mutual Interests
Active Members: 8 million
Gender Ratio: 60% men to 40% women
MillionaireMatch App FAQ
Still, have questions about the MillionaireMatch dating app? You're not alone! Check out our answers below to the most commonly asked questions we receive about MillionaireMatch.
Is MillionaireMatch Worth It?
MillionaireMatch is ideal for people who are career-driven and are looking for other like-minded, successful singles. This dating app focuses more on serious relationships and commitments as opposed to casual dating or romance. If you fit the bill, MillionaireMatch might be worth the time and money.
Can I Use MillionaireMatch for Free?
New users can try out MillionaireMatch for free, but this "free trial" account will not allow you to enjoy all the features the dating app offers. As a free trial member, you'll be able to send free winks, add up to 6 photos, comment on profiles, pictures, or blogs, and reply to messages, among other abilities.
Is MillionaireMatch Legit?
Yes, MillionaireMatch is a successful and well-known dating app that is trusted in the market and has been around since 2001. They have been featured in Forbes and the Wall Street Journal. It's a legit platform for successful, career-driven singles to meet other like-minded singles in the hopes of serious relationships or romance. This is not a sugar dating or sugar arrangement dating site.
Is This MillionaireMatch Dating App Review Honest?
We put our best foot forward in doing this MillionaireMatch review and went to lengths to show the good and the bad that comes with joining this platform. We included a pros and cons table early in this MillionaireMatch review to show that we're evaluating this dating site honestly and transparently. We didn't just focus on the positives!
How Much Does MillionaireMatch Cost?
This depends on which membership plan you end up choosing. There's a 1-month plan that costs $70.00. There's also a 3-month plan and a 6-month plan that are $170.00 ($56.67 per month) and $270.00 ($45.00 per month), respectively. All premium membership plans have the same features.
Can I Cancel My Membership?
Yes, there are a few ways that you can do this. You can contact customer service to cancel or go into your account settings and set the auto-renewal feature to "off." If you have a 1-month membership, it's set to auto-renew at the end of its term. You can also delete your account immediately and, in essence, cancel your membership with MillionaireMatch. Go into your privacy settings and click on "delete account."
Is There a MillionaireMatch App?
Yes, MillionaireMatch can be accessed on your personal computer using a web browser and a reliable internet connection. There's also a great app that allows you to use the site on your mobile device. The app functions in much the same way as the site but is known for its fair share of glitches and errors. That's one of the downsides of MillionaireMatch is how its app functions.
What Features Come with a Premium Membership?
There are too many to count! We will only list some of them here. For more information, you can see our comparison chart for free features versus paid features. But some of the better features you get with a premium membership plan are profile highlights, unlimited messaging, your own private account manager, and advanced placement at the top of the search results.
How Long Does It Take to Sign Up?
Getting set up with a "free trial" account takes somewhere from 5 to 10 minutes to complete — probably closer to 5 minutes. If you're going for a premium membership, there are extra steps to complete, so it'll definitely bring you to around that 10-minute mark. Either way, the sign-up process is not super involved and will only eat up a little of your time.
Is MillionaireMatch a Safe Dating Site?
MillionaireMatch is as safe as they come. They keep all customers' personal and financial information safe and secure via an encrypted connection. As far as we can see, there are no instances of the site misusing or mishandling its customers' data or financial records. As with any other dating app, there's a chance of finding fake profiles or running to scammers or gold diggers. Do your best to stay vigilant and aware of whom you're talking with and meeting.
How Many People Are Using MillionaireMatch?
MillionaireMatch is a dating app that has 2.6 million members and 2,700 logins each and every day! For being such a niche dating app, MillionaireMatch has a decent user base, and there are some terrific opportunities for meeting plenty of singles who value prestige and success.
What Is the Average Age of a MillionaireMatchMember?
The average person who uses MillionaireMatch is roughly 35 to 45 years of age. Still, upon closer examination, this demographic skews a bit more heavily toward the 40-45 years range.